Back to the Future: Curve "Time Travel" App Preview
London-based company Curve have given spenders a card that combines each of a client's cards into one. With their newest add-on app, customers can now change previous payments from one card to another. In a sense, the app allows you to change the past. Macworld has said the technology will be an interesting alternative for the huge number of people unable to use Apple Pay, a service limited to only a select few iPhone generations and the Apple Watch. In this preview we'll be discussing how this process will works, the benefits that it gives and a couple instances where this futuristic technology might not be applicable. So buckle in and get ready to take a look into the future with an app that lets you travel into the past.
Getting to Know Curve
The Curve app, as mentioned above, is similar to Apple Pay in that it combines all your cards into one Mastercard. However, where Apple Pay only allows you to pay using your phone or Apple Watch, Curve uses both an app and aphysical card. This card comes equipped with a chip and a pin and is sort of a middle man to Apple Pay in that it gives options to more traditional tastes as well as the people who just want to pay with everything using their phone. If at any point the card goes missing or gets stolen, you can lock access to the card by changing a setting within the Curve app itself. This furthers the card's usefulness as a travelling tool.
Around the World
If you leave the country, you can carry the Curve card in your wallet and you can leave your other cards at home. If you lose your card, you can still use your phone and vice versa. Not only this, but foreign transaction fees are nonexistent with Curve. There are no exchange fees and no conversion fees. If you've done any sort of travelling, you know how much that can save you in a month alone. As a matter of fact, avoiding card fees while abroad is a topic we see constantly on numerous travel blogs, so Curve has obviously been taking notes. As an added bonus, Curve will also display your transactions in the currency used by your card as well as the currency of the country you're at, so budgeting and balancing your account is so much easier. Overall, it's a card that gives customers more options and heightened security, but the new and most exciting upgrade to the service is the "time travel" feature.
Payment Mistakes No More
With "Time Travel," a customer will be able to take a payment from up to two weeks prior and charge it to another card registered to their Curve app. That means if you paid for something that could have gotten you points on another credit card or made you unable to make an electric payment with your Mastercard, you can reverse the charges and fix the error within two weeks. You'll also be able to make a credit card payment on Monday and then switch the payment to your debit card on next Thursday when you get paid – taking a lot of stress out of budgeting, which can be a meticulous process in its own right. However, there are some situations where the action might not be applicable, when money needs to be deposited right away in order for an action to take place. With online and mobile gaming for instance, payment can be required before a game can be started. You'll need to spend £2.99 before you can play Minecraft on your smartphone, and Betway Casino requires your real money account to be topped up before engaging in a game of blackjack. The same applies for food delivery – at Papa Johns you'll need to have some money in your Paypal account before ordering a pizza. Other than that and the £35 sign-up fee, the Curve app and card really have no downsides.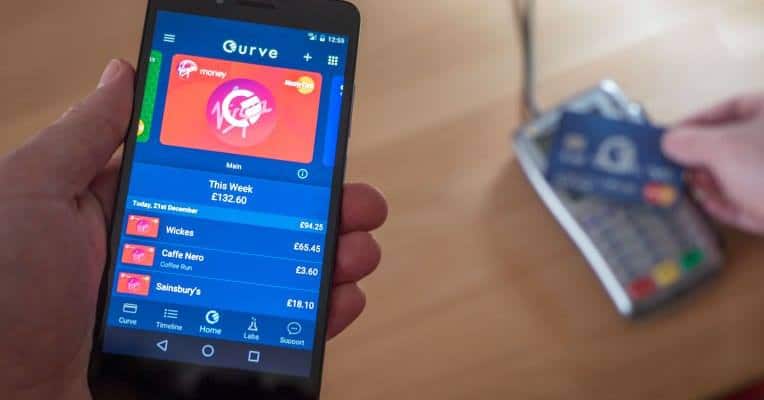 Source: Facebook

The company itself seems to be in good standing as it has raised $5 million in seed funding, was named one of Europe's 50 hottest fintech startups and was put on a list of 2017's most promising tech companies by Tech City UK. More than 50,000 people signed up to use Curve in its Beta mode and total Curve payments sit at over 50 million in 100 countries. So it looks like the service will have plenty of time and funding to advance in any and every way as Curve Founder and CEO has said "that's exactly the mission we're on – to simplify the way people spend, see and save their money." In an age where we have self-learning robots as children's toys a credit card might seem insignificant but could easily change the way we spend money going forward. If Curve proves successful we might very well see a standardised single card system from other companies. Until then, be sure to check back in with us for continued coverage of Curve.