Four Amazing Drones That Can Follow You While Filming You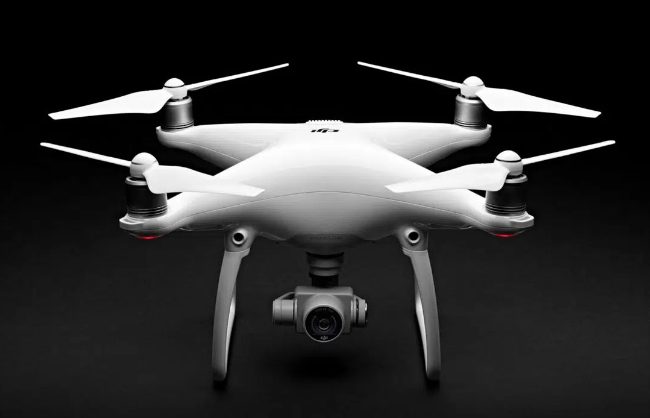 Ten years ago, the thought of a drone following you would have probably scared of the heck out of you. But in recent years, the rapid advance of drone technology has allowed people to use their own personal, miniaturized flying machines to film events ranging from rock concerts to sports competitions. These futuristic robots have become particularly popular among "extreme sports" enthusiasts who use them to memorialize their exploits. These athletes test the boundaries of "risk psychology," which is a field of study that examines a myriad of perilous behaviors, whether they be extreme sports or intense skill-based activities like poker.
The saturation of the drone market can make differentiating among them seem like choosing between Omaha Hi-Lo and Texas Hold'em. So, for the daredevil who needs an effective "follow me" camera drone to capture all his or her "wicked moves," I've narrowed down the broad universe of options to my four favorites. Note that each of these selections has some form of obstacle avoidance; this critical technology minimizes the chances of your treasured mini-copter colliding with a tree, power line, building or the ground.
The DJI Phantom 4 Pro will stalk you — and you'll like it.
The DJI Phantom 4 Pro quadcopter is a mechanical marvel whose top-of-the-line engineering has met (or even exceeded) all expectations. First and foremost, this drone is fast; weighing only 1,380 grams, it has a top speed of 72 km/h. The Phantom 4 Pro also boasts a built-in GPS system and innovative 4-direction obstacle avoidance technology. Its anti-collision sensory capabilities range from 2m to 49m, and the sensors operate in five different directions.
The Phantom 4 Pro can fly for up to 30 minutes from a single battery charge, which surpasses most other competitor drones. However, the feature that probably best distinguishes this model from its Phantom 3 predecessor is the installation of a 4K "intelligent camera" that can automatically film continuous, stabilized tracking shots and produce images as large as 4,000 x 3,000 aspect and HD videos of 1280x720p.
If you can afford it, don't be concerned about shelling out some of your "bankroll" on the Phantom 4 Pro (to use some poker slang); this deluxe smart-copter has so many cutting-edge features that it probably gives you the most bang for your buck.
The DJI Phantom 4 Pro is currently selling for $1,499.00 on the DJI website.
The DJI Mavic Pro is another noteworthy member of the DJI product line, particularly because it's DJI's first foldable drone. Because of its smaller size, it has the dual benefit of being easy to transport while still boasting the key tech features of its larger Phantom-series brethren. This "small-but-mighty" machine can fly for 27 minutes on one charge and reach speeds of up to 65 km/h. It has a 7km control range, and its camera and video specs are 12MP and 4K, respectively. For simplified flight control, its functions include a "dronie by gesture" option that allows you to use hand movements to operate the drone and instruct it to take selfies (which avoids you ending up with images of you holding an RC controller in your hand). Note that unlike the Phantom 4 Pro, the Mavic Pro only has forward and downward obstacle detection.
The DJI Mavic Pro is currently selling for $999.00 on the DJI website.
At the risk of seeming redundant, I believe that DJI offers "follow me" drones that are three of a kind. Released in May of this year, the DJI Spark mini quadcopter can either launch from or land in the palm of your hand! Like other DJI models, it features dual GPS systems and many intelligent flight modes, including "return-to-home" features. Its camera is mounted on a two-axis, shake-free gimbal, allowing it to shoot steady, still photos at 12 MP and video at 1080p. The DJI Spark has a flight time of 16 minutes and a maximum speed of 50 km/h; it also features the "dronie by gesture" feature described above. And this mini-drone is so advanced and compact that you could even use it indoors to film yourself playing a video game or hosting a poker night! Whether your crew is into Texas Hold'em or Omaha Hi-Lo, could you imagine filming continuous, roaming shots of your "friendly" competition like your very own World Series of Poker (WSOP) broadcast?
The DJI Spark currently sells for $499.00 on the DJI website.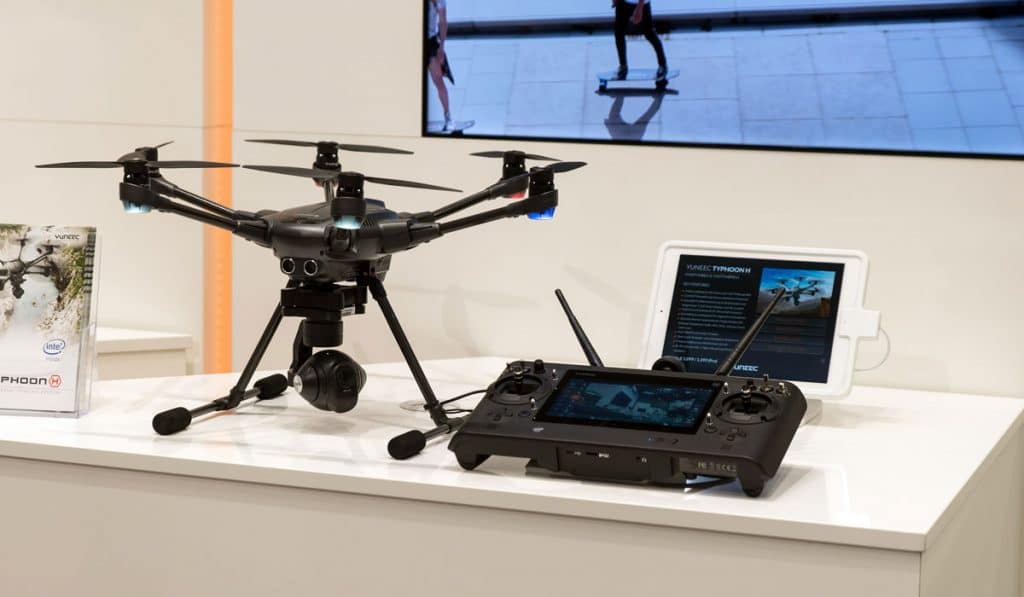 The Yuneec Typhoon H.
For a non-DJI drone, consider Yuneec's Typhoon H Pro RS hexacopter. In contrast to the Typhoon H and Typhoon H Pro, which employ standard sonic-based collision avoidance features, the Pro RS employs more sophisticated and precise "Intel RealSense" technology. The Typhoon H Pro RS has a maximum 25-minute flight time and is equipped with a 4K camera mounted on a three-axis gimbal for enhanced stabilization. In addition to its other safety functions, the Typhoon H Pro has the requisite GPS system, as well as eight different smart flight modes. It also includes a unique five-rotor failsafe feature, which allows the drone to land safely, even with a broken rotor.
The Typhoon H Pro RS is currently selling for £1,549.00 (approximately $2,050.00) on the Yuneec website.