Nike's 'Back to the Future' Power-Lacing Shoes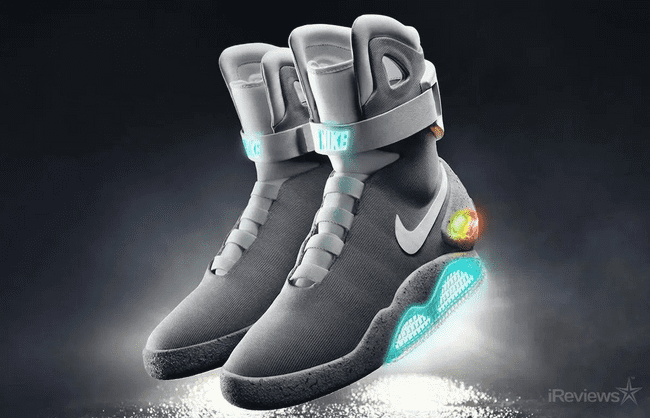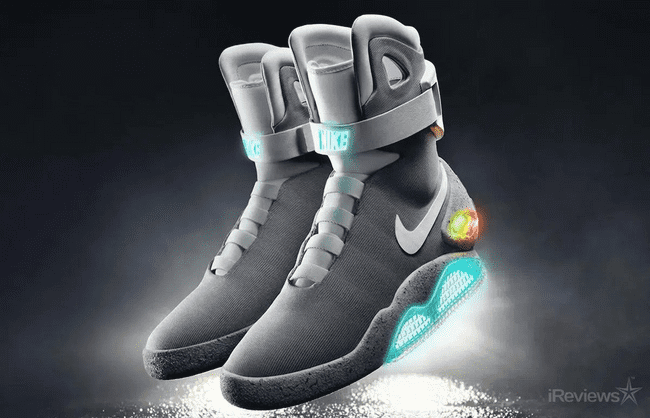 Turning a myth into reality, Nike has created two power-lacing shoe lines over the past year: The Nike Mag and the Nike HyperAdapt 1.0. The Nike HyperAdapt 1.0 is set to launch November 28th in select stores across the U.S. As for the Nike Mag: From Oct. 4th – Oct. 11th, you can purchase $10 entries to win a pair on the Nike website or the Nike App with all proceeds going towards the Michael J. Fox Foundation for Parkinson's Research. In order to honor the 30th anniversary of Back to the Future, only 89 pairs of Nike Mags are available in a limited edition release.
Stepping into a shoe that automatically laces will soon be a reality. In a recent LiveScience article by Mindy Weisberger entitled, "Great Scott! How to Get the 'Back to the Future' Self-Lacing Shoes," Nike's shoe technology called, "Adaptive Fit" seems to be the difference-maker. Housed in both the Nike Mag as well as the Nike HyperAdapt 1.0, this innovative tech is what makes both shoes "come alive."
So how does it work? Tinker Hatfield, Nike's V.P. for Design and Special Projects, calls the technology E.A.R.L. (Electro Adaptive Reactive Lacing). When you step into either shoe, the lace-engine is connected to their proprietary fit system located in the heel. Flywire is woven into both sides and wraps around your feet. When the user steps in the heel sensors activate the lace-engine, which can sense certain tension around your foot. By engaging two buttons on the shoe, the user can loosen or tighten the flywire around their foot.
Nike does a great job as always keeping the athlete at the forefront of their design. Nike's Mag and the HyperAdapt 1.0 are no exceptions. The technology in both shoes allows for an athlete to make on-the-fly adjustments. Just imagine being able to manipulate the comfort level of your shoe before and after a 5K race. From sweating to swelling, our feet change throughout the day and especially during exercise. Nike's E.A.R.L. technology power lacing technology solves this issue.
So what about the competition? There must be a company ready to release their version of Nike's Mag? Why yes there is. French smart shoe designer DigitSole has engineered what they call "The world's first smart shoe." Featured in a recent iReviews article, DigitSole's SmartShoe 001 is fully connected (Bluetooth 4.0), automatically tightens, and comes equipped with heated sole technology. This is one smart pair of shoes. So smart, in fact, the wearer can adjust the temperature of the shoes in one-degree increments. Tested in harsh -13 degree Fahrenheit conditions, the shoes maintained an average temp of 77 degrees even in a tundra.
This smart shoe gives Nike a run for its money. How so? First and foremost, DigitSole's tightening embedded system can be controlled by either your smartphone or by voice recognition. A simple command like, "tighten my shoes," activates the pre-determined, desired comfort level. Secondly, these shoes come with a built-in accelerometer that speaks directly to a pedometer. That means the technology is capable of tracking motion. In this case, DigitSole's SmartShoe keeps track of the number of steps the wearer takes throughout the day. Whether you're a fitness fanatic or simply wanting to stay in shape, the DigitSole's app computes calories burned. If that wasn't cool enough, you can save commonly used exercise routes for the sake of measuring performance. Your shoes transform into a fitness coach without the gym membership or personal training fees. DigitSole, like Nike, kept the athlete at the forefront of their technological innovation.
Nike, however, absolutely crushes DigitSole when it comes to battery life and depending upon taste, aesthetics. The Nike HyperAdapt 1.0 looks like a cool athletic sneaker whereas DigitSole's SmartShoe 001 looks more like an Urban Outfitters best seller in the year 2050. To each is own.
Finally, there's no competition when comparing Nike's battery to DigitSole's. Lasting about two weeks on one charge versus two days, you won't be charging your Nike kicks nearly as much as DigitSole's. Also, the Nike HyperAdapt 1.0 has built-in lights circling the heel of its shoe, alerting its wearer on battery life (green = two weeks of battery life; yellow = few days; red = time to recharge).