Nanoleaf's Smart Panels Automate Multi-Colored Lighting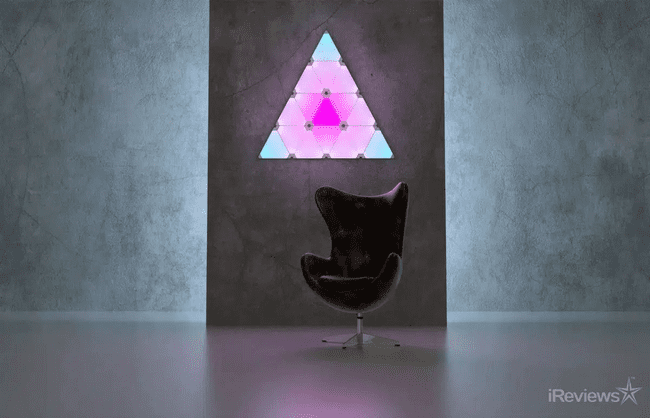 There's a new player joining LIFX and Phillips Hue as the leading multi-colored LED smart bulb. Toronto-based Nanoleaf is taking an entirely different approach toward interior lighting by designing a multi-colored smart panel system that fastens together like Jigsaw pieces. Looking more like an illuminated piece of artwork, the Nanoleaf Aurora has panels that are triangle-shaped and color-adjustable.
Whether it's greater energy efficiency or IoT-integration, the Nanoleaf Aurora Smarter Kit has just as many features as the leading multi-colored LED smart bulbs (LIFX and Phillips Hue). According to a recent New Atlas article, there are three key differentiators that separate the Nanoleaf panels from the multi-color smart bulb competition:
Each Aurora Smarter Kit panel can be adjusted independently from the others – all without the need of a separate hub.
Aurora panels transmit a ZigBee signal to the Nanoleaf Hub. The entire system connects to any local 2.4 GHz b/g/n wireless router allowing you to control the panels from your phone.
If your iPhone is not in reach, Nanoleaf comes with a physical controller that offers on/off and scene toggling when a smartphone or tablet may not be in reach.
Each 2-watt, 100-lumen panel is 8.24" (21 cm) by 9.4" (24 cm), weighs 7.4 oz (210 g), and uses double-sided mounting tape to secure it to open wall space or the ceiling. The only requirement is a flat surface area and Wi-Fi connectivity. The Aurora Smarter Kit comes with 9 panels but if you're interested in expanding your multi-colored creation, one power supply can support up to 30 LED panels.
Unlike other multi-color LED smart bulbs, the Nanoleaf Aurora Smarter Kit doesn't need the standard A19 fixture to make it work. Phillips Hue lightbulbs, for example, screw into existing (E26 or E27) sockets and connect to a home network via a bridge that plugs into a Wi-Fi router.
Unlike Phillips Hue, Nanoleaf's smarter kit comes with linkers that connect the panels together like a puzzle – except these puzzle pieces are able to communicate with each other through Nanoleaf's iOS/Android compatible mobile app. It makes the process of syncing the panels a seamless experience. Once connected, you can customize colors, adjust brightness, automate schedules, control temperature, and create lighting animations. The panels also respond to Apple's Siri or Amazon Alex voice commands.
So why would someone lean towards the Aurora modular lighting system over using multi-color LED smart bulbs? According to Nanoleaf's website: "The Aurora was built for those with a love of artful design – wake up with the sunrise, improve your mood with stunning colors, and automate your lighting throughout the day." In other words, the Aurora lean towards those interested in expressing themselves through a blank canvas – just so happens this canvas is LED customizable and connects to a wireless network.
The LIFX smart bulb, unlike the Nanoleaf Aurora, is designed to compliment smart home devices. From changing color to adjusting brightness, LIFX bulbs communicate with your smart locks, cameras, motion sensors, etc. Simply open up the Logitech Harmony app and instantly transform your living room into a dimly lit home entertainment center. Sync the LIFX app with IFTTT and you're creating a digital hub that speaks to Facebook, Twitter, The Weather Channel, Fitbit, etc. If there's severe weather on the way, program your lights to flash red to warn you ahead of time.
Phillips Hue smart bulbs, like LIFX, are designed to connect with other home devices. Phillips' app, according to a New Atlas article, includes four pre-programmed "Light Recipes" based on Phillips' research into "the biological effects of lighting that are designed specifically for relaxation, reading, concentration and energizing."
So in short, purchasing multi-color LED smart bulbs, whether it's The Nanoleaf Aurora Smarter Kit or the LIFX smart bulb all depends on preference. If you're more interested in an interior lighting display that combines art with technology, then the Aurora is the way to go. If you're someone using smart devices to simplify the daily routine, then the LIFX smart bulb is a more practical option.