Adidas' New Futurecraft Sneaker Made of Biosteel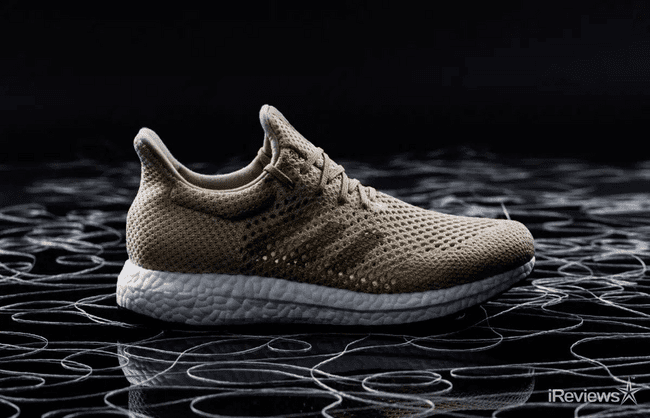 Adidas is partnering with German sportswear manufacturer AMSilk to create its first synthetic-silk concept shoe called, "The Futurecraft Biofabric." Unveiled recently at the Nov. 17th Biofabric Summit in New York, the synthetic silk is called Biosteel and according to a recent Quartz article, "it's one of the most exciting new textiles in development."
Imagine if your kicks were made out of fabric so strong that according to AMSilk, they can "catch a fully loaded Jumbo Jet 747 with a weight of 380 tons." You wouldn't have to worry about durability that's for sure. Better yet, the synthetic versions of AMSilk's Biosteel "typically start from all-natural raw materials, making them completely biodegradable and a great sustainable alternative to oil-derived synthetics such as nylon or polyester."
Interestingly enough, AMSilk's Biosteel textile is derived from natural products, such as beets and sugar cane. "The company uses bacteria to ferment the sugars in those raw ingredients, much like producing alcohol, except in this case, the bacteria spit out raw synthetic silk," according to AMSilk's CEO Jens Klein. "A synthetic-silk sneaker that's grown from things like beets could be composted at the end of its life." In other words, the super silk is fully biodegradable.
The upper portion of Adidas' new super-shoe is made entirely of AMSilk's Biosteel – which is 15% lighter than conventional synthetics. James Carnes, Adidas' vice president of global brand strategy, said Biosteel has, "the potential to be the strongest fully natural material available."
Adidas' product development strategy has certainly shifted to a more eco-centric initiative over the past few years. Adidas, partnering with Parley for the Ocean, plans on selling 7,000 pairs of its shoes made from reclaimed ocean plastic. The release is set for this year – almost one year since the project's launch date. According to Adidas, it plans on having one million of these shoes available for purchase next year. This is quite the production undertaking and proof-positive that Adidas has turned its corporate compass toward a sustainable future.
Next on the docket for Adidas: developing a shoe that is 100% biodegradable. With everything except Futurecraft's sole being biodegradable, the footwear giant is one step closer from launching its ideal shoe.