Top 5 High-Tech Holiday Gifts For Guys Under $250
The holidays are officially upon us and it's that time again – the moment of truth – the day you have to pull the trigger on a gift for your dad, brother, husband, best bud, colleague, whatever. Still considering a cashmere sweater, scarf or leather gloves – all safe gifts and ones that will be appreciated for sure – but why not give him a kick ass high-tech present that just got released – a gift that keeps on giving all year long and doesn't end up on a hanger or tucked inside a drawer.
One that he'll actual use and at the same time, maybe save him some dough on household energy costs or better yet, let him have some fun outdoors. Or a gift that makes the commute to work less stressful by blocking out ambient noise.
Here at iReviews, we've put together a comprehensive high-tech list of breakthrough technology that's not only available to purchase now (no pre-ordering from Kickstarter) but will be sure to make your gift giving experience memorable. Whether he's a techie or you want to make him one, here are some cool gifts that are not only thoughtful but truly innovative.
The world was introduced to the Nest Thermostat smart climate control system in 2011. The now Google-owned smart home company has launched its third generation Nest Learning Thermostat. Nest's version 3.0 can only be described as impressive with a new Farsight feature that allows users to spot room temperatures from 20 feet away.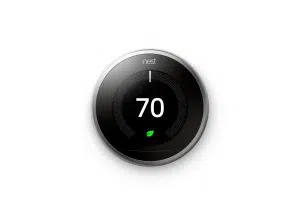 Nest Thermostat recognizes specific family members while entering a room – customizing temperature to individual preferences. For those with a forced-air furnace system, Nest's version 3.0 has a Furnace Heads-up feature keeping track of monthly energy usage and monitoring performance.
With a full-blown Nest Initiative, the new-generation thermostat works seamlessly with its smart device family whether it's NestCam or Nest Protect. It's most noteworthy integration, however, happens to be outside of the Nest family: Amazon's Alexa. Imagine your dad being able to adjust his home's temperature just by saying, "Alexa, change the upstairs thermostat to 72 degrees," or "Alexa, please reduce the downstairs temp by three degrees at 6 p.m."
Compatible with 95% of 24V heating and cooling systems, Nest Thermostat 3.0 is well worth the purchase price, especially if you're dad is taking the smart home challenge for the first time.
For the full review and ordering information, click here.
The Bionic Bird is a super ultra-lightweight (9.3 g) furtive drone that is connected by Bluetooth and controlled by your smartphone. Designed by aeronautic engineer Edwin Van Ruymbeke, Bionic Bird was inspired by Edwin's father Tim – who in 1969, created the Tim Bird, a small wing-flapping bird powered by a rubber band.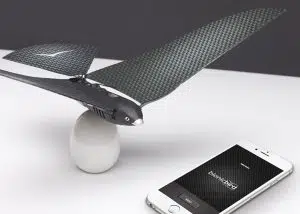 This is drone that can easily maneuver in your living room or fly within a 100-meter range outside. Just by tilting your iPhone or controlling the speed with your fingertip, the drone can easily dive bomb left or right with bird-like maneuverability. Activate the expert mode and you can fly the drone using classic radio-command controls.
Designed by an engineer passionate about technology, the Bionic Bird's maneuverability is well beyond the capabilities of other drones. From its wing propulsion to the high-end radio control technology (2.4 GHz), Ruymbeke left no stone unturned when it comes to Bionic Bird's micro-technology. His design is the perfect balance between nature and technology.
For the full review and ordering information, click here.
Called "the footwear of the future," the Lechal Mach Unisex Insoles are Bluetooth-enabled GPS navigators for your feet. It's as simple as slipping the insoles into your favorite shoe, programming your destination into the app, and you're on your way. The best part about Lechal smart insoles: haptic technology.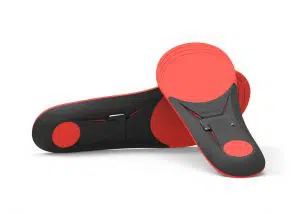 If you get a small vibration in your right shoe, it's time to go right. If the vibration is in your left shoe…you get the point. There's absolutely no need for maps, Siri, screen notifications, or the use of your hands for that matter. The haptic pods are positioned under the most sensitive part of your feet to maximize vibration recognition. Ducere Technologies, Lechal's creators, also made sure that the insoles were ergonomically sound: lightweight, comfortable, and durable. Just 8.22 mm thick and 24.2 mm wide, the wearer barely notices the insert.
Whether you're running around the city or running on a treadmill, the Lechal app has a variety of modes. The fitness mode, by far, is the coolest feature. Lechal can count steps, calculate calories, measure the distance traveled, and even connect with other Android/iOS users. If you want to remotely race to measure performance, just connect with another user via the app, and there you go: the Lechal haptic pods, mid-run, vibrate alerting each user to keep up the pace or go faster. The actual results are entirely up to you.
If you're interested in using the Lechal insoles for navigational purposes only, then you have the most advanced footwear at your disposal. The app allows you to set your destination, choose your method of vibrating notification, and with a battery life of up to 15 days – you control where and when. Users have access to a full range of navigation options from detailed route guidance to places and points of interest. From the arch support to the cushioned heel cup, the Lechal insoles were designed for maximum comfort – so they're ready for long distance excursions. They are also available in two sizes with the option of trimming to fit.
For the full review and purchasing information, click here.
The Sense home energy monitor is the newest innovation in energy efficiency. With simplicity in mind, Sense Labs created an energy monitor that listens to every electrical device in your home whether that be your garage door, dryer, TV, microwave, ceiling fan, fridge – you name it. The monitor connects to the homeowner's main breakers in their electric panel and records the performance of devices millions of times per second. The four-step installation process is as easy as positioning the Sense monitor in your electric panel, downloading the app, connecting to Wi-Fi, then letting the magic begin.
Sense's newest product gives a homeowner insight into their home energy consumption. This means saving more money. It makes homeowners keenly aware of devices that are wasting energy and one's that are performing well. In addition, the Sense home energy monitor can help avoid some major disasters, such as house fires. It will send an immediate alert if someone leaves the iron on or if the fridge is leaking coolant. By creating a monitor that tracks electric device energy consumption, Sense Labs is essentially making people accountable, in their own homes, for their carbon footprint.
For the full review and purchasing information, click here.
Dash is the first "truly wireless earbuds". Connecting to each other using technology called near-field magnetic induction (NFMI), the smart headphones are completely free from wires. That means you no longer have to untangle your headphones like last year's holiday lights or get them ripped out of your head mid-treadmill stride.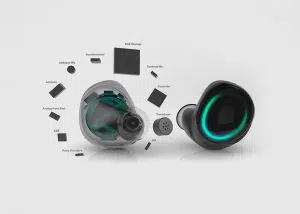 Connected by Bluetooth technology, the iOS/Android compatible Dash comes with full suite of fitness related programs. Whether it's tracking your heart rate during a 5K run or tracking breaths while swimming, Bragi's Activity Tracker doubles as a personal fitness trainer. If you're a swimmer, surfer, snowboarder or skier this may be the best set of headphones you can buy. Dash is wireless, waterproof, and comes with VersantTM advanced voice technology from Knowles. This allows you to have a hands-free phone conversation whether it's taking place in blizzard conditions or in a crowded airport.
So why would someone purchase Dash wireless headphones? For one, freeing yourself from wires in exchange for a hands-free listening experience makes everything more convenient whether you're at the gym or commuting to work. Secondly, whether it's outdoor recreation or adventure sports, someone with an active lifestyle can benefit from the ever-growing list of fitness-related applications. With the goal of transforming into your optimal self, Bragi's Dash can be your personal trainer by tracking performance data. Finally, if a big part of your day consists of listening to music and you want a premium quality sound system, Dash's bone-induction microphone revolutionizes the acoustic experience.
For the full review and ordering information, click here.