New AR/VR Software Uses Brain Activity to Control Devices
With the Augmented Reality (AR) industry estimated to reach $90 billion in 2020, consumer technology experts are asking, "What's next?" What happens when we move beyond humanoid robots, like JIBO, that rely on voice recognition and hand gestures to help us turn on our Phillips Hue lights or give us the latest weather report? What's beyond Amazon Echo or Google Home? The consumer technology compass is pointing directly at Augmented Reality (AR) and Virtual Reality (VR).
Controlling Devices with Our Thoughts
The way we interact with our smart devices is going have an entirely new meaning in the next decade. Instead of wearing an AR or VR headset and waving or closing our fists to interact with digital content, soon we'll be able to just think of turning down the temp on our Nest Thermostat and it's done. Or imagine being able to interact with an Excel spreadsheet by commanding your thoughts. Please add the totals of column B and column C.
Boston-based startup Neurable is designing a nuanced brain-controlled software and when integrated with AR or VR systems, allows people to interact with devices with their own thoughts. "Our vision is to make the standard human interaction platform for any hardware or software device," founder Ramses Alcaide said in an interview with TechCrunch.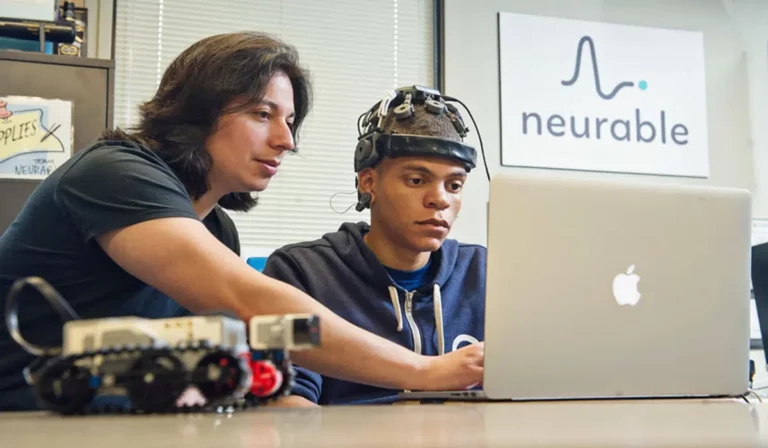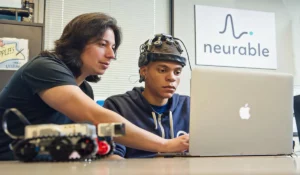 "We want people to walk into their homes or their offices and take control of their devices using a combination of their augmented reality system and their brain activity."
Neurable's Innovative Brain-Computer Interface (BCI)
Relying on electroencephalography (EEG) devices (headsets) that are equipped with what looks like electrodes, Alcaide's team is able to record neural activity, which can "then be interpreted by custom software and translated into an output." In other words, Neurable is able to harness your brain activity, make sense of your thoughts, and then store that information. Called a brain-computer interface (BCI), Neurable's core innovation, according to TechCrunch, is "a machine learning method that could cut down the processing wait so that user selection happens in real time.
Armed with a PhD in Neuroscience from the University of Michigan, Alcaide has discovered a way to speed up the brain recognition process: "A lot of technology that's out there right now focuses more on meditation and concentration applications. Because of this, they tend to be a lot slower when it comes to an input for controlling devices." Powered by "brainshape," Neurable's software is capable of gauging brain stimuli and breaking it down into event patterns.
Reshaping the AR and VR Industries.
With a groundbreaking way to measure brain activity and an AR/VR industry growing by leaps and bounds, Neurable hopes that all major headsets will come with built-in EEG sensors. That would mean Alcaide's cutting-edge BCI technology would position itself as the most sought after companion software for AR/VR devices.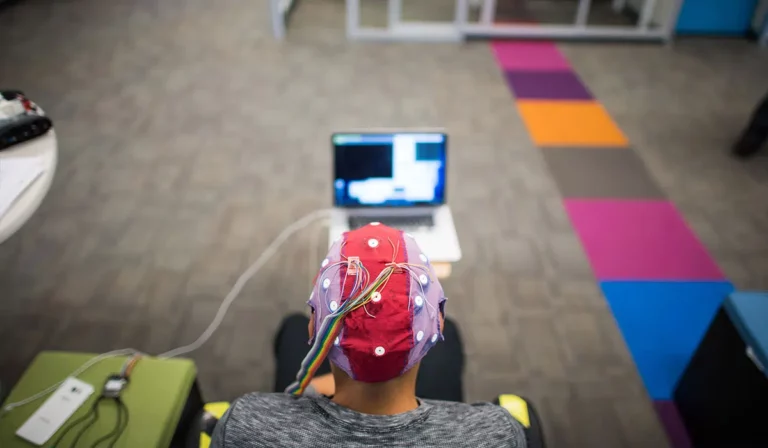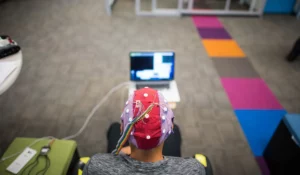 "In the long game, we want to become the piece of software that runs on every hardware and software application that allows you to interpret brain activity."
With a host of AR/VR devices (Atheer AiR Glasses, Microsoft HoloLens, Meta 2) on the verge of entering the consumer technology market, whether that is as an enterprise solution or gaming platform, Neurable is positioned to take over an entire industry. With its recent $2 million backing from BOSS Syndicate – a Boston-based group of angel investors, controlling our smart devices with our thoughts may be just around the corner.