The Future of Automobility: IDEO's Self-Driving Rideshare Concept
According to the American Community Survey, "76% of people in the U.S. currently travel alone using their personal vehicle." Transportation, as we know it, is about to change drastically. With carbon emissions hitting dangerous levels in our most populated cities, socially-responsible startups are looking at alternative transportation innovation to reduce highway congestion. Part of their Future of Automobility movement, IDEO has launched its latest transportation project: The Future of Moving Together.
IDEO's Self-Driving Electric Rideshare
With a focus on integrating human mobility and technology, IDEO has developed a revolutionary electric vehicle prototype that combines autonomous driving and ridesharing. As we all know, sharing a ride to work saves everyone money, reduces our carbon footprint, and helps alleviate road congestion. You may even get to work faster by hoping in the carpool lane.
IDEO's concept car allows owners to choose between ride-sharing, car-sharing, or using their vehicles privately. Whether you want to rent out your vehicle for a couple of hours or offer your vehicle as part of a daily rideshare, the choice is entirely up to the owner. With the uptick in micro-insurances covering all passengers, similar to ZipCar's operations model, owners have the option of an affordable insurance policy and at the same time, make enough money to cover the expenses of owning their car.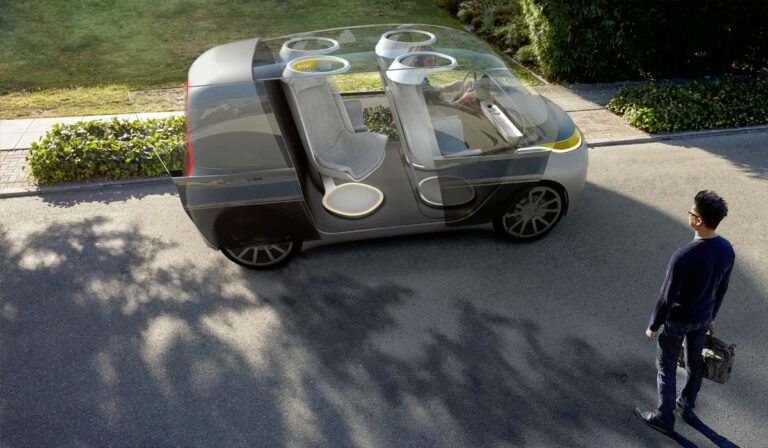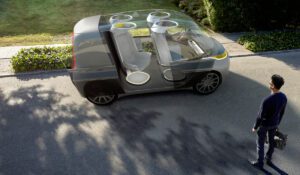 Moving Together from IDEO
According to Danny Stillion, Partner and Executive Design Director of IDEO Palo Alto, "We feel that there's some pretty interesting future scenarios around new ownership models, both riding and car sharing, as well as potentially a third aspect that we mixed in – the convergence of the sharing economy and the gig economy."
Whether it's car sickness or making sure the autonomous vehicle you summoned is actually yours, there are still some social roadblocks that stand in IDEO's way's prior to making their self-driving rideshare car a commercial success. According to a recent article in Core77, around 15% of people get some form of car sickness when riding in an autonomous driving vehicle. By adjusting the viewing plane and connecting riders with the car's smart technology, rideshare passengers have a panoramic view of the road and are able to stay productive en route to their final destination. As for recognizing your autonomous vehicle, there's a front display bar and lighting elements that sync up with your phone – letting you know your car is approaching.
Personalizing the Rideshare Experience
"I think it's going to be very interesting to solve for new social behaviors, norms, and paradigms, as we start accumulating more of an autonomously or connected, autonomous, shared, and electric fleet," Stillman said in an interview with Core77.
The very thing that makes ridesharing so appealing is also what prevents people from using a rideshare. From an owners perspective, the very act of offering up your car for rideshare purposes compromises the very bond you could potentially have with your vehicle. Since It's being used by others, is it really your car? Also, as a rideshare passenger, is your privacy compromised each time you're picked up for work in the morning?
Thankfully, IDEO has designed an autonomous electric vehicle fully-equipped with pods that can be adjusted to a quiet, enclosed experience or an open, collaborative environment. You can either choose the productivity route and ride in your very own mobile cubicle or take the social route and interact with fellow passengers. From active noise cancellation technology to acoustic amplification, riders can choose anywhere from relaxation to productivity.
Since electric motors and supercapacitor batteries are housed beneath the floor of an EV, this allows for a front storage space specifically for the individual car own and a rear space ideal for rideshare passengers. This keeps the belongings from the rideshare travelers separate from the individual owner's – preserving the "it's my car" feel and at the same time, providing a much-needed carpool service in your area. "Crowdsourced logistics allows for flexible rear storage, temperature-controlled bins for grocery deliveries to bike racks that enable multimodal transportation."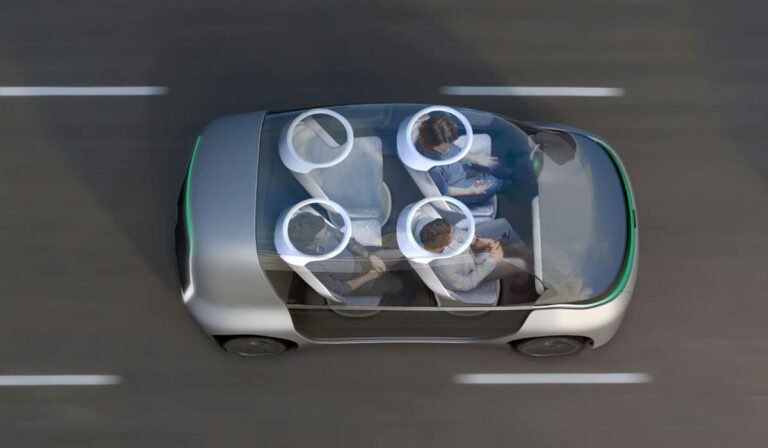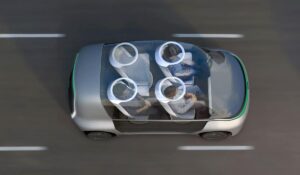 Sustainable Investment
Whether it's tracking your car's rideshare usage over the past month or summoning your autonomous vehicle for an early morning lift to work, IDEO's "Future of Moving Together" project is a brilliant way to solve the ever-increasing congestion in major cities across the world. It's also a great way for car owners to offset the expenses associated with buying, insuring, and caring for a vehicle over the long run. Lastly, IDEO's concept is a money-saving venture that covers the cost of ownership and at the same time, provides a ride for up to six passengers – reducing the carbon footprint for each rideshare participant.