The Evolution of Drones: Then and Now
From the Voliro tilt-rotor hexacopter to the PowerRay underwater fish finder, drone technology has advanced exponentially over the past few years. With max speeds hitting upwards of 50 mph and 4K video resolution now the standard, drones are capable of much more than just high-res aerial photos. Drone makers are equipping their machines with state-of-the-art cameras and battery capacities capable of 30 minute flight times. This allows for real-world application beyond the hobbyist looking for some flying excitement.
The Advancement of Drone Technology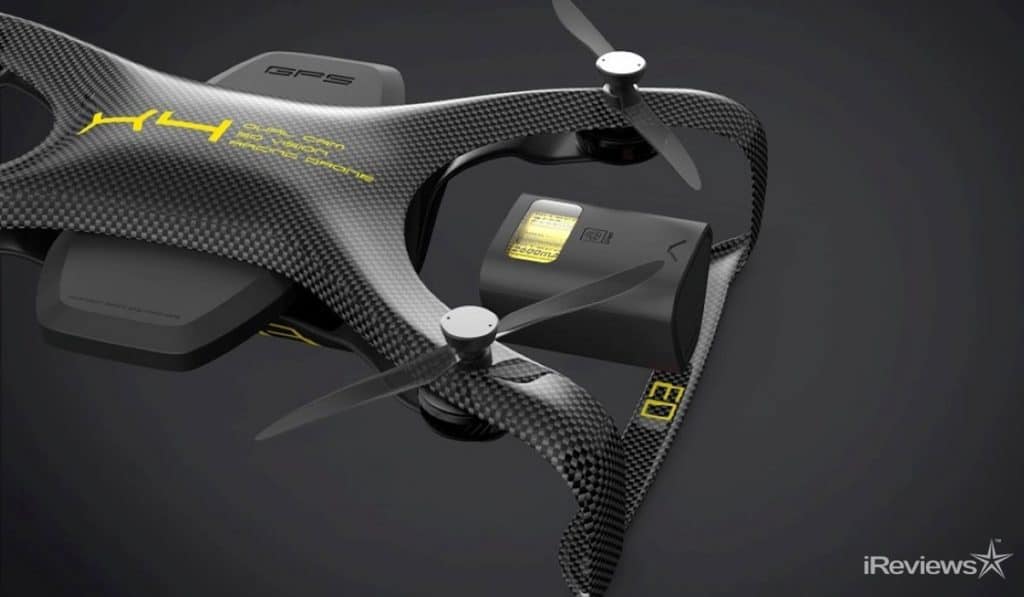 Armed with GPS & GLONASS navigation, drones come with a full arsenal of flight modes designed specifically for capturing aerial footage 2+ miles away. But the days of drones designed solely for surveillance are over. These are action-packed aircraft's specializing in outdoor recreation, underwater navigation, commercial inspections, search and rescue missions, and strategic healthcare drop offs. In 2017, the world has been introduced to some of the best drones from an ever-growing list of manufacturers.
With most cameras mounted on a 3-axis gimbal system, video streaming comes out crystal clear without any shaky transmission. The advancement of drone technology (thermal vision, GPS tracking, flight modes) and the lifting of FAA regulations requiring the registration of UAV's, the transformation from surveillance only to designing highly specialized drones have begun. Here is a quick glimpse of the evolution of drones from the traditional quadcopter designed to take aerial selfies to the high-tech Omnicopter capable of flying in multiple directions.
Spark, the palm-sized quadcopter, is a gesture-controlled drone equipped with all of DJI's world renown automated flight modes. With its 31 mph (50 km/h) max speed and 1080p video at 30 fps, the Spark is an affordable mini-drone poised to challenge the likes of the Mavic Pro and Yuneec Breeze.
Available in an assortment of colors and designed around DJI's quadcopter propulsion system, Spark's 10.5-ounce frame is small enough for indoor maneuverability and houses a 2-axis gimbal system for high-quality aerial footage. The Spark tops out at 31 mph in optimal flight conditions. Engineered for the novice drone pilot, the Spark's reduced speeds help minimize the sometimes steep learning curve for newbie operators. With that being said, the pint-sized DJI quadcopter comes with a full suite of automated flight technology.
In the QuickLaunch flight mode, users are able to operate the quadcopter using deep-learning gesture recognition technology. Called FaceAware, Spark's built-in sensors recognize the operator's face and allow for a quick take off from the palm of their hand. By sensing hand movements, pilots can fly the Spark without the need of a special remote or a sensor-packed glove. Just simply launch the drone from your hand and when it's time for a recharge, snatch the UAV mid-air upon its return.
With its six props tilting 360 degrees, the Voliro hexacopter allows for 12-degrees of freedom while it maneuvers in any preferred direction. The Voliro concept has a hexacopter design which allows the drone to strategically hover sideways, upside down, diagonally or any other way you care to mention.
As the brainchild of the Voliro team (a group of 11 "highly motivated" students from ETH Zurich), the Voliro is designed for commercial inspection jobs. The intuitive flight control software adjusts the power input to the props – making this one of the most versatile drone prototype about to hit the market.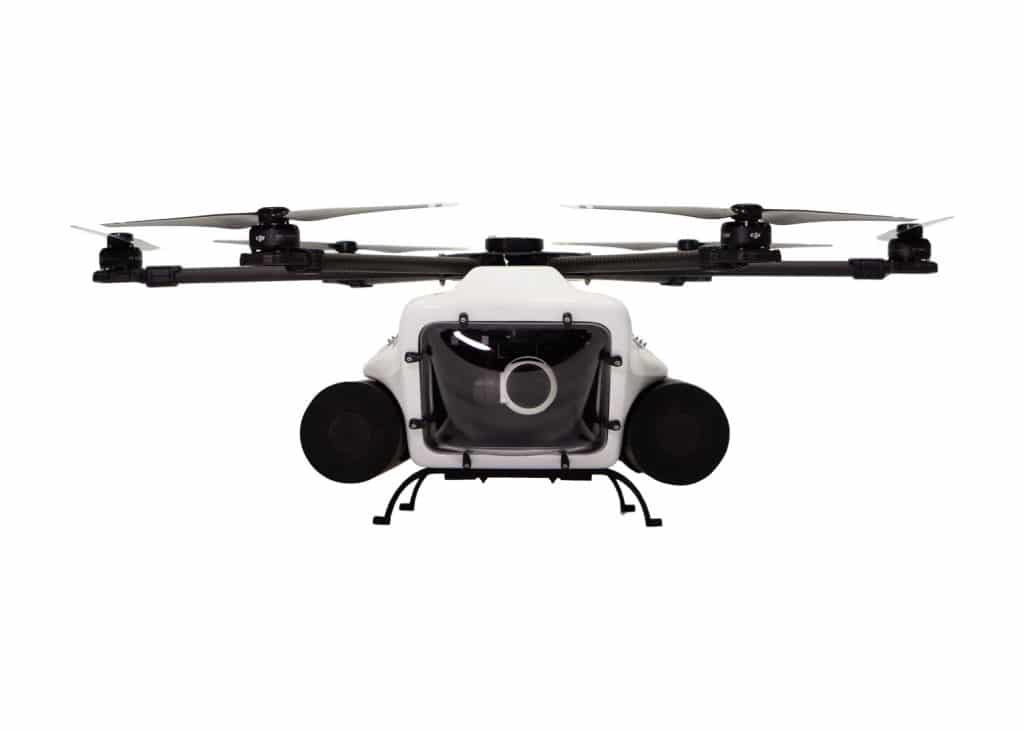 Renown for their waterproof multi-rotors, QuadH20 has just unveiled its all new HexH20 Pro V.2 drone -and it's absolutely incredible. Armed with a state-of-the-art DJI N3 intelligent controller and an advanced propulsion system, the newest HexH20 Pro version is poised to completely disrupt the drone industry.
Powered by the intuitive DJI Go App, users can control HexH20's entire flight pattern from their iPad. With a range up to 3.5 km and fully-equipped with DJI E800 motors and 13″ quick release props, you have a high-end aircraft with a ton of upside. From its quick release 3″ legs designed to land on rough terrain to the sealed waterproof body, QuadH20 engineered one of the most versatile aircraft hitting the market this Spring (2017).
If safety is a concern with range, the HexH20 Pro V2 comes with Dual IMU Redundancy and a built-in BlackBox. According to QuadH20's website, this means that "the N3's robust flight control algorithm detects IMU failure during flight, automatically switching open to a backup unit while maintaining flight control." As an added layer of safety, the HexH20's 8GB BlackBox records details from every flight – giving operators the option to "monitor flight data and fine-tune the aircraft in real-time."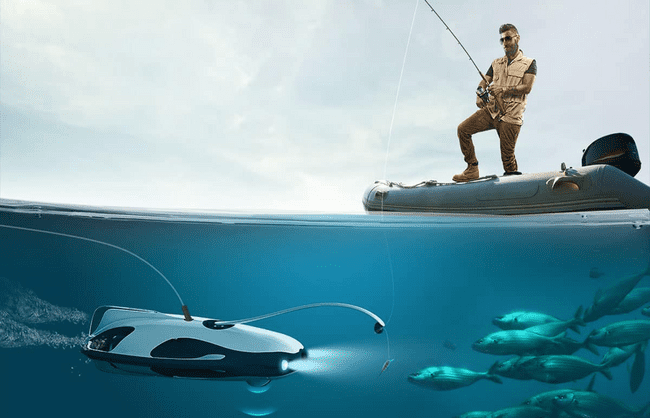 PowerVision Robot – the company that brought us the PowerEgg – has unveiled another drone creation – but this one explores the depths below. PowerRay, the only underwater drone featured at CES 2017, is a detachable Fishfinder capable of diving 30 meters (98 feet) for up to 4 hours.
PowerVision hopes that its deep-diving robot revolutionizes the recreational salt, fresh and salt water fishing industries. With a high-definition display and gesture-based VR goggles, it may actually do exactly that – making the fishing a fully immersive experience. PowerRay, an Unmanned Underwater Vehicle (UUV), is designed to locate, lure, and catch fish. With PowerRay's Fishfinder sonar system, two powerful built-in LED lights, and its integrated front-mounted 4K UHD camera, fishing enthusiasts are able to capture all of the underwater action close up and in high-definition.
Powered by three impellers – two in the rear, and one on the underside – PowerRay has a four-hour battery life and has a Wi-Fi transmission rated at 80 meters (262 feet). PowerRay's intuitive companion app is iOS/Android compatible and lets you control the robot, operate the front-facing camera, and gives users positional information – making the fish finding adventure a rather seamless one.