The Translate One2One by Lingmo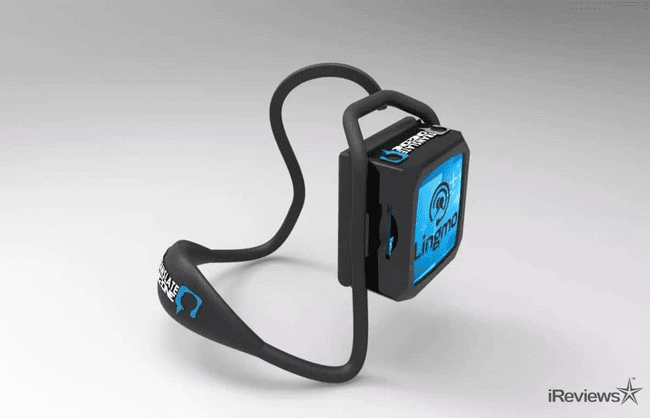 Powered by IBM Watson's artificial intelligence (AI) technology, Australian start-up Lingmo International has created the first ever translation piece that doesn't require Bluetooth or WiFi connectivity. Called the Translate One2One, this intuitive earpiece can decipher another language in 3-5 seconds. With a pair of revolutionary translation devices set to hit the market in 2017 (ili Translator and Waverly Labs' Pilot), text-to-text and speech-to-speech technology is starting to gain some serious momentum. Thanks to Lingmo, we get to add another intuitive translator into the mix.
From deciphering local slang to breaking down complex dialect from eight different languages, the Translate One2One has its machine learning intelligence from Watson's Natural Language Understanding and its versatility from Lingmo's state-of-the-art proprietary translation program. In other words, it has the perfect combo-plate of AI technology and language translation API's. The supported languages include Mandarin Chinese, Japanese, French, Italian, Spanish, Brazilian Portuguese, German, and English.
"As the first device on the market for language translation using AI that does not rely on connectivity to operate, it offers significant potential for its unique application across airlines, foreign government relations, and even non-profits working in remote areas," Founder and Director Danny May explained to New Atlas in a recent interview.
Armed with a noise-cancelling speaker that picks up spoken phrases with pinpoint accuracy, the One2One is a quick-response translator that keeps the flow of conversation running smoothly. If you're traveling to another country and a two-way conversation is required, Lingmo offers a two-piece pack. With each person having their own earpiece, the language barrier is broken and both wearers can have the conversation translated in their preferred language.
With pre-orders already underway and an estimated ship date scheduled for July, Lingmo's Translate One2One is poised to be one of the hottest devices hitting the market this summer. If you're a world traveler, this is a must-have device. If you're traveling to a destination and the device isn't compatible with the language spoken, the One2One has an intuitive iOS app that includes Speech-to-text and text-to-speech in a number of different languages beyond the eight it translates with just the earpiece itself.
A wireless earpiece that translates up to eight languages is one step closer to the ultimate goal: a universal translator. From the ili to the Pilot and now to Lingmo's One2One, translation technology has evolved exponentially over the past year. Here is a quick summary of the other notable translation devices set to hit the market in the next six months.
Introducing ili – the first wearable translator that doesn't require an internet connection. Armed with a pre-loaded vocabulary library, this intuitive device can translate up to 50,000 words and phrases whether you're in Tokyo or Beijing.
Ili can translate between English and Japanese, Japanese and Chinese, and Chinese and English. With Spanish, Thai, French, and Arabic on the docket, this is one handy companion that allows for seamless conversation between two different cultures. Designed to translate-with-ease, all it takes is pushing and holding the center button while speaking. Relax the button when finished and voila – your phrase is instantly translated into the listener's language.
Armed with a proprietary voice streaming translator system called STREAM, ili eliminates the frustrations around delayed translation software. STREAM translates words in as little as 0.2 seconds and since the device has its own built-in processing unit, there's no reliance on wireless connectivity. This is perfect for those traveling to remote locations where the Internet is not readily available.
Ili's technology is impressive. The all-in-one processor allows for "speed-to-text conversation while simultaneously capturing audio data." Backed by a dynamic dual microphone and noise cancellation effects, the ili translator instantly recognizes common phrases and at the same time, drowns out ambient noise eliminating any obstacles during the translation process. As the website so eloquently states: "Ili gives you the freedom to communicate with anyone anywhere."
Pilot, a smart earpiece language translator, uses the latest in speech recognition technology to clearly understand other languages. Whether you're a doctor needing to understand a patient or an employee working for a multinational company, Waverly Labs has created a smart earpiece that allows wearers to speak different languages and still clearly understand one other. According to Waverly's Indiegogo fundraising campaign, which has raised close to $3.8 million, "Pilot is the convergence of wearable technology plus machine translation."
With languages that include English, Spanish, French, Italian, and Portuguese, Pilot is poised to change the way we communicate across the globe. Equipped with an intuitive smartphone companion app, users can switch between languages and seamlessly upload the language of choice to your earpiece. If you're traveling by train from Germany to France, just turn on your smartphone, go to your app, and switch the language preference. Since Pilot comes with two earpieces per order, just simply hand one of the earpieces to your French speaking friend and voila, instant translation.
With a specially designed dual noise-canceling microphone and a powerful app, Waverly designed an innovative device that uses machine translation and speech synthesis to translate languages between people. Pilot's smartphone app, for example, has a conference mode that allows multiple people to wear the earpiece and join in on the same conversation, no matter if you're speaking Portuguese or Italian. By tapping into your speakerphone, you can easily communicate with everyone in your business meeting whether they're in Madrid or Rome.
The development of Lingmo was led by the company's founder in response to an experiential need for a reliable translation application which would deliver timely and accurate results across both audio (voice) and written (text) platforms.
The technology underpinning the application was developed to be easily accessible and understood by phone and tablet users of all abilities. Its built-in functionality enables users to accurately translate conversations and commands in key languages across both voice and text.
The original Lingmo device was initially launched in 2013 and, after significant enhancements and ongoing development, the updated Lingmo application was officially launched to the market in 2016.