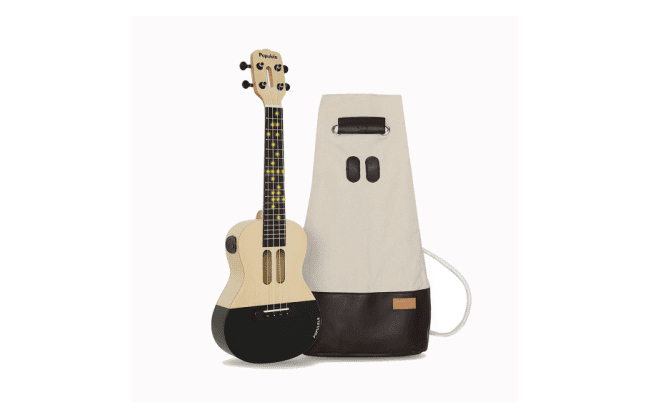 2
If you've ever wanted to learn the Ukulele but the steep learning curve has you reluctant, there's a solution: The Populele by PopuBand Music, Inc. Designed with a 72-LED smart fret board and armed with a song library of 100+ songs, learning to play the Ukulele is as simple as moving your fingers on the illuminated chords.
By connecting to the Populele iOS/Android app, players get instant access to an innovative fretboard learning system that "enables users to get instant feedback" while correcting their finger position and strumming technique. The revolutionary music learning experience is backed by an ABS plastic fretboard, LED lights, a premium spruce soundboard, and a powerful integrated circuit.
As for aesthetics, this is a well-crafted instrument built with premium European maple and bound with Italian strings. Whether it's Beatles classics or Bluegrass favorites, Populele comes with a full arsenal of 100 + song choices. With a goal to simply transform the beginning player into a proficient acoustic artist, PopuBand Music is the perfect gift for aspiring musicians at any age.
Capable of 10-hours of continuous playtime fully charged, the Populele is the most entertaining way to learn the Ukulele. By completely removing the steep learning curve of reading music on your own, Populele helps the player with a comprehensive chord library. If you're interested in writing your own music, Populele allows you customize an acoustic song pattern. With an intuitive program that lets you record and share your own tracks, you can seamlessly share your progression by connecting to social media.
Populele's intuitive app allows users to select from Game Mode or Dazzle Mode. The sound-resistant technology lets players get instant feedback on their playing abilities. By lighting up each fret, the Ukulele beginner learns their first song in a matter of minutes before moving into more complex song patterns. "Populele is our first attempt to unify handcrafted instruments with technology that empowers people to achieve musical excellence on their own terms," according to the company's website.
With an estimated delivery date scheduled for August of 2017 (for the first 200 orders), Populele's Indiegogo campaign and is well over 400% of its $25,000 goal. From its European Maple paneling to the 18-Gear Copper turning knobs, New York-based PopuBand Music has designed one of the most tech-friendly instruments for those interested in tapping into their musical talents.
PROS
ABS Plastic Fret Board
LED Lights
Integrated Circuit
Bluetooth Mobile
European Maple Paneling
Grade "A" Cloud Paneling
Protrusive Back Arc Design
Italian Aquila Nylon Strings
Cowbone Saddle