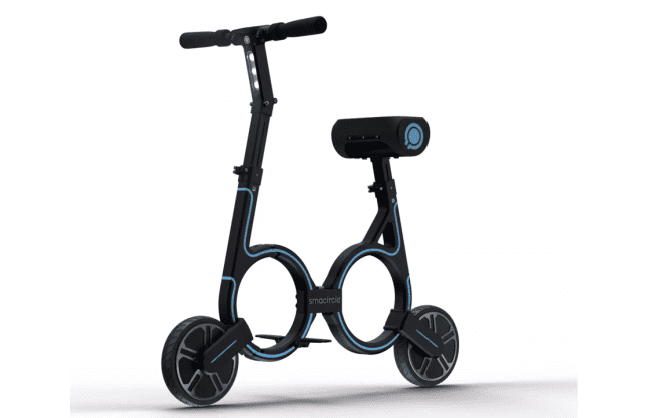 15
Finding an electric bike that strikes the perfect balance between performance and practicality is tough to come by. For those who are looking for an eBike with a long battery life – you end up with discovering bulky bikes that can't be stored easily or travel with you on the Metro. Conversely, most of the smaller foldable commuter's are pedal bikes – unequipped with powerful electric motors to help you battle Heartbreak Hill while missioning to the office.
Our exhaustive search to find a revolutionary foldable smart eBike has brought us to the Smacircle S1 electric commuter. Weighing only 15.4 lbs and capable of reaching speeds up to 12.4 mph, this impressive e-bike folds nicely inside of a standard backpack. Described as the "world's most compact and lightweight eBike," the S1 comes with a carbon fiber frame and is propelled by a 240w Brushless DC motor.
Designed as an urban commuter, the Smacircle S1 is equipped with a powerful 36v/5.8 Ah Samsung Battery that gets 12.4 miles (20 km) on one charge. Engineered to tackle hills with a 15-degree slope and armed with a state-of-the-art electric brake system, you can whip your foldable S1 with confidence knowing that you can safely stop in 4 meters at 12.4 mph.
With a weight capacity of 220 lbs (100 kg), the S1 foldable eBike is built upon a stylish yet super-durable frame that according to Smacircle Technology, is "33% lighter and 10x's stronger than aluminum alloy." Only 19″ in length and foldable in five simple steps, riders have the option of throwing their eBike in a backpack or simply carrying the S1 by its saddle. If there's any concern about rideability, the easy-to-operate Smacircle has adjustable handlebars and a soft saddle seat – making this an ergonomically-sound smart bike whether you're planning an extended journey into the city or simply a jaunt down the street for a grocery pickup.
What would an electric bike be without an intuitive companion app? The Smacircle S1 comes with an iOS/Android compatible mobile app that lets you lock/unlock the bike, adjust the lights, and tracks your routes, max speed, trip duration, and battery life. There's even a convenient mobile phone holder on the handlebars for instant navigation to your final destination or a quick check on your remaining battery life.
Taking approximately 2.5 hours to charge which will give you about 12.4 miles of excitement, a day trip to a nearby destination is well within reach without concerns around recharging. If your other devices, like your smartphone or wireless headphones, need recharging, simply plug them into the S1's built-in USB port and bring them back to life. You can essentially keep your smart devices charged while riding the Smacircle.
Btw, if you're concerned about electric bikes regulations, you can rest easy. The Smacircle S1, since its max speed is under 20 mph, is fully street legal and doesn't require any special licensing. The S1 also comes equipped with its own anti-theft system powered by the Smacircle app. By simply activating the security lock, you deactivate the S1's ability to accelerate – rendering your e-bike useless to anyone wanting to take it for a perpetual joyride.
PROS
Speeds up to 12.4 mph
Weighs only 15.4 lbs
Foldable in 5 Steps
Carbon Fiber Frame
Fits inside of a Backpack
Powerful Samsung Battery
12.4 miles on one charge
iOS/Android Companion App
Electric Brake System