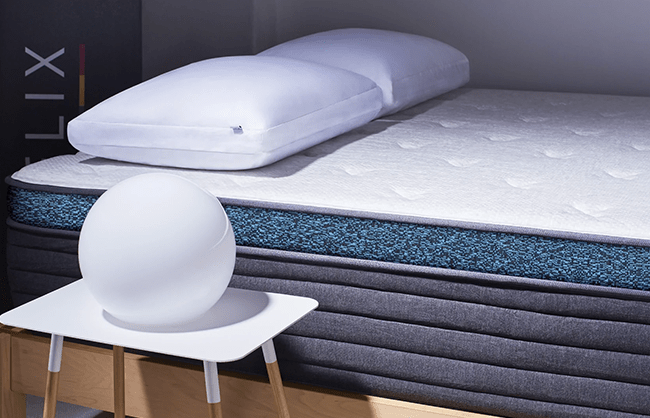 I talk about mattresses a lot here on iReviews, to the point where I've become very familiar with specific industry terms like hybrid and transition layer. After looking at so many, it sort of becomes hard to find anything unique about a brand to talk about.

Luckily, the brand I'm talking about today stands apart in their ease of use and simplistic approach to mattress buying. In this review, I will discuss the basics of Helix mattresses, what they provide, the price of each mattress, as well as the online experience, to help you decide if you want your next bed to be a Helix bed.
PROS
All mattresses are uniform and easy to compare to each other
Price is fair
100 night trial
CONS
Quality may not be as high as premium brands
BOTTOMLINE
Helix makes the mattress buying experience simple and easy. While not the cheapest on the market, Helix mattresses should serve most consumers very well.
Features
30 day break-in period
100 night sleep trial
Online quiz to see which mattress is right for you
What Is Helix?
Helix is a company that manufactures and sells several different models of mattresses, all with varying firmness. 6 Main mattresses are available for adults, all with a Luxe version which provides extra support.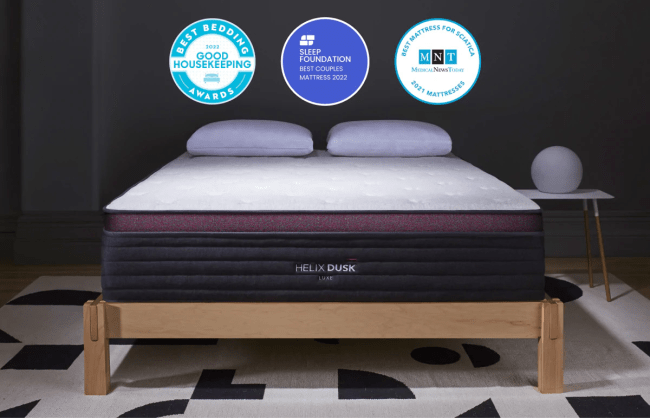 In addition to providing premium feeling mattresses, Helix also offers bed frames and beddings to complete your perfect bed. Free trials and financing are also available for those who want to take advantage of those options.
Features
As I mentioned previously, 6 main mattresses are available from Helix, all with an upgraded Luxe option, which provides extra support. The price of each mattress seems about average, as far as mattresses go, but the quality more than makes the money worth it.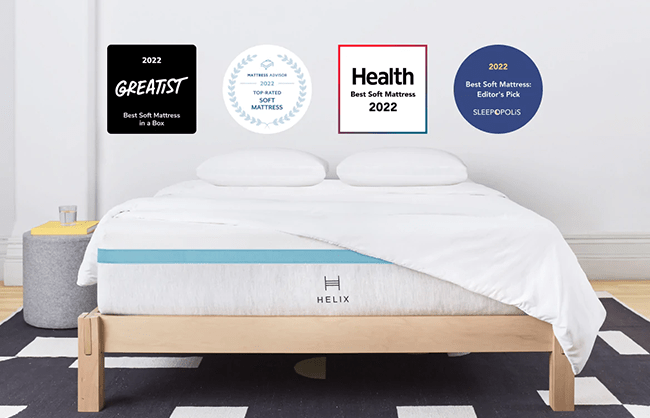 Starting off with the softer mattresses, the Helix Sunset model goes for $1,199 for a queen size and is recommended for side sleepers who want pressure point relief. This is a hybrid mattress with individually wrapped coils underneath 3 layers of foam which are soft and cool to the touch.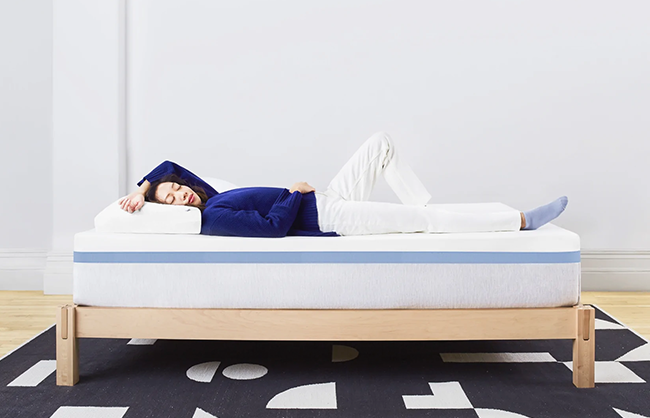 The Moonlight was the model recommended for me personally after taking the online quiz, as I sleep on my back and prefer a softer mattress. This similarly retails for $1,199 for a queen size and uses a dynamic foam layer to better contort to your body.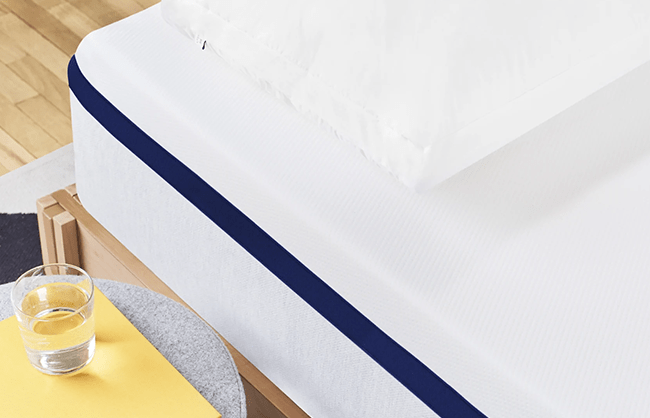 Going into the more medium firmness models, the Midnight is recommended for side sleepers who want pressure point relief. Once again at $1,199 for a queen size, by choosing this mattress you will get a quality hybrid mattress with firm, but not too firm, memory foam layers.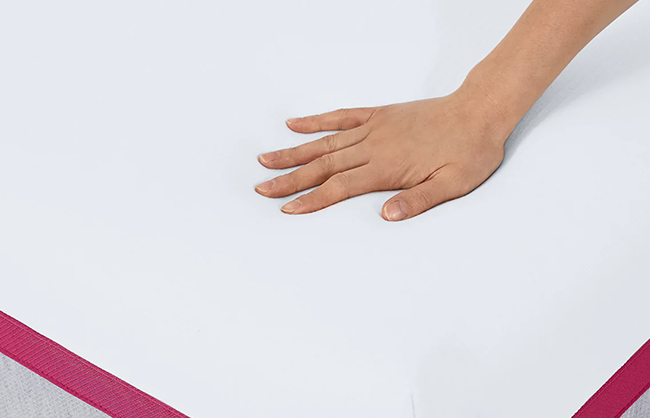 The Dusk model, also $1,199 for a queen, is similar to the previous mattress, but is recommended more for back and stomach sleepers who want a mattress that conforms to the body, making you feel cradled by your mattress. Just like the Moonlight, this model uses a dynamic foam to better shape the body.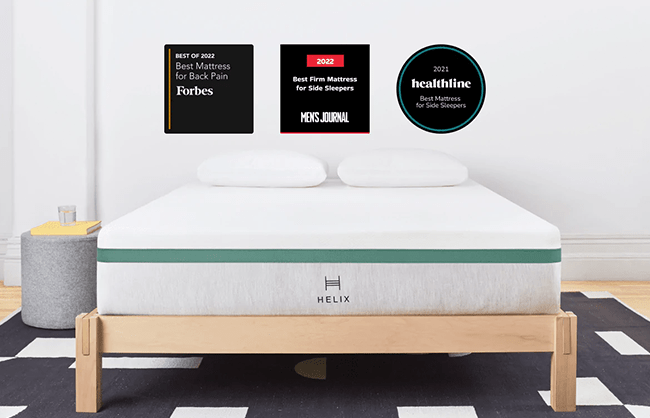 For firm mattresses, you have two options, the Twilight and the Dawn. The Twilight is for side sleepers and is pretty much a firmer version of the Midnight, while the Dawn is basically the same thing but for back and stomach sleepers. Both of these models also run at $1,199 for queen sizes.
In addition to these 6 models, there is also an extra firm model for plus sized individuals called the Helix Plus, which sells for $1,749, as well as the Helix Kids model for $549.
Whichever mattress you choose, Helix will provide a 30 day break in period where you can exchange your mattress if it doesn't settle in right, a 100 night risk free sleep trial, and payment plans for if you can't pay the full amount right away.
How Can You Use Helix Mattresses? / Who Is This For?
Helix mattresses are used like any other mattress. After ordering through the official website, you simply have to wait for it to arrive and then set it up when it does.
The fairly average price and ease of use regarding the official website make these mattresses ideal for the middle class family looking for a bed that will last them a long time while remaining comfortable to sleep on. There's definitely places where you can get a mattress for less, but Helix makes it easy and simple to get the right mattress for your needs without having to worry about returns or buying the wrong mattress.
Web Infrastructure / Branding
The official Helix website isn't exactly the prettiest, it's very cluttered and there's a lot of banners with information on the home screen. Despite this, I was very impressed with how easy the site is to use.
The 6 main mattresses are pretty much equal to each other, so all you need to worry about when comparing them is what level of firmness you want and what side you sleep on. The online quiz makes it even easier to find the perfect bed for you.
I also really appreciate how the 6 mattresses have a theme going on with their names, that being a certain time of day, i.e. Twilight, Dusk, Dawn, etc. It almost feels like these are just 6 variations of the same mattress, each tailored to specific needs.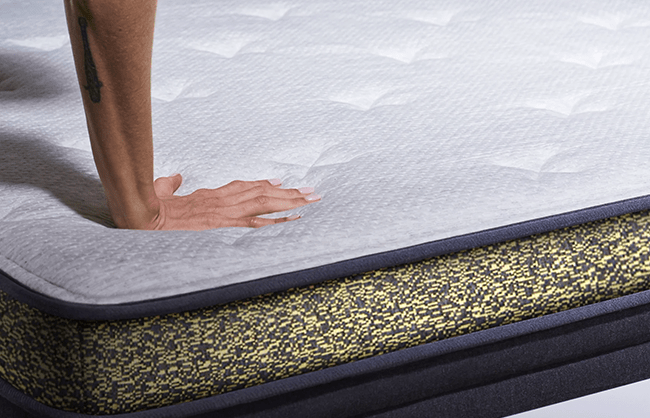 I actually really like this because it simplifies the buying process and makes it so that you don't miss out on a certain feature only available on a certain mattress. I've talked about a lot of mattresses here and many companies almost seem to overload the consumer with different options, all varying in price and features.
This simple and easy to use approach really helps Helix to stand out against the competition. Though I wish the official website looked a little nicer, the ease of use is very commendable.
Should You Buy It
If a Helix mattress is in your budget, I would recommend giving them a look. Mattresses are of high quality and the buying process is as simple as can be. These are really solid, middle of the road mattresses.
If you're looking for a deal or the absolute best, most premium mattress, I would recommend taking a look at some of the competition that I'll discuss below. Still, I believe that Helix mattresses will serve the average consumer very well.
Where to Buy
Helix mattresses can be purchased right here through the official site. While I used the full price throughout this review, mattresses are frequently on sale.
Competition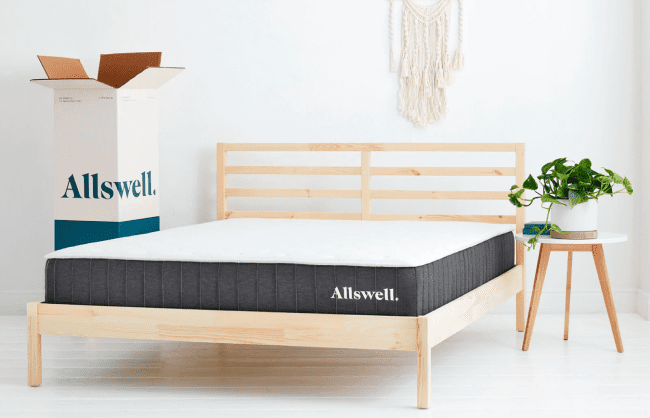 If you want to get a really good deal on a mattress, I would recommend looking at Allswell. I've taken a look at this brand before and they are by far the cheapest mattresses I've seen.
Quality may not be as high as other premium brands, but for many consumers, the price is the biggest factor in buying a product, and Allswell has the best prices. The brand also features lots of variety and other products to meet your bedding needs.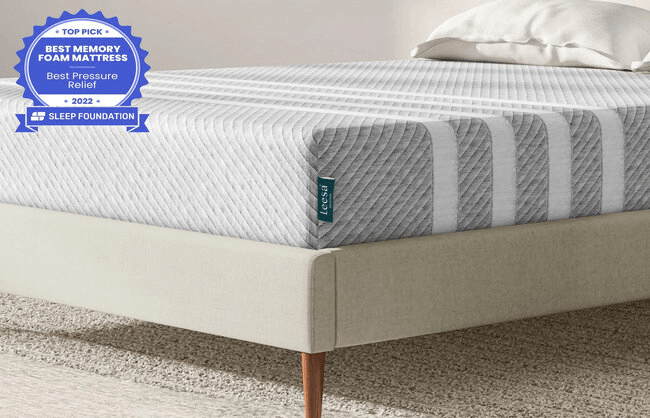 For those looking for a premium mattress who don't have to worry about breaking the bank too much, I would recommend Leesa. Leesa is a very well known brand and produces some of the best beds on the market.
I've also taken a look at this company in the past and I was quite impressed with the variety and features available. Leesa beds are just a little more expensive than those from Helix, but the quality and brand reputation speaks for itself.
Final Thoughts
Helix really impressed me with their streamlining of the mattress buying process and simplicity in presentation. Buying a mattress can be very confusing, the reason why they put that Do not remove tag on all mattresses is so that the manufacturer can't scam you with sub par beds.
You won't have to worry about anything like that with Helix, as they make the buying process as easy for the casual consumer as possible. You can sleep easy knowing that you made a good decision when you buy a Helix mattress.
Resources and Further Reading