Magic Spoon Cereal Review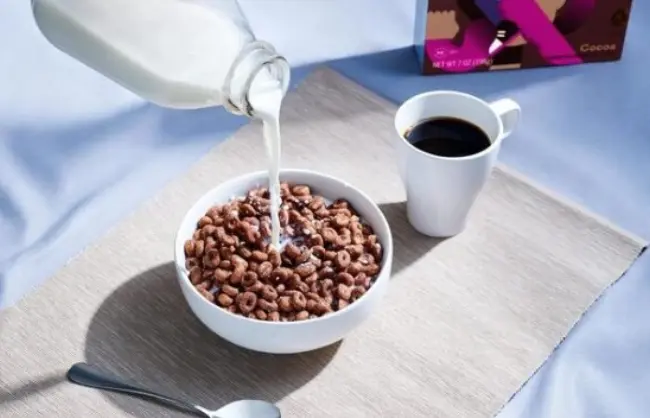 What is Magic Spoon Cereal?
In my experience, getting older in today's world means breakfast has become something of a distant memory. The time there is in the morning before facing the day is limited, and there isn't enough of it most of the time to really focus on getting food. I also don't particularly care for a lot of cereal options you see in stores that either taste like cardboard or are full of enough sugar to be a desert.
Magic Spoon aims to bridge that gap with a claim that its cereal brand tastes just as good as it is good for you. How much weight do those claims actually hold though? On first impressions, I say they hold more than most other adult cereals on the market that barely even try to taste good.
If you're looking for quick and easy breakfast options that won't leave you with health risks then I suggest you keep reading on. There is plenty to talk about with the Magic Spoon brand from first impressions to my personal favorites in terms of flavor.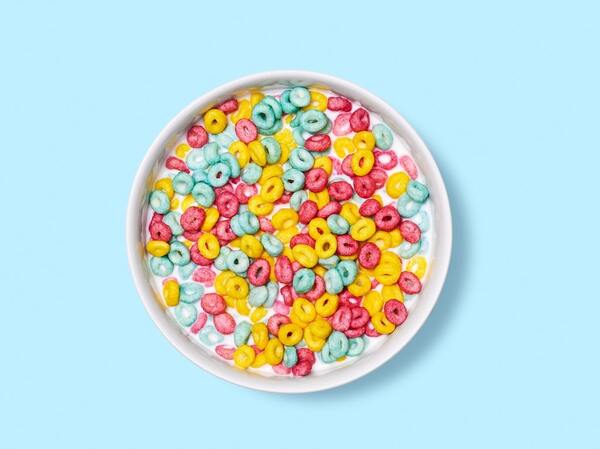 PROS
Offers tons of fun flavors that you can buy by the case
Has a variety pack and lets you build a custom pack
The cereals have lots of protein with few carbs and no sugar
Magic Spoon guarantees each purchase you make
Subscription plans are available
CONS
Very costly when compared to traditional cereals
Some customers didn't like all of the flavors
You must buy a case at a time
BOTTOMLINE
If you're on a keto diet or need to cut back on sugar, Magic Spoon cereals are great for you. Though the cereal is only available in the US, it comes in multiple flavors that have no sugar and limited carbs along with lots of protein to keep you full.

iReviews Shopping Assistant
Find the best prices for this and many other products with our chrome extension
Product Features
Cost: $39.99 per case
Subscription: $29.25 per month
Shipping: Usually within one business day
Flavor Choices: Eight, including Maple Waffle and Fruity
Discounts: Through mailing list and subscriptions
Guarantee: 100% satisfaction guarantee
The Flavor Options
The obvious place to start is with the flavor options. Several cereal brands out there are plenty alright for your body, but they leave a lot to be desired in terms of taste.
With Magic Spoon, there is a variety of options I think is rare to see in healthier options. What does this mean? It means if there is just one flavor that you like then you've already got a healthy option that you can add to your days.
I wouldn't be saying any of this if none of the flavors were good though, so that's what I think it's best to give my thoughts on a few that I've tried.
Magic Spoon Fruity Cereal Review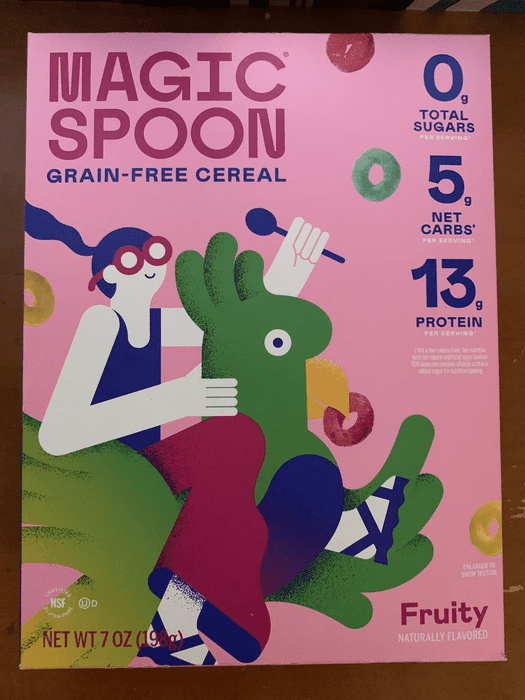 One of the most popular is the Fruity cereal. Sticking with the health-focused nature of the brand it has no sugar and lacks the sugar alcohols, cane syrup and corn syrup that other cereals have. It's a bright and colorful cereal and I think that helps in making it less boring and dull without the use of artificial colors.
The taste is good, better than I would have expected. As someone who has never been the biggest fan of fruitier cereals, I have to say it's far from the worst I've ever had.
The flavor isn't everything, though. I know the big selling point of this brand is supposed to be how healthy it is on top of its tastes. So what do the health benefits of this flavor look like?
Looking at the box, one serving has 13 grams of protein, four net carbs, no sugar and is free of both filler grains and gluten. For comparison, looking at the same serving of a more popular brand you find in stores, it has 11 more grams of protein along with 28 fewer grams of carbs.
If you like fruity cereals and want something that won't impact your health so negatively this is one I would recommend.
Magic Spoon Maple Waffle Cereal Review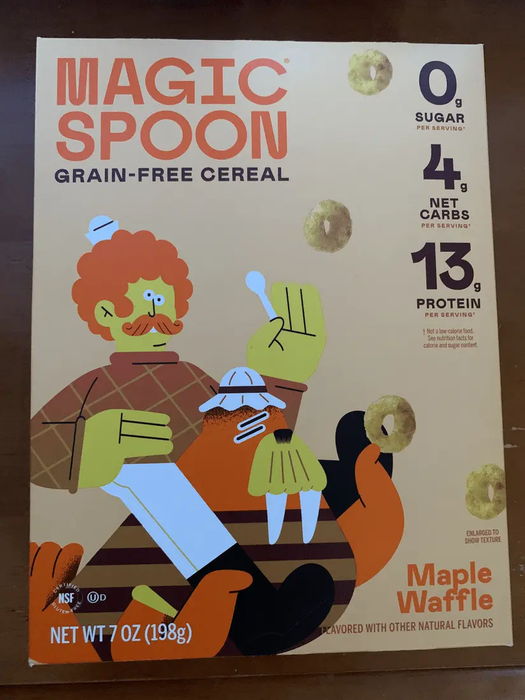 Maple Waffle has 13 grams of protein per serving compared to the only three grams found in some other cereals of a similar flavor. It also has less than 27 grams. This shows it's a healthier option than other sweet cereals.
The cereal is sweet, just not as sweet as other options many are used to. I think it gets as far as it can without adding in a bunch of sugar, so it does help with curbing that early morning sweet tooth. Just don't expect it to taste like a bowl of sugar.
Looking at the options of others, many customers love that this cereal has an intense maple flavor. They also enjoy the vanilla notes that mimic whipped cream or frosting along with a sweet kick that almost tastes like sprinkles.
If you've got a sweet tooth I would recommend getting a box of this flavor to try at some point.

Magic Spoon Peanut Butter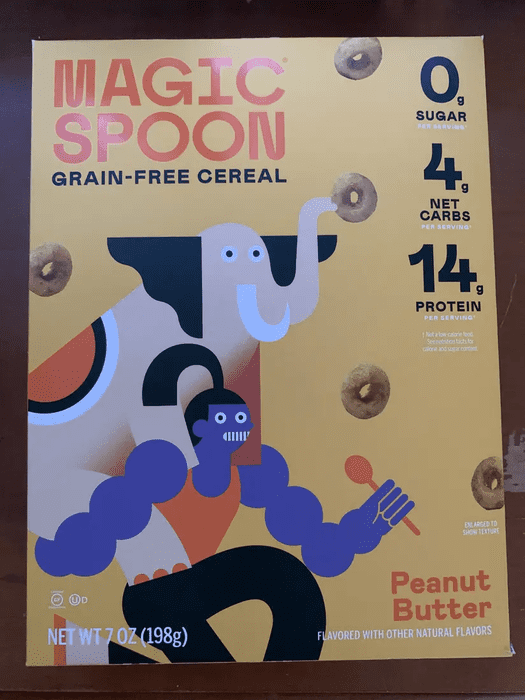 Peanut Butter cereal was never my favorite. Often times they either taste of nothing or taste like a candy bar which can be hard to stomach right after waking up. With that said, the peanut butter flavor of Magic Spoon hits a happy middle ground.
It's not too sweet to hurt your teeth, but even while keeping sugar out of the equation it leaves just enough to keep an appetite filled. This flavor ups the protein to 14 grams per serving and gives only four net carbs, keeping it in line with the other flavors.
You know if you like peanut butter, and if that's something you want to get a taste of in the morning then I would recommend this flavor.
Magic Spoon Cookies & Cream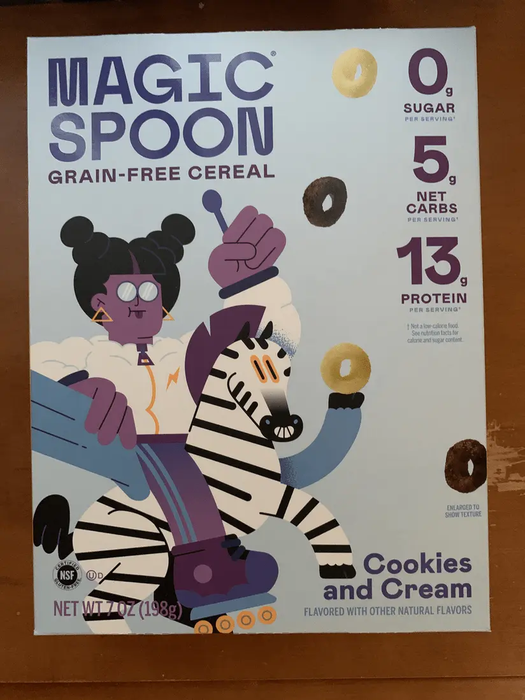 This might be the sweetest flavor Magic Spoon has on offer. It's also my favorite of the bunch. It's sweet, the flavor is all there, and I just can't get enough of it in the morning.
Laying my biases out there, chocolate is probably my favorite flavor in anything. This has a hint of that wonderful taste in it and gives me just enough punch in the morning to hold out until lunch without needing to force it down. I haven't enjoyed breakfast like this in a while.
With this flavor, one serving gives you five net carbs and 13 grams of protein. I would say that's a healthy dosage to have for your early morning. So, if you like a bit of the sweet stuff in the morning this is my recommendation of choice.
Who Do I Recommend This For?
Magic Spoon is a healthy choice for people looking to have a less bland choice for their breakfast. It meets that medium of good for you and good tasting which is enough to get me to want to eat in the morning without being worried about the impact it has on my health.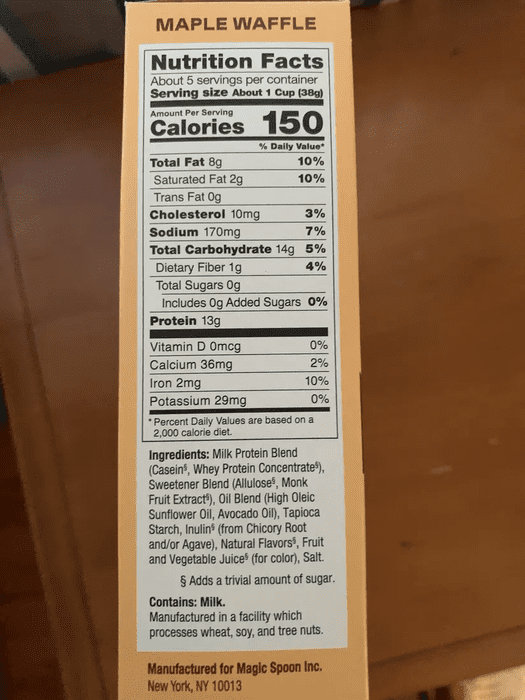 I recommend these cereals for many shoppers, including:
People who hate the crashing feeling later in the day after eating other types of cereal.
People looking for a healthy alternative to breakfast.
People who don't mind paying a little more for a healthy cereal.
People who are in the need of subscription plans that ensure they get their favorite cereals on time.
If nothing else, I would recommend looking through their selection of other flavors, including ones I haven't mentioned, to at least test one case out.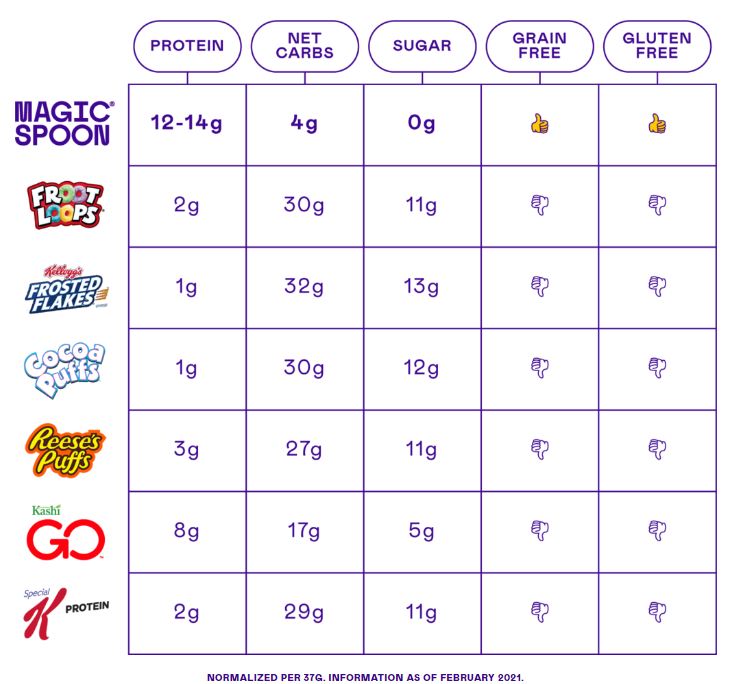 You can compare Magic Spoon to the top cereal brands before you buy.
Should You Buy It?
When I compare Magic Spoon to the cereal already in my cabinet, I find myself shocked at the nutritional information. This cereal has around 13 grams of protein with a small number of carbs and no added sugar.
I don't need to worry about having a sugar crash later in the day or being as self-conscious about what it is I'm eating in the morning. Magic Spoon gives the sweet flavors I want through natural sweeteners to cut down on your sugar intake.
Some of the other reasons I recommend this cereal brand include:
The cereal has a nice and crunchy texture.
The subscription plans save 25% every month and give a minimum of four boxes per shipment.
These cereals are suitable for kids and adults.
There are eight main flavors and limited edition flavors.
Magic Spoon has a mailing list to help you learn about new flavors and find discounts.
More than 25,000 customers rated the brand five stars on the official website.
All of the flavors are a healthy alternative to the other cereals you eat.
With the 100% satisfaction guarantee, Magic Spoon will refund your money if you're not happy.

Cons to Consider
I like this cereal, but I always want to bring all the cons of a product to light. First off, there are some problems with the website.
When I used the site I could not open multiple tabs to compare the different flavors and their nutritional information. You can only view one flavor at a time making it harder to compare flavors.
Another issue is the high cost. Though Magic Spoon claims that you will pay less than $10 per box, you can buy other cereals from the grocery store for $5 or less.
As each box contains five servings, a case gives you only 20 servings total, which isn't enough to have one bowl per day. If you share the cereal with others, it will go even faster.
Other cons and issues to keep in mind when buying this cereal include:
The minimum you can buy is one case, which is four boxes.
Magic Spoon does not ship outside of the United States.
While the cereal starts out crunchy, it quickly becomes soggy when exposed to milk.
Some customers complained about the small size of the boxes and claimed that they only got two servings per box.
The Stevia used in the recipe gives the cereal a slightly bitter aftertaste.
As soon as the cereal becomes wet, it develops a sticky texture that some dislike.
If you buy from Amazon or another retailer, the brand's guarantee does not apply to your order.
A few customers had issues with Magic Spoon refunding them. The official refund policy claims that the brand can deny a refund for any reason.
There were many complaints from customers who did not like the flavor. They claimed that it had a powdery flavor or that they didn't taste anything.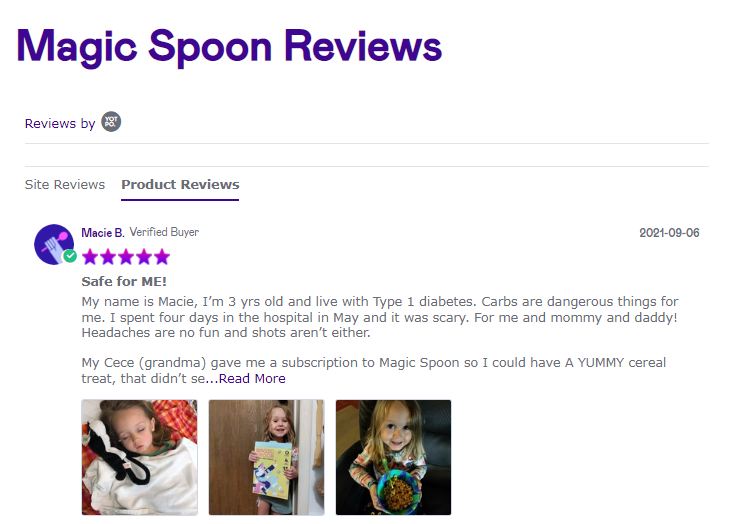 Always check out Magic Spoon cereal reviews on the official site and others before you buy.
Where to Buy
Click here to see just how easily you can order a box of Magic Spoon cereal or sign up for a subscription plan. I would recommend looking around their site for a bit to see if you can find any deals, or maybe a limited-edition flavor that won't stick around for long.
The cost of a single case is $39, which again I find a bit high. It is possible to save some money though with a 25% discount when you subscribe. This drops the price to $29.25 and ensures that you get four new boxes the next month.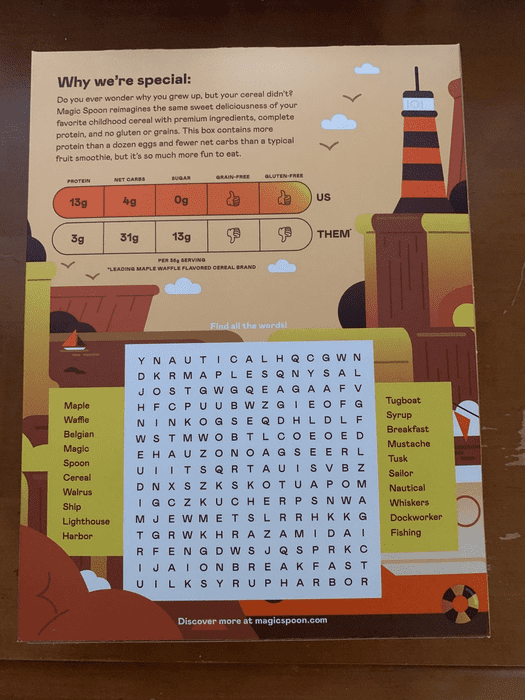 If you want to try a different flavor or grab a variety pack rather than a case of one flavor, just go online and change your order through your account.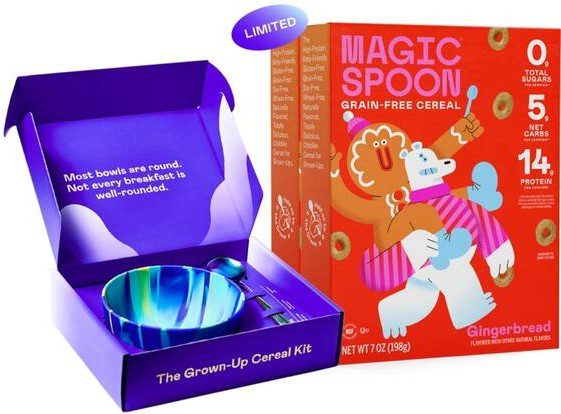 Make sure that you keep your eyes peeled for limited edition flavors such as gingerbread every year.
Competition
Many brands make cereals and other snacks that compete with Magic Spoon. I wanted to look at a few of these other health-centric brands to show you the wider range of options out there.
Catalina Crunch
Catalina Crunch makes snacks that are keto-friendly. I recommend that you start with one of the brand's variety packs to try multiple flavors. You can choose a pack with four to eight bags and pick which flavors you want to sample from options that include Chocolate Peanut Butter, Chocolate Banana, Honey Graham and Cinnamon Toast.
Catalina Crunch also has tons of cookies that combine two crunchy cookies in one flavor with vanilla cream in the center. You will find these Oreo alternatives in flavors such as Peanut Butter and Mint Chocolate.
Schoolyard Snacks
Schoolyard Snacks, unlike other keto cereals that come in large boxes, come in small single-serving bags. You can easily mix a bag with milk for breakfast or take a bag with you to have a snack later.
Cocoa and Peanut Butter are the top two flavors, but Schoolyard Snacks are also available in Cookies and Cream, Cinnamon Bun and Fruity. This brand also sells bundles that let you pick all of the keto snacks that you want such as cheese puffs and snack bars in different flavors.
Diabetic Kitchen
Diabetic Kitchen makes cereals for diabetics who cannot have much sugar. The cereals come in two flavors: Cinnamon Pecan and Almond Butter. Both mix the flavors that you love with granola.
These cereals are filling but have few carbs or sugars. You can eat the cereal by the handful as a snack or with milk for breakfast and use them in different recipes. Diabetic Kitchen also has hot chocolate and pancake mixes along with other products for diabetics.
Three Wishes
Three Wishes lets you buy a single box for $9.99 or get a bundle that includes six boxes for $39.99. If you buy four or more boxes, the site will take an extra $5 off your order. The Fruity and Cinnamon flavors are among the more popular options because they mimic the classic flavors of kids' cereal.
All of the cereals are kosher and free of peanuts, oat, wheat, and other allergens. Though these cereals have more carbs than Magic Spoon cereals do, some customers prefer the flavor of Three Wishes products.
Final Verdict
Finding a cereal that is good for you and tastes great can seem almost impossible. When many people think of healthy cereals, they think of those that use whole grains and other ingredients that never seem to soften in milk and cereals that taste and look like twigs.

Magic Cereal attempts to change that. These cereals contain no more than four carbs per serving and have no added sugar. Each serving has around 13 grams of protein to help you feel as if you just had a big breakfast.

As with other brands, Magic Cereal fans had some complaints. They were unhappy with the high price and that most stores do not stock it. Others didn't like the refund policy and had a hard time getting their money back.

In my humble opinion, if you're at all health-conscious and want to have a quick and simple breakfast option then this might be the best place for you to start.