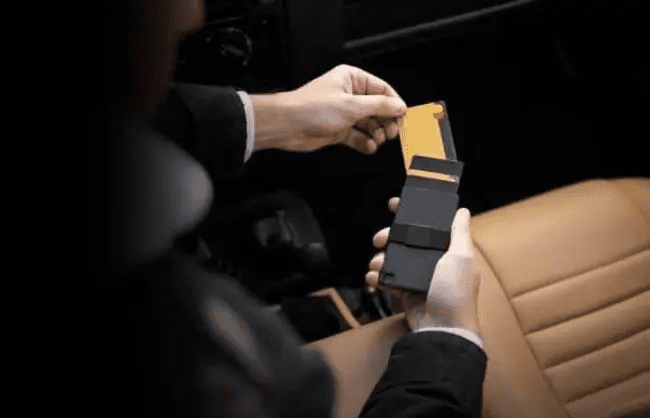 Ekster Wallets are premium wallets made for the modern age. These wallets sport sleek, modern designs and are equipped to hold all the cards and cash you need while keeping everything inside safe from harm.
Ekster now offers more than just wallets. You can pick up a case that keeps your cell phone safe or a sleeve for your laptop. You can use GPS tracking to find your wallet if you lose it and the RFID technology to block hackers trying to steal your cards.
In our Ekster wallet, you'll learn about the top features of this wallet and the benefits of all of the other products.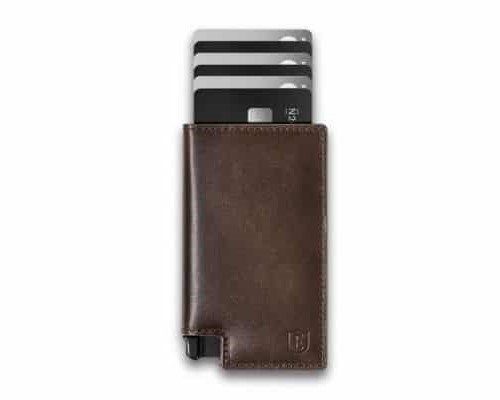 The Peeps Eyeglass Cleaner includes microfiber pads that gently clean your lenses.
PROS
Available in multiple colors and designs
Lets you buy matching accessories
You can pay extra to track your wallet
Free shipping on orders of $50 or more
Offers refunds for up to 30 days
CONS
Customer service is a little lacking
It can take awhile to get your order
The wallet may not have enough room for your cards
BOTTOMLINE
Though you need to pay extra for tracking, Ekster wallets block against RFID skimmers to keep your data safe and come in dozens of options to fit all customers. You can snag matching bags and other accessories when you buy one of these wallets.

iReviews Shopping Assistant
Find the best prices for this and many other products with our chrome extension
Product Features
Price: $79 and up
Shipping: Free on orders of $50 or more
Refunds: Within 30 days
Warranty: 12 months
Tracking: Only if you buy the Tracker Card
Colors: Up to six
Ekster Wallets
Ekster makes both wallets and cardholders to meet the needs of all customers. The most popular option is the Parliament wallet, which is a premium model that gives you quick access to all of your cards along with RFID technology. Inside the wallet is a cardholder made from aluminum that, with the touch of a button, causes your cards to fan out. The aluminum uses RFID technology to block your cards from skimmers. It retails for $89 and comes in six colors:
Classic Brown
Napa Black
Roma Cognac
Juniper Green
Merlot Red
Steel Blue
This is the one that I picked up and, I have to say, I'm very impressed. What I like the most about this wallet is its small size, as I'm used to having a much bigger, bulkier wallet. I don't typically carry cash, which makes this wallet perfect for me as it's mostly focused on carrying cards. Still, the wallet comes with an elastic steam to safely carry any cash you may have.
Another option is the Fortuna Parliament, which is the flagship design from Ekster. All versions use premium leather and have gold accents that add to the elegant look. You get RFID technology that protects you from scammers and skimmers. This wallet retails for $189.
If you prefer a basic design, Ekster makes a billfold that can hold multiple cards and still give you space for a little cash. This wallet sells for $89 and is available in Black, Brown and Caramel colors. No matter which wallet you choose, Ekster lets you add a built-in tracker.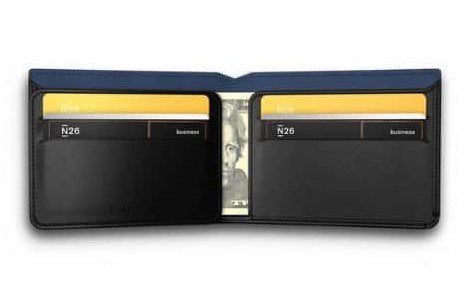 Ekster also makes traditional billfolds.
How Can You Use Ekster Wallets?
You can use Ekster Wallets in the same way you would a standard wallet. Simply put in the cards you use on a day to day basis and tuck the wallet away in a pocket or bag. Then, when you need a card, pull out the wallet and press the button to fan out the cards to select the one you need.
I recommend putting the card you use the most in the back as that will be the easiest one to pull out. If you have a debit or credit card with a tap pay you can use it to pay for items without even taking it out of the wallet.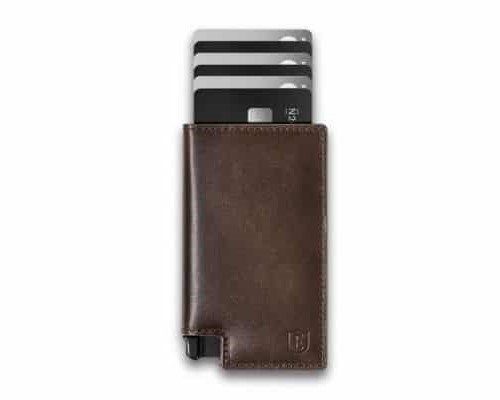 Ekster lets you add a tracker card to any of its wallets.
Sleeves and Holders from Ekster
Not everyone likes the look of the wallets from Ekster, which is why the brand now makes both sleeves and holders. One popular choice is the aluminum cardholder, which has enough room for up to 15 cards and a separate holder for cash. The aluminum holder retails for $79 and comes in Matte Black, Metallic Rose, Redwood, and Space Gray.
For only $119, you can bring home a carbon fiber cardholder. It functions similar to a switchblade with a button that you press to release your cards. The holder is also available in a carbon forged design that adds a unique texture to the surface.
The Senator cardholder uses leather on the exterior and has a strong aluminum holder inside. This retails for $79 for the most basic model. You can choose from six different colors, including Merlot Red and Roma Cognac.
This is the one I tried out in my video and I quite like it. For a while I have been using a traditional billfold wallet that has a picture of my favorite game character, MegaMan, printed on it.
After switching to the Senator, I found that I had much more pocket space or other things and that I had an easier time getting out the card I needed. I don't typically carry cash, so the card sleeve is a perfect for for me, though I do wish it was themed to the blue bomber.
Both the Parliament wallet and Matte Parliament wallet are suitable alternatives to traditional wallets. While they still give you lots of space, you won't need to deal with a bulky wallet in your pocket. Ekster sells these wallets for $99 to $109 and lets you choose from several colors. When you buy this sleeve for $49, you can choose from several different colors, including Blush Beige and Classic Brown.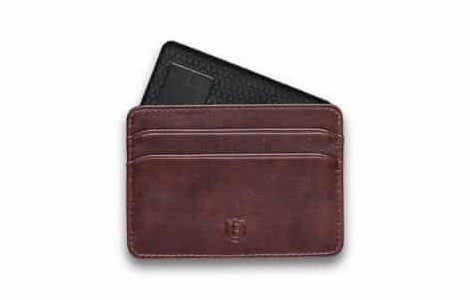 The Card Sleeve is a good alternative to traditional wallets.
Where Can You Use Ekster Wallets?
There are no limits to where you can use an Ekster wallet. I would recommend these wallets for anyone who travels a lot and needs quick access to their cards. Esker wallet's are also a good fit for people who always seem to misplace their wallets as most products contain tracking devices.
You might hear horror stories about people who had their card information stolen when they had their cards on them. RFID skimmers can grab all of the information off your cards when you're in line at the store or standing at the ATM. Ekster wallets use RFID technology to block those machines. This ensures that no one can steal your cards or their information when you're out and about.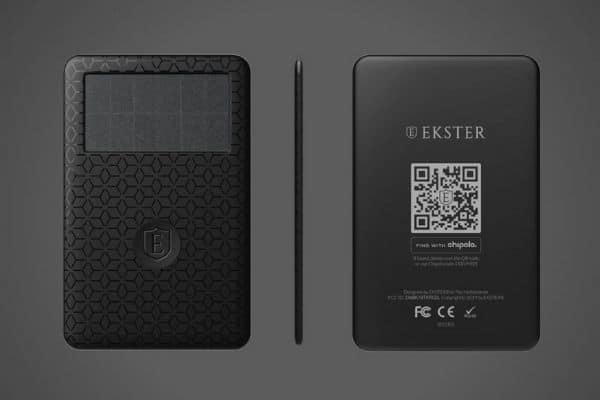 Ekster wallets let you track your wallet and get protection against skimmers.
Ekster Bags and Cases
You may find that you love the wallets from this brand so much that you want to invest in a few of its bags. The Weekender just might be the only bag that you need. It uses real Italian leather with separate compartments inside that you can use for your laptop and clothing. Though the Weekender retails for $295, it's often on sale for much less.
With the laptop sleeve from Ekster, you get the protection and security that your laptop needs. This sleeve fits both laptops and tablets with screens of up to 13 inches along with many other pockets to store a mouse, a charger,a phone, or a smart pen.
There are also multiple phone cases available from Ekster that fit different models of the iPhone 11 and 12. These cases have nice features, including:
Space for emergency cash and cards
Lets you use your existing charger
Keeps your phone safe from most damage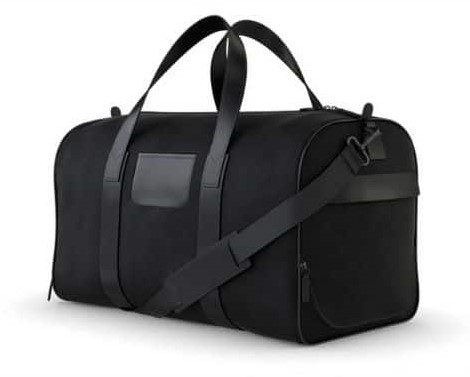 The Weekender is one of the most popular products from Ekster outside of its wallets.
Who's This For?
Ekster wallets are suitable for anyone who wants extra protection on the go. Though you might know that gas pumps and other machines can have hidden skimmers, you may not know that hackers use portable devices to steal your cards while they're behind you or next to you. Most of these wallets use hidden RFID blocking technology that will stop all of those machines in their tracks.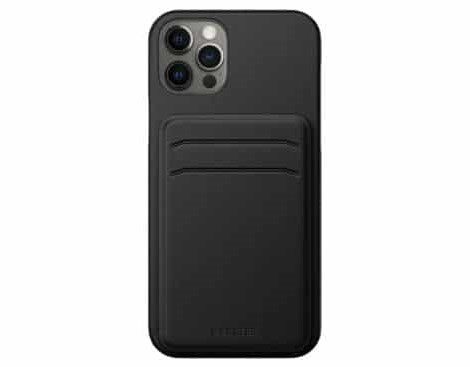 Ekster lets you match your wallet to your iPhone case and other bags.
Track Your Wallet with Ekster
One feature that sets Ekster apart from similar smart wallets is that you can add a Tracker Card to your wallet. This small credit card shaped device sells for $49 but is often on sale for as little as $37. It comes with an internal battery that lasts for up to two months on a single solar charge.
You can use the Tracker Card in a few different ways if you misplace your wallet. Once you sync it to your Alexa or another device, you can simply say that you want to ring your wallet. This will send a signal to the wallet that causes the card to ring like a phone. GPS tracking helps you find your wallet when it's not nearby. If you are tired of putting your wallet down and forgetting where you put it, you should pay extra for the Tracker Card.
The tracker can also help you find your phone. Simply press the button on the tracker to ring your phone and again to silence it. It's also possible to use the tracker to press the shutter button on the phone's camera so you can take photos without holding the phone.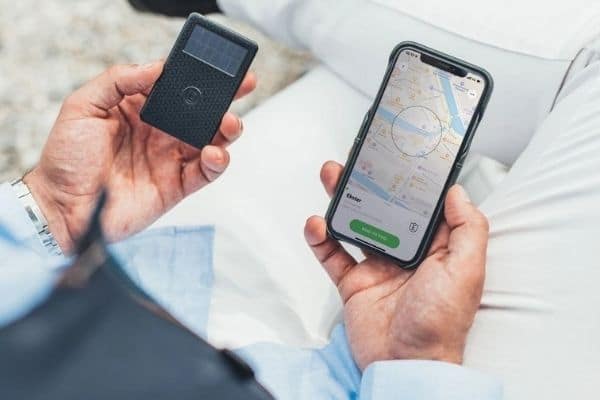 GPS tracking is just one feature that comes with the Ekster Tracker Card.
Other Ekster Accessories
In addition to its wallets and Tracker Cards, Ekster offers tons of accessories that many customers love. Some of my favorites include:
Key Tracker
Key Holder
Cash Clip
Magnetic Keyring
Gift Bag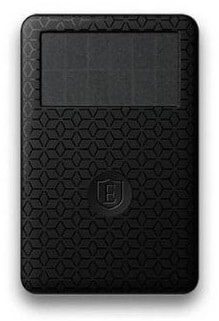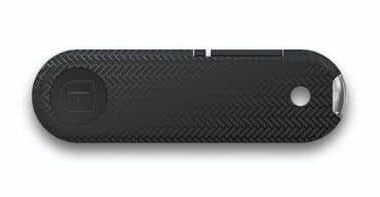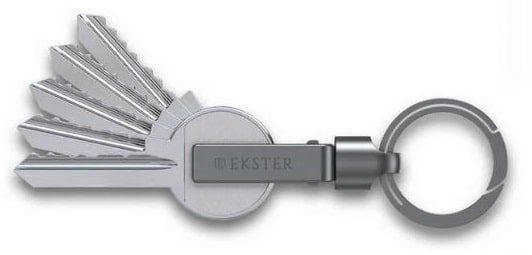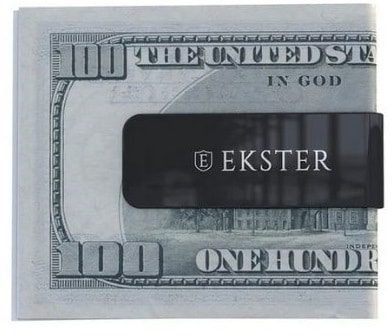 Should You Buy It?
I think that Ekster wallets are worth the price for customers who want more protection and don't mind paying extra for a tracker. The features that I love the most and reasons to buy one of their products include:
You can take advantage of sales and use promo codes to bring most of the wallets down to $100 or less.
If you spend more than $50, Ekster will ship your order for free.
The brand's return policy gives you 30 days to return your wallet and any other products you buy if you aren't happy with your purchase.
All wallets and other products come with a 12-month warranty that covers most of the problems you might experience.
With the optional Tracker Card, you can track your wallet and its contents via a GPS map or a voice command.
Some of these wallets have a compartment for cash along with slots that can hold one or more cards.
You can choose from multiple colors along with several designs to get the perfect wallet or cardholder.
An aluminum case inside the wallet keeps you safe from RFID scanners and skimmers.
Ekster has a list that you can join for free to get discounts and hear about sales.
The official site often runs promos that give you free gifts with your orders.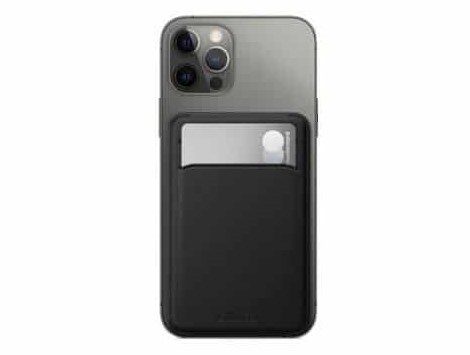 Ekster also makes sleeves and cases for newer iPhones.
Reasons to Skip It
Some of the cons of this brand its wallets include:
Though Ekster claims that you can store up to eight or more cards in its wallets, many users found that their wallets could only hold a maximum of five cards.
The tracker must be purchased separately with some models and adds an extra fee.
Ekster wallets are not the best choice for those who primarily use cash.
A few customers said that their wallets broke or damaged their credit cards because the designs put too much pressure on them.
You may find that the wallet only lasts for two to six months.
Ekster wallets are more expensive than some of the other smart wallets on the market, especially when you add a Tracker Card.
The button that you press to access your cards isn't as strong as you might like and can easily break.
Ekster has quite a few pop-up ads. When we visited the site as we wrote our review, it kept offering us a free money clip through these ads.
The RFID wallets may not protect against all types of machines and skimmers.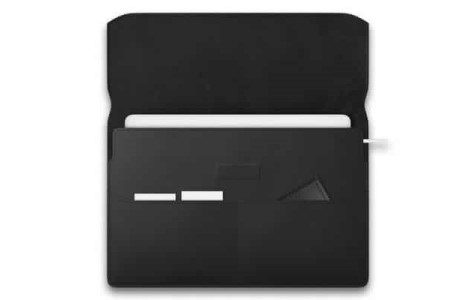 Not all Ekster products have as much storage space as you need.
Where to Buy
Click here to use our link to buy Ekster wallets and other products. Our link allows you to check out all of the available products and read Ekster reviews written by real customers. You can see the retail price for each product and find out if there are any current sales.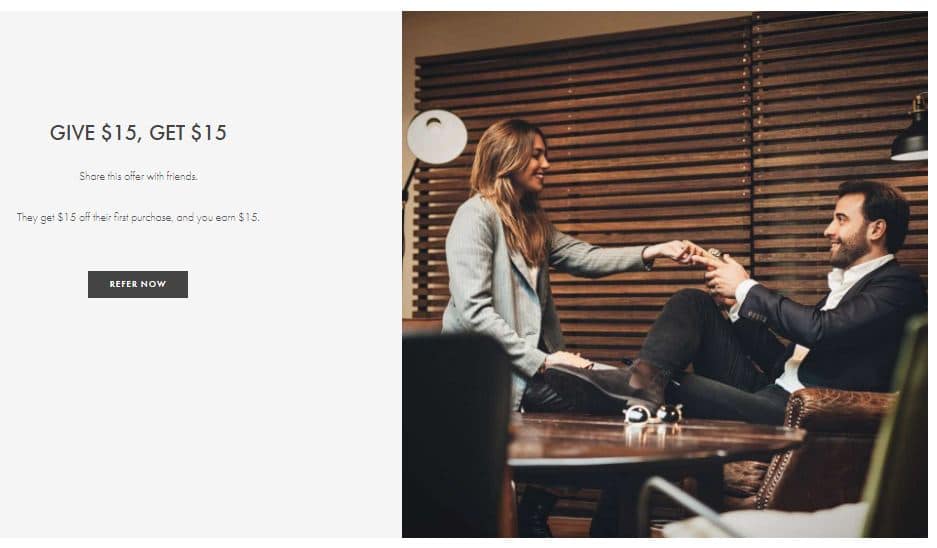 Competition
Ekster is not the only brand on the market that makes smart wallets. We'll look at the competition to show you other wallets you can buy.
KMM & Co
One of the places to look for smart wallets online is the KMM & CO website. This company makes classic billfolds and guarantees that any wallet you buy was made in Atlanta, Georgia. The billfold has a large compartment for your cash and four slots for cards. Each slot can hold multiple cards, too. You can choose from more than 10 colors, including Crazy Horse and Russet.
The Ridge
Many people love the way that The Ridge wallets look. Unlike traditional wallets made from leather or canvas, these wallets use durable aircraft aluminum and other metals. They come with a lifetime guarantee and both free shipping and returns. Inside the wallet is a chip that blocks RFID skimmers and similar machines to keep your cards safe. The wallets can hold up to 12 cards and work with an optional money clip if you don't like the elastic money strap.
Walli Wallets
If you want a smart wallet that you can track, consider Walli Wallet. The Original billfold design retails for $89 and has space for both money and cash. The Travel model is $199 and has enough space for your passport along with your cash and cards. Both wallets come with a tracker that helps you find your wallet.
TRAVANDO Money Clip Wallet
Another smart wallet is the TRAVANDO Money Clip Wallet that lets you use smart technology while on a budget. This wallet retails for around $35 and is available in leather designs or leather and carbon designs. All wallets have a built-in money clip that keeps your cash tucked inside and a chip that blocks RFID skimmers. Though it has a compact design, the wallet has enough room for up to seven cards inside.
Final Verdict
Smart wallets are a hot trend sweeping around the world. Though other brands jumped into the market, many customers keep coming back to Ekster when they need a good wallet. All of the wallets use durable materials and can last for months or even years.
I really enjoy having a much smaller wallet built more for my needs. I was using my old MegaMan wallet for years, until I switched to Ekster and found out how much more convenient their cardholder was. Now, my Ekster Senate cardholder is my everyday wallet.
For a good wallet that can keep up with your demanding life and solid accessories, you can't go wrong with Ekster.