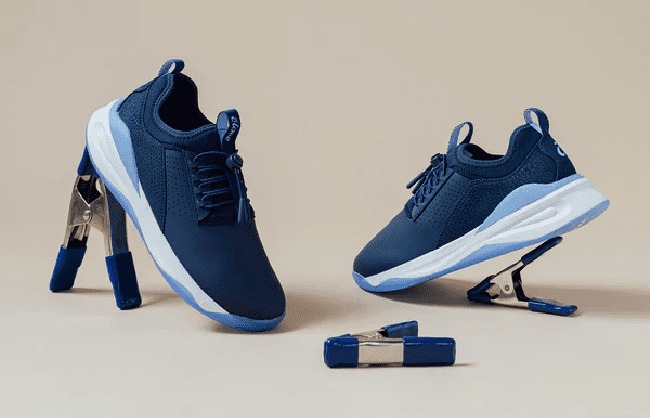 What are Clove Shoes?
When you're on your feet a lot of shoes are products that you need to put a lot of thought into. I know that nothing is worse than being up all day with a pair that neither fit, feel comfortable, nor offer any good support for your body leaving everything with an ache by the end of the day.
Clove shoes are a product that aims to tackle that issue. Primarily made for people in the healthcare industry, Clove is meant to feet good and comfortable for hours of standing a day. Do they live up to all that hype that they make for themselves though?
The first thing I noticed about my pair is that they have textured outsoles that give more traction and multiple interior layers to help with comfort. I think this is a good start, but it can't be everything that makes these good shoes.
In my Clove shoes review, I want to look at the features that make these shoes potentially worth it. The field of work you're in doesn't matter, I just want to tell you if these shoes are something that will fit well and last long or if there are problems that hold them back.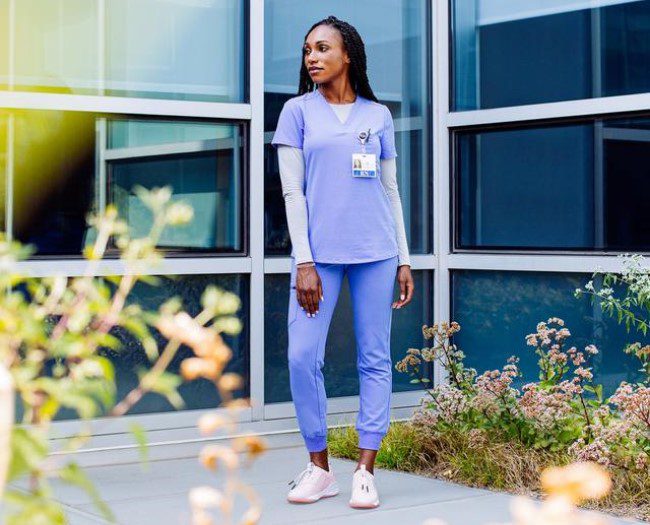 PROS
Available in sizes for men and women
Come in multiple colors
Offers free shipping along with free returns and exchanges
Lets you buy a pair through payments
Suitable for anyone who spends a lot of time on their feet
CONS
Made in China
No shipping outside of the US
Does not have as many color options as other shoe brands do
BOTTOMLINE
Clove shoes are easy to clean and comfortable enough to wear all day. Designed for healthcare workers, these shoes come in men's and women's sizes and are available in several colors.

iReviews Shopping Assistant
Find the best prices for this and many other products with our chrome extension
Product Features
Price: $129
Weight: 20 ounces total
Insoles: Ortholite
Materials: Clarino, microfiber leather
Returns/Exchanges: Within 30 days
Shipping: Free on all orders
Where are Clove Shoes Meant?
I think it's best to look at these first as nursing shoes. My personal experience in the field is limited, but I've made sure to look through testimonies of people in the field who have tried Clove to give the most well-rounded view of them.
First, If you work in the healthcare industry, the chances are good that you wore clogs before. Clogs have a slight heel on the back and an open area around the heel and can easily be slipped on and off.
The problem with clogs is that they are just as easy to slide out of by mistake. Other nursing shoes use plastic or foam materials that can feel comfortable the first time you put them on but often lack comfort over time. You may even find that those shoes start falling apart from normal wear and tear.
So, most options either fall apart or don't stay on right for long. How does Clove stack up against this?
From what I've found, Clove shoes are different because they are more like sneakers. If you have ever worn running shoes or athletic shoes before, you know what to expect.
You will want to wear the shoes with socks and adjust the laces before you head to work. Unlike regular sneakers that you need to tie and untie, Clove shoes come with a small device that holds the laces in place.
You push down on the top to adjust the laces and release them when you get the fit that you want. This same device makes it easy to take the shoes off at the end of the day.
Overall, Clove shoes I think meet that mark between durability, usability, and comfort to at least be a decent pair of shoes from the outset.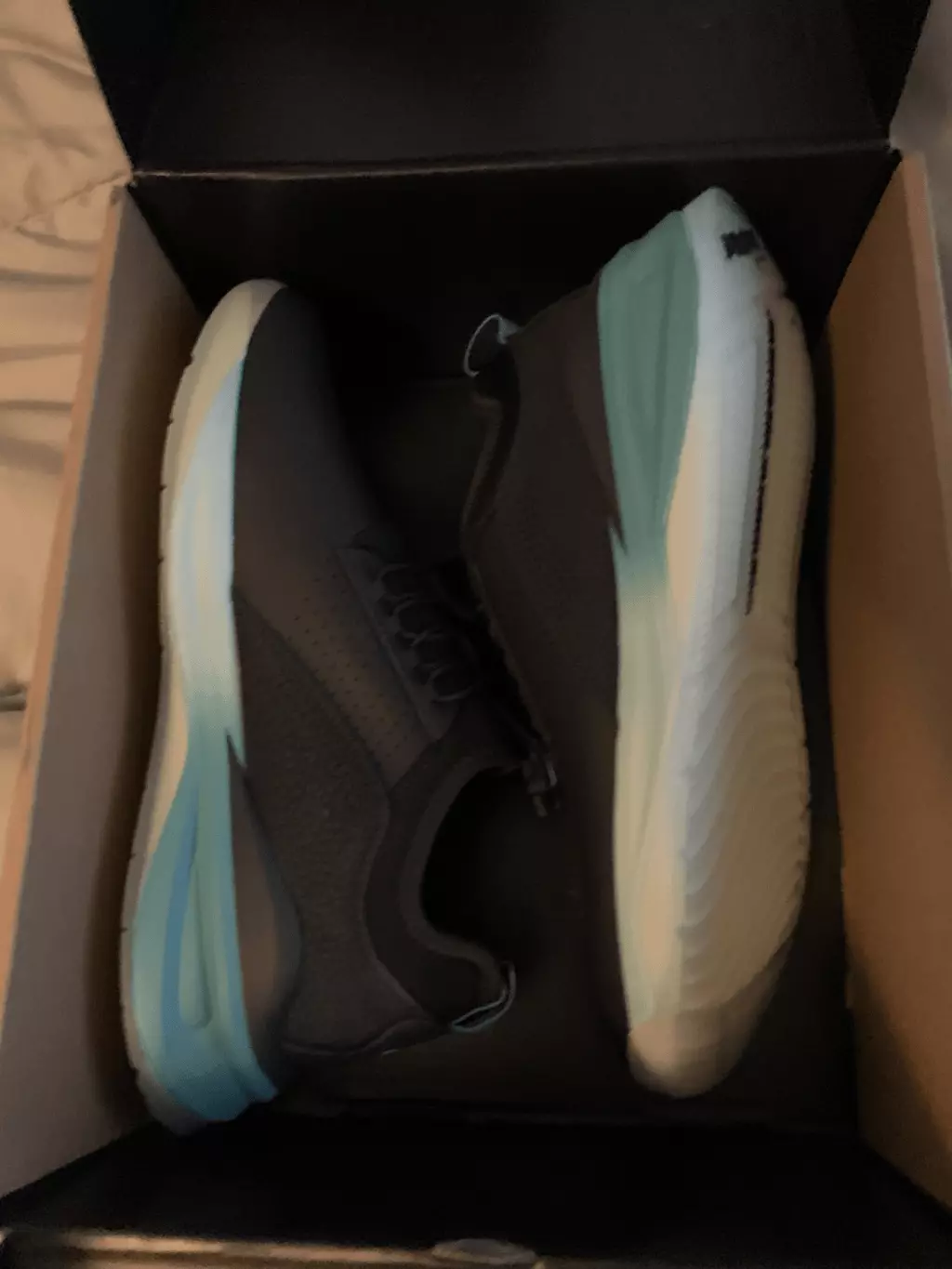 Clove Shoes for Men
The pair I got the most hands-on experience with is obviously the one for men. With this in mind, I'd like to go a little more in-depth with this specific product.
Available in sizes 7 through 13, they cost $129 per pair. This is the big sticking point for me. The price tag is massive for just a regular pair of shoes, so I would think that if that's a big sore point for you then these might not be the best option.
The pair I got the most hands-on experience with is obviously the one for men. With this in mind, I'd like to go a little more in-depth with this specific product.
Available in sizes 7 through 13, they cost $129 per pair. This is the big sticking point for me. The price tag is massive for just a regular pair of shoes, so I would think that if that's a big sore point for you then these might not be the best option.
That said, they've fit me well and I haven't had trouble with them even when I've walked around for most of the day. I wouldn't say they're the cheapest option, but if the price tag doesn't scare you away then I would keep an eye on them.
The All-Black Option is one of the more popular pairs for men. These shoes have the Clove logo on the bottom in blue but use black on the uppers and laces. These shoes work with your uniform and usually meet any dress codes that your work has.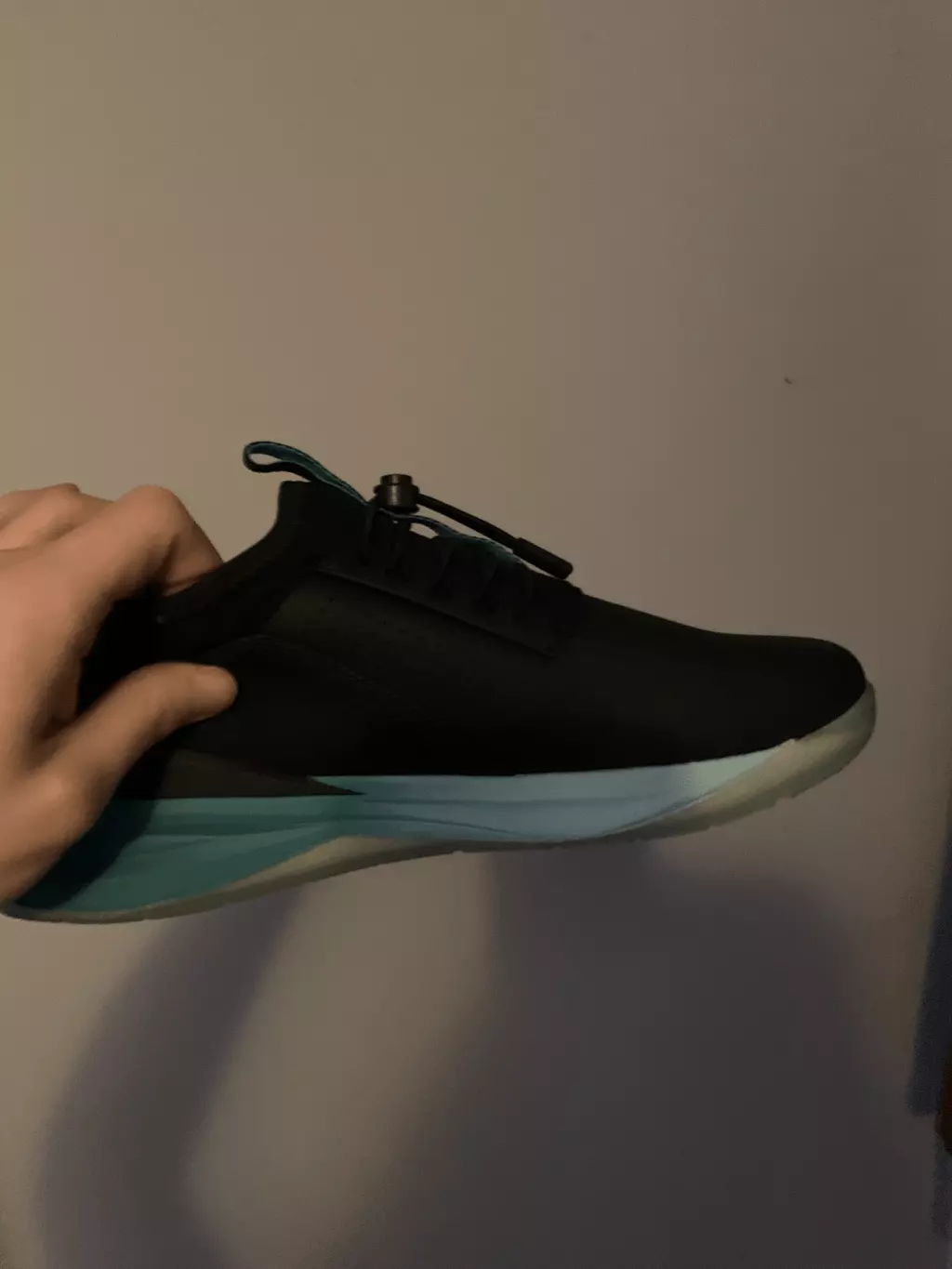 The main selling points I've found for these, include:
Adjustable laces that are resistant to fluids
Grippy outsoles that give more traction
Ortholite insoles to help with discomfort
Insoles that kill bacteria to prevent foot odors
From what I've seen, the men's shoes tend to run a little small and require that you go up a half size. The shoes have a neoprene sock built inside that lets you skip your normal socks when you're in a hurry and still get the fit that you want. You also get bonus items when you buy a pair: two badge reels and three pens.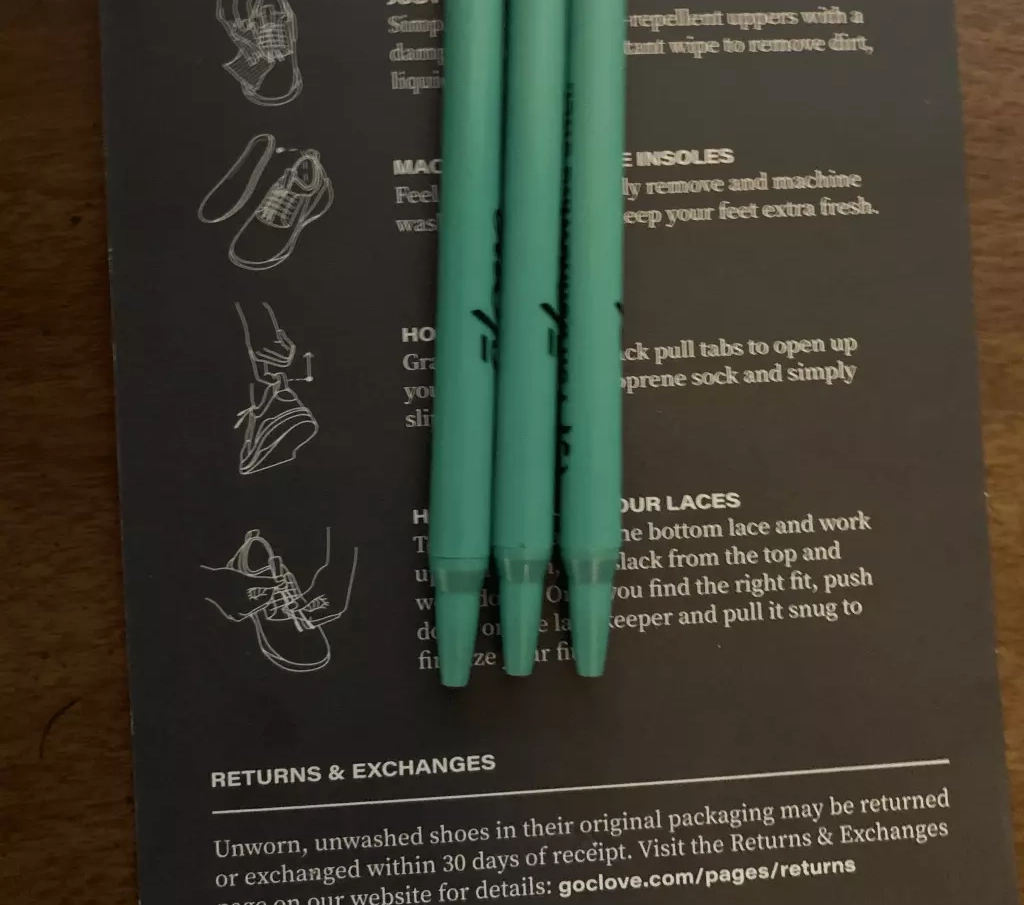 Should You Sign Up For Clove Insiders?
You can buy a pair of Clove shoes today without signing up for Clove Insiders. With that said, all you need is an email address to join and there are some bonuses that can come with signing up.
For starters, members get early access to both limited edition drops and launches. Clove releases new limited edition designs a few times a year. Some of those designs sell out on the day they drop.
The advance notice can be helpful if you become a fan of their products. I wouldn't usually stick with something like this, but you never know what specials they might have around the corner.
Insiders also get perks that other customers do not. Clove will keep track of both your viewing and shopping habits, and if you keep looking at the same pair of shoes without adding them to your cart, you may find that Clove gives you a discount on that pair.
It does feel a little intrusive if you don't know about it, but being aware of it does peel away that veil. The fact it's clear about it means it doesn't feel as fishy as it could otherwise in the modern internet age.
As you buy shoes from the site, there is the chance to earn unique offers that help save even more money. As a bonus, Clove will let Insiders know about other perks as they become available and before the brand mentions them online. You never know when the brand might launch a loyalty program designed to help customers who buy these shoes every year or more often.
If you find yourself becoming a frequent buyer of Clove products down the line then this is an option you will want to keep in mind. There is nothing bad about saving on products you were always going to get anyways.

Where Can You Use Clove Shoes?
Clove sets itself up as a shoe meant for people who are on their feet a lot in the medical field. As such these shoes are best suited for people who are up and around a lot in their field of work.
I personally feel these work well for being up and around a lot, but I wouldn't think they would go well for people looking for long-lasting footwear. Hospital work is what these are built for.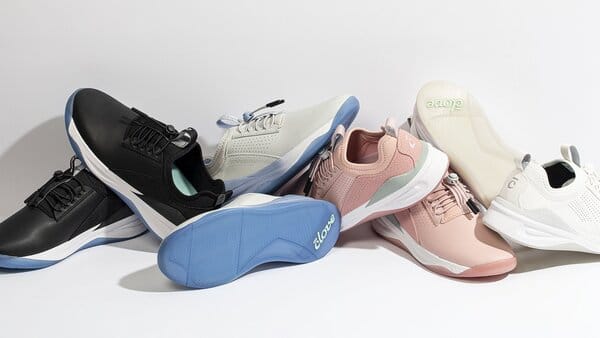 The places I feel these would be best for include:
Hospitals
Doctors' offices
Care centers
Nursing homes
Nonprofit organizations
With the design they have, they are also not the worst looking outside of work, in my opinion. Clove shoes are suitable for wearing to all of the places you need to visit before or after work, including the grocery store and the gym.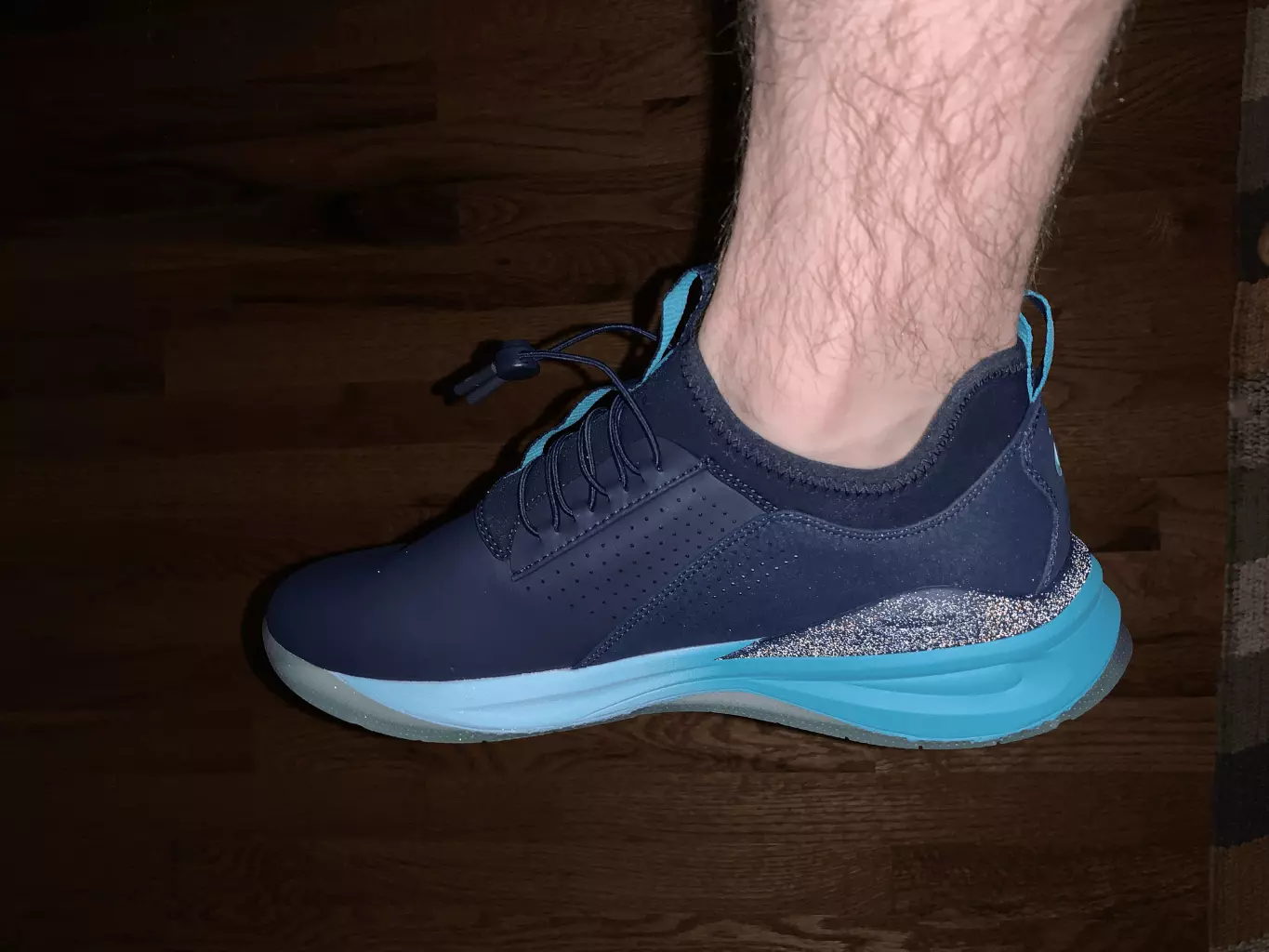 Clove Shoe Color Options
At the end of the day, Clove shoes are a clothing option. How they function is the most important part, but how they look is also something I wanted to look at.
Clove makes shoes in several colors such as Grey Matter. These shoes are part of the Core Collection, which refers to the main collection of shoes from 2021. Clove used different shades of white and gray in this shoe.
If you're a fan of darker colors like I am, Night Shift might appeal to you. This pair has a black upper with a white midsole and a bright blue bottom that you can show off as you walk.
Other options include:
Pink Up
Brilliant White
Lavender
Royal Maroon
Altogether, I feel that Clove offers more than enough color options for everyone to find a pair that suits them. There are plenty of other colors I found on offer, and if none of the listed ones sound good to you I highly recommend that you look through more of the wide selection.

Accessories from Clove
There are several components and accessories that I've seen with Clove. In addition to compression socks, Clove offers:
Under Scrubs designed to fit under your scrubs that use raglan to keep you warm.
Nalgene Water Bottles that have the Clove logo on the front and hold 32 ounces.
With Love Totes that are easy to carry and have the "With Love" hashtag printed in white across the front.
Pen Packs that have "For Borrowing Only" printed on each pen.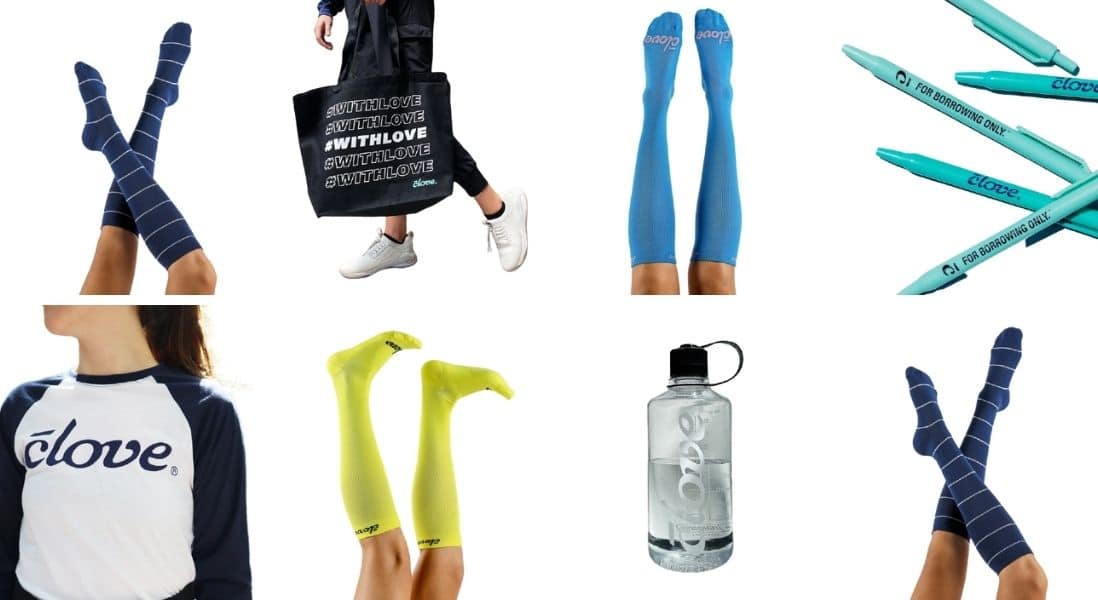 Should You Buy It?
To decide whether these shoes are worth it, I want to look at the Clove shoes reviews and feedback posted by customers. Nurse.org is a popular website for nurses. This site picked Clove as one of the top 10 brands for nursing shoes.
Some of the features the site loved the most included how comfortably they fit and the good quality of the materials. I have to agree with this part. They are comfortable and nothing about them feels cheap at all.
Customer reviews also love that the shoes are water-resistant. They never know when their shoes might get wet at work, but this feature ensures that their feet stay dry and that their shoes don't stain. Other customers liked that they could easily clean the shoes and that the shoes gave them good stability and traction.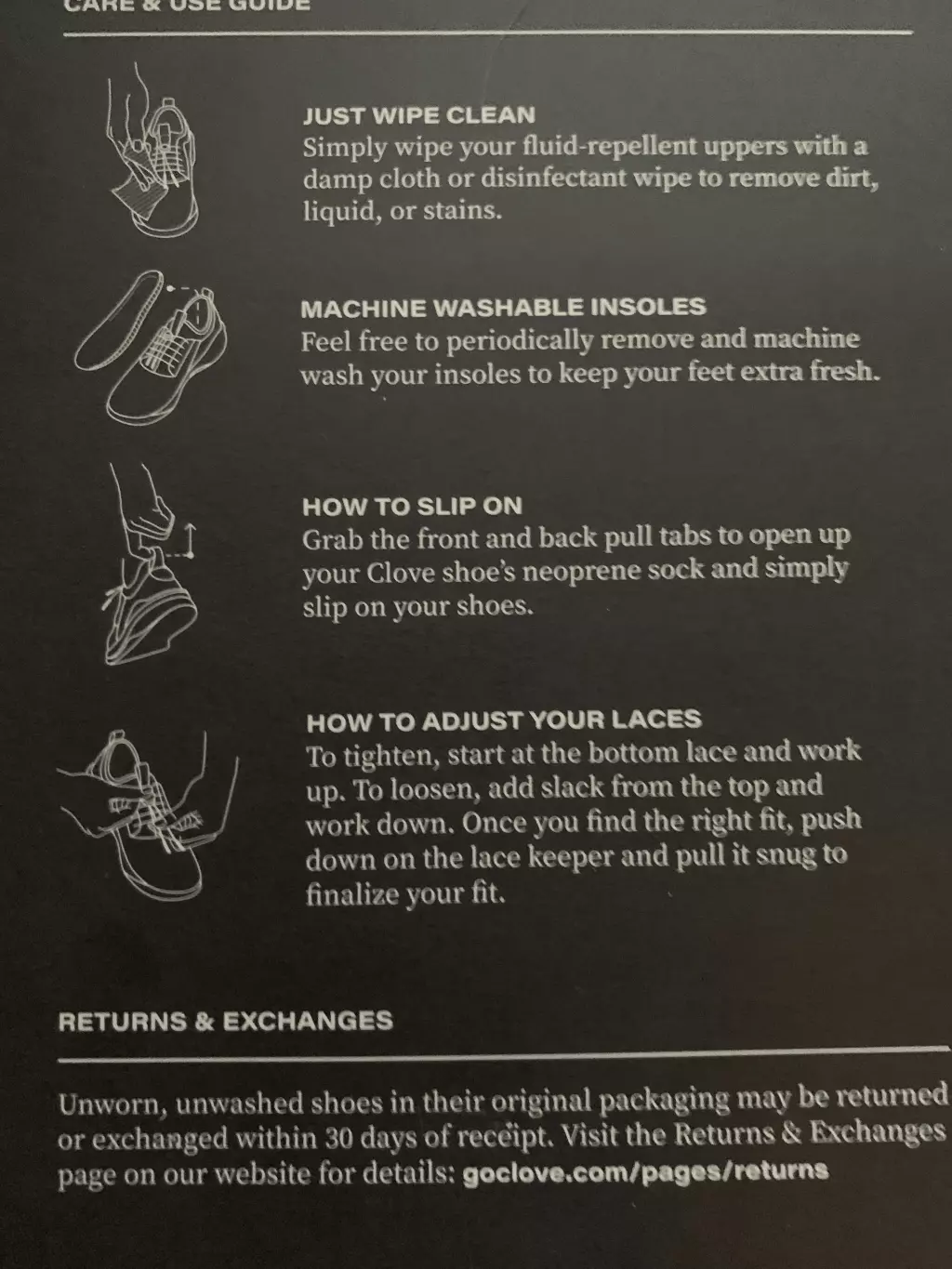 Some of the other reasons I think Clove shoes are worth the money include:
While the shoes sell for $129 per pair, there is usually a sale at the beginning of the month that takes more than $20 off.
If you live in the US, you get free standard shipping. Clove offers free shipping to all cities and states.
Once you order, you get a tracking number that helps you keep an eye on your package. Your order should arrive within four business days.
Clove offers free returns on all orders. You just need to visit the Returns Center to start the process.
If you need to order multiple pairs, Clove has a group order option. This even lets you customize the designs you buy.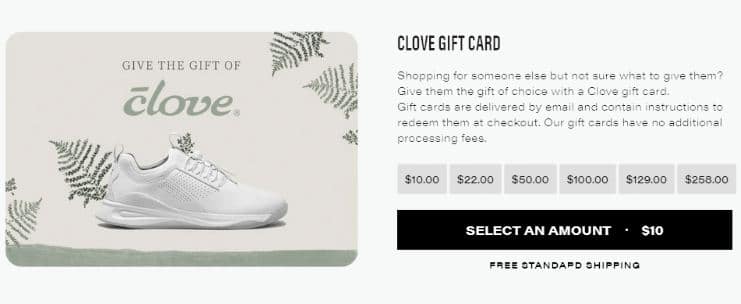 Cons to Consider
There is no such thing as a product without cons. I wanted to bring up some of the possible downsides involved with Clove to allow you to make the most informed decision possible.
If you live outside of the US, one big con you might is that the brand does not ship outside of the United States. Other negative Clove Shoe reviews pointed out that they needed better insoles. One shopper said that she had flat feet and got little in the way of support from the shoes.
Others thought the shoes were expensive when compared to other brands. You can get a pair of sneakers that are suitable for work for as little as $75, which is less than Clove charges even when the site runs a sale. I brought this up myself earlier, and it's something I agree with as the price is far higher than most other shoe brands.
Another thing to keep in mind is that while I like the selection of colors, it's not the biggest out there. Other brands like Nike release new designs a few times a year and have dozens of colors to choose from as well as custom options. Comparatively, Clove has much more of a limited selection.
Though you may occasionally find limited edition designs, they often use the same colors or similar colors to the designs that are already available. On the plus side, many facilities limit what colors you can wear at work. Clove shoes often work with your dress code.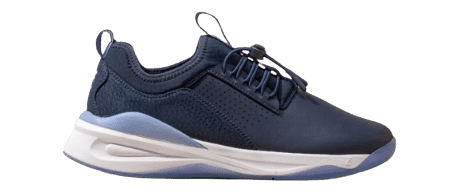 Where to Buy
If Clove has caught your attention at all then you can click here to load the Go Clove website and start shopping. I recommend that you look at either the men's or women's shoes to see all of the different colors that are available.
If there is a currently limited edition pair in stock, the site will show you that pair under the color section. Don't forget to click on the Insiders link to sign up and unlock all of the perks.
I also suggest looking at Clove Cares to see how this brand gives back. There's also the Clove Blog that covers info nurses and other customers might find helpful, including the top signs that you need to replace your old shoes and dress code basics for medical professionals.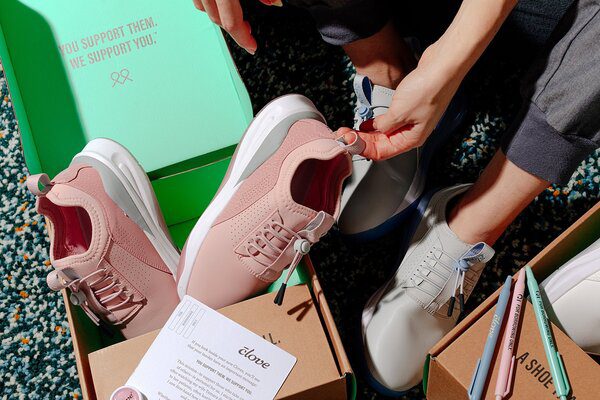 The Competition
Though Clove is popular with healthcare workers, it's not the only brand that makes shoes for those shoppers. I want to look at some of the other brands below to show you possible alternatives if you like the idea of Clove but feel it doesn't quite fit you.
KURU
KURU is a brand that makes shoes designed for those with foot pain. When you sign up for the mailing list, KURU will automatically enter you into drawings held every Friday for the chance to win a free pair of shoes.
The sneakers and tennis shoes from this brand are similar to those available from Clove because they have cushioned insoles and lots of support. You can shop for shoes that work for the specific type of pain you have, which ranges from back and knee pain to discomfort caused by diabetes and other conditions.
BALA
BALA specializes in shoes for healthcare workers. The site has videos that help you learn about the technology the brand uses and why its shoes are so comfortable.
If you buy a pair, you get a referral link that you can share. Anyone who buys through your link will earn you $20 off your next purchase. BALA also has a good refund policy and lets you exchange shoes.
All Heart
All Heart ells both shoes made by an in-house brand as well as those from other brands. The All Heart Basics line includes clogs in fun patterns and prints that are slip-resistant.
I like that this site offers shoes at prices as low as $20 or less. You will also find tons of other things that healthcare professionals need such as scrubs and PPE supplies.
Dansko
Dansko offers both nursing shoes and shoes designed for other types of medical professionals. Known for its clogs, Dansko uses durable materials that can stand up to long hours on the job.
You can choose from simple designs in black and brown or opt for unique pairs that use multiple colors. There is also a mailing list that helps you unlock Dansko coupon codes. The brand draws a name from its users a few times a month and awards winners $250 gift cards that work on the site.
Final Verdict
When writing my Clove shoes review, I found dozens of positive reviews and not many negative comments. Some customers wished that the brand didn't make and ship shoes from China as they worried about the overall quality and how long shipping took.
Others thought the shoes were expensive at $129 per pair. There were also complaints about the lack of colors and designs, but some found that this made it easier for them to find pairs that matched their workplace dress code.
I like that Clove makes shoes that are built to last and feel comfortable as they do. These shoes are resistant to water and other types of fluids and have tons of padding inside. While they may not offer as much support as you want, you can add different insoles for even more padding.
If you buy the wrong size, Clove gives you 30 days to return or exchange the shoes for free. Anyone who works in the nursing or healthcare field will find that Clove shoes are worth the money. If the price doesn't scare you off, then I would highly suggest Clove shoes.