Ethos Life Insurance Review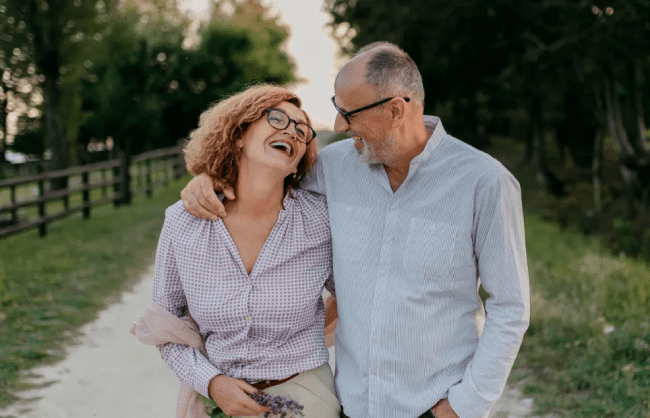 Life can be extremely unpredictable. One day you're going about your day, working to provide for your family, and the next, some illness or injury comes along to interrupt the status quo and leave you unable to work. For this reason, taking out a life insurance policy is a smart move for those who want to make sure that they and their families are taken care of through these rough times.
Ethos is a relative newcomer in the world of life insurance companies, but their low prices and stellar customer service has given them an excellent reputation among customers and continues to be one of the best options for personal life insurance.
In this review I will go over the basics of Ethos life insurance, how to use it, the policy times, as well as the online infrastructure, to help you decide if Ethos is the right insurance provider for you.
PROS
Affordable
A+ rating by BBB
Term and whole life policies available
CONS
May not be best for less healthy individuals
BOTTOMLINE
Ethos is a solid option for those looking for affordable life insurance. Customer service is excellent and coverage is adequate for able bodied adults.
Features
Term life insurance
Whole life insurance
Same day coverage
No medical exam required
Money back garuntee
What Is Ethos?
Ethos is an Austin Texas based life insurance company that provides both term and whole life insurance policies. While they are a newcomer in the insurance world, Ethos works with some of the bigger companies to provide you with the adequate coverage and policies that you need.

Ethos has an A+ rating from the Better Business Bureau, an "excellent" rating from TrustPilot, and a 4.8 out of 5 star rating from Google reviews. Looking at the customer reviews on Google, most customers seem extremely impressed with Ethos's friendly customer service and affordable policies.
Features
As mentioned above, Ethos offers plans for both term and whole life insurance policies. Term life insurance policies are purchased and paid for throughout a period of years, ranging from 10 to 30 years.
With one of these policies, if anything happens to you while you're paying, like an injury or an illness, your family will be covered for most expenses. This is recommended for individuals whose families would struggle financially if anything were to happen to them.
Whole life insurance policies through Ethos work similarly, but are for older individuals, aged 66-85, who want coverage for the rest of their lives. This is for people who don't want to leave their loved ones with too many expenses, like end of life care or funerary costs, and makes sure you're taken care of for the rest of your life.
Whichever policy you choose, you will get a fast and easy application process, a money back guarantee if you're not satisfied in less than 30 days, and access to lifetime customer support if you ever have any questions or concerns regarding life insurance in general.
How Can You Use Ethos? / Who Is This For?
To get started with Ethos, you can first take an online assessment to see which policy is right for you. I'll use myself as an example here. I am a 25 year old non-smoking male with very little health concerns and average credit.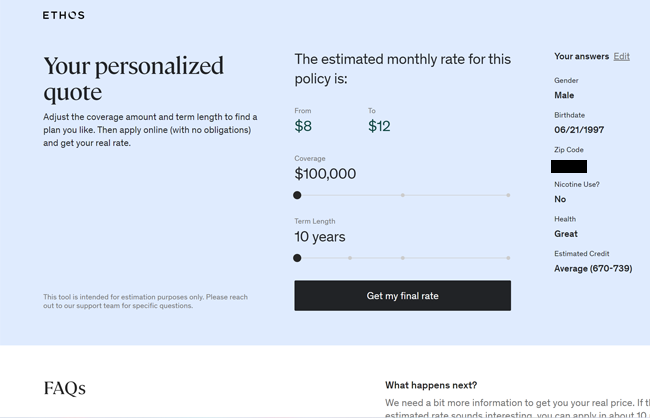 For me, a 10 year term life insurance policy of $100,000 would cost from 8 to 12 dollars a month. Pretty affordable if you ask me, I think I spend more than that each month on sodas.
Ethos is for individuals with average to excellent health who want to make sure that they and their family members are taken care of in the event that they are unable to work for a time, or even if they pass away. I would recommend an Ethos policy if you're the primary breadwinner of the family and your loved ones would struggle if you were to be incapasitated for some time.
Web Infrastructure / Branding
Being a life insurance company marketed mostly to older individuals, Ethos really needs a simple and intuitive website that has all the information available to potential users. Luckily, Ethos delivers on this with a site that's nice looking and well put together, with no dead links and plenty of information about the company, policies, and reviews.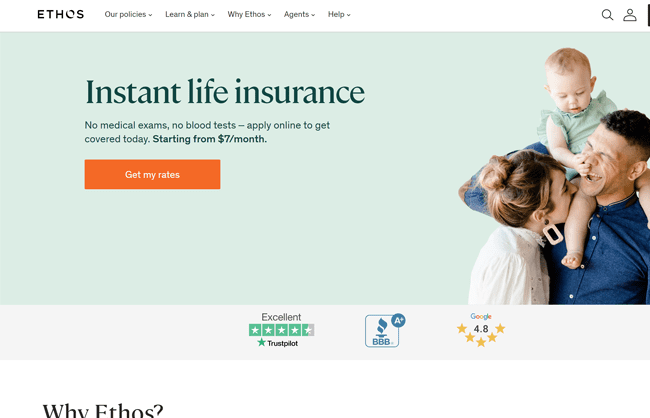 I especially liked how I was able to get an estimated quote for how much I would be paying for a term policy without even having to speak to anyone or give too much information. This makes it so that anyone could take a quick look at Ethos and know for sure how the company will take care of them.
Branding is similarly simple, yet effective, being very reminiscent of other insurance companies.
Should You Buy It
If you're of good health and the primary money maker of a family who would struggle without your income, then I would highly recommend getting some sort of life insurance policy. Ethos is a great option as term care is super affordable and you get access to super solid coverage with excellent reviews.
For individuals of poorer health, I would recommend looking somewhere else. Ethos is more for the average American whose family would need a bit of help if something were to happen to them.
Where to Buy
Policies from Ethos can be purchased through the official website after an initial online assessment, and there's no need for a medical examination. I would recommend looking at multiple providers first so that you can compare and contrast prices and coverage plans.
Competition

Bestow is another similar life insurance company with comparable prices and coverage. When I took the online assessment here, my plan for a 10 year term of $100,000 worth of coverage was a little bit more than it would be with Ethos, but not by much.
Customer reviews for Bestow are similarly just a little bit lower than those from Ethos, but again not by much, and they still have an A+ from the Better Business Bureau. While Bestow is not a terrible choice, I think that Ethos is still the better company just by a bit.

Northwestern Mutual is another solid choice when it comes to life insurance as they have a 96% customer retention rate and were voted the number 1 life insurance provider by NerdWallet in 2020. One thing I don't like about Northwestern Mutual, however, is that they don't have the quick and easy online assessments that tell you how much your policy would be like the ones for Ethos and Bestow.
It's kinda hard to compare life insurance companies, but for a few small reasons, I think that Ethos comes out on top among the ones I looked at for this review. Coverage is relatively cheap and customer service is some of the best in the industry.
Final Thoughts
It's hard to imagine the worst case scenario for you and your family, but it's something we all have to deal with one time or another. None of us are invincible, and we need to have backups and plans in case something terrible happens to us.
For these reasons, it's nice to know that companies like Ethos are out there to make preparing for these events easier. With their cheap policies, wonderful customer service, and easy to use interface, Ethos is an excellent option for able bodied people looking out for themselves and their loved ones.
Resources and Further Reading