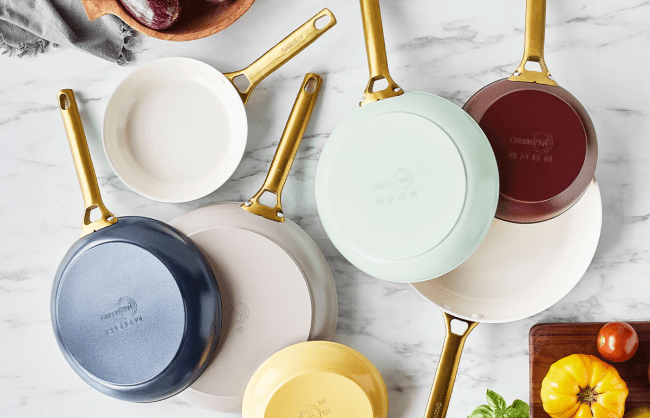 What is GreenPan Cookware?
GreenPan Cookware is a line of products that claims its pans are the healthiest way to cook because they lack the harsh chemicals other pans use. Rated five stars by most customers, GreenPan has also won dozens of awards for its products. However, how do I feel about this line of products?
Note, my personal experience has always been that I'm a terrible cook. Give me a recipe and I'll find a way to mess it up that you never knew possible. So I mean it when I say I've had an easy time getting accustomed to GreenPan's cookware, and I want to go into that some with this review.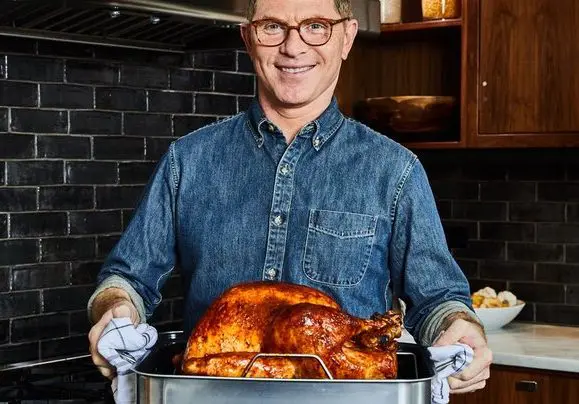 GreenPan sells both traditional pots and pans along with cooking tools.
PROS
Gives you 60 days to start a return
All products come with a limited warranty that lasts for two years
You get free shipping when you spend $99 or more
All orders come with a free gift
Tons of products that include pots and pans with a durable ceramic liner
CONS
Expensive for pots and pans
The ceramic liner can wear off and is not covered by your warranty
You void your warranty when you do not follow the proper guidelines
BOTTOMLINE
GreenPan makes cookware that is free of the chemicals that other pans use and comes in a range of styles for all kitchens. You have two years to file a warranty claim and 60 days to return an item.
Product Features
Cost: $400+ for cookware sets
Shipping: Free on orders of $99 or more
Refer a Friend: 25% off for each referral
Registry: Through ZOLA only
Limited Warranty: Two years
Returns: Up to 60 days
GreenPan Cookware Products
GreenPan sells a wide variety of items, and I want to look over some of them and what the general thoughts on other reviews are mixed in with my own thoughts. I recommend that you start with a look at the cookware sets.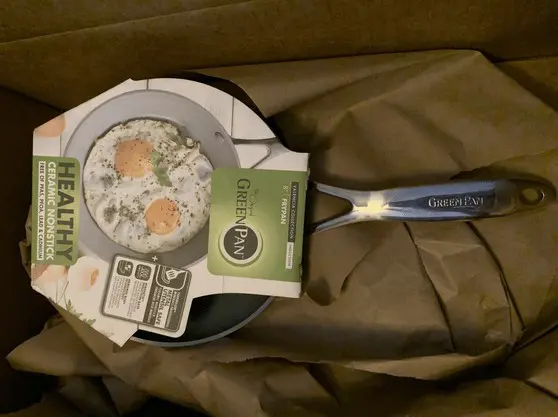 Cookware Sets
The Lima set is the most affordable one offered by GreenPan at $215. Though it comes with a handful of tools, it also features several large pots and two pans. It's a good base set, but shows the high price tag that comes with most products on offer.
In a similar price range, there is the Rio set. This cookware comes in a turquoise color that sells for $220 for the 16 piece set. Not a far jump from the last set, and if you're willing to pay for the first the small increase might be worth it here.
If you are willing to spend even more, GreenPan makes a 22 piece set for $340. This set gives you plenty that your average person would need for their regular kitchen. This is the kind of pack I feel you would get if you're trying to get into cooking but have almost nothing at home to use.
For those looking to really start filling out their home kitchen, there are the Valencia and Venice sets. They are more on the pricey side, with up to 16 pieces for less than $700, and I would say are targeted more at experienced cooks.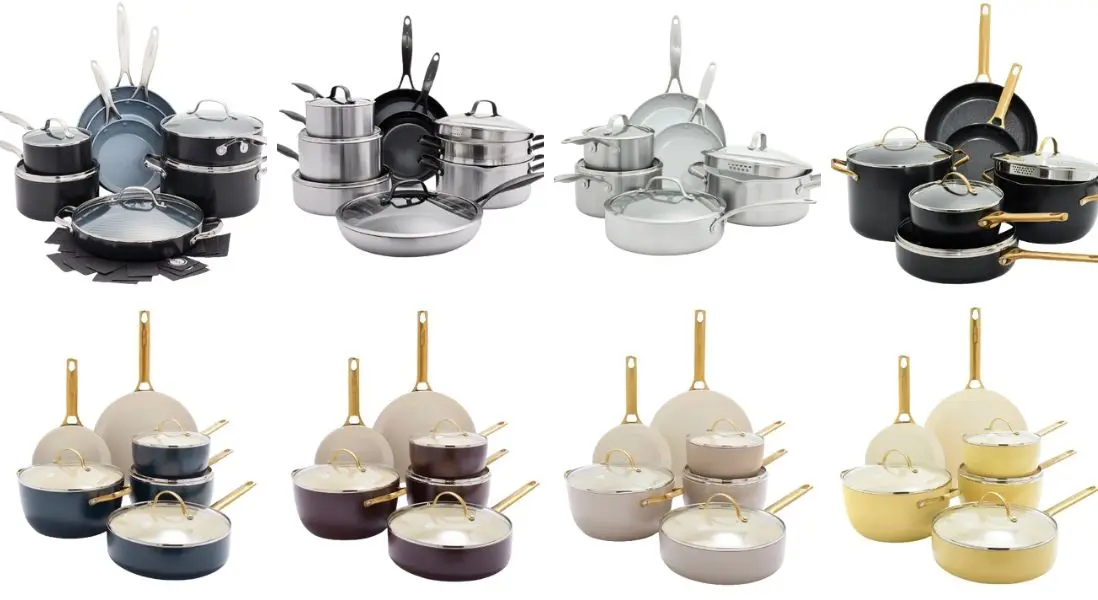 Frying Pans
My impression of GreenPan pans is they are sturdy and well crafted. I like the Smartshape Ceramic Nonstick Frying Pan because it has a smooth interior and a durable handle. With a little prep work beforehand it feels like almost nothing sticks to it.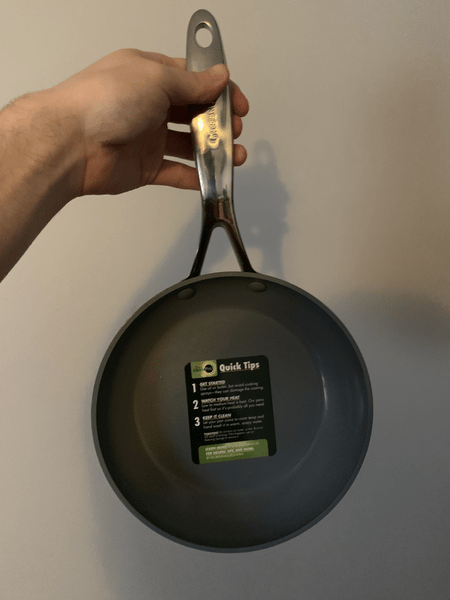 There are several sizes such as the eight-inch for $45 or the 12 inch for $130, which also comes with a matching lid. Many customers I've looked into also like the Chatham set for $75 which includes 8z' and 10" frying pans.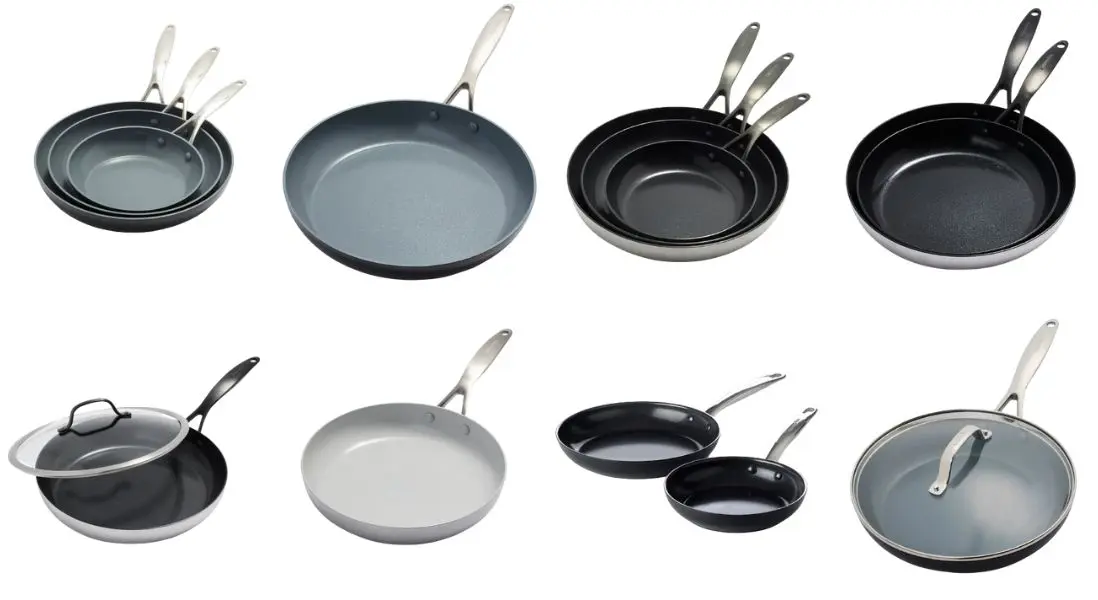 Roasters
The Chatham Roaster is the cheapest option and is a good base model. It sells for $140 and has a nonstick ceramic coating inside and a rack.
At $220, the Reserve Roaster is more expensive but comes with two-tone handles and a larger interior. The included rack makes it easy to serve roasts.
The product is probably something you won't be getting much use out of if you're not big into roasts, though.

Saucepans
GreenPan saucepans have the brand's patented ceramic lining that keeps food from sticking to the inside and makes them easier to clean. These pans are obviously well-suited for making sauces, but can also be used in over a dozen creative ways around the kitchen.
The prices range from $35 for the Rio pan that holds two quarts to $110 for the same size saucepan from the Valencia line. There are also sets that include saucepans in two or more different sizes.
The easy to clean aspect is what really sells it for me, though. It doesn't take a lot of effort to get anything left behind after cooking off, and saves more time in the day.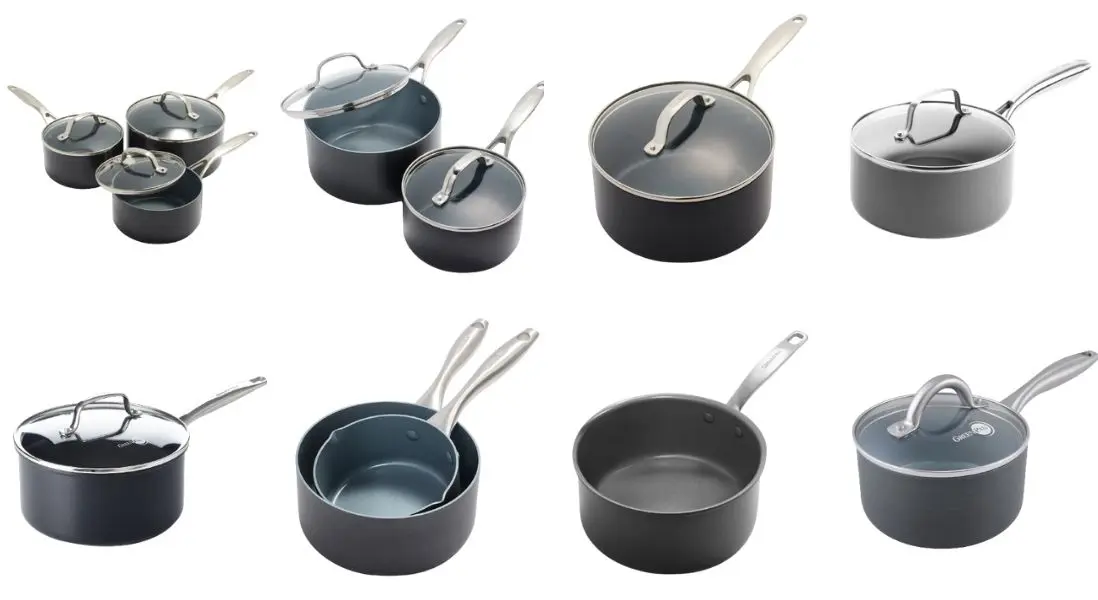 Grill Pans
GreenPan's grill selection offers a decently priced way to get a smaller but still functional grill when the larger outdoor ones aren't possible.
The most popular seems to be the Mini 5" Grill Pan. This model sells for $13 and can fit a sandwich or a fried egg. GreenPan also makes 11" round and square grill pans with solid handles that are resistant to heat and sell for $60 to $110.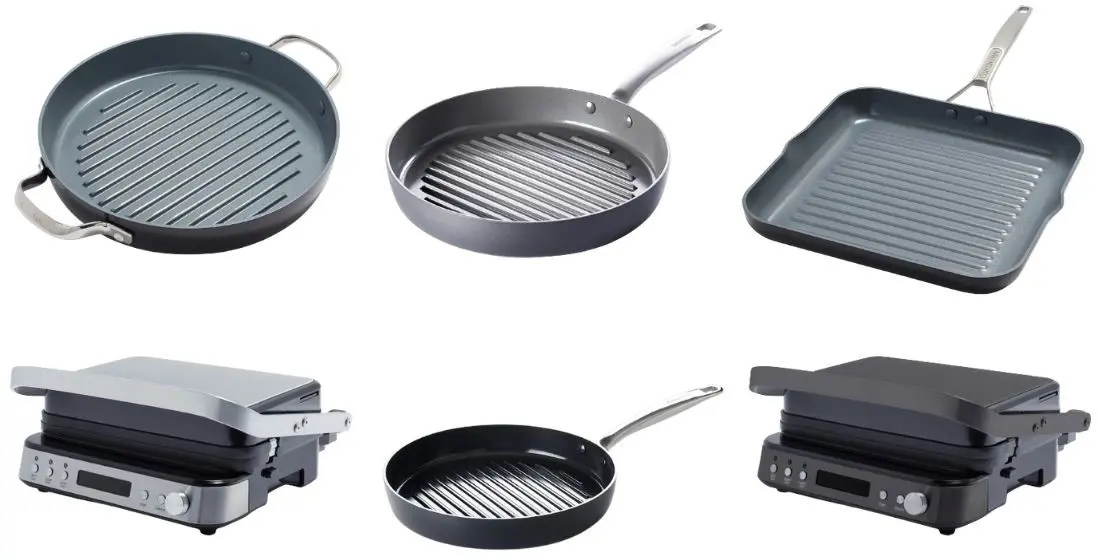 Saute Pans
The saute pans from GreenPan are well made for people with some experience in the kitchen already and who are looking to expand their skill set further. This probably shouldn't be your first purchase from their products unless you're confident in your abilities in the kitchen.
All of the pots come with a lid that fits on top to keep the ingredients contained. Depending on the size it will cost between $60 and $160.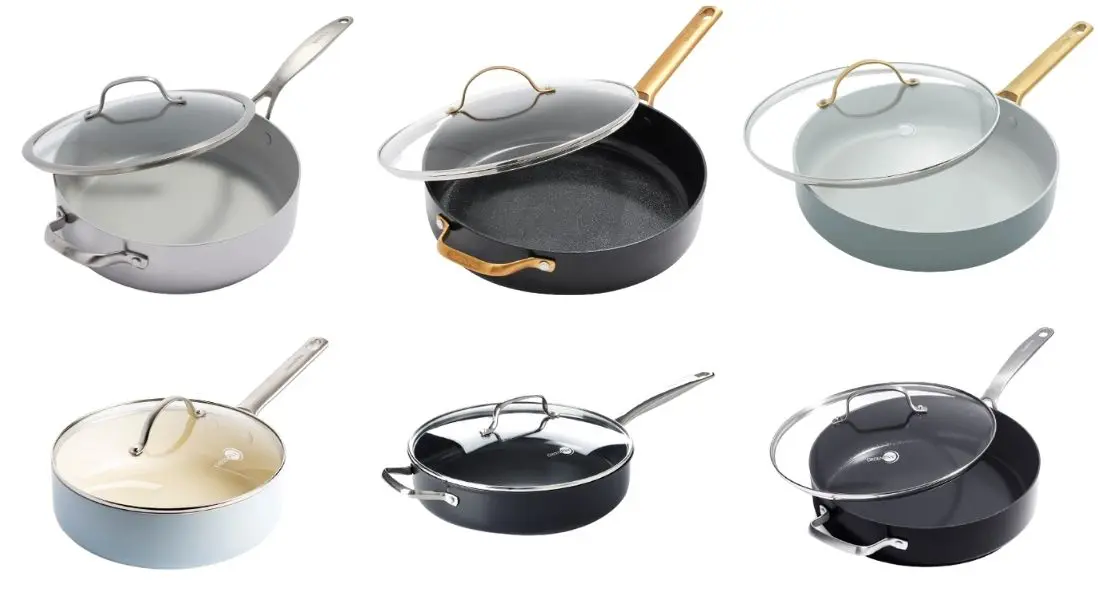 Woks
GreenPan Cooking Woks have a special design that allows you to cook foods quickly over a high temperature. Once you get a handle on how woks work, you will be able to use yours for dozens of homemade dishes.
If I had to pick one I would probably most like the Kitchen Stories line from GreenPan because those woks are affordable and many exclaim they are easy to use.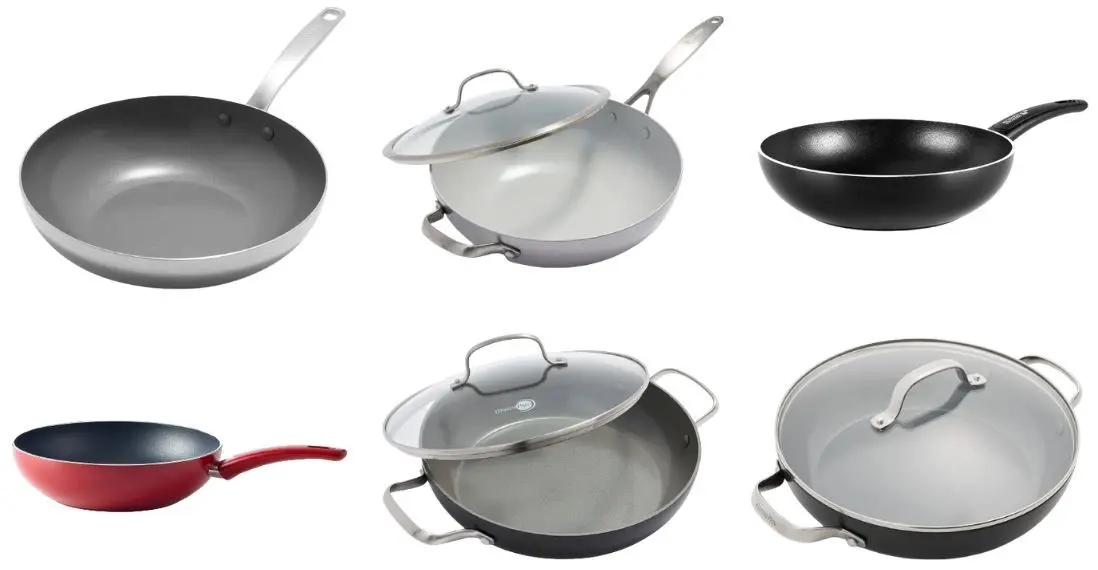 Stockpots
GreenPan stockpots come with a ceramic liner that most other products have. Thanks to this, you don't need to worry as much about food sticking to the pot.
I think the most popular one is the five-quart pot for $110 that comes in light blue and other colors that match your kitchen. One of the best stockpots from this brand is the Valencia 5.5 quart pot that comes with a lid to ensure you get all of the delicious flavors from your ingredients.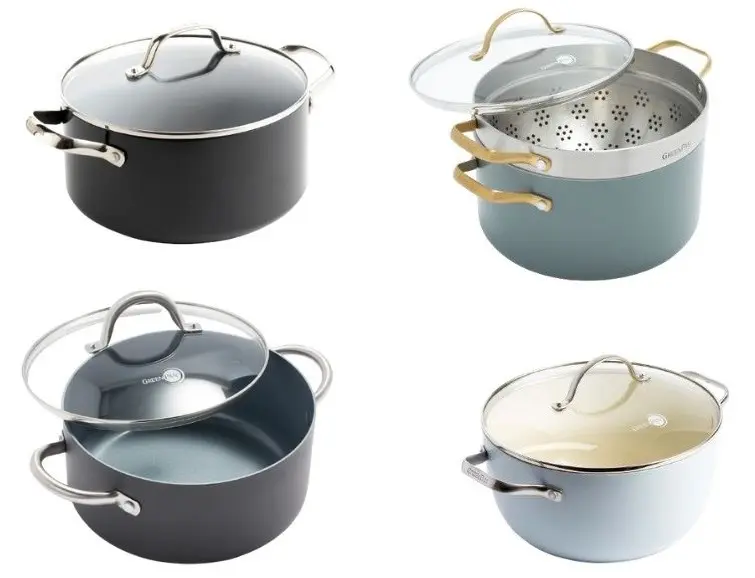 Griddle Pans
GreenPan griddles can be used for a variety of cooking needs. From making four burgers at the same time to whipping up pancakes early in the morning it is a surprisingly versatile tool to add to your kitchen.
Most of the griddles on offer sell for $75, but you may find some models priced less. The ceramic base ensures that nothing sticks to the pan and that you can flip your pancakes in seconds. Thanks to the durable handle, you don't need to worry about burning your hands when you cook.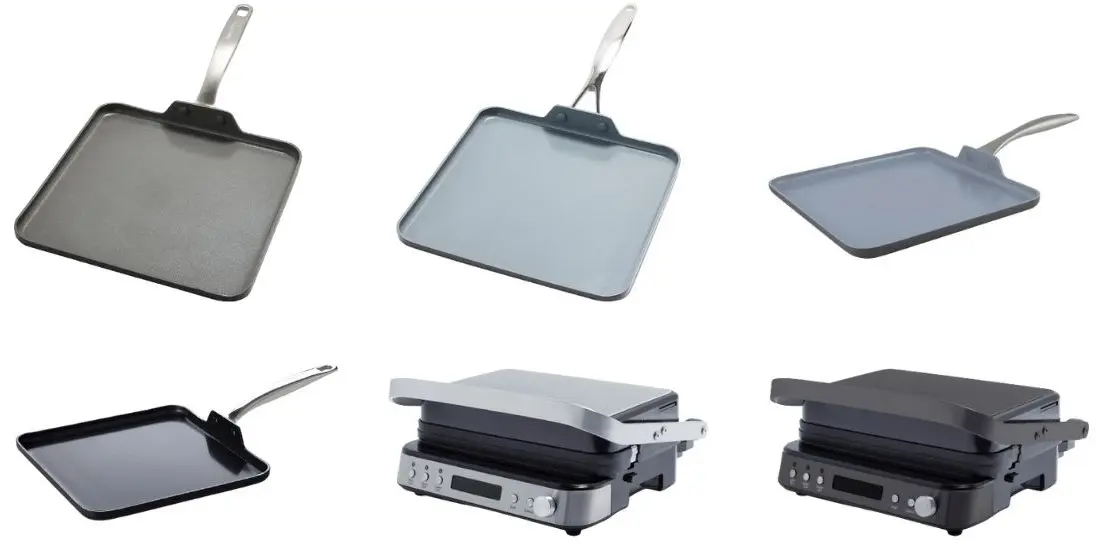 How Can You Use GreenPan Cookware?
When you buy GreenPan cookware, always read through the instructions in the box to make sure you know how to use the kitchenware. It is always safe practice to clean your new kitchenware before using it as well. This is what I did for every piece of cookware that I got from GreenPan before ever putting them over any heat.
One of the benefits of these pans is that they use a special coating that helps the pan come up to heat faster and then evenly distribute the heat across the surface. This lets you cook faster and spend less time in the kitchen. It doesn't remove the need to wait for heat up but just makes it a quicker process.
You should use silicone or wood tools to avoid scratching the pan. You don't need to spend a lot of time cleaning your new pans, but you should always let them cool before you wash them. Washing hot pans can result in thermal shock and damage the pan or the lining.
You can wash the pans by hand or in a dishwasher, but avoid products that might scratch them such as steel wool and certain types of soap. If you worry about damaging the pans when you store them, use a pan protector between each one.


Always be careful when washing GreenPan cookware to avoid damaging the pans.
Where Can You Use GreenPan Cookware?
You can use GreenPan cookware in any type of kitchen. Like any tool it is important that you pick the ones that you will use. Even my small compact kitchen works well with the pan line.
Frying pans are great when you want to fry or saute. They have a long handle that helps you stand back from the stove along with high sides and a flat bottom that keeps your ingredients safe.
If you want a versatile pot that you can use for multiple tasks, try a saucepan. You can use one to make macaroni and cheese without the cheese making a mess and for veggies and other side dishes when you're in a hurry.
With the GreenPan stockpots you can make many different dishes in your kitchen.
If you want to use less stove space and make enough food to feed a crew, go with a griddle. GreenPan griddles use only two burners but give you tons of cooking space.
The saute pans allow you to make an entire dish without getting every pot in your kitchen dirty. This makes cleanup easy without sacrificing too much in the way of making good food.
As all of these pans from GreenPan have a ceramic lining, you can quickly clean them after dinner. Like I've said before, less time cleaning is always appreciated.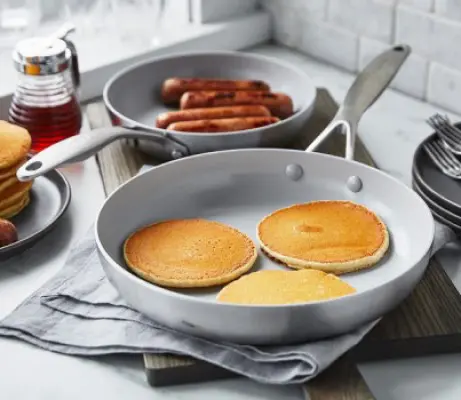 A saute pan is all you need for a one-pan meal.
Who's This For?
GreenPan cookware is perfect for anyone who loves cooking. Even someone like me who hasn't had much cooking experience in the best is well suited for them. As long as you understand the basics of cooking, you will have a good time using them.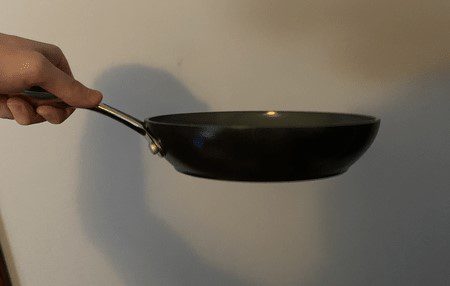 Some people I feel would benefit from these pots and pans include:
College students who live away from home and need good cooking equipment.
Recent graduates who need cookware in their first apartment or house.
Engaged couples and newlyweds looking for the best cookware.
Parents concerned about what their kids eat.
If you're engaged, keep in mind that GreenPan lets you link a registry you create on another site. You can then share your registry and let loved ones know what you need.

Should You Buy It?
There are many things I love about GreenPan and reasons to buy cookware from this company. If you want to save money, you will find sales that drop prices by up to 60% during holidays and on Black Friday.
There is also a mailing list that helps you get coupons a few times a year as well as the refer a friend program. This lets you send friends coupons for 25% off and get your own coupon for 25% off when they buy from the site.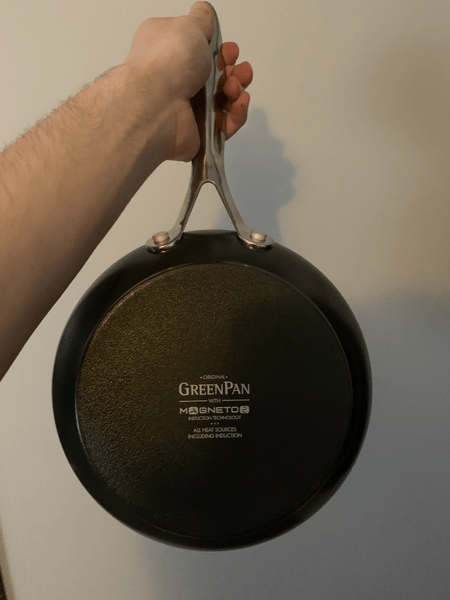 GreenPan only makes pots and pans with a ceramic liner. This liner keeps the chemicals and toxins in the metal from reaching your food and allows you to use less butter and oil when you cook.
GreenPan wide selection means there is a tool for everyone. All of the pots and pans are part of a specific collection that might incorporate bright colors or use durable metals. Your options include both stockpots and saucepans as well as griddle pans and roasters.
I'm sure in all the items they have on offer you will find something that can be a good fit for your kitchen if you don't have it filled out already.
GreenPan grill pans are perfect for indoor use and all types of dishes.
Other Products from GreenPan
You will find more than just cookware when you shop on the GreenPan website. There are multiple small appliances such as the Egg Maker for $26, which comes in turquoise, pink and red. This small device makes six eggs at a time and operates via a simple power button on the front.
The GreenPan Popcorn Maker can make air-popped snacks in just a few minutes. It sells for $40 and comes in both red and pink.
The GreenPan Sandwich Maker costs $33 and can cook two sandwiches at the same time.
GreenPan Cooking also sells protectors for your pans in a set of three for $15. These protectors fit between your pots when you store them so you don't have to worry about damage.
The silicone sponges that the company makes will help you clean your pots and pans without damaging them. They cost $22 per set of two and come in several colors.
There are also the brand's utensil sets that come in pink and other colors. For just $17 you get seven handy tools in this set.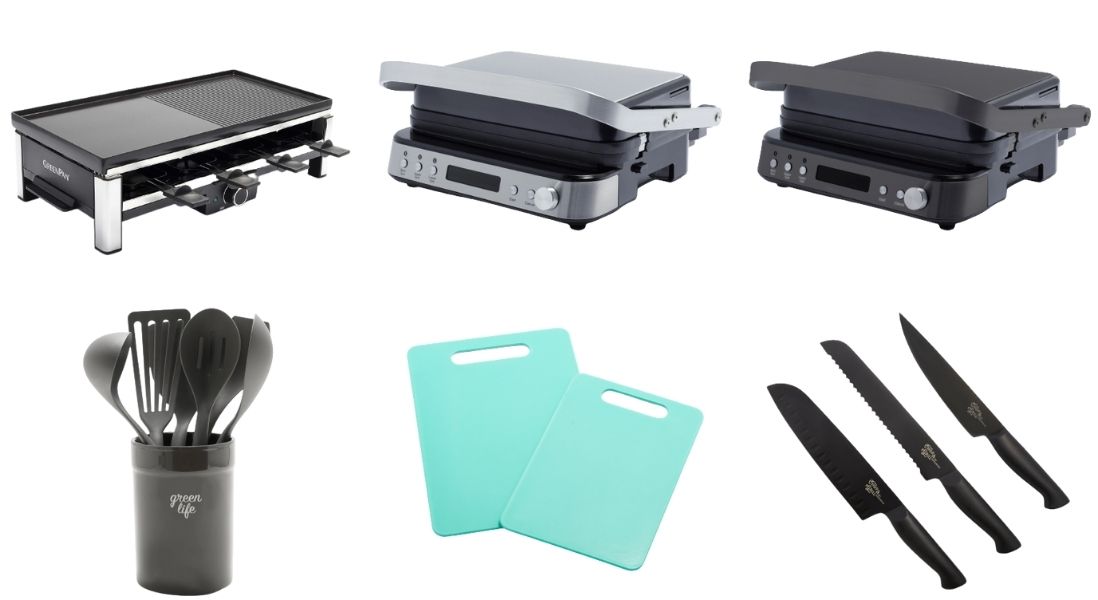 Cons to Consider
Every brand, even GreenPan Cookware, has its cons. I would say the biggest con here is that this cookware is expensive. While you might come across a few sales, many of these pots and pans retail for $50 to more than $100.
You may occasionally find low prices on colors or collections that the brand doesn't want to continue making. When you buy those products though, you will have a harder time finding matching pieces in the future.
Another issue is that the ceramic liner can wear off, even if you use caution when using them. This wear and tear are one of the few issues not covered by your warranty.
Some of the other cons of GreenPan cookware that customers noted include:
If you use metal tools or do other things warned against in the instructions, it will void your warranty and keep GreenPan from fixing the damage or giving you a new pot.
Some of the pans have handles that aren't very durable and retain a lot of heat.
When you use the pots and pans at higher temperatures, food can stick to the bottom.
You cannot use some of the pans on induction stoves.
A few customers complained that GreenPan needed a better warranty.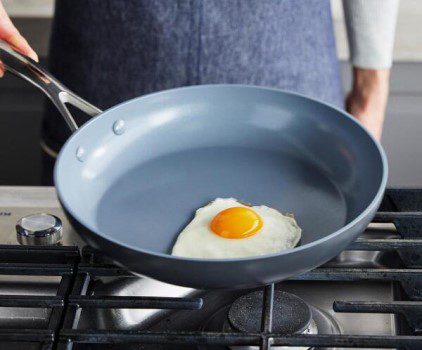 Certain ingredients such as eggs can stick to the pans when you use a high temperature.
Where to Buy
Instead of spending a lot of time looking online for these pots and pans, just click here to visit the GreenPan website. On their website there are even more options than what is listed here, so exploring for yourself will show you just how vast your options are.
Using the official site lets you see all of the gift sets that are perfect for people who love to cook. GreenPan even has a gift guide that helps you pick gifts for people who love bright colors and those who cook specific foods.
I recommend that you check out the technology section to get an idea of why these pans work the way they do.
Another thing that I like about the GreenPan site is that it shows you how to pay via Klarna. With Klarna, you can break the total amount you spend into four smaller but equal payments.
If you buy a $400 set, you only need to pay $100 today. GreenPan will ship the set to you, and Klarna will pull the money you owe out of your bank account. You can check your Klarna account to see your payment dates.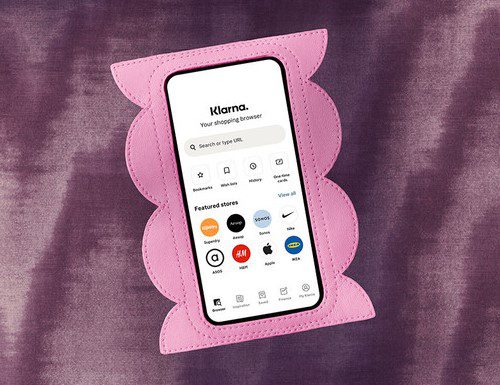 You can access Klarna right on your phone to keep track of your payments and purchases.
Competition
GreenPan is an upscale cookware brand that competes directly with other higher quality brands.
Wonderchef
Wonderchef is a popular online brand that sells all of the cookware that you need. I encourage you to stop by the Chef's Pick section that features products real chefs recommend to home cooks.
The cookware section on this site is quite extensive and includes everything from casserole dishes and stockpots to saucepans and cast iron pots that you can use in the oven and on the stove. This site makes it easy for you to narrow down your choices to find exactly what you need.
You can choose from options such as price range and materials like aluminum, stainless steel and cast iron.
All-Clad
All-Clad has a vast shopping collection and has been around for awhile showing that it has some staying power. Their site allows you to view all of the cookware sold under collection names such as D5, which features polished pots and pans and D3, which is a line that includes durable stainless steel designs.
All-Clad offers fast shipping across the country and accepts returns for up to 45 days. You'll also find big sales that drop prices as well as special offers that are available for a limited time.
T-Fal
T-Fal pots and pans use Thermo-Spot Technology that helps the pans reach the temperature that you want in minutes or less. You will find that the pans retain that heat and evenly distribute it across the surface.
Whether you buy a single pan or a full set, visit the website to register your purchase, which makes it easier to file a warranty claim later. T-Fall offers anodized and ceramic pots in 12 piece and 16 piece sets.
Calphalon
Calphalon has a strong reputation with customers because of how much its warranty covers and how long they have to take advantage of their plans. The Everyday Collection features pots and pans that are perfect for daily use and anything you love to cook.
Calphalon makes ceramic pots and pans that are similar to GreenPan products but are infused with oil to make them even smoother. Before you shop the website by collection or material, sign up for the Calphalon email group to get a coupon for up to 30% off your order.
Final Verdict
GreenPan Cookware offers a selection that is hard to find complaints with. One thing to keep in mind about this brand is that it offers more upscale options than it does affordable options. If the thought of spending $50 or more on a single pan sends you into a panic, you probably will want to look elsewhere for your new pots and pans.
GreenPan makes both individual pots and pans that let you build the ultimate set for your kitchen and full sets that include up to 16 pans and features lids for most of the pots.
We like that GreenPan has a referral program designed to help customers save money. Not only can you send your loved ones coupons for 25% off, but the brand will give you a matching coupon for each referral you make.
You have up to 60 days to start a pan return and two years to take advantage of your limited warranty.
GreenPan has a page where you can learn how to use each type of pan and get help choosing new pots along with another section on how to clean and care for your cookware.
If you want upscale cookware that keeps you safe from chemicals, go with GreenPan cookware.