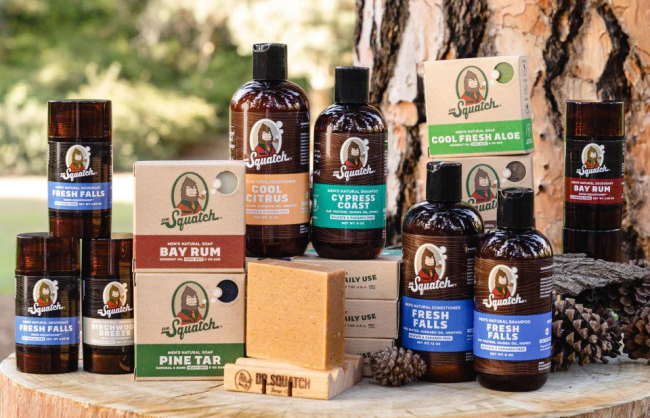 Dr. Squatch is a good choice for men with sensitive skin. The all-natural approach Dr. Squatch has with their products can help prevent skin irritation from harsh chemicals.
It does not contain any of the preservatives or chemicals that other products do and has a natural scent that many men like.
My Dr. Squatch soap review goes over the various products available and other things about this Dr. Squatch.
Dr. Squatch offers many masculine scented bar soaps and tons of other products.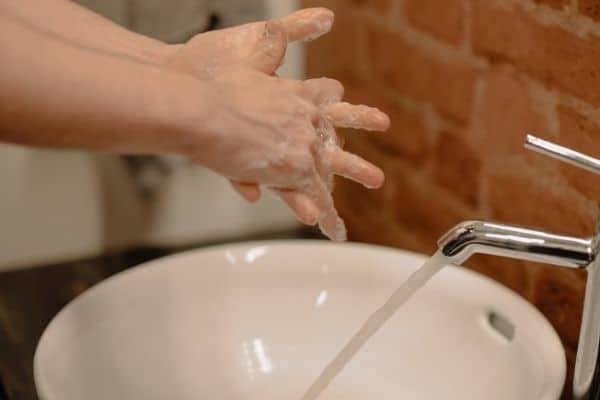 Dr. Squatch bar soap is great for washing your hands or cleaning your body.
PROS
Plenty of scents are available
High quality, all-natural ingredients
Products work exceptionally well
CONS
Not as many scents available in some products
Some scents may not last as long as others
Can be pricey
BOTTOMLINE
With many masculine scented bar soaps and tons of other products, Dr. Squatch offers a variety of hygienic products for men.. You qualify for free shipping on most orders and can often find discounts or promo codes to save more.

iReviews Shopping Assistant
Find the best prices for this and many other products with our chrome extension
Product Features
Subscription Plans: One to three months
Bar Soap Scents: More than 10
Free shipping: Yes on subscription plans and if you spend a minimum of $40
Guarantee: 100% money back
Cost: $7+ per bar soap
Promo Codes: Yes, for subscribers and other shoppers
Dr. Squatch Bar Soaps
The product Dr. Squatch is known for is their bar soap. One of my favorite things about Dr. Squatch's bar soap is that the company still makes the soap bars by hand.
The soap offers all of the thick lather that you want and comes in 14 unique scents. Each bar soap uses natural glycerin as a base with a little olive oil and coconut oil to hydrate your skin and make it feel softer. Dr. Squatch uses a cold process that leaves tiny pieces of some of the ingredients in each bar.
My Experience Using Dr. Squatch's Bar Soap
Upon opening the box containing the Dr. Squatch products, I could instantly smell the cool, refreshing Fresh Falls scent. I can almost certainly say most of the smell was from the soap, which had a small opening to be able to smell the product before using it.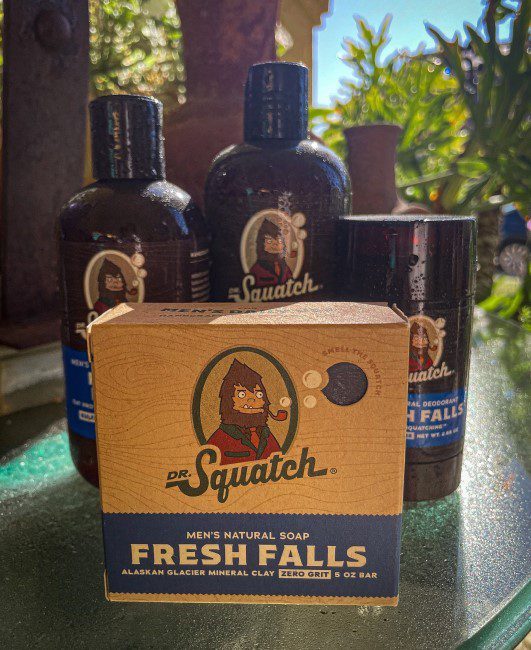 As for the soap itself, it was a rather large and thick bar. Despite its large size (or perhaps, my small hands) the soap bar maintained a good grip and didn't slip from my grasp.
The soap left my hands feeling clean and soft, rather than dry and tight like most soaps tend to do. However, there was minimal lather but natural products typically don't lather much.
Dr. Squatch makes bar soaps for all types of men.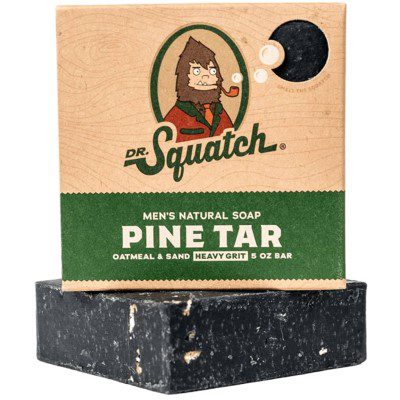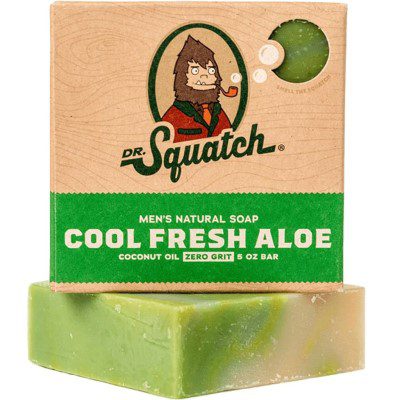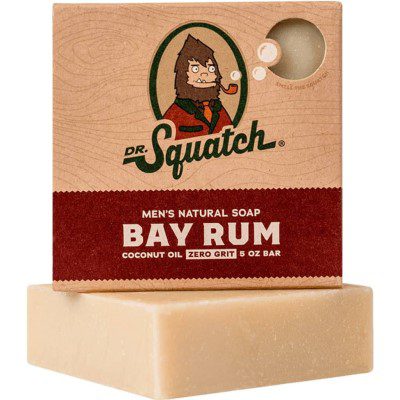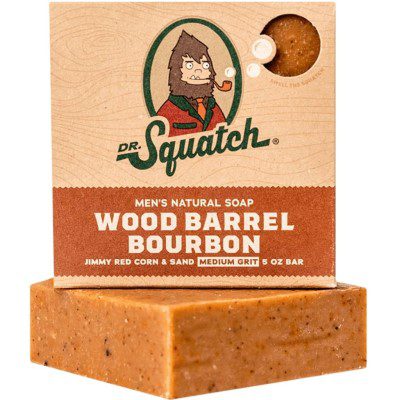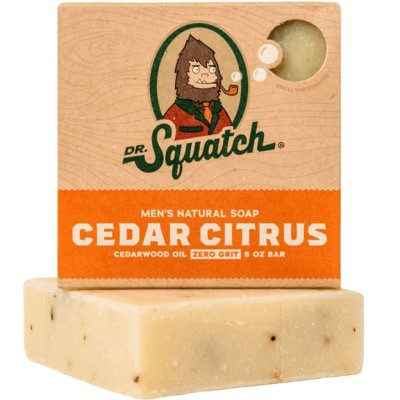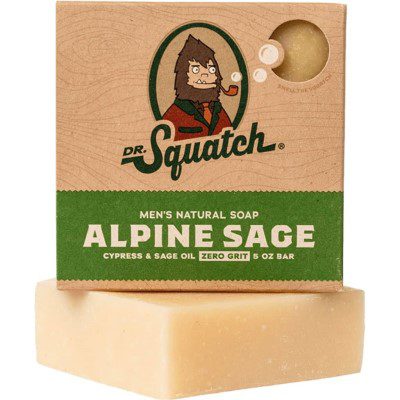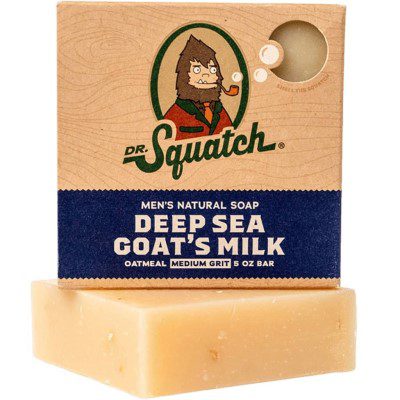 Dr. Squatch Shampoo and Conditioner
The Dr. Squatch shampoo contains tea tree oil, which can repair scalp and hair damage along with nettle leaf. It also gives you an extra boost of all of the vitamins that your hair and skin need.
However, if you use it too frequently, it can strip your hair. It is recommended that you use the shampoo no more than three times a week.
Dr. Squatch conditioners use healthy ingredients such as peppermint to help your hair grow and mint to provide a cooling sensation.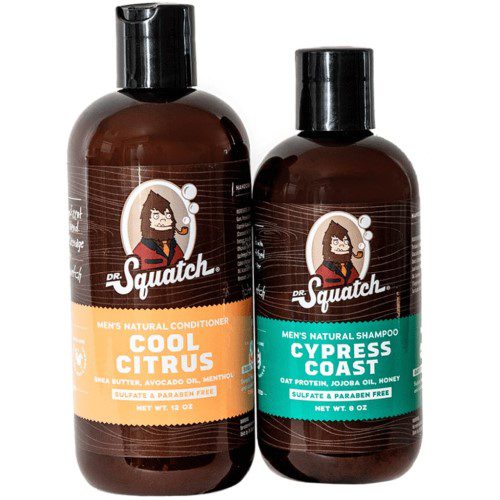 It's also worth noting that their conditioner bottles come in a larger size than the shampoo (the conditioner comes in an 11.5-ounce bottle while the shampoo is available in an 8-ounce bottle). This seems like a trivial detail, but it's extremely common for people to run out of conditioner before running out of shampoo, so I appreciate this additional insight they have taken with the packaging.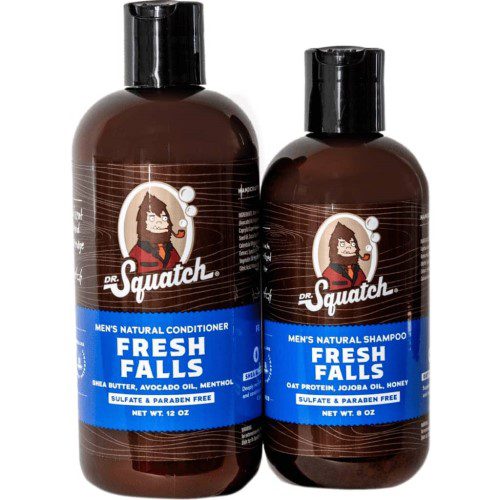 My Experience Using Dr. Squatch's Shampoo & Conditioner
When it comes to Dr. Squatch's haircare products, I found myself pleasantly surprised again. Their shampoo provided a nice lather that I was able to run through my hair fairly easily. After the second rinse, my hair felt squeaky clean but not stripped. Especially since I have color-treated hair, this is a big bonus since my hair is more prone to feeling stripped and dry.
As for the conditioner, it worked as expected. The conditioner was thick and provided my hair with a generous slip. Most importantly, it provided my hair with the moisture it needs after a good wash.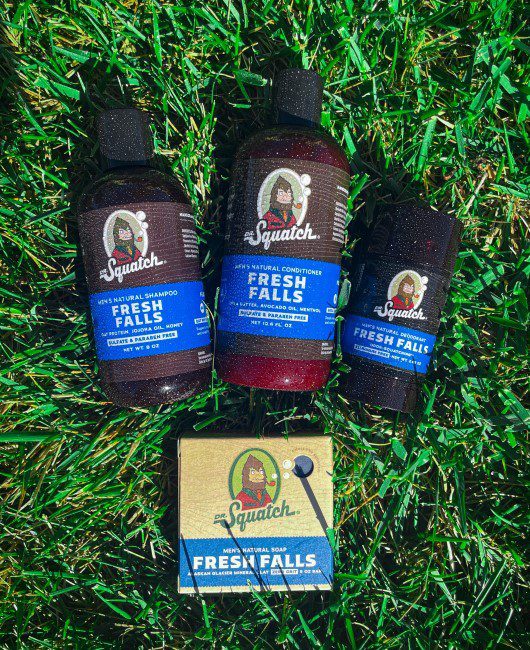 I would be amiss if I didn't also praise both the Dr. Squatch shampoo and conditioner for providing the longest-lasting scent I've experienced with hair products. I was getting whiffs of the Fresh Falls fragrance on my hair for up to 48 hours after the initial wash!
Dr. Squatch Deodorants
Dr. Squatch offers deodorant in several scents that can be paired with your favorite bar soap. The following scents are currently available for purchase for $12:
Cool Fresh Aloe
Cedar Citrus
Pine Tar
Birchwood Breeze
Alpine Sage
Wood Barrel Bourbon
Bay Rum
Fresh Falls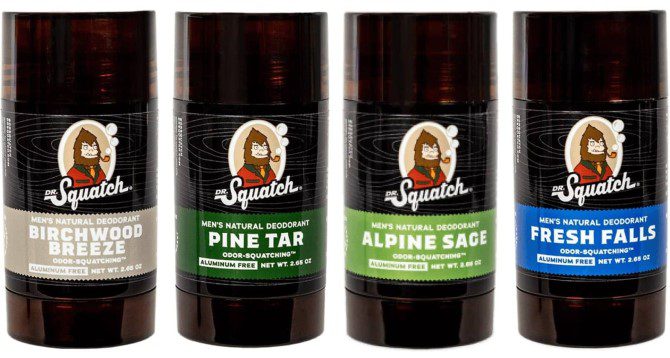 My Experience Using Dr. Squatch's Deodorant
I tried the Fresh Falls scent in the deodorant. I am just as impressed with the deodorant as I am with the soap and shampoo and conditioner.
The Dr. Squatch deodorant is easy and smooth to apply. Most notably, the deodorant lasted all day without a hitch. Which is pretty impressive for a natural deodorant that doesn't have aluminum in it. There was also no weird after scent that can sometimes be present in natural deodorants.
Although the deodorant exceeded my expectations in its effectiveness, I didn't notice the same lingering scent as I did with Dr. Squatch's soap and hair care products. Admittedly, this is a trivial problem considering it does its job extremely well otherwise.
How Does the Dr. Squatch Subscription Plan Work?
You can save money through a Dr. Squatch subscription plan. With a subscription plan, you pay $36 for six bars.
If you subscribe, you are also able to choose up to different six soaps to try. An additional perk is you will also receive free shipping on all your orders as long as you are a subscriber.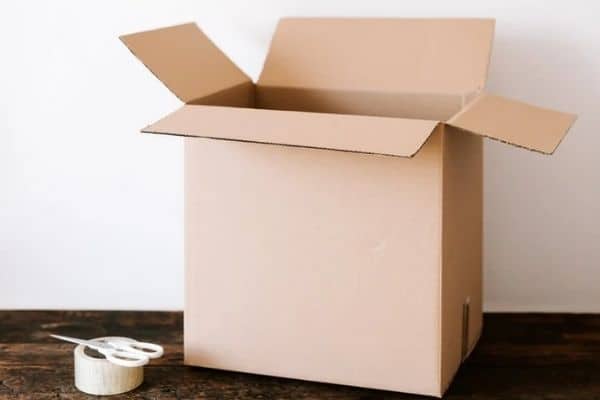 You can pick the frequency at which you want to receive your subscription boxes.
Should You Buy It?
When deciding if Dr. Squatch products are worth a try,
Tons of Bundles: If you love this soap so much that you want to buy more than one, you'll love the bundle packages. While the Squatch Bundle comes with Pine Tar and other popular scents, all bundles come with four bars of soap in masculine fragrances.
Nice Range of Products: Dr. Squatch makes more than just bar soap. You'll also find shampoo and conditioner combos that are suitable for all hair types along with colognes that you can use daily or for special occasions. You'll even find beard oils that give you the soft and supple beard that you want.
Exfoliate Your Skin: Dry skin can affect men of all ages. You may suffer from dry skin in the winter due to the lack of humidity in the air or have dry skin that is hereditary and never goes away. Most of the Dr. Squatch bar soaps that we found have natural exfoliating properties. As long as you use the soap as part of your routine, you may notice a serious reduction in your dry skin.
Lasting Scent: A lot of reviews praise Dr. Squatch products for having a long-lasting scent. This is something that I found to be true when testing it myself as well. The shampoo and conditioner left a pleasant scent that lingered for the entire day.
Subscription Plans: If you prefer to save time and money by using subscription services, then Dr. Squatch's subscription service will be a big perk for you.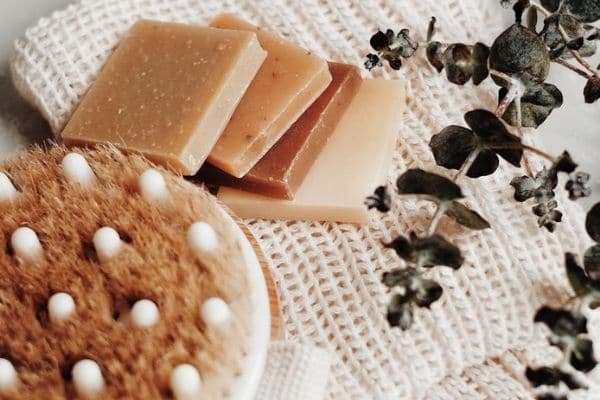 Looking over the reasons why we loved this soap can help you see why so many customers order from Dr. Squatch every day.
Cons to Consider
Some of the cons that you should be aware of before ordering from Dr. Squatch include:
Dr. Squatch charges a fair amount for the bar soap, but the other products can run on the expensive side.
When testing the Dr. Squatch bar soap, I found that it lasted between 2-3 weeks with daily use. Other reviews mention that their soap bar fell apart within a few days. If you use a soap saver or avoid getting it wet, you can avoid some of those problems.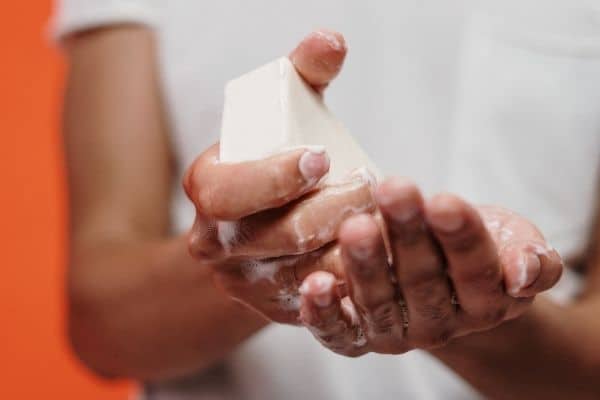 Always consider the cons of this soap before giving Dr. Squatch your money.
Where to Buy
The best place to buy Dr. Squatch products is on their official website. This lets you view all of the available products. You can also take the Squatch Quiz to get an idea of which scents you might like. The website often offers exclusive promo codes and discounts.
Dr. Squatch's products can also be found on Amazon, but I would still recommend buying directly from the Dr. Squatch website.

Competition
You have quite a few options when it comes to organic bar soaps and similar products for men. We'll take a look at some of those options to help you see how they stack up against Dr. Squatch.
SrCURE
One alternative to Dr. Squatch is SrCURE, which makes body and beard care products for men from natural and organic ingredients. The company makes a Seven Seas Salt & Pumice bar soap that uses small pieces of pumice to exfoliate your skin and remove dry skin.
With the Complex Charcoal bar soap, you get a soap that removes toxins and impurities from your skin every time you take a shower.
Tar Heel's Pine Tar and Mighty Dirty are some of its other popular soaps.
You'll also find tons of other natural products that you can use from this site, including beard oils and gift sets.
Chagrin Valley Soap & Salve Company
If you're on the hunt for natural and organic bar soap, Chagrin Valley Soap & Salve Company is a great option. Their site has a whole category devoted to men's soaps. With scents like Honey Beer and Oatmeal & Spice, there are many popular options for guys. This site can help you find dozens of other products that you might need such as insect repellent and beard oil, too.
Groomed for Men
As soon as you visit Groomed for Men, you'll unlock a promo code that takes 15% off your first order to help you save on organic grooming supplies. All of the bar soaps use ingredients that men need to hydrate and moisturize their skin. The Bay Rum soap has a slightly spicy scent, while the Cedar Citrus mixes fruit and wood. You might like the Wood & Whiskey combo or the Orange Patchouli option. The site has a wide range of body washes in similar scents for those who prefer liquid soap. You can also shop for hair care products and gift sets.
Final Verdict
Dr. Squatch offers great products that are all-natural, yet still effective. I've had some of the best results ever with natural products using Dr. Squatch.
Dr. Squatch delivers the results it promises, without the sacrifice of using unnatural ingredients like aluminum and sulfates, and parabens.
Many people consider Dr. Squatch to be a bit on the pricey side. However, this is usually the case for natural products. So, if a product being all-natural products is a priority of yours, Dr. Squatch's prices are on par with the industry standard.
All-in-all, I would repurchase Dr. Squatch products for myself and definitely as a gift, and would recommend others to try it as well!