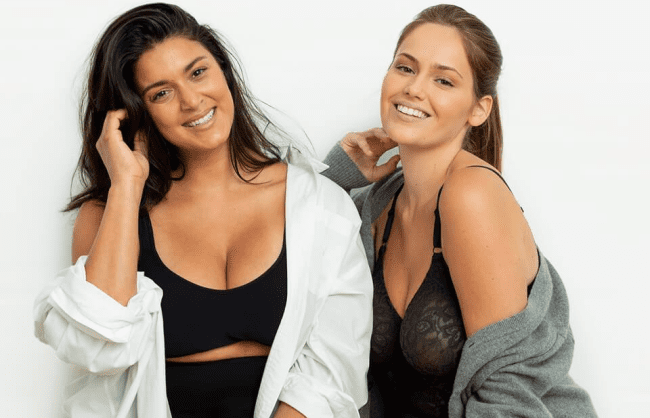 What are Shapermint Bras?
Shapermint is a brand dedicated to helping women look and feel their best. The company believes that every woman has a goddess within and that she should let that goddess out to play. You'll find products from top brands that offer the comfortable fit that you seek with the support that you need. Unlike similar brands that only offer a limited selection of sizes, Shapermint fits women with breasts of up to 42DDD.

Massimiliano Tirochii launched the brand in 2017 after seeing the issues that women had with undergarment shopping in California. It didn't take long for the site to reach one million customers. In our Shapermint bra review, we'll go over some of the top bras that you can buy and take a brief look at some of the other available products. You can find out where to buy these bras and the reasons why so many customers like the brand along with some cons you might see as a shopper.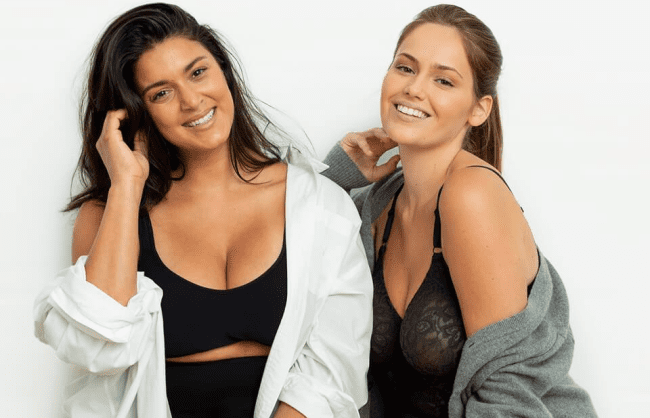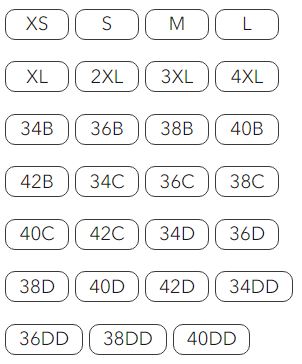 PROS
Offers bras in sizes from 34B to 42DDD
Has both neutral and bright colors
Qualify for free shipping when you spend $60
Shapermint TV features fun videos
The subscription club comes with big benefits
CONS
Does not ship to all countries
Customer support is poor
The site only sells products from other brands and doesn't make its own
BOTTOMLINE
If you have a hard time finding bras in the size that you need, check with Shapermint. This website also offers tons of shapewear and guarantees that you can look and feel great about yourself.

iReviews Shopping Assistant
Find the best prices for this and many other products with our chrome extension
Product Features
Cost: $30+
Free Shipping: Free on orders of $60 or more
Membership: Not required, $4.99 per month
Restocking Fee: $10 on all returns per item
Shipping Time: Five business days or longer
Size Range: Up to 42DDD
How Can You Use Shapermint Bras?
Shapermint is a website that works with other brands to offer an extensive selection of shapewear and other products for women. If you're in the market for a new bra, visit the site and click on the "Bra" button on the top of the page. We recommend that you use the buttons on the side of the page to narrow down your options. You can view all bras or choose the brand you love the best such as Truekind or Tc.

The "On Sale" button lets you view all of the bras that are currently on sale. There is also a color option that lets you view bras in red, black or neutral colors and a compression option. We also recommend using the size guide to view all of the bras in your size. Shapermint also has sports bras that fit women of different sizes and bras that come in specific sizes up to 42DDD.
Shapermint offers bras in all of your must-have colors.
Bras from Shapermint
While Victoria's Secret and other brands sell products that they make, Shapermint simply sells products from other brands. The company looks for bras that get good reviews from customers and will last through many washes. You can rest assured that these bras will support you comfortably all day long. None have pesky underwires that poke and stick you or designs that cause you to constantly tug on your straps. As a bonus, some bras are available in packs. You save 45% when you buy two and 60% when you buy three.
Our Experience (Everyday Throw On Wireless Bralette)
As a woman who is constantly on the move and working out, I have always valued comfort. I typically opt to wear a sports bra, bralette, or no bra, because I have the uncomfortable straps and underwire in most bras. Even while wearing expensive sports bras, the straps often bother my shoulders, become twisted, or cause discomfort. I was excited to try the Shapermint bras because the site bases its products on highly reviewed products from other brands. This led me to believe that the bras have already been tried by many women and it would save me time, finding something I actually enjoy.
When my package arrived, it came in a cute, light-pink package. Inside was a sheet full of body positive, self-love stickers, as well as a 15% off coupon. Typically the stickers that come with products are full of brand logos and I would never actually use them. The ones from Shapermint were surprisingly cute and not just an advertising ploy. The bra itself came in a small plastic bag, which was an unfortunate amount of environmental waste, but overall was average quality packaging.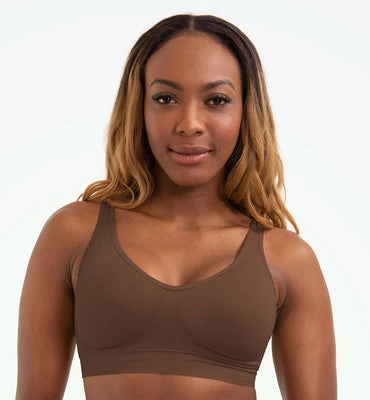 Shapermint Unboxing
After opening the bra, I first noticed how comfortable the fabric seemed. It was incredibly soft and stretchy. Normally when ordering a new bra, you have to wear it and wash it a few times in order for it to feel comfortable, but this bra was such a cozy material that it felt great the first time I put it on.

Furthermore, the seams on the bra were very thin, which made it much less scratchy and uncomfortable than other bralettes I have tried. The bralette was in a sports bra style that I could wear under most shirts or even just with leggings to the gym. My favorite feature about this bra was definitely the soft fabric and the comfortable straps.
Shapermint Review
Some things I did not love about this bra was that the area under the breasts where the bra sits on your sternum is very long. Therefore, when moving around a lot, it did tend to roll up which can get annoying. Furthermore, as someone who does not care about padding, the removable padding was annoying, due to the fact that removable pads always come out during the wash and can often get lost.

When wearing this bra for a full day, including to the gym, I found that the material was very cozy, it did not rub, and the straps were very comfortable. I did not love that the pads moved around a bit and that the under area rolled up quite often. Overall, this bra had minimal issues compared to other sports bra type bralettes I have tried, and it does seem to hold up well over time, but there were small issues.

Some of our favorite bras from Shapermint include:
Truekind Daily Comfort Wireless Bra: Available in black, pink and white, this bra also comes in S-3XL sizes. It fits like a sports bra for more comfort but has tons of support without adding underwires.
Truekind Reactive Sports Bra: You can work out for hours without worrying about breast pain in this bra. Not only can you pick from different colors and sizes, but it offers loads of support.
Truekind Everyday Throw On Wireless Bralette: Eliminate the uniboob bra problem that some bras have with this one. It comes in up to 4XL sizes and has a stretchy panel in the middle that separates your girls to give your cleavage more definition.
Playtex Nursing Shaping Foam Wirefree Bra: You can look your best and still easily nurse in this bra. Playtex added adjustable straps to help you get the best fit.
Maidenform One Fab Fit Full Coverage Lace T-Back Bra: You'll feel fab when you slip into this bra, which offers all of the coverage that you need. The T-back of the bra provides even more coverage and has a lace panel to boost your sex appeal.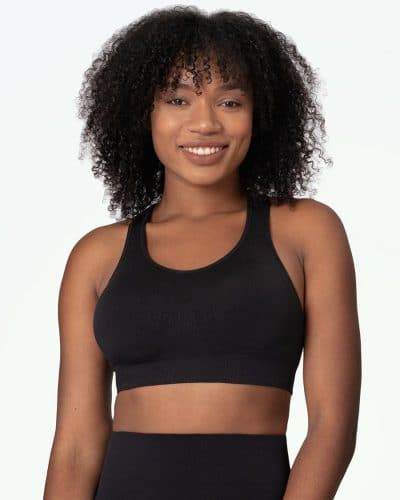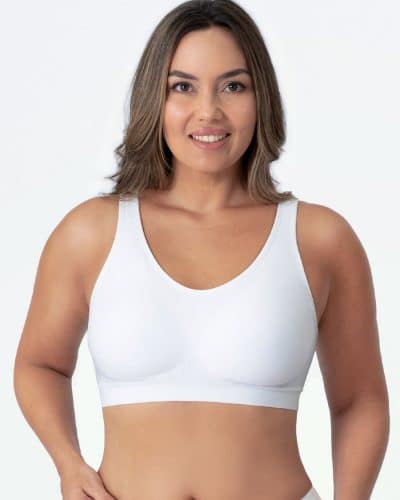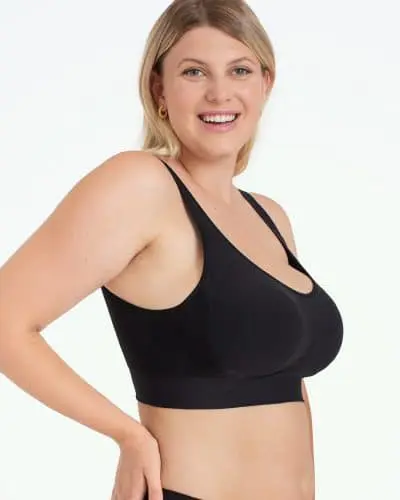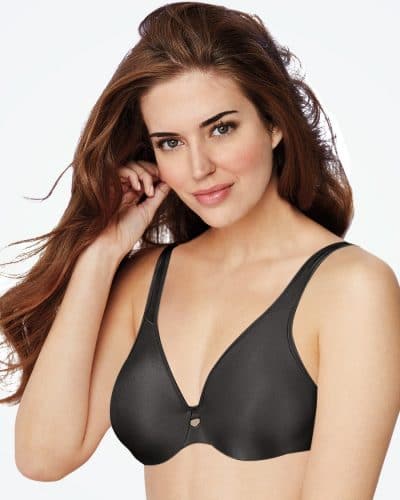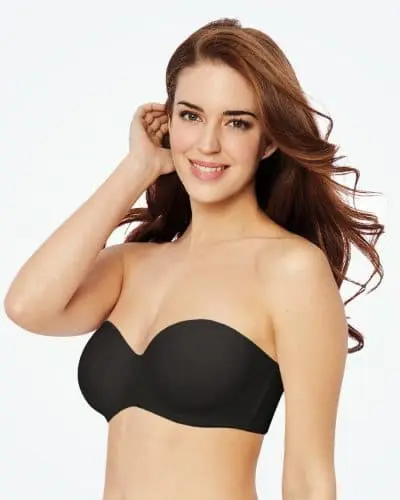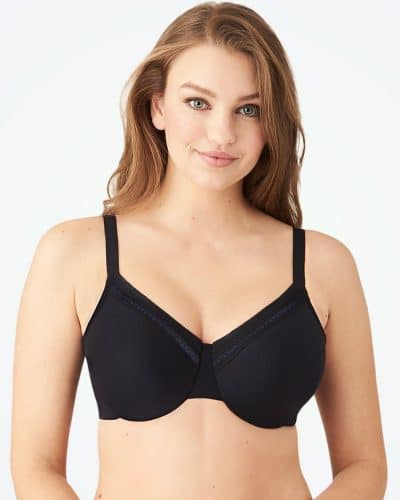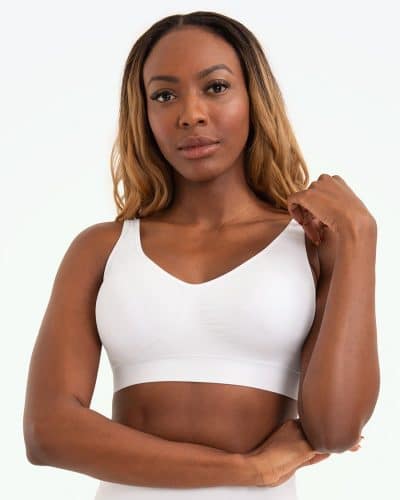 Where Can You Use Shapermint Bras?
Many women have bras that they only wear for certain occasions. There are the bras you wear at the gym and those you wear to work along with some that you reserve for date nights and others that you only wear when all of your other bras are dirty. Thanks to Shapermint, you no longer need to separate your bras. These bras have such an amazing fit that you can wear them for hours without struggling with your straps or wishing you had more coverage.

Some of the places you can wear and use Shapermint bras include:
At the gym when you want to feel comfortable while working out
During a long day at work when you know it will be hours before you can change
On date nights when you want to look your best and turn heads
When you need to nurse your child but still want to feel comfortable
For special occasions when you need a special bra such as a strapless one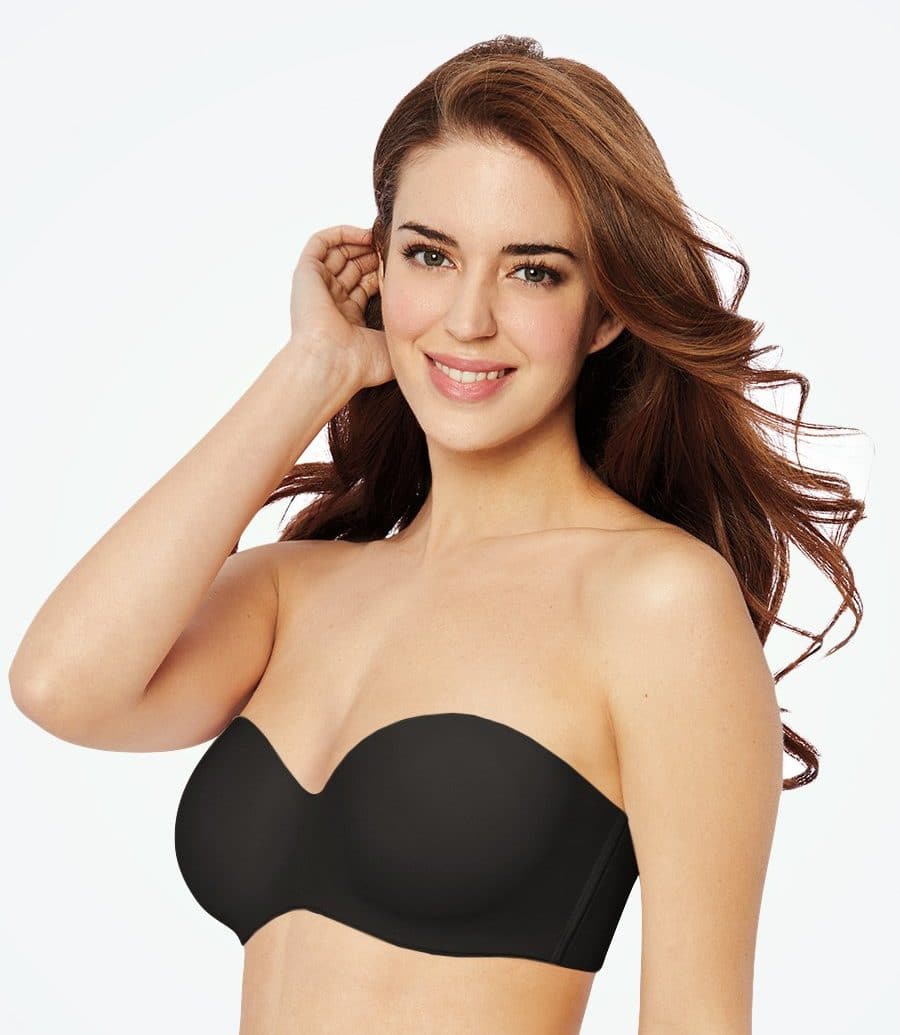 Shapermint has multiple bras with unique designs that won't show under your clothes.
Benefits of the Shapermint Club
Though you can shop on the website without joining the club, there are some benefits of becoming a member of the Shapermint Club. When you sign up, you can try out the club for 30 days and cancel if you aren't happy. If you like the benefits, the site charges just $4.99 per month after. Members get free shipping on all orders and a guarantee that lasts for 90 days rather than the 60-day guarantee that other shoppers get. Stylists are available 24/7 to help you with anything they need. They can assist you in finding the right size or choosing a bra for a special occasion.

All members receive special pricing, as well. Why wait for a sale to buy your next bra? Members get up to 65% off all bras every day of the week. Once you buy a few items, the site will create a store just for you that offers even bigger discounts on items you looked at or bought in the past. Members also receive full access to the Shapermint Community. The online community features hundreds of women, many of whom log in every day.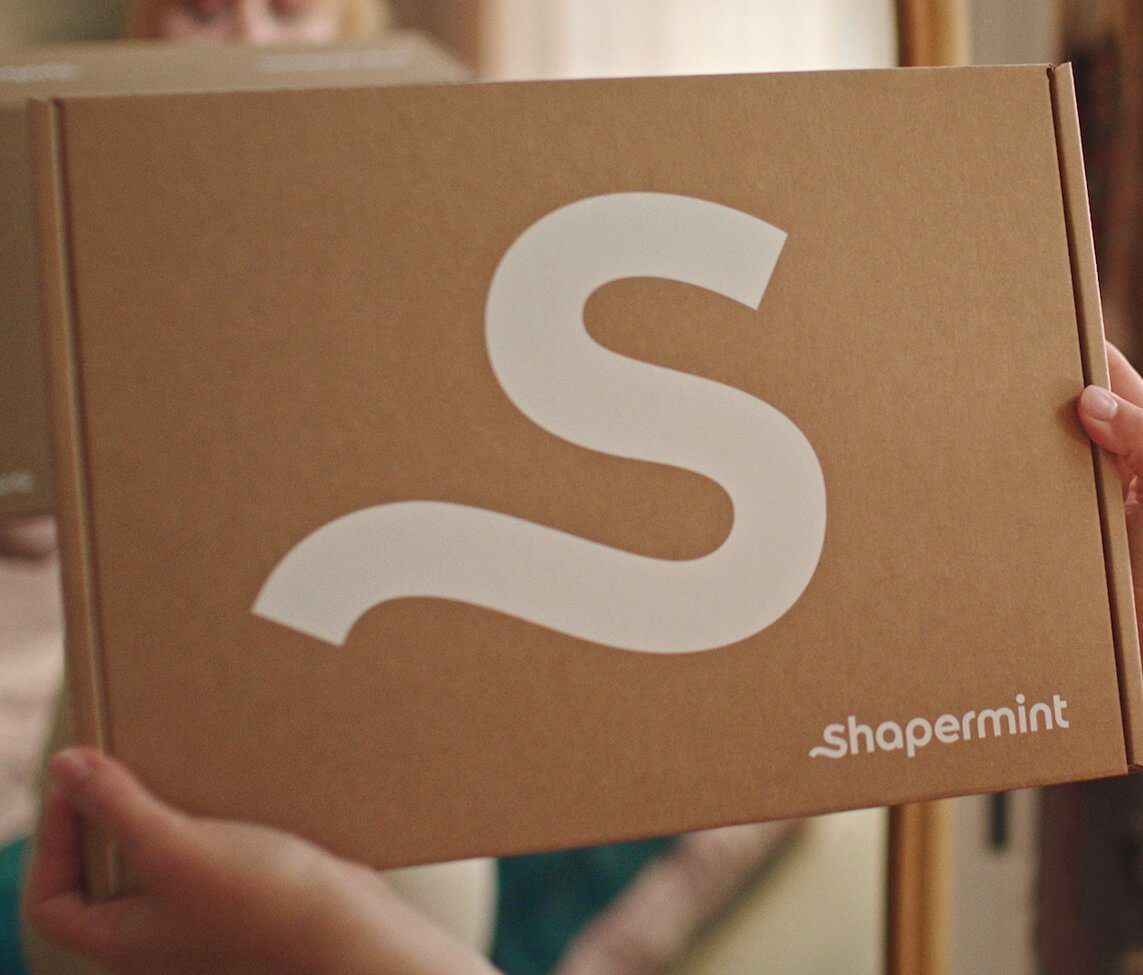 Becoming a member gives you free shipping on all of your orders.
Who's This For?
Shapermint sells bras for women who are tired of the hassles of bra shopping. You no longer need to deal with pesky staff in a department store or waiting in a long line to check out. Many women can find the size and color they need and place an order in less than five minutes, but you may want to stick around to check out some of the other fun products you can buy. This website focuses more on curvy or plus-size women than those who wear a smaller size. If you need a small sports bra or have an A-cup, you may find that the site doesn't offer as many bras in your size.

The women who would benefit from shopping with Shapermint include:
College students and younger women looking for bras and shapewear that are suitable for formal events.
Women shopping for leggings that offer lots of support but also hide problem areas and are comfortable enough to wear for hours.
Shoppers who want to see how the Shapermint Club works and take advantage of the free trial.
Women looking for shapewear that fits their bodies and works in different situations.
Anyone who wants a comfortable bra that looks sexy and has lots of support.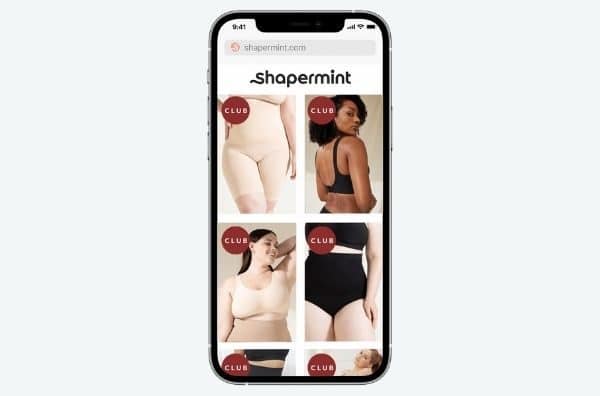 As a club member, you get a personal store with special discounts designed just for you.
Shapewear and More from Shapermint
Shapermint sells more than just bras. You'll find a large selection of shorts that you can wear alone or under your clothing. Empetua is one of the top shorts brands on the site. The All Day Every Day High Waisted Shaper Boyshorts combine the design of boyshorts with a longer length that smooths bulging spots to give you a slim look. We also like the Cool on You High Waisted Thigh Slimmer from TC that comes in neutral colors that won't stick out and smooth both your belly and thighs.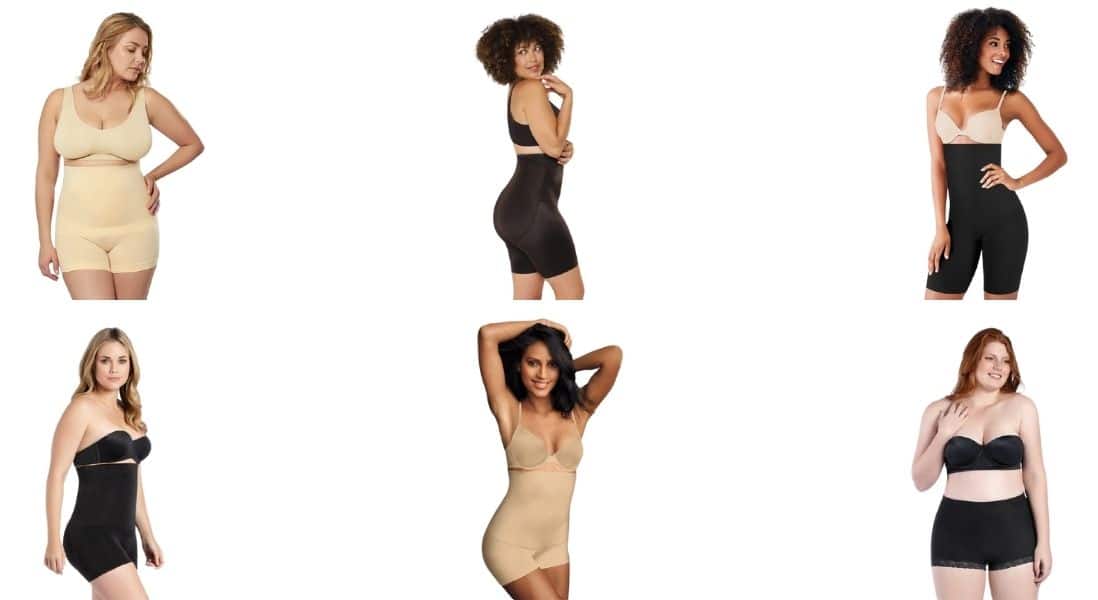 If you want panties that smooth your body and are comfortable enough to wear every day, Shapermint has you covered. The Everday Smoothing Panty smooths your lower stomach and has higher cut legs that boost your sex appeal. You'll feel even sexier in the All Day Every Day Thong. It covers your entire stomach to just below your breasts and has a thong design in the back.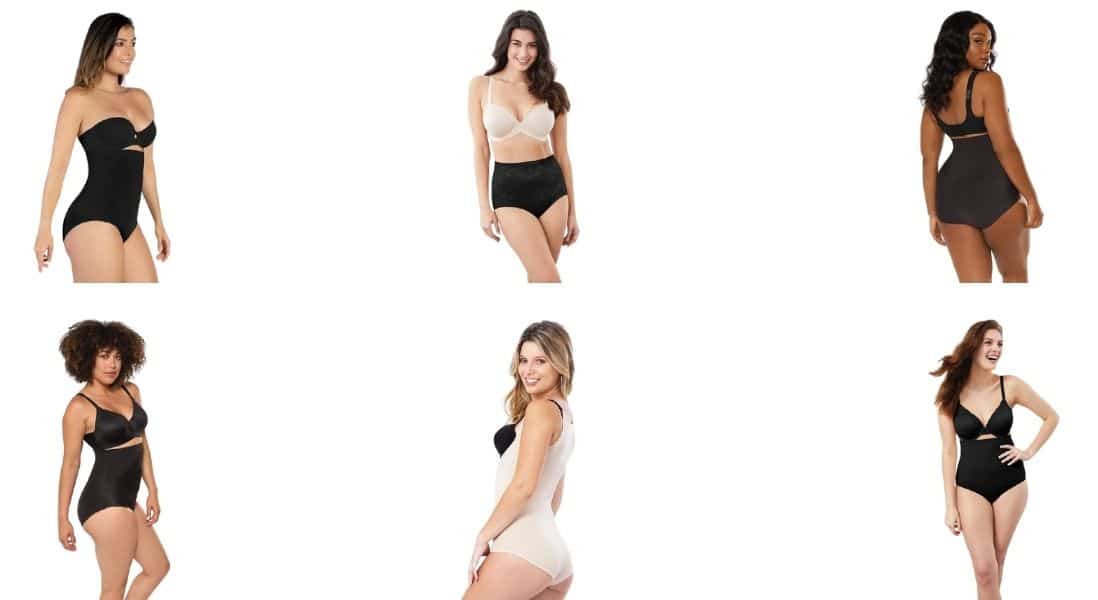 You may not think of tank tops as clothing that slims your body, but Shapermint found tops that do that and much more. We like the Open Bust Shaper Cami because it has straps that keep it from slipping and an open bust area that lets you wear it with your favorite bra. The All Day Every Day Cami combines the features of both cami and tank tops. It shows just a hint of cleavage and slims your stomach. It is also available with a scoop neck. All of the tank tops on the site are suitable for wearing under your clothes if you need to slim your tummy or cover your problem spots.

Shapermint also stocks tons of leggings from some of your favorite brands. With the High Waisted Shaping Gray Leggings, you get coverage and a slim silhouette from the top of your stomach to your ankles. The leggings come in a soft gray color that goes anywhere and works with all of your favorite tops. Empetua also offers its All Day Comfort Mid-Waisted Shaping Capris that are perfect for the gym or a hot day. The design stops just below your calf and has a compression design to slim your legs.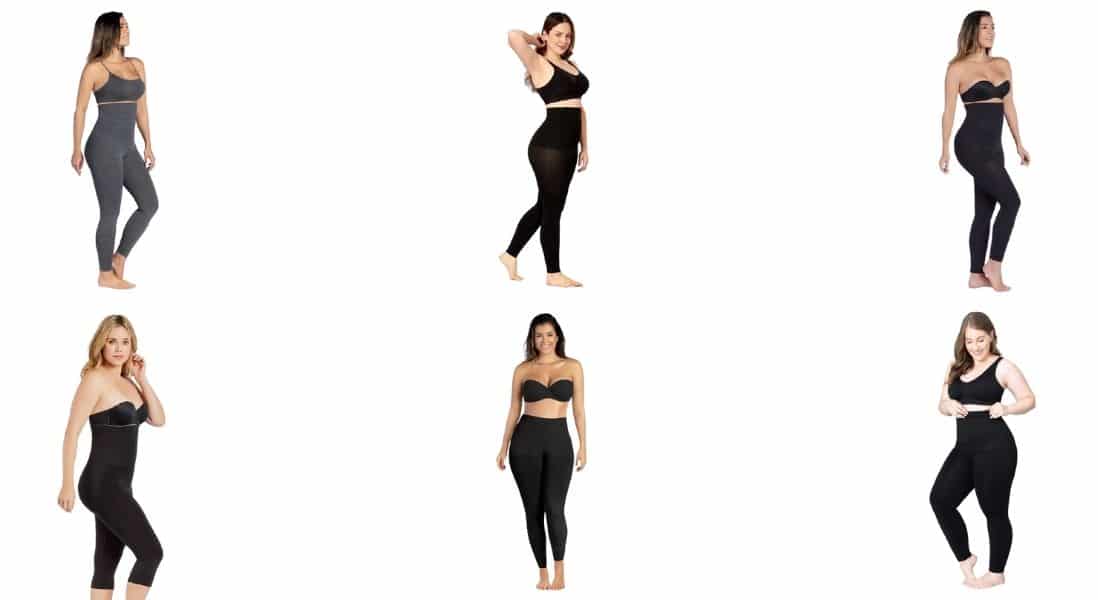 Some of the other products on the Shapermint website that we think you'll like include:
Bali Ultra Light Body Shaper: Bali makes this body shaper in neutral colors that you can hide under any clothing. It uses an elastic material that hugs your body to prevent bulges while still letting your body breathe.
Maidenform Easy-Up Strapless Body Briefer: One benefit of this body shaper is that it comes with straps you can use or remove to make it work with everything in your wardrobe. The top of the shaper also gives you a little more cleavage.
Miraclesuit Cabana Chic It's a Wrap: Get the coverage that you need and a smoother silhouette in this swimsuit. It has a bright blue pattern that draws the eye up, too.
Empetua Full Coverage Halter Bikini Top: Who says plus size women can't wear bikinis? This top works with different bottoms and allows you to make the most of your assets.
Truekind Seamless Stretch Mid-Waist Brief: Truekind made these panties for women who prefer more coverage. They have all of the stretch needed for a comfortable fit.
TC All Over Lace Hi-Cut Brief: Make your partner look at you in a whole new way in these briefs. They stop below your belly button and have sexy lace accents.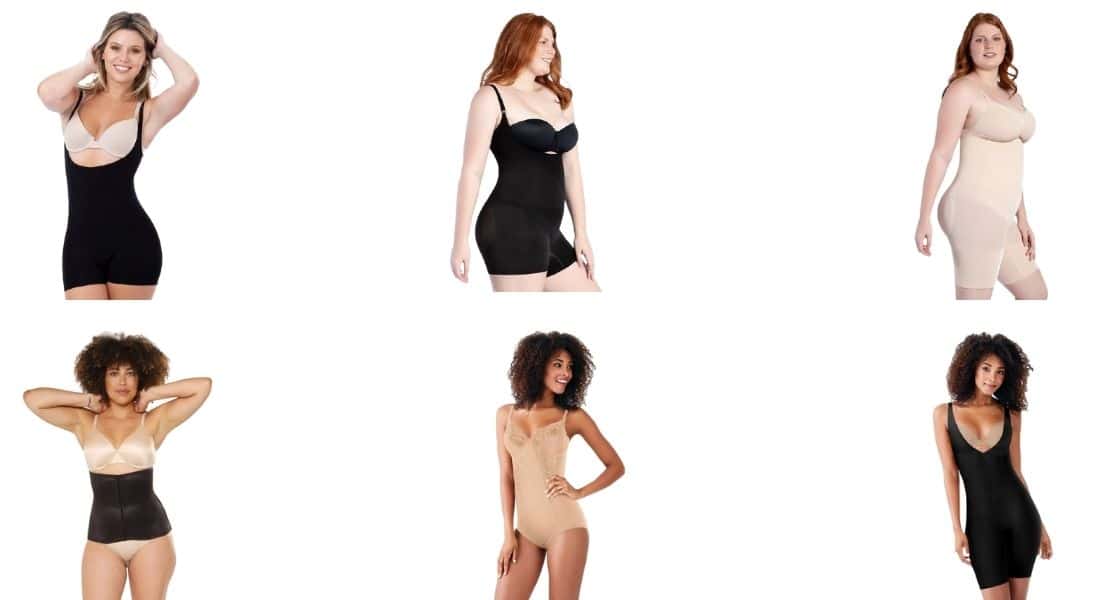 Should You Buy It?
We like many things about Shapermint such as its 60-day guarantee. You've probably bought a few bras before that fit okay but weren't as comfortable as you hoped. Shapermint lets you return those bras and get your money back minus a small restocking fee within 60 days. If you join the club, you have up to 90 days to return those bras and anything else that you buy. Some of the other things that we like about Shapermint and reasons why we recommend the site to our readers include:
You get free shipping on all orders as a club member and when you spend a minimum of $60 without joining the club.
The bras offer the support that women with larger chests need but are comfortable enough to wear for hours or an entire day.
Though there aren't as many designs for women with larger chests, Shapermint stocks bras in sizes up to 42DDD.
All of the models used on the site and its social media represent women of all shapes and sizes.
On top of the bras, the site has tons of shapewear that helps you get a slimmer look along with leggings and tanks.
Shapermint TV includes free videos and tutorials on how to live a healthy life and get the most out of your bras.
There are some special bras available such as strapless designs and those for nursing mothers.
Both the bras and other products fit under your clothes and won't cause lines.
You'll find some bras priced around the $30 mark and others that fit your budget.
Shapermint often runs sales around the holidays and has promo codes to help you save even more.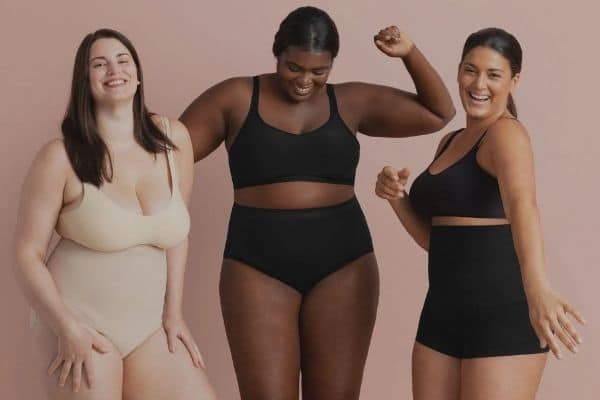 You can become a Shapermint brand ambassador and get discounts when people use your link to buy from the site.
Cons to Consider
We wanted to mention some of the customer complaints surrounding Shapermint, many of which concern the refund policy. Though Shapermint claims that you can return any item within 60 days if you're not happy, the site does not tell you that it charges a $10 restocking fee. If you buy a few bras and they don't fit, you need to pay this amount to return each one. You should get an email that says the site will process your refund within three to five business days, some waited a week to two weeks before they got their money back.

Another issue is that Shapermint does not make its own bras. You might hear the term Shapermint bras and assume that you'll find designs that aren't available anywhere else. You actually find bras from Maidenform and other brands that are available on their websites and sometimes at lower prices. There were a few shoppers who said it took weeks for them to get their orders. Some customers didn't like that the site kept asking them to join the Shapermint Club either. You do not need to join the club to take advantage of the sale prices, but you get bigger savings as a member.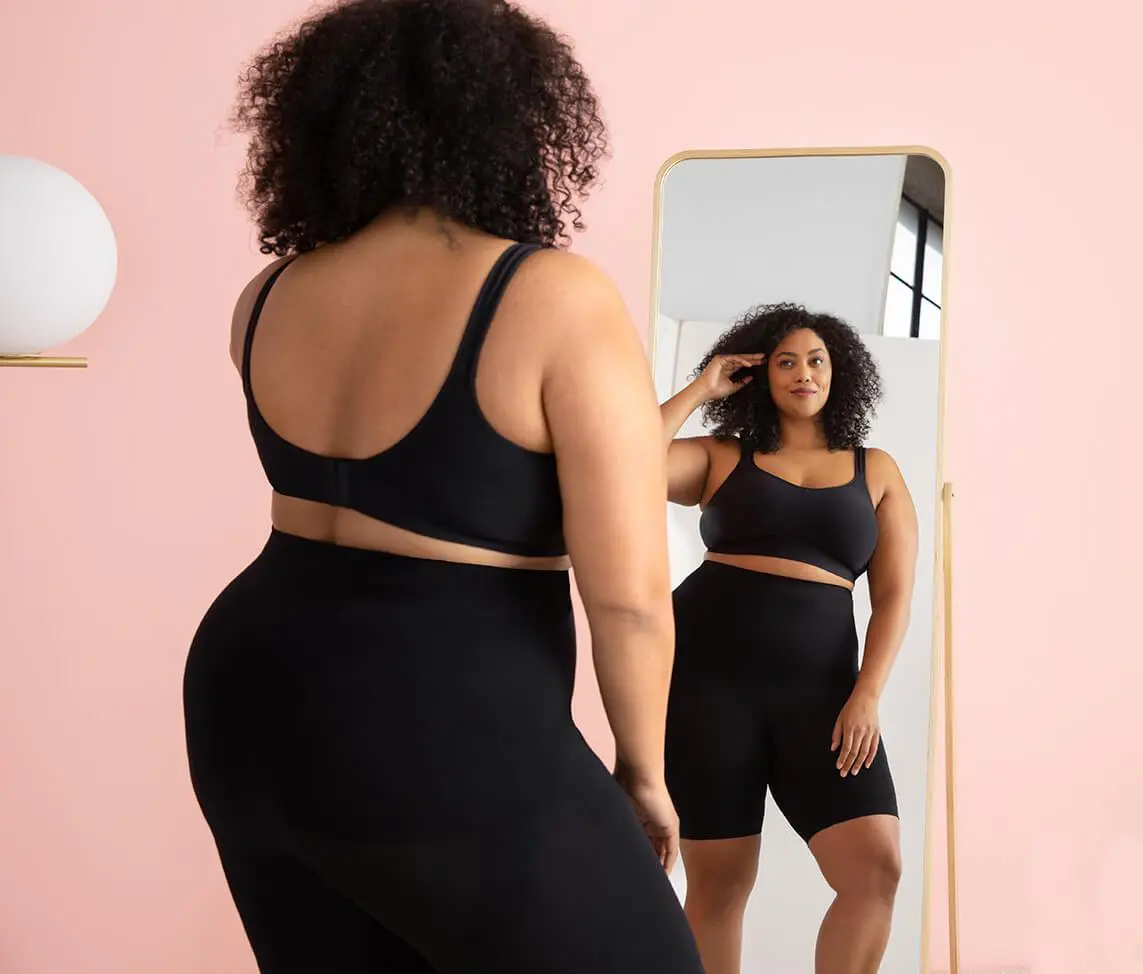 Shapermint sells bras from top brands that give you a confidence boost
Where to Buy
Though you may find the same bras or similar bras on other sites, we encourage you to click here to buy Shapermint bras. During most holidays, the site runs big sales that take as much as 70% off the normal prices. If you're a new customer and visit the site, wait for a pop-up ad to appear, which will take another 10% off your order. When you order two or more bras, you should spend enough to qualify for free shipping, too.

Shapermint thinks that every woman is beautiful and tries to represent the women you see daily in the world on its site. Shapermint sells both panties and shorts that hide unsightly bulges and give you a slimmer silhouette along with tanks and camis that you can pair with your new leggings or your trusty jeans.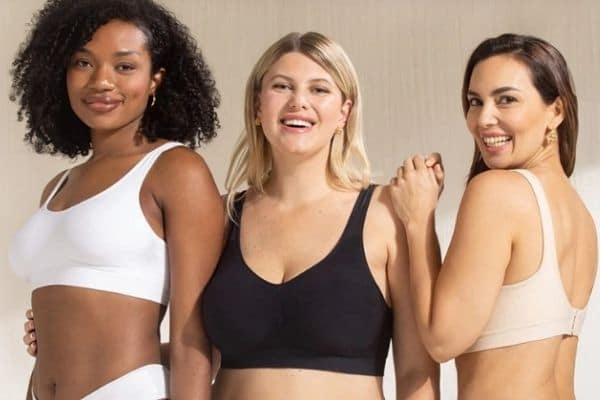 It's easy to find bras that fit and look great through Shapermint.
The Competition
The competition in the shapewear industry is fierce. Though Shapermint made a name for itself for its body-positive ads, other brands jumped on the trend as well.
Lounge Underwear
Many women do not realize that they wear the wrong bras, which is why Lounge Underwear has a virtual fitting room. It asks you various questions about your current bra and how it fits. The site then uses that information to find bras that match your needs. You can also shop the Outlet to find the lowest prices and view the top products on the site. Lounge Underwear has specific collections that are suitable for different occasions and apparel that is perfect for any day of the week.
Honey Love
Honey Love is a newer brand that believes women are sexy no matter what size they wear. If you need more support and want to look stylish, the Crossover is a good bra for you. The Silhouette gives you the definition needed to make your cleavage pop and is adjustable when you want to show off more skin. Honey Love also makes the V-Neck Bra that uses hidden padding to lift your chest. When you shop this site, you'll also find a large selection of shapewear along with tons of tops and underwear.
SPANX
SPANX is the leading name in the shapewear industry and the brand that many women reach for when they want to look thinner and hide bulges. The company now sells products designed to slim women beneath their wedding dresses and when they need to wear tight clothing. You can pick a bodysuit that covers your entire body or a smaller piece that hides a specific problem spot. SPANX expanded into other areas based on customer requests to make leggings and other apparel. These leggings fit women of all sizes and have hidden built-in shapewear to give you a long and lean look.
Shapeez
If you want a slim look and more support, check out the Shapeez website. This brand offers dozens of bras that lift and shape your chest to give you impressive cleavage that will catch the eye of others. All bras use a patented design that slims your back to reduce the risk of back fat and hide your bra lines. There are bras with foam padding for those who need a boost and bras without padding for women who have larger breasts. The site also has a convenient sizing tool that walks you through the steps you need to take to find your size.
Final Verdict
Are you tired of bra shopping online and coming across websites that only cater to women with smaller chests? Shapermint lets you shop for bras online and see models who look more like you. Not only does this site believe in body positivity, but it also believes that every woman deserves to look and feel her best. That is why you'll find tons of bras in the DD and DDD sizes along with sports bras and similar designs that come in XL-3XL sizes.

Before you leave our Shapermint bras review, keep in mind that you only need to spend $60 to get free shipping. If you have some free time, check out the videos on Shapermint TV. These videos cover everything from how to wash and care for a bra to how to find your bra size and which bras work with different types of clothing. You may want to check out the exclusive club to see all of the benefits that you get for less than $5 a month.