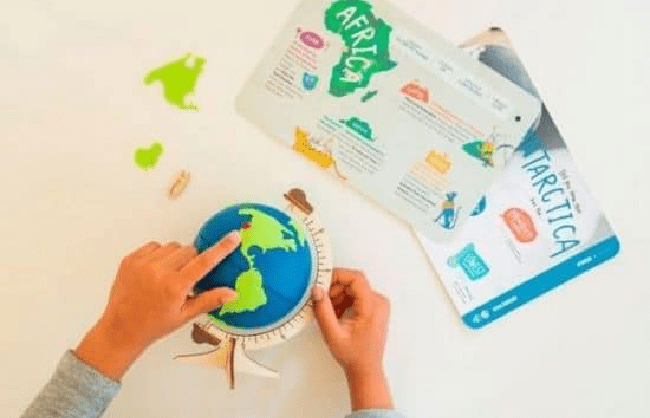 What is Kiwi Crate?
A Great way you can get activities for your kids that are fun and educational is through Kiwi Crate. Kiwi Crate is a subscription box program designed for kids and their parents. Each crate encourages kids to learn about science, technology, engineering and mathematics.
Sandra Oh Lin launched the company with the hopes of helping kids learn more about STEM and related fields. She used her experience as a mother of three to come up with projects that she knew other kids would love. KiwiCo became so popular that it now sells several subscription boxes designed for kids in different age groups.
Check out our Kiwi Crate review to see how the subscription box works and if it's worth the cost.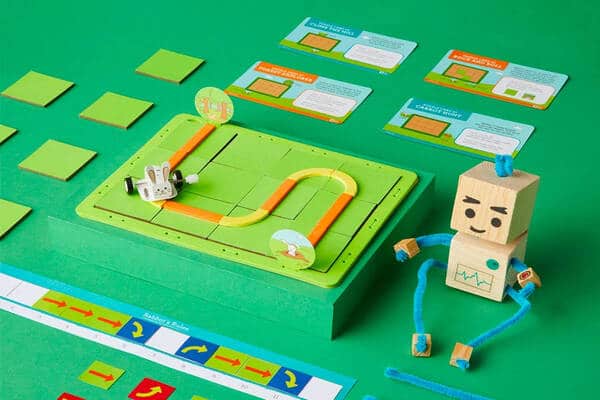 PROS
Each box comes loaded with everything needed for that month's activities
You can choose from different subscription plans
Boxes come with free shipping in the US
You can change or cancel your subscription in minutes
Kiwi Crate ships boxes in the name of your child to help them feel involved
CONS
The boxes are a little expensive for what you get
You need the internet to access some activities
Some products and materials are poor quality
BOTTOMLINE
Keep kids of all ages occupied and make learning fun with Kiwi Crate. Your monthly subscription includes multiple activities and all the supplies that your kids need to do them.
Product Features
Price: $25+ for individual crates, $20+ for subscriptions
Age Range: Newborn and up
Subscriptions: Monthly, three month, six month, annual
Shipping: Free in the US
Discounts: 30% off through the newsletter
Customer Support: Online, through email
How Can You Use Kiwi Crate?
To use Kiwi Crate, you need to sign up first. The site asks for the name of your child and will ship each box to that child. Kiwi Crate offers a single plan for those who want to try the service and see how it works. You pay only $19.95 for your box and get free shipping as long as you live in the United States. You pay $19.95 per month for the three-month plan and $18.50 per month for the six-month plan.
You then have the option of adding a book to your monthly plan for only $9.95. Each book will feature a theme that works with the box of the month. When you pay with a credit card or debit card, KiwiCo also asks you to create an account. This allows you to change your subscription later.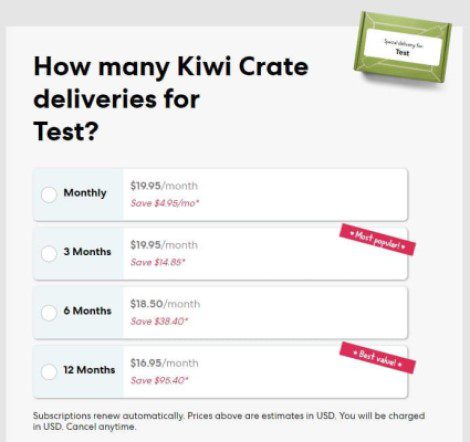 With Webwatcher, you can track the online activities of kids and adults.
What Comes in a Kiwi Crate?
Each crate comes with project ideas that you can do either with your children or let them do on their own. You also get booklets for the projects that are fun, colorful, and easy for kids to understand.
Also included is Explore!, a magazine created by KiwiCo that uses the same comic book format as the instruction booklets. Your kids receive access to online DIY activities, too. These activities take the skills they learned that month and expand on them. You usually do not need to invest in more supplies because the activities use leftovers from the box and things you already have around the house.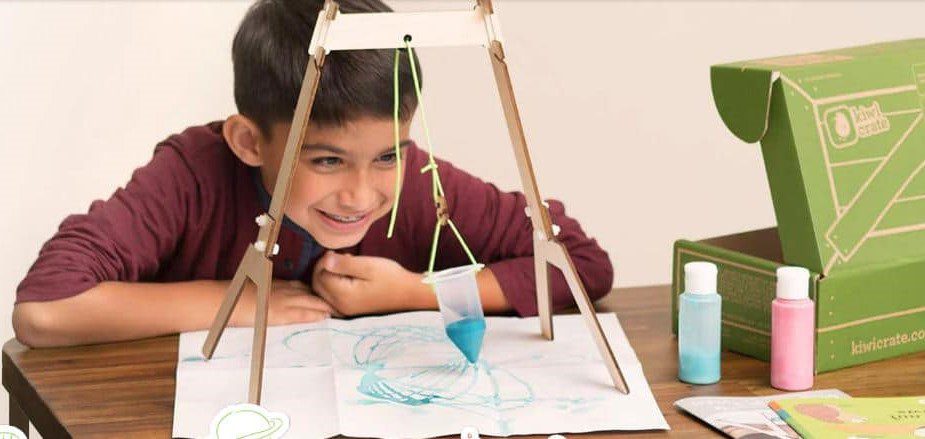 Where Can You Use Kiwi Crate?
The best place to use Kiwi Crate is at home. Your kids will find fun things that they can do without becoming bored. Some kids even find that they love trying some of the activities more than once and end up showing what they made to their friends.
Classroom kits are available for those who need more than 100 crates. These sets are perfect for people who work in schools and camps along with other places where kids spend time. Counselors and teachers can give each kid a box and go over all of the activities from the box. You can also buy in bulk to help kids have fun at a birthday party or your next family reunion.
KiwiCo lets you customize the address label in your child's name.
Who's This For?
Most Kiwi Crates are suitable for kids from 5 to 8 years of age, but you can also choose a different box if you have kids outside of that age range. These crates are great for kids who have an interest in science and math. You can use a crate to introduce your kids to new subjects and foster the interests they expressed in the past.
KiwiCo also makes boxes that are suitable for many other people, including:
Grandparents and other family members who want fun things to do with their relatives.
Parents who have nannies and babysitters who watch their kids and want to ensure that their children learn when they're not home.
Teachers who are looking for new activities that they can use in the classroom to teach STEM topics.
Loved ones trying to find fun and new birthday gifts for kids.
Daycare and similar facilities that need activities that are suitable for kids of different ages.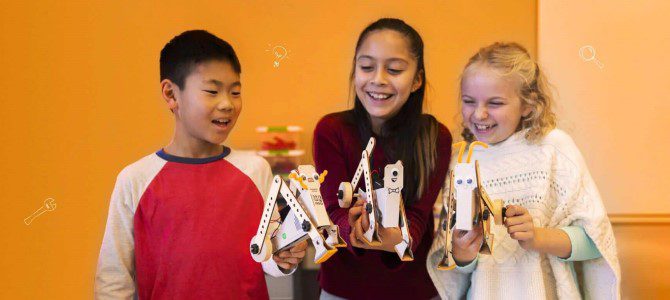 Other Crates from KiwiCo
Panda Crate
Designed for newborns and kids up to 24 months, Panda Crate is an alternative to Kiwi Crate. KiwiCo designed these boxes to help babies as their brains develop. You'll get activities that are suitable for their age range along with activities backed by research done by experts at Seattle Children's Hospital. It costs $45 for a single crate and $40 per month with an auto-subscription. The activities that you get depend on your child's age and include:
Bond with Me for kids up to 2 months
Sense with Me for kids 3 to 6 months
Explore with Me for kids up to 12 months
Count with Me for kids 13 to 18 months
Discover with Me for kids up to 24 months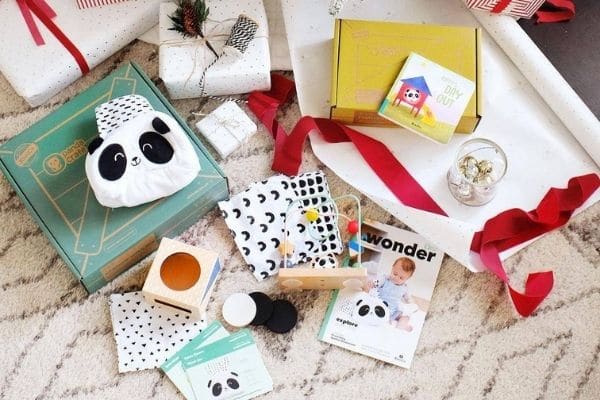 Koala Crate
Koala Crates are best for kids between 2 and 4. These crates focus on STEAM learning, which adds arts to the STEM curriculum. Each box comes with up to 3 activities and an illustrated guide that shows how you can get involved. It also includes a magazine that you can look over with your kids as well as access to the website with extra activities for the month. As with the other boxes, each month focuses on a specific theme, like rainbows or campfires. The Koala Crate sells for $25 with an auto-subscription and $20 for a single month.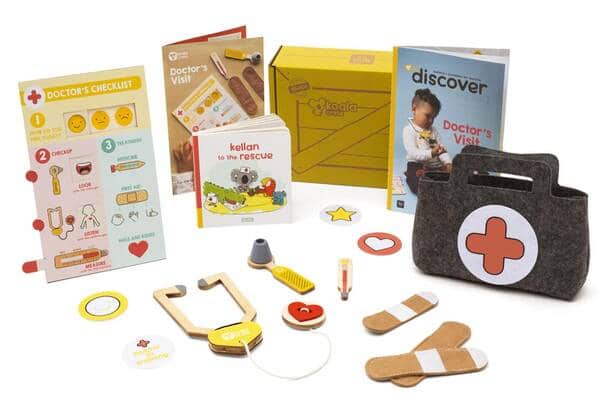 Koala Crate activities are suitable for younger kids.
Atlas Crate
You don't need to look for a different subscription box when your child ages because the Atlas Crate is suitable for kids 6 to 11. These boxes help kids learn about different cultures and the people along with STEM. You pay $20 to $25 per month for the Atlas Crate.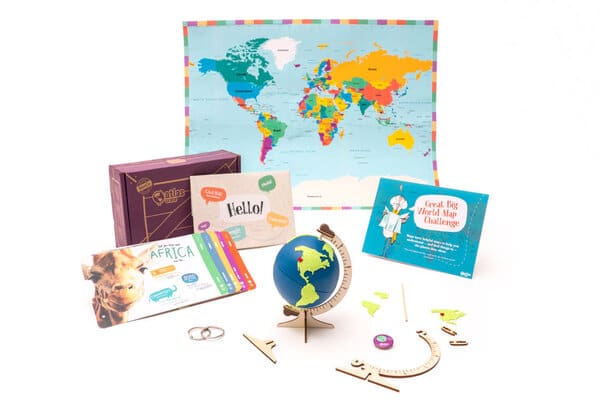 The Atlas Crate takes older kids on adventures around the globe each month.
Doodle Crate
For kids 9 and up, Doodle Crate inspires subscribers to be creative. Each crate comes with a booklet that goes over the techniques they'll use that month and tips on how to perform them. They also get an inspiration booklet that inspires them to do more with their leftovers along with more DIY activities they can find online. KiwiCo recommends this box for kids as old as teenagers and charges $25 for one month or $20 per month with a subscription.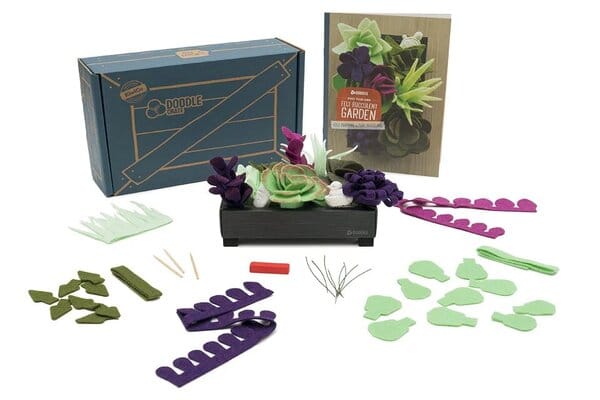 There are crates such as the Doodle Crate that are appropriate for teenagers and older kids.
Tinker Crate
These crates are suitable for those 9 and up and include some activities that teenagers will love. Subscribers receive a monthly crate that includes detailed instructions on the month's activities and any materials that they need along with video tutorials that they can watch online. As with the other crates, the Tinker Crate is available for $25 or $20 per month if you sign up for auto-renewal.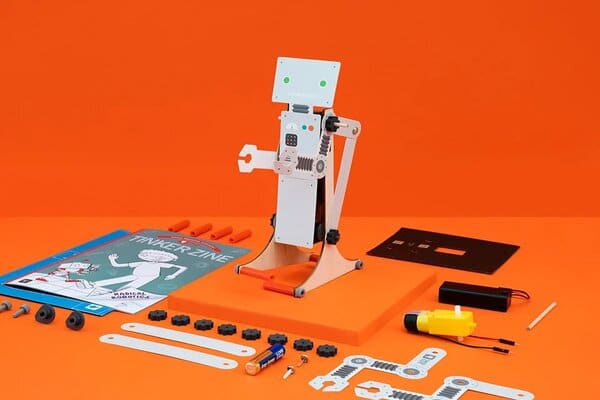 Tinker Crate features STEM activities for older kids and teens.
Maker Crate
Another option is the Maker Crate, which is suitable for those 14 years or older. Each box encourages you to show your artistic side through lessons and activities that are easy to follow. Not only do you get detailed instructions, but you also get all of the required materials and access to online video tutorials if you have any problems. You can get a single box for $25 to try it out and then pay $20 per month for a Maker Crate subscription.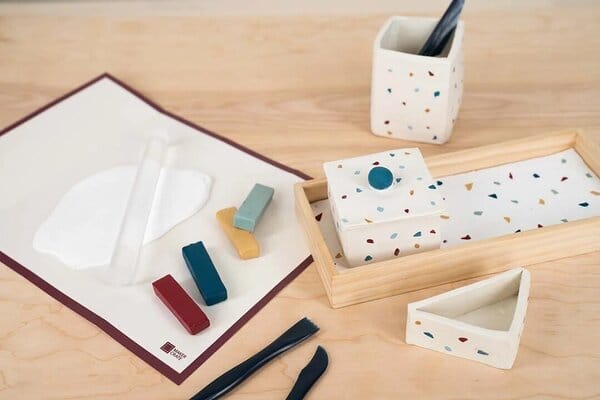 Adults can get in on the fun with Maker Crates.
Eureka Crate
KiwiCo recommends this box for kids 14 and up. Each crate features activities designed for users with some basic understanding of scientific and engineering principles. You'll use those skills to build things such as an articulated desk lamp that moves in any direction that you need and a wooden ukulele that you can play. The Eureka Crate is a little more expensive at $35 for a single month or $30 per month when you auto-renew.
I gave this particular crate a try to see what the building process was like. I got the kit that has you build an electric pencil sharpener. While at first I was a bit intimidated by the idea that I may be messing around with electricity and wiring, I did manage to finish the kit with little issue. Although some instructions were not as clear as other building kits for kids, I enjoyed the entire process.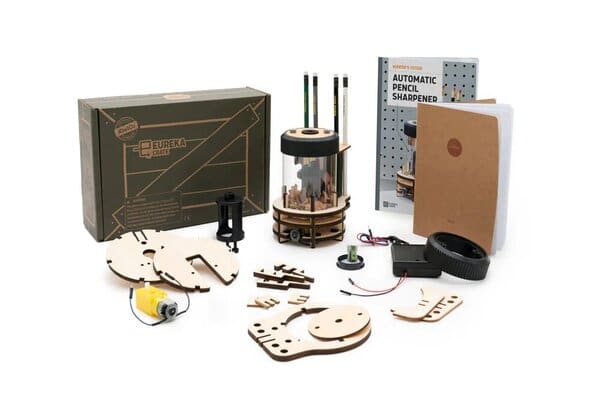 Eureka Crate subscribers are older and have more experience than the subscribers of other boxes.
Should You Buy It?
We think that Kiwi Crate is a must-buy for those with kids between the ages of 5 and 8 who have an interest in science and other STEM topics. Some of my top reasons why Kiwi Crate is worth the money include:
You can get a subscription for as little as $20 per month along with free shipping.
KiwiCo offers 3-month, 6-month, and 12-month subscriptions.
Once you register for an account, you can refer friends to KiwiCo and get $10 back when they buy through you.
There are loads of fun boxes that are suitable for adults and kids of all ages.
Kids who need extra help will often find online videos and tutorials that they can watch.
All of the monthly activities and projects surround a specific theme and include everything your kids need.
You can log in ahead of time and see the theme of next month's crate.
Kiwi Crate makes it easy for parents and other adults to get in on the fun and help kids with their projects.
The KiwiCo Store features dozens of products and kits that let kids have more fun when they finish with their crates.

Cons to Consider
Though I and several others like Kiwi Crate, not all customers were as happy with KiwiCo. I outlined the biggest complaints I found below:
 A few customers who bought Kiwi Crates as gifts found that the company never sent the cards to the recipients and tried to charge them for their orders.
If you sign up for auto-renew, you might encounter a mistake where KiwiCo charges you every month instead of every three months or longer.
Not everyone was happy with the quality of the materials that they received. Some felt that they deserved better materials for the prices they paid.
At $25 or more per box, KiwiCo charges higher rates than other subscription box companies do.
You may find that the site charges you for a subscription rather than an individual crate and that it takes some time to get your money back.
Even if you cancel your subscription, you need to verify that your account updated with your cancellation. Some customers complained that
KiwiCo charged them for Kiwi Crates months after they canceled.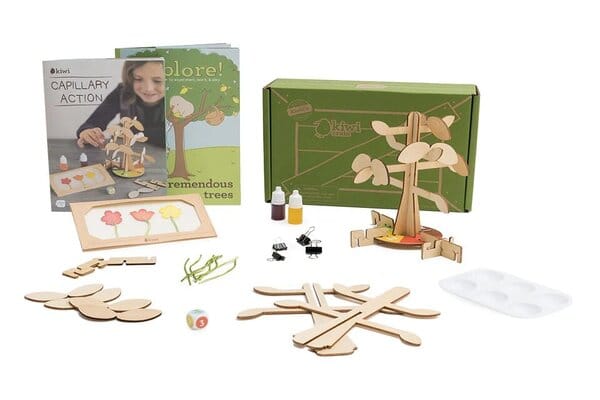 Kiwi Crates are great for kids but might be too advanced for your children.
Where to Buy
Whether you want to find out more than you did in our Kiwi Crate review or you want to sign up, click here to visit the official site. This is where you'll find the KiwiCo Store that offers individual activities that work with the skills your kids developed in their previous crates.
I also like that the official site helps you pick the perfect box for anyone. You simply enter the age of the individual and pick an interest such as electronics or chemistry. Even if you don't become a subscriber, you can set up an account on KiwiCo and get discounts from the site.
Competition
MEL Science
Kids can learn about chemistry and scientific principles through MEL Science. You pay $34.90 per month when you sign up, but the price drops to $26.20 per box if you prepay for 12 months and $31.10 per month if you pay for nine months in advance. Each box includes lessons and projects for kids 5 to 16+ who love science. Subscribers also get help from professors and teachers who host online labs and are on hand to answer any questions they have.
Creation Crate
With Creation Crate, you can choose a monthly subscription for $29.99 or a quarterly subscription that sends 3 boxes to your home at the same time. Creation Crate is available as a junior engineering or junior robotics box for kids 7 to 11. Those who are 12 and older can choose from the challenger and electronics boxes. Though these projects are a little harder than those in the Kiwi Crate boxes are, they help kids build on their knowledge.
Owl Crate Jr.
Owl Crate Jr. sends your little one new books every month that are appropriate for their age and reading level. Each box uses a different theme and includes a book based on that theme along with a plate inside the book signed by the author. Readers also receive a magazine, sticker and either another book or game. This subscription box helps young readers find new treasures.
Little Passports
Little Passports is a subscription box similar to the Atlas Crate. There are five plans that are suitable for kids three to five and older children. Early Explorers learn about themes from around the world such as music from different cultures, while Science Expeditions help kids eight and up to try science experiments at home.
Final Verdict
Do you have kids who want to learn more than they do in the classroom? Kiwi Crate can help. I like that KiwiCo uses a comic book format because it encourages kids to sit down and read. If you want your kids to read even more, you can add a book to your crate for a low monthly fee.
As a bonus, you can pick the subscription level that is right for you. You also qualify for free shipping on all of your crates if you live in the US. Designed for those interested in STEM and STEAM learning, these crates let you learn with your kids.