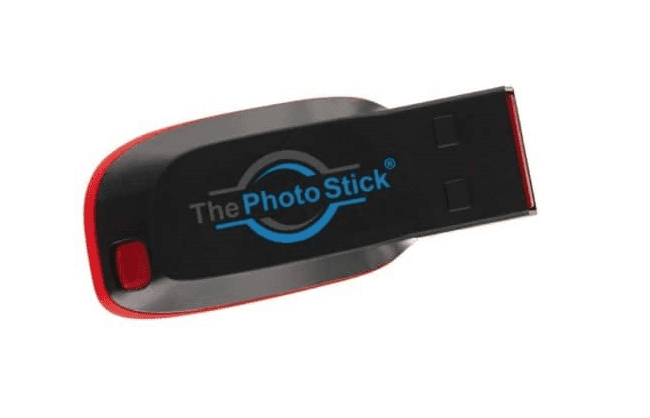 ThePhotoStick is made by PrairieIT – a team of experienced IT professionals. With the success of their first product, Xtra-PC, the team expanded their product line and introduced ThePhotoStick.
This review will focus on ThePhotoStick 2.0, the updated version of the original. However, all variations of this product work in a similar way.
ThePhotoStick's main selling point is its ease of use. There are no complicated passwords, filenames, or other hoops you may have to drop through when backing up your photos.
ThePhotoStick claims that it is so easy to use, all you have to do is connect it to the USB port and click "Go!". So, to find the best way to backup photos, I put ThePhotoStick to the test.
PROS
Offers a lot of customization options
Compatible with Mac and Windows operating systems
Works on both image and video file formats
Requires no special software
Easy to use
CONS
Process was lengthy
Users have reported several faulty drives
Does the same things that cheaper flash drives do
Lacks any instructions in the box
Does not offer password protection
Expensive for the amount of storage that you get
BOTTOMLINE
ThePhotoStick can be a helpful tool if you are looking to save and organize several forms of media all in one place.
Where Can You Use ThePhotoStick?
The top two places where you will likely use ThePhotoStick are at home and work.
A hard drive failure can occur and result in a loss of all of your data if it is not backed up. With ThePhotoStick, you can rest assured that any of the files you backed up are still available to you. It can also come in handy if your child spills something on your computer.
Using ThePhotoStick at work is helpful for those who need to share data. While you can always send emails with attachments, larger attachments can take valuable minutes to send. You can save copies on this stick and hand it to a coworker to give him or her instant access to that data.
It also allows you to do work from home and take those projects back to the office and to take work from the office home. You'll have copies of important data when other computers fail.
What Operating System Do You Need to Use ThePhotoStick?
Windows 10
Windows 8 and 8.1
Windows 7
Windows Vista
Windows XP
Mac OS X Version 10.7 and all future editions
Who's This For?
Anyone who is looking for an alternative to backing up their media in the cloud should consider backing them up on a USB Drive. It's a great option that is affordable and easy.
ThePhotoStick is a handy tool for anyone who doesn't want to use cloud storage or doesn't trust cloud storage. While the companies behind cloud storage options claim that they are strong and will protect your privacy, they cannot guarantee that.
Anyone who knows your password can also access your cloud storage and transfer private or confidential files to other devices. Some devices will even lock that specific device to an account, which means that you cannot view those files on another device, even if you know your login and password.
With ThePhotoStick, you just need to remember where you put the device. It works on all computers and gives you instant access to all the files you saved.
You won't need to install any additional programs and it's very straightforward.
Other people who may be interested in ThePhotoStick can be:
Someone who is running out of cloud storage space
A separate place to store specific photos for a project
Someone intending to back up their PC or mobile devices to prepare for device trade-ins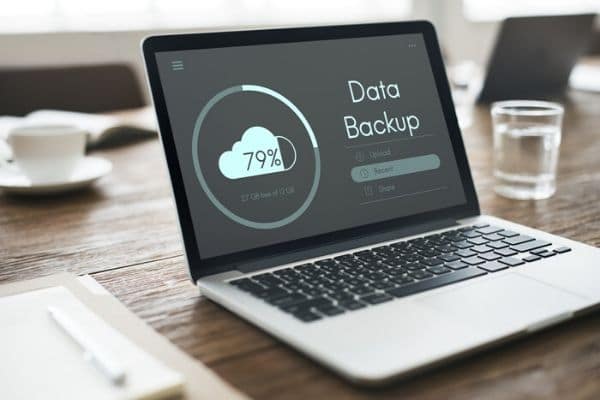 ThePhotoStick saves you on some of the frustrations of using cloud storage.
How Many Photos Can ThePhotoStick Hold?
The number of photos and other files that ThePhotoStick can hold will depend on which model you buy. With the 128 GB model, you can store up to 60,000 images.
Most of the photos that you take with a standard smartphone or DSLR is 8MP, but some of these photos might be as small as 2MP in size. The 60,000 estimation takes into account the fact that you'll likely save both longer videos that take up more space and small images that use less space.
You can generally store around 30,000 files on the 64 GB version and 3,500 files on the 8 GB model.
When you use ThePhotoStick, you can check the amount of remaining space on your computer. Before you double-click to run the stick, check the specs on the screen. It should show you a pie chart that details the total amount of space on the flash drive, how much space you used, and how much space is left. If you do not see this chart, try hovering your mouse over ThePhotoStick icon. You may need to right-click on that icon to view the properties too.
What Determines How Many Files ThePhotoStick Can Hold?
File format used
Size of files
Video vs. photo files
Type of ThePhotoStick purchased
Number of raw images saved
My Experience Using ThePhotoStick
ThePhotoStick came in plastic vacuum-sealed packaging that was very easy to open. The packaging also includes their easy quick start guide in the back. You can also access the guide on their website here.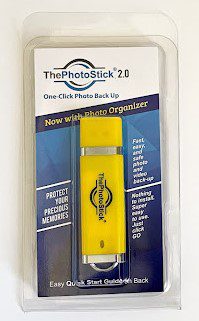 Set-Up
Setting up ThePhotoStick was just as easy as simply inserting it into the USB port. Once the computer recognized the device, a shortcut to ThePhotoStick's drive appeared. You can click on ThePhotoStick's drive to boot it up, and it will take you to ThePhotoStick's main menu.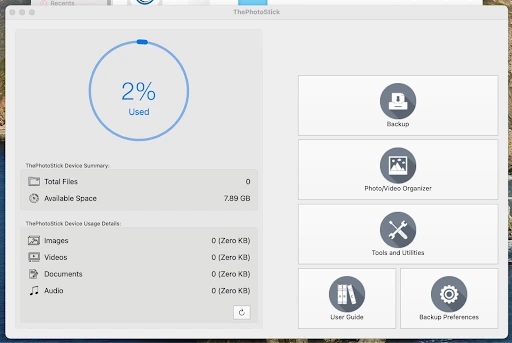 Backup
When you begin the backup, ThePhotoStick will begin scanning all of your files and folders for photos to backup. It will also flag and alert you of duplicates so you can choose to erase them so you won't transfer over any duplicates.
ThePhotoStick also offers many customization options when choosing which media you would like to import. You can select that option from their menu if you only want to import a specific format, such as only JPEGs.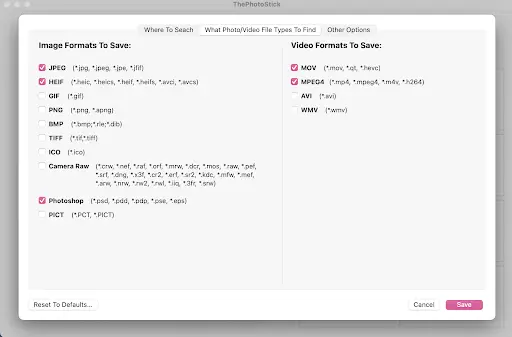 You can also customize what is being backed up by having control over "folders to skip" and "folders to scan for files" You can find all of these customization options in "Backup Preferences."
In the demo, I had 20022 folders searched with 2520 files saved. Ultimately, I ended up using 2.22 GB of the drive. The backup took 17 minutes to complete.
Organizing photos and videos
So the backup was a success without a hitch! Once everything was backed up, I wanted to proceed with using the "Photo/Video Organizing Tool". This is where things got relatively laggy. Performance was delayed to the point where it was almost impossible to even view all of the uploaded photos without waiting several minutes for stalling.
Due to its extreme lag when sorting, it's relatively difficult to utilize this feature. The performance issues may have been occurring because there were 2,520 photos available. So, that is something to keep in mind if you intend on backing up a lot of pictures.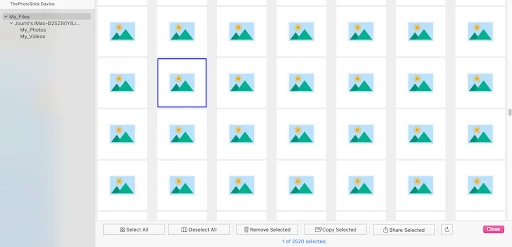 What is ThePhotoStick Mobile?
One of the newest products from the makers of ThePhotoStick is ThePhotoStick Mobile. Designed for use with mobile devices, it lets you save copies of all the files on your phone without tracking down the right cord or spending time on your computer.
This easy-to-use tool works on both smartphones and tablets and can work with those from Apple as well as devices that have an Android operating system. With the mobile version, you simply turn on your device and insert ThePhotoStick into your device. It will automatically scan the system to find videos and photos and movie copies of those files to ThePhotoStick.
If you regularly scan your device, it will pick up only the new images you saved since the last time it scanned. With ThePhotoStick Mobile, you do not need a WiFi signal. You do not need to connect your data or use the cloud either. It automatically saves copies of all files to the mobile device, which you can then plug into a computer or a tablet.
This is a good way to share copies of family photos without using a transfer cable. The mobile version works on phones and tablets from Samsung, HTC, LG, and other major phone manufacturers.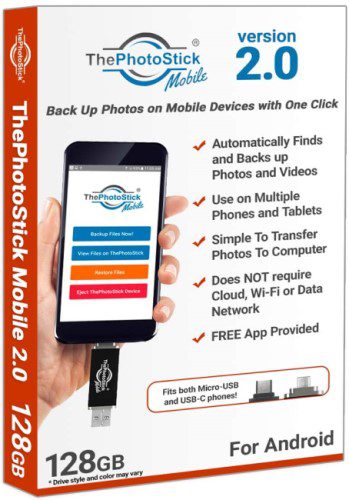 Does ThePhotoStick Work with an iPad?
Since releasing the iPad, Apple saw millions of people around the world invest in this popular tablet. You might find that you take more photos with an iPad than you ever did with a digital camera or cell phone.
Thanks to ThePhotoStick, you can now backup the files on your iPad as well as those from your Mac. You do not need to search your home for a lightning cable or try to find a spare cord either.
Apple makes proprietary charges that only work on its devices. While you can use a micro USB cord to charge almost any Android device, you need a lightning cable for an Apple device. ThePhotoStick features both a 3.0 USB connector and a lightning connector, which makes it a good choice for families who love products from more than one manufacturer.
You just need to flip the cord and select which connector is right for your device. With this cord, you can instantly transfer files from your iPad to another Apple device too.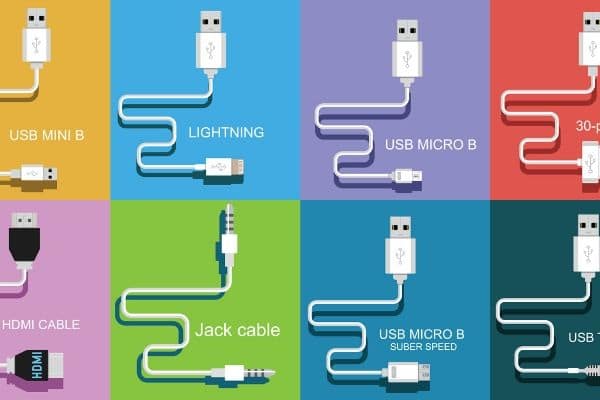 ThePhotoStick comes with a cord that functions as both a USB connector and a lightning connector
Does ThePhotoStick Come with a Warranty or Guarantee?
Whenever you buy a new product online, you always want to make sure that it comes with a solid warranty or guarantee to protect your investment. With ThePhotoStick, you get a 30-day guarantee that covers your purchase.
The money-back guarantee is valid for shoppers in both the United States and the United Kingdom and ensures that you get your full purchase price back if you aren't happy with ThePhotoStick.
To qualify for a refund, you must meet the following criteria:
You request a full refund within 30 days of the shipping date
The product is in almost new condition and the original box with all packaging materials
Even if you opened ThePhotoStick, you might still qualify for a refund. The parent company offers full refunds if the product shows any manufacturing defects such as scratches on the case or a cap that doesn't fit on the drive.
You should take note of when the site shipped your order as you can only get a refund within 30 days of the product shipping. The site does not accept returns of products that do not meet these requirements. It may not accept a return if you decide that you don't want the product after placing your order.
How Can You Return ThePhotoStick?
Make sure that your order falls within the 30-day return window
Send an email to

[email protected]

Include proof of your purchase with the email such as your original receipt
Send the product and original packaging back to the correct address
Wait for your refund, which can take several weeks
Does ThePhotoStick Have a Support Team?
The makers of ThePhotoStick have a support team that can help customers before they buy one of these devices and with any problems they might have at home. You can visit the official website and look for a chat icon, which you should see near the bottom right corner of the homepage.
Clicking on this icon will load a chat window that lets you talk to a live representative during typical business hours.
Chatting with a live rep is helpful because you can ask questions about how many files each stick can hold and get help picking which size is right for you. Those reps can also answer questions about the shipping process such as how long it will take based on your location and what you need to do to get free shipping.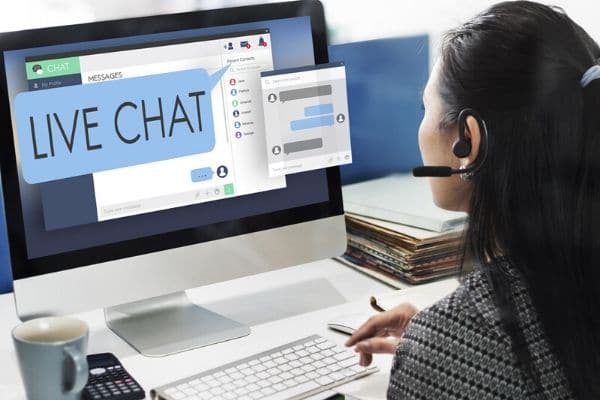 Customer service reps are available during select business hours and can chat with you live.
Wrapping It Up: Why Buy ThePhotoStick?
You can choose from standard 8, 64 and 128 GB sizes or upgrade to 1 TB of storage.
ThePhotoStick can work with newer and older operating systems from both Apple and Windows to help you retrieve photos that you saved years ago.
It comes with an optional app that you'll find in the app store, which lets you use the flash drive to copy photos and other files from your smartphone and other devices.
You can use it as a recovery tool to find the files that you misplaced on your home system and those you thought you deleted.
ThePhotoStick doesn't charge any type of subscription fee.
It can create a complete backup when used with any computer or electronic device.
Including the moment you put the USB connector in your USB port, you only need to take three steps to use it.
You don't need any special or unique software to run ThePhotoStick.
It allows for fast and easy transferring of files across two or more devices.
EXPERT TIP
If you plug in ThePhotoStick and your computer doesn't recognize it, turn off your computer and unplug the device. Restart your computer and reinsert ThePhotoStick. If it still fails to recognize the device, try entering your settings and manually searching for the USB device.
Cons of ThePhotoStick
While looking at some of the pros of ThePhotoStick is helpful, you'll also want to consider the cons and the reasons why past customers wrote negative reviews about this product.
A common issue that many brought up is that ThePhotoStick works the same way as any other flash drive but costs more.
I also found that some customers received an error message when using ThePhotoStick. It started scanning for files and then stopped and displayed an error message.
Some also complained that it worked fine a few times and that it then stopped working or that their computers could no longer recognize it. If you encounter any of these problems, pull up the website of ThePhotoStick and click on the chat icon to speak with the customer service team.
As long as you can prove that the device doesn't work, they should offer a full refund or let you return it for a new stick.
Other Issues with ThePhotoStick:
The site doesn't always accept returns of products that stopped working\
You might find that it doesn't locate all of your photos and videos
It doesn't come with tips or instructions on using ThePhotoStick
Some reported waiting weeks for a replacement
Shipping can take four weeks or more
It may arrive with the product already corrupted
ThePhotoStick doesn't always retain the original names of your files
Where to Buy ThePhotoStick
The best place to buy ThePhotoStick is right here. With our link, you can save 40% on each additional stick that you buy.
You can choose from all three models that are available and get a discount when you buy more than one. The prices start at $34.99 for the 8GB stick, which lets you save 30% off the original retail cost. If you want the 64GB, you can save 37% and pay only $49.99. The 128GB is the biggest model and costs the most, but when you use our link, you can get it for only $79.99, which is a savings of 50%. Buying the 128GB also gives you free shipping and handling.
With our link, you can save big on any of ThePhotoStick models.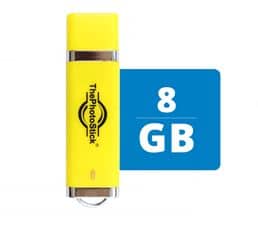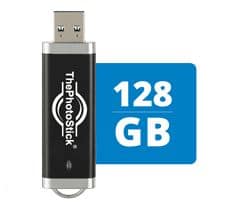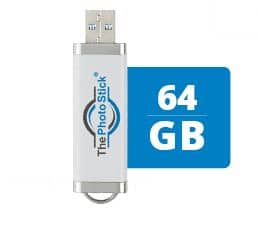 Competition
One of the main issues with ThePhotoStick is that it is simply a thumb drive or flash drive. You can find just as many alternatives when you search the web, and you can find products that have more storage space and some that work with other devices.
Any flash drive would suffice when it comes to just wanting an external drive to back up your photos. However, having a designated drive with features built in to help you import and organize your pictures can help.
Picture Keeper
The Picture Keeper is ThePhotoStick's primary competitor. Picture Keeper is priced lower than ThePhotoStick, going as low as $30. The differences between the two products are minimal aside from the price ranges and ThePhotoStick's ability to remove duplicates (which Picture Keeper lacks). ThePhotoStick also offers more customer support and guides.
However, the Picture Keeper has better reviews. So it may be a better option for those who don't mind a simple approach with fewer features.
Samsung BAR Plus USB Flash Drive
Those looking to save money who want to buy from a reputable company might choose the Samsung BAR Plus USB Flash Drive. It offers 128 GB of storage and has a compact design for those who want to carry it in a pocket. The included keychain lets you carry the flash drive on your keys to ensure that you can keep track of it. This flash drive is resistant to temperature changes, magnets, and x-rays and is shock-proof too.
SanDisk Cruzer
Another alternative that I found to ThePhotoStick is the SanDisk Cruzer, which has an impressive 256 GB of internal storage.
It does not require any unique software to use and comes with password protection that you can add for extra safety. The only downside to this flash drive is that it has a cheap plastic case that can break.
GOVNDVN
GOVNDVN also offers flash drives to store photos on. It is exclusively sold on Amazon. So, if you prefer to order from Amazon, you may want to look into GOVNDVN's products. The Amazon reviews for GOVNDVN's photo sticks are relatively good, averaging at around 4.3 stars. They are also one of the most affordable options I've seen!
QARFEE Flash Drive
The QARFEE Flash Drive works with computers and smartphones. This flash drive has 128 GB of storage and comes with outputs that are compatible with Android and Apple smartphones as well as most computers.
Final Verdict
Overall, ThePhotoStick is an excellent device for backing up your photos. It stands as a competitive option against the competition. ThePhotoStick is affordable and offers additional helpful features. I am confident in recommending ThePhotoStick as one of the best ways to backup photos. Coupled with their 30-day money-back guarantee, it makes it a product that is risk-free to try.
Resources and Further Reading