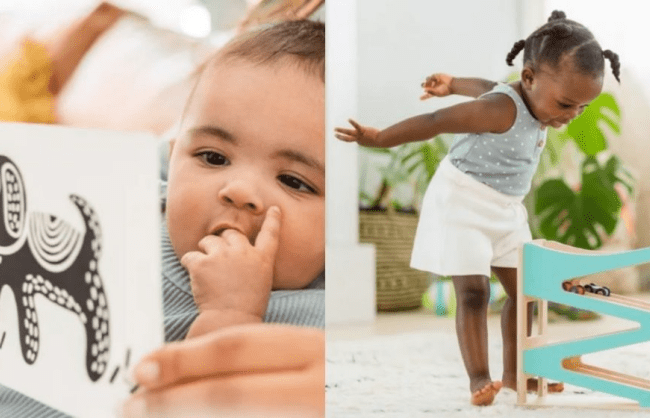 What is Lovevery?
Parents today know how quickly kids go through toys. It often seems like you can only buy toys and educational products made from plastic and other materials. Forget about passing those toys down to another child or a friend! You're lucky if the toys last until your kids no longer want to play with them. Lovevery is a new brand that makes toys and educational products for kids of all ages. As the products use wood and other durable materials, they will last for years. Lovevery also works with teachers and other professionals to ensure that kids learn as they play.
Unlike other brands that make toys suitable for a range of ages, Lovevery uses stage-based play. This ensures that your child develops the skills they need at a specific age and that they build on those skills as they grow. With the Play Kits, you get multiple toys inside a box designed for kids as young as 0-12 months. You will also find tons of kits that are suitable for older kids up to 48 months. There are also parenting courses that help new parents learn the basics such as how to pick the right food for a baby. In our Lovevery review, we'll cover some of the top features of this brand and some of the toys you can buy.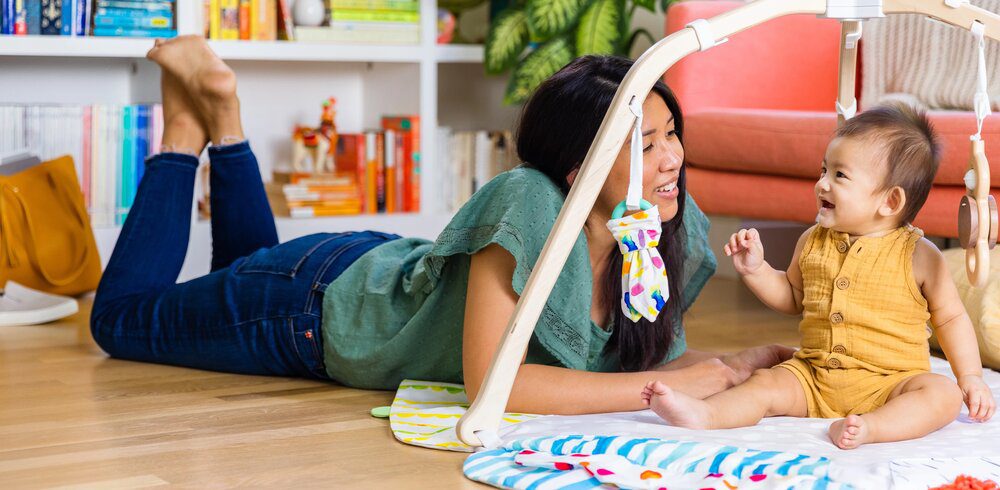 PROS
Suitable for kids up to 36 months
Designed by educational professionals
Use Montessori principles to make learning fun
Free shipping on many orders
All materials are safe for babies and kids
CONS
Expensive
Not many options for older kids
Customer service is iffy
BOTTOMLINE
Lovevery is a brand that makes subscription boxes filled with educational toys for kids up through four years. You'll also find parenting courses and other merchandise for kids that use materials that are safe for kids of all ages.

iReviews Shopping Assistant
Find the best prices for this and many other products with our chrome extension
Product Features
Price: $80-$120 for Play Kits
Age Range: 0-48 months
Shipping: Free in the United States and Canada
Materials: Nontoxic paint, wood, PVC
Registry: Through Lovevery and Babylist
Parenting Courses: $40-$50 each
The Play Kits
Lovevery built its brand on its Play Kits. Each kit takes the hassles out of finding the best toys for your child and helps you use the Montessori educational principles at home. You get a box that comes filled with toys designed for a specific age range. These toys help kids have fun but also teach them at the same time. All of the products inside the box use wood and other materials that are safe for babies and young children such as non-toxic paint and organic cotton. You also get access to an app that gives you ideas for activities that you can do with your little one and insights into new parenting research.
As a bonus, all Play Kits from Lovevery are available as subscriptions. When you sign up for a plan, you enter your child's age. Lovevery will send you a box filled with merchandise for your child's age. As your baby ages, you will get new boxes that include products designed for them up until they turn four. You pay only for the cost of the items inside the box as Lovevery offers free shipping on subscription plans. The Play Kits are the most popular products from this brand and retail for as little as $80 each. We'll take a look at these plans below.
0-12 Months
Lovevery knows that parents of newborns are often concerned with how they grow and develop, which is why the brand offers several boxes designed for those between the ages of 0 and 12 months. The Looker Play Kit includes products that encourage babies to look at the world around them and interact with the people and objects they see. Kids between the ages of three and four months receive The Charmer Play Kit that helps them focus on specific things. Your child will slowly work their way up to The Thinker Play Kit, which comes loaded with educational toys that get them thinking about the things they see.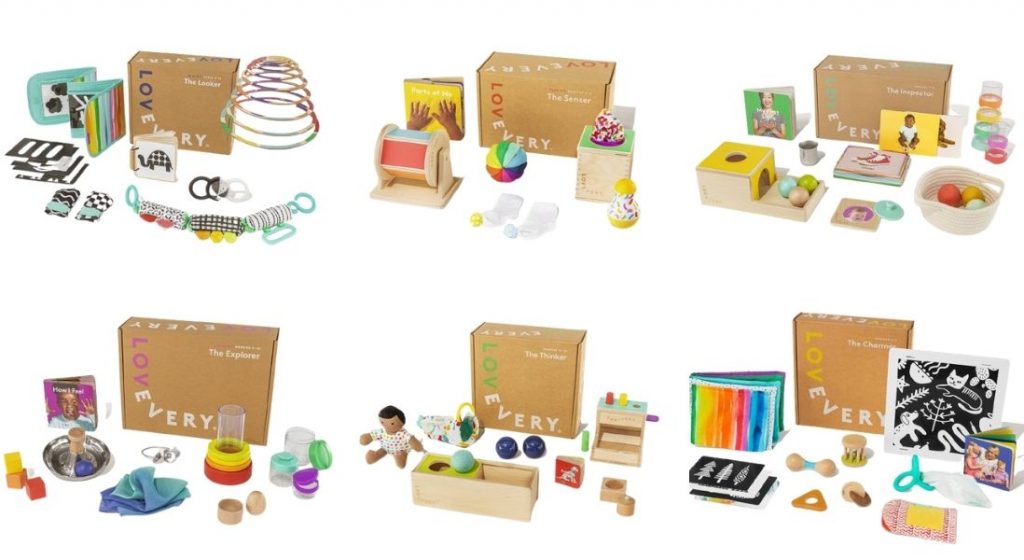 One Year
Babies develop a lot in their first year, which is why the brand makes multiple kits for kids in this age range. The Babbler Play Kit is suitable for children 13-15 months old. It comes with toys that encourage them to say their first words. With the Pioneer Play Kit for kids up through 18 months, users learn how to stack objects and practice other skills. Many parents like The Realist Play Kit because it has toys and books that help kids get ready to see their doctor and engage in activities away from home. There's also The Companion Play Kit that teaches kids how to interact with animals and people.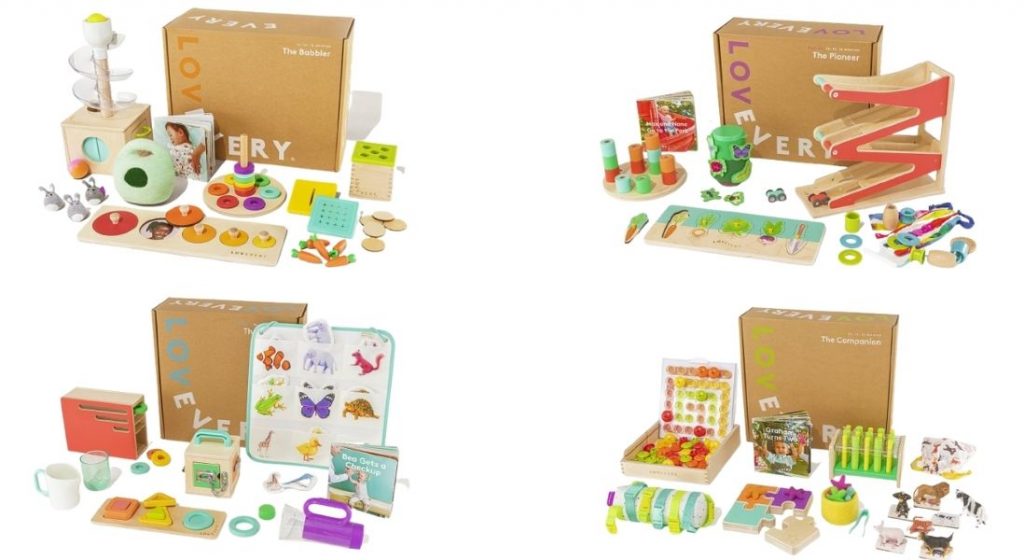 Year Two
The Terrible Twos refer to the months after a child turns two when they tend to act out in different ways. Lovevery subscription boxes for this age range cost $120 and come in different options such as The Helper Play Kit that includes toy flowers and a small sink with dishes to show kids how they can do simple tasks around the house. The Enthusiast Play Kit may help kids want to spend more time outside. It includes a cute little picnic basket and a book that teaches them about plants. Suitable for kids up through 36 months, The Free Spirit Play Kit encourages kids to use their imagination and come up with new ways to use the included toys, which might make the Terrible Twos anything but terrible.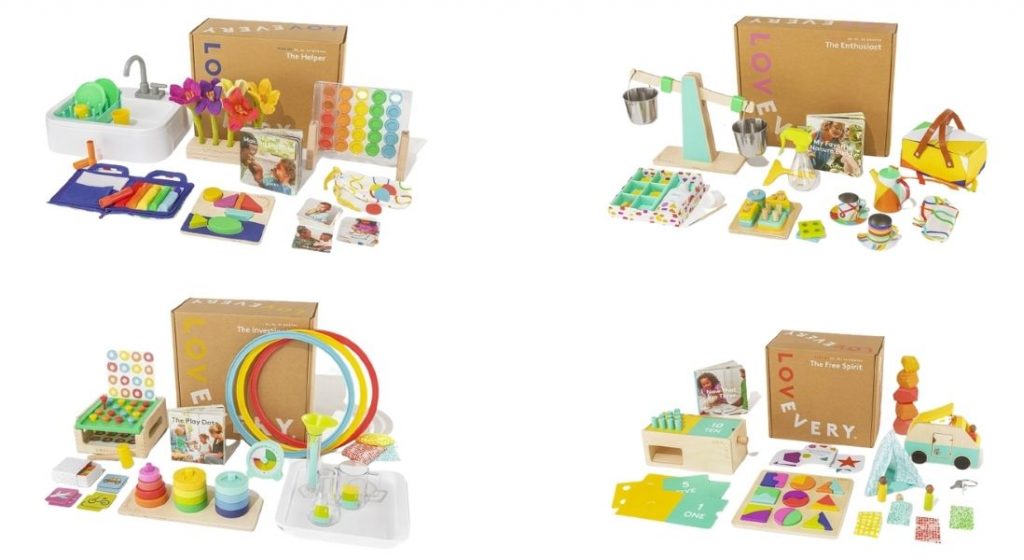 Year Three
Lovevery also makes boxes for kids between the ages of three and four that can help them get ready for preschool. One option is The Observer Play Kit, which shows them how to observe the people and things that are around them. The Storyteller Play Kit is perfect for kids who love storytime and those who hate sitting down. It comes with a book that tells a story and puppets and toys that go along with the book. We also like The Analyst Play Kit that can turn any child up to the age of four into a little scientist. All of the Three Year Boxes sell for $120.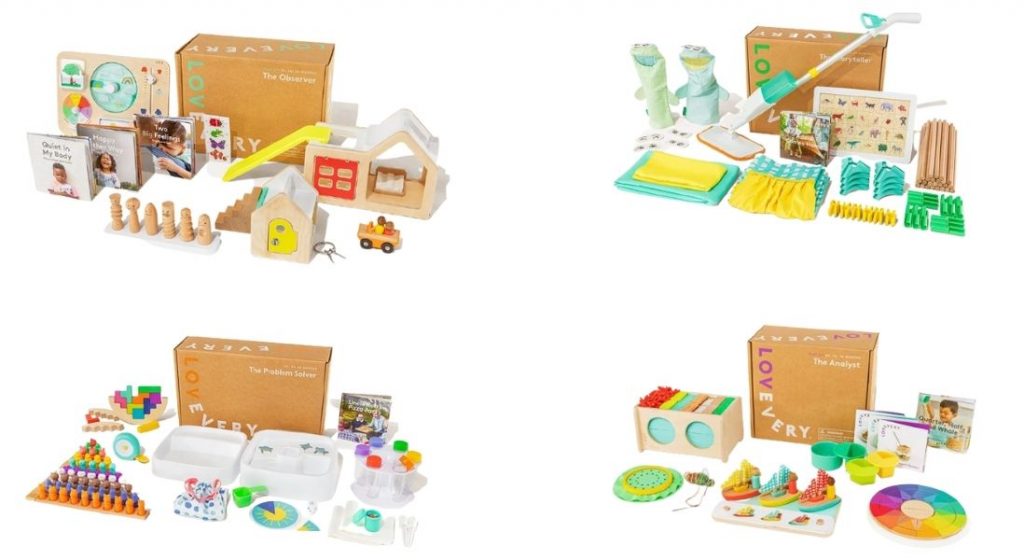 How Can You Use Lovevery?
To use Lovevery, you first need to sign up for a subscription. Click on the blue "Try Now" button on the homepage to become a customer. You will need to enter your child's exact date of birth as this tells the brand which box to send. Though you might feel tempted to use a different date because you think your child is more advanced than their peers, use the real date. Even if your baby is advanced, they can benefit from these educational toys. Once you sign up, Lovevery will send you a new box each time your child hits one of the developmental stages. You can enter your account whenever you want if you need to cancel an upcoming box or want to end your subscription.
When it comes to the parenting courses, you can easily sign up online. Simply click on the "Courses" link and select the one that interests you. While some courses include as few as 10 lessons, others have as many as 30 lessons. You'll need to log into your account to access your course materials. Lovevery also makes it easy for parents and grandparents to buy educational toys and Montessori products from the site. If you live in the United States or Canada, you qualify for free shipping.

Look for the blue Sign Up button to start a Lovevery subscription plan.
The Play Gym
When you visit the Lovevery website, you'll find several Montessori and educational toys such as The Play Gym. Designed for babies, this little gym retails for $140 and is easy to use. Winner of the reddot design award and the Parents' Choice award, it has multiple built-in accessories to capture your baby's attention, including:
An organic ball made from real cotton that babies can grasp and play with or hold in their hands.
A batting ring with an ergonomic design that produces soft noises as kids throw it around.
Teething rings made from PVC that are safe for babies to bite down on and provide some relief from their pain.
A mirror card set to delight kids when they see their reflection.
Also included are several card sets that you can change out as needed. While the common objects card set features images of items they see every day, the faces card set allows them to see friendly faces staring back at them. The Play Gym uses a soft fabric base to help your baby stay comfy. You never need to worry about running out of things to do with the gym because it comes with a guide loaded with a year's worth of activities for your baby.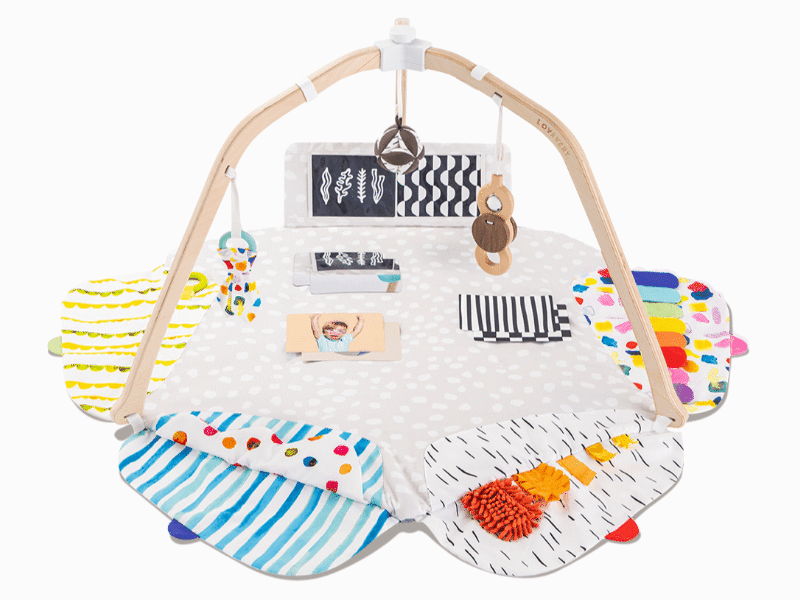 Where Can You Use Lovevery?
All of the toys and products from Lovevery are perfect for use at home. If you need to decorate your child's room but want to make sure that they have fun and learn, use the gym or the shelf. The set of wooden blocks are also suitable for use at home as well as on the go. One of the nice things about these toys is that you can use them anywhere you would other toys. Why not toss a few in your diaper bag before your baby's next check-up or when you have a long line in front of you at the grocery store? Though some of the toys have smaller parts that you might lose, most have large parts that are easy to keep track of away from home. Your baby can even play with them at a friend's house or when you're on vacation.
When you sign up for a parenting class, keep in mind that you can access your course materials for up to six months after the class ends. Lovevery lets you check in on your lessons from anywhere you go as long as you have an internet connection, including at home and at work.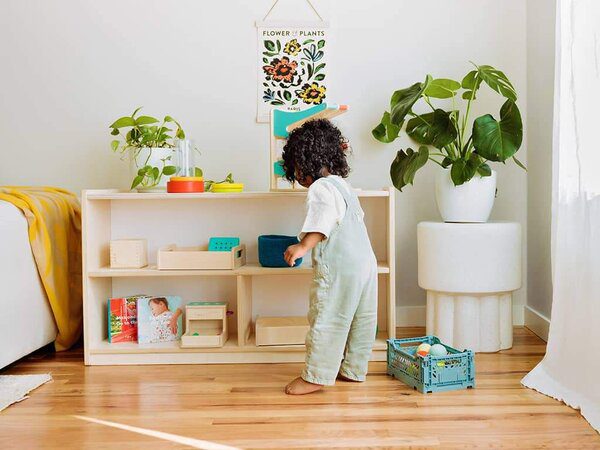 You'll find ways to use these products at home and anywhere else you go.
The Montessori Playshelf
Lovevery uses Montessori principles to create toys that teach and help kids learn. The brand also makes The Montessori Playshelf for parents who want to use these principles every day, even when they're not teaching. This is a unique bookshelf that encourages kids to grab a book or toy from the shelf every time they look at it. It uses Baltic birch and has a natural wood design that makes it fit in any room, including a bedroom or playroom. If you're not a fan of the natural look or you want to use it as your child ages, you can always paint it a different color.
This bookshelf has an attached toy box on the back for your child's favorite toys and multiple shelves on the front for books and other toys. The included instructions show you how two people can put the shelf together in less than an hour. To remove fingerprints and marks, simply wipe the shelf down with a damp cloth. Inside the box are two storage bins and two matching boxes. The idea is that you use the boxes and bins to swap out different toys as your child's interests change. Lovevery claims that you can display up to two Play Kits on this bookshelf.
Who's This For?
The main customers buying from Lovevery are parents who want to help their kids start life on the right foot. Do you worry that your baby won't keep up when you send them off to school? Maybe you notice that your child seems a little behind when you compare them to their peers. Montessori principles are so popular that there are now schools across the country that rely on them. There is never a bad time to start teaching your child! While you probably don't want to fill their schedule with dozens of activities, you can easily invest in some educational toys that help them learn.
We recommend the Lovevery courses for parents who want to learn more but aren't sure where to start. You can take a class on healthy eating that goes over the best things to feed your baby as they switch to solid food. Lovevery also makes products that are perfect for new parents. You can easily create a registry on the site and send links to everyone you know to let them know what you need. The site allows individuals to buy and ship items they found on a registry to make sure you get them before your baby arrives.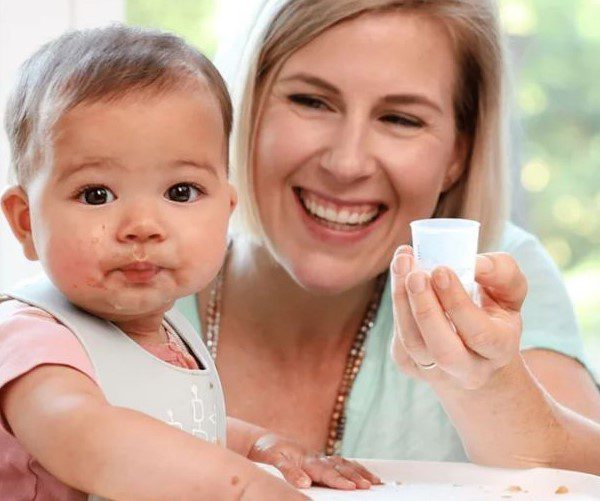 Lovevery makes products for the parents and loved ones of babies and toddlers.
Lovevery Registry Basics
We wanted to talk about the registry options available from Lovevery because you may want to create one. You have the option of creating one on the site or linking your registry to the one you already created through Babylist. We recommend the first option if you don't need a lot of things for your new baby. Simply click on the "Register with Lovevery" button, which you can find on the homepage and the bottom of most other pages. Then select the "Create a New Registry" on this page. You can add anything you want from the site and choose a subscription plan. Once you finish, Lovevery lets you share your registry with loved ones via a custom link.
If you want to give Lovevery as a gift, you have a few options. One option allows you to send a box to anyone who has a child and add a note to show it came from you. You can buy a single box or multiple boxes to help the parents save money. The "Find an Existing Registry" button makes it easy for you to find a list that someone else created. You can then buy them one or more things off their list. There is also a group gifting option if you have a group that wants to shop for a registered user.

Parent Courses from Lovevery
While there are other sites that sell educational toys and offer toy subscription boxes, one thing that sets Lovevery apart is that it also offers parent courses. One of our favorites is Food Before 1, designed to teach parents the basics of feeding babies and kids up through the age of one.
This course consists of 10 lessons. Each one covers different topics such as how to safely feed your baby and which foods are best for their growing bodies. It costs just $50.
Another option is Baby's Best Tummy Time. You've probably heard a lot of talk about when to let your baby lay on their stomach and how long to let them sit like this. Rachel Coley offers this course through Lovevery and charges $40 for 30 lessons. You'll learn safe ways to engage in tummy time and how to make your child more comfortable.
Lovevery plans to offer new courses in the future and encourages parents to submit some of the topics they want to learn about. Your course comes with materials that you can download to your computer or another device and refer to as needed. Lovevery gives you full access to the course materials for six months after you finish.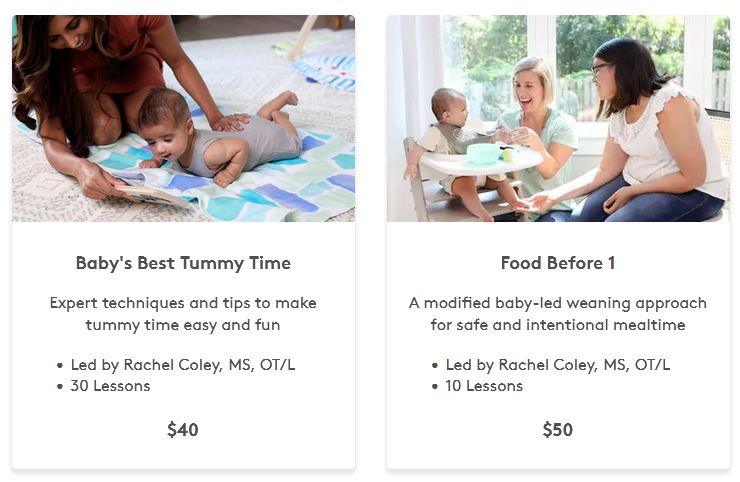 Keep checking back for new topics as they become available.
Should You Buy It?
As we worked on this Lovevery review, we found tons of positive reviews and few complaints. Many love that the brand offers a 30-day warranty on all of its products and lets you start a return online. All of the Play Kits use Montessori principles and come loaded with educational toys that make learning fun. Lovevery helps you select the right box for your child and continue getting boxes that grow with your child. You'll also find other merchandise that you can use in your child's bedroom and other areas of your home. Some of the other reasons we recommend this brand include:
There is a registry that lets you create a wish list to give others and find lists that your loved ones created.
You can refer your friends and give them $20 off and get $20 off your next order when they buy.
All of the toys use materials that are safe for kids of all ages, including natural wood and non-toxic paint.
Lovevery offers free shipping on all Play Kits to addresses in Canada and the United States.
The brand has several parenting courses and plans to offer more in the future.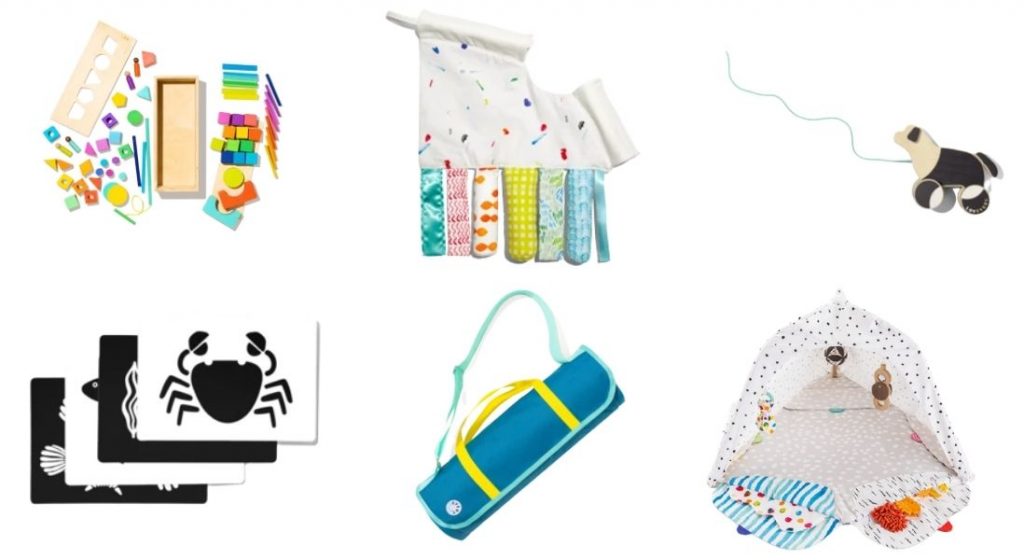 Lovevery makes tons of educational toys for kids four and under.
Cons to Consider
There were a few complaints we came across when working on our Lovevery review. Many customers were unhappy with the high prices the company charges. You can get Montessori boxes and buy individual educational toys for less than the cost of one of these boxes. Others had issues working with customer service. They had problems canceling their subscriptions and returning products. Another thing to keep in mind is that Montessori education is not right for all kids. Some kids need a stricter curriculum that features specific tasks they need to complete. Children may not have the imagination needed to do all of the things possible with these toys. It's helpful to invest in one of the Lovevery boxes and see how your child does before you sign up for a full subscription. You may find it helpful to supplement the boxes with other Montessori toys, too.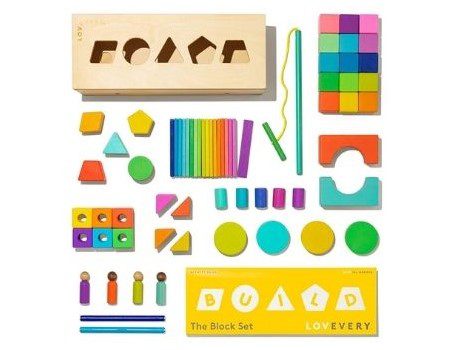 One of the more popular individual products from Lovevery is The Block Set for $90.
Where to Buy
You don't need to look far to find Lovevery merchandise because you can simply click here and load the official website. We love that the brand has a reviews section where any customer can write a review about their experiences. Unlike other sites that only show positive reviews, Lovevery shows all of the reviews that it gets. You will also like the referral program, especially if you are a fan of the brand. This allows you to give loved ones a $20 discount and get one in return after they order. While you may not want to pay $80 or more for a Play Kit, this discount helps you save. Some of the other reasons we recommend buying from the Lovevery official site include:
You can check out the Lovevery podcast and download episodes on an iPhone or Android phone.
There is a link that directs you to the Lovevery app, which is compatible with most phones and devices.
Lovevery has a page where you can view all of the current discounts and promotions to save money.
You can see all of the available products and find out how much they cost.
The site shows all of the awards that the brand won over the years.

Lovevery often has discounts that help customers save money on Play Kits and other products.
Competition
There are several competitors to Lovevery that sell educational and Montessori toy subscription boxes such as Little Learners. Known for its Busy Boxes, the brand lets you choose between Big Boxes that include five activities and Mini Boxes that have three activities. You can also prepay for a few months or more or simply buy one box at a time. Kiwi Co. is another popular brand that helps you find boxes for the age range of your child. One of the nice things about this subscription box company is that it has boxes that encourage you to spend more time with your little one.

When you sign up for Little Passports, you can often find deals that take 15% off. You get a box each month that focuses on a specific country or region and has activities based on that topic. There is also a company called Monti Kids that sells subscription boxes with an emphasis on Montessori education. You can get up to $75 back through the brand's referral program. The Level 1 Box is suitable for babies and kids up to 12 months. You'll find other boxes up to Level 8 for kids up to 36 months.
Final Verdict
After looking over the available products and seeing what customers thought, we found that Lovevery is worth the price. The biggest issue that many have is with the prices that the brand charges. Lovevery has Play Kits for younger kids and babies that retail for $80. but the bigger kits designed for older kids sell for $120. It's often easy to find similar toys for much less. If you want to try one of the kits but don't want to spend that much, look for promotions and discounts. You can often take 10% off or more through one of these special offers.

We like that the brand has a program where you can give $20 to spend on the site in the form of a coupon to a loved one and get the same coupon back. You'll also find online courses at low prices that help you learn about topics such as how to pick the right foods for your baby and practice smart tummy time. As a bonus, you'll find shelves and other products that kids will love. If you are a parent who wants to use Montessori principles at home and have a child under the age of four, Lovevery is a good brand for you.