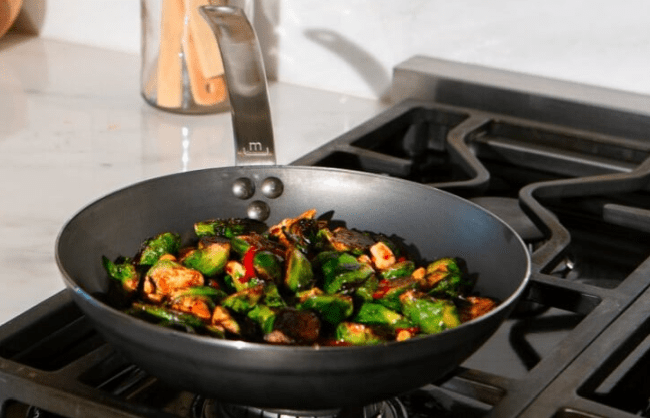 What is Made In Cookware?
If you've ever wondered why your home cooking isn't as good as a local restaurant, the issue might be in the cookware you buy. While there are restaurant supply stores, they are often hard to find if you live outside of a big city. Made In is a brand that makes it easy for you to order professional equipment and have it delivered right to your door.
This company offers the same high-quality pieces that your favorite restaurants buy.
Made In cookware uses carbon steel and stainless steel which can handle all of your ingredients. In addition to cookware, you'll find knives and bakeware along with accessories and pantry staples that any kitchen needs.
In this Made In cookware review, I'll look at this cookware and other products along with the warranty you get.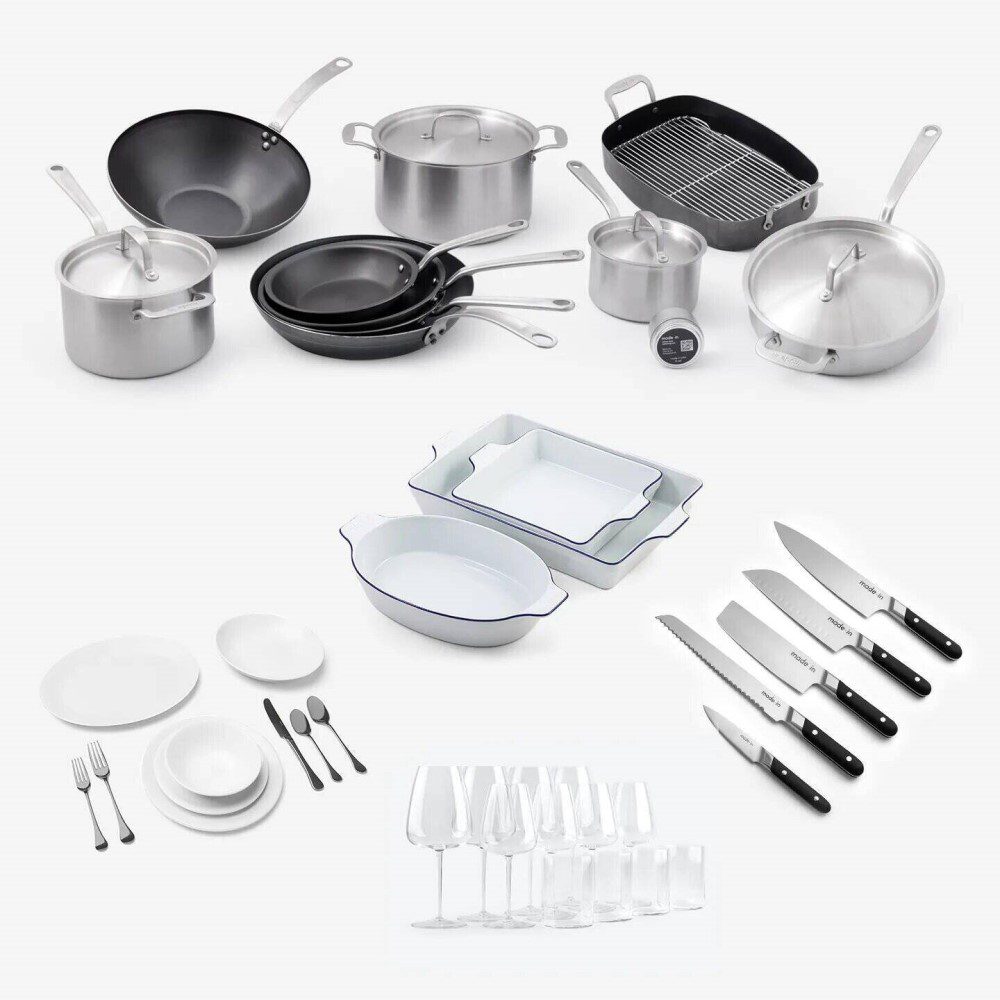 PROS
Made from durable materials that will last a lifetime or longer
Gives you a way to buy restaurant quality cookware
Comes with a strong warranty
Gives you info on how to care for your cookware
Lets you recycle your old cookware to protect the environment
CONS
More expensive than other pots and pans
The warranty doesn't cover all issues
Many shoppers had problems with the brand's customer service reps
BOTTOMLINE
Made In cookware is suitable for home cooks and professional chefs. All of these pieces use stainless steel and other durable materials that can last for a lifetime or multiple generations.

iReviews Shopping Assistant
Find the best prices for this and many other products with our chrome extension
Product Features
Price: $65+ per piece
Payment Plans: Four payments through Klarna
Returns/Exchanges: Free within 45 days
Warranty: Protects against manufacturing defects
Recycling Program: Through Habitat for Humanity
Materials: Cast iron, carbon steel, stainless steel
How Can You Use Made In Cookware?
Made In cookware comes in many different options. Start with a look at the available materials. The brand offers both stainless steel and carbon steel pans that retain heat and are perfect for home use. You'll also find nonstick pots and pans.
Made In cookware comes in sets that include three or more pots and pans. I like The Sous Chef set that is suitable for budding and experienced chefs. You get 11 pieces with this set, which includes the lids.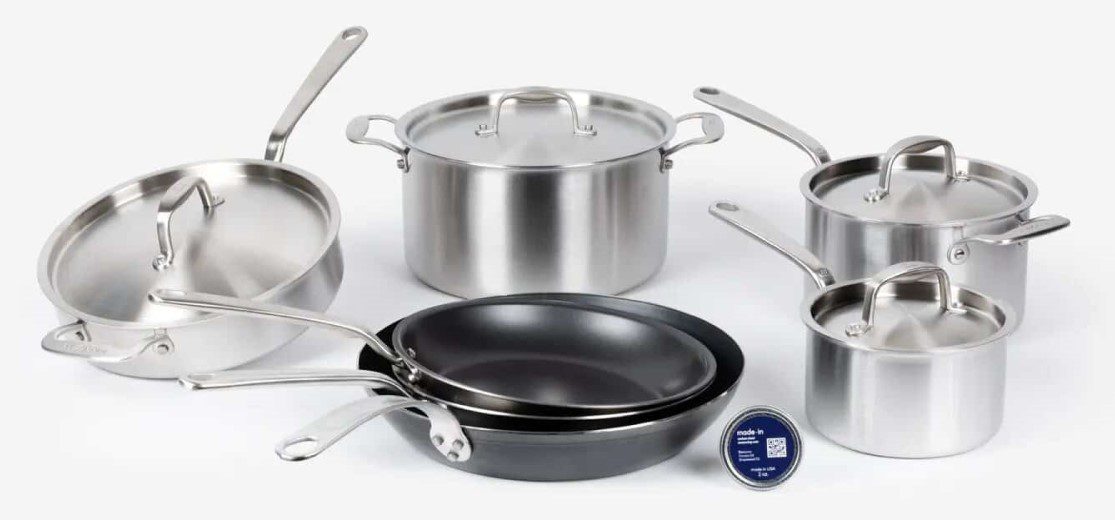 The Sous Chef is one of the more popular sets from the brand.
Made In Cookware Reviews
Among the top products from Made In is its stainless steel frying pans. They come in sizes from 8" up to 12". Made from five layers, these pans offer the heat retention that you need. Not only are these frying pans suitable for use on the stove, but they are also oven safe. Made In guarantees that the pans can withstand temperatures of up to 800 degrees Fahrenheit.
If you're a fan of stainless steel pans, consider the saucier pans from Made In, too. The pots sell for $109 to $159. Thanks to the rounded bottom on the pan, you don't need to worry about ingredients sticking to the sides or finding that you didn't incorporate your mixtures.
Some of the other Made In cookware you might like includes:
12" Graphite Non Stick Frying Pan ($109)
1.9 Quart Copper Saucepan ($269)
4 Quart Nonstick Saucepan ($115)
3.5 Quart Nonstick Saute Pan with Lid ($149)
8" Graphite Frying Pan ($89)
10" Harbour Blue Nonstick Frying Pan ($99)
12" Blue Carbon Steel Seasoned Frying Pan ($109)
10" Blue Carbon Steel Unseasoned Frying Pan ($69)
12" Unseasoned Blue Carbon Steel Wok ($99)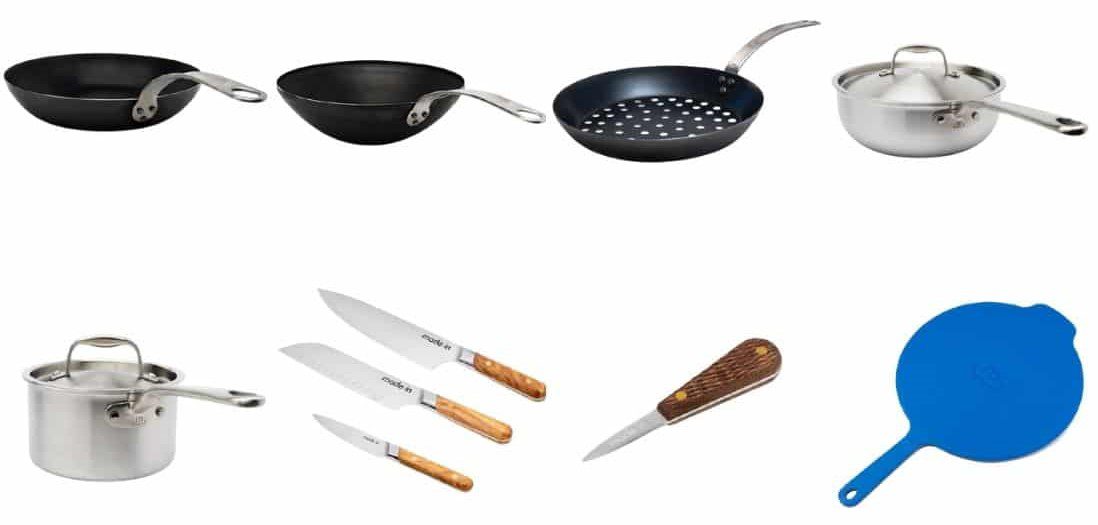 Where Can You Use Made In Cookware?
Made In designed its cookware to withstand the demands of professional and commercial kitchens. You don't need to wear a chef coat every day to benefit from these pans though. They are suitable for every type of cooking method you can name from braising and frying to baking and broiling.
Made In makes cookware for any chef and any kitchen.
Made In Bakeware
While Made In also makes materials for baking, I found that it's often out of stock. If you shop in the months leading up to the holidays, you may find that some of the dishes and sheets are out of stock.
But if you can manage to find the bakeware in stock they are available as individual items and as sets. With The Bakeware Set for $217, you get an oval dish and two rectangular dishes for less than you would pay for the three dishes separately.
Other Made In bakeware products that we like include:
9X13" Baking Slab ($79)
Oval Gratin Baking Dish ($69)
1/2 Sheet Pan ($25-$35)
20" Rolling Pin ($29)
The Wooden Spoon ($19)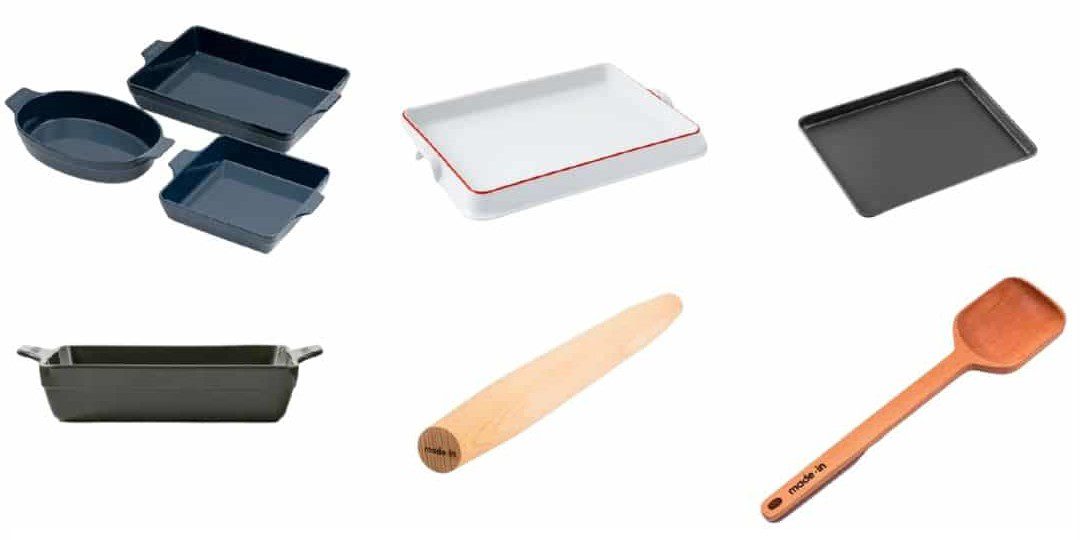 Who's This For?
If you spent any time working in a kitchen and wish you had access to the same tools at home that you had in the kitchen, Made In cookware might be for you.
Others who would do well with this cookware include:
Chefs who want to practice their skills at home or make dishes that they made at work.
Home cooks who can afford to spend more on a few pieces of good cookware.
Customers with old pots and pans who want to upgrade their kitchen supplies.
Bakers who are in the market for better baking sheets and casserole dishes.
Those looking for accessories similar to those used by pro chefs.
I also recommend looking at the pantry products available from the brand that add a special touch to the foods you make in Made In cookware.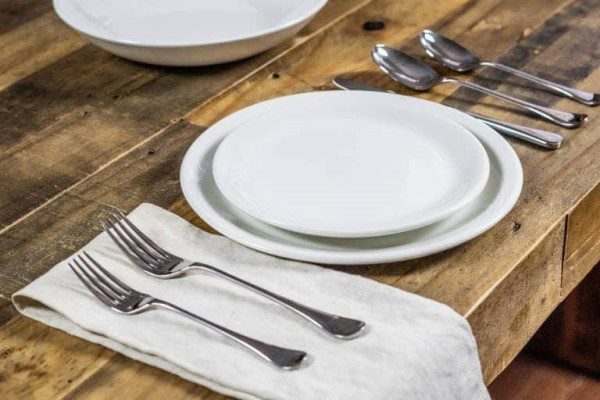 Made In also sells flatware and dishes for serving your meals.
Made In Kitchen Accessories
An easy way to feel like your favorite chef from Food Network is with some of the tools and accessories that they use. Some of the top cooking tools and accessories from Made In include:
Knife Roll ($159)
Oyster Shucker ($49)
Carbon Steel Seasoning Wax ($19)
Frying Pan Silicone Lid ($49)
Make It Like New Cleaner ($10)
Family Meal Cookbook Volume 1 ($19)
Carbon Steel Leather Handle Cover ($29)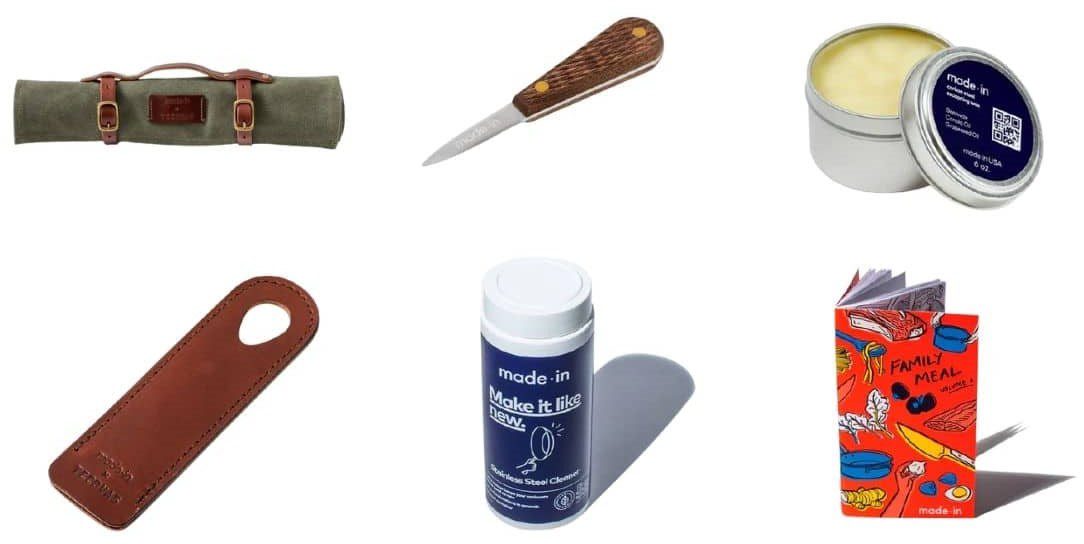 Should You Buy It?
In my research, I found that many customers loved these pots and pans as much as we did. If you worry that the prices are too high, you can buy a single piece and slowly upgrade to a full set later.
Some of my top reasons why I think you should spend your money on Made In cookware includes:
Going through Klarna allows you to spend as much as you want and pay off your cookware order in four convenient payments.
When you agree to recycle your old cookware, the brand sends you a postage stamp to send them in for free and help those in need.
All of the pots and pans come up to temperature quickly without any hot spots forming.
Thanks to the ergonomic handles, you don't need to worry about your hand feeling tired or fatigued when cooking.
Made In offers a warranty that protects against any manufacturing defects.
This cookware works both on the stove and in the oven at temps of up to 800 degrees.
Though you get the same quality as you would with restaurant pans, this cookware costs much less.
There are occasionally sales where prices drop by 10% or more.
Made In offers lots of bakeware and other products for your kitchen.
The blog helps you find news from the food and cookware world along with recipes and cooking tips.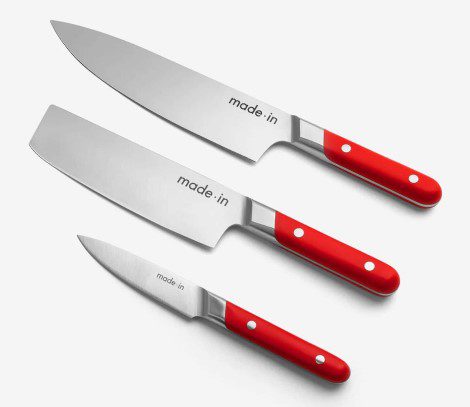 Made In knives are just as durable as the brand's cookware and come in some unique colors.
Pantry Staples from Made In Cookware
Made In takes some of the frustrations out of shopping with pantry staples that any chef would love to have in their kitchen. Check out some of my favorites below:
Fat Gold Extra Virgin Olive Oil ($30)
Fiery Ginger Cocktail Syrup ($16)
Hayden Flour Mills Pizza Flour ($9)
Wallabout Coffee ($15)
Jimmy Red Cornbread Mix ($9)
Horn Barbecue All-Purpose Rub ($15)
Bianca DiNapoli Crushed Tomatoes ($6)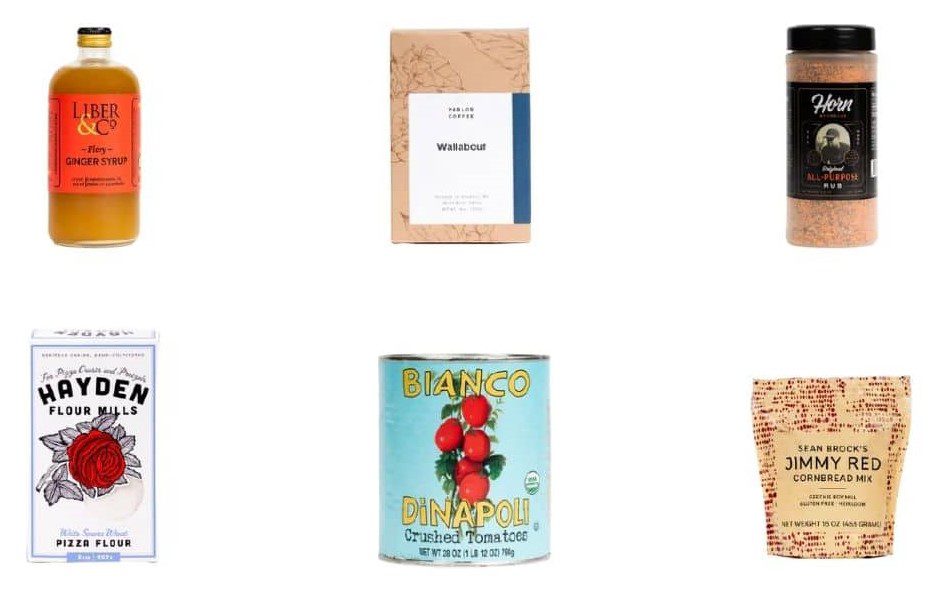 Cons to Consider
One of the biggest cons is simply the price this brand charges. While many people claim the cookware is affordable, it depends on what you consider as affordable. If you usually buy pots and pans from department stores, paying up to $100 or more for a single pan might seem way too high for you.
I also found complaints about the brand's customer service. One customer claims that he bought a pot that never arrived. When he called to ask for help, the CS rep hung up on him.
You also need to pay attention to the wording of the warranty. While similar brands give you a warranty of up to a year that covers all of the problems you might have, the Made In warranty only covers issues caused by manufacturing defects.
Signing up for the Made In mailing list is a good way to get discounts and hear about sales to bring prices down and save money.
Where to Buy
You will find the full line of products from Made In when you click here. You'll have no problem finding all of the cookware that you need to make elegant dishes for dinner parties and fun recipes in the middle of the week. We also love the recycling program that the brand has. This program allows you to send in your old cookware when you buy new pieces.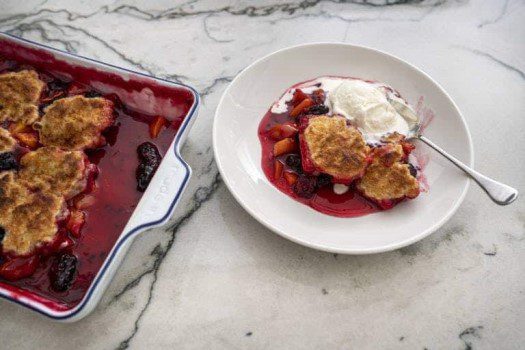 Using the Made In blog helps you easily find new and delicious recipes.
Competition
You don't need to go very far to find pots and pans similar to those from Made In online. I found several restaurant supply stores that offer similar products at similar prices.
Webstaurant Store
Webstaurant Store is the first result that Google shows when you shop for a restaurant supply store because of its glowing reputation. I like that the site lets you shop for commercial equipment such as ovens and refrigerators that will fit in your kitchen. You can also shop for cast iron pans that last for years and nonstick cookware that is perfect for home use.
Restaurant Supply
With a name like Restaurant Supply, you probably expect this store to stock all of the restaurant equipment that you need. I like that there are stock pots just the right size for cooking a small batch of soup and larger ones for feeding a crowd. This site also has a big selection of fryer pots that help you deep fry all of your favorite foods without suffering any kitchen accidents.
Katom Restaurant Supply, Inc.
Not only does Katom Restaurant Supply, Inc. help you find large pieces of restaurant equipment, but the site also has a wide range of cookware. Braising pots are perfect for cooking large cuts of meat slowly and over low heat until they fall off the bone. These pots range in size from two quarts to more than 70 quarts.
Restaurant Equippers Warehouse Stores
Another good place to look for restaurant cookware is Restaurant Equippers Warehouse Stores. The company opened its doors in 1966 with one store and grew into a chain with dozens of stores before launching a website that includes the same products at the same prices. Some of the cookware you can buy from the site includes cast iron frying pans and woks.
Final Verdict
If you're like most home chefs, you probably have a few pots and pans that are among your favorites. Once you try Made In cookware, you just might find that you have a new favorite. This cookware is available in both stainless steel and carbon steel options that can withstand temperatures of up to 800 degrees Fahrenheit. They easily go from the stove to the oven and back again.
Made In cookware uses the same materials that restaurant pots and pans do but are available for home cooks. While you might pick up a single pan, you can also order a set and deck out your entire kitchen for less than $1,000. With thousands of positive Made In cookware reviews on the web, it's clear that this brand is a winner.