Dagne Dover Toiletry Bag Review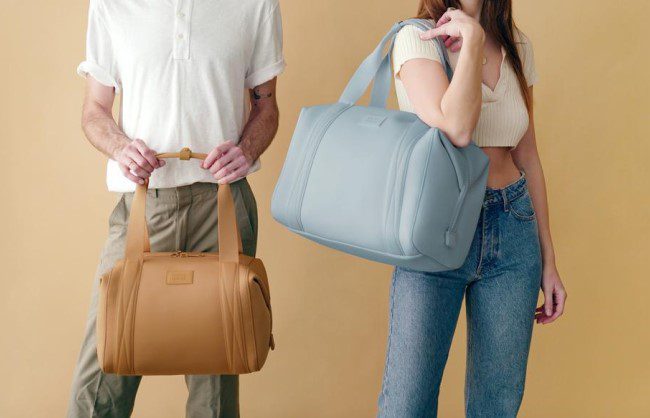 A common theme amongst anyone who travels, carries a purse, uses a backpack, or any other sort of bag, is that things often get lost, spill, rumble around, or are difficult to find. In order to ease this everyday process of carrying a bag, Dagne Dover has created multiple lines of functional bags that attempt to keep customers organized and secure.
Dagne Dover has incredibly 5 star reviews all over the web, and it is difficult to find any complaints about their products. Their durable, organized bags stop customers from losing their chapstick, having foundation spill in their makeup bag, losing their change, and more. Their trendy bags for every purpose offer a stylish, functional solution for those on the go.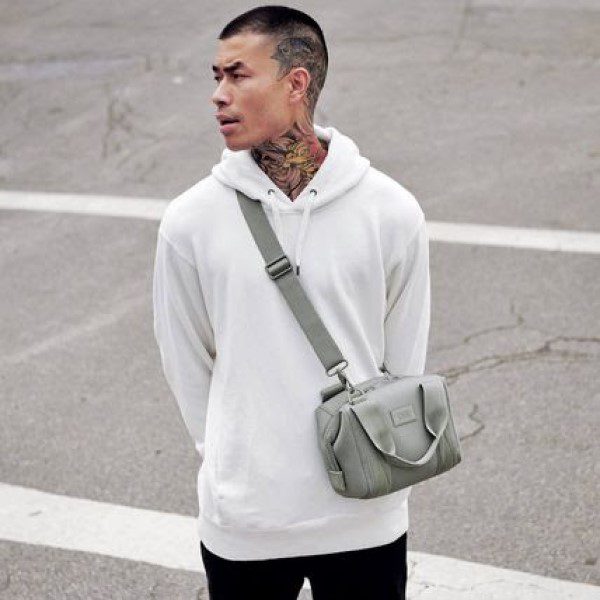 PROS
Many pockets and compartments for organization
Great quality material
Classy, expensive look
CONS
Rather expensive prices
Not many non-matte product options
Rather thick, heavy material
BOTTOMLINE
Dagne Dover is attempting to ease the process of carrying multiple items inside backpacks, cosmetic bags, purses, and more. With many compartments, pockets, holders, and removable components, Dogne Dover attempts to keep your bag organized and keep items from rolling around.
What is Dagne Dover?
In 2012 Melissa Mash, Deepa Gandhi, and Jessy Dover set out to create a functional, stylish bag that would help customers stay organized while on the go. The three female entrepreneurs related to the common issue of losing things in their purse, items spilling, and more, and decided to create a solution.
Since their 2013 launch, Dagne Dover has expanded to receive coverage from Forbes, alongside many other news sources. Their product lines have increased to include purses, backpacks, fanny packs, cosmetic bags, totes, and more. The overwhelmingly positive response from users is credited to the organizational solutions that Dagne Dover created for on-the-go bags.
Dagne Dover Unboxing
Upon receiving my Hunter Toiletry Bag ($40) from Dagne Dover, I was super excited to see how many compartments and pockets were inside the tiny pouch. I am notorious for ruining cosmetic and toiletry bags due to things breaking, moving around, or spilling. I travel all the time and I have never found a toiletry bag that has enough pockets that are the correct sizes for my belongings.
The Dagne Dover bag came in a cardboard box with the statement "Goodbye Chaos. Hello Dagne" printed on the side. The bag itself was wrapped in plastic, and inside the toiletry bag was a high quality, camouflage dust bag. I was surprised to receive a dustbag with such a small item, but for the price this was a very nice added touch.
The bag itself was higher quality than I expected, it was a dri-fit, thick, matte black material with matching matte black accents such as the logo, bag clip, and zippers. Everything matched so nicely and seemed so expensive. I compared it to the LuLuLemon fanny packs, but quite honestly Dagne Dover feels much higher quality just off first touch.
Once I got into the toiletry bag itself, I noticed that there was a mesh removable zipper pouch, side pouches, and stretchy rings that could hold makeup brushes, bobby pins, or other thin items. The bag certainly had more pockets and compartments than I have ever seen in a bag of this size and I loved that the sizes range so I could actually fit different items inside the bag. I could not wait to put my skincare products in the bag and see if the pockets kept them from rattling around!
Dagne Dover Features
The main reason people purchase from Dagne Dover is due to their unmatched organization for bags. The compartments and pockets allow customers to separate and organize their items without them getting lost while on the move. The products are not only functional, but fashionable, as the brand commits to a classy, minimalist look.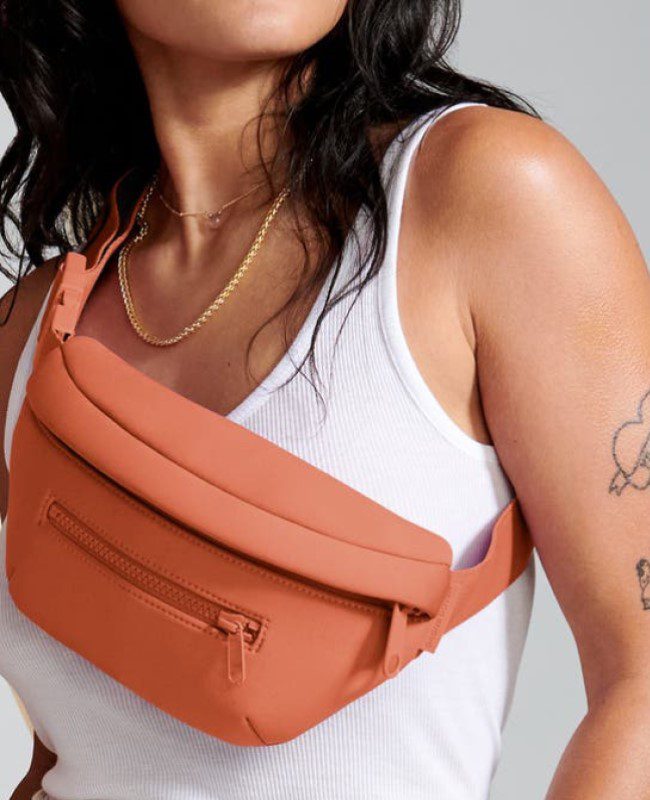 Some of my favorite features of Dagne Dover were as follows:
Sleek matte look
Thick, dri-fit, high quality material
Removable mesh pocket
Side pockets
Stretchy bands to hold thin items in place such as chapstick or makeup brushes
Backpack clip
High quality dust bag
Matte black details (zippers, clips, logo, etc.)
Dagne Dover Test
I could not wait to put my skincare products into the Dagne Dover Toiletry bag. Over the past few months I have been roadtripping and flying so much, and between losing products, things breaking, and bags getting dirty, packing my skincare, cosmetics, and toiletries has become such a hassle.
Shockingly, I was able to fit my entire on-the-go skincare line into my Dagne Dover bag! Most bags have one pocket at most and leave me simply stuffing products on top of one another. This leads to so much rumbling around in my bag and me having to dig through the bag to find what I need.
Using the Dagne Dover bag was a breeze. My favorite feature is that I could actually stand all my products up because of the set up. I was able to stand my moisturizer, SPF, and primer up in the middle of the bag. I was able to use the removable pocket to store three lip products that I take out more often, I was able to put droppers and pens in the stretchy rings, and store another liquid cleanser in the other side pocket.
All my products fit in the Dagne Dover with ease and it felt like everything had a spot. Furthermore, I did not have to overfill the bag and probably could have put even more in. The way the bag is arranged is pure genius!
Since trying the Dagne Dover I have traveled with the bag multiple times including camping, flying, and road tripping. It is so easy to stay organized and keep track of my stuff and I have not worried about things spilling in my bag at all. Although the bag is rather expensive I think it pays off because it lasts way longer when products are not constantly spilling all over my bags.
Who is Dagne Dover For?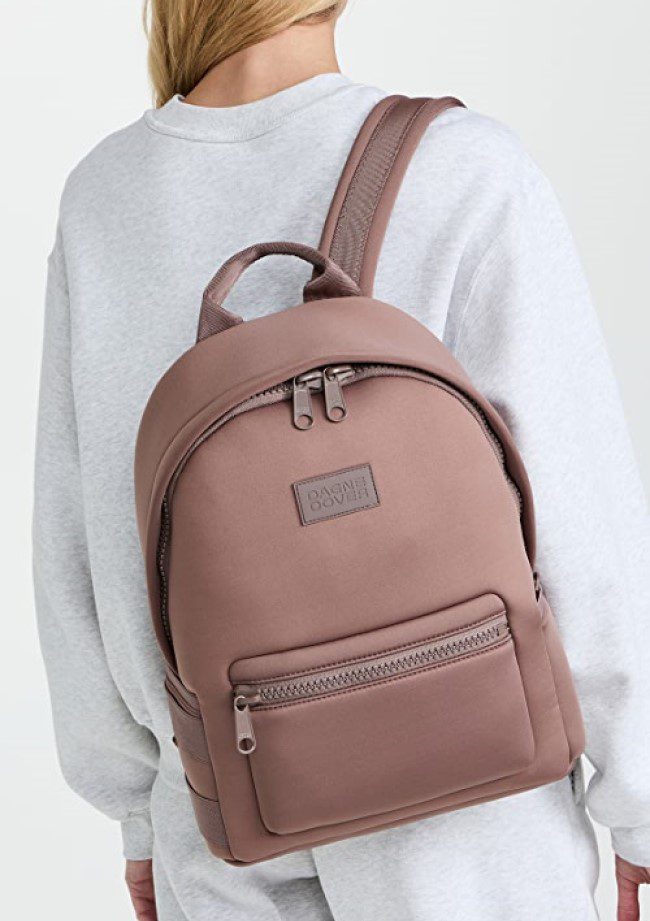 Dagne Dover is the perfect product for anyone on the move. Whether you are packing for the gym, your daily commute, a camping trip, or a date, Dagne Dover keeps your belongings in place. Anyone who gets sick of losing items in their purse, backpack, or toiletry bag would significantly benefit from Dagne Dover bags.
Dagne Dover also prioritizes style. While their products are rather expensive, they certainly are worth the price. The high quality material, purposeful organization, and classy matte finish create an expensive looking product that is functional, cute, and built to last.
What Are The Benefits?
The main benefit of Dagne Dover bags is the security of knowing exactly where all your belongings are and that they are safe in place rather than tumbling around at the bottom of your bag. When you desperately need a hair tie or chapstick, rummaging through a big backpack is the last thing you want to do. Dagne Dover solves this problem by adding functionality features to bags customers can use every day.
To justify the price, I started thinking about how often I have to throw away cosmetic bags and replace products due to things breaking or spilling. With traveling so often it started to feel like I was purchasing the same products everywhere I went without even using them. All my makeup and skincare was covered in makeup and powder and my bags were incredibly dirty. Dagne Dover solved this issue for me by securely fastening my products in place and keeping me organized.
Where Can You Use Dagne Dover?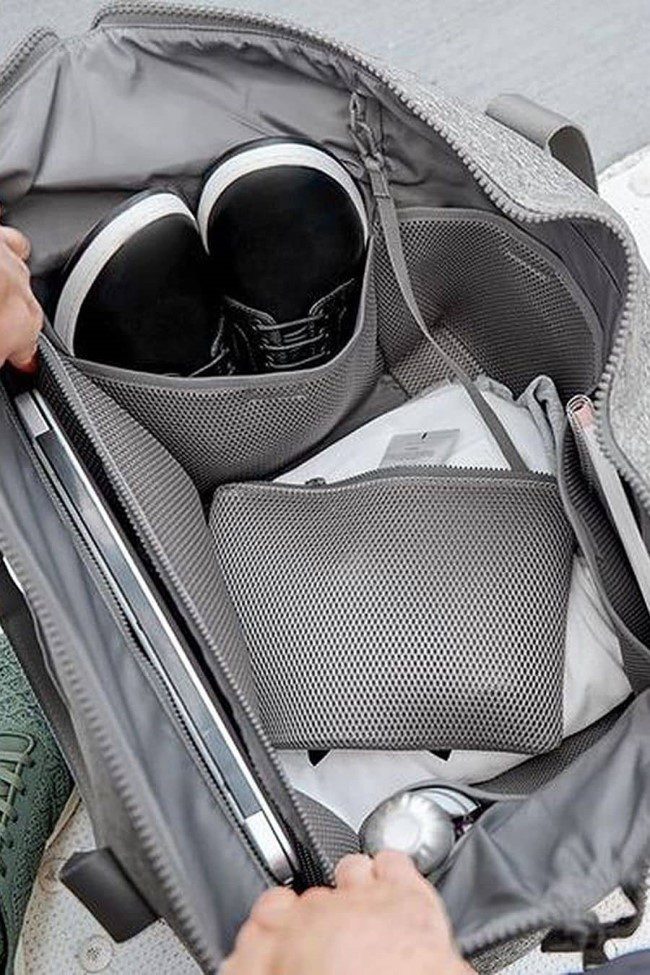 With Dagne Dover's wide product range, anyone can find versatile bags for their daily needs. Dagne Dover carries purses, backpacks, fanny packs, totes, duffles, crossbodies, weekenders, laptop bags, and more. With their wide range, customers can find everything from travel bags to everyday packs.
Whether you are looking to keep your daily use purse more organized, or need a weekender bag with more pockets, Dagne Dover has products for you. Their products can be used daily, or sparingly, depending on your needs. Nonetheless, Dagne Dover bags are built to last, their quality and durability will not disappoint.
Dagne Dover Rewards
When purchasing from Dagne Dover, it may be beneficial to join their rewards program. The rewards system gives you points every time you purchase, and you can increase your loyalty rank and earn more if you are a dedicated shopper.
When using the rewards program, every 100 points earned is the equivalent of $10. You can earn 1 point per dollar spent or earn in different ways. Some of the easy ways to build up points include leaving a review, following Dagne Dover on social media, or creating an account.
New Product Lines
Dagne Dover has recently launched two new exciting collections. The first is the SS22 line which is inclusive, bright, and fun. Just in time for pride month, Dagne Dover launched this line with unique tones and shades such as hot pink and neon orange to help customers celebrate them. This fun pop of color collection is much different than Dagne Dover's neutral tones and gives customers a chance to be bold.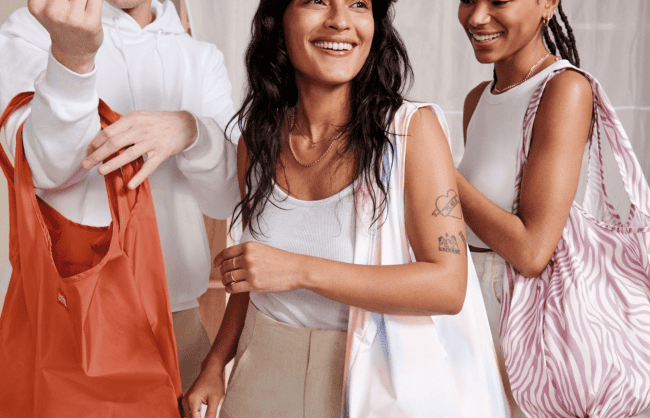 Dagne Dover's second new product line is the Puff collection. This 100% recycled line features puffy, products that are supposed to remind customers of outer space. The airy and fun bags range from neutral shades to prints and bright colors as well. The idea of this line is for products to be light in weight, and light on environmental impact.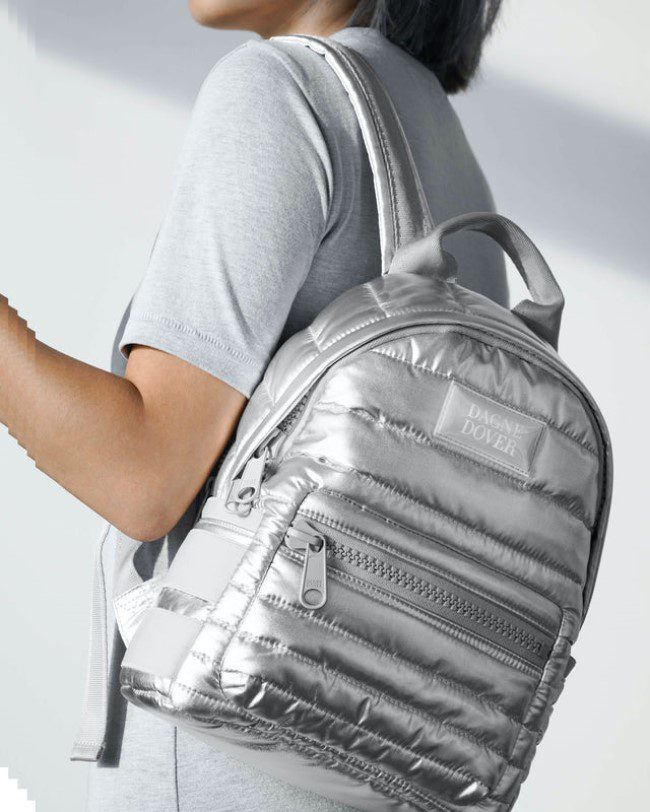 Should You Buy It?
Although Dagne Dover is a bit pricey, their product quality is well deserving of the price tag. The Founders of Dagne Dover have created a line that entirely focuses on style and functionality, which no other brands have mastered. The compartments and pockets in Dagne Dover bags make the brand unique and consumers can always rely on the fact that any bag they chose will be high quality and well organized.
Even with the price, Dagne Dover is made to last and stay in style. Investing in these bags is much more cost efficient than getting new bags every time they go out of style or products spill inside them. Dagne Dover's organization creates a sense of ease and order that eliminates the chaos within your bag.
How to Buy Dagne Dover
The most convenient place to purchase Dagne Dover products is from their website directly. When purchasing from the site you can earn rewards and look through a wide selection of product options.
If shopping online is not for you, Dagne Dover is also available in several high end retailers. For example, Crate & Barrel and Nordstrom both carry Dagne Dover products. With this being said, they may not offer a complete collection or have the bags that you are looking for.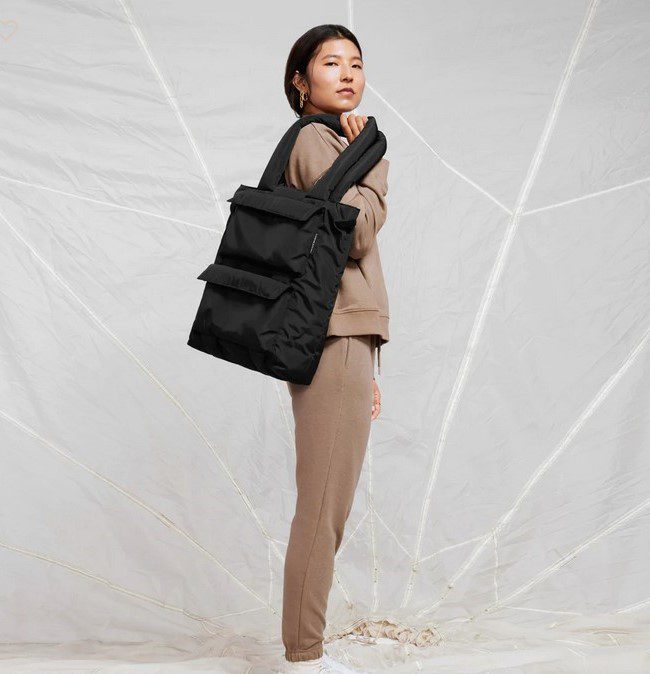 How Does Dagne Dover Compare to Competitors?
LuLuLemon Wear Everywhere Bag
When first opening Dagne Dover's toiletry bag it quickly reminded me of the Wear Everywhere Bags from LuLuLemon. LuLuLemons small pouches retail for $38 which is slightly less expensive than Dagne Dover. Their bags are not matte and have more of a silky finish and only have one internal pocket. While LuLuLemon does offer larger bags as well, they rotate out pretty frequently and often do not have many products, especially for the price. With this being said, LuLuLemon does have online and in person stores which makes shopping convenient.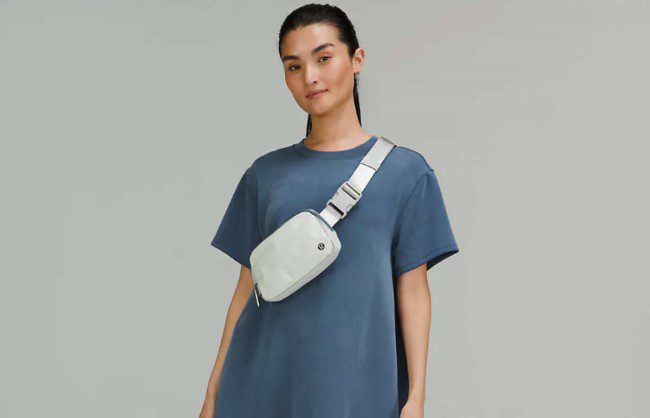 Beis
Beis has a similar product mission to Dagne Dover and aims to ease travel via functional bags. While the prices are a bit higher than Dagne Dover, their cosmetics bag retailing for $68, their quality is very high as well. While Dagne Dover has a specific look and feel to their products, Beis offers a wider variety of styles, materials, and aesthetics. Their bags also contain a surplus of pockets and compartments and look to reduce chaos within your bag.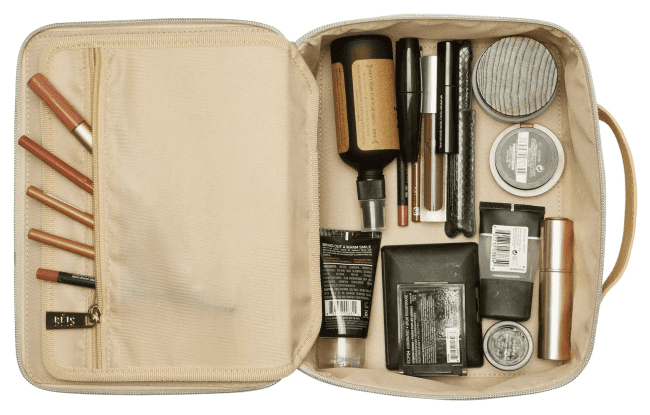 Lo & Sons
Asian owned company, Lo & Sons aims to ease the travel experience by creating functional bags that serve a purpose. The ethically produced, sustainable bags all serve specific purposes such as shoe compartments, carry-on bags, or weekenders. While Lo & Sons bags have more pockets than most, not all of their products are designed this way. Furthermore, Lo & Sons primarily focuses on larger bags such as luggage, duffels, and weekenders, only offering a couple smaller cross bodies. The price range for Lo & Sons is rather high, most bags costing over $100, but their sustainability mission and quality make up for the price tag.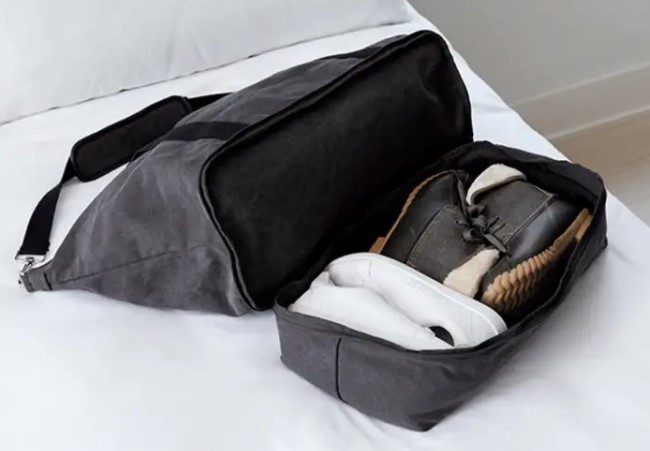 Final Verdict
Dagne Dover was created to solve the problem of chaotic bags with no pockets where products get lost, broken, or spilled. In doing so, Dagne Dover created an exceptionally high quality product line with functionality, style, and class. While rather expensive, Dagne Dover bags are built to last and ease travel of any distance, the bags ensure everything has a place and have a timeless design.
Resources and Further Reading