Thrive Causemetics Review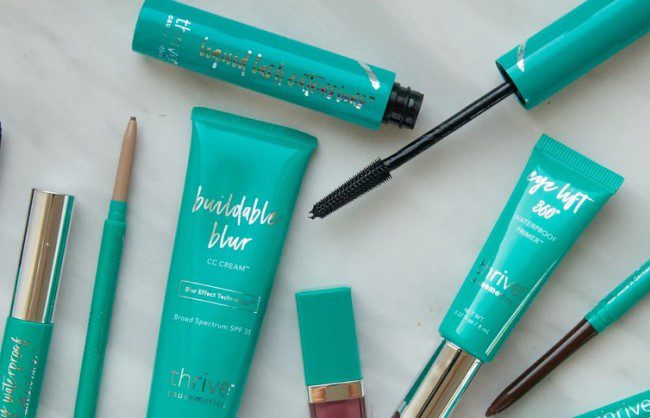 Karissa Bodnar started her career as a makeup artist and intended to climb the corporate ladder, until life took a turn. Karissa's best friend Kristy passed away due to cancer at the young age of 24. After this, Karissa reflected on their shared love of makeup and how much losing her eyelashes and eyebrows impacted Kristy.
For this reason, Karissa launched Thrive Causemetics, which brings vegan, cruelty free makeup products directly to women. She vowed to give back money to women worldwide and dedicate her brand to serving a positive purpose.
PROS
For every product purchased, donations are made to help women
Get makeup and skincare products in one place
All products are vegan, cruelty free, and contain no parabens or sulfates
Best-selling mascara that lengthens and thickens lashes
CONS
Limited product range
Prices are relatively expensive
Not available in stores except Ulta
BOTTOMLINE
Thrive Causemetics launched in 2013 after Karissa Bodnar lost her best friend to cancer. The brand serves to give women access to safe makeup and skincare that will leave them feeling confident, while donating money to helping women thrive.
What is Thrive Causemetics?
Thrive Causemetics started as a small makeup brand focused on social responsibility and healthy products. Their brand has grown since then from just mascara and eyebrow pencils, to now include a wider variety of makeup, as well as skincare products.
Thrive Causemetics main promise is to offer women sustainable, healthy makeup and skincare products that give back to a greater cause. Their motto, Bigger Than Beauty™, serves as a constant reminder that while creating products to help women feel confident, they are also giving back to the community.
Thrive Unboxing
When my Liquid Lash Extension Mascara from Thrive Causemetics came in I was excited, but doubtful that a mascara could truly replace my lash extensions. I recently stopped wearing extensions to give my lashes a chance to breathe, but in the past I have hated mascara because it runs, creates dark circles when I touch my eyes, looks clumpy, or does not make my lashes look longer.
When opening the box, Thrive put the mascara in a gorgeous, high quality, reusable makeup bag, which I thought was a great touch on packaging. Once opening the pretty salmon and blue bag, I got to the tiny cardboard box that the mascara itself was in. The packaging gave all sorts of information about how every purchase from Thrive results in a donation to charity, which made me feel great.
As much as I love ethical companies who give back, I also need makeup products that work, so I could not wait to try this out. Once I opened the box, there was a very high quality mascara tube in a light blue shade with silver designs on it. When I pulled out the wand I was surprised at how nice the product smelled, as mascara typically does not give off a scent.
I have also heard that mascara can be super toxic which concerns me, as it comes to close to your eyes, so I love that the package told me there were no toxins, parabens, or sulfates. Overall, the packaging was incredibly high quality and aesthetically pleasing, and I was happy with the shipping quality.
Liquid Lash Extension Features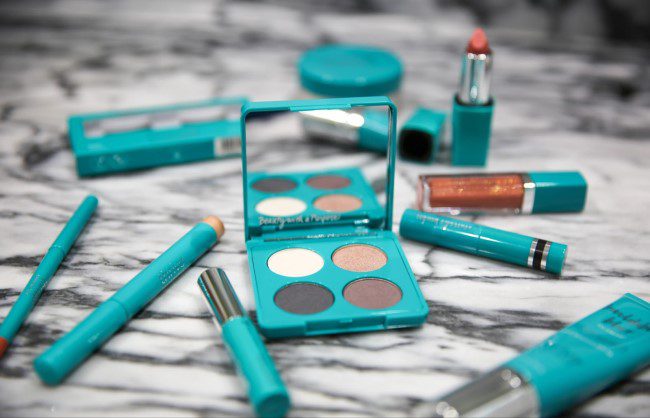 While mascaras I have used in the past run about $27, Thrive's Liquid Lash Extension Mascara costs only $24 which was notable. The mascara is the companies best selling product by far. The website claims that this mascara is award winning and looks like real lash extensions which is shocking to me because I have paid so much for lash extensions for so many years.
The product also claims that it is flake, smudge, and clump proof which is a big promise to make for mascara! I often feel as though when choosing a mascara I have to choose between volume, sustainability, and functionality (smudging, etc.). Therefore, I was super excited to see if this product lived up to its promise, or if it was too good to be true.
Liquid Lash Extension Mascara Test
After opening the Thrive Causemetics Liquid Lash Extension Mascara, I could not wait to get it on. I have lost so many lashes due to extensions and felt super insecure about the lack of length and volume on my natural lashes.
After opening the tube, I applied a layer to the top and bottom of my upper lashes, and one layer to my lower lashes. When comparing the eye with mascara to the eye without, I was blown away. The mascara did not look clumpy at all and did not need an excessive amount of layers to show up.
While I had very dramatic eyelash extensions, the mascara looks so dark, long, did not have clumps, and has so much volume, it actually could be mistaken for having natural looking lash extensions. Overall, I was blown away by this product, I have used it every single day for about three weeks now and have continued to be impressed.
Oftentimes I forget to take my makeup off before bed, go swimming, or rub my eyes, and not once has the mascara left smudges under my eyes, ran off, or even clumped up. I even tried applying the mascara on top of the previous nights layer when I was in a rush, and it still did not get clumpy. I will absolutely be purchasing the Thrive Causemetics Liquid Lash Extension Mascara again!
Who is Thrive Causemetics For?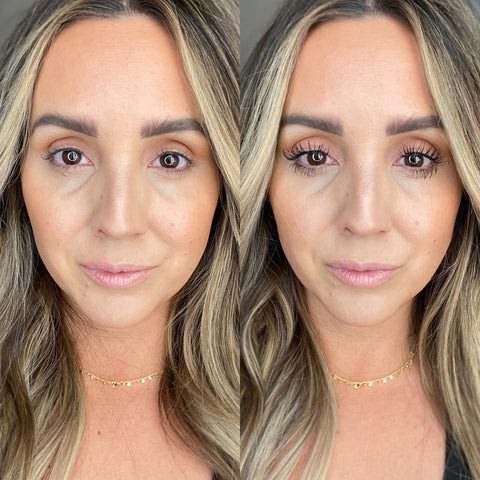 While Thrive was designed to make women feel confident again who were losing their lashes and brows due to cancer treatments, the products can be used by anyone who loves makeup and feeling confident! The prices are rather low, yet money goes to a great cause, therefore, these products are perfect for people who want to make a difference and feel great about themselves!
Switching to Thrive Causemetics is an easy switch that will likely save customers money and help them give back to the community. Therefore anyone who uses skincare or makeup could try out Thrive!
The biggest benefit of using Thrive is that the company checks all the boxes. The products actually work and are of a higher standard than other makeup brands due to their no toxins promise, and they provide everything people look for in a mascara (no clumps, volume, length, darkness, no smudges). Customers do not have to sacrifice quality or price in order to switch to a company that is ethically produced and gives back to a good cause.
Where Can You Use Thrive?
Between Thrive's makeup and skincare lines, their products can be used daily. Whether you are getting ready for a night out and want to put on a full face of makeup, or are staying home and doing skincare, Thrive has products to offer. Their makeup and skincare can be used daily and is not harmful to your skin.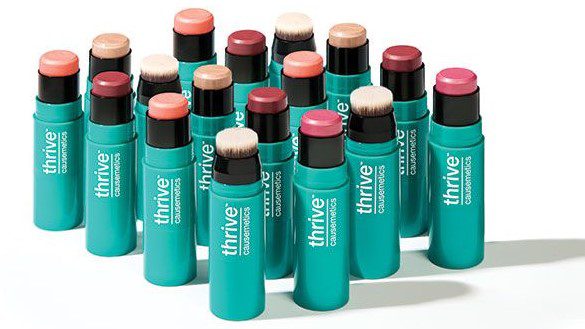 Customer Service
One great feature about Thrive Causemetics is that it is extremely user friendly. The packaging and the website both list multiple methods in which customers can contact customer service. There is a customer service box you can type in online, a phone number, and email address, social media links, and a live chat available. It can often be difficult to find a phone number or receive help when ordering products online, but Thrive has dedicated their brand to making this process simple.
Other Products Thrive Offers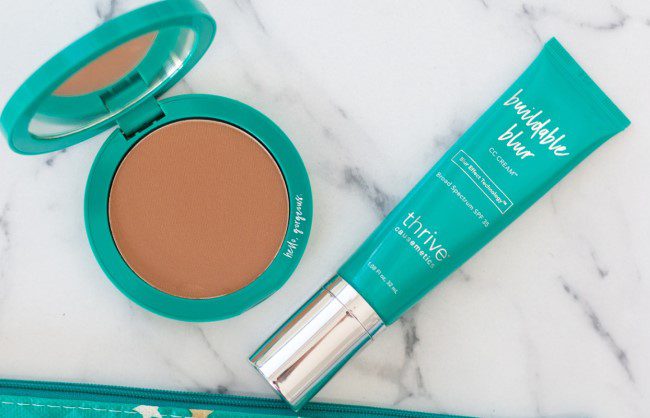 As Thrive continues to grow and expand, they have added many products, including their first ever skincare line to their portfolio. They offer everything from eyeliner, to brow gel, eye brightener, lipstick, contour, highlighter, cleansers, toners, eye creams, and so much more.
Thrive also offers beauty sets where you can save money by buying multiple items in groups. For example, you could purchase the eye opening duo, which includes the Liquid Lash Extension Mascara and the Eye Brightening Stick for $44 ($48 value). Or you can build your own makeup set where you can choose three products from the cruelty free makeup collection, which starts at just $48.
Thrive's makeup collection has been around for a few years, but their newer skincare line is incredibly exciting. Some of the most popular products include the priming sunscreen, the eye lifting cream, and the gravity transforming moisturizer. This is super convenient because it allows customers to purchase their makeup and skincare all at once, while knowing the products are ethically produced.
Should You Buy It?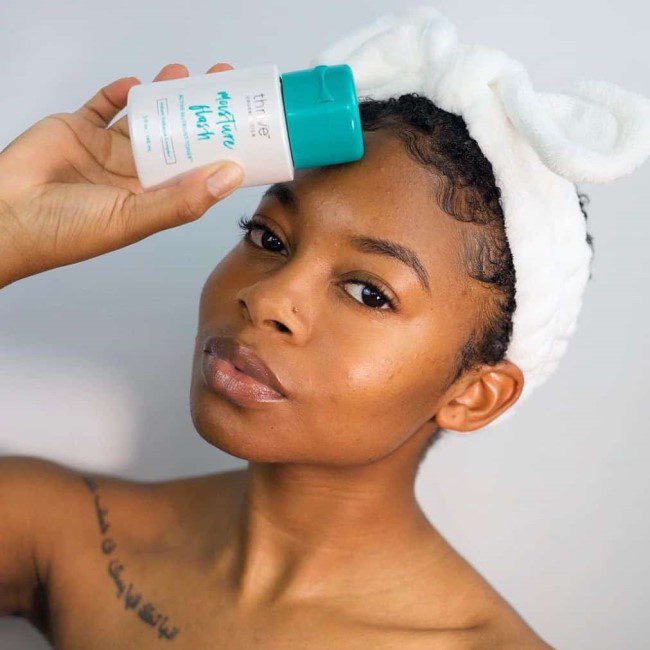 Overall, I was not expecting the Liquid Lash Extension Mascara to live up to it's promises. I have worn makeup for many years and have tried countless products and mascara has always been the most difficult for me. I find it annoying as products do not normally work AND hold on my lashes without clumps or smudges.
I was extremely impressed with this product and will be purchasing more from their makeup and skincare lines. Thrive causemetics offers low prices, great quality, ethical production, and they give back to society. What else could anyone want from a makeup brand? My only regret is not hearing about them sooner!
How to Buy Thrive Causemetics?
The only issue I really have with Thrive Causemetics is that they are not available regularly in stores. Ulta Beauty is technically the exclusive reseller of Thrive products, but they carry a very minimal collection. It can often be difficult to purchase makeup without seeing the shades in person, which is unfortunate.
Thrive Causemetics can primarily be purchased from the Thrive website. They do offer fast shipping, online deals, bundles, and more, which is a plus. You are able to get all of your makeup and skincare products online, in one spot. But often times I do run out of one product before the rest, so this can make shopping online for makeup difficult.
How Does Thrive Compare to Competitors?
Mob Beauty
MOB Beauty is an ethically produced makeup brand that promises clean, sustainable products to their customers. While their prices are a bit higher than Thrive ($29 for their volumizing mascara), they do offer reusable, plastic free products that cut down on environmental impact. Furthermore, MOB does not offer a skincare line and only has about 5 products for each makeup department (face, eyes, lips, etc.).

The Body Shop
The Body Shop is a brand that primarily sells ethical body and skin care products. They recently started launching makeup products as well, starting with their new foundation which costs $25. While the price is very low and their sustainability efforts are notable, the brand does not offer most makeup products one may need such as mascara or eyeliner. The brand is continuing to branch out and may soon include more makeup in their line. Furthermore, their website can be hard to navigate as there is no search bar or category tabs.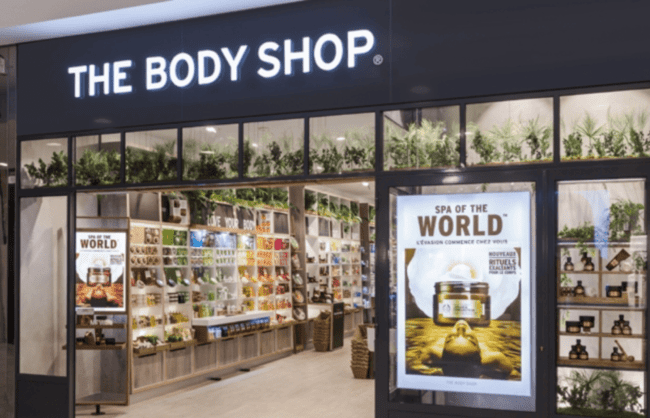 KVD Beauty
Makeup artist and influencer Kat Von D started her own beauty brand that focuses on ethical, vegan, cruelty-free makeup. Their products run very cheap, their mascara retailing for only $25, with frequent sales. Furthermore, customers are able to watch YouTube or TikTok tutorials pertaining to the products they purchase. Unfortunately, KVD Beauty does not yet have a skincare line and solely focuses on makeup.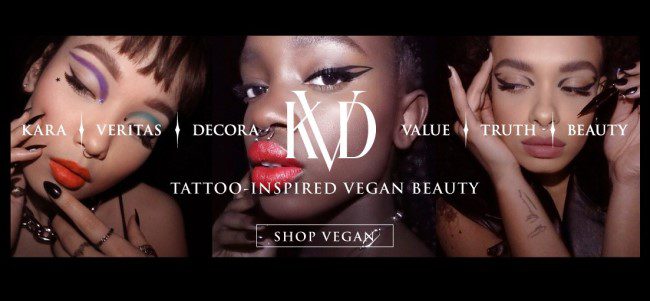 Final Verdict
Thrive Causemetics is the only company on the market that is selling both skincare and makeup for an affordable price that is ethically produced, cruelty-free, and toxin free. They prices are low, they offer incredible quality, and they give back to great causes. Their only downfall is that they are not widely available in stores and it can be rather difficult to shade match online. With this being said, Thrive Causemetics is certainly worth a try, their prices are reasonable and they dedicate their brand to sustainability, health, and giving back to society.
Resources and Further Reading