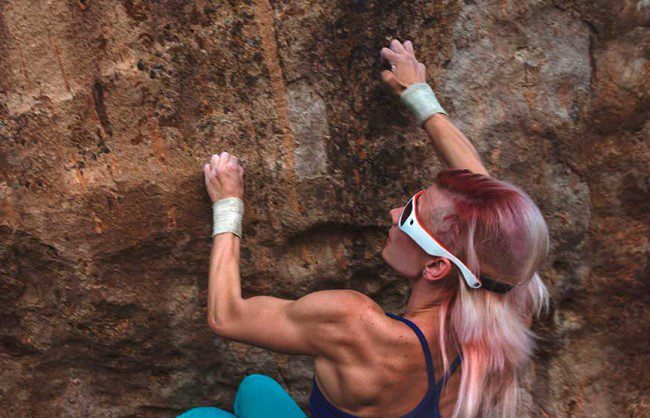 2
If you're an outdoor enthusiast that enjoys sharing the moment with panoramic images or an action video, the ORBI Prime sunglasses are a must-have prior to your next adventure.
The ORBI Prime shades allow you to capture 360-degree videos and images using four powerful 1080p/4K resolution cameras. It's a hands-free action camera housed in a pair of cool sunglasses.
Powered by industry-leading video stitching and editing software, users are able to record 90 minutes of outdoor action. The water-resistant eyewear (rated up to IP64), made of durable polycarbonate, are splash proof but not submersible. Designed for adventure, the ORBI Prime glasses take impressive 360-degree videos whether you're ripping down a mountain biking trail or summiting the nearest peak.
The idea is impressive, but looking at some video footage taken from these glasses, there's quite a few noticeable seams where the video is stitched together.
Similar to a GoPro without the added mounting equipment, the ORBI Prime uses an app to control the camera instead of the blink-to-shoot technology featured in hands-free devices like Google Glass or BlinCam. The software's video-stabilizing feature reduces shakiness and makes panning, rotating and zooming a user-friendly experience.
The ORBI Prime polarized lenses provide the outdoor enthusiast with all the necessary UV protection and compared to leading activewear shades, are rather stylish. The wrap-around sunglasses are available in five bold colors and designed for both masculine and feminine adventurers.
Compatible with all leading multi-sport helmets, ORBI's ergonomic design fits in perfectly with your existing outdoor apparel.
The real magic is housed strategically in ORBI's high-tech eyewear stems. Four 1080p HD cameras can capture 160-degree by 110-degree FOV (field-of-view) in portrait orientation (360-degree of horizontal FOV and up to 300-degrees of upper hemisphere in-stitched image).
Wi-Fi connects the glasses to the companion app that features an intuitive editor allowing users to cut, combine, add a soundtrack, and expiriment with reference view direction. From its video gallery feature to the 360-degree full-screen video, you'll be able to seamlessly organize your entire portfolio and post to social media with just a few clicks.
Because it captures images in the most intuitive way possible, the ORBI Prime glasses fall seamlessly into the category of disruptive technology. "After a lifetime of exposure to high-tech and innovation, we realized there was still no true seamless wearable tech device on the market; and definitely not one that would transform your eyes into a window for the world to experience true 360 moments in such a cool and 'wow' manner," said Borja Lopez, ORBI project manager.
After years of delays after the initial crowdfunding campaign, the Orbi Prime video glasses can now be purchased through the official website for $399 a pair.
PROS
90 minutes of recording time
Splash resistant (rated up to IP64)
1080p cameras/4K resolution
Video stabilizing technology
Polarized, adaptive lenses (UV protection)
Compatible with multi-sport helmets
CONS
Price
Lenses are too far apart for true 360 degree video
Stitching isn't great