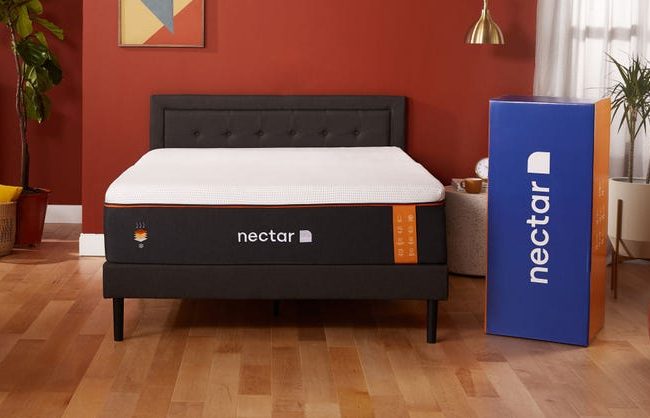 The Nectar memory foam mattress is one of the best of its type for its price. At only $799 for a basic queen size, this mattress provides adequate comfort for all types of sleepers, especially lighter individuals who sleep on their backs or sides.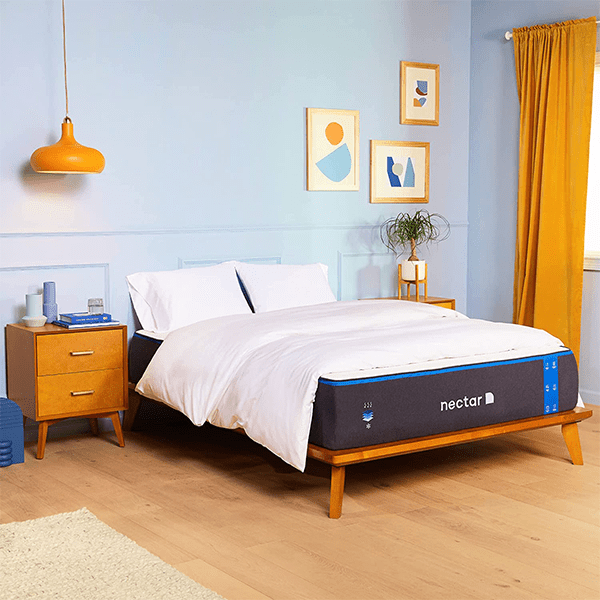 In this review of the Nectar memory foam mattress I will go over the basics of the product, the features included, the type of person this mattress would fit best as well as the ease of using the website.
PROS
5 layer construction
Perfect for side and back sleepers
100% guarantee
Price
CONS
Takes some time to air out
May not be best for heavier individuals
May not be best for stomach sleepers
BOTTOMLINE
The Nectar memory foam mattress is an excellent choice for back and side sleepers as it offers multiple layers of foam to cushion and surround the body. Selling for nearly half as much as the competition, Nectar is a great alternative to the options from Caspar or Purple.
Product Features:
Quilted cooling cover
Gel infused memory foam
Dynamic response split layer
Stability base layer
Shift resistant lover cover
What is the Nectar Memory Foam Mattress?
The memory foam mattress from Nectar is one of the best mattresses you can buy today. With over 43,000 positive reviews customers from all over can agree that they sleep much better on a Nectar memory foam mattress.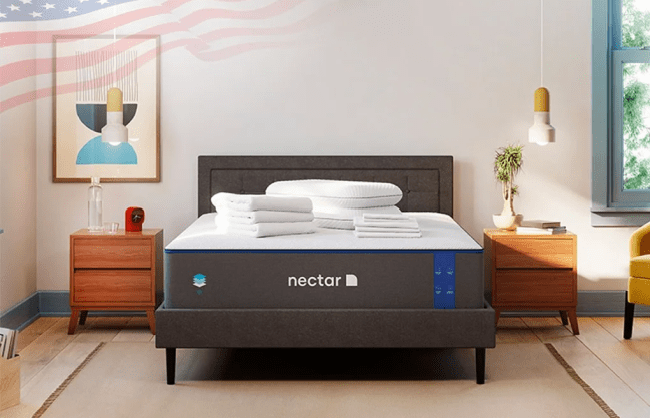 The mattress itself is made from premium memory foam with 5 layers of padding to give you the most comfortable sleep possible. Mattresses range from $399 for a twin sized to $1,138 for a split king.
Features
As stated above, each memory foam mattress from Nectar features 5 different layers of foam. At the top is a cool quilted cover to help regulate your body temperature and keep you from getting too warm as you sleep.
Below that is 3 different layers of memory foam that conform to the body in different ways. Beneath these layers is a slip resistant lower cover, which is important so that your mattress doesn't shift around as you change sleeping positions.
This mattress can also be used on multiple types of bed frames, including adjustable ones and Diviam bases. Nectar offers a 100% risk free 365 night home trial, which means that if you're not completely satisfied within the first year you can send the mattress back and receive a full refund.
How Can You Use the Nectar Memory Foam Mattress? / Who Is This For?
The Nectar memory foam mattress can be ordered via the official website and will ship to your home in an easy to roll out and use package. The mattress will take some time to air out and fully settle once out of the packaging, but once it's all set and ready it'll be perfect to sleep on.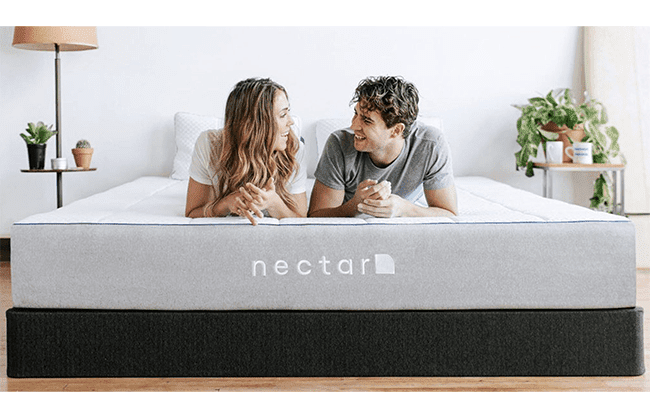 This mattress is best for medium or lighter weight individuals who find most comfort sleeping on their backs or sides. Heavier individuals will definitely feel more firmness from this mattress, but if you're someone who likes to feel all around support and like their being cradled by their mattress, then this is the right one for you.
Web Infrastructure
The Nectar website is very busy to say the least. There is a lot of text on one screen which can feel very overwhelming to some. Within 30 seconds of visiting the site, I became bombarded with pop ups for special offers and limited time sales. It was quite a lot all at once, especially for a first time visitor.
Other than the site being far too crowded with content, the website isn't too bad. All links went to where they were supposed to and everything loaded correctly. There's a lot of options, too many if you ask me, but this really is a one stop shop for bedding needs, from mattresses to bed frames to sheets.
Should You Buy It
If you're a light or medium weight individual, 100-200lbs, and find most comf sleeping on your back or side, then the Nectar memory foam mattress is perfect for you. If you're on the heavier side and don't like the slow sinking feeling of most memory foam mattresses, then you may want to look elsewhere.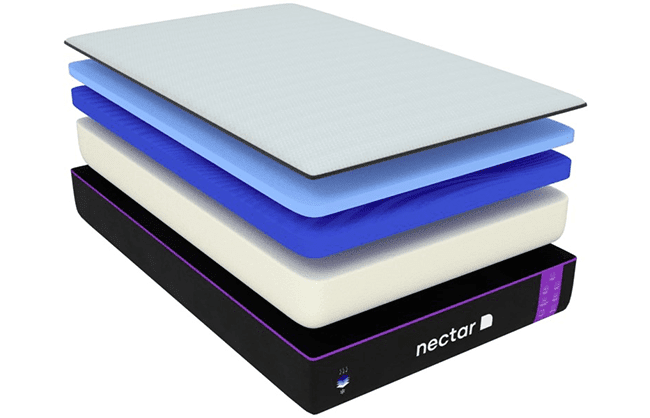 I would especially recommend this mattress for couples with different schedules as the memory foam does a very good job of not moving around or sliding when one person gets up.
Where to Buy
The Nectar memory foam mattress can be purchased here from the official website. I highly recommend buying your mattress from the website since you can get it for fairly cheap, especially during special events, and your mattress will come with 2 pillows, a protector, and sheets for no extra charge.
Competition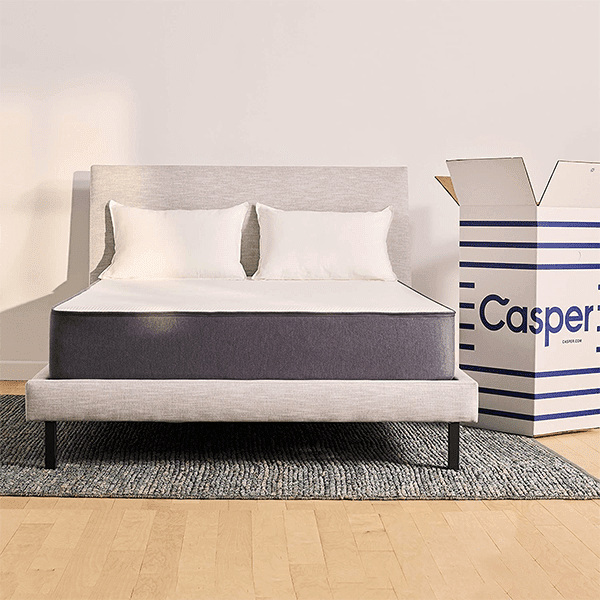 The original memory foam mattress from Casper is very similar to the one from Nectar in several ways. Both are ordered online and delivered to your door and both use multiple layers of memory foam. Casper, however, is far more expensive than Nectar, with their standard queen size priced at around $995.
Casper differs though in that their mattress uses 3 layers of foam instead of 5, with the middle layer offering something they call "Zones Support". The Zones Support is essentially a system that uses foams of different densities in different areas to provide a more ergonomic feel, with your hips sinking in further and your shoulders and legs slightly raised.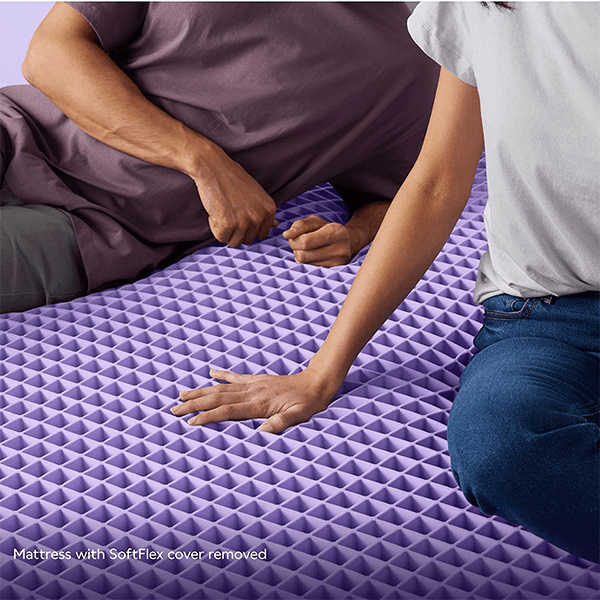 Purple's memory foam mattress is the most expensive of the three, at around $1,300, but has the most going on inside. This mattress uses a layer of Purple's GelFlex grid material, not found in any other mattress. This material is super stretchy and absorbent, possibly making it a better option for heavier individuals.
The downside of the Gelflex is that it makes the mattress quite a bit heavier, and I've seen many reviews citing a very foul odor coming from the material that was difficult to wash out. This mattress is very durable though, so I could see why some would choose Purple over Caspar or Nectar.
Final Thoughts
It's hard to find any negative reviews of the Nectar memory foam mattress. In doing my research for this review, I saw 10/10 and 5 star reviews across the board. Customers truly agree that this is one of the best memory foam mattresses you can get, especially for the relatively low price point.
The technology incorporated into this mattress is something that really impressed me. I really like how it uses 5 different layers of foam to provide adequate cushioning and make for the best sleep possible.
Compared to the competition, Caspar and Purple, I think that Nectar comes out at leagues above them, especially for the price. Overall, I would highly recommend buying a memory foam mattress from Nectar.
Resources and Further Reading