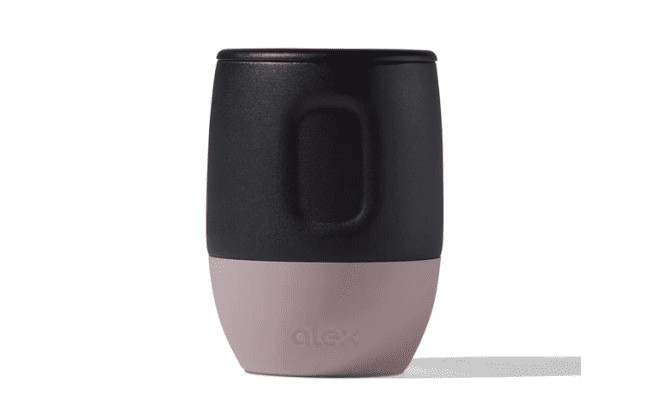 As a self-proclaimed germaphobe, especially when it comes to drinking out of water bottles, Nice Reusables' ALEX is a welcomed innovation. Standing for "Always Live Extraordinarily," ALEX is a twist-open water bottle that is super easy to clean. Designed to eradicate the nasty smell or the creatures living inside your water bottle, ALEX unscrews in the middle for easy cleaning and is dishwasher safe. Holding 26 ounces, ALEX is fully customizable in a variety of colors.
As cool as it is that ALEX can be personalized with their custom "bottle builder" checkout feature, the real magic happens to be ALEX's Clean Seam Technology (CST). Their patent-pending technology makes ALEX the most well-designed water bottle on the market today. We've all had the experience of leaving our water bottles in the center console for a long weekend. Whether it was baking in the heat for days or just festering there, whatever is inside should be taken to a lab and tested under a microscope. The protein shake now turned pond scum translates into you sitting over the sink, wearing a welder's mask, holding a wire scrub brush trying to hit up every nook and cranny inside the abyss that was once your clean water bottle. After punching the time clock for a good 45 minutes via intense scrubbing, you finally decide to toss it into the trash. It's just not worth the effort of saving the water bottle from the grime that still exists. If you do take the challenge and save your water bottle, the smell that escapes is a constant flashback of the concoction left behind in your car. We're in the 21st century – no one deserves that in a water bottle.
If you're someone interested in never having to drink out of a Petri dish, then the ALEX water bottle is for you. Co-founder and half-pipe snowboard silver medalist Gretchen Bleiler said the inspiration came from, "having to deal with water bottles with small little mouth openings." Nice Reusables, Inc. was founded on the premise of making sustainability easy. ALEX, their first product launch, was designed to eliminate the use of plastic water bottles. Bleiler, in a Fox News interview, said that she wanted a water bottle that was eco-friendly and at the same time, wanted it to be designed well. "Now you don't have to fish lemons out with your fingers."
Speaking of eco-friendly, ALEX is made out of BPA-free premium grade 304 stainless steel. It also has a strap made from recycled plastic bottle. BPA, if you're not familiar, is a harmful toxin found in certain plastics and epoxy resins used mostly by disposable and reusable water bottle manufacturers. For more details on its harmful effects, click here.
In order to compact ALEX to half its size, the user simply opens, inverts the bottom half, and then slides the bottom into the upper half – seamless process. This makes cleaning your two-day-old protein shake a simple unscrew and rinse process instead of playing the game Operation with a wire brush through a small drinking hole. Nice Reusables thought of everything when designing ALEX. From its BPA-free stainless steel body to its Clean Seam Technology, ALEX solves the water bottle epidemic that has haunted us all: cleaning it.
PROS
Customizable (Build-a-Bottle)
BPA-Free
Clean Seam Technology
Dishwasher Safe
Made from 304 Stainless Steel
Removable Silicon Sleeve (Protects from Denting)
CONS
Not Recommended for Hot Liquids (Single-Walled Stainless Steel Bottle)