The Aurora Tiny Home by ZeroSquared is designed to be an easy to move and simple to live in portable house. It's a smaller choice for people looking for an option less grand in the ever difficult to enter housing market.
I've found a lot to talk about when it comes to this big yet small house. I think the best place to start is with some of the features of the Aurora tiny house.
The Aurora includes accessibility; the bed is traditionally located in a lofted space, but in the Aurora, a queen-sized bed can easily fit as a Murphy bed on the main floor. Another feature is its ability to morph like an RV. the tiny house comes with two large motorized slide-outs, expanding its livable space by at least a few feet wider.
There is even more I would like to talk about when it comes to this house and what people think about it. I hope to explore several facets of it in this review.
Size and Shape
The size of a home is always an important thing to look at. You will always want to know how much space you have to work with, and as should be expected of the name, the Aurora offers a limited amount of space in exchange for other features.
This Tiny Home is 26 feet long, and the motorized slide-outs make the width of the tiny house up to 15 feet 10 inches wide. The rectangular shape of the home is also split up all around the house.
All of this makes a home that you won't be able to keep too much in. If you're a more frugal person who doesn't plan to own much than you can easily make do with the space that is on offer.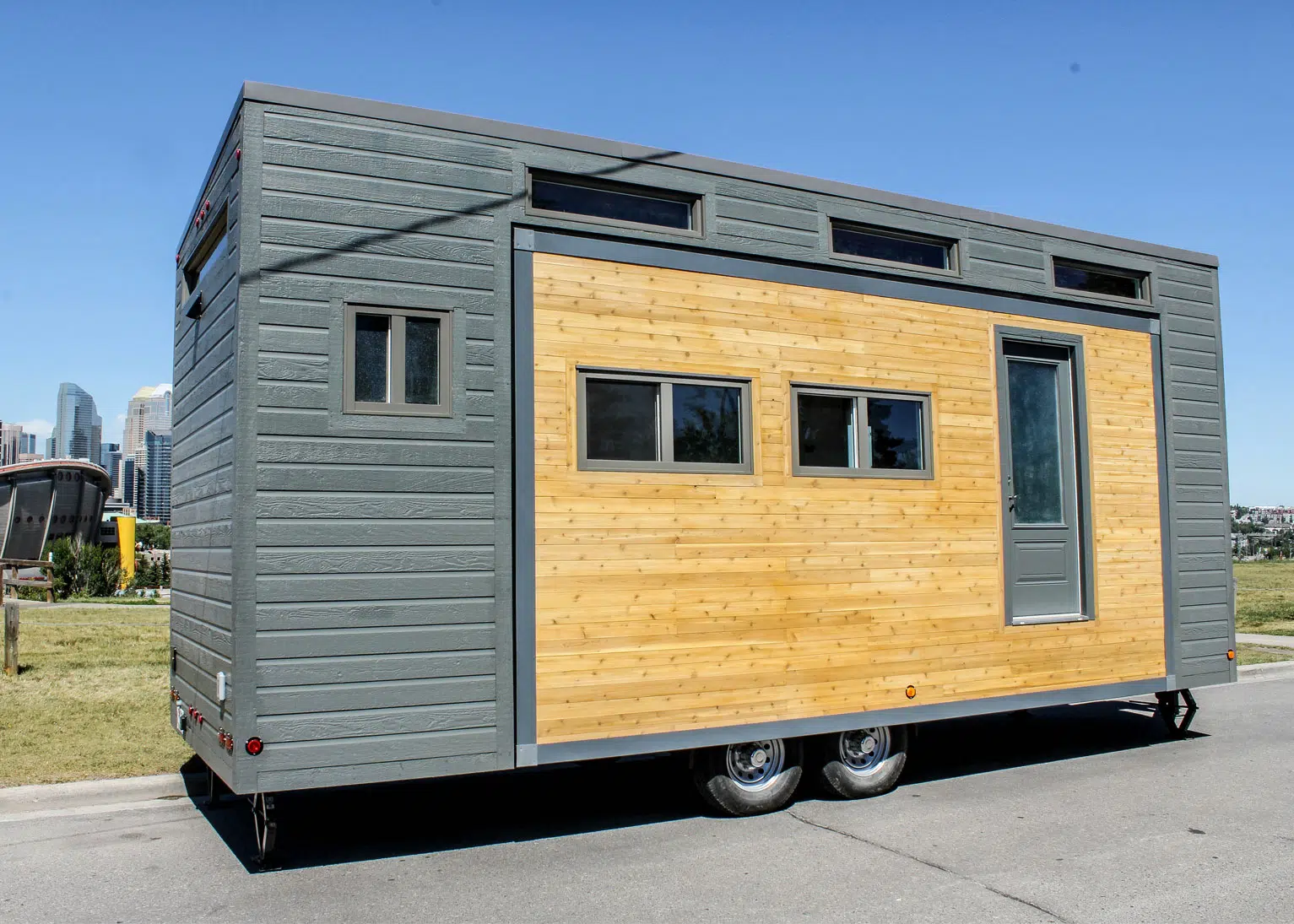 Ease of Transportation
The Aurora tiny house was constructed using a custom-designed rolling chassis system. The trailer measures 26 feet, and the company designed the trailer to be lighter and stronger than most.
This is the main trade-off for its small size. The ease of transport is a feature that I feel makes it well suited for a person who is planning to always be on the move, but also wants a place that they can call home to take with them.
You can view a larger list on their website, but the company recommends using a truck or vehicle capable of towing 16,000 lbs or more. This includes the GMC Sierra 2500HD and 3500 Denali HD, Ford F-250/F-350/F-450 Super Duty, Ram 3500 and 2500, and the Chevrolet Silverado 3500HD. Again, you can check out their website for more information regarding how to transport the Aurora.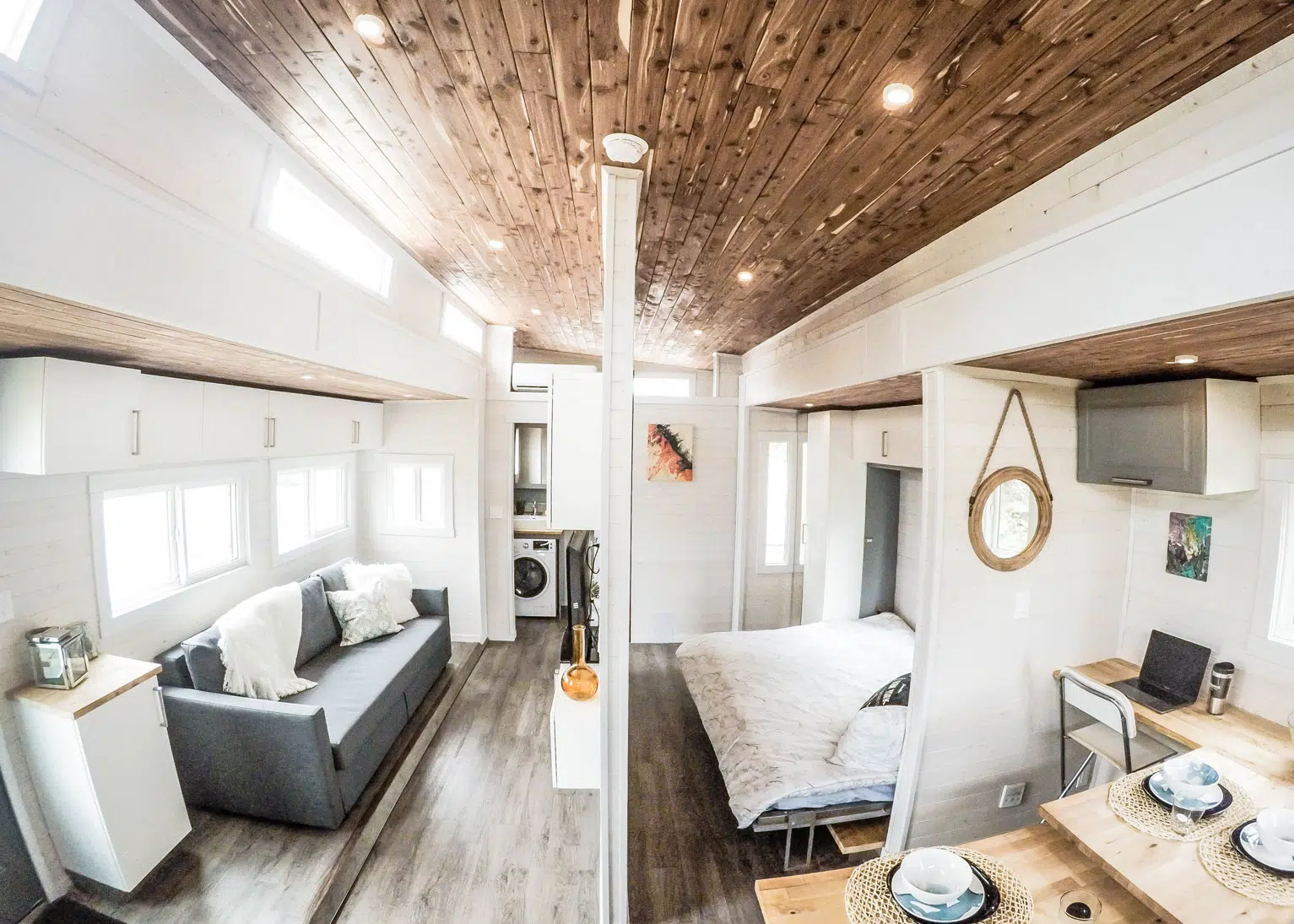 Quality
Though it's small, I've found that there is a lot to talk about when it comes to the quality of the Aurora. Its kitchen comes with full-sized appliances, like an oven, stove, kitchen cabinets, microwave, and exhaust hood. This gives access to all the basics one would need to cook for themselves as long as they have the power to do so.
The bathroom features a full-sized standing shower with a farmhouse-style sink. As with all other parts of the home, the space is limited, but most will say it still functions as well as any other bathroom.
Internally, the home is built with Structural Insulated Panels (SIP), effectively insulating and strengthening the overall structure of the house. This extra support is enough to keep most minds at ease about the integrity of the house in most locations it would be used in.
There's storage all throughout the home in the form of overhead cabinets, entire closets, and hidden areas. Storage is found above the couch, above the TV, in the TV bench, in the cabinet beside the couches, in the kitchen, in the bedroom, in the bathroom, and in the entire loft. Separately, the home comes loaded with freshwater, greywater, and blackwater storage tanks.
Looking more at the safety of the Aurora home there are several features I want to draw attention to. It offers hurricane bolts, tie-downs, and straps, to limit the damage that heavy wind can potentially do to it.
All of these features make for a home I feel tries to strike a balance between mobility, size, and safety in a way that is hard to hit the mark on. Many seem to think that it does meet those marks, though there are some decenters still that think that it's just a bit too cramped.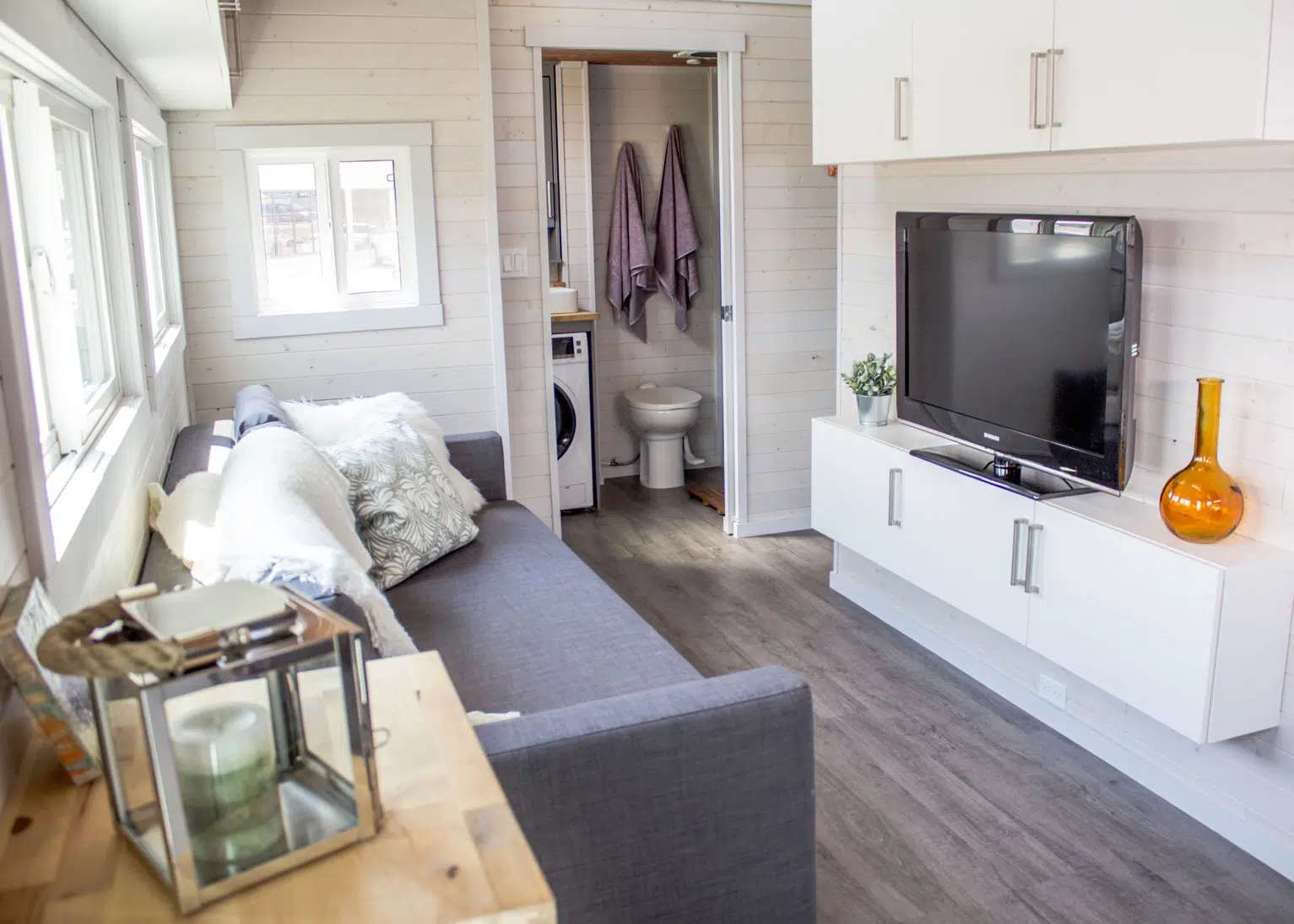 Cost
The price of the Aurora Tiny Home starts at $88,900. You can also upgrade some features like your toilet, energy management, and generation system. Other than that, the cost is straightforward due to the low number of features you can upgrade.
The home currently comes in one size, so there is minimal variation in the price for it will be. While it's an expensive purchase, this is a minuscule price for a home.
One area of high cost that isn't brought up much is that the Aurora doesn't come with any extra furniture. You will have to supply yourself with your own items as the promotional pictures of the Aurora include items that are not included.
These items are queen-sized mattresses, couches, side tables, TV, computer, decorations, and dishware. Filling out a new home is a cost in of itself, and one that you won't avoid by getting a smaller and mobile home option.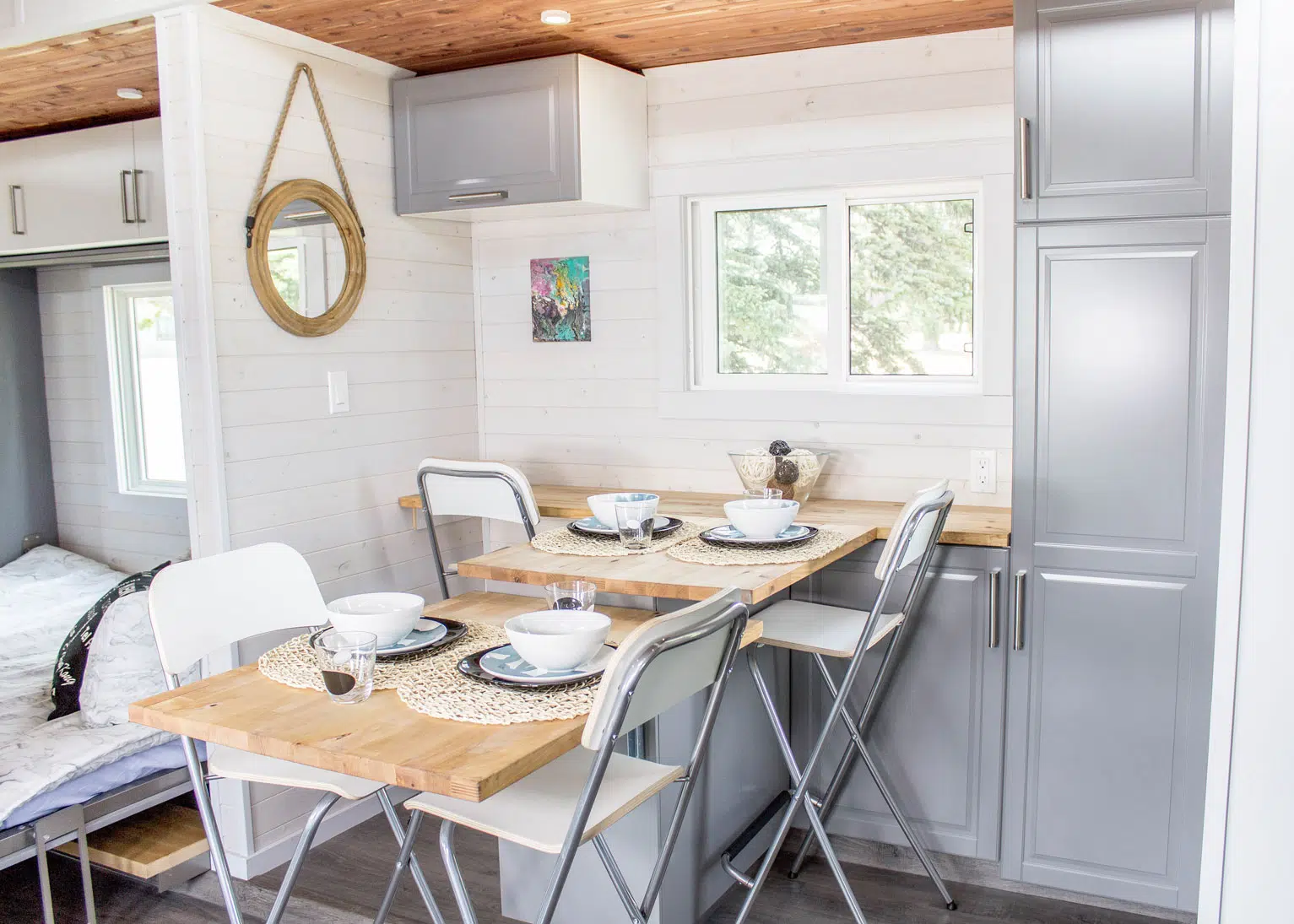 Carbon Footprint
Like most modern homes, the Aurora home employs low-voltage LED lighting throughout. The home is built with environmentally-friendly structural insulated building panels. These panels are made of prefabricated polyurethane foam insulation wrapped in a vapor barrier.
The vapor barrier prevents rot and ensures a tight fight, creating a strong barrier between the outside and inside. The panels ship with a Class 1 fire rating and the studs are encapsulated in impermeable foam.
If you're looking for a solar package, the company offers that too. The options include deep cycle batteries, inverters, panels, and solar system installation.
For $15,007 CAD, you can get a 1.5 kW system (6 panels). For $17,055 CAD, you'll receive a 2.7 kW system, which includes 10 panels. And you'll have to fork over $18,604 CAD for 12 panels, on a 3.2 kW system.
Final Thoughts
No matter how small, buying a new home is no easy purchase. It takes a lot of thought, time, and focus on expenses to come to the right conclusion. It's even harder to figure out a housing situation if you're someone who plans to be on the move constantly.
The Aurora Tiny Home offers a solution to some by giving them access to a smaller, more affordable, and easier to take with them style of housing. I think many potential buyers will appreciate the general layout of the home that sacrifices as little as possible in the name of making itself transportable.
I highly recommend looking at the company's website further if you're interested at all in this small home. I know it's not a purchase you're likely to make today, but the sooner you start thinking about it the sooner you can come to the conclusion that is right just for you.
Sources: ZeroSquared
PROS
Easily Transportable
Plenty of Natural Light
Full-Sized Kitchen
Non-Lofted Bed; Accessible
CONS
Not Much Variety In Features and Size
Standing Shower
No Initial Furniture