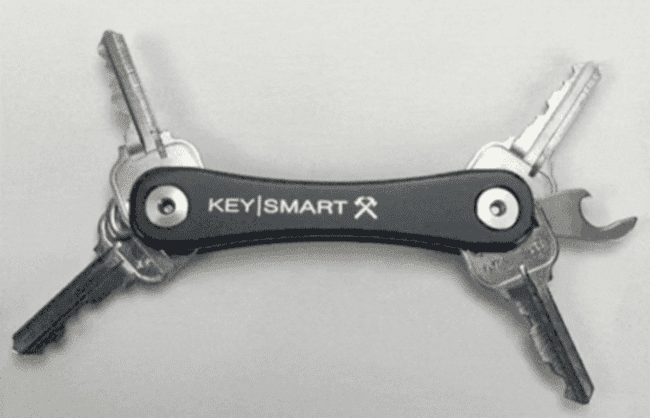 KeySmart Review
I think it's easy to say that everyone is a bit disorganized, and products like KeySmart claim to be a way to help manage yourself better. A lot of us carry as many as five keys so having an organizational tool comes in handy.
With keys for a car, home, and work I've found Keysmart to be a wonderfully easy way to organize keys so you don't need to spend those aggravating seconds sifting through a chain just to find the single key you need. You can hear more about my opinion of this tool as well as if there are enough benefits for buying one online in today's review.

PROS
Durable design
Space for eight to 10 keys
Optional accessories add to its effectiveness
Compact design saves space in your pocket
CONS
Can loosen as you use it
Some found that adding their keys was hard
You can break the frame when putting it together
Not large/long enough for some keys
BOTTOMLINE
The best way to organize your keys is with KeySmart, which can hold up to 10 keys. It is both lightweight and easy to use and reduces the needed space for your keys. You can make the gadget even more functional with the addition of optional accessories available from the manufacturer.

iReviews Shopping Assistant
Find the best prices for this and many other products with our chrome extension
Why I Like Keysmart
One reason I like KeySmart is that this device has a similar design to a swiss army knife. Keysmart has this specially made S-shape that allows you to store keys on each end with little issue.
The design means I was able to alternate the placement of each key when using it to ensure that they slide out smoothly and don't stick together. With a durable steel post that sits on each end, it's also sturdy enough that the keys don't just randomly fall out.
KeySmart also has a newer design that adds stronger steel posts and comes with an attached loop. The loop lets you add the key fob that you use to unlock your car doors and pop the trunk or turn the alarm on and off. It's a smaller addition, but for something anyone with a car uses as much as a key, it's helpful.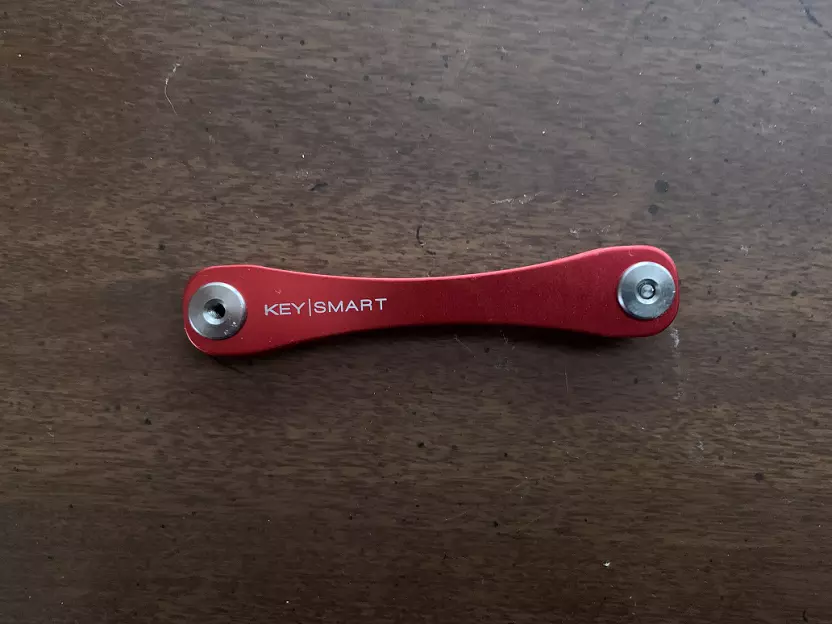 KeySmart claims it can hold up to eight keys when used with the expansion kit. This organizational gadget works well with all types of keys, including longer and shorter keys as well as foreign keys. However, the claim it can hold up to eight keys seems to only be for smaller keys, and even a single bigger one can take up a few slots.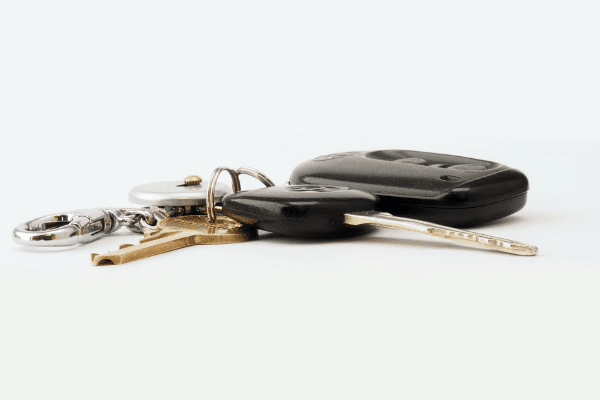 KeySmart is one of the only key organizers available that has room for your keys and a key fob.
How Do I Think You Can Use Keysmart?
To use KeySmart you need to remove the case to access the posts and add your keys. Once you do this it's as simple as popping the keys in one by one and then snapping it all back into place.
This works well the first few times, but there are claims swimming around that after prolonged use the case can get a bit loose. While this didn't happen to me, and I even popped it on and off more times than reasonable to break it in, after a few months of usage it's possible.
That said, the simple method means that it's not a hassle to get your keys back out when you put them away. The process is simple and works a lot better than fiddling around with a key ring if you need to hold onto somewhere around five to eight keys.
Where Can You Use the KeySmart?
KeySmart worked fantastic for personal use during my time with it. If you want to keep track of the keys for all the vehicles that your family has, or have way too many locks to keep track of, then I think this is the product for you.
It's not hard to figure out where else you would be using KeySmart. If it's a place where you would be carrying at least a couple of keys with you then this can make for a good replacement for a smaller keyring.
Where I don't think this would work as well is bigger job sites and for people that need to be carrying more than eight keys. Even if you need to carry around more than a few larger keys this might not work out too well for you given the limited space will quickly be eaten up by them. Still, might be good to have one just for your personal keys even then.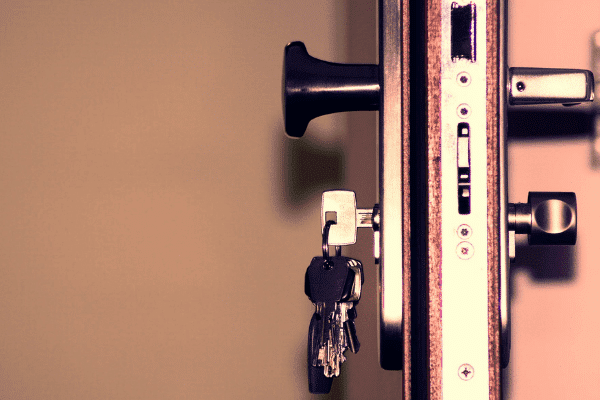 You can save yourself and loved ones the expense of hiring a locksmith when you invest in KeySmart. It allows you to keep spare copies of keys in a safe place in case anyone gets locked out.
How to Add Keys to the KeySmart
Remove the two screws from the KeySmart with a screwdriver
Organize your keys from the shortest to the longest
Place the shortest key on one of the posts
Add an extender on top of that key
Move to the opposite end and add your next key
Repeat these steps until all of your keys are on the KeySmart
Set the top of the case back on the KeySmart
Add the screws with the gasket pointing down and tighten
Though my KeySmart didn't include instructions, they offer a simple online video that goes through the steps. I recommend watching the video once to see how it works. From there it's easy enough to do on your own.
While the lack of instructions is a bit annoying, the process is so simple that it wasn't much trouble. If the online videos didn't exist though then it would be more of a problem.
Who Do I Think Keysmart Is For?
I think KeySmart is best for those who carry multiple keys and are tired of the hassle of them. Not only can those keys weigh you down and stretch out your pockets, but in my experience, it's hard to make room in the pocket you decide to keep your keys in. With KeySmart I got a bit more room in my pocket and also didn't worry as much about my keys scraping and potentially scratching something like my phone while in there.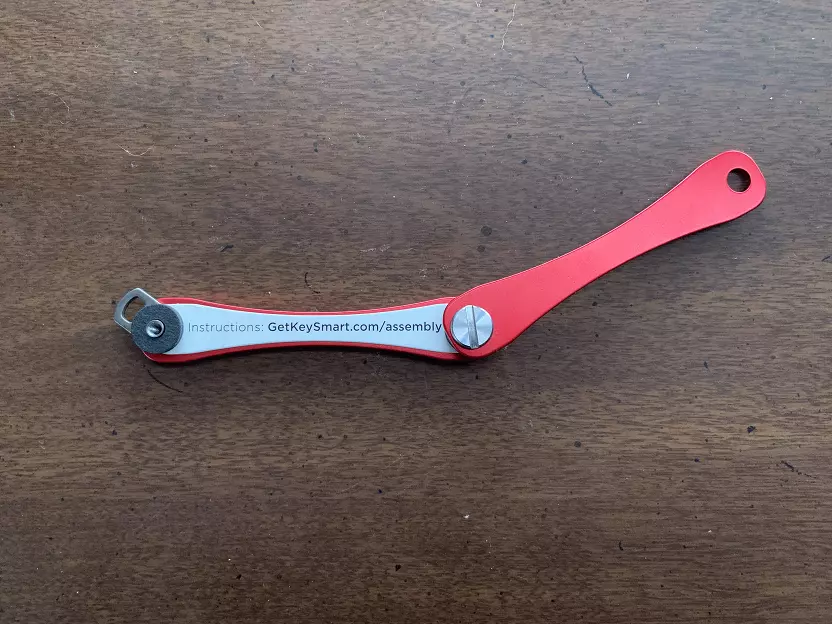 This is an especially great product for vendors who set up at fairs and festivals. I've got friends that work at fairies yearly, and one small complaint I hear from them every year is how many times a day they have to sift through a keyring and remember which key is the right one for a stall or something else. KeySmart gets rid of a bit of that issue and allows for the more important constantly used keys to be put somewhere specific for easy access.
Others who I think would benefit from KeySmart include:
Security guards
Managers
Janitors and custodians
Teachers
KeySmart ensures that they can get quick access to any of the keys that they need in seconds and that they still have room for any personal keys they carry.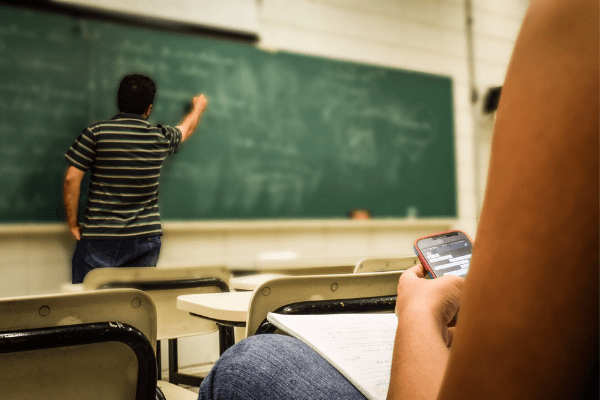 Teachers are just one of the professionals who can benefit from KeySmart gadgets.
Should You Buy It?
To help you decide if KeySmart is the ultimate tool for organizing your keys, I wanted to go over the positive aspects about it that could make it worth a purchase.
Good Choice for All Keys
Since KeySmart can handle all types of keys, it's a good tool for anyone who uses keys at work and in their personal life. Not only can it accommodate keys needed for cars and buildings, but it can even hold different lengthed keys.
The smallest keys I found to work with KeySmart are the tiny ones designed for use with the padlocks that are used on a trailer or shed. They're about as small as any key can be, so there just about isn't any key too small to be used.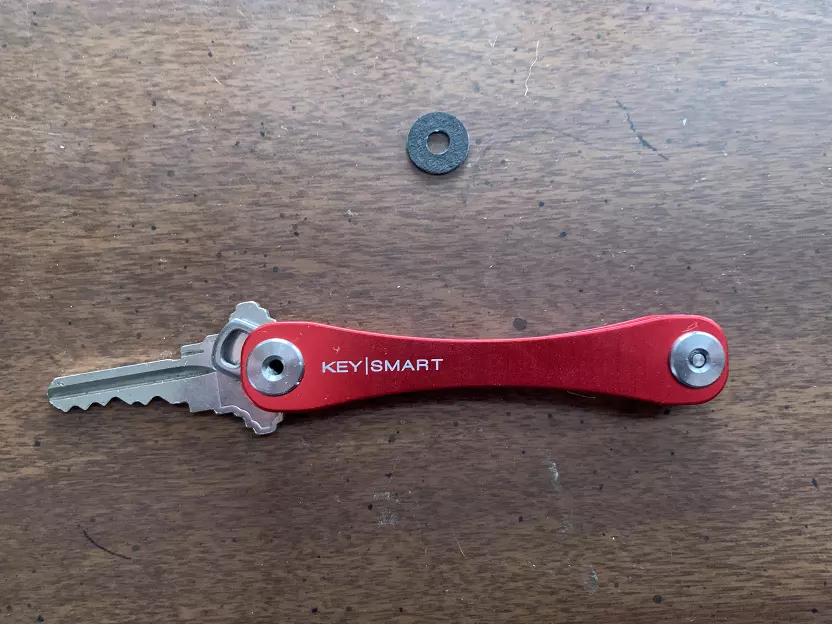 Lots of Accessories
One thing that I like about KeySmart is that it works perfectly as-is. That said, it does offer several different optional accessories.
First is the nano light, which allows you to see clearly like a flashlight. Then there is the bottle opener which is similar to those found on Swiss army knives. There is also the option of adding a flash drive, quick disconnect/connect, or pocket clip.
If you're willing to pay a little extra then you can even go for the titanium KeySmart. This version adds that extra layer of durability that gives you further peace of mind that your KeySmart will last for a long time.
I didn't work with this model, but in the past, I've seen titanium versions of similar items last quite a long time compared to their regular versions. I feel it's at least safe to say this model would last quite a bit longer than the standard one.
Compact Design
KeySmart uses a compact design that ensures it doesn't take up more space than it needs. Other key organizers may do a good job at keeping you organized, but they take up so much space and can be so heavy that they might not be worth it. Some are so bulky that you might wonder where you're even meant to store them, eliminating the convenience factor that makes you want to get one to begin with.
At less than 0.3 ounces, KeySmart is lightweight enough that you can carry it in your pocket or toss it in your purse without worrying about any extra weight. Still, it is again worth noting that this design all comes at the cost of some key space. It should still be enough for most people.
Strong Warranty
KeySmart has the possibility of coming with a warranty, something I put a lot of value in. Products that are willing to give themselves a warranty tend to be a sign that the makers are sure that in most cases they are going to last at least that long. The KeySmart warranty lasts for a full two years after your purchase date.
Unlike other products, this warranty does not require that you go online and register your KeySmart either. You just need to keep track of the paperwork inside the package, which lets you contact the manufacturer and take advantage of the warranty. It covers both defects caused during the manufacturing process as well as damage during shipping.
Aircraft Metal
KeySmart uses the same type of stainless steel and aluminum used in the construction of military aircraft. I decided to put this to a bit of a test with my keys. A few scraps against it and it didn't seem like my car keys were able to leave much of a mark at all.
Thanks to that, I don't think you need to worry about scratching the frame when you keep your keys close to your wallet or the case breaking if you drop the tool. This is a kind of metal that can last for years.
Other features I like about KeySmart and think you will like too include:
A sliding design that works even with larger Chubb keys, making it easy to slide the key you need out.
A key fob loop that allows you to add the key fob to operate your main vehicle.
A long-lasting metal that beats out most competition and will likely go strong for months.
A choice of three different colors with a durable finish to prevent flaking for the upgraded organizer: red, black, or blue. The titanium upgrade can even come with a shiny silver finish.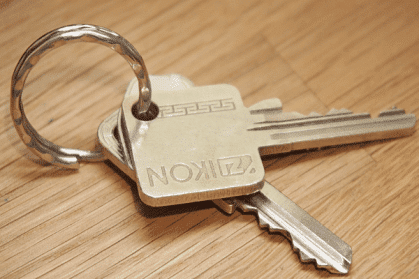 The KeySmart is a good alternative to a traditional keyring.
KeySmart Cons
As much as I liked KeySmart, all products have people with legitimate complaints. First, there is a discrepancy between models. Some of the cheaper ones don't seem to be anywhere near as good as the better-built ones. So much so that the lesser cost might not be worth it.
Those tools still help with key organization but do not include as many features. Make sure if you buy look very carefully to make sure you're getting one with all the features that you want.
I found the most common complaint was that the KeySmart didn't hold as many keys as people expected. Instead of holding eight keys, some said it could only accommodate four to six keys.
I have to agree with this as well. While KeySmart can work with bigger keys, the space they take up almost makes it pointless if you've got more than a couple of them.
Others found that they needed to remove the included extenders to have space for their keys, which made it difficult for them to push the keys in and out. A small handful of customers complained that the case broke when they tried to put it together or within the next few weeks.
Where to Buy
You can buy KeySmart with the link right here. The retail price for a single one is $19.99, which does not include the additional shipping and handling charges. Though, If you do buy three or more KeySmart tools, you get free shipping and handling within the United States.
With the bundles, the price of each gadget drops. If you opt for the even pack, the price per tool drops to less than $12 and gives you free shipping. KeySmart also lets you pick the colors that you want for each tool, so you don't have to feel locked into a single pallet when making your purchase.
That said, unless you plan on giving them out as gifts, you probably don't need more than one of them.
My Thoughts on KeySmart Accessories
KeySmart tries to be more than just an organizational device. It has several different optional accessories that can be attached. When you checkout, the site asks if you want to add any of these upgrades to each gadget, which lets you select which you want to use on your tool and those you buy for others.
I wanted to give a more focused look at some of those accessories and how you can use them along with why you might or might not want them.
Flash Drive
KeySmart offers a 3.0 flash drive that fits on the gadget and won't take up much space. This flash drive provides 16 GB of storage, which is enough to hold hundreds of photos and videos in addition to documents and large files that use different formats.
This is useful, but also something that people who don't need to move files around constantly won't need. Flash drives are small and easy enough to get these days as is.
However, if you're in college, you may need to save work on your home computer that you use at school or share with classmates. Those who do work projects at home may need to save files that they will use at the office.
This can those people and many more quick accesses to a reliably sized storage device to help them move their important work.
Nano Light
KeySmart can come with a special nano light attachment. This light features a durable case made from stainless steel that will not rust when exposed to rain and other types of moisture. It attaches to a loop added to the side of the KeySmart and still gives you space for your key fob.
This one I felt was caught in an awkward middle ground. Most people these days have a decently powerful flashlight on their phones. People who are looking to get something more reliable than that likely has reasons for wanting to have a dedicated flashlight.
Bottle Opener
KeySmart offers a bottle opener that you can add to the loop on your gadget. This bottle opener can pop out and uses a durable metal that can open any bottle without damaging the glass or plastic. That metal bottle opener slides inside the case when you're done to ensure that it doesn't scratch or poke you.
This is something I actually see the use in. Having a bottle opener on something you carry around and that you don't have to think about is just nice to have. If you're getting a KeySmart, I would at least think about this one.
Quick Disconnect/Connect
One of KeySmarts accessories that focuses on the key aspect of the product is the disconnect/connect accessory. With it, you need to push down on the side of this stainless steel product to slip the loop over anything you want to attach to the KeySmart, including a purse or backpack.
The opposite end features the same design and helps you connect the KeySmart. Disconnecting it again takes just a few seconds. This is also a good one to think about, especially if you're someone that misplaces things a lot as I do.
Pocket Clip
The pocket clip claims to keep your keys attached to the KeySmart and your pocket. It ensures that the KeySmart doesn't slide out when you're running around the house or hiking a popular trail.
Probably the simplest accessory of the bunch, but not a bad one. It fills a similar role to the last one though, if you like them both I would just pick one.
Titanium Upgrade
As mentioned before, KeySmart is available with a titanium upgrade. While stainless steel is quite durable, titanium is even more so. The model also has laser engravings of the KeySmart logo on the front of the case.
It includes titanium posts and a matching frame. Extra durability is never something to sleep on with your tools. It's obviously better, it's just a matter of if you feel like the cost of the upgrade is worth it, which I do.
Similar Options
When looking at the competition, there are several key organizers made of leather or metal. These organizers have some pros that make them good alternatives to KeySmart and cons that will make you want to keep searching.
EM Compact Premium Key Holder
EM Compact Premium Key Holder uses a durable type of metal usually used in aircraft construction. Like the KeySmart, it places the keys evenly between two posts and features a rugged metal case and frame.

The minimalistic design makes finding the key that you want easy and cuts down on the space you need to carry it. This key holder comes with a key chain that you can add and remove as needed and a detachable pocket clip. It also has rubber washers to keep the posts secure.

A good alternative it seems if you want to keep things simple.
KeySmart Pro with Tile
KeySmart Pro with Tile comes from the same manufacturer. The biggest change between the two tools is that this one comes with Tile, a tracking tool that can keep you from losing your keys.

To use Tile, you need to download an app to your phone or a similar device. This app allows you to see your missing keys on a GPS map or send a signal to the device that makes it beep. I would still prefer a KeySmart without Tile because the feature feels like a bit much and adds quite a bit to the total cost.
Final Verdict
With KeySmart I stopped needing to fiddle as much with my keys in my pocket. It's several small things that add up with this product, like how I got to stop worrying about my keys poking or stabbing me.

There are ideas you can do at home to organize your keys without buying something like this, but they won't be as impactful. While you can use stickers or paint to mark your keys, you still need to dig through the ring to find the right one. KeySmart makes sure a key is in the same spot every time.

Thanks to the stainless steel posts and durable design keeps keys safe. It can store eight keys on the tool, but only if you don't need to store larger keys. The optional accessories can add more use to it as well, but the more expensive ones don't feel like the best choice unless you're going all-in.

I hope that my KeySmart review has given you a good idea of if this key organizer is right for you. Remember, always make an informed decision, and make sure you know what it is you are buying.
Resources and Further Reading