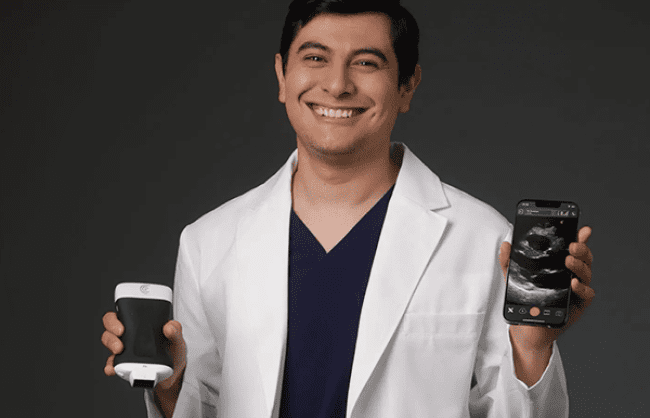 10
With a mission to "enable more clinicians to use ultrasound to improve patient care," Vancouver-based Clarius Mobile Health has created the first handheld wireless ultrasound machine. With their recent FDA 510 (K) clearance, Clarius allows access to high-resolution ultrasound images for those with a smart device.
Known for introducing the first touch screen ultrasound system and considered the brains behind the first PC-based platform for ultrasound research, Clarius Mobile Health created a device that is both easy to use and affordable. With an image quality comparable to any point-of-care system, Clarius operates as both a convex array and a virtual phased array probe.
In other words, Clarius is capable of capturing HD-quality high-resolution images of the abdomen, heart, and lungs and transmits them to the user's smartphone.
Dr. Steven Steinhubl, Director of Digital Medicine at Scripps Translational Science Institute said,
"The ability to wirelessly connect it to any Apple or Android devices means that anyone on my team can use it with whatever they already carry around in their pocket."
Designed to launch as easily as any consumer tech gadget, Clarius is considered the future of patient care. "The image quality is amazing for any scanner, much less one that fits in my pocket," Steinhubl said.
The Clarius companion app allows users to start scanning almost immediately. With an intuitive cardiac mode, medical professionals have access to cardiac imaging at high frame rates through the ribs.
"We've spoken to many physicians who want one multi-purpose ultrasound device to carry with them to quickly scan their patients," said Laurent Pelissier, Clarius co-founder and CEO. "Our C3 scanner is designed to view all parts of the patient's torso, including the heart."
Armed with two transducers in one, Clarius' multi-purpose ultrasound scanner allows you to save, share, review and manage images on the secure Clarius cloud. "There's no need to change transducers in the middle of an exam or to compromise image performance for access," Pelissier said in a press release.
Clarius is both portable and affordable. The Clarius package includes two rechargeable lithium ion batteries that last for more than 45 minutes of continuous scanning and up to 7+ days of standby power.
Priced at half the costs of a traditional point-and-care system, Clarius is poised to corner the ultrasound medical device market with a convenient, mobile scanning option. Whether you're treating a patient in a clinical environment or in wilderness medicine settings, Clarius enables medical professionals the ability to diagnose on the fly. From punctured lungs to obstetric problems, this device may be the difference between life and death.
Designed for durability, Clarius is built with a protective magnesium shell and is ideal for both busy hospital environments and the unpredictability of the outdoors. Without the restriction of wires and the ability to share critical images from anywhere, Clarius Mobile Health has both the backing of the FDA and the technological innovation to disrupt the field of medicine.
PROS
Wireless Freedom (iOS and Android)
High-Resolution Ultrasound Imagery
Point-to-Point Wireless Network
Secure Clarius Cloud
Rugged (Magnesium Shell)
Companion Clarius App
CONS
Can get hot with prolonged sessions
Not made for longer sessions
Price $4,900