eZone Electric Bike Saddle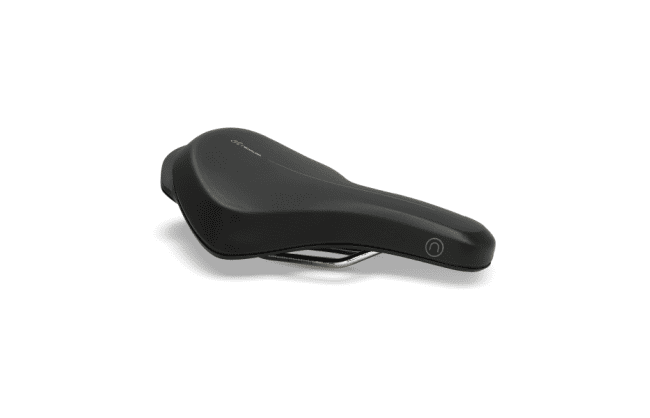 4
In the modern world people, including myself, are often looking for alternatives to cars to get around. Bikes makes for one wonderful option, but a typical bike is simply not everyone's cup of tea. That's where electric bikes come in to offer a different experience for people who are still interested in a basic design similar to a bike.

iReviews Shopping Assistant
Find the best prices for this and many other products with our chrome extension
If you've even taken the challenge, you know that riding an electric bike is a completely different animal compared to a traditional pedal bike. Depending on the bike, you're hitting speeds up to 25 mph. The initial off-the-line throttle boost isn't too kind on some of your most important body parts either.
The biggest problem a lot of new ridders seem to have is comfort. This is a problem that several companites have designed around to try and fix comfortable e-bike seat. This includes the product I want to spend today focusing on, the eZone e-Bike Saddle from Selle Royal and Designworks – a BMW subsidiary group that specializes in engineering e-mobile products for the company's lifestyle brand.
Design
Though it comes across at first glance as a simple product, I believe this is part of the charm with the eZone. With a mission stated to be focused on improving e-bike safety, comfort, and riding performance, Selle Royal is a company that is familiar with the industry.
The company is adamant about the amount of time they took perfecting their e-bike saddle seat. After a full year of extensive e-bike riding research and coming up with the "Comfort Atlas" litmus test, Selle Royal decided to raise the back portion of the seat ever so slightly while creating a shorter nose. The end result is easier mounting and much-improved comfort levels.
I think that it's hard for the average consumer to see much of a difference, but that's part of the magic in my eyes. Even though it's better, it's not all big sweeping changes. Small adjustments add up to an improved experience that gives riders a more comfortable time going down whatever path they take with their e-bike
"The big discovery of our research conducted with Designworks is that the characteristics of e-bikes are in many ways distinctly different to those of non-electric bikes," Marketing manager of the company said. This cuts at the big issue for a lot of people transition from a regular bike to an e-bike. Even though they look similar, the way they function and are ridden is vastly different and creates altered experiences from one another.
That's why I enjoy products like this that try to make the best of comfort and useability that even a newcomer should be able to enjoy. It further helps ease people into a new style of riding and lets them truly decide for themselves if it is a right fit for them.
e-Bike Saddle Technology
The technology behind Selle Royal's eZone saddle is rather impressive in my eyes. Using Zonal Design elements, it reduces the compression force during the e-bike's initial acceleration. Whether it's shutting abruptly into high gear or suddenly braking to avoid a collision the idea behind this addition is to add a bit more safety to an average bikeride when things go an unexpected direction.
By raising the back portion of the eZone saddle, designing a shorter nose, adding a pair of wings for steering, and integrating a fiberglass handle for ease of maneuverability, the electric bike riding experience is given several small improvements that add up to a unique product.
One of the chief complaints about e-bikes from avid riders is long distances hurts, especially if the terrain is challenging. The eZone attempts to get around this with a tridimensional gel structure. The effect according to the company is a reduction in pressure peaks by up to 40%.
Features
There are numerous other little addition that I've either briefly mentioned or not yet touched upon in the eZone Electric Bike Saddle. Of course there is the three-dimensional gel structure (3D Skingel) that reduces pressure peaks by up to 40%, but there are plenty of other noteworthy additions to look at.
The eZone has three areas fitted with flexible tabs, in specific shapes and dimensions, which provide increased stability and safety when accelerating giving ample acceleration control. There is also what the company claims to be a specifically studied design to prevent retraction of the riding position and to help anyone who gets on a bike. This eFit design is an addition adds another layer of usability for those new to the riding scene.
The next feature I want to point out here is a fiberglass grip that is integrated into the support. This eGrip is to facilitate moving the bike by hand simply and practically and improve its maneuverability. All together these are a number of features that offer plenty of extra usability and quality of life for the average bike rider.
With an impressive performance package that includes 250W of battery power, 90 Nm of torque, and a capacity of 504 Wh, there is plenty of power that goes into the product on offer.
The way I see it, you just can't use traditional flat bike seats on e-bikes and expect a smooth ride. This bike saddle is built from the ground up with e-bike usage in mind, giving it a level of quality that a regular bike seat will not be able to offer.
Final Thoughts
The European design of the eZone Electric Bike saddle helps highlight how much more focus they put into their bike designs than in the USA. All signs point to it being a quality piece of equipment for any electric bike owner who wants to get more comfort and stability out of their sattle.
If you have the ability to get one and are a fan of riding e-bikes then I highly recommend giving the eZone Electric Bike Saddle a try. It might be a little on the pricy side as far as bike saddles go, but all of that goes into the quality advancements that have been made on it over regular saddles.
Source: New Atlas, BMW Group Press Release, Selle Royal
PROS
Improved e-Bike Riding Safety
Improved Riding Comfort
Improved Riding Performance
Tridimensional Gel Structure Reduces Impact
Zonal Design Elements
CONS
Little Usability With Regular Bikes
High Initial Price for a Bike Seat
Company Only Does Free Shipping in Europe