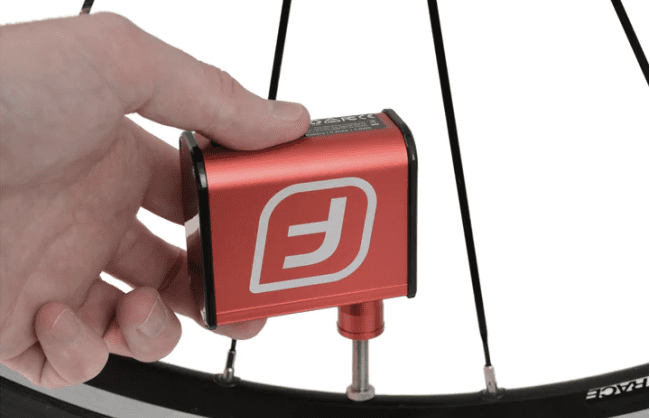 6
Designed to replace your mini-pump or CO2 canister kit, the miniFumpa is a pocket-sized electric bike pump capable of inflating two tires up to 100 psi each (7 bar). Recently unveiled at this year's Interbike 2017, the miniFumpa is the brainchild of Fumpa Pumps and has been created for road cyclists, triathletes, mountain bikers, BMX, and casual riders. As one reviewer mentioned, the miniFumpa "has made his floor pump obsolete."
miniFumpa's Intelligent Design Features
Gone are the days of cyclists changing out their high-pressure flats on the side of the road. Not only is it dangerous, but it's a downright hassle to match the pressure of the other tire – making for a smooth rest of your ride.
Whether it's a compact hand pump or a compressed CO2 canister, the ability to accurately refill a tire on the side of the road is a bit of a nightmare. Plus, if you're not mechanically inclined, you may run across a few problems with accurately filling each tire with the right amount of pressure.
The miniFumpa is a cyclist's dream bike pump – one that is both easy-to-carry, easy-to-use, and super accurate (down to 3% psi accuracy with each pump).
User-Friendly Design
Only 1.3 x 2.2 x 2.7 inches (32 x 56 x 68 mm) in size and weighing 6.7 oz (190 grams), the miniFumpa easily fits inside a shirt pocket. Capable of inflating a single 700 x 23c tire up to a maximum pressure of 120 psi (8 bar), the miniFumpa is a powerful device that gets the rider back on the road in an instant.
With inflation taking about 40 to 50 seconds per tire and a full recharge only taking only one hour via USB, a cyclist can get rid of their floor pump collecting dust and taking up space in their home.
Here is a quick rundown of miniFumpa's features:
Contains a patented compressor design, which compresses surrounding air to quickly fill your tires.
Utilizes brushless motor technology to provide incredible power to the compressor.
Relies on a rechargeable lithium-polymer battery, which is easily charged using the supplied micro-USB cable.
Incorporates a patented casing design, which provides strength, reduces vibration and thermally stabilizes the internal compressor.
Intuitive push-button start.
Fumpa also includes a digital pressure sensor to present accurate pressure readings to the user (in psi, kPa, and Bar units).
The Difference Maker
So what makes this a must-have for the everyday cyclist? With the ability to pump up a 700 x 23c tire in a matter of 40-50 seconds, you have a worry free solution while riding through remote back roads.
We've all seen the mountain bike rider with the dejected look on their face, carrying their bike through a trail after getting a flat. This won't happen with the miniFumpa. If there's any drawback, it would be that the miniFumpa is only compatible with Presta valves.
There's a solution, however. Fumpa Pumps offers its standard, albeit larger, Fumpa version that accepts both Presta and Schrader valves.
The larger Fumpa version can inflate six tires on a single charge, has a digital readout, can get 700 x 23c tires put to 100 psi in just 20 to 25 seconds. It's pretty much the miniFumpa on steroids and worth the price if you're a serious cyclist.
Not Just For Bike Tires
Both units can pump to 120psi, or 827kPa, or 8.27Bar and Fumpa's internal pressure sensor is accurate to 3%. The miniFumpa is a pretty versatile device.
If you need it to pump up sporting equipment (basketballs, footballs, soccer balls), just simply purchase the needle attachment and let the miniFumpa work its magic. It can pump up anywhere from 2-3 basketballs before needing a recharge.
Testing has shown that you can safely pump up a standard-sized car tire 2-3psi before the unit becomes too warm and will need to rest. As for how loud the Fumpa pumps are while in use: from one meter away, the Fumpa makes about 70dB of noise, whilst miniFumpa makes about 65dB of noise. That's a rather peaceful bike pump and won't draw any unnecessary attention as you fill your tires.
Fumpa and miniFumpa have been designed with safety in mind. The units contain battery management circuitry to ensure that the battery correctly charges and discharges, and will also shut down the battery if a short circuit were to occur.
The Fumpa and miniFumpa come complete with a twelve-month warranty on all parts. The miniFumpa is priced at $129 and the standard Fumpa is priced at $179.
About Fumpa
Fumpa is a leader of electric, portable, accurate and rechargeable bike pumps. Engineered specifically for cyclists, Fumpa's simplicity and speed will make your old pump obsolete. Fumpa's patented compressor design enables efficient and fast inflation to get you back on your ride quickly. Fumpa can inflate a tire to an incredible 100psi in 20 seconds and combined with a pressure sensor accurate to 3% and a lightweight construction, Fumpa has all your pumping needs covered.
Source: Fumpa Pumps, New Atlas
PROS
Pocket-Sized Bike Pump
Inflates 2 Tires on a Single Charge
120 psi Max Pressure
0-100 psi: 40-50 seconds
USB Rechargeable
CONS
Accepts Presta Valves Only
Can be loud