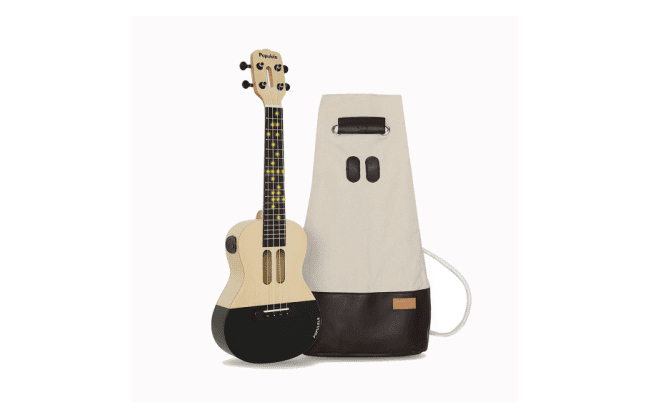 2
If you've ever wanted to learn the Ukulele but the steep learning curve has you reluctant, then you're not alone. New instruments are hard to get a feel for without some help, and there just are not a lot of resources out there for the Ukulele.
That's where a tool like the Populele by PopuBand Music can come into help. What is this electronic Ukulele, how does it work exactly, and what else do you need to know about it? I'll try to cover all this and more here today.
Populele Features
Designed with a 72-LED smart fretboard I would say the Populele is armed with enough power to get anyone started. With a song library of 100+ songs, learning to play the Ukulele is as simple as moving your fingers on the illuminated chords. It's a simple teaching tool for people who have the most basic of string instrument skills but need to get more exact teachings.
The system works by connecting the product to the Populele iOS/Android app. Doing so gives players instant access to a fretboard learning system that the company says "enables users to get instant feedback." It also tries to correct their finger position and strumming technique.
This music-learning experience is backed by an ABS plastic fretboard, LED lights, a premium spruce soundboard, and a powerful integrated circuit. All little bits and pieces that help the full picture of the product come together.
Populele Design
As for aesthetics, I would say this is a well-crafted instrument. Built with premium European maple and bound with Italian strings there is a good sign of quality behind the way this ukulele is built.
Whether it's classics or bluegrass favorites, Populele comes with a full arsenal of 100 + song choices. With a goal to simply transform the beginning player into a proficient acoustic artist, PopuBand Music is the perfect gift for aspiring musicians at any age.
Capable of 10-hours of continuous playtime fully charged, the Populele is able to offer an extended learning experience without the risk of powering off mid-session. By completely removing the steep learning curve of reading music on your own, Populele helps the player with a comprehensive chord library.
If you're interested in writing your own music, Populele allows you to customize an acoustic song pattern. With an intuitive program that lets you record and share your own tracks, you can seamlessly share your progression by connecting to social media.
Populele's app allows users to select from Game Mode or Dazzle Mode. The sound-resistant technology lets players get instant feedback on their playing abilities. By lighting up each fret, the Ukulele beginner learns their first song in a matter of minutes before moving into more complex song patterns.
Final Thoughts
As a learning tool this is an interesting product to look into. It offers the ability to get familiar with the strong layout of a ukulele, but I wouldn't say it's the only too you would need to learn. It will get you further than you might get without it though.
Basic tenants and understandings of music and how to play a string instrument will get you further with this, and I think it's a great tool to get your hands on if you're not able to find a proper teacher to help you along. It's not the most common instrument out there, so not being able to find a teacher is more common than you might think.
If you can get your hands on a Popuele and are interested in learning how to play then I say give it a try. It's an interesting product that I hope to see improve upon itself in the future.
PROS
ABS plastic fret board
LED lights
Integrated circuit
Protrusive back arc design
CONS
Not a replacement for basic instrument knowledge
Can only teach so much
Minor complaints of sensitivity on strings