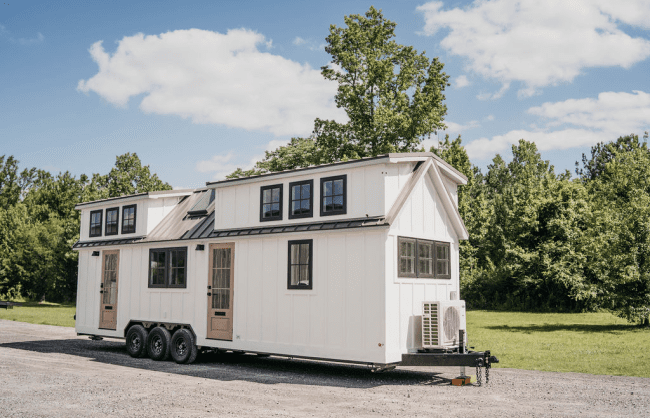 1
Tiny homes are experiencing a boom in notoriety and market share. Tiny home designers are creating more luxurious, spacious tiny homes than ever before.
One of the most unique tiny homes we've looked at is the 100%-renewable Ecocapsule Smart Home. Some of our favorite ones include the Alpha Tiny House, the Minim Tiny Home, and the AVAVA Tiny House.
Alabama-based Timbercraft Tiny Homes' latest design, the Ridgewood, is among the top in terms of design and functionality.
Size and Shape
You're probably thinking that picture is showing a pretty big home. It's actually only 28 feet long, with a total floorspace of 375 sq ft (34.6 sq m). The home comes with two lofts to further extend your living space.
There are also two skylights and a porthole-like round window in the dining area. With the amount of windows throughout the home, the Ridgewood tiny house creates a very open, well-lit floor plan. Overall, the home is rectangular-shaped, like almost every other tiny home we've looked at, except the egg-shaped Ecocapsule.
The kitchen and dining booth are the center of this home, which separates both bedrooms. The kitchen's concrete countertops are made to last a long time. You'll love the large amount of cabinet and storage space across the kitchen area.
Ease of Transportation
The Ridgewood home sits on a triple-axle trailer. The company can build up to 28 ft long tiny homes on bumper pull trailers and up to 40 ft on gooseneck trailers. Homes longer than 24 ft are eligible for double lofts.
With double lofts, a 24 ft long home is 335 sq ft, putting the width around 8.5 ft. Ceilings in these tiny homes reach 13.5 ft tall.
The home weighs around 10,500 lbs for a 24 ft long model. The larger gooseneck trailer models can weigh up to 16,000 lbs, while an 18 ft long home would weigh as low as 7,000 lbs. Of course, changing and upgrading appliances and furniture will cause some fluctuation in these numbers.
Quality
The home's exterior is made of green LP SmartSide siding. The inside is finished with tongue and groove pine. On one side of the center kitchen and dining area, there's a bathroom. On the other side, there's a living room.
In the bathroom, you'll find a unique, luxury clawfoot bathtub and shower with a sink and toilet.
Both bedroom lofts sit above the bathroom and living room. Reach the bathroom's upper loft by a ladder, and you can use the staircase (with built-in storage options) to get to the living room's loft area. There's no room to stand up in the loft, but you'll definitely be able to get a good night's sleep up there in a double bed.
The power for the tiny house comes from a standard RV-style hookup, while a tankless water heater takes care of rapid warming for a quick morning shower. The interior temperature of the home is controlled with a mini-split and ceiling-mounted fan. If you foresee the home being used in an extremely cold climate, the company will adapt the water hookups for frost protection.
Cost
The company's pricing page is a little vague, with no real figures on how much the Ridgewood costs without asking for a quote from the company. There is mention of an 8 ft by 20 ft home starting at $44,000, going up to $95,000.
Most homes by Timbercraft Tiny Homes start around $275/sq ft, but you can quickly run up the bill with upgrades and extra amenities. The company doesn't directly offer financing, but they recommend Lightstream, Tiny House Lending, and PersonalLoans.com as alternatives.
The house can be completed in 8 to 10 weeks from the time your contract is signed, which is a similar timeline to the other tiny homes we looked at. The company delivers your tiny home on wheels anywhere in the United States for $2.50/mile from its base in Guntersville, Alabama.
Carbon Footprint
Unlike other tiny homes we looked at, this company's website does not mention much about renewable energy sources at all. You can order a home wired for solar panels. Since the pricing page of the website mentions a large variety in end-prices for tiny homes, you may want to ask about installing solar panels.
Other Notes
Like we mentioned above, this tiny home doesn't come with many renewable energy features. But with two loft beds, it's certainly different than the other tiny homes we've looked at. And the charm and functionality of this tiny home, even without furniture, is a great glimpse of what you can turn this tiny home into.
Sources: New Atlas, Timbercraft Tiny Homes
PROS
Variety of Sizes
Energy Generation Through Solar If Desired
Comparatively Lower Cost
Luxurious Bathroom
CONS
Small Interior Could Be Cramped for Some People
Smaller Kitchen
No Dedicated Deck / Outdoor Feature