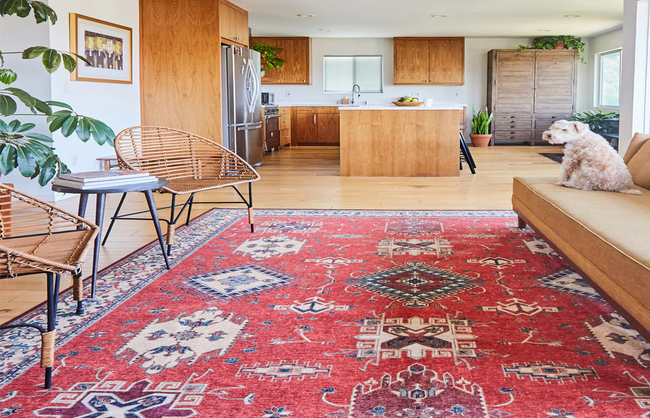 What is Ruggable?
Jeneva Bell launched Ruggable in 2010 with one idea in mind: helping shoppers find the perfect rugs that would last them for years. She came up with the idea of a rug consisting of two parts. The first is a nonslip pad made from the same materials that yoga mats use. This keeps the rug from slipping and sliding across the floor. The other part is the rug cover. Not only does the cover come in dozens of styles and sizes, but it fits in your washing machine.
With Ruggable you get a secure rug cover that matches your home and uses recycled polyester that is resistant to both stains and liquids. This cover securely attaches to the included pad and comes off easily for washing.
Ruggable rug pads are easy to clean and fit in most washing machines.
PROS
Available in dozens of colors and designs
Come in different sizes
Easy to use and clean
Made to order
30-day money-back refund
CONS
Only ships to addresses in the United States
You need to pay a fee for a sample
Most discounts do not apply to all designs
BOTTOMLINE
Give your living room a new look with Ruggable. These rugs feature two parts and come in hundreds of designs and colors to fit any home.
Product Features
Price: Starting at $139
Refund Policy: 30 days, money back
Size: Up to 9X12
Cleaning: Many are machine washable
Payment Plans: Through Afterpay
Sample Cost: $15 for three 10"X10" samples
What Sizes of Rugs are Available?
Ruggable wants to help you find the perfect rug for any room in your home. Popular sizes include:
The Hello doormat is just one of the fun mats available from Ruggable.
How Can You Use Ruggable Rugs?
Once your rug arrives, take it out of the packaging and give it a good shake. Some found that they needed to leave it sitting flat for a few hours. You'll then want to put down the pad that holds the rug in place. We recommend that you make sure you use the pad correctly to prevent damage to your floor. It's then a simple matter of setting the cover on top and making sure that it fits on the pad.
Some tips that we suggest include:
Measure the space that you intend on putting the new rug in to ensure you purchase the correct size.
Look for rugs that contain some of the colors you already have in the room.
Consider both round and rectangular rugs to ensure that you pick one suitable for the space.
Think about whether you want a smaller rug that will fit in your washing machine or a larger one that will require professional cleaning.
Request samples of your top options to see how those rugs will work in your space.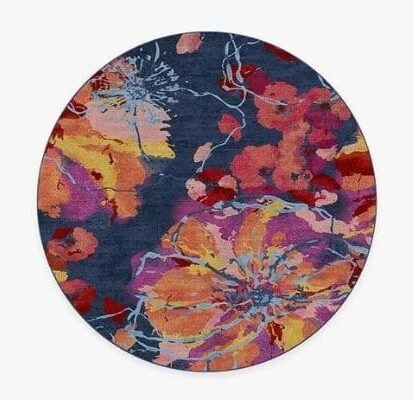 A round rug can create a different impression than a rectangular one does.
What Colors are Available?
Ruggable knows that most customers look for rugs in specific colors that match their homes, which is why the site lets you shop for rugs in six different color combinations. You may start by looking at the Naturals line, which includes combinations that act as neutrals in your home.
With the Blue and Green rugs, you'll find everything from rugs in deep and lush shades of emerald green and peacock blue to deeper shades of navy blue and forest green. There are around 35 rugs that use White and Cream colors, which can look great in a nursery or a bathroom.

Ruggable lets you choose rugs in every color of the rainbow.
Where Can You Use Ruggable Rugs?
Ruggable rugs are perfect for placing under your bed to become the focal point of a room. Both the 8X10 and 9X12 rugs will fit under a queen bed. If you want to add a bright pop of color to your kitchen, pick a runner or one of the smaller rugs from the company.
You may have a deck where you relax and play games with your friends, or a patio where you cook meals and hang out during parties. Ruggable makes plenty of rugs that can be used outdoors. These rugs make the area more inviting and are easy to clean.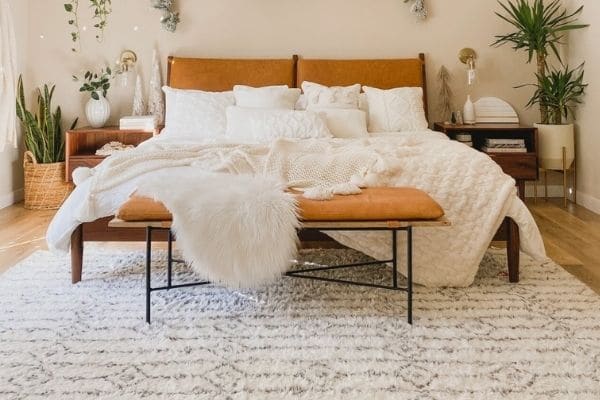 Ruggable makes rugs that are suitable for all types of bedrooms and beds that range from twin to king sizes.
Who's This For?
Ruggable wants to take the hassle out of buying a new rug. You can decide on the texture that you want, or pick a rug based on the size that you need. All the rugs are easy to use and can go in the washing machine.
Others who can use Ruggable rugs include:
Shoppers who need indoor/outdoor rugs that they can use in more than one place.
Those who have tired or worn floors that they want to cover.
Customers who need durable doormats that can stand up to bad weather and other conditions when outside.
Shoppers who hate the way rugs can slide across the floor.
Those who need extra help choosing a new rug.
Customers who like the idea of buying samples before they buy a new rug.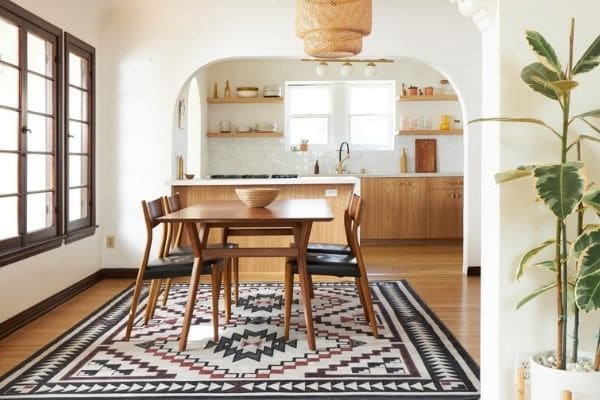 Ruggable runners and smaller rugs are perfect for your kitchen.
Our Review
As someone who lives in an apartment with all hardwood floors, I know that certain areas can be quite slippery. I do not often buy smaller rugs because they slip and slide often, especially when my dog runs across them.
I was interested in trying Ruggable because they claim to be completely non-slip and come in an interesting two part design. My product arrived in a cardboard Ruggable box with a big logo on the side. Upon opening the package, there were two individually wrapped rug looking pieces.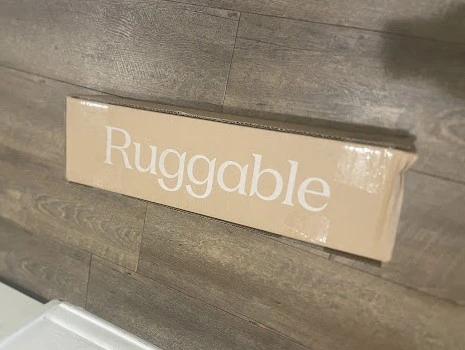 After unwrapping both pieces, the top patterned piece felt just like any typical rug. The black bottom piece had more of a velcro texture. Of course, due to the packaging, the rug had the edges turning over when unwrapped. I simply put some books down on the edges and let both pieces smooth out for a few hours.
After lying the black piece down, I attempted to lay the top pattern piece on top. The patterned piece on top is slightly larger than the bottom piece, which is convenient when making the bottom not visible. But you could tell that there was something under the rug if you walked across it.
It took me a few tries to align the bottom and top pieces correctly, simply because the bottom is so grippy that it clings to any area of the top rug that may accidentally touch it when laying the rugs on one another.
It personally took me about 4 tries and 10 minutes to get the rug perfectly aligned without bumps or the black part showing. This was worth it due to the fact that the rug would not move once placed, but this could take many tries and lots of trial and error if ordering a larger area rug.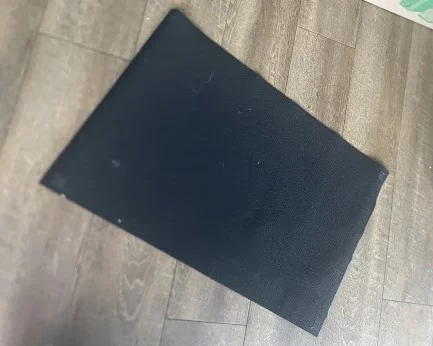 Once my rug was aligned and laid out, I tested the product by walking across it both with and without shoes, and also having my dog repeatedly run across the surface. As I ordered a small rug, this size typically moved very easily with other brands. I was thrilled to see that the rug did not move at all. I was very stuck in place and did not move at all.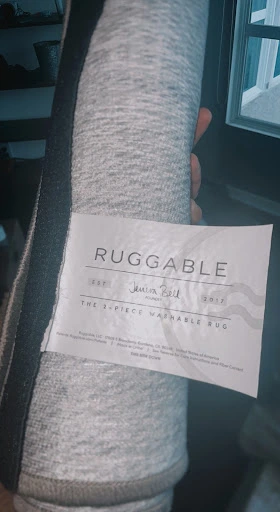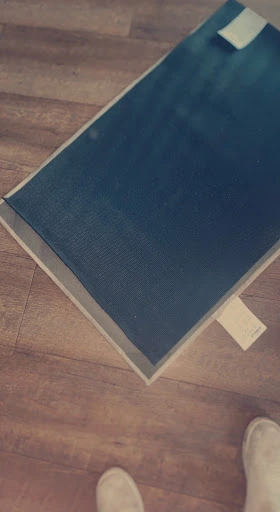 I was very impressed with Ruggable's non-slip technology. If you have hardwood floors, as well as children or dogs, I would definitely recommend this product. The rug does not move at all, which would apply to rugs of any size.

Ruggable Disney Rugs
Ruggable partnered with Disney to make a line of new rugs that feature some of your favorite characters. One popular option is the Mickey Trellis Slate Rug, which has a slate-gray background with Mickey Mouse faces printed over the top in white. It is available in different sizes that retail for $99 to $689.
There are also designs that let you bring home everything you love about Disney parks. We like the bright colors of the Mickey Polka Dots rug, which uses Mickey's face as polka dots across the front. Disney rugs from Ruggable delight Disney fans of all ages.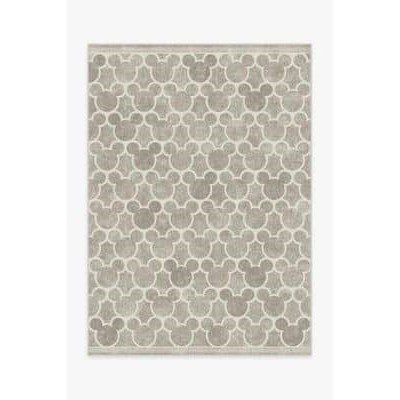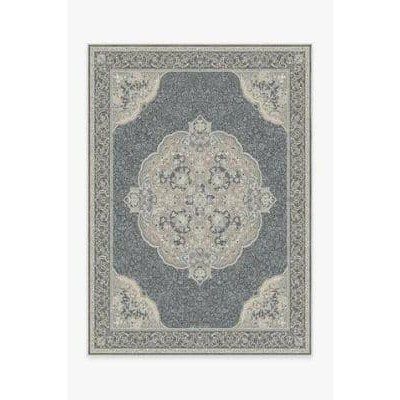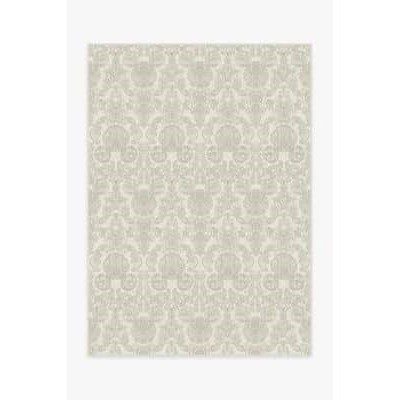 Star Wars Rugs from Ruggable
Star Wars is one of the top film franchises in history. If you're a fan of the series, take a look at some of the fun Star Wars rugs from Ruggable. One example is The Child rug, which features Yoda as a child against a black background. Other rugs include other popular characters from The Mandalorian.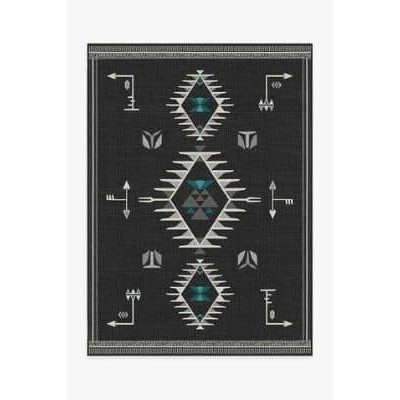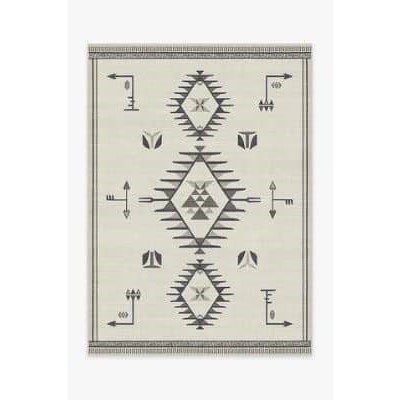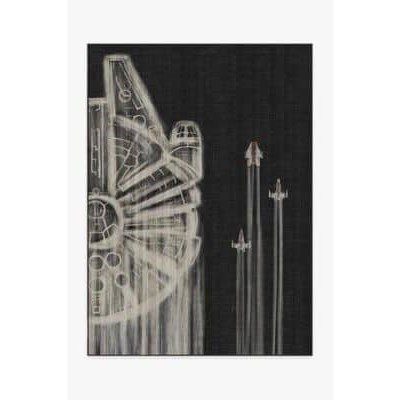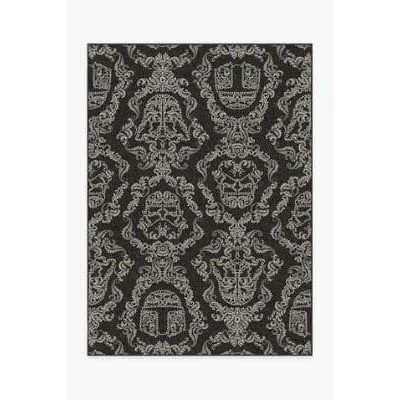 Kids Rugs
Ruggable also has many rugs for kids that are suitable for bedrooms and playrooms. If you want to create a jungle theme, you can go with the Jungle Safari rug that uses a range of bright colors that kids love along with fun images of jungle animals. Some of our favorite Ruggable rugs for kids' rooms include:
Outer Space Black Rug
Dinosaur Parade Multicolor Rug
Robot Party Multicolor Rug
Monkey Mania Multicolor Rug
Pegasus Rug
Constellation Lavender Rug
Llama Fun Natural Rug
Freckles Multicolor Rug
Tyrannosaurus Rex Rug
Sunburst Teal Rug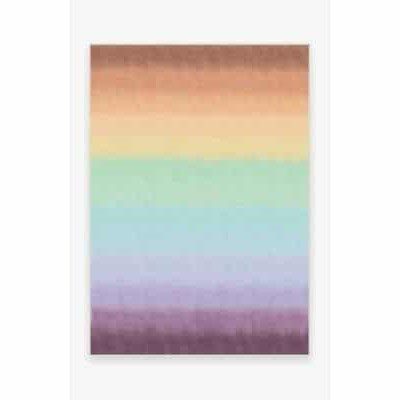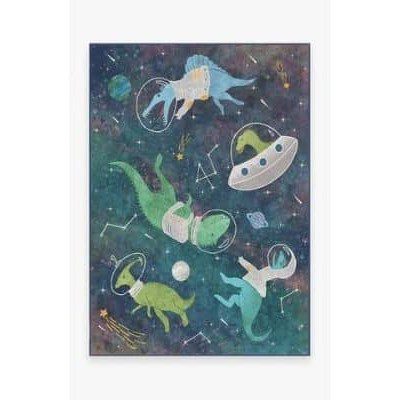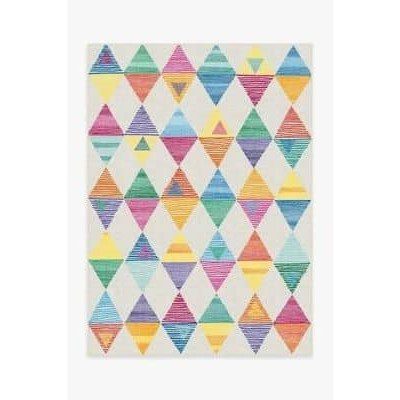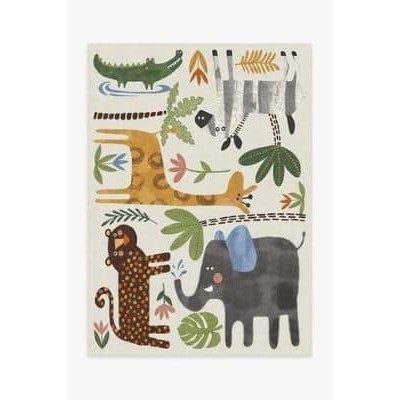 Who Would Benefit from Ruggable Rugs?
Renters don't usually have a choice when it comes to their flooring. They can easily use these rugs to cover old and dated flooring or to protect the original floors. When they leave, they can take their rugs with them. Others we think would benefit from these rugs include:
Those who want to pick one or more samples and try them in different rooms of their homes before they buy a rug.
Customers who need new rugs but can't afford to pay the cost right away because Ruggable works with Aferpay.
People who need a rug that stays in one place and won't slip and slide.
Shoppers who want to show their love of Star Wars and Disney movies in their homes.
Those who want solid rugs that work well and last for years.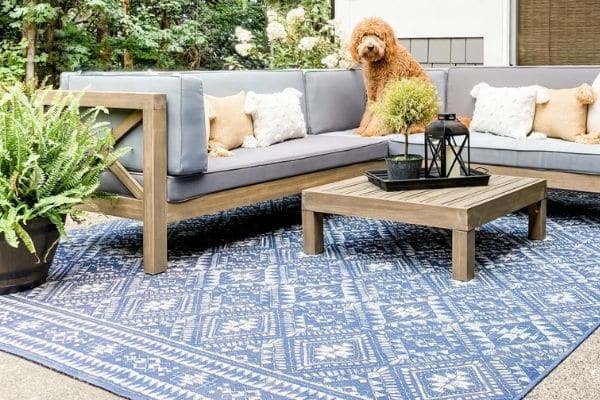 Ruggable rugs work both indoors and out.
Should You Buy It?
We make it easy for you to decide if you should buy a Ruggable rug with a list of our favorite things about this company, including:
Ruggable offers samples for those who aren't sure what to buy, which lets them try their favorite designs at home.
You can learn more about Afterpay, including how it works and what you need to do to qualify for a payment plan.
Most of the rug covers will fit inside a standard washing machine.
You can easily clean the rug pad, which keeps the rug in place.
Ruggable has promo codes and sales that can help you save a bundle on your new rugs.
You can choose from classic and traditional designs as well as Disney and Star Wars rugs.
Each time you refer a friend, Ruggable will give you 15% off.
Your order should arrive in 10 business days or less.
Ruggable offers money back refunds as long as you request a refund within 30 days of your order.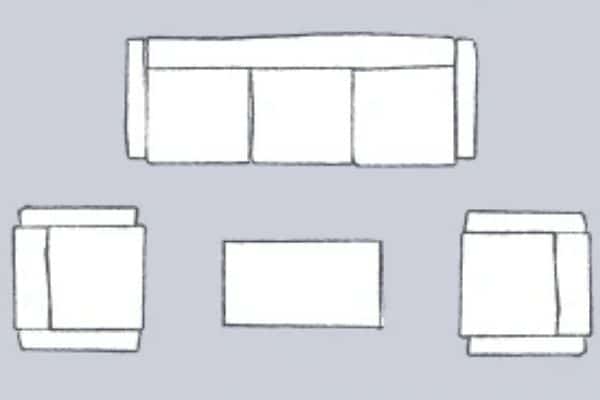 Ruggable makes rugs up to a 9X12 size.
Cons to Consider
There were a handful of issues and complaints about Ruggable that we wanted to discuss. Though the company claims that you can easily clean the rugs in your washing machine, not all rugs will fit in a standard machine. Another thing to keep in mind is that you may not qualify for an Afterpay agreement if you do not meet all requirements. Even if you do, you need to spend a minimum of $35 to qualify and cannot use the program on orders of more than $1,000. Other issues that we found about Ruggable include:
Discounts and promo codes do not work on orders of sale products or Disney designs.
You can only use one promo code at a time and cannot use one on a gift card or sample.
Ruggable charges money for any samples that you request.
If you do not like the rug that you buy, you can only request a refund. Ruggable does not let you exchange a rug.
Ruggable only offers shipping in the United States.
Those who live in Alaska and Hawaii do not qualify for free shipping.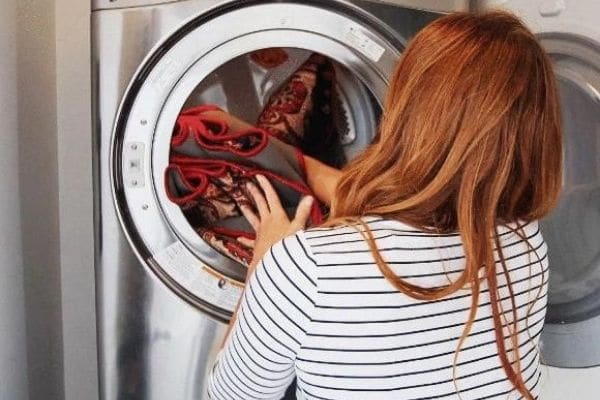 Some Ruggable rugs will not fit in a standard washing machine.
Where to Buy
Though Ruggable rugs are now available from Amazon, you should always check the official site before you buy. Ruggable now makes more than 500 different rug designs, many of which are not sold on other sites. This is especially true of the Star Wars and Disney rugs.
Some of the other reasons why we recommend using our link to buy a Ruggable rug include:
With the coupon codes and promos, you can save 10% or more on the cost of a new rug and get one for less than other sites charge.
You can get 15% off your first rug as a new customer as long as your order doesn't include certain rugs or samples.
Ruggable lets you order samples and get three rug samples for a low price. You can even add new designs for just $5 per sample.
You can use the size guide to get help deciding what size rug you need based on where you want to use it in your home.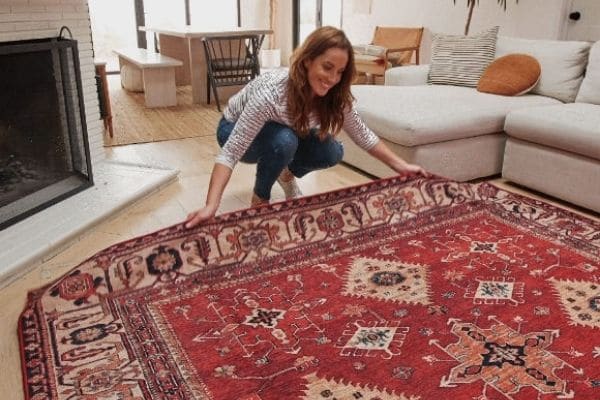 Ruggable rugs are easy to use around your home.
The Competition
There is some competition on the market from companies that make machine washable rugs.
One example is Real Life, which makes rugs such as this vintage distressed rug that would look at home in any room. It is resistant to stains and won't shed. You can safely use the rug around pets, as well. Another option is this fluffy rug from Yome.
Not only is the rug machine washable, but it feels as fluffy as your favorite blanket. You'll love how soft the rug feels under your feet when sitting on the couch or relaxing on the floor.
We also like this Moroccan rug from nuLoom. It's available in 2.5X8 up through 7X9 sizes, which make the largest size slightly smaller than Ruggable offers. The fun black and white design mixes traditional Moroccan elements with a funky geometrical design.
You might like this HEBE Cotton Area Rug Set, too. As it includes two rugs, you get more coverage for your floors. Each rug has a tribal and geometric design in black and white with hand-tied edges along the borders. All the similar rugs that we found on Amazon are machine washable but lack the nonslip pad that you get with Ruggable rugs.
Final Verdict
Our final verdict is that Ruggable rugs are worth the price. You can get a basic small rug or a doormat for your porch for around $139-189. The most expensive rugs are the 9X12 rugs, which retail for $599.
We also like that each rug comes with a pad and a cover. You can spot clean the rug pad to remove any debris that you see and wipe away any spills before letting the pad air dry. If you buy an 8X10 or smaller rug, you should not have any problems tossing the cover in your washer and dryer for cleaning. With more than 500 rugs available in different designs and sizes, Ruggable has rugs for everyone.