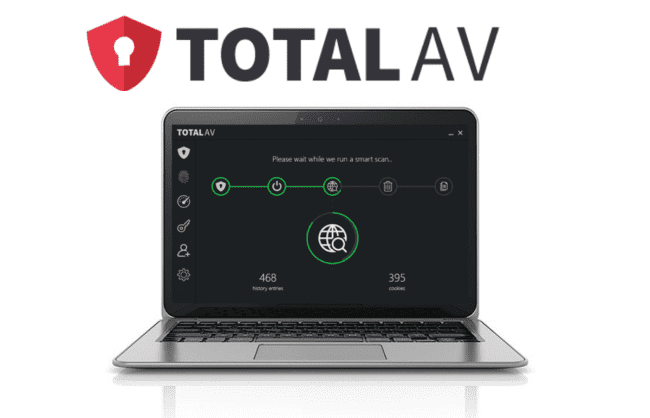 What is TotalAV?
TotalAV is one of the more popular antivirus programs in the world today. It is easy to both download and use, making it a great option for home or work.
Antivirus software is a must-have for anyone who spends time on the web. You might think that the only people susceptible to viruses and similar threats are those who don't use caution, but hackers are smart and can now target anyone.
These days even opening an email attachment that came from a close friend or visiting a website you hit hundreds of times in the past can cause problems and make you download a dangerous virus or malware package.
We know that there are dozens of software packages that promise to help with viruses as well as millions of sites that promise to help you find the best. Our team tested TotalAV and looked at reviews from experts along with regular users on the web to determine where it works best and the top features.
You can also use our review to learn more about the cons and some of the features that don't work as well as you might expect. Check out our in-depth TotalAV review before using our link to buy the antivirus software.
TotalAV offers a wide range of protection for computer users.
PROS
Three available packages and a free plan
Offers support for up to six devices
Works with Mac and Windows operating systems
Lets you automatically download protection to your device
Gives you a 30-day money-back guarantee
CONS
May not respond quickly to some potential threats
Lacks some of the features found in similar software suites
Is slightly more expensive than other packages
BOTTOMLINE
TotalAV is our top choice for the best antivirus software currently available. It has some flaws but includes tons of tools and features that are easy to use.
Product Features
Types: Pro, Internet Security, Total Security
Price: $99, $119, $149
Guarantee: 30-day money-back
Customer Service: 24/7
Optimization Tools: Included in all packages
Password Vault" Only in the Total Security package
How Can You Use TotalAV?
You can use TotalAV every time that you turn on your computer. It gives you a smart way to check for hazards that you may not be aware of and ensures that you stay safe on the web.
Whenever you visit a new website or download any type of file, you risk adding malware to your system. One example is spyware, which allows others to track your online activities and also find saved or hidden information on your computer, including your bank account details and passwords. There is also adware, which causes pop-ups and other ads to appear on your screen.
TotalAV offers all of the protection that your system needs. You can use it to see if a new website is safe before you click on a link to visit it. The software will scan files that you want to download and let you know that they are safe.
If you're worried about files you got before you can use TotalAV to check them over. It can scan your entire system and even reaches hidden or forgotten files.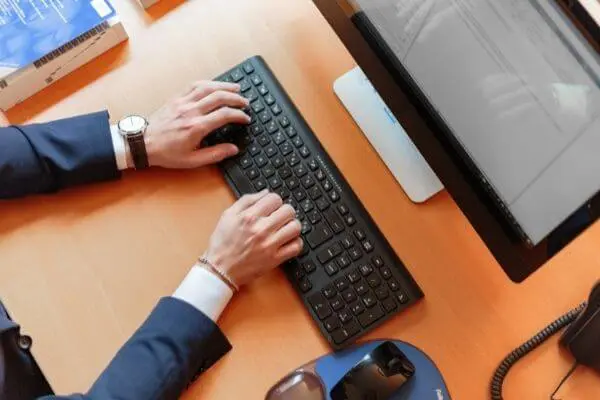 You can use TotalAV anywhere you need to use a computer.
How to Use TotalAV
To use TotalAV you first need to visit their website and pick the package that you want. You will then download the software to your computer and run it, which lets you register the product.
To perform a scan, simply double-click on the TotalAV icon to launch the program and pick the type of scan you want to run. Once TotalAV finishes looking through your system, it will let you decide what you want to do with the dangerous files and malware it found.
TotalAV offers a delete option, which allows you to automatically remove and delete any files from your computer. There is the quarantine option, which comes in handy if you need to save that file but don't want to risk it causing any problems.
The ignore option tells the software that you do not want to do anything with the file. There is also a whitelist option, which is useful if you know the file and believe that it is safe to use. Choosing this option will tell the software not to mark or find the file in a future scan.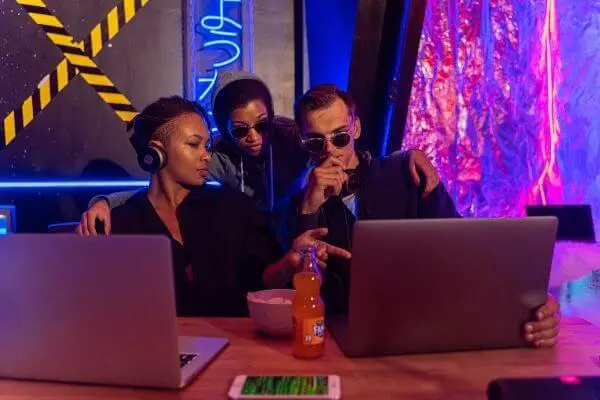 Hackers work in locations around the world and can target people thousands of miles away.
TotalAV Malware Scanner
One of the more dangerous hazards that you encounter online is malware. This term refers to any type of software that another person uses on your system. TotalAV not only comes with a built-in malware scanner, but it gives you four ways to scan your system:
Quick scan
System scan
Smart scan
Custom scan
The type of scan that you choose will depend on how much time you have and what you want to find.
When you choose the quick scan, TotalAV will check the temporary files that include malware when you pick them up on the web. It often takes just a few minutes to perform this type of scan.
The system scan does a more in-depth check and looks at all files and folders on your computer. If you have more files and folders, it can take an hour or longer to complete this type of scan.
During the smart scan option, TotalAV looks for cookies that track your online movements along with junk files that can slow down your system and malware. You can also choose the custom scan option when you want to check a specific area of your computer. This feature allows you to look for malware in folders filled with files as well as individual files. As a bonus, it lets you use your computer while it scans.
Most importantly, TotalAV can find encrypted files and threats that its competitors cannot. In many cases, it finds more than 99% of the threats on your system.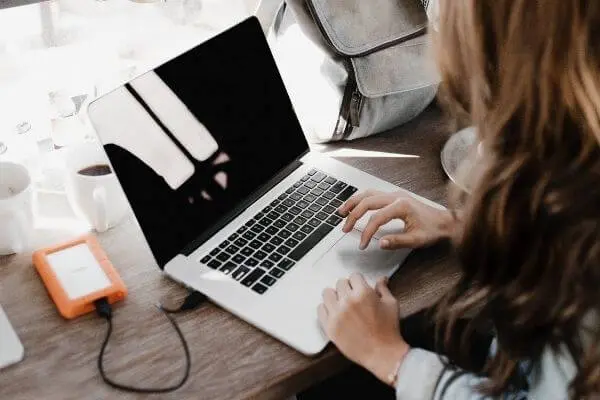 TotalAV is easy to use and lets you scan your system in different ways.
Where Can You Use TotalAV?
TotalAV is a complete package that you can use anywhere you need a computer. If you share your computer with even one other person, you have no control over what they do with it when you're gone. Never assume that anyone else using your computer won't be putting it at risk, even if unintentionally.
You can use TotalAV for extra protection at work or if you use a work system at home. It also comes in handy if you or anyone in your family attends school. Ransomware that takes over your computer will keep you from accessing an important project that you need to turn in at school and a big presentation that you need for work.
TotalAV both blocks you from downloading apps and files that are dangerous and prevents you from visiting harmful sites. Whenever you need protection on the web, you can rely on TotalAV to keep your system safe.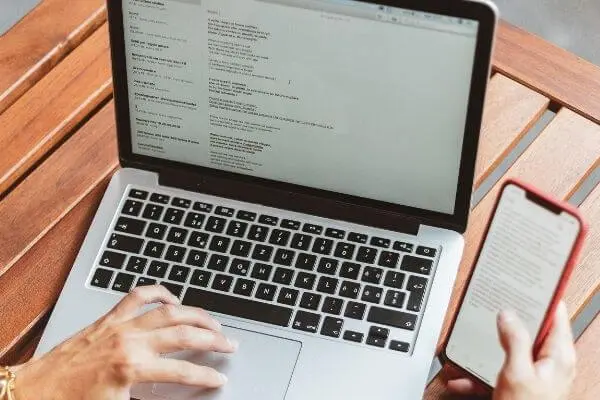 Whether you work in an office or at home, you can use this antivirus package.
TotalAV System Tune-Ups
TotalAV offers a tune-up tool that is easy to use. This feature can optimize your system and help it run faster. It includes several options such as a startup manager and duplicate file finder.
With the startup manager, you can change which apps run when you turn on your computer. Using too many apps and letting them launch right away can increase the time it takes for your computer to boot and how long you can open new programs.
TotalAV makes it easy to find the system tune-up feature without hunting around in your system. A built-in application finder helps you find and remove apps that you no longer need without accessing your Control Panel first.
TotalAV comes with two cleanup tools. Using the browser cleanup tool helps you delete cookies and keep your habits private. Not only does it stop others in your home from seeing what pages you visit and other things that you do online, but it also blocks access to that data by those on other networks.
The junk cleaner tool finds and removes any of the junk files on your hard drive. This will help your computer run faster when the limited space it has is being choked out.
The duplicate file finder can be used to locate and remove duplicate files. When you use one or more of these tools, you might find that your computer runs as quickly as it did when you first got it.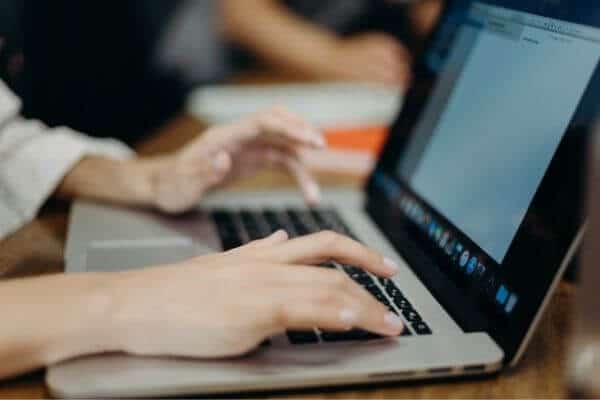 While it works great as antivirus protection, it can also tune-up your system.
Who's This For?
Everyone needs antivirus software. Programs that are built into your computer or that are used by web browsers do offer a layer, but are often easily gotten through by more malicious viruses. You can never have enough protection when it comes to your computer's safety.
You need antivirus software such as TotalAV for many reasons, including the need to look for new and emerging viruses and to keep you from downloading malware.
Though you can choose other software packages, we think that TotalAV is best for those who want a program that does more than just block viruses. TotalAV has tons of built-in tools that allow you to clean and optimize your system.
You can also choose from a basic package with protection for up to three devices or buy software that can protect up to six devices. TotalAV is more affordable than similar packages, which makes it a smart choice for budget consumers.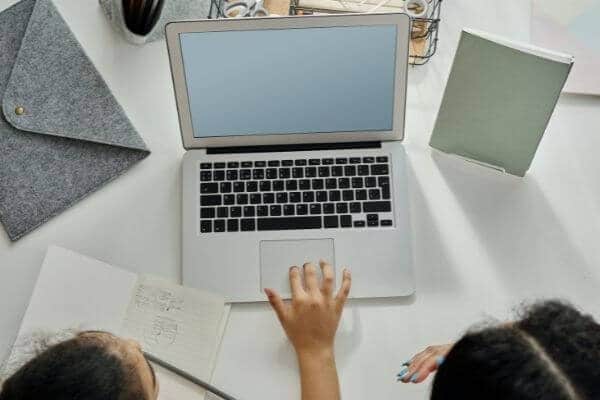 Anyone who uses a computer on a regular basis needs antivirus protection.
Who Would Benefit from TotalAV?
There are hundreds of people who would benefit from TotalAV. Some of the shoppers we recommend investing in this product include:
Computer users who share devices with even one other person.
Shoppers who want an affordable way to protect their systems.
Anyone who needs to use a computer at work.
Users who want to make sure that they get protection against future threats and hazards.
TotalAV not only offers protection today, but it promises that you will also get added protection in the future. The company follows industry trends and adds new viruses to its database as others report them. This puts it several steps above several free programs that only update their databases a few times a year.
When you scan your system, TotalAV will look for all potential threats, including ones you may have never heard about. Anyone who wants strong antivirus protection at an affordable price tag would benefit from TotalAV.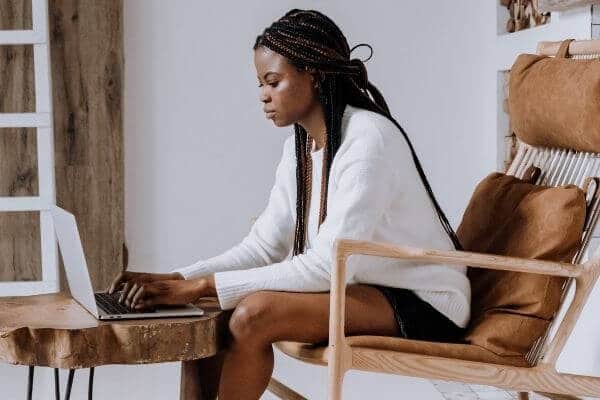 You can run a system scan with TotalAV while sitting in your favorite chair.
TotalAV Options
When you decide to invest in TotalAV, you need to choose from three options.
The first option is TotalAV Pro, which is the most popular package. It provides real-time protection against phishing and malware, including both spyware and ransomware. You also get the system tune-up tool that can delete duplicate files and remove junk to make your computer run faster.
This package works on both Windows and Mac computers and can run on devices with an iOS or Android operating system. You get protection for up to three devices for a full year and often have the option of getting up to two extra licenses for free.
The second option is the TotalAV Internet Security package, which costs a little more but will protect five devices. It offers the same features as the previous package but also comes with safe browsing via a virtual private network. This is a $39 value that you get for free, which allows you to surf the web without worrying about hackers following your digital footsteps.
The TotalAV Total Security package is best suited for people with up to six devices. It includes all of the features of the other two packages as well as a password vault and ad blocker that are worth more than $30.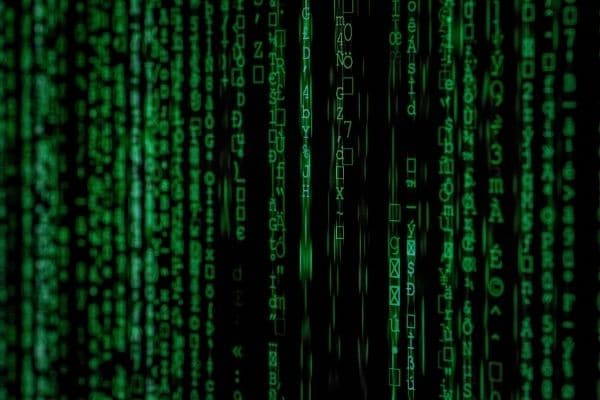 Once it performs a scan, the software allows you to decide what to do with your files.
Should You Buy It?
VPN Browsing
Using a VPN is a good way to get access to sites that your ISP blocks and to make sure that no one can track you online. When you buy one of the more expensive TotalAV packages, you get a safe browsing VPN. This tool creates a private network that makes it appear as if you're in another area and using a server there.
No matter where you go on the web, hackers and others will see your location as that IP address. TotalAV lets you choose from servers in more than 100 regions and change your location whenever you want. You can even use the VPN to view the library of a streaming service in another country.
Real-Time Scanning
One of the primary reasons to invest in TotalAV is that it offers real-time scanning. Similar programs only scan new files after you download them and select a scan option. TotalAV checks all new files to make sure that they are safe.
The addition of real-time scanning prevents ransomware from gaining access to your system and demanding payment before you can regain control. It also keeps new files from making changes to your computer such as connecting to the internet when you're asleep or sending information from private files to people on different networks.
Protection from Phishing
TotalAV includes protection from the increasingly common scam of phishing. More than one million people fall victim to phishing scams every year. The most common scams target users of financial websites by creating pages that look similar to the official sites.
These fake sites send users links in messages that claim they have account problems. Once they visit and log into their accounts, the hackers change their private information and lock them out.
TotalAV offers protection that goes beyond what you get from an ordinary web browser. It can warn you of a potentially dangerous site and block your computer from visiting it.
TotalAV includes protection from the increasingly common scam of phishing. More than one million people fall victim to phishing scams every year. The most common scams target users of financial websites by creating pages that look similar to the official sites.
These fake sites send users links in messages that claim they have account problems. Once they visit and log into their accounts, the hackers change their private information and lock them out.
TotalAV offers protection that goes beyond what you get from an ordinary web browser. It can warn you of a potentially dangerous site and block your computer from visiting it.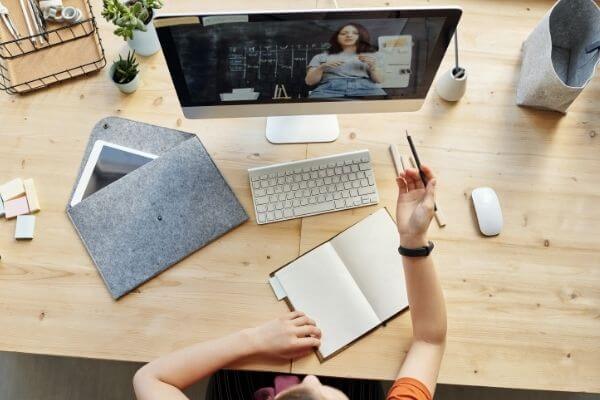 Protect yourself while watching television or playing games with TotalAV.
Free Package
With TotalAV you don't need to pay for a full package to test it out. This is one of the few software suites we found with a free option. The free plan offers a lot of protection on the web and can identify some of the more common viruses and scams.
You can do anything that you want with your computer without worrying about the software getting in your way. Keep in mind that the free version lacks some of the more popular tools. You can only use all of the tools with the paid or premium options.
Free Trial
There are few things worse than dropping a lot of money on a computer program and finding out that it isn't effective. With TotalAV, you get a free trial that lasts for 30 days. If you did the free version and felt it wasn't enough, this is a good way to test and see if the full version best suits you.
When you sign up, you can pick either of the three premium plans and try it out for 30 days. If you aren't happy or find that it doesn't perform as well as you expected, you can cancel your subscription without facing any charges.
Though similar programs include a free trial, most only last for a few days up to one week, which isn't always long enough to test all of the features.
Password Vault
The password vault lets you create a master password, which you use to open and unlock the vault. You can store all of your usernames and passwords inside this vault, and only you and anyone else you give the password can unlock the vault.
TotalAV can even import passwords that you saved in a web browser and let you access them through the vault. It will automatically enter your saved information when you visit a site or open an app that requires your login data. This feature will also work on sites and apps that use two-step authentication.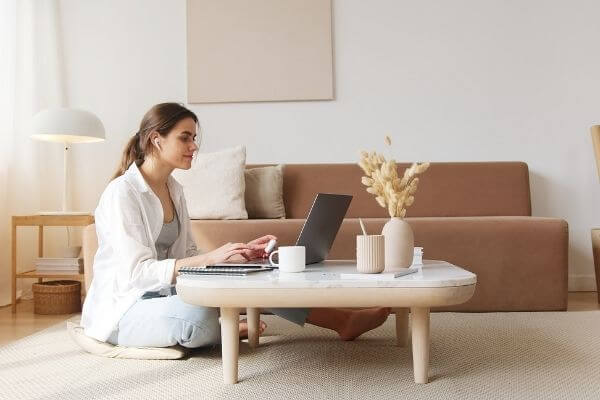 TotalAV can keep track of the passwords you use when shopping online and doing other things.
Ad Blocker
TotalAV Total Security comes with an ad blocker that is worth $24. This blocker runs authentication when you're online and keeps an eye out for those pesky ads. Before one can pop up, the software will let you know that it encountered a pop-up ad and ask if you want to view it.
Safe Site
TotalAV offers a safe site feature that looks over a link and lets you know if the page is safe before you click it. Not everyone recognizes phishing websites as well or as quickly as others can, which leaves them vulnerable to common scams.
As soon as you click on the link and add your log-in details, the site will steal that information and use it on the official site. Not only can this help hackers steal your identity, but they can also drain your bank account or get your credit card details. The layer of protection TotalAV offers could be the only thing that ends up saving your bank account.
OS Compatibliy
TotalAV is one of the few suites that we found with options compatible with all operating systems. It works with personal computers that use Windows and can handle different versions of Windows. You can use it on a Mac or an iPhone along with other Apple devices that use an iOS.
TotalAV works well when installed on Android phones and similar devices. Many phones today lack the antivirus features that you need to keep your phone safe.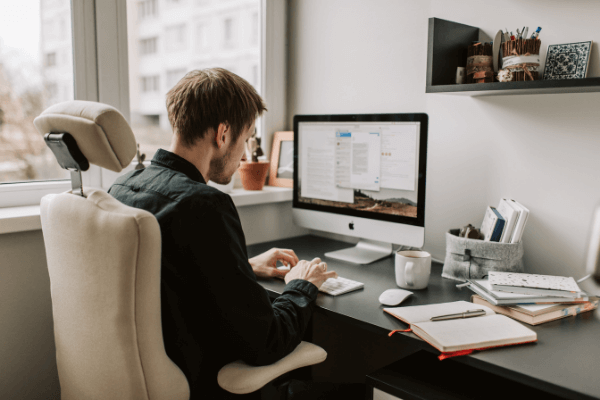 TotalAV works on most types of computers and mobile devices.
Cleanup Tools
Using TotalAV gives you access to a range of cleanup and optimization tools designed to improve the performance of your computer. Some of the benefits of using these tools on a laptop or desktop include:
You can reduce lag time on your computer
You can reduce the buffering on videos or streaming
You can delete junk files to speed up your systems
You can stop background programs that take away from your computer's speed
You can surf the web without worrying about ads
Money-Back Guarantee
TotalAV provides a money-back guarantee. This along with the free trials means there is virtually no risk of getting into a product you find doesn't work.
This guarantee lasts for 30 days after you download and install the product. Though you do need to pay for the annual package you choose, TotalAV will give you the total purchase price back if you're not satisfied for any reason and file a refund within 30 days.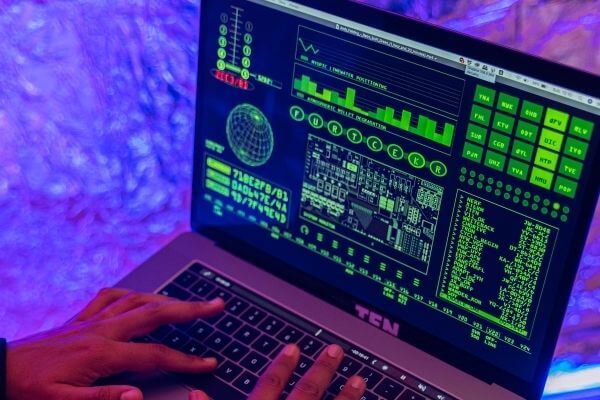 If TotalAV fails to deliver on any of its promises, you can get a refund.
Cons to Consider
The main con of TotalAV is that it can cost more than $100 to get the protection that only lasts for a year. It's often easy to forget that you signed up until the company charges your card at the end of your subscription.
While there is a free version available, it includes a limited selection of the top features and only works on one device.
Another con is that the password vault isn't as strong as other password managers. This is a feature that only comes with the highest end plan though, so the other two plans don't have this con included.
Some users found that TotalAV was a little slow when compared to similar programs. When you choose certain types of scans, it can take over an hour to check your entire system.
As with any anti-virus, there's no guarantee that TotalAV will identify newer threats either. This may leave your system susceptible to new hazards and scams on the internet.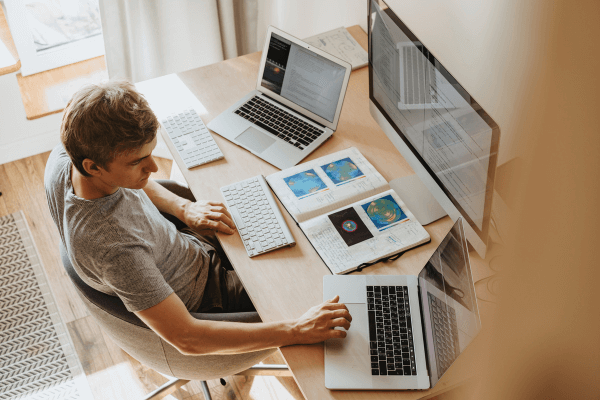 We recommend looking at the TotalAV pros and cons before buying this antivirus protection.
Where to Buy
You can buy TotalAV today right here from this link. Though prices start at $99 per year for the TotalAV Pro plan, you will often find discounts for as much as $70 offer, which drops the price to just $29.
If you want to go for the TotalAV Internet Security option, you pay $119 without a discount and get protection for up to five devices. There is also the TotalAV Total Security package that offers protection for six devices. This package costs $149 before your discount.
No matter which package you choose, you get TotalAV protection for one full year.
We recommend that you check the site if you have questions about what the software does and how it works or if you want to compare the different packages. Once you click on the green "Buy Now" button, the site will ask for your payment information. It also shows you that you can get two extra licenses and a cleanup tool for free.
After placing your order, the website lets you click on the "Download" button to save a copy to your device. You can then download TotalAV and start using it, which usually takes around 10 to 20 minutes.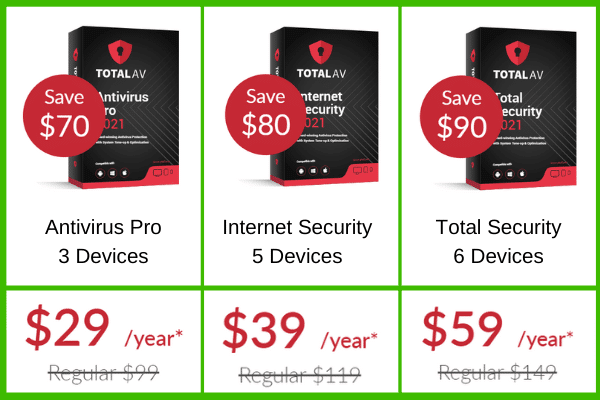 Competition
You have quite a few options when it comes to antivirus software and packages, though they might not be as good as TotalAV.
PC Protect
PC Protect is the leading choice among people who use computers daily. It offers complete protection for Windows computers and comes with a 30-day money-back guarantee.
PC Protect blocks pop-up ads when you're online and has a monitoring tool that looks for data breaches that relate to you. Though designed for computers, the software works just as well on smart devices such as phones. It also includes a tool called WebShield that blocks dangerous websites from stealing your information.
Many of its tools match those offered by TotalAV, including a duplicate file finder and junk cleaner.
McAfee
McAfee is one of the only suites we found that is compatible with the Linux operating system, but it also offers protection when you use an Android or Windows device.
McAfee will monitor your system when you're online or doing other things to identify threats that can damage your system. It also offers remote protection that gives you peace of mind when you're away from your device.
Thanks to a range of different tools, you can use McAfee to clean up your system while also monitoring for potential threats.
Bitdefender
Bitdefender is popular with those who want protection when they're at home and working. You can choose the right type of products to work with your system and look for solutions to business problems. It comes with a VPN that is similar to the one from TotalAV to keep you secure via a private network.
With the firewall options, you can create a custom firewall that offers added protection and forms a secure wall around your network.
Many users also like that the company offers 24/7 support. No matter when you need help, you can call and talk to a rep over the phone.
Norton
Norton has a huge market share and thousands of happy customers. When you sign up, you get a package that works with one of the top credit bureaus to track problems and protect you against identity theft.
You can both set up a firewall and use it remotely to make changes whenever you want. If you need help, Norton offers 24/7 customer support and a live chat option. You also get real-time protection when you surf the web and download files.
Final Verdict
TotalAV gives you loads of protection and serves as more than just another antivirus suite. With scammers targeting people from around the world everyone is at risk of falling victim. The protection that TotalAV gives is a valuable asset to have in the digital age.
With TotalAV, you can choose the product level that fits your needs and budget. Various packages offer protection for up to six devices and let you automatically renew your subscription at the end of the year.
You might choose a package that comes with a blocker that prevents pop-up ads from appearing on your screen or one that comes with VPN browsing. TotalAV even offers a password vault that acts as a manager to keep track of all your passwords.
All of this makes TotalAV a product that can give you piece of mind that is hard to get when there are scammers and malware coming from every direction of the internet.