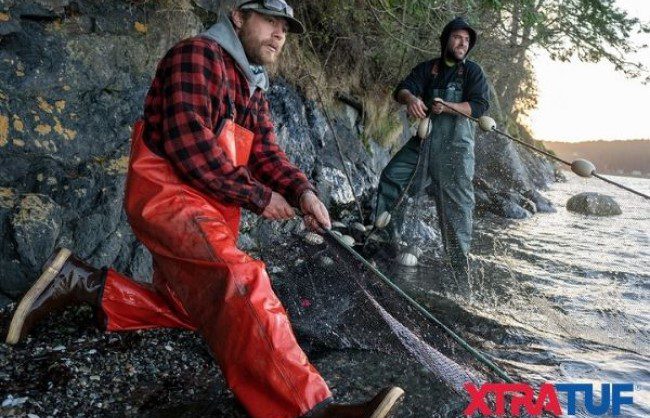 What are Xtratuf Boots?
Chances are good that you purchased at least one pair in the past that couldn't keep up with you. When it comes to outdoor boots designed for the harshest conditions, it's even more difficult to find a worthwhile pair. That is when Xtratuf delivers. Xtratuf is a brand known for making boots that fishermen and other workers in Alaska love because of how well they stand up to any condition or climate.
No matter what you need to conquer, these boots will help you get the job done.
BF Goodrich, the same brand that produces some of the top tire and rubber products in the world, is also the brains behind this company.. Many of the people on the brand's team spend a lot of time in the water and fishing. They put each new design through the test to ensure that it meets the needs of each customer.
In our Xtratuf review, we'll look at some of the popular designs and where to wear these boots along with the pros and cons.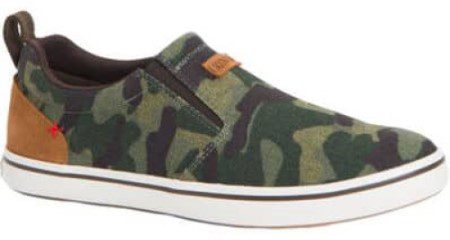 PROS
All boots are slip-resistant and waterproof
Suitable for hot or cold climates
Pull moisture away from your feet
Offer lots of arch support
Available in adult and children's sizes
CONS
Some customers thought the quality was poor
Takes awhile to ship
Expensive
BOTTOMLINE
When it comes to protecting your body and feet, Xtratuf has you covered. The brand makes boots for men, women and children that are suitable for the coldest climates and keep you safe.

iReviews Shopping Assistant
Find the best prices for this and many other products with our chrome extension
Product Features
Price: $95+ for men's boots
Sizes: 3-15 in men's boots, 4-13 in women's sizes, 1-13 in kids' boots
Warranty: 30 days, money back if in original condition
Shipping Cost: Free in the US
Shipping Time: Two to three business days
Return Shipping: Free
Xtratuf Boots for Men
Men's Ankle Deck Boots
During the early days of Xtratuf there were not any commercial fishermen working in Alaska, which is why the brand's first boots were only available in men's sizes. Designed for those who spend a lot of time in the great outdoors, they have a slip-resistant outsole that keeps you on your feet in the slickest of conditions and a waterproof design that uses latex neoprene to keep your feet dry.
You'll spend just $96 on a basic pair or up to $125 for one of the modern designs. Some of our favorite options include:
Legacy Ankle Deck Boot ($120)
Buoy Ankle Deck Boot ($95)
Leather Ankle Deck Boot ($125)
Mossy Oak Ankle Deck Boot($125)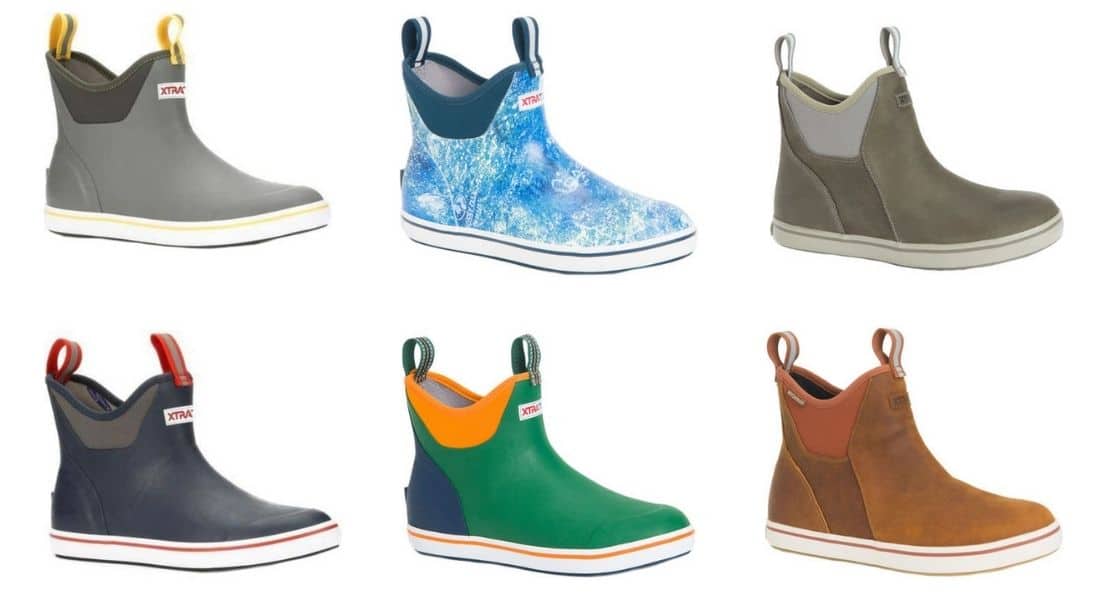 Men's Waterproof Boots
In addition to deck boots, Xtratuf offers a line of waterproof boots for men who spend a lot of time in or on the water. For fishing on the river, lake and everything in between, Xtratuf has you covered. We enjoy the Legacy Steel Toe that sells for $140 that has a 15-inch shaft that turns the boots into waders. Thanks to the steel toe, you also get some extra protection.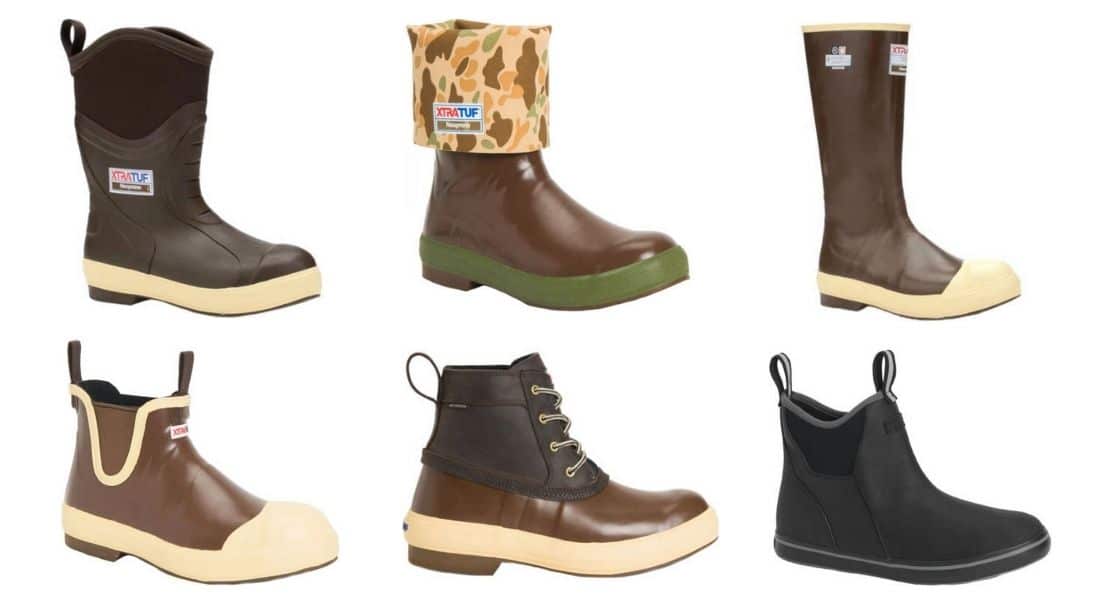 Sharkbyte Boots
If you've had any plumbing done in the past, you may have a few Sharkbyte fittings in your home. This company makes products that work with PEX and copper pipes. Sharkbyte worked with Xtratuf to introduce a line of shoes for men. As deck shoes, they have the slip-resistant sole that you want on the deck and are easy to take on and off.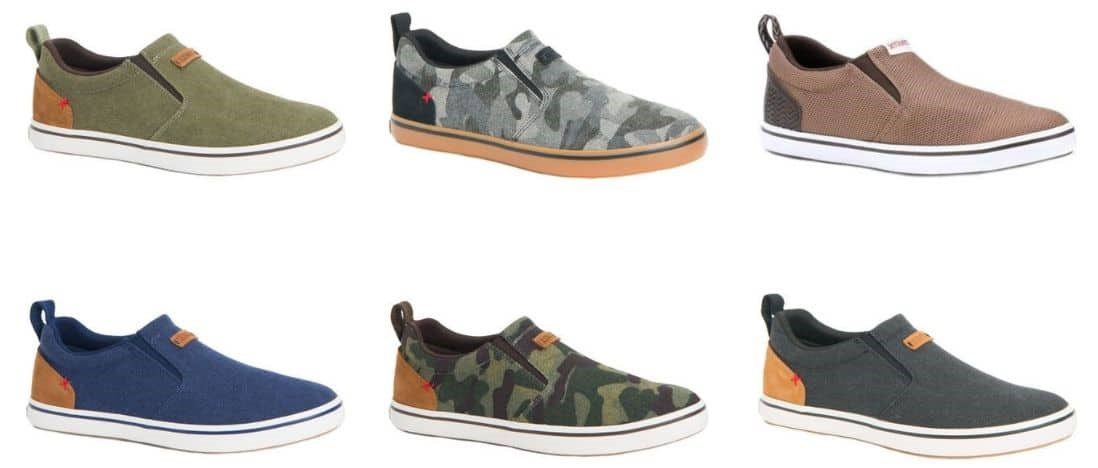 Drainage Shoes
It's almost impossible to spend a day on or near the water without your feet getting soaking wet. That is why Xtratuf now offers drainage shoes. Thanks to a breathable mesh liner, the shoes help more air circulate around your feet. This liner works with built-in vents to ensure that any water you take on drains out quickly. Known as the Riptide, these drainage shoes retail for $85 and come in two designs.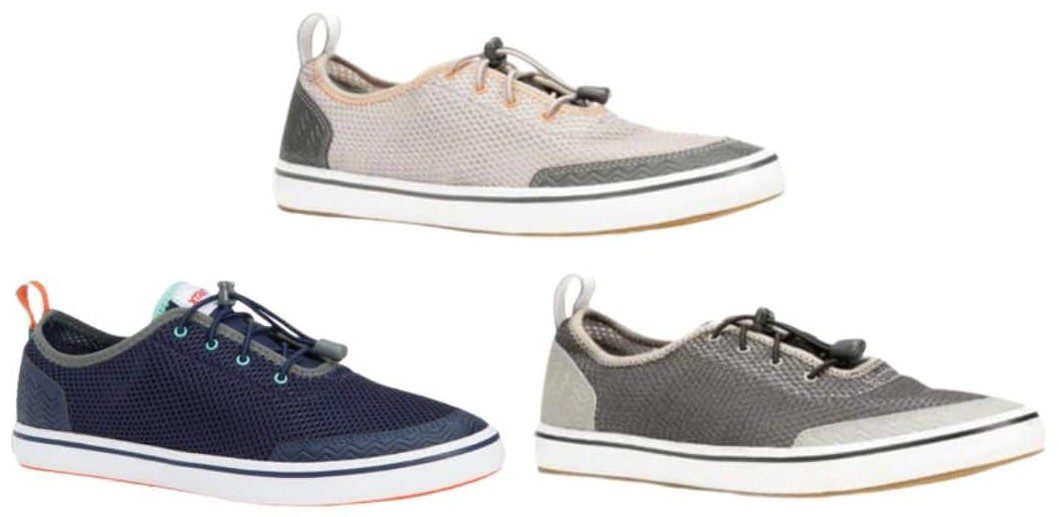 How Can You Use Xtratuf Boots?
You don't need to switch to a deep sea fishing career to use Xtratuf boots, but we do recommend that you use the categories on the site to find the right boots for you. When you shop the sale, you can view the boots that are available in your size and those that come in a wide width. Xtratuf also has filters that let you shop by specific features such as boots that are 100% waterproof and those that are resistant to water or use breathable mesh.
There are also different collections that help you find designs that work for you. The Salmon Sisters Collection features boots for women that have more decorations and use brighter colors than the boots for men do.
Xtratuf now makes fishing boots for kids that have some of the same features that the brand's adult boots do.
Xtratuf Boots for Women
Legacy Collection
There are now millions of women who fish or work in the fishing industry today. Xtratuf offers boots and shoes for women through its Legacy Collection. We personally love the Legacy Clog because it saves you the hassles of laces and has a heel to give you more height. The clog sells for $110 and has a neoprene upper to block out water.
Another option is the Legacy Lace Boot, which retails for $150. This boot has a six-inch upper to give you more protection along with laces that help you tighten it for the perfect fit.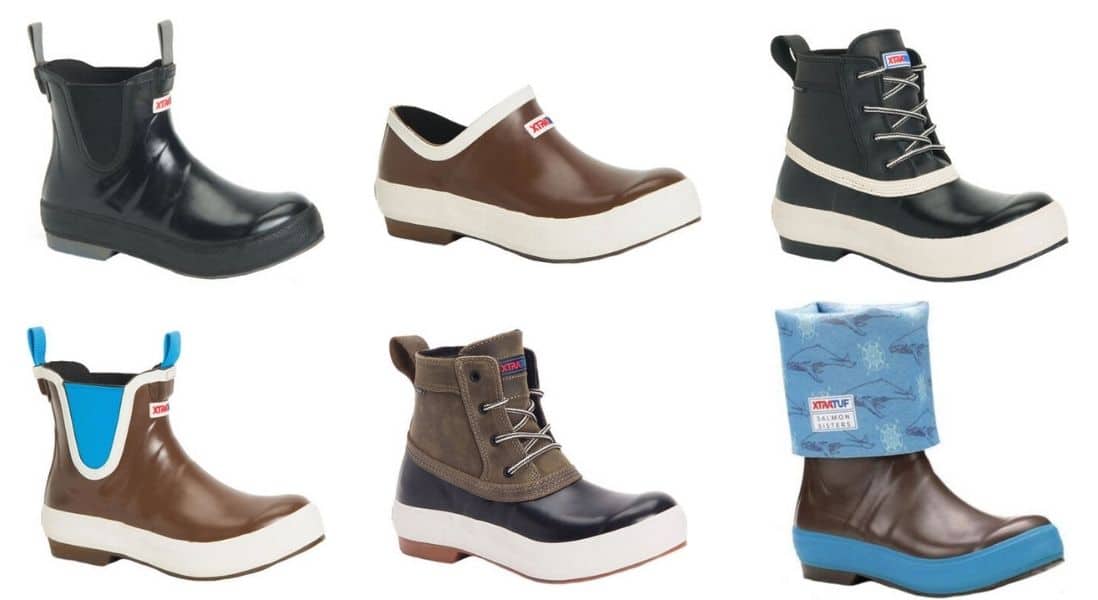 Ankle Deck Boots
Whether you plan on fishing from the beach or want to get out on the water, Xtratuf has ankle deck boots that are perfect for you. Deck boots have a high shaft that rises above your ankle as well as a slip-resistant sole. Xtratuf added multiple color options to these boots to make them appealing to women and they sell for just $95 per pair.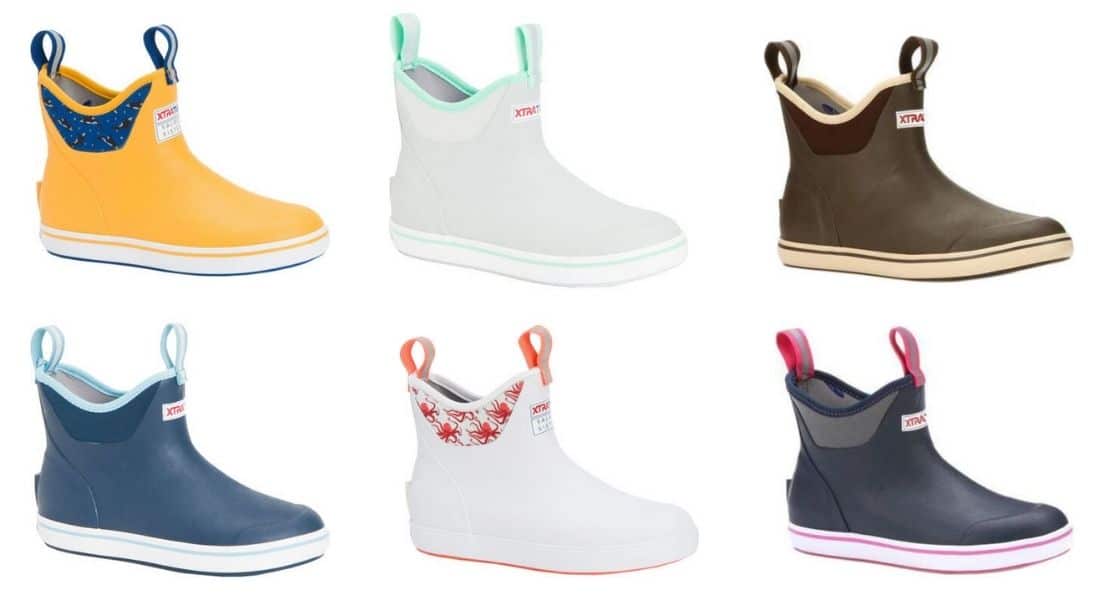 Salmon Sisters Collection
In the hopes of reaching more female customers, Xtratuf created the Salmon Sisters Collection. While these boots have the same waterproof uppers and slip-resistant soles that men's boots have, they come in colors and prints designed for women.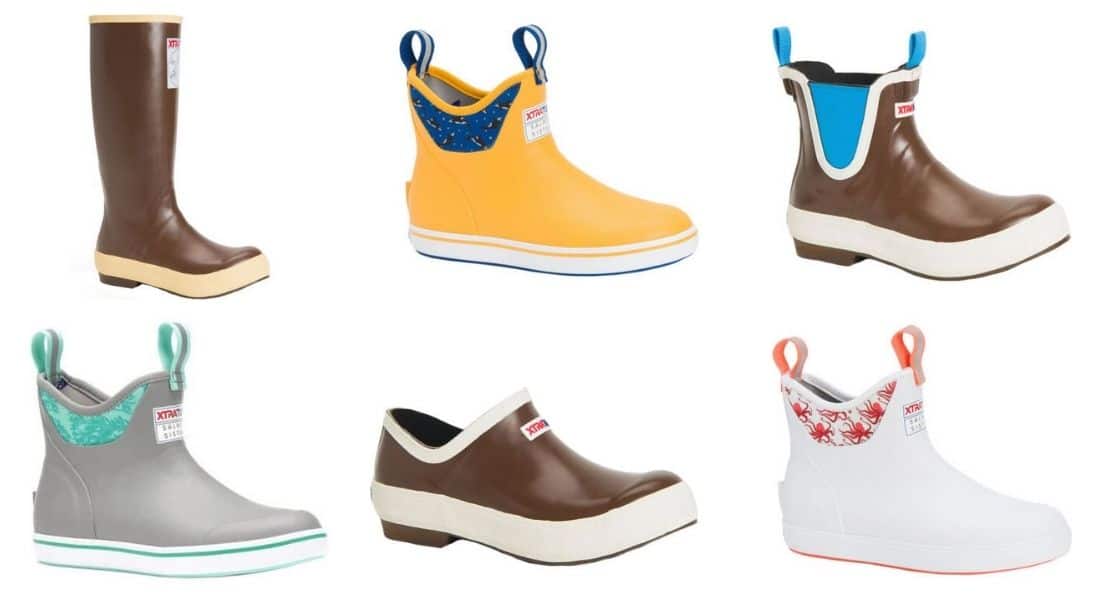 Where Can You Use Xtratuf Boots?
Commercial fishermen trust Xtratuf and rely on these boots every day to keep them safe. They're suitable for anyone who wants a waterproof footwear option. Xtratuf makes boots that can handle anything you want to do this winter, including hiking through a snowy wonderland and spending long hours at work. The boots are resistant to most chemicals and have arch support inside.
Some of the places you may want to wear Xtratuf boots include:
For hunting or hiking in the middle of winter.
To your car and back again if you want to stay warm and dry but need to run errands.
When sport fishing if you want to keep your balance and not slip on the boat.
For all of your favorite water sports.
On camping trips when you know the temperature will drop and want to make sure that your feet stay warm.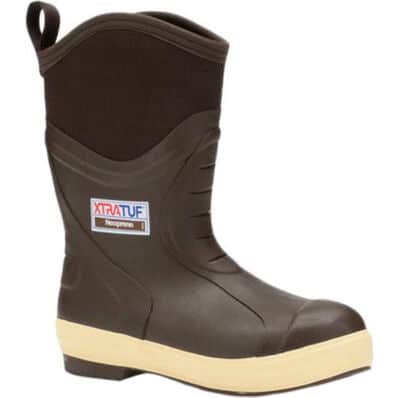 The Legacy Collection features boots with features similar to the brand's first boots.
Xtratuf Boots for Kids
With Xtratuf, you can now search for boots for every member of your family, including your kids. These boots are available in sizes up to 13 for kids and come in smaller sizes for toddlers. The website lets you narrow down your search and only see kids' boots in a specific size. Xtratuf offers the Little Kids Legacy for $40 for smaller children.
Little girls who love bright colors will get a kick out of the Salmon Sisters Collection of boots designed just for them. Xtratuf offers the boots in both Little Kids and Big Kids sizes. Though the boots use the same dark brown color as the last boots do, they add accents to the top and bottom in bright blue along with a snowflake image on the side.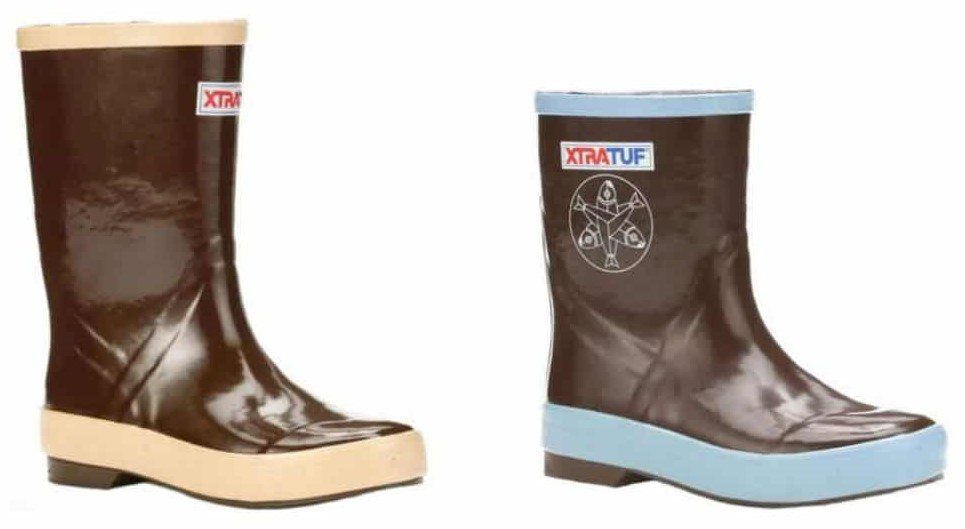 The Legacy Collection features boots with features similar to the brand's first boots.
Who's This For?
Xtratuf started as a subsidiary of BF Goodrich. Known for its rubber products, BF Goodrich wanted to find a way to expand its offerings. The early boots featured the company's high-quality rubber and were perfect for commercial fishermen. They found that the boots let them spend long hours and even days on their feet without worrying about feeling pain during the day or slipping into the water.
Xtratuf remains committed to the commercial fisherman who trusted them over the years and now makes boots that help them stay comfortable and dry. Even if your idea of fishing involves a cold beer as you relax on the river, you'll still find tons of places to wear these boots.
Among those who would benefit from Xtratuf boots today include:
Men and women looking for comfortable boots and shoes that they can wear every day of the week.
Shoppers on the hunt for boots that offer some protection from the hazards they face at work.
Those who want good boots designed for sport fishing that they can wear in hot and cold climates.
Customers who need boots that can stand up to all types of water sports.
Parents searching the web for comfortable and durable boots for their kids.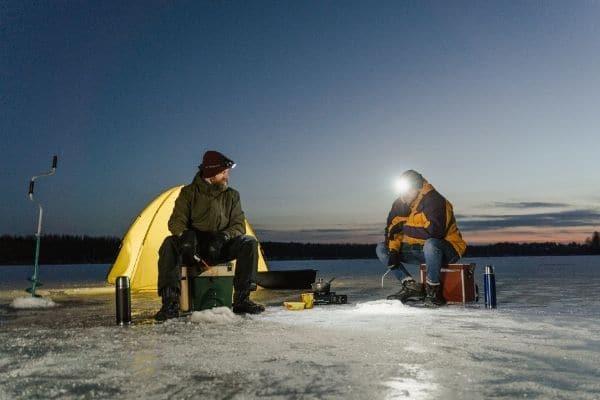 With Xtratuf boots, you get an added layer of protection between your feet and the cold temperatures outside.
Should You Buy It?
Before you read through the cons of Xtratuf boots, check out the pros of this brand and the reasons why we think the boots are worth your money. One thing we love is that the boots work in extremely cold climates. There's a reason why so many fishermen working in Alaska choose this brand. The boots will keep your feet warm at temperatures down to -10 degrees Fahrenheit.
Made from neoprene, the boots use different materials that can stand up to most situations. The neoprene used on the bottom creates a slip-resistant sole that gives you traction on snow and ice. They also have insoles that absorb and pull away moisture to keep your feet dry, as well as an added breathable mesh liner.
Other things we love about Xtratuf boots include:
There are designs suitable for kids of all ages.
You get 30 days to try the boots out and can return them for a full refund if you're not satisfied.
Xtratuf often partners with other brands to release new styles that you'll only find online.
Checking out the different collections lets you find the right boots for you.
The brand makes boots for activities that range from commercial and sport fishing to work and water sports.
You do not need to spend a minimum amount to qualify for free shipping in the US.
Xtratuf offers free returns on all orders.
Joining the brand's newsletter helps you hear about the newest boots and get good coupons.
The brand has a search feature to help you find where you can buy the boots offline.
Xtratuf has a sale page that often includes dozens of boots at low prices.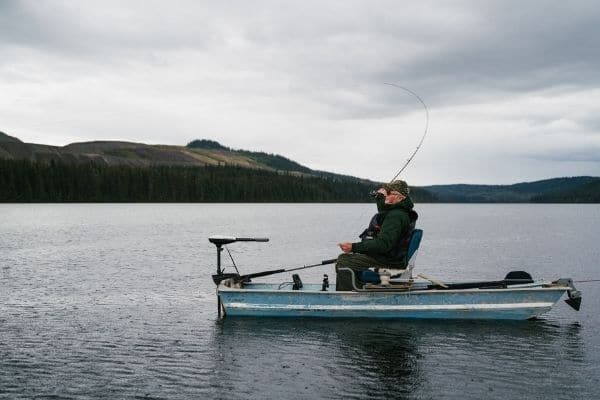 Xtratuf boots are suitable for wearing for any type of fishing.
Cons to Consider
Customers began complaining in the 2000s that the boots weren't as tough or durable as they once were. The brand admitted to moving its manufacturing overseas to China in 2011. Customers complained that the new boots showed signs of wear and tear in as little as one month of regular use and that they fell apart within months. In response, Honeywell announced that it would work with the facility to ensure that the new boots would meet customer standards.
Some of the other complaints that we came across when working on our Xtratuf boots review include:
Many customers who bought the boots in 2020-2021 said that they could see the poor quality of the new boots when compared to older pairs.
A few shoppers said that they developed blisters while wearing the boots.
The COVID pandemic caused long-lasting shipping delays that increased the average shipping time.
Some of the rubber and other materials used in the boots can develop cracks and other damage within weeks of regular wear.
Similar boots are available for less and come in more stylish designs.
You should also keep in mind that Xtratuf only offers full sizes. If you wear a half size such as 7.5, the brand recommends that you go up a size to ensure that you get a comfortable fit. Those who need a wide width will find only a few options. The only boots available in wide widths are the Ankle Deck Boots and boots sold under the Legacy 2.0 line.
Despite some flaws, Xtratuf can still keep your feet warm in temperatures well below freezing.
Where to Buy
Xtratuf gives you many options when it comes to how you buy the brand's boots. Clicking on the "Find A Store" button on the website lets you enter your zip code and find stores nearby. The brand sells its boots at sporting goods stores and outdoor supply stores such as Rural King. Though most stores offer only a handful of the more popular designs and do not carry all sizes.
Click here to visit Xtratuf and view all of the boots the brand makes along with its shoe lines.
We recommend that you check the Shop Safe page to see where and how to buy legitimate products from this brand. You can also read through the warranty to see how you can return a pair and get your money back within 30 days. As long as the boots are in new condition and have all of their original labels, the brand will refund your money.
When you buy from our link, Xtratuf will never charge you for shipping or returns.

Xtratuf lets you find legitimate stores that carry these boots in any zip code.
Competition
While Xtratuf makes many boots that are perfect for cold weather, there are a few competitors worthy of your money, too.
Dunlop
Dulop is a popular brand that makes both clothing and boots that are suitable for most situations. One reason we recommend this company is that it makes affordable boots that cost much less than you may expect. The White PVC boot retails for just $31 and comes in multiple sizes. Another option is the DuraPro XPC, which sells for $61 and has protective safety features. Known for its safety boots, Dunlop has boots with steel toes and features that absorb shocks when working around power lines.
Grundens
One of the top competitors to Xtratuf is Grundens, which has a long history of helping customers get boots that meet all of their needs. The company makes many deck boots that help you stay steady when working on wet surfaces such as docks and fishing boats. We like the 12" Deck Boot. This pair sells for $125 and comes in two colors. Thanks to the slip-resistant sole and long shaft, the boots do a good job of blocking out the water. You might also like the Deck Boss Safety Toe Boots. Available for $155, the boots combine the benefits of fishing and safety boots.
DryShod
Another brand that might appeal to you is DryShod. The company calls itself the maker of the world's most wearable boots and claims that its boots last for years. You can choose from different categories based on what you do, such as hunting or farm work. The outdoor category includes options like the Destroyer for $185 that has an attached gusset and the Legend for $125. DryShod has a mailing list that lets you sign up for free and get coupons that work on all of the brand's top boots.
Muck Boot Company
The Muck Boot Company offers new customers a 10% off coupon that they can use on any pair of boots. We recommend that you snag this coupon, as these boots are on the expensive side. The Outscape Collection features boots that you can easily tug on and off and use in any climate. They come in multiple colors and sell for $120. The Muck Originals Collection includes designs that are similar to the first boots sold by the company. For as little as $100, you can grab a pair that is perfect for winter fishing and other snowy activities.
Final Verdict
Honeywell is a company that keeps expanding into new markets. While you might have a smoke alarm or another electronic device from Honeywell in your home, you may not realize that the company sells other products from brands it has acquired over the years, such as Xtratuf boots.
The commitment that the company has to its customers is one of the reasons why we recommend this brand. We love that the boots are suitable for commercial fishermen but work just as well if you want to wear them while fishing from a dock or on a boat. You'll find dozens of designs and just as many sizes to ensure that you find boots you love. There are boots for men and women as well as shoes for adults and designs for children. For the ultimate outdoor boots, invest in Xtratuf boots.