Best Schools for Students with a Learning Disability
The biggest challenges students with a learning disability face include a lack of tailored courses, educational support, and extracurricular activities. Some schools are better at addressing these differences than others, and while students with a learning disability may need more support, with the right resources they can truly thrive in a higher education setting.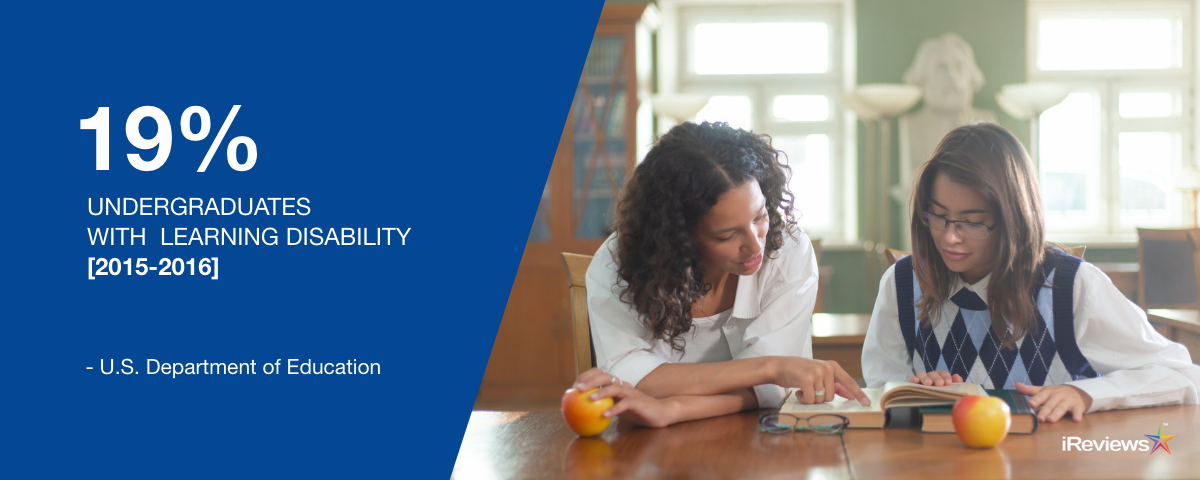 According to the U.S. Department of Education, 19 percent of undergraduates said they had a learning disability in 2015-16. Learning disabilities include blindness, impaired vision or hearing, depression, ADD, and ADHD, among other mobility impairments or psychiatric conditions.
Colleges with adequate resources to address these learning disabilities in line with state regulations can make a huge difference to students who need the most. Considering college graduates have 57 percent more job opportunities than those without a degree, it's important that more colleges are catering to students with a learning disability.

iReviews Shopping Assistant
Find the best prices for this and many other products with our chrome extension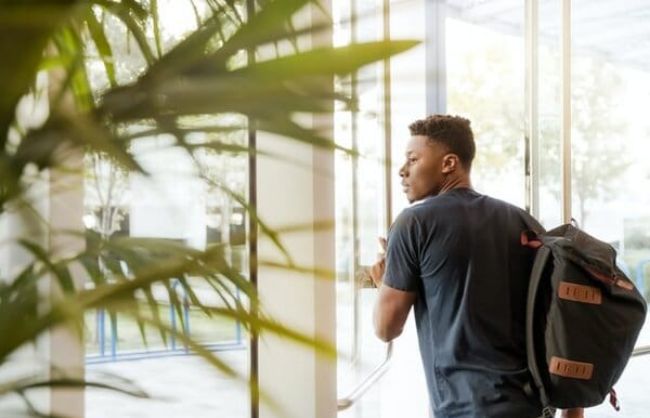 What To Check When Considering a College
To prepare for college, students with a learning disability should gather all their documentation and contact the disability resource office to start getting special accommodation sorted. The sooner students reach out to discuss their needs, the smoother the transition will be. It's also a good idea to research both the courses and extracurriculars at the college to better understand all the options and what you'd most like to focus on.
Here are some more helpful resources to help students with a learning disability prepare for college:
Beacon is committed to affordable tuition and financial aid, with extensive curriculum support with dedicated learning specialists assigned to each student. In addition to one-on-one sessions to better understand student strengths and weakness for a tailored learning plan, students also have access to peer tutoring and academic support through the Beacon Center for Student Success.
Beacon follows Florida's Department of Education Disability Support Services standards and is a great choice for students who want to go to school with peers who also have disabilities. Beacon has under 500 undergraduates and an average class size of 12 – 15 students, so it's smaller and more tight-knit than huge public universities.
The Disability Resource Center serves as a a space for students to get support and connect with their school community. Confidential services include reading software, note takers, scribes, and psychological health services. In addition to auxiliary aids and services, Middlebury College also has a range of academic accommodations like time extensions for course work and help with registration.
Middlebury College aligns with Section 504 – Vermont Agency of Education which requires schools to provide appropriate accommodation and opportunities for students with disabilities.
The private college welcomes students with attention disorders, autism, and other diagnosed learning disabilities, with tailored pathways in liberal arts and sciences so students can earn associate's and bachelor's degrees. It's accredited by the New England Association of Schools and College and Landmark's Academic Support Services include everything from counseling and educational technology to pet therapy.
The Accessibility Resources and Services office helps students with ADHD and other learning disabilities navigate their college experience to successfully graduate with a degree that prepares them for the future. From insightful videos and books to the annual Burnett Seminars at Carolina where disability accommodation in education is discussed, UNC celebrates neurodiversity.
Hofstra Student Access Services (SAS) walk students through the process of formally disclosing their disability to access SAS forms and full accommodation for classes and tests. This includes academic coaching and a dedicated testing lab with options for scribes, readers, alternate format exams, and assistive technology. There's also the PALS Program to help students strengthen their reading, writing, and critical thinking skills.
Each student connects with a learning specialist twice a week for ongoing academic support and emotional wellbeing check-ins. The support staff help students navigate time management, organization, and test-taking with comfort and confidence. There are also several information sessions for prospective students and their loved ones to become more familiar with Northeastern's Disability Resource Center before school starts.
The Adelphi Student Access Office has a Learning Resource Program and Bridges to Adelphi Program specifically catered to students with autism. Priority registration, support groups, and alternative format textbooks are all designed to help students unlock their full potential and overcome challenges associated with their disability. Plus, there are fewer than 8,000 students at the school, so it's a good mid-sized choice for students to get the most out of their experience.
The Office of Disability Accommodations & Success Strategies helps students with ADHD and other learning disabilities through peer mentoring and tutoring. Personalized academic coaching keeps students progressing on the path to graduation, and there's even a specific class that overs learning strategies for disabilities. Workshops and one-on-one support are available for students throughout their educational journey.
UCI Disability Services Center – Irvine not only caters to students with learning disabilities, but also gives the broader student population the chance to become allies for those with learning differences through a 3-hour workshop. Alternative instructional materials, note-taking resources, campus groups, and wellness activities promote healthy and happy learning experiences for students with all styles of learning.
Weekly writing tutoring and student mentor meetups are also offered in addition to individualized course advising as part of the Learning Services Program. The school aims to build strong relationships and support plans for students in their first year so they don't miss out on any opportunities. The Academic Support and Access Center at American University has many options for testing accommodations and assistive technology too.
The Center for Students with Disabilities has an umbrella program called Beyond Access that helps students work smarter, not harder. Students are paired with a personal strategy instructor for 1-3 hour meetings each week. During these sessions, students get an individualized plan that reflects their distinct learning requirements and helps with time management and life skills.
The disability support staff give students resources to help them both in and out of the classroom, such as sessions on independent living skills and self-confidence. There are regular group consultations and support coach sessions, as well as a safe and secure living environment. Residential life staff serve as friendly neighbors to offer extra support for students with a learning disability throughout their entire college experience.
The Salt Center (Strategic Alternative Learning Techniques) provides academic support for students who need extra support in the classroom. Specialists are available to help students set goals and improve their academic performance, and there's also regular tutoring, workshops, and psychological services. It's all part of the school's commitment to include rather than isolate students with learning differences.
The Learning Effectiveness Program (LEP) has been around since 1982 and accommodates up to 300 students every year. It's led by students for students, with instructional support and professional counselors available as well. This unique program is meant to motivate and encourage students to lead the way when it comes to supporting their peers and ensuring everyone has a fair chance. There's also an accountability element as students are guided to commit to time management and attendance, helping set them up for future success in the workplace.
The FOCUS Program sone key reason why Ursuline ranks as a good college for students with a learning disability. The program pairs students with an on-campus disability specialist who helps them make a personal plan for growth and development. Ursuline staff are available to set students up with disability accommodation to make their college experience easier and more beneficial overall.
Not only can students use special software to help them pass courses with a learning disability, but there's also a testing center with minimal distractions to make it easier for those with ADHD to focus. Students with a learning disability can also expect alternative formats, note-taking support, and sign language interpretation, with these support services coming at no additional cost to students.
Students can work with a learning specialist to come up with a suitable plan for their college goals, or take advantage of free adaptive technology and in-classroom support. The university prides itself on being a safe space for students with learning disabilities to ask for help and learn from one another.
This learning center support is especially important to first-year students with a learning disability who can benefit from the appropriate accommodations and help with time management. Both peer and professional tutoring gives students extensive study support, and there's also the Linda-Mood Bell program, which is a fee-based program catering to different learning styles and abilities.
The Muskingum Disability Education Office caters to students through the PLUS Program, which has been around since 1983. Rather than rescuing students, the school aims to empower them with different levels of fee-based support. Students with a learning disability could get up to 5 hours of professional personalized tutoring, and they can enjoy mentorship and progress tracking to make sure they are on the best career path for their interests and passions.
The Office of Disability Services guides students through the process of registering their learning or physical disability and accessing free services to help them during class and beyond. The office communicates directly with instructors to make sure everyone is on the same page about the disability accommodation required, taking pressure and anxiety off students.
Students work with advisors to develop an academic plan that works for their individual goals and factors in the accommodations necessary for student success. Part of Roosevelt University's approach to disability support services is making sure students aren't isolated just because they have a disability, so the school's impressive inclusion efforts allow for a well-rounded college experience.
At the NSU Student Access Center, students are assigned a coordinator to help with their transition to college, building a built-in support network so they can fully integrate into the college environment. Academic planning and tutoring support are part of the school's disability support services, as the staff is committed to making sure no students fall behind, especially those with learning disabilities.
The Ashland Student Accessibility Center helps freshmen make the most of their first year and navigate any challenges with the transition. Students with learning differences can take advantage of emotional support and tutoring, as well as accessibility accommodations to ensure they are always comfortable. Extended test time, distraction-reduced testing rooms, and assistive technology make a difference to students with a learning disability.
This program gives students the opportunity for dedicated one-on-one support with a learning specialist and organizational coach. Support services range from supervised study halls to secondary academic advisement and individual tutoring sessions. LEAP students have at least 10 hours of support a week and regular progress reports to ensure they keep moving forward with their educational goals.
The university helps students with tutoring and emotional support animal applications, as well as counseling and academic guidance. There are videophones located across the campus and the EKU Psychology Clinic offers intellectual and academic assessments as part of the school's commitment to psychological testing and comprehensive student support.
Sessions with academic advisors and life coaches also make a difference to Curry College students who have a learning disability but still want to make their college dreams a reality. The close-knit educational environment with just under 5,000 students certainly caters to those with learning differences who may need extra time or support in the classroom, but don't want to miss out on extracurricular activities.
Another bright spot in Daemen College's disability resources is the College Autism Transition Support (CATS) program. Participants meet with a coach once a week to go over personal goals and work through stress management, self-monitoring, problem-solving, and decision-making, among many other skills that will help students navigate their educational and social journey through college.
Students at Mitchell College have professional and peer support to improve their time management and professional development, and there are multiple tiers to the learning center program so students can keep growing and developing their skills. In addition to assistive technology and classroom resources, the school is committed to ensuring the campus is safe and welcoming for all with engaging community events and safe housing.
The school's disability accommodations have improved over the years based on modern medicine and research, with one-on-one support available to help students develop custom learning plans. Professional tutoring and executive functioning support are also offered to assist students with their overall college experience. Freshmen have weekly consultations and technology support instruction to help with the transition from high school to college as well.
Disability Services through the Division of Student Life and Enrollment ensure an accessible environment for all students regardless of any disability. From disability parking to tutoring opportunities, ENSU aims to make students with a learning disability feel right at home. There are ample tutoring opportunities and psychological counseling to help students stay on the right track to success throughout their degree program.
How To Choose a College When You Have a Learning Disability
It's important to make the most out of your college experience, as it can prepare you for a bright future in your chosen field. Deciding on the right college is difficult enough with thousands to choose from, let alone if you have a learning disability that requires special accommodation. Luckily, many schools have improved their disability resource offerings in recent years, so you have more to choose from whether you want to stay close to home or move across the country.
While location plays a key role in deciding on a college, there are a few other things to keep in mind to help you make the right decision, such as the price range and any available financial aid. If you can get grants to help you pay for school, and find a college with extensive technological assistance catered toward those with disabilities, then you should have a better chance of success in the long run. Also, make sure your school has people to help both during college hours and outside of them for the highest level of disability support to help you thrive in a new learning environment.
Financial Aid for Students With a Learning Disability
Students with a learning disability may have additional financial aid options to help cover the costs of a college education. Below are links to valuable resources that can help you find financial support to make your college dreams a reality, regardless of a learning disability.
See our product reviews