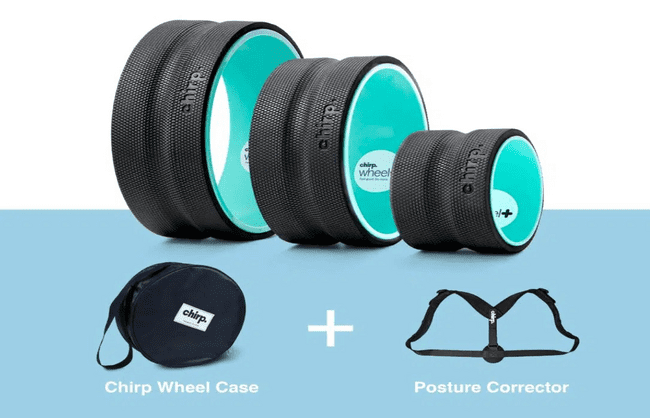 Chirp Wheel is a product meant to help with back and upper body pains that can make day-to-day life difficult to manage. The product claims that it can even relieve neck pain and headaches.
With Chirp Wheel you are supposed to lie down on top of it and use your body to roll the wheel across the painful area. Chirp also offers a back pain relief online course with videos that show you how to use the wheel that helps show the proper form to use the product.
All of that sounds nice, but there are countless products on the market that claim to say they will fix your pain, but they don't always work. With this Chirp Wheel review, you should walk away with my opinion on the pros and cons of the device along with other products available from Chirp.
PROS
Potential back relief
Multiple sizes for different needs
Easy to use
Extra resources on product website
CONS
Does not work for everyone
Might risk further back problems if the user is injured
Not cheap
Needs a wide open space to be used
BOTTOMLINE
Chirp Wheel is a simple tool designed to help you cope with back and upper body pain. It is easy to use and includes online videos that show you both how to use the wheel and methods you can try.

iReviews Shopping Assistant
Find the best prices for this and many other products with our chrome extension
What Is Chirp Wheel?
The Chirp Wheel has a small and obvious footprint that allows you to use it while laying on the floor to begin the process. The wheel is meant to put pressure on different muscle groups to reduce pain, discomfort.
Inside the wheel is a spinal canal that looks like a large groove that runs through the center. This section moves along with your body and forces your back to stretch to help with your pain.

Something anyone can be happy with is the Chirp Wheel comes with a 60-day guarantee. Whether or not the product will work for you, this window gives you a chance to see if have any immediate results from it before trying to issue a refund. Though this can be a bit of an issue considering that pain relief is something that can take time.
the compression-sensitive padding helps keeps the plastic parts of the wheel from poking and prodding what is likely parts of your body that are already sore. It works well upon first use, and as long as the padding maintains the wheel is actually quite comfortable.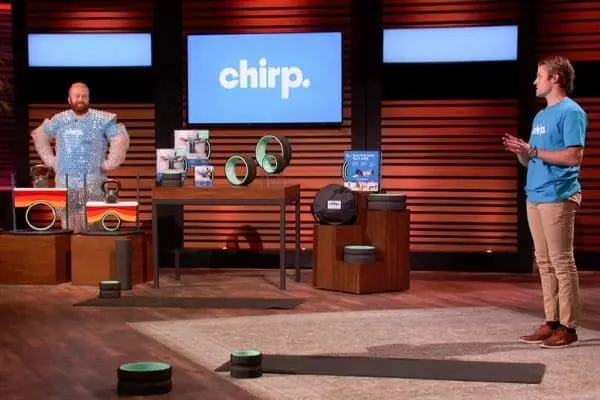 Chirp Wheel Sizes
The 12" Gentle Wheel claims to be the best option for those dealing with lower and upper back pain. The general consist seems to show this as being one of the more well-regarded and popular options of their website.
Another option that seemed to be popular was the 10" Medium Wheel meant for those who want to stretch in a standing position. Aimed at people with minor neck and back pain this is a possible alternative if a laying position doesn't feel comfortable.
The 6" Deep Tissue Wheel makes slightly different claims and seems to be aimed at those who are looking for an at-home massage experience. A quick search for online reviews shows this to be one of the most highly regarded of the selection, and though the claims of its effectiveness may be different from person to person, there is no arguing that it gives a pleasant sensation when used the first few times.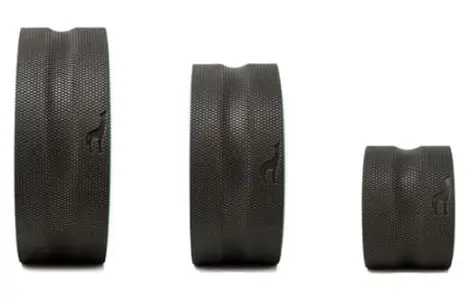 Chirp Wheels come in three sizes to help with your specific pain.
How Can You Use Chirp Wheel?
It's not difficult to figure out how to use Chirp as long as you've got an open space in your home. The wheels are easy to use, but it still helps to have steps to follow.
For a larger wheel, they recommend placing it flat on the floor and sitting down in front of it. You then need to lean back until your shoulders fall on either side of the channel. You will need to keep leaning back until your head almost touches the wheel. It's then a simple matter of rolling your back along with the wheel, which helps you stretch all of your muscle groups.
For a smaller wheel place it on a seat and sit down. You should then lean back until you touch the wheel and begin to roll your back and neck along the wheel.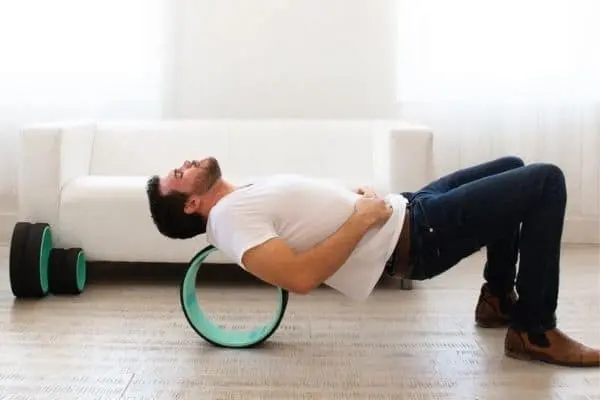 You can use the Chirp Wheel while standing or laying down.
Where Can You Use Chirp Wheels?
The small nature of the Chirp Wheel means it's not going to take up much space. Its simplistic nature and easy-to-move size are a couple of the biggest upsides I found in this product.
The smaller models are especially easy to move, and that means they're not just possible to use at home. If you need to bring it to the gym, or on a trip with the smallest model, then I've found it to be a simple item to move around.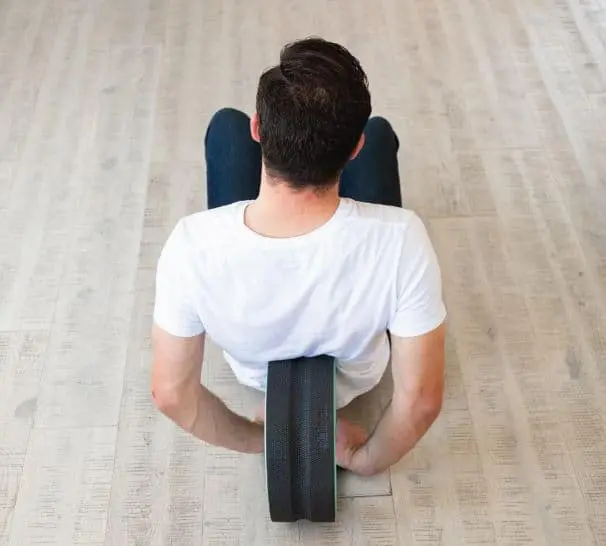 Chirp Wheels relieves pain in minutes.
Who's This For?
The Chirp Wheel is supposed to be a product suitable for anyone dealing with back pain. I find that it helps with getting light stresses out, the kind that you would get from slouching all day or getting cramps in your muscles.
While some recommend it for those with chronic back pain as well, I think that it would be at most a supplementary treatment for anyone with a serious and long history of major pains.
All that said, I have to acknowledge that everyone has a different body and what will work for them may be different. If you've tried other options, or don't want to resort to pain medications then this is an option that just might give you that bit of relief you need. The medication-free nature of the Chirp Wheel I find to be one of its more prominent features.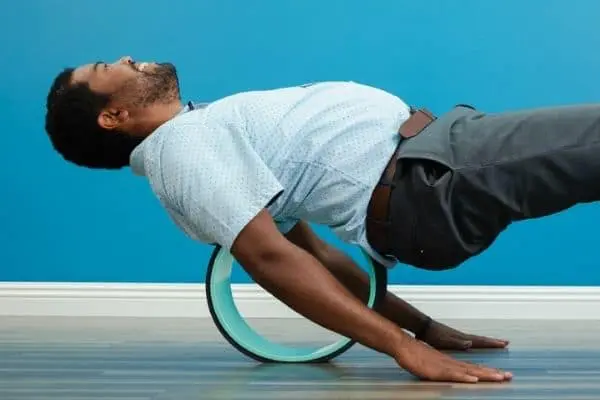 Chirp Wheels are perfect for anyone with back or neck pain.
What Comes in the Ultimate Back Pain Bundle?
The Ultimate Back Pain Bundle is one of the biggest bundles on offer. This pack comes with multiple products, including:
12" Gentle Wheel
10" Medium Wheel
6" Deep Tissue Wheel
Chirp Wheel Case
Posture Corrector
The large number of wheels and the case makes it a good bundle deal if you are already sure that you want the wheel. This isn't a good pack if you're just looking to give the product a try, but if you're sure you want what is on offer in the pack then this is the best deal to take.
The odd part out of the pack is the posture corrector. Though it seems to be the odd one out, I think that it may be the best part of the bundle as I spend a lot of time sitting. The corrector forces you to push your lower back towards the front of your body, which reduces the pressure on your knees and body.
I know I have poor posture, and several people out there who work at desks will agree that it's hard to always stay straight when you're sitting for hours on end.
The main downside of the corrector is that Chirp only offers the posture corrector in the Ultimate Back Pain Bundle. If you just want the corrector and don't care too much about the wheels, then there isn't a cheap way to get it from them. If you want the wheels and the corrector though, I would recommend this pack once you're sure you want the full bundle.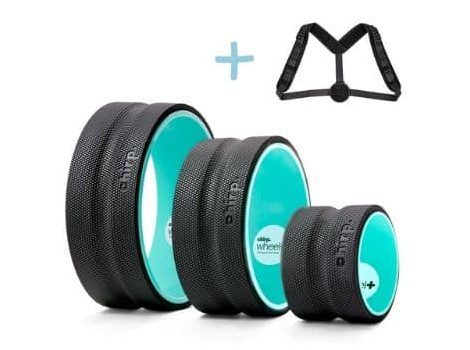 You can only get the Chirp posture corrector in this bundle.
Should You Buy It?
There are many things I like about the Chirp Wheel, and looking at the tons of positive reviews on the web I'm not alone. Many users felt some level of pain relief by using the wheel for a few minutes every day.
The reasons I think you would want to buy a Chirp Wheel include:
The 60-day warranty makes sure that if the product doesn't work for you that you didn't waste any money.
The discounts and sales that occasionally happen can take 10% or more off.
The videos on the official site make sure you will know how the company has designed the wheel to be used.
The Chirp Wheel is suitable for people of all ages and sizes as it can support 500 pounds.
The free e-course offers some tips to go along with the wheel if it's something that interests you.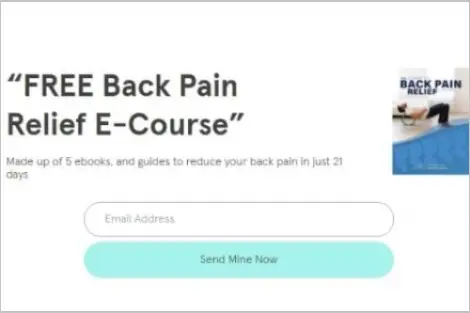 You can register for the Chirp E-Course before or after buying a wheel.
Issues to Consider
There is no such thing as a perfect product, and I do have a few cons to go over with the wheel. Amazon sells foam rollers that are 13 inches big or bigger, which makes the Chirp Wheel much smaller than the competition. Those may be a cheaper option if you are on a budget or are looking to test out how a wheel feels against your back.
While I felt the wheel was simple to use and felt wonderful from the start, It can take weeks until you feel comfortable using this wheel. The two-month window for the refund should be enough time to get through this to know if it's good for you, but it's still something to keep in mind.
In the long run, some wheels will start to break down sooner than some competition on the market. On top of the big price tag, it can be a massive ask for a product that may not last you as long as others that achieve a similar effect.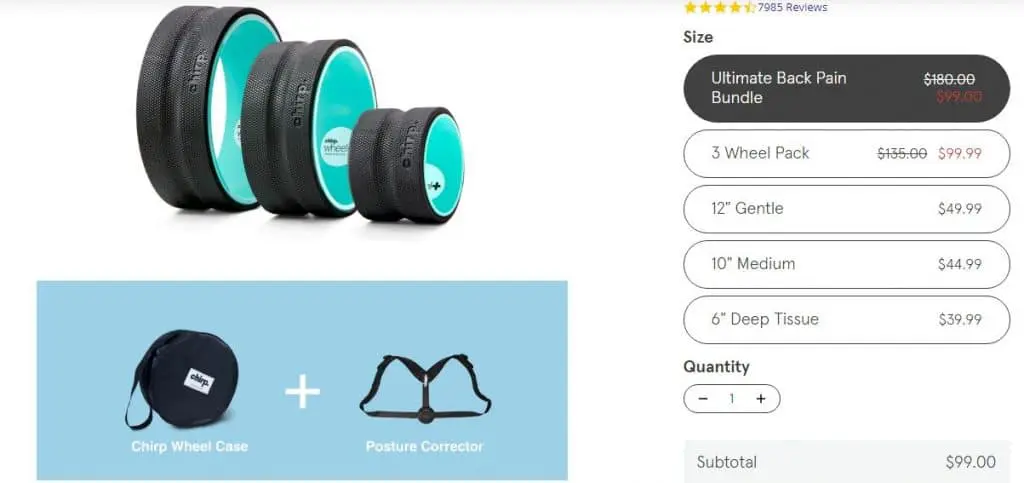 The biggest issue with the Chirp Wheel is the high cost.
Where to Buy
If you are interested then just click here for a link to go to their website. I would recommend browning around for a bit and reading up on what other people also thought about the wheels and other products so you can make the most informed choice possible.
The prices offered on the wheels range from $180 for the bundle to $135 for the three-pack. Out of them all the cheapest one on offer is their 6" Deep Tissue Wheel for $39.99. It's not going to give the same effect as the other wheels but is the most mobile and easiest to carry.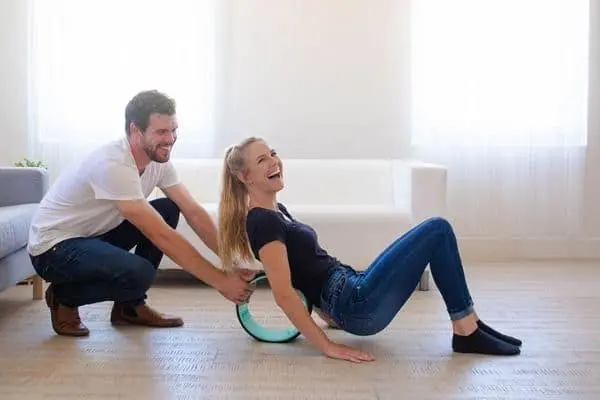 Chirp Wheels are suitable for users of all sizes.
Competition
Chirp wasn't the first company to make rollers for back pain. When you take a look at the competition though, you might find that one of the wheels can help you more than another product can.
Nature's Integrity Yoga Wheel
The Nature's Wheel Integrity Wheel is 13" and is meant to help you stretch. The size is big, some might say a bit too big if you're of a smaller frame. This wheel is a better idea for people with larger builds looking to use a wheel for things like yoga. There are three colors on offer, which while a small benefit, at least means you have some choice in how it looks.
The Ultimate Back Roller
The Ultimate Back Roller is quite a name, so you probably expect a lot from this little device. The company builds it with a spine gap in the center that is meant to take the pressure off your back and four rows that each have large bumps.
This wheel's main selling point is the special design that makes it harder for it to tip over, which may be a problem with smoother wheels. The makers recommend that you use a towel on top of the wheel to reduce the pressure caused by the wheel's bumps. All around, it's another good alternative if you're looking for something that will be more stable on the ground.
AMFit Foam Roller
The AMFit Foam Roller is a more traditional design. It's made from a durable foam that gives a bit more durability than the other designs listed here. The company states that it's suitable for users of up to 300 pounds.
The biggest thing this roller holds over the others is its lifetime warranty. There isn't as much of a worry about buying a product that will break down right away with it, getting rid of some of that stress. You can use it in any position and on any muscle group to reduce your overall pain and discomfort.
Vibe Rollers Hex Pro
The Vibe Rollers Hex Pro features a unique design with two hexagons on the ends. Those hexagons have bumps and ridges that are supposed to relieve muscle stress and tension like the others. What sets this one apart is that it comes with a battery-powered vibration.
Weighing only 2.4 pounds, the Hex Pro is surprisingly light and easy to take anywhere. It does take batteries though, so if the charge ever does die on you then you're just out of luck until you're able to get replacements.
Final Verdict
I want to be clear that the Chirp Wheel might not offer the same level of relief for all users. All bodies are different and the causes of stress and muscle pains in them are numerous enough that it's hard to tell what will work.
That said, from my experience and from the number of positive reviews that Chirp Wheel has I feel comfortable recommending it. If you've got the money to deal with the price tag, at least. It's not a product that comes cheap.
For yoga practice or just stretching out some back muscles than you could do much worse than the Chirp Wheel. The design is comfortable enough on the first go and only gets better with extended usage. It might just be one of the best stretches you've felt in ages.