What is Chirp Wheel?
Back pain can knock you off your feet and leave you out of work and away from your favorite activities for days and even weeks. While you can try using a heating pad or an ice pack for some relief, there are tools and devices designed to help with your pain that work faster. One of the latest is the Chirp Wheel. Tate Stock came up with the idea after seeing the relief that his aunt got from a yoga wheel. He created a device called the Chirp Wheel that found success after Stock sold it on Amazon. They gained even more success and fans after going on the hit television show Shark Tank, which led to a big deal with Lori Greiner.
Chirp Wheel now comes in several sizes and can help users of all ages with their back and upper body pain. It can relieve neck pain and headaches, too. It's easy to use the Chirp Wheel because you simply lay down on top of it and use your body to gently roll the wheel across the painful area. Chirp says that it can't help with all of life's problems but it can help with your back pain. You have the chance to enroll in a back pain relief online course and gain access to videos that show you how to use the wheel when you become a customer. With our Chirp Wheel review, you'll learn about the pros and cons of the device along with other products available from Chirp.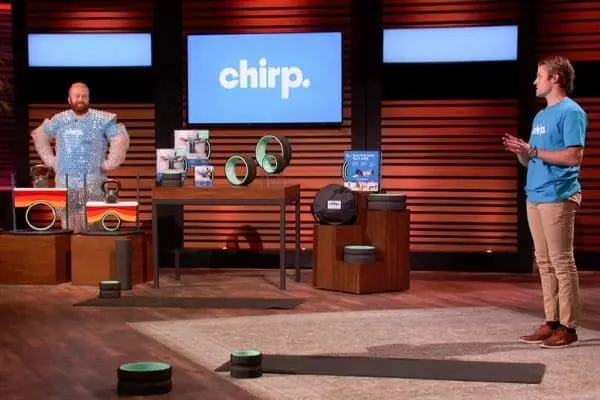 PROS
Helps with all types of back and upper body pain
Includes a 60-day warranty
Sales and special offers drop the retail price
You get free shipping in the US
Online videos show you tips on how to use the wheel
CONS
May not be as strong or durable as you thought
Smaller than similar rollers
Is a little hard to use
BOTTOMLINE
Chirp Wheel is a simple tool designed to help you cope with back and upper body pain. It is easy to use and includes online videos that show you both how to use the wheel and methods you can try.

iReviews Shopping Assistant
Find the best prices for this and many other products with our chrome extension
Product Features
Size: 6", 10", 12"
Warranty: 60 days, money back
Referrals: $10 and 10% off
Shipping: Up to 10 business days
Cost: $39.99+
E-Course: Free
Chirp Wheel Review
Though Chirp now makes several products, the original Chirp Wheel is still the most popular. It has a small footprint that allows you to use it while laying on the floor. The wheel puts pressure on different muscle groups to reduce pain and discomfort. When used on your neck, the Chirp Wheel can help with tension headaches. Inside the wheel is a spinal canal that looks like a large groove that runs through the center. This section moves along with your body and forces your back to stretch to help with your pain. Chirp registered the wheel with the FDA before going on TV.
When you buy the Chirp Wheel, you get a product recommended by licensed doctors along with a 60-day guarantee. If you find that the Chirp Wheel doesn't relieve your pain or you dislike it for any reason, you have two full months to try it out at home before you return it for a full refund. Thanks to the compression-sensitive padding, you don't need to worry about the plastic poking you in the back or any other discomfort when using it. The Chirp Wheel is available as an individual wheel or a three-pack that lets you use all three sizes at home.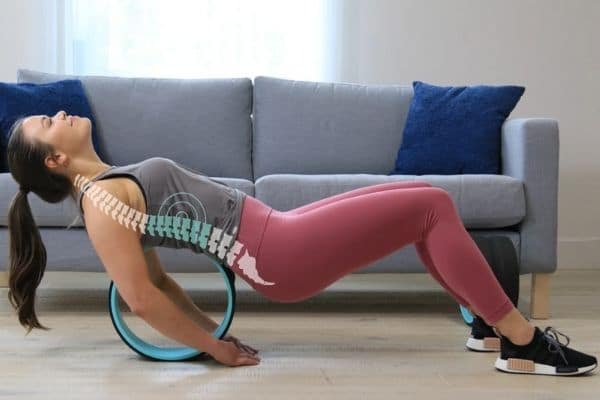 The Chirp Wheel is easy to use at home.
Chirp Wheel Sizes
Before you head to the website to buy the Chirp Wheel, think about which size is right for you. The 12" Wheel is the best option for those dealing with lower and upper back pain. Chirp also calls this the Gentle Wheel because it forces your back to gently stretch to release tension. This wheel can help your hips and chest. The 10" Wheel is another option that is perfect for those who want to stretch in a standing position. You can place the wheel on the wall and stretch your back. Also known as the Medium Wheel, it is a good option for those with minor neck and back pain.
You can also shop for the 6" Wheel, which Chirp calls the Deep Tissue Wheel. It comes in a smaller size that you can use while sitting on a plane or unwinding in your hotel room. This wheel allows you to target specific muscle groups or areas where you feel pain. The Deep Tissue Wheel is the best choice for those who want to recreate the feel of an expert massage at home. No matter which size you choose, you still get access to the online videos. Chirp lets you buy the specific wheel that you want or a bundle that includes all three sizes.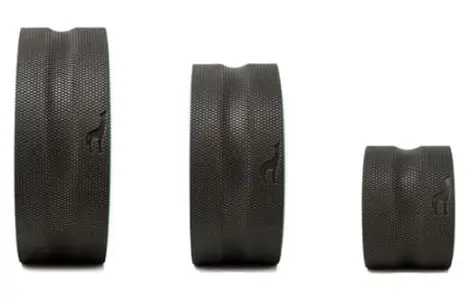 Chirp Wheels come in three sizes to help with your specific pain.
How Can You Use Chirp Wheel?
Using the Chirp Wheel is easy because you can use it anywhere you have enough space to lay down. This includes in the middle of your living room floor or right next to your bed. With the larger wheels, you can place one flat on the floor and sit down in front of it. Carefully lean back until your shoulders fall on either side of the channel. You should keep leaning back until your head almost touches the wheel. It's then a simple matter of rolling your back along the wheel, which helps you stretch all of your muscle groups.
You can use the smaller wheel in a similar way. Place the wheel on a seat and sit down. You'll lean back until you touch the wheel and get in a comfortable position. As long as you roll your back and neck along the wheel, you should feel your muscles stretch. If you want to use one of the small wheels in a standing position, decide where you want to work. You'll place the wheel between the back of your upper body and the wall. As you move, the Chirp Wheel will move with you. You can work on your back or neck in a standing position.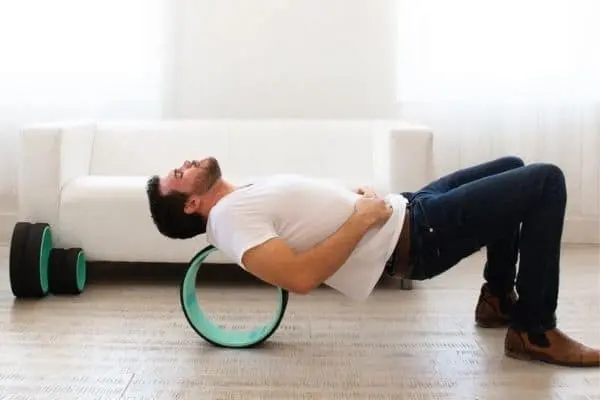 You can use the Chirp Wheel while standing or laying down.
Where Can You Use Chirp Wheels?
There are no limits as to where you can use a Chirp Wheel. Do you have pain caused by sciatica and occasionally find that you can barely get out of bed because of it? It's easy to grab your wheel and do a few stretches from the comfort of your bed. If you have more mobility, you can easily get up and do some stretches against the wall or while sitting or laying on the floor. The smallest wheel is perfect for taking with you. You can get relief when your back goes out at work or you have a tension headache in the middle of your next vacation. Some of the other places when you can use the Chirp Wheel include:
In tiny homes and apartments where space is at a premium.
If you need to reduce pain and discomfort while you travel by plane or car.
When you suffer from head and back pain while driving or riding in a car as a passenger.
In the locker room of your gym to relieve muscle pain after an intense workout.
While you watch television at home or catch up on your favorite streaming series.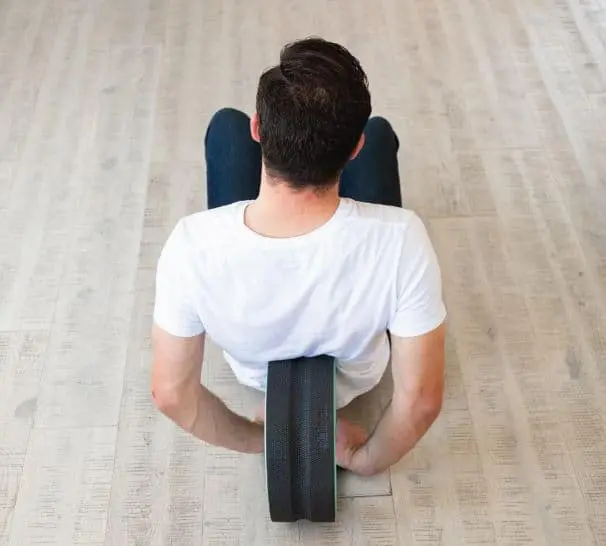 Chirp Wheels relieves pain in minutes.
What is the Chirp Relieviate Muscle Cream?
The products available on the official Chirp website include the Relieviate Muscle Cream, which you can use with or without the wheel. It comes in a one-ounce tube for $9.95 or a four once tube for $39.95. If you tried using muscle creams in the past, you know how it works. You rub a small dab of the cream on your body where you feel the pain to reduce your discomfort. This cream is perfect for use after a long workout or when you experience a faint tinge of pain. Not only can it calm hot spots, but the cream also provides a cooling sensation.
Relieviate Muscle Cream uses nine different essential oils along with natural ingredients that moisturize your skin as the cream works on your pain. Those oils include clove and ginger along with peppermint and menthol. It goes on smoothly and leaves behind a light scent that can help with your stress. Another bonus is that the cream doesn't leave behind the greasy film that similar products do. You can keep a tube in your gym bag to use after a long session or in your desk drawer for relief at work. Customers give this cream an average of 4.4 stars.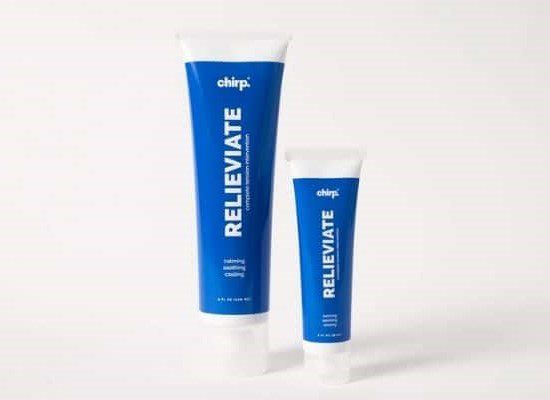 Chirp offers the muscle rub cream in two convenient sizes.
Who's This For?
There are dozens of reasons why you might have back pain that ranges from a slipped disc to a car accident. The way that you sit at home or work can cause some minor pain, too. If you slouch as you play video games or spend a lot of time leaning against your bed's headboard, you might experience a lot of back pain. The Chirp Wheel is a product that is suitable for anyone dealing with back pain. You don't need a lot of room to use it. As long as you have enough space to stretch your back and get flat, you have room to use the wheel. It even comes in sizes that you can use when traveling or sitting at work. We found that Chirp Wheels are suitable for many people, including:
Those who struggle with constant or frequent back pain along with chronic pain, which is back pain that lasts for a minimum of six months.
People looking for an alternative to foam rollers and other devices to handle their back pain.
Customers who want a natural way to relieve their back pain without the need for over-the-counter or prescription meds.
Anyone hoping for an easy way to recover from back and neck or head pain.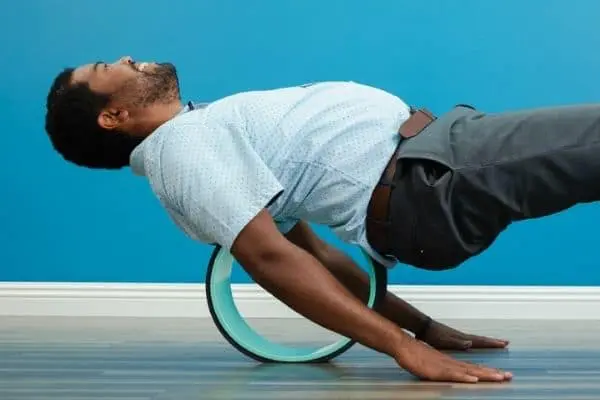 Chirp Wheels are perfect for anyone with back or neck pain.
What Comes in the Ultimate Back Pain Bundle?
In addition to the wheels, Chirp also offer an Ultimate Back Pain Bundle that can help you cope with any type of back pain. This pack includes everything you need to handle any type of muscle pain along with products that you can't get any other way, including:
12" Gentle Wheel
10" Medium Wheel
6" Deep Tissue Wheel
Chirp Wheel Case
Posture Corrector
The odds are good that you'll want to use at least one of these wheels outside of your home, which is why the wheel case is helpful. It gives you the perfect place to store your wheels when you don't need them and gives you an easy way to take them with you.
Also included is a posture corrector that improves your posture. You may not realize how much you slouch or lean forward when you walk or stand until you wear this device for a few minutes. The corrector forces you to push your lower back towards the front of your body, which reduces the pressure on your knees and helps with hip pain. You only need to wear the corrector for a few minutes a day to change your posture. Chirp only offers the posture corrector in the Ultimate Back Pain Bundle.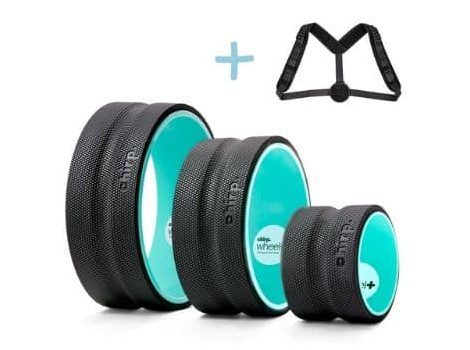 You can only get the Chirp posture corrector in this bundle.
Chirp Back Pain Relief E-Course
When you order a Chirp Wheel, you can enroll in the free Back Pain Relief E-Course, which many customers found helpful. Chirp designed the program for those who spend a lot of time in a sitting position and those who have dull aches and pains. It's also suitable for customers who experience stress and have problems sleeping. You just need to enter your email address in a box on the website to join the program, which includes lessons and tips that you can use over the next 21 days. There are five lessons that show you how to use your Chirp Wheel and other tips on reducing back pain.
Chirp encourages users to look over the program and adjust it as needed to better fit their lifestyles. You'll learn new stretches that can help your back and reduce your pain along with exercises that you can do at home. Chirp also gives you recipes that you can make, even when your back hurts. The program features different sections on dealing with neck pain and back pain as well as how you can improve your posture. You'll even get some tips on how you can travel while dealing with back pain.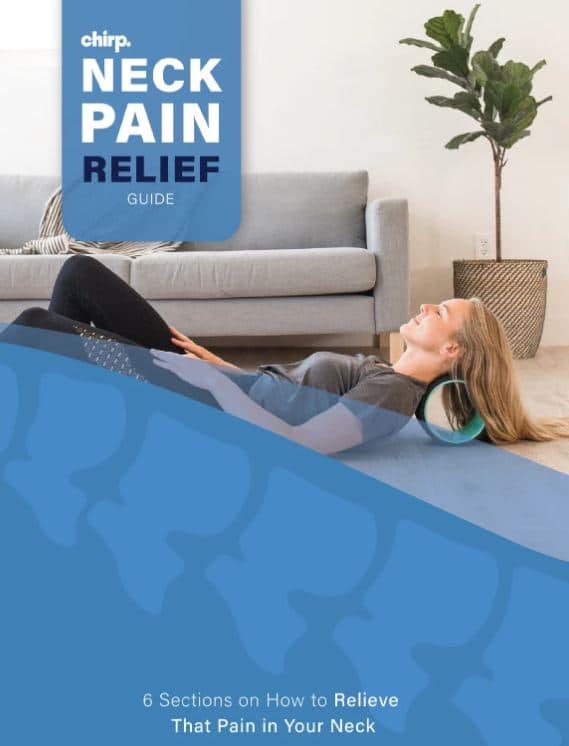 Should You Buy It?
There are many things that we like about the Chirp Wheel and reasons why you should buy it, including the tons of positive reviews on the web. Whether you head to Amazon or the official site, you'll see review after review from customers who claimed that the wheel relieved their back pain faster than anything else did. We also like that you don't need to spend a lot of time to get relief. Many users felt comfortable and pain-free in as little as 15 minutes per day. Others liked that they could use the Chirp Wheel while laying in bed or on the floor as well as when sitting or standing. Other things that make the Chirp Wheel a must-buy for those with upper body pain include:
Though most use it for back pain, the Chirp Wheel can help with tension and other types of headaches as well as neck and shoulder pain.
Thanks to the 60-day warranty, you don't need to worry about spending money on a roller that doesn't work because you have two months to get your money back.
There are loads of discounts that take 10% or more off, including sales in the middle of summer and around the holidays.
You can use the videos on the official site to see how the wheel works and make sure that you use it correctly.
The Chirp Wheel is suitable for people of all ages and sizes as it can support 500 pounds.
Through the refer a friend offer, you get $10 off when your friends buy any products and use the 10% off discount you send them.
Chirp offers a free e-course that you can enroll in online to find tips on handling your pain and dealing with pain while traveling.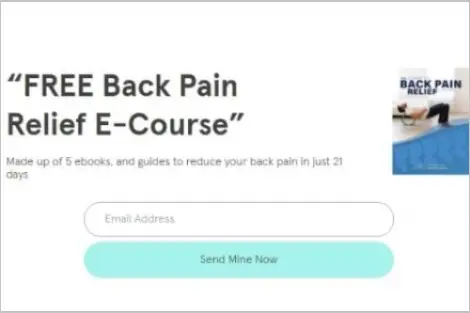 You can register for the Chirp E-Course before or after buying a wheel.
Cons to Consider
Though we liked the Chirp Wheel and found loads of positive reviews, we noticed that some customers weren't as happy as others were. Amazon sells foam rollers that are 13 inches big or bigger, which makes the Chirp Wheel much smaller than the competition. You may find that you struggle with the roll and don't understand how to use it, even after watching all of the online videos. It can take weeks until you feel comfortable using this wheel. Keep in mind that it may not be as durable as other rollers either and that it may break down within a few months. Other cons of the Chirp Wheel that we found include:
One customer complained to the Better Business Bureau that they wanted to return their purchase and Chirp agreed but never sent them a return shipping label.
If you make changes to your order, Chirp may charge you for both your original order and new order and take several weeks or longer to refund you.
Some users reported that the plastic parts on their Chirp Wheels broke after a few weeks.
A small number of customers said that their backs hurt more after using the Chirp Wheel than they did before.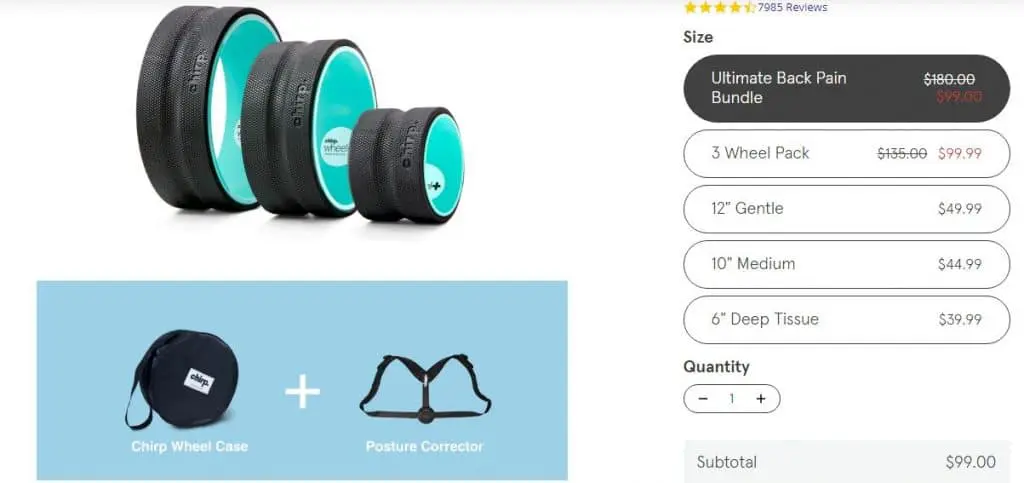 The biggest issue with the Chirp Wheel is the high cost.
Where to Buy
You don't need to go far to find a Chirp Wheel at a good price. Just click here and use our link to find the Ultimate Back Pain Bundle and other Chirp Wheels. Prices range from $180 for the bundle to $135 for the three-pack. You can also bring home a single wheel. While the 12" Gentle Wheel retails for $49.99, the 10" Medium Wheel sells for just $44.99. There's also the 6" Deep Tissue Wheel for $39.99. You can buy a single wheel or purchase multiples for those you know who could benefit from the wheels. Some of the other reasons we recommend that you use our line include:
You can enroll in the free back pain program to find tips on how to handle your back pain and get relief at home. This program also includes recipes that use ingredients to strengthen your muscle groups.
Chirp often runs sales to help you save on wheels and other products. You might find a Christmas in Summer or a Back to School sale that offers lower prices.
You can refer your friends to Chirp and tell them all about the Chirp Wheel. This lets you send them a 10% discount and get $10 off yourself.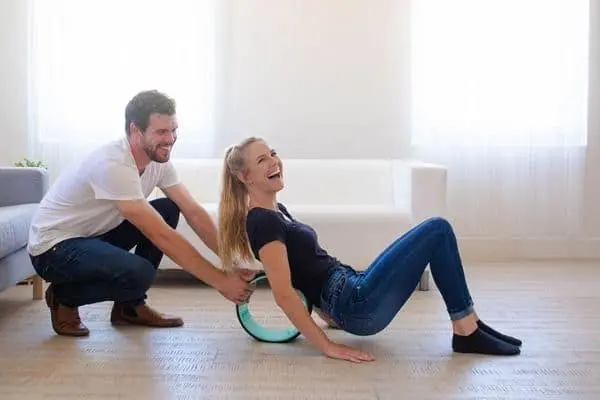 Chirp Wheels are suitable for users of all sizes.
Competition
Chirp wasn't the first company to make rollers for back pain. When you take a look at the competition though, you might find that one of the wheels can help you more than another product can.
Nature's Integrity Yoga Wheel
One look at the Nature's Wheel Integrity Wheel will show you where Chirp's founder got the idea for his wheel. At 13", it is larger than the Chirp Wheel. Though it can help you stretch, you may find that it's too large for your frame. This wheel helps you do yoga at home and can improve your flexibility and help with your back pain. Many customers also like that it's available in three colors. Not only can you match the wheel to your workout wardrobe, but you can match it to the decorations in your home, too.
The Ultimate Back Roller
With a name like The Ultimate Back Roller, you probably expect a lot from this little device. It has a spine gap in the center that takes the pressure off your back and four rows that each have large bumps to target all muscle groups in your back. This wheel uses a special design that guarantees it won't tip over as you use it. It can take up to two weeks before you feel comfortable using the wheel. The company recommends that you use a towel on top of the wheel to reduce the pressure caused by the wheel's bumps.
AMFit Foam Roller
While the Chirp Wheel has a nice design, some prefer the design of traditional rollers such as this AMFit Foam Roller. Made from a durable foam that won't wear down, it measures 36 inches long and allows you to target any area of your body. Not only can you use it on your neck and back, but it works great on your face and lower body. Suitable for users of up to 300 pounds, the roller comes with a lifetime warranty. You can use it in any position and on any muscle group to reduce your overall pain and discomfort.
Vibe Rollers Hex Pro
One of the more unique back rollers is the Vibe Rollers Hex Pro. This roller features a unique design with two hexagons on the ends. Those hexagons have bumps and ridges that provide near-instant relief to sore muscles. As the roller uses batteries, you can sit back and let it work on you without worrying about hurting your back. You can choose from four vibration levels to get the massage power that you need. Weighing only 2.4 pounds, the Hex Pro is easy to take with you to use whenever your back acts up or you have aches and pains.
Final Verdict
Millions of people suffer from back pain that limits what they can do and leaves them wishing they could find some form of relief. Your pain might cause you to take a few days off work and avoid situations where you need to remain active such as visiting an amusement park with friends or playing with your kids. Though Chirp Wheel does not offer the same level of relief for all users, it has enough positive reviews that we feel comfortable recommending it to our readers. Our biggest issue with this roller is the price tag, which is a little higher than we would like.
The Chirp Wheel gives you the freedom to work on your back anywhere you want. You can lay flat on the floor in your living room or bedroom and work on your back as you catch up on a Netflix show. With one of the smaller wheels, you can easily get relief from your sore back on a break at work. The wheels come in three sizes and are available individually or in a bundle that includes all three as well as an ultimate bundle. If you want relief from headaches, back pain, neck pain and tension or stress, the Chirp Wheel might be your best bet.