Hello Yumi Baby Food Review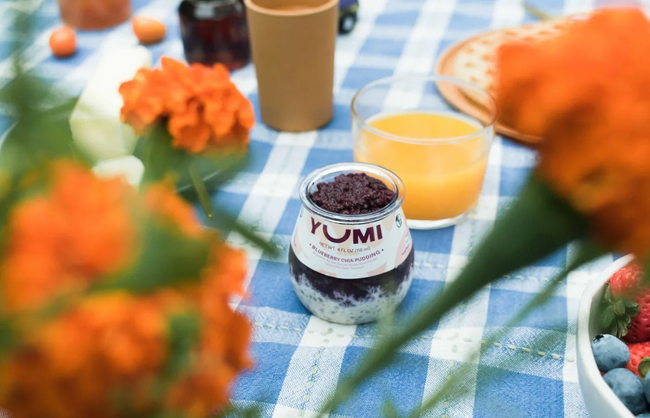 What is Hello Yumi Baby Food?
Trying to find healthy and delicious food for your baby can often feel like mission impossible. You can walk into any grocery store and find dozens of products for babies on the shelves. Hello Yumi is a brand that wants to make this process much easier for parents. Not only will you find baby food filled with all the nutrients that growing babies need, but all of the ingredients used are natural and organic.
Hello Yumi also offers subscription plans. You can pick a plan based on the age of your little one and get foods designed for those between the ages of six months and two years. The Clean Label Project gave the brand its Clean Label Project Purity Award as testing showed that all of the ingredients were safe and natural. Angela Sutherland and Evelyn Rusli were two mothers who launched the brand after having concerns about what to feed their babies. Hello Yumi went live in 2014 and quickly gained fans across the country. All of the foods are made in the brand's kitchens in Los Angeles and appeal to even the pickiest of little eaters. Our Hello Yumi baby food review looks at some of the different flavors and the top reasons to sign up for a subscription plan.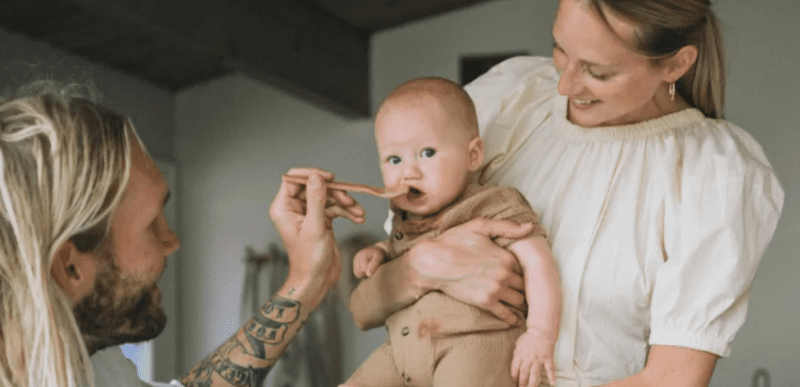 PROS
Uses real ingredients that are natural and organic
Lacks chemicals and preservatives
Suitable for kids up to two years of age
Safe for kids with common food allergies
Available as subscriptions for busy parents
CONS
Very expensive
Not safe for babies with peanut allergies
Some babies didn't like all of the flavors
BOTTOMLINE
Hello Yumi offers baby food in convenient subscription plans that deliver jars to your door. All of the foods are safe for babies with most food allergies and do not contain the chemicals and added ingredients found in other baby foods.

iReviews Shopping Assistant
Find the best prices for this and many other products with our chrome extension
Product Features
Price: Starts at a little over $4 per meal
Subscription Plans: Eight to 24 meals per week
Age Range: Six months and up
Ingredients: Natural and organic
Allergy-Friendly: Most food allergies except for peanuts
Shipping: Free
How Can You Use Hello Yumi Baby Food?
Hello Yumi functions as both a subscription service for babies and a meal plan delivery service. Not only does the brand sell full meals for babies, but you can also opt for snacks and blends that are perfect for growing kids. Though all of the foods are kosher and use organic ingredients, they lack the chemicals and preservatives that other baby foods have. You can also rest assured that Hello Yumi uses clean ingredients that are free of toxic metals.
Why spend a lot of time in the kitchen trying out new recipes when Hello Yumi will deliver delicious food right to your door? You can choose a plan and get a weekly delivery that includes eight to 16 meals up to 24 meals. The amount that you order depends on how much milk or formula your baby drinks and whether you supplement their diet with other foods. Hello Yumi asks that you pick the stage that your child is in when signing up for a plan.
Stage One includes purees made from just one ingredient that introduces the food to your baby's diet and is suitable for kids six months or older. Stage Two is for babies seven months or older and uses a single ingredient but has a thicker consistency. The foods found in Stage Three mix two ingredients. Other Stages include:
Stage Four: Uses multiple ingredients and is for babies eight months and older.
Stage Five: Includes grains and seeds for older babies mixed with purees.
Stage Six: Features solid foods that babies 10 months and older can pick up on their own.
Stage Seven: Increases the size of the bites for older babies.
Stage Eight: Lets you pick puff snacks and fruit leathers for kids 11 months and older.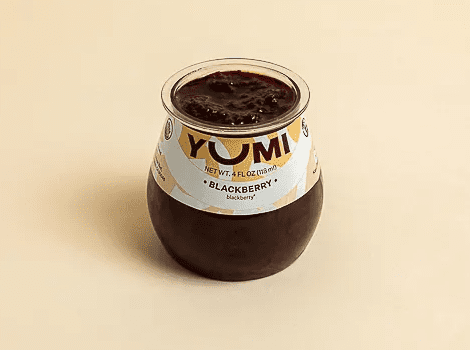 Hello Yumi offers simple purees for babies and solid foods for older kids.
Hello Yumi Milestone Plan
Parents today often worry about their children reaching important milestones over the years. Between the articles you read online and the kids you see every day, you might worry that your baby isn't keeping up with their peers. Hello Yumi offers a Milestone Plan designed to help your baby hit all of those milestones. You need to enter your baby's birthday along with your zip code and email address. This allows the brand to get in touch with you and ensure that you have a valid address. Meal plans start at $4.30 per meal when you order one meal a day and drop to $4.06 per meal when you order two meals per day. With the plan that includes three meals per day, you pay only $3.75 per meal.
Hello Yumi will show you all of the meals that come in your first box. The foods you get depend on the age of your baby and when you order as the menu changes from season to season. Stage One blends are thinner and suitable for young eaters, while Stage Two blends are thicker and better for older babies. Many parents also like that the brand sends different recipes in their future boxes to help them introduce new ingredients to their kids. Pizza Bite and Peaches and Blackberry Chia Pudding are just some of the flavors you might get. Hello Yumi will also allow you to add other snacks and bites to your order if they are suitable for your baby.
Keep in mind that your options will change as your baby ages. Hello Yumi will keep track of your little one's age and change the foods you can order as they reach different milestones. You have until midnight each Tuesday to go online and cancel your next delivery or make changes to your order.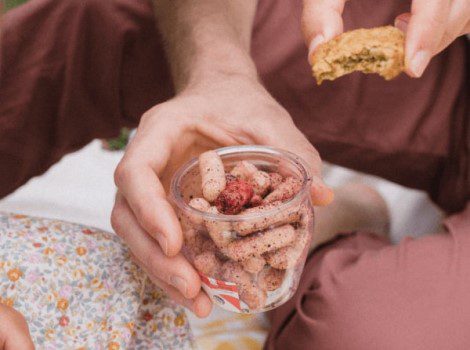 Puffed snacks and bites are small treats designed for older babies and toddlers.
Hello Yumi Chef Series
In addition to its standard subscription plans, Hello Yumi also has a Chef Series. The brand partnered with some of the world's top chefs to make baby food for budding foodies. Popular chefs who worked with the brand include Beverly Kim, Malcolm Livingston and Nancy Silverton. The Nancy Silverton box sells for $16 and includes two jars of Rustic Tomato Soup and two jars of Rosemary Focaccia Bites. All of the foods included are part of Stage 2. Though the included purees are thin enough for young babies, they also have some texture that appeals to older eaters.
With the Chef Blends box for the same amount, you get blends that are suitable for Stage 4 through 6 babies. The box has one jar of Polenta Mushroom Bolognese and one jar of Pat Juk along with two jars of Sweet Potato Cheesecake. You can also snag the Chef Bites bo for $16 that features finger foods for babies. This set includes two containers of Broccoli Lentil Bites and two containers of Banana Bread Bites. One of the nice things about the Chef Series is that you can order the boxes separately to try out the top flavors and then add the ones your baby loved the most to your regular subscription plan. Hello Yumi plans to work with other chefs in the future.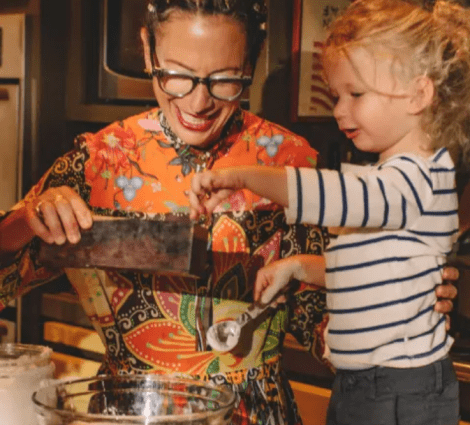 Nancy Silverton was the most recent chef to work with Hello Yumi on the Chef Series.
Where Can You Use Hello Yumi Baby Food?
The most common place to use Hello Yumi baby food is at home. Though some women stop breastfeeding when their kids are nearing the one-year mark, others stop earlier to keep breastfeeding for a few more months or years. If your baby has problems breastfeeding, you can feed them with formula. The problem that many parents have is that they don't know how to transition from formula or milk to solid foods. Thanks to Hello Yumi baby food, you can easily introduce new flavors and textures. This lets your child try new flavors and helps you avoid the hassles of dealing with a picky eater later.
All of these baby foods are suitable for home use and use on the go. You can snag a jar of food to feed your baby while you run errands or finish with a doctor's visit. Parents can even use these foods when they're on vacation. Don't forget that Hello Yumi also makes a ton of other snacks. It's easy to grab a container when you need to leave the house. You can give your child a healthy snack before you head home for lunch or dinner. These snacks are also suitable for sending with your child to daycare or a sitter.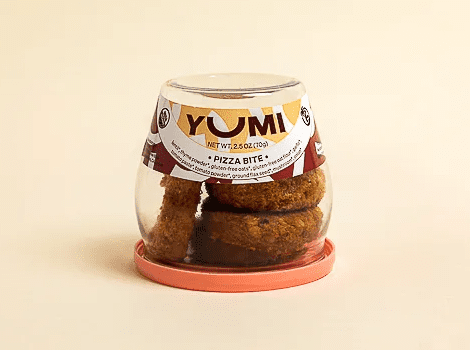 Pizza Bites are one of the more popular snack flavors from Hello Yumi because they taste so much like real pizza.
Who's This For?
The founders of Hello Yumi were mothers who cared about what their kids ate and wanted to find healthy alternatives to the foods they saw on store shelves. They noticed that many of those foods had expiration dates months into the future, which showed that they contained loads of preservatives and chemicals. The due created a brand that featured foods they wanted their own kids to eat. Do you ever feel overwhelmed by all of the options in your grocery store? While there are many brands that claim they offer healthy baby foods, Hello Yumi is a brand that not only delivers healthy baby foods but makes foods that are delicious.
We think that Hello Yumi makes baby foods that are suitable for all types of parents today. Very few parents have the time or energy necessary to whip up purees and other dishes for babies from scratch. Hello Yumi gives you access to foods that taste homemade but save you some time. We also recommend this brand for parents who like the idea of getting food sent to them every week because of the available subscription plans. It's easy to choose a plan that is suitable for your baby today and changes to meet their needs in the future.
Hello Yumi makes many snacks in addition to baby foods such as its fruit leathers that use real fruit.
Other Products from Hello Yumi
Though Hello Yumi has a strong reputation for its baby foods, the brand keeps expanding into new markets. Why not add a bottle of adult vitamins to your next meal delivery to keep yourself healthy? A 30-day supply sells for $33.33, but you can also get a three-month supply for around $100 or a six-month supply for less than $200. Kids' vitamins are available for the same amount and are suitable for kids who are four years or older.
If you worry that your toddler doesn't get the nutrients they need, Hello Yumi has you covered with toddler vitamins. Designed for kids two to three years of age, the vitamins come in up to a six-month supply and include all the vitamins and minerals that growing toddlers need.
Puffs are good treats for kids. Hello Yumi puffs come in several flavors and are suitable for toddlers and older kids. Cauliflower Puffs use sorghum flour and cauliflower. Though the puffs are a dark green color, kids love the way they taste. The Beet Puffs are similar but come in a rich red color that many kids love. Both of the puffs are free of rice and other ingredients that some kids cannot have. You can snag a canister for just $9 and buy the puffs separately or add them to your weekly/monthly order.
Thanks to the fruit leathers from Hello Yumi, you can feel good about giving your child a sweet treat. Each one comes with eight servings per pack and sells for only $9. Single Strawberry is a popular flavor that uses just fresh strawberries. With the Mixed Berry flavor, your child gets a variety of berries in each piece. There is also a mango version that lets you introduce a unique fruit flavor to your baby's diet.
We also like the insulated totes from Hello Yumi. Not only do you get a durable tote bag for just $30, but you can choose a bag in either purple or yellow. The bag has insulation inside that keeps your little's one food safe until mealtime. If you need to keep food cold, you can easily slip one or more ice packs inside. These bags have durable stitching and have both short straps and one long strap as well as multiple pockets.
Don't forget about the bibs from the brand either. Each one sells for $22 and has a waterproof design to prevent stains. A button closure on the front lets you protect your baby's clothing from wayward food and makes it easy to use the bib on the go. One pattern uses the Hello Yumi logo in yellow on a blue big. You will also find some seasonal patterns.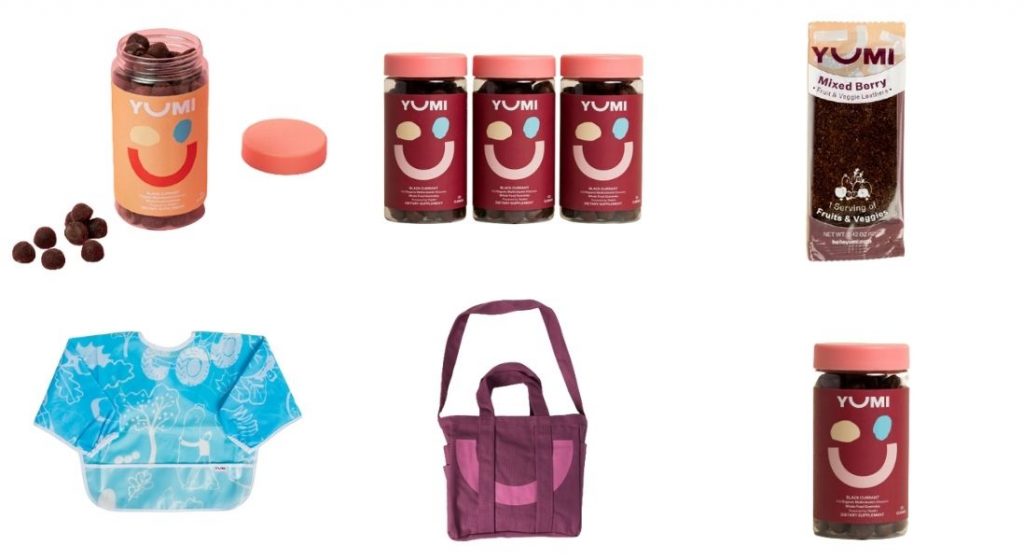 Should You Buy It?
Do you want to make sure your baby gets the best food but worry that you don't have the time or energy to cook at home? Hello Yumi gives you the benefits of home cooked meals with subscription plans that are suitable for all types of parents. When you sign up, you enter your baby's birthday to let the brand curate a box that includes foods suitable for your tot. Hello Yumi will change the foods included in the box as your baby grows. You can also add a few snacks to go along with all of the organic and natural foods. Some of the reasons we recommend Hello Yumi to our readers include:
The handy packaging makes it easy to feed your baby at home and on the go.
You can pay by the month or the week and get prices down to around $3 per meal.
Hello Yumi guarantees that all of the meals are free from common food allergies.
There are meals for babies as young as six months up to three years or older.
With the Chef Series, you can introduce even more foods and recipes made by top chefs.
You have until midnight every Tuesday to make any changes to your order or cancel your subscription.
Hello Yumi makes meals that you can serve warm or heat up before serving.
The meals help babies try new ingredients and reduce the risk they may become picky eaters.
There are occasionally deals that help you save 20% or more off a new subscription.
Hello Yumi does not use harsh preservatives or chemicals and does not add sugar to its recipes.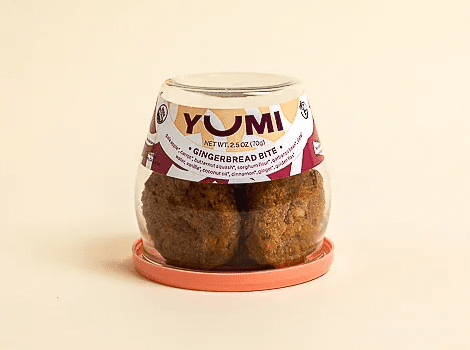 Hello Yumi often has seasonal products such as Gingerbread Bites that include apples and carrots among other ingredients.
Cons to Consider
Despite having many fans, there are negative Hello Yumi baby food reviews on the web. One major complaint is with the overall price. While you can get the price down to around $3 per meal, some plans charge more than $4 per meal. You can easily pick up glass jars of baby food at the grocery store for around $1 per jar. Some of those baby food brands now use organic and natural ingredients. Another thing to consider is whether you can use the foods with kids who have allergies. Hello Yumi guarantees that all foods are free from more than five of the most common allergies. You should not feed the foods to babies with peanut allergies though as the facility has peanuts onsite.
Some of the other negative things about this baby food brand include:
We found reviews from parents who said their babies didn't like some of the top flavors.
Though you have the option to pause your subscription, Hello Yumi will automatically charge your linked card after one week.
A few customers claimed that the site charged them multiple times when they tried to cancel.
It's often hard to cancel your subscription, even if you try before the deadline.
If you need to call for any reason, it can take hours to speak to a customer service rep.
Some claimed that Hello Yumi deleted their negative reviews from Instagram and other sites.
A handful of users said that the brand only gave them a partial refund and not a full refund.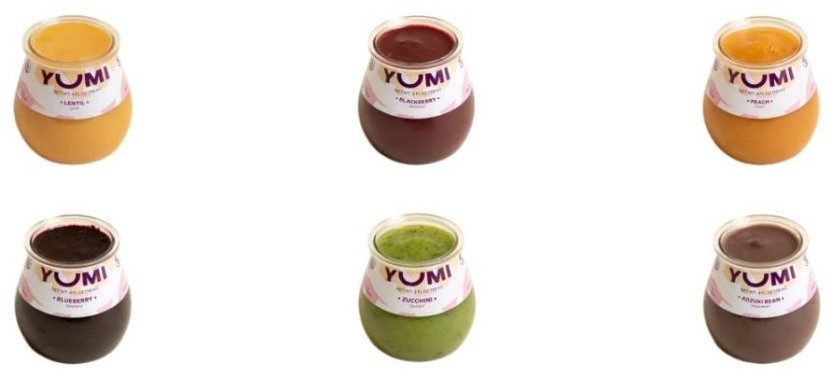 You may find a few flavors that your baby loves that go away later as Hello Yumi has seasonal editions.
Where to Buy
Click here to use our link and see how easily you can get a Hello Yumi subscription plan. We recommend that you check out the blog to read articles by and for parents. You'll often find celebrity interviews that talk about how they care for their babies and articles that include tips on caring for your baby at different stages. The site lets you learn more about each plan and get help signing up for a plan. Hello Yumi also shows you how you can give a subscription plan as a gift to a busy parent.
One of the top reasons to use the site is to see how much Hello Yumi costs. Weekly plans range from $35 to $90. You'll pay around $4 per meal when you order 16 jars and more than $4 per meal if you order eight jars. When you buy 24 jars, which is the largest plan, Hello Yumi charges a little less than $4 per meal. Those who want to save money can sign up for a monthly plan to save up to $18 per week. Prices start at $28 for eight meals or $52 for 16 meals. If you pay by the month and buy 24 jars, you'll pay just $3 per meal.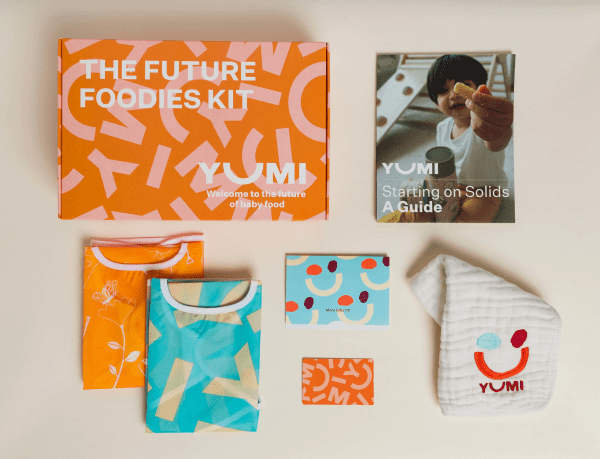 You can give Hello Yumi to someone you know via a bundle pack or a gift card.
Competition
Hello Yumi is far from the only baby food subscription box company. We'll look at some of the competition and one brand that makes products for babies before they can tackle solid foods.
Once Upon a Farm
Do you love the idea of Hello Yumi but have more than one child? With Once Upon a Farm, you can build a subscription box with organic meals suitable for babies and big kids. Plans come with 16 to 24 meals and charge you less than $5 per meal. The brand lets you pick meals that your kids will love and include options such as Breakfast Oats that include fresh fruits and Raised Real meals that are suitable for lunch and dinner. Once Upon a Farm works with farmers to find organic fruits and vegetables to include in all of its meals.
Tiny Organics
If you worry about raising a picky eater, try Tiny Organics. All of the meals available from this brand use natural and organic ingredients and come in more than 100 flavors to tempt your little one. You can choose breakfast bowls in flavors such as Bananas Foster and Oat Em Glee or bowls that are perfect for lunch and dinner. Some of the more popular flavors include The Wizard of Orzo and Sage & Stuffing Thyme. There are larger meals for bigger kids, too. All meals arrive frozen and just require that you heat them before serving your child a meal.
Little Spoon
Little Spoon offers subscription plans for busy parents who want to find the best baby foods. All of the purees cost less than $3 per meal and let you choose from more than 100 ingredients. The Starting Solid Blends line is suitable for babies who need thicker foods. These foods are also available in recipes that use multiple ingredients such as Pumpkin Spice and Eggnog, which are two of the brand's seasonal flavors. Little Spoon also has Complex Blends that use several ingredients to help your child try new foods and flavors. The brand now has plates/full meals for toddlers as well as smoothies.
The Boobie Box
Once you have a baby, you need to watch what you eat and drink if you plan on breastfeeding, The Boobie Box is a fun brand that offers subscriptions for breastfeeding moms. You pay just $25.50 and get a box each month that includes up to six products. Past boxes featured creams to reduce stretch marks and help with sore nipples along with fun toys that help moms distract babies while feeding. You can go online each month and check the theme for the next box and cancel if you don't want it. The Boobie Box occasionally has some special and limited boxes, too.
Final Verdict
It wasn't that long ago that mothers spent long hours in the kitchen to make baby food from scratch. New brands popped up to see premade baby food that came in glass jars as more mothers went to work. While the early baby foods used natural ingredients, modern foods often use a lot of preservatives to make them shelf-stable. When you buy baby food from the grocery store, you might see an expiration date months from now. Hello Yumi gives you the chance to get the yummy and healthy foods that you want for your baby.
Thanks to Hello Yumi subscription plans, you can pay by the month or week and get as few as eight meals up to 24 meals per week. As the brand asks for your baby's birthday, you can feel confident that the foods sent to you are suitable for your baby. Your subscription will change as your child reaches different milestones and sends you foods that are thicker and contain more ingredients. There are also loads of snacks that you can add to your order to use between meals. Using our Hello Yumi baby food review is the best way to learn about this brand and why it's so popular with parents.