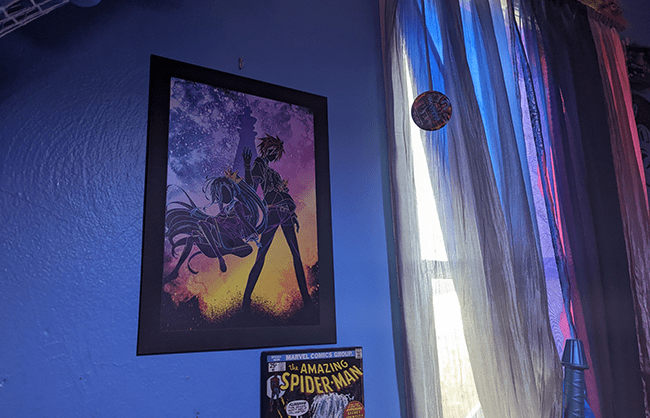 Now more than ever, fans of pop culture are willing to show off to the world how dedicated they are to their favorite characters and stories. From the rise of cosplay to elaborate showcasing of collections of merchandise from a particular brand, it's never been easier to display your love of a series.
One of the easiest ways to display your brand loyalty is by hanging artwork of that franchise on your wall in the form of a poster. But traditional paper posters can be flimsy and difficult to deal with, I have a few myself with scuffs and tears around the corners.
Luckily, Displate is here to provide metal posters of your favorite brands that look great, are easy to install, and are sure to last longer than any traditional paper poster.
In this review I will go over Displate in depth, their products and branding, as well as my own personal experience, in order to help you decide if you want to have a Displate poster set up in your home. In addition to this written review, there will also be an unstructured unboxing video of my Displate poster as well as a full written review.
PROS
Easy to attach
High quality and sturdy
Excellent artwork
BOTTOMLINE
Displate metal posters are a fantastic way to spice up any living or entertainment space with high quality artwork of your favorite franchises. Though, some brands can only be found by searching elsewhere.
Features
High quality art
Sturdy metal construction
Included magnet for easy attaching
Art from well known brands and franchises
What Is Displate?
Displate is a company that produces high quality metal posters that can be easily attached to almost any wall via an included magnet or a frame. These posters are of the highest quality and much more sturdy than the standard paper poster you would get at a movie theater or from a magazine.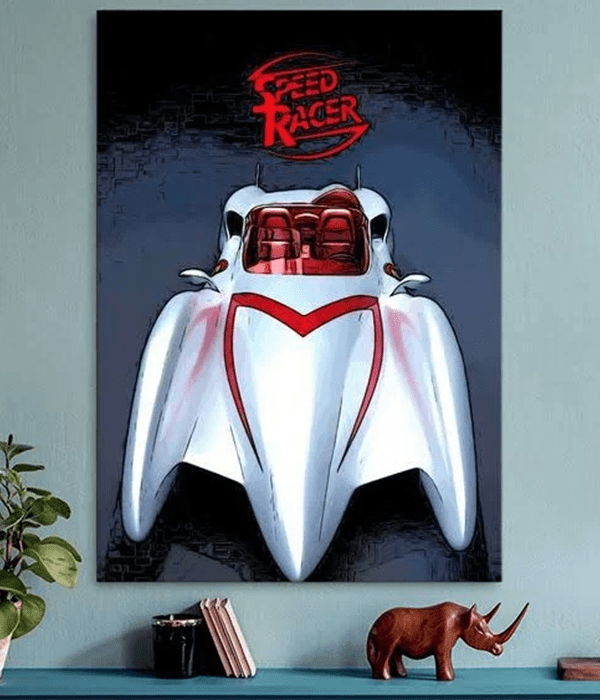 Displate offers their own original designs as well as licensed designs from some of the most well known media brands, like Marvel, Star Wars, and even some lesser known franchises, like one of my personal favorites, Astro Boy. These posters are perfect for any fan of these properties who want to add a little visual flare to their gaming or entertainment room.
Displate Unboxing
For the purposes of this review, I received Displate's Soul of the Blank design to unbox and test out. The package arrived on my doorstep in a sort of plastic bag with a big DO NOT BEND notice on the front.
Inside the bag was a cardboard box adorned with Displate's branding, featuring such lines as "Who says a small poster can't start a big collection?". I've personally never met anyone who's said that, but I digress.
I was pretty impressed with how easy the package was to open, all I needed to do was undo 1 cardboard flap and I was finally able to view my poster. There were some extra cardboard bits I had to put into recycling, but I figured that was probably extra padding to protect the poster inside.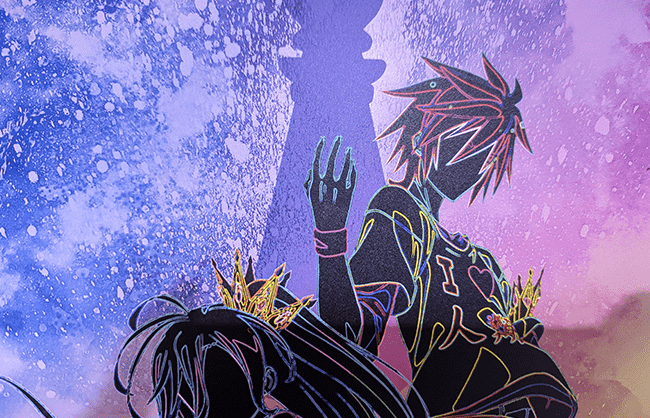 I was similarly impressed with the quality of the poster itself. The design was very visually pleasing and I could appreciate a lot of finer details as an artist myself. It looked to me like the design was made with vectors, rather than pixels, meaning that there was no ugly blurriness or pixelization.
Overall, this unboxing process was quick and easy. I'm happy to say that my poster arrived with not a single ding or scratch and I was excited to see how it would look on my wall.
Features
All Displate posters feature high quality artwork done by talented artists. As I mentioned above, I'm an artist myself, and I really love and appreciate all the work that has gone into creating some of the best looking designs I've seen on a poster.
The posters being metal gives these a lot more advantages over traditional paper posters and prints. I've had several paper posters over the years and they can be flimsy, easily damaged, and difficult to find a frame for and even attach to the wall.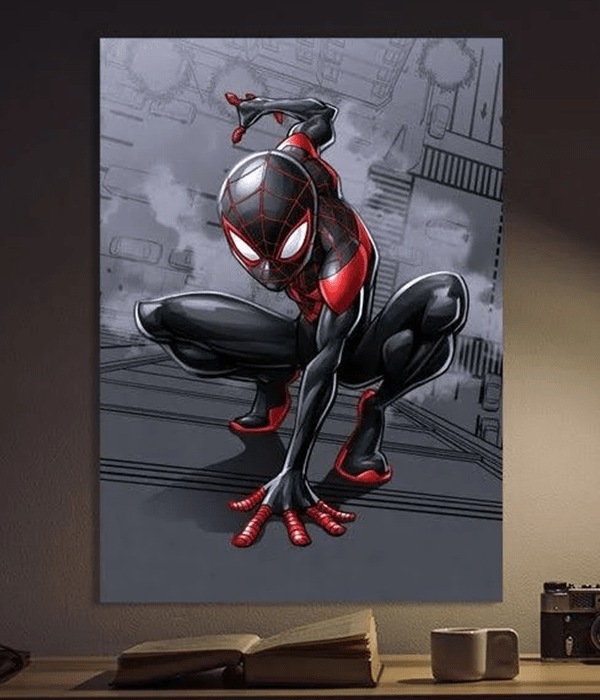 You won't have these issues with a metal Displate poster as these things are metal and made to last. The included magnet for mounting also makes things way easier than finding a matching frame or using some sort of adhesive strips to keep your poster to the wall, only to find that it's either not strong enough or at the wrong angle.
Displate features excellent designs from such major brands as Marvel, DC, Star Wars, Dungeons and Dragons, DOOM, and many more. The site also features artwork from fan artists for many other properties, so any fan of pop culture is sure to find something they like here.
Displate Test
I have a lot of posters and decorations in my living space, and I've just about had every problem you could have with setting them up and getting them displayed properly. From frames not being level to adhesive strips not being strong enough and even having to throw some posters out because I tried to move them and they got damaged in the process.
I had none of these issues when setting up my poster from Displate. The magnet was super easy to stick onto my wall and it didn't even matter if it was set up at the wrong angle, since I could just adjust the poster accordingly.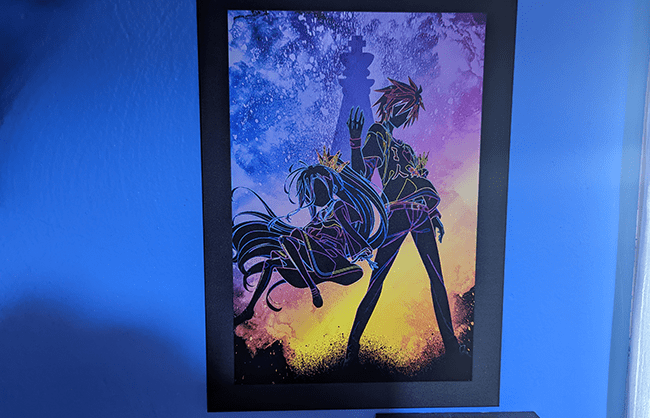 Once the magnet was in place, all I had to do was attach the poster and it was looking great, adding a very nice and slightly elegant piece to my gaming space. As I stated with my unboxing, the artwork itself looks fantastic, with a lot of bright and vibrant colors composed in an exciting and eye-catching way.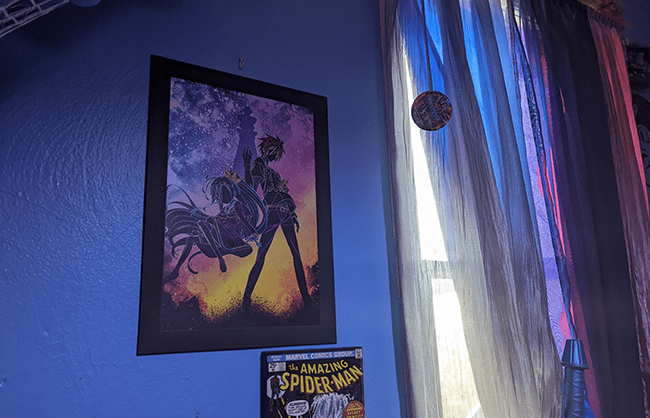 How Can You Use Displate? / Who Is This For?
Displate posters couldn't be easier to use. Simply attach the included magnet to your wall wherever you want the poster to go and then stick the poster right on the magnet. There's no leveling or extra adhesives needed.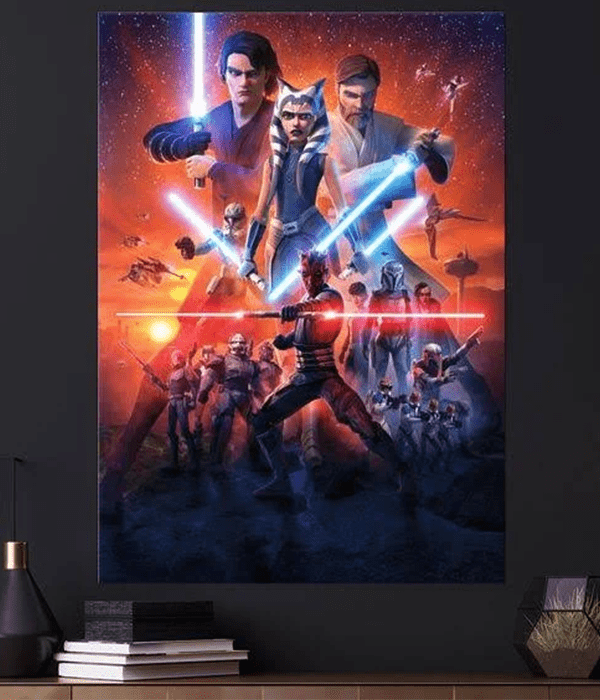 Displate caters mostly to fans of pop culture with many posters depicting scenes and characters from movies, TV, and video games. I would say that these best serve the fans of these properties who want something that's a step from a traditional poster, to add some extra flair to their bedroom or entertainment center.
Web Infrastructure/ Branding
The Displate official website is rather nice and works very well, with a helpful search bar to find any specific design or brand you are looking for. All links I tested went to where they were supposed to and there were thankfully no promotional pop ups during my browsing experience.
I did, however, notice something odd with some of the search results. Some brands that are featured on the site don't appear if you search them from the site itself, some examples being Final Fantasy and The Legend of Zelda.
I myself am a huge fan of the MegaMan series, so I wanted to see if Displate had anything MegaMan related. After putting "MegaMan" into the search bar, I got no results. However, when I went to Google and searched for "MegaMan Displate" I received much more relevant results, including this poster of the original box art from MegaMan 5, something I would love to have on my wall.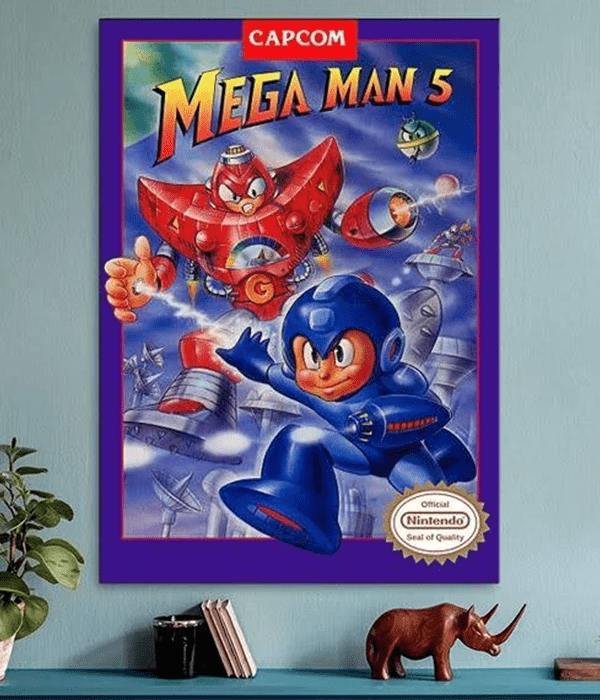 The same thing is apparent when looking for posters for Zelda and Final Fantasy. Displate has designs featuring these characters, but they're not officially licensed, so they don't appear when you search for them by their proper name.
I'm quite used to buying prints and artwork done by fans rather than official licensees, I do it on Etsy all the time, but I do wish that the search results were a bit more consistent with what you want to see.
Should You Buy It
If you're looking for a way to spice up your living space with artwork from one of your favorite brands or franchises, then I would absolutely recommend looking at Displate. These metal posters are quite a bit more expensive than regular paper posters, costing about $45 for the most basic variety, but the image and build quality are well worth the extra money.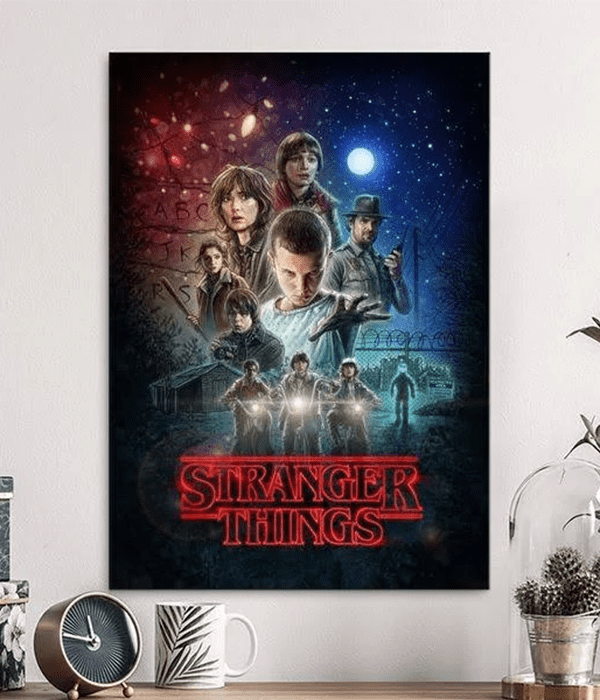 If you are searching for a specific brand on Displate but can't find it on the homepage, I would recommend going to Google and searching "(brand name) displate". More than likely, they sell a print featuring that brand, whether officially licensed or not.
Where to Buy
Displate posters are available exclusively through the official website. Here you can search through the officially licensed designs, get more information on the company and their products, and even order additional accessories like extra magnets and frames.
Competition
There's not a whole lot of companies like Displate that offer high quality metal prints, though if you're looking for pop culture merchandise with artistic designs, Etsy is one of the best places you can go. With Etsy you can get not only posters, both paper and metal, but also custom plushies, cosplay props, 3D print files, and so much more.
I use Etsy quite a lot and have had several positive experiences with both the site and the friendly artists who make products for it. Most creators on Etsy are fans who make unofficial merchandise of well known properties without the approval of any media companies, though much of the products are those that aren't made or offered by the companies through an official means.

I've also been able to find some really decent metal posters from Mercari, which is a shopping site that anyone can use and sell for. It's essentially another eBay type website. Though the posters I've found here are often not officially licensed by the brands themselves.
Final Thoughts
I'm thoroughly impressed with the attention to detail and craftsmanship offered from Displate. The poster I got in particular is beautiful, with vibrant colors and a sturdy metal build that was very easy to attach to my wall.
My only real complaint was in how I had to go through Google to find a poster for one of my favorite brands, but other than that I had little issue. If you want a more elegant and sturdy way to show off your love for a particular franchise or character, then Displate is the way to go.
Resources and Further Reading