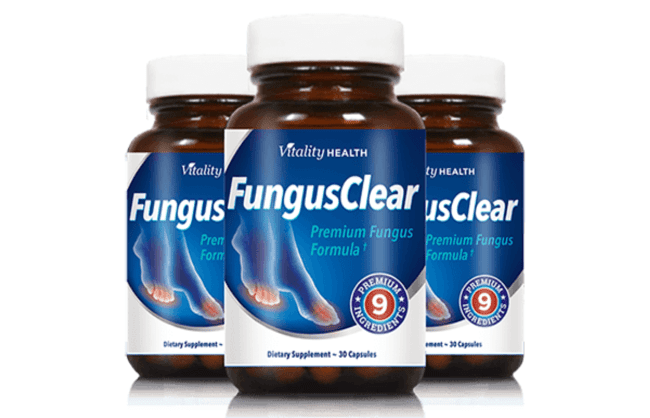 What is Fungus Clear?
Fungus Clear is a new product that claims to help you fight toenail fungus. It's something I know a lot of people face, and I've spent a lot of time looking at the reviews and thoughts of people who have tried this product to come to a conclusion about how good it is for this less than desirable issue.
The main power of the product comes from the nine nutrients included in the product target the source of the fungus. As you do not need to apply a thick lotion or weak liquid, you don't need to worry about spilling the treatment.
In this review, I want to look at how Fungus Clear works and the competition as well as where to buy this nail treatment.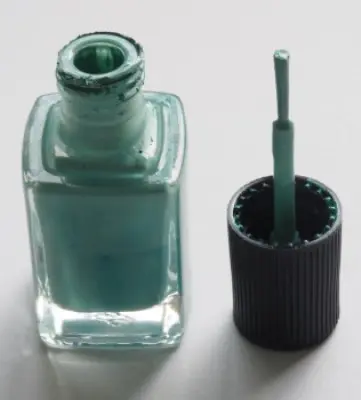 Unlike other products that you brush onto your toes, Fungus Clear comes in a supplement form that is easier to use.
PROS
Treats most types of fungal infections
Improves the look of your toenails and feet
Easy to use
Comes with a 180-day guarantee
Ships for free in the US
CONS
May take longer to work than other treatments do
Expensive
Does not work well for all users
BOTTOMLINE
Fungus Clear is a great product that uses ingredients and nutrients designed to work on most fungal infections. It is easy to use and available in up to a six-month supply.

iReviews Shopping Assistant
Find the best prices for this and many other products with our chrome extension
Product Features
Price: Up to $89 per bottle
Shipping: Free in the United States
Supply Options: One to six months
Active Ingredients: Seven probiotics and nutrients
Guarantee: 180 days, money back
Results: Within a few weeks
How Can You Use Fungus Clear?
Millions of people struggle with fungal infections every year. It's an experience that is unpleasant, unwanted, and is generally something I know a lot of people don't even want to think about.
Many of the products designed to work on those infections come in a cream or liquid form. Liquid products require that you brush the liquid onto your toes up to three times a day after washing and drying your feet. The creams require the same steps and can leave behind a foul odor.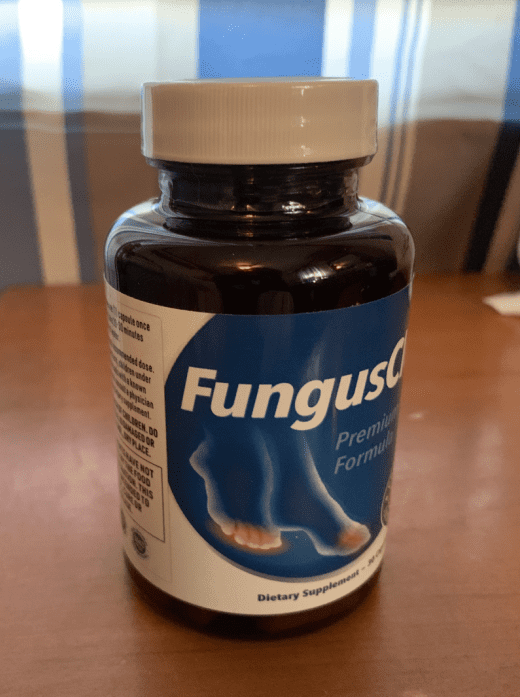 Fungus Clear comes in a one month, three-month, and six-month package. What I found many people like is that you don't need to worry about taking time to apply lotion because you simply take one supplement each day.
Fungus Clear increases the natural acidity of your body. Fungal infections thrive when you have a pH balance of up to 6. This supplement increases your pH balance up to 14, which keeps the infection from growing and spreading.
Vitality Health, the makers of Fungus Clear, recommends that you take one supplement per day around 20 minutes before your meal. It's helpful to take the supplement at the same time every day such as when you get home from work before sitting down to dinner or with breakfast before leaving the house.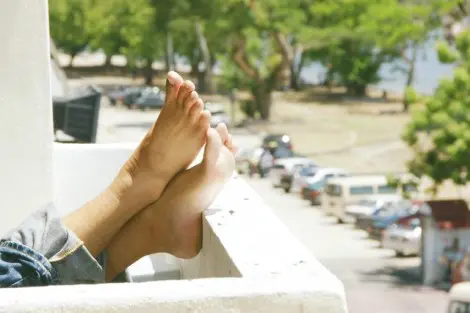 Fungus Clear can help you achieve a healthy pH balance and nip fungus in the bud.
How Fungus Clear Can Help
I find that the makers of Fungus Clear are clear on how this simple product can help you. It works on most types of fungal infections and treats the side effects of those conditions.
Taking these supplements can help with the itchy skin you feel around your toes. This itchiness can range from mild discomfort that takes your toes to itch when you wear shoes to a powerful itch that never goes away.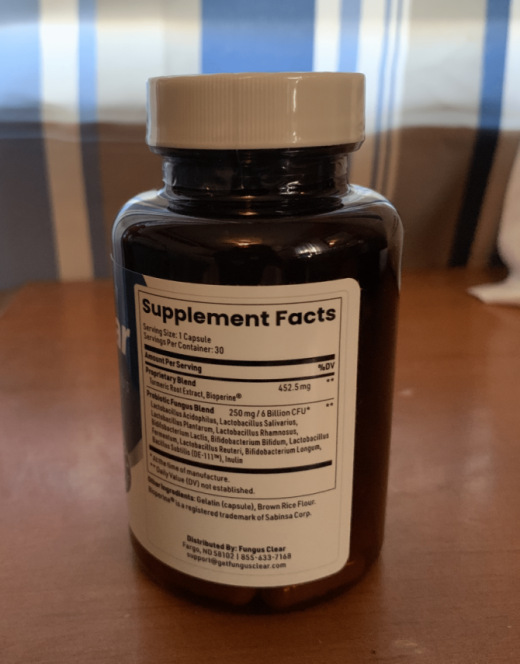 Fungal infections often change the color of your nails and the skin around your nails. You may find that your skin appears white or yellow and that the skin comes off in small or large chunks. Some people use lotions and boards because they think the skin is dead and want to remove it.
It also helps with the brittle and crumbly nails often caused by fungal infections. The longer that you avoid treating the problem, the worse your nails will become. Not only will the nails crumble when you try to cut them, but they can begin falling off.
It's horrible to think about, and that's why it's always best to act fast when you notice signs of an infection. I would still recommend talking to a doctor if you have a infection that is severe.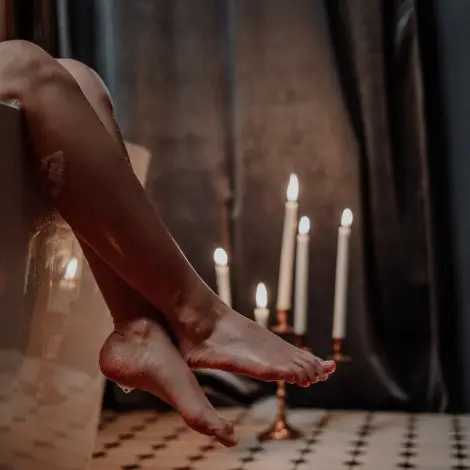 Fungus Clear helps you get the amazing toenails you always wanted in six months or less.
Who's This For?
Fungus Clear is a product for anyone who worries that they have a fungal infection. After some research I would recommend Fungus Clear for anyone suffering from the common signs of a toenail fungal infection, including:
Toenails that are thick and hard to cut or trim
Nails that have ragged edges or crumble when you rub against them
Dark colors or splotches that appear below your nails, which are a sign that the infection built up below the nail
A foul or unusual odor that seems to come from your nails and/or toes
This shouldn't act as a total replacement for seeing your doctor if you feel that you are suffering from something serious, but acting fast could root out the problem before it really sets it.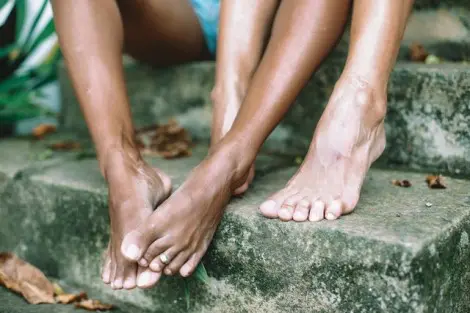 Fungal infections commonly affect people who spend a lot of time barefoot because they can pick up the fungus from different surfaces.
What are the Top Benefits of Fungus Clear?
After seeing what people who have used the product to clear their infections have to say, the biggest benefit is that it kills the infection that affected your nails. Though it may take a few weeks before you see any results, many users found that it made their nails look much better and removed the thick and crumbly toenails they once had.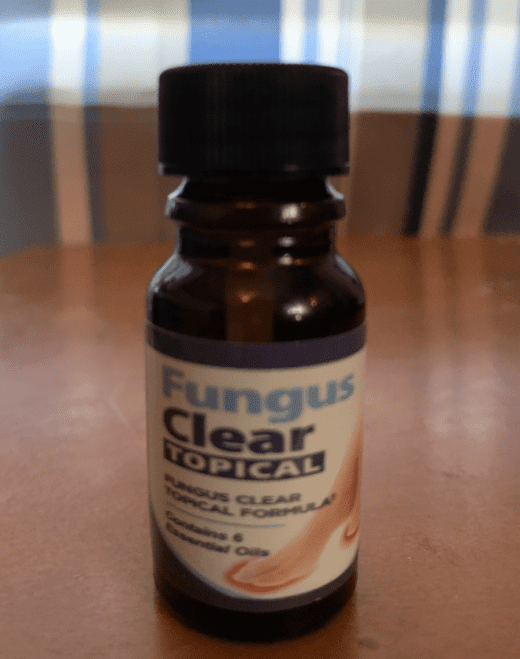 You might feel confident enough that you start wearing sandals again and feel better about showing off your feet. Some of the other benefits of Fungus Clear I found people talking about include:
It helps prevent future infections
It helps with digestion
It can potentially boost your immune system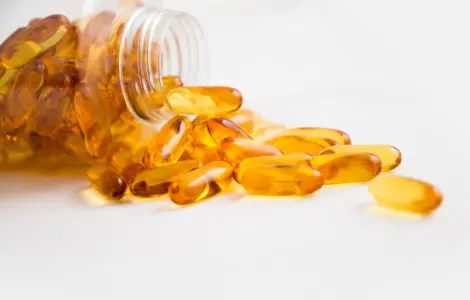 Unlike other anti-fungal products, Fungus Clear delivers the immune boost your body needs to stay healthy.
Does Fungal Clear Have Any Side Effects?
Any supplement that you take will come with the potential to experience some side effects. Headaches are among the most common. Many users who experienced headaches found that they began going away within a few weeks as their bodies adjusted to the supplement.
Other possible side effects of Fungus Clear include:
Upset stomach
Diarrhea
Loss of taste
Itchiness
Skin rashes
There is also a risk that you might suffer from more serious complications such as heart damage, especially if you experience side effects and keep using the supplements. Those with weakened immune systems also have an increased risk of developing liver or kidney disease.
If you have medical conditions, I highly recommend that you talk with your doctor before using Fungus Clear. Your doctor may ask you to keep track of your side effects or monitor your overall health while you take the supplement.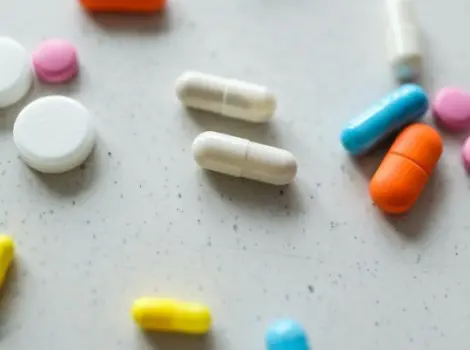 Always talk to your doctor about the questions or concerns you have before taking natural supplements such as Fungus Clear.
What are the Signs That Fungal Clear Works?
Even with all the praise I've found I want to make it clear that Fungus Clear is not a miracle cure. All of the customers who bought the product experienced different results. While some found that it worked within a few short weeks, others didn't notice any significant results for a month or longer.
The makers of Fungus Clear give you a 180-day guarantee because it can take that long before you see any results. In most cases, it takes a minimum of 90 days for customers to notice big changes. Before you file a claim to get your money back, look for some of the signs that the product worked, including:
Your toenails change from bright or dark white and yellow to a healthy natural color
The skin around your nails becomes pink or red
You notice that your feet do not itch as much as they did before
The crumbly patches begin going away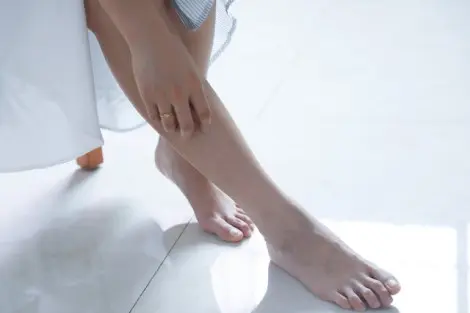 Though it can take months, Fungus Clear can give you the healthy nails you never thought you would have.
Are There Any Natural Alternatives to Fungus Clear?
There are a few natural alternatives that you can try. Keep in mind that these remedies often take much longer to work. One option is Listerine or another type of mouthwash. When you take a shower, soak your feet in the mouthwash for 15 to 20 minutes.
Some studies found that the active ingredients in most mouthwashes can kill the fungus in and beneath your nails. Other popular remedies include:
Vick's VapoRub: The same over-the-counter medicine that you use to treat congestion works on nail fungus. You can simply apply a thin coat of the rub to your nails and put on clean socks at night.
Tea Tree Oil: Tea tree oil is a natural way to treat infections, which is why it works so well on nail fungus. Always apply the oil to nails that are clean and dry.
Vinegar: If you have distilled white vinegar or apple cider vinegar, combine two cups of warm water with one cup of vinegar. You can soak your feet for up to 20 minutes a day to kill the infection.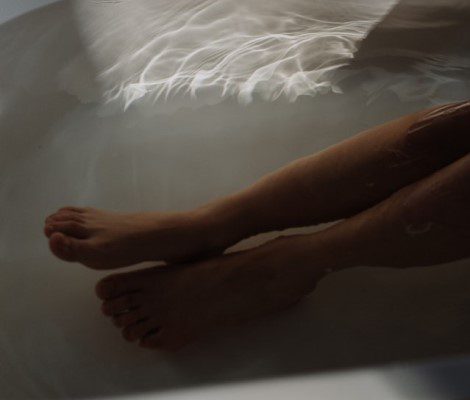 If you use a remedy that involves soaking your nails, make sure that you dry them before putting on socks.
Should You Buy It?
When you look at online Fungus Clear reviews, you may find some customers who loved it. Some reviewers claim that they used it to treat an infection when other products didn't work and noticed significant improvements within a few weeks. Other reviewers said that it worked so well that she was excited to wear flip-flops again.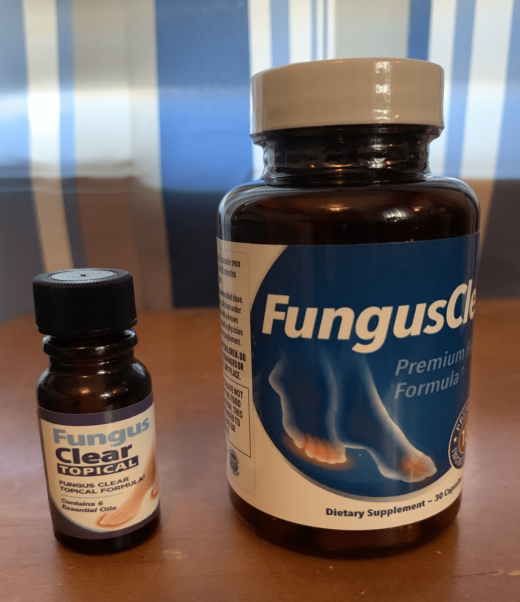 The most commonly found benefits people love about Fungus Clear include:
You can use the product to reduce the signs of a nail infection, including crumbly nails and ragged edges.
It gives you the healthy nails that you want and also has benefits to your health such as improving digestion and boosting your immune system.
Fungus Clear does a good job of making the skin around your nails appear healthy as it also battles your nail infection.
Unlike other products, it comes in a supplement form that you take up to 20 minutes before a meal.
You only need to take one supplement per day to see results within six months or less.
If you find that the supplement doesn't work, you have 180 days to request a refund and get your money back.
When you buy online, you can take advantage of a lower price and get free shipping.
Fungus Clear is available in one-month supplies as well as three-month and six-month supplies.
The supplement works on the most common fungus types that affect toenails.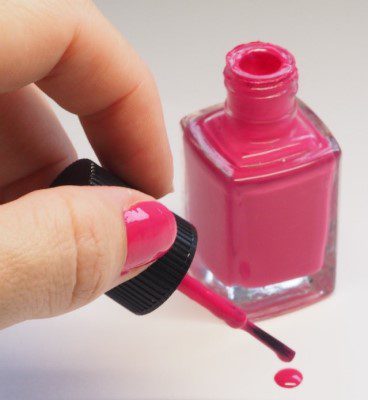 Fungus Clear can make you excited to paint your nails again.
Cons to Consider
Fungus Clear does get some mixed reviews from what I've found. While some had a great experience and completely killed their nail infections, others had no benefits when using the treatment. The official website features dozens of positive Fungus Clear reviews.
As I looked online for more information I found many who complained that it took so long to see any results that the period to get their money back was over. Those who tried to get a refund had a hard time getting in touch with the company.
Some of the other cons of Fungus Clear that I wanted to mention include:
You can get other products that are easy to use for much less. Even with the discounts, Fungus Clear costs $49 per bottle. Amazon sells other anti-fungal products for less than $20.
There is no guarantee that you may see any results. If you have a serious infection, you may need prescription medication.
Even when you follow the included guidelines, it can take up to six months before you see any improvements.
There are a handful of side effects that you might experience. Headaches and stomach pain are among the more common side effects.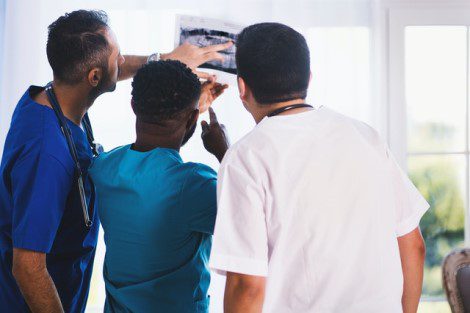 If you worry about the possible side effects of using Fungus Clear, talk things out with your doctor before beginning the treatment.
Where to Buy
You don't need to worry about tracking down Fungus Clear online because you can just click here. Buying online helps you find an anti-fungal product that is safe for vegetarians to use and free of BHA and GMOs.
Though a one-month supply usually costs $89, this link helps you buy it for only $49 and get free shipping as long as you live in the United States.
Don't forget to check out the customer testimonials found on the official site. I found Fungus Clear reviews that claimed the product worked on infections where other products failed. One customer even loved this anti-fungal so much that she ordered a new batch after seeing how well it worked.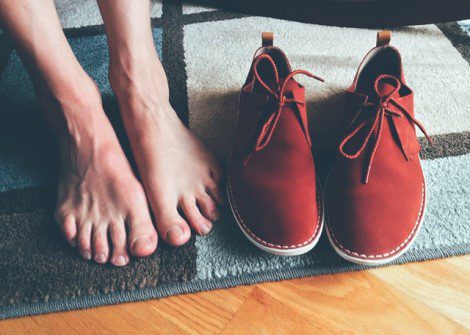 Fungus Clear works equally well on both men and women.
Competition
There are loads of anti-fungal products that work nearly as well as Fungus Clear does. Check out some of the competitors you can buy on Amazon below.
Kerasal Fungal Nail Renewal
Kerasal Fungal Nail Renewal claims that it allows you to see results in as little as two days. Each package comes with a small container that holds 0.33 ounces. Once you remove the lid, you will find a simple product that works just like a marker.
You simply brush the marker on your nails once or twice a day. This product uses acids and other ingredients that penetrate through your nails to treat the hidden infection. Many doctors recommend Kerasal to their patients who do not want to use expensive prescription medications.
Kerasal Multi-Purpose Nail Repair Solution
Multi-Purpose Nail Repair Solution is for those on a budget. You can grab a solution for less than $20 that works on both finger and toenails. Kerasal gives you an emery board that you use to remove the top layer of the nail before applying the solution.
This allows the liquid to get deeper into the nail to fight the infection. It can work on damage caused by manicures and conditions such as psoriasis as well as nail infections. Though it doesn't work as quickly as the Fungal Nail Renewal does, you should see some changes within a few days.
Imperial Feet Toenail Fungus Treatment with Nail File
Toenail Fungus Treatment from Imperial Feet asks you to do just two simple steps. The included nail file has a long handle that makes it easy for you to file down the nail and remove some of the top layers. You then remove the top from the bottle of liquid and apply a small amount to your nails, making sure that it soaks through your nails.
Many users noticed positive results within two weeks, but it took up to four weeks for others to observe changes. Though it can take a few minutes to use this product, you only need to apply a few drops a day.
Foot Cure Extra Strong Nail & Toe Fungus Treatment
Extra Strong Nail & Toe Fungus Treatment is meant for the strongest and toughest of infections. One of the claimed benifits of this treatment is that you can use it on both finger and toenails. Not only does it work on the nails, but it also improves the skin around those nails.
Suitable for use on dry and irritated skin, this product delivers results within one month or less. You simply remove the top of the small glass bottle and brush the liquid solution onto your nails at least twice a day: once in the morning and again at night.
Final Verdict
When it comes to this product, I do like that you can save money when you buy online and get a supply that lasts for up to six months, but the base price is a little high to make this most people's first pick. You, however, don't need to worry about spilling liquid solutions or dealing with pesky creams because this product comes as a supplement that you take just once a day.
Many users noticed improvements within a few weeks and up to a month of taking the supplements. There are also users who don't seem to experience much of a change in that time.
If you've tried everything else and nothing seems to work, than this could be an option for you if you're not yet at the stage where you want to take it to the doctors.