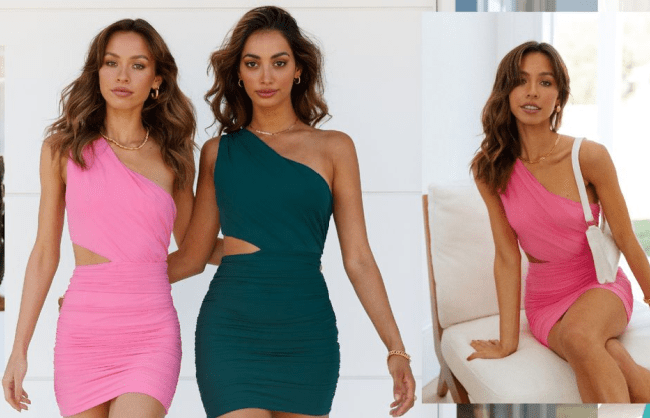 What is Hello Molly?
Hello Molly is one of the hottest clothing and accessory brands around right now. Hello Molly has a wide selection, from dresses and rompers to tops and bottoms, and even swimwear and activewear.
If you prefer clothing that lets you make the most of your assets, you'll find tons of body con dresses that hug your curves and make you look your best. Celebs such as Lily James and Kylie Jenner brought attention to the brand when they rocked some Hello Molly clothing. More than 800,000 fans now follow the brand on Instagram and love seeing the photos as new designs come out.
You'll find that most of the pieces are quite affordable and let you rock the hottest styles. In our Hello Molly review, we'll look at the brand's top products and their pros and cons.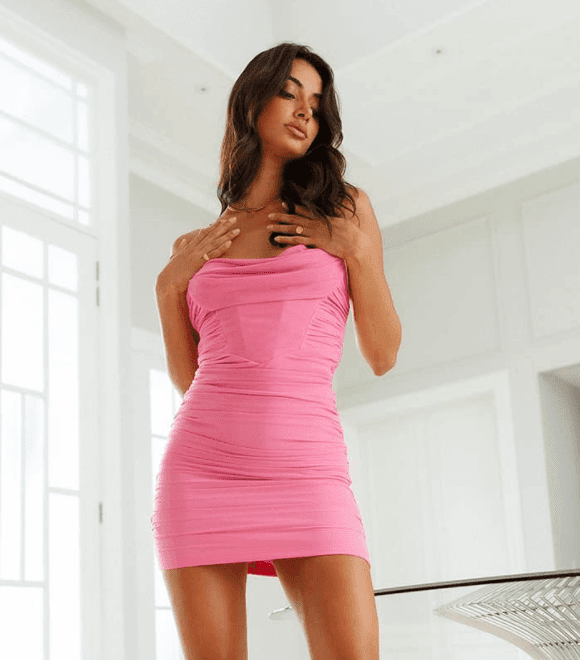 PROS
Offers tons of accessories and clothing
Lets you use a payment plan to order more
The brand gives back to good organizations
You can use the size guide to make sure your clothing fits
Hello Molly ships around the world
CONS
Some of the items are fairly expensive
There are some quality concerns
Does not offer many sizes
BOTTOMLINE
Hello Molly is a great brand for women who want trendy clothing and accessories. While the brand doesn't have an extensive size range, it sells tons of products. Although it claims to be a more affordable brand, I found their prices to be a bit higher than average.

iReviews Shopping Assistant
Find the best prices for this and many other products with our chrome extension
Sizing
As you look at the available sizes, keep in mind that this is an Australian brand that uses Australian sizes. The XXS size fits an Australian four, which is a zero in American sizes.
If you choose the M size, it will match an Australian size 10 or an American size six. Hello Molly offers sizes up through XL, which is a 14 in America.

The brand has a handy guide on its website that shows you how you can measure your body to find your size. You'll also find photos of different models with their measurements listed and the sizes they wear to show you how certain outfits look.
Hello Molly Dresses
Hello Molly has many trendy dresses available for purchase on their website. Although they are cute, the quality of the material is questionable for the prices. Synthetic fabrics such as polyester are the primary material used in most dresses – even the $100+ ones! However, there are also plenty of dresses available in silk, so a good tip is to check what material the dress is made out of before purchasing.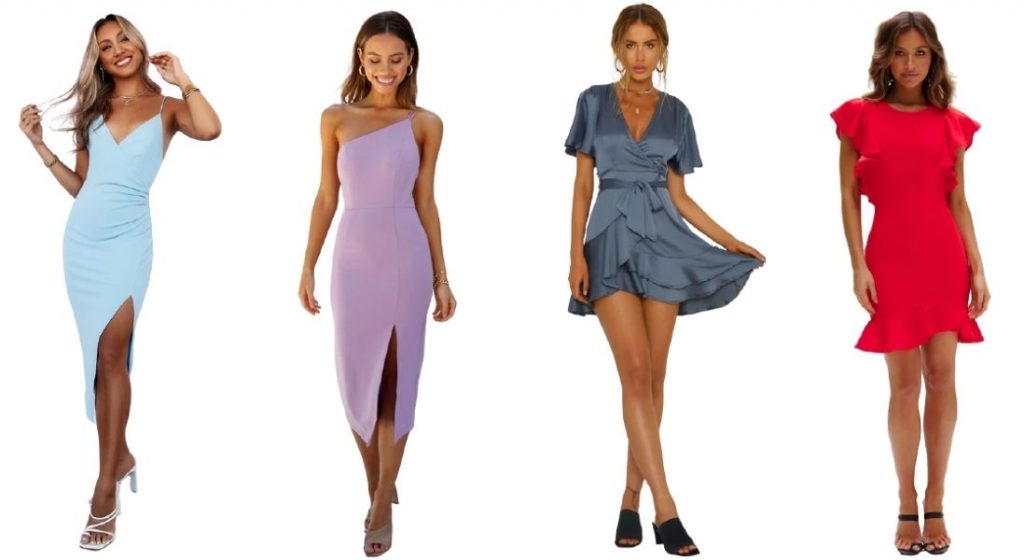 Hello Molly Tops
When it comes to the tops that Hello Molly offers, there are many cute styles to choose from. With price ranges from $20-127, there is something suitable for many budgets. Hello Molly tops often come in sets, so it'll be easy to grab a few cute and easy outfits. The fabric of most of these are cotton as well, making them breathable and comfortable to wear.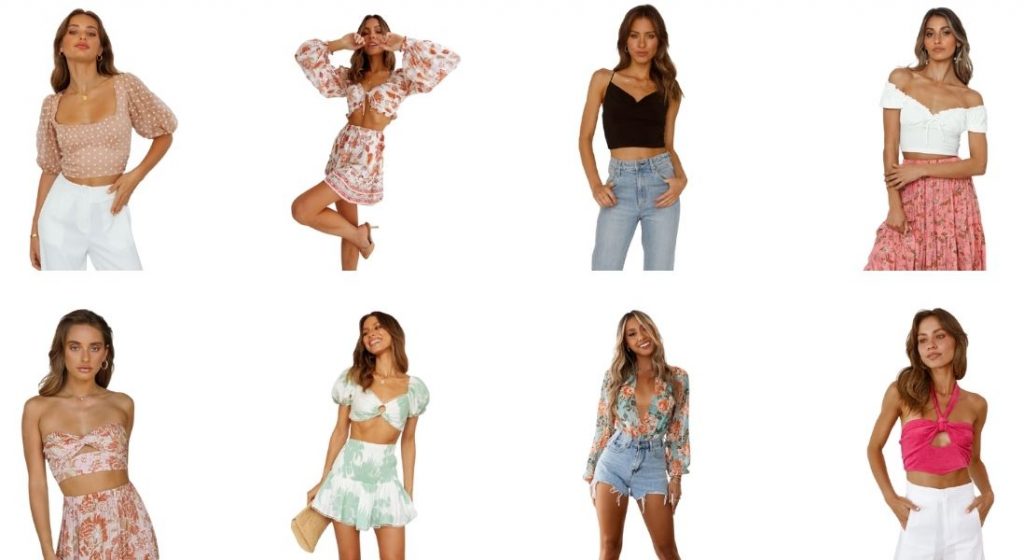 I tried out one of Hello Molly's "Happy and Hydrated" hoodies.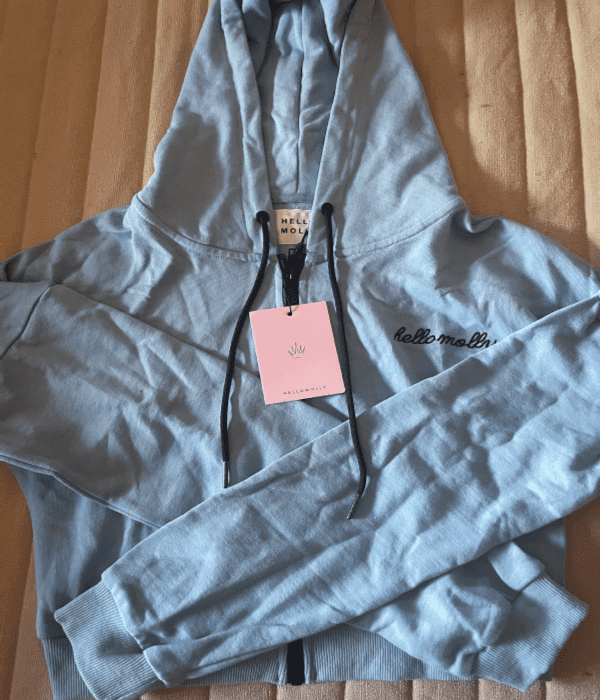 The hoodie is made with 100% cotton.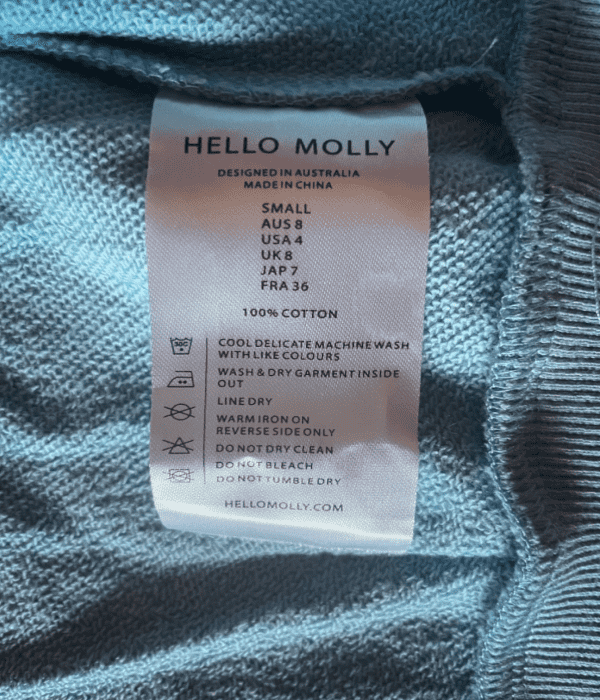 Although the hoodie is made with 100% cotton, the hoodie is very thin (hence, all the wrinkles from it being folded to ship) and flimsy. Especially with the hoodie retailing for $57.00, it should be of better quality and at least have a lining. For this price point, you can easily find a more affordable hoodie for the quality.
Hello Molly Bottoms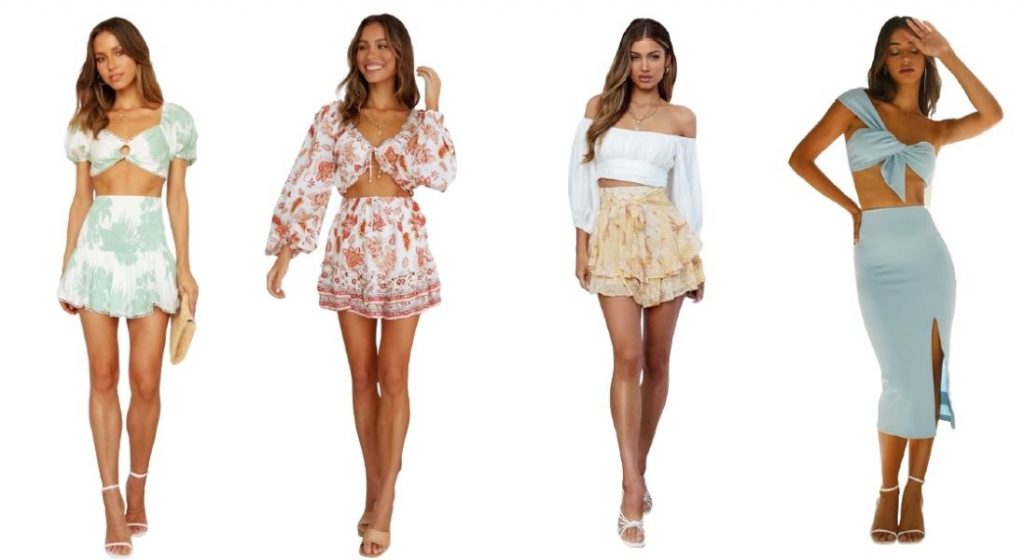 Hello Molly's bottoms include plenty of activewear like leggings, biker shorts, and jogger pants.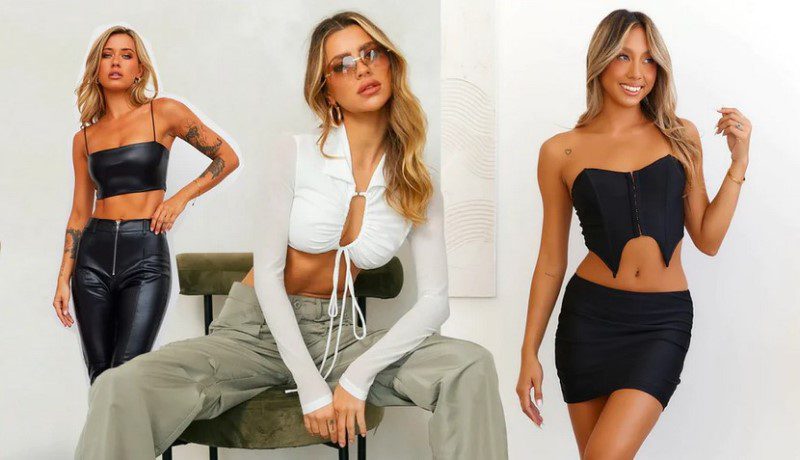 Who's This For?
As I mentioned before, Hello Molly offers the hottest trends, too. Are you tired of visiting dozens of websites to look for trendy pieces only to find that those sites are out of stock? Hello Molly has a "Back in Stock" section that shows all of the merchandise that sold out in the past and is now available again.
They also have bohemian dresses and skirts that look like you just walked off the catwalk and body-con dresses that would look at home in any nightclub.
You may find a few pieces that you can incorporate into your office wardrobe such as halter tops that you can wear under a jacket or blazer.
Whether you go with a simple dress or a total outfit, you'll find some fun places to wear these pieces. Why not go all out with an amazing body con dress that lets you flaunt your curves in the middle of a club? There are also tons of dresses and tops that you can wear on a first date or when you want to make sure that others notice you.
Many women love wearing Hello Molly clothing every day because the brand offers some pieces that are comfy and show off their bodies while also adding some coverage. When it comes to parties, this brand also has you covered. You'll have no problem finding the perfect outfit for any type of party.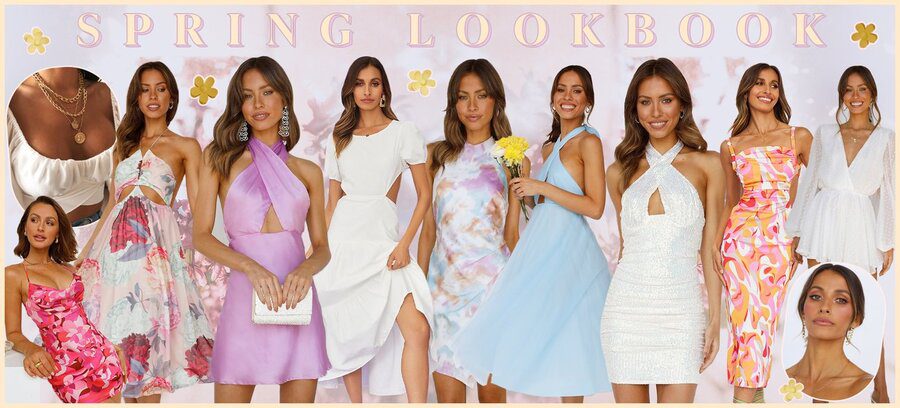 Hello Molly offers clothing in bold colors as well as pastel shades.
Hello Molly Shoes
Hello Molly offers a decent collection of shoes in many different styles. Most likely, you'll be able to find a pair or two you like.
Although the shoes are stylish, they are a bit pricey for the quality of material used. This may not be a deal-breaker for some. However, it's important to keep in mind that the quality is not great and typically doesn't hold up well and even makes wearing the shoes for a long time uncomfortable!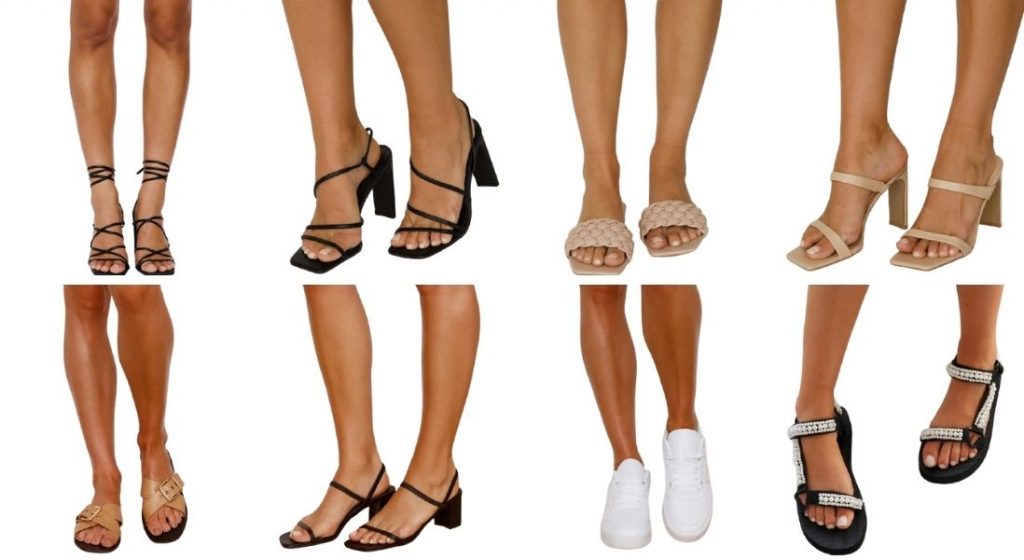 Return Policy
If you're unsatisfied with your order for any reason, Hello Molly will accept returns (with exclusions) but only for store credit.
It's also worth noting that you will be expected to pay for the shipping of the return. The price for the U.S Postal Service shipment will be $9.50.
Should You Buy It?
Hello Molly has a few pros that make purchasing clothes of their website worth it. Below are some reasons to try out Hello Molly:
The brand works with UNIDAYS to provide students with a 10% discount.
Hello Molly accepts Afterpay, which will divide your order into several payments and allow you to pay over time.
When you sign up for the email club, the brand will reward you with a 10% off coupon that is good on a future order.
You have 30 days to return any item you want.
Hello Molly offers free online tracking to help you keep track of your order.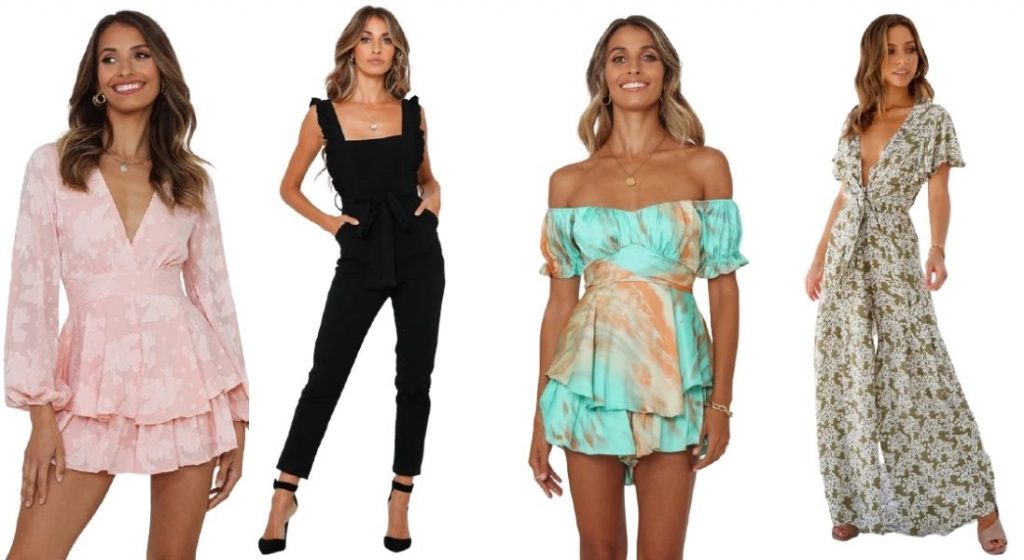 Signing up for the Made In mailing list is a good way to get discounts and hear about sales to bring prices down and save money.
Cons to Consider
Although Hello Molly claims to offer affordable prices, I found many shoes and dresses priced at $75 or more. Depending on your budget, you may find that you can get more pieces from another site than you would pay for a single item from this brand.
Another shortcoming of Hello Molly is the sizes that are available. If you are above a size 14, you won't find clothing on the site that fits you. Some of the other cons I found that you should keep in mind include:
Shipping can take up to nine days and even longer as the brand ships orders from Australia.
Hello Molly does not offer exchanges. If you need a different size, you can only return your item and buy it again in the size you need.
Though the site offers faster shipping, you need to pay for this option.
The site requires that you pay $10 for return shipping when you send an item back.
Even if you pay for express shipping, there is no guarantee that your order will arrive by the listed date.
Some items may not be of good quality.
Where to Buy
Though you might find some of the same merchandise that Hello Molly sells on other sites, the only way to find in-house branded styles is on the official site.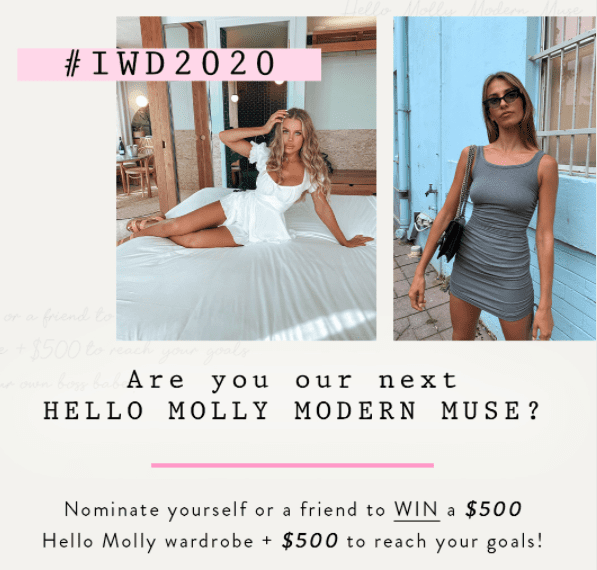 Entering Hello Molly competitions can help you win some big prizes.
Competition
Though Hello Molly helps you find hot trends at affordable prices, there are some other sites that sell similar designs. We'll look at the top online boutiques below.
Bella Ella Boutique
Many women love Bella Ella Boutique because the site offers clothing that looks great and is comfy. This online boutique really shines if you prefer a more contemporary style.
You can snag a knit cardigan to wear on cold days and at the office for only $40 or pick up a turtleneck to wear with jeans for just $20. Bella Ella also has an extensive line of dresses that include little black dresses for special occasions and dresses for formal events such as bridesmaid dresses.
Showpo
If you're in the market for dresses that will turn heads, shop at Showpro. Showpro also has great sales and if you're lucky, you can snag a few dresses for under $10! One reason many women like this site is that it has standard sizes and plus sizes. When you click on a product, you can see how it looks in multiple sizes to get an idea of how it will look on you. Showpro also has a bridal section with outfits you can wear to showers and parties.
Lucy in the Sky
Lucy in the Sky sells clothing and accessories designed in-house in Los Angeles. The brand lets you bring a touch of California fun into your daily wardrobe. The day dresses include simple dresses with fun accents that you can wear any day of the week. They also have stylish cocktail dresses for any night out.
Selfie Leslie
Selfie Leslie sells clothing designed to make you look and feel your best. We recommend that you check the trending section because it shows all of the current trends and has links where you can view clothing that fits in each category. There are other sections that feature formal wear and clothing for special occasions such as the $70 Hideaway Dress in white, which has one shoulder strap and a cutout on your stomach. Selfie Leslie also has tons of jumpsuits and rompers for women.
Final Verdict
Hello Molly is one of the ultimate shopping destinations for anyone who loves rocking hot trends, but don't want to spend a ton on clothing and accessories.
However, I found a few negative Hello Molly reviews from customers who didn't like the quality of the products as well or how long shipping took. My personal experience was similar with the "Happy and Hydrated" hoodie as I was not impressed with the quality and won't get much use out of it.
Despite the few negative reviews, most customers are satisfied with their Hello Molly purchases. Some of the other customer highlights include their student discount and that they had 30 days to return items they didn't like or products that didn't fit.