What is Dime Beauty?
As much as you want to look your best, you probably worry about the ingredients found in the beauty products you use. Some brands use fillers and harsh chemicals that can lead to breakouts and irritations. Other brands make products that go through testing on animals or products that only work on a small group of women. Dime Beauty is a wellness brand that makes beauty and skincare products suitable for all women. These products address the concerns that you have because they are affordable and cruelty-free. As a bonus, the brand is committed to helping the environment and uses sustainable ingredients as well as sustainable packaging.

Baylee Relf founded the company with help from her husband Ryan. The duo used her skincare experience to create a brand focused on the concerns that many women had. They partnered with chemists in the industry to work on formulas that were suitable for all women and all skin types. Mitch Casey later came on board to help the company grow. Dime Beauty offers everything from serums and masks to glosses and other beauty products. Many of the products are made in Utah. All of the brand's products come in biodegradable packaging that is safe for the environment. You can even join the rewards program and earn bonuses with your purchases. In our Dime Beauty review, we'll look at some of the brand's products and the rewards program along with the pros and cons of the company.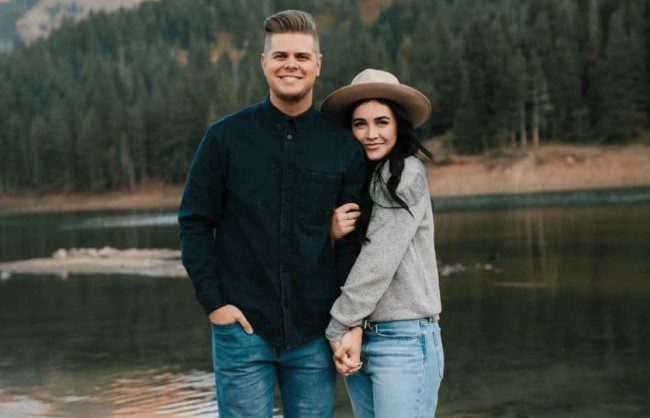 PROS
All products are cruelty-free and vegan
The products come in biodegradable packaging
You get 15% off through a subscription plan or the mailing list
Orders of $49 or more qualify for free shipping in the US
Dime Beauty offers a 60-day satisfaction guarantee
CONS
There aren't many makeup products
Some products are expensive
You may have problems getting in touch with the brand
BOTTOMLINE
Dime Beauty makes cosmetics and skin care products along with wellness merchandise for all types of women. Though the prices are fairly high, it's easy to find discounts that take 15% off.

iReviews Shopping Assistant
Find the best prices for this and many other products with our chrome extension
Product Features
Returns: Within 60 days of the product arriving
Cost: $15+ per item
Discounts: 15% off through subscriptions and the mailing list
Rewards Program: Yes, free to join
Cruelty-Free: Yes and vegan
Shipping Cost: Free when you spend $49 or more
Dime Beauty Skincare Products
We wanted to take some time in our Dime Beauty review to talk about the brand's skincare products because they are quite popular. One option is the Whipped Exfoliating Mask for $34. You may not realize just how many pollutants and toxins you come into contact with every day. These toxins wreak havoc on your skin and can make you look older. This exfoliating mask uses both lactic acid and salicylic acid along with cellulose beads. While the beads get rid of the dry patches you see, the two acids strip away old skin and allow healthy skin to shine through. Despite using two acids, the mask has a gentle formula and is safe to use daily.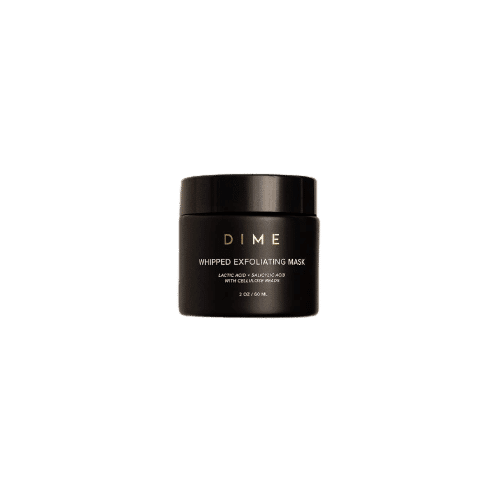 Do you have so many fine lines and wrinkles that you don't want to look in the mirror? While some women embrace the signs of aging, others spend tons of money on products that do little to nothing. With the Super Firm Serum from Dime Beauty, you get an easy way to fight back against the signs of aging. Available for $38, this serum is also available as a subscription to help you save money and reduce the signs of aging every month. Not only does it tighten your skin, but the serum provides a natural lift or boost.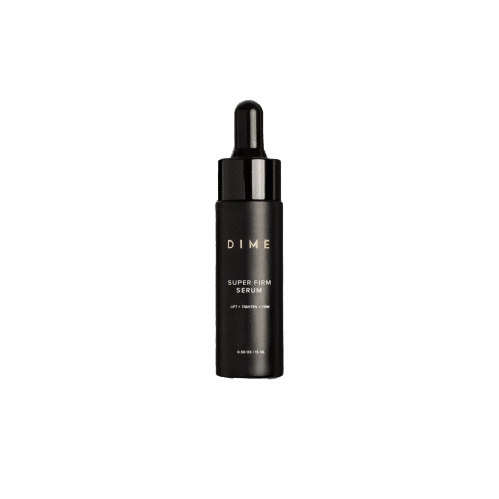 Many women suffer from dark circles under their eyes. Though the circles can occur because you're dealing with stress or didn't get enough sleep, they can also occur because of your genetics. Instead of spending a lot of money on cosmetics that don't last long or don't hide your circles, you can use the Luminosity Eye Serum from Dime Beauty. Available for $38, this serum is easy to use. You might apply a dab before you head to bed to see the amazing results in the morning or as you get ready and apply your makeup. This serum gets great reviews.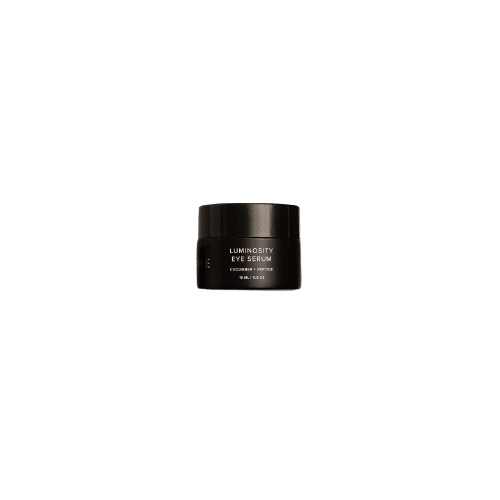 Are you a fan of retinol but hate how much it costs? Retinol is one of the top ingredients to help you battle the signs of aging because it works on all types of wrinkles and is safe to use daily. Dime Beauty designed its TBT Cream for women looking for an affordable alternative to traditional retinol. It has the thick consistency you want, which ensures that the cream stays where you put it on your skin. TBT Cream works on all areas of your skin and can tighten your skin while it also reduces fine lines and wrinkles.
Proper hydration is the key to healthy skin. When you eat healthily and drink plenty of water, your skin develops a natural glow. Many women find that their skin looks dry and flaky or patchy. Hyaluronic Acid Serum is a product from Dime Beauty that helps you get the hydration your skin needs. As the acid sinks into your skin, it plumps the tissue to help it absorb more water. The brand also claims that the serum acts as a carrier and can help you get more out of any of the other products you use. You can get this serum for just $28.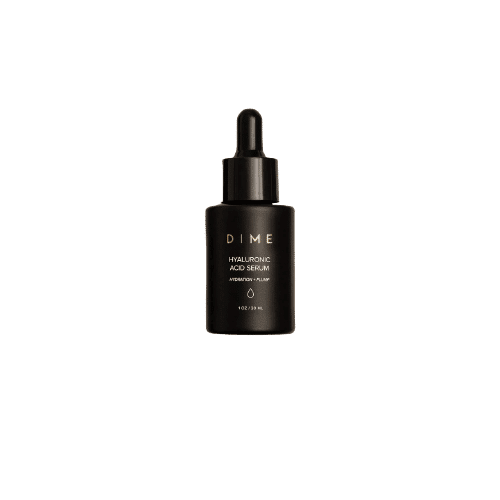 Some of the other Dime Beauty skincare products that we like include:
TBT Anti-Aging Serum ($38)
Hyper Glow Serum ($28)
Power Patch ($18)
Gentle Jelly Cleanser ($24)
Restorative Night Cream ($34)
How Can You Use Dime Beauty?
You don't need to completely change your beauty routine to use the products from Dime Beauty. Many of the creams and serums are perfect for use at night or during the day. When using one of the serums, you can apply a small amount to your problem spots or use the product all over your face. We recommend that you wait a few minutes for your skin to absorb it before you head to bed as you don't want the serum to rub on your pillows and linens. If you use the serum or cream in the morning, wait for your skin to absorb it before you apply your makeup.

Dime Beauty gives you instructions inside each package that tell you how to use the product. You can also check the website to see the best way to use and apply it. With the glosses, you may find it helpful to use a liner to set the gloss. Dime Beauty also makes mascara that makes your lashes look long and thick. You just need to pull the wand from the bottle and use an upward motion to sweep the mascara onto your lashes. Dime Beauty makes products that you can use with or without other cosmetics.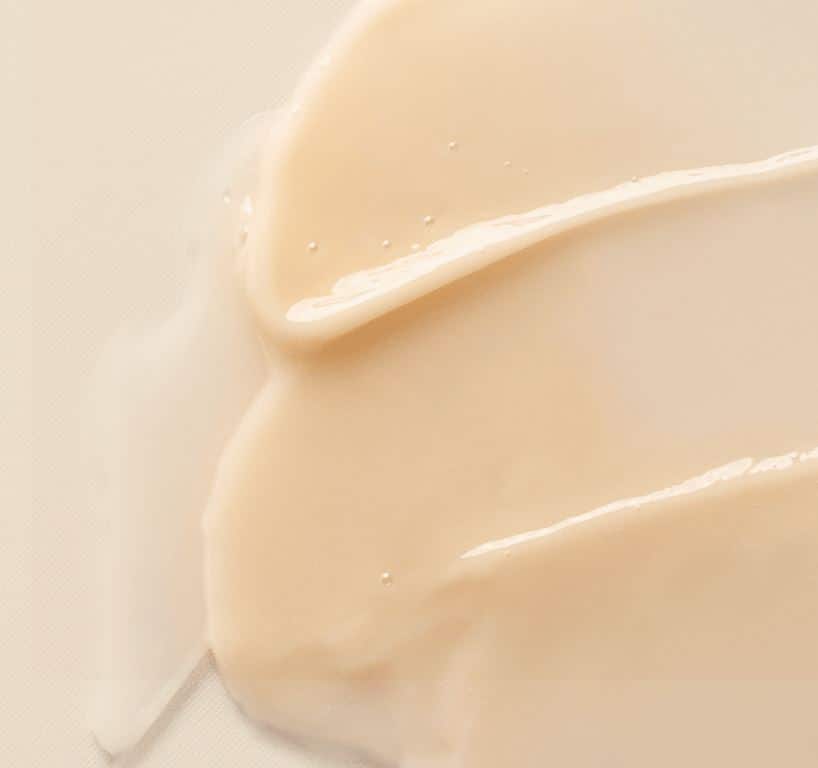 Dime Beauty creams are thick enough that they stay where you need them.
Dime Beauty Cosmetics
There are tons of cosmetics from Dime Beauty that you can use daily such as its Brow Boost Gel. Do you find that your brows are a little unruly? While they look great when you leave the house, they can look wild and crazy by the time you get home at the end of the day. Dime Beauty designed this gel for women who want control. It sells for $44 and goes on clear. You won't have any issues putting it on and will find that it keeps your brows in check. The gel can also make your brows look thick and healthy.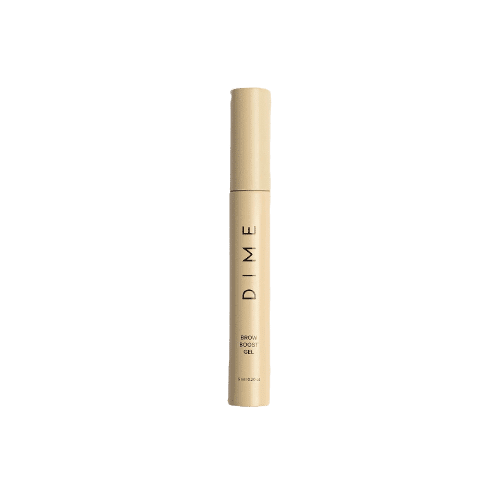 While mascara can give you the lashes you want, there are only so many coats that you can apply. The Eyelash Boost Serum from this brand works so well that you may find you no longer need to apply mascara in the morning. This serum uses both peptides and amino acids to improve the follicles of your lashes. You only need to use the included wand to apply a small amount to your top and bottom lashes at night before you go to bed. Available for $44, the eyelash serum gives you stronger and longer lashes with regular use.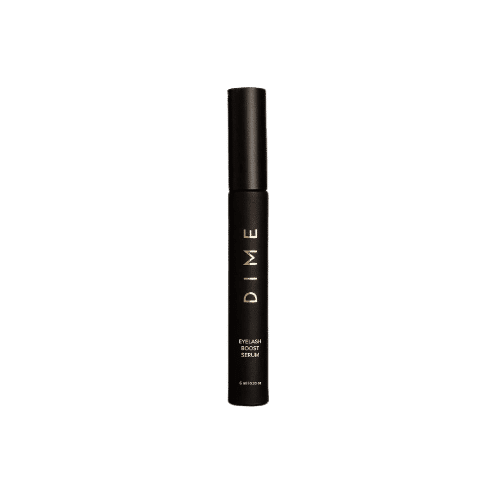 If you want longer lashes but don't want to use a serum every day, consider the brand's Volume Mascara. For only $18, you get a good mascara that works just as well as those that cost twice as much or more. you can use it in the same way you would any other mascara and apply it to your top and/or bottom lashes to make your eyes pop. Unlike similar products that can flake off as you move, this mascara goes on evenly and stays on for hours. The only potential downside is that it is only available in one color.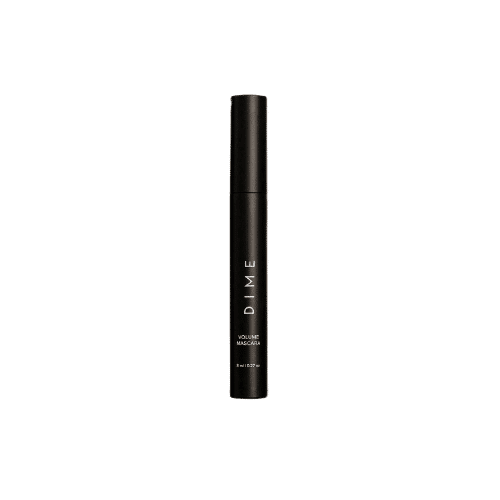 Dime Beauty knows how much you love your lips, which is why the brand makes a Matte Liquid Lipstick. Though it looks like a gloss, it dries to a matte finish. You can use this lipstick at work or on a date night. It retails for $15 and comes in multiple colors to work with different skin tones. David is one option, which is a soft pink color. There is also Liam, which has a darker and richer pink shade and the nude shade called Noah. Dime Beauty also has some bundles that include multiple shades of matte lipsticks.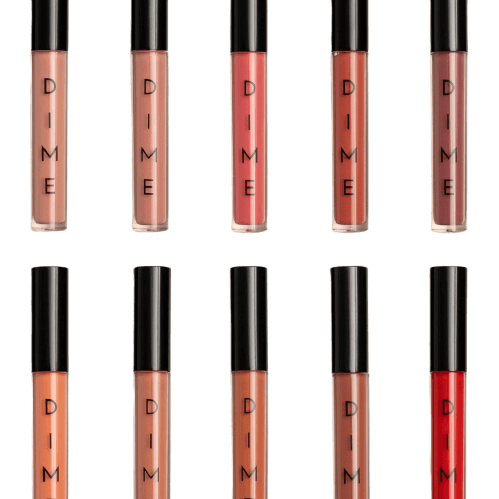 Do you want to draw attention to your lips but prefer a glossy look to a traditional matte look? Dime Beauty has you covered with its Lip Gloss, which retails for $15. It comes in a standard tube with a built-in applicator that makes it easy for you to add the perfect amount to your lips. The brand only offers this gloss in James, which is a rust color with metallic notes. Though you can apply it right to your lips, you can also use the gloss on top of your lipstick. The brand claims that this shade will work with all of its lipsticks.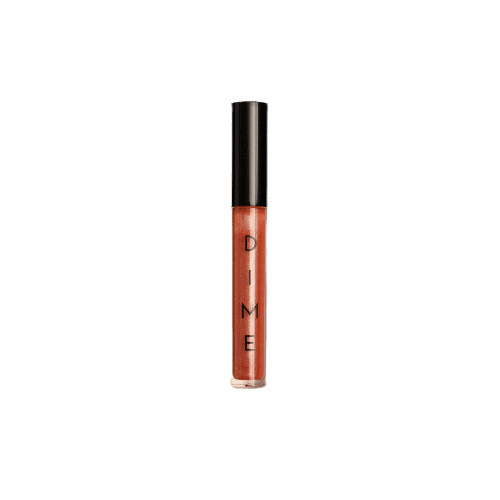 Where Can You Use Dime Beauty Products?
Anywhere you go, Dime Beauty products go too. The skincare products are perfect for women who want to care for their skin but don't know what to do. You can pick out a bundle that comes loaded with cleansers and serums or creams. The bundles show you which steps you need to take at night and in the morning as well as how to use each product and how much you should use. With the brand's cosmetics, you'll find products that help you get ready for any day of the week and special occasions. Why not pick out a new lipstick before a blind date or a gel that tames your wild brows.

There are also Dime Beauty products that are perfect for use on the go. Some of the skincare products come in jars that are so small you'll have no problem tucking one into your bag and taking it on vacation. They fit nicely in desk drawers at the office, too. If you invest in one of the larger bottles, simply pour the cream into a smaller container and leave the bigger bottle at home. Dime Beauty even makes products that you can use after a gym session.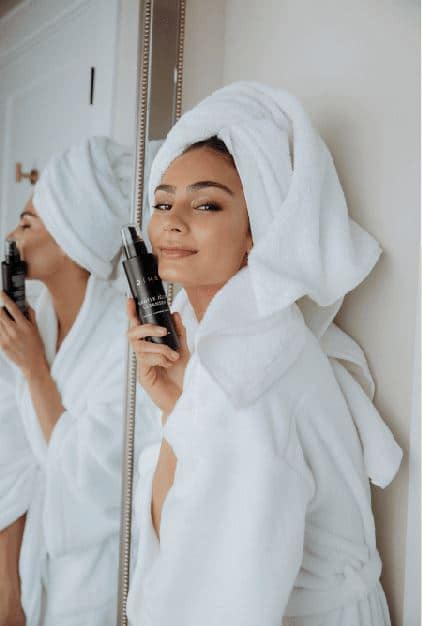 Dime Beauty products are great for home use.
Who's This For?
The founders of Dime Beauty launched the brand in the hopes of helping women find skincare products that worked and were affordable. They knew that many women did not have enough money to see a professional and wanted to make sure that they had access to the products and ingredients that the pros recommended. As the brand grew, it expanded its product line to include face masks that reduce the appearance of big pores and cosmetics that are suitable for daily wear. You'll now find serums that give you amazing brows that won't go crazy in the middle of the day and those that give you lush and long lashes. Many of the face serums are perfect for women concerned with the signs of aging. You can use them in the morning or at night and in the middle of the day to make your skin look healthy and younger.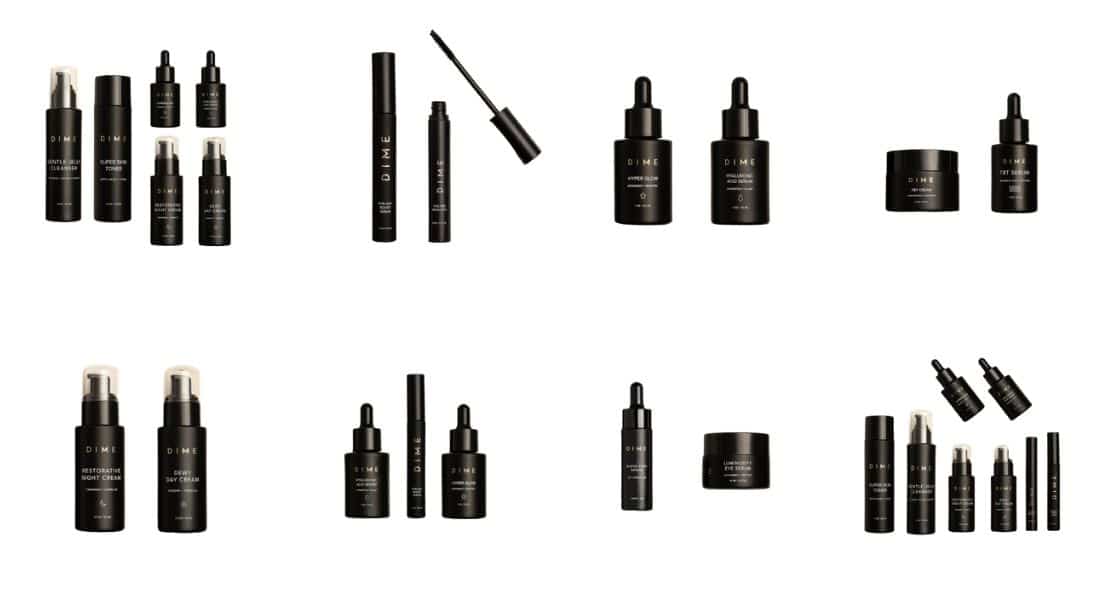 Save as much as $26 when you buy a Dime Beauty bundle
What is the Dime Beauty Rewards Program?
Dime Rewards is a loyalty program the brand designed for its frequent customers. You start as a Super member, which gives you 100 points for signing up and 100 points on your birthday. Super members also earn one point for each dollar they spend. Once you spend $150 in a calendar year, you become an Elite member. You get 1.25 points per dollar spent and double points on select products as well as early access to new products and advance notice when products go back in stock. If you hit $250 or more in purchases, you become a Gold member and earn 1.5 points per dollar spent. Gold members also get a free e-book on beauty and wellness along with access to limited edition products.

It's easy to earn rewards without shopping, too. In addition to a birthday gift of 100 bonus points, Dime Beauty gives you five points when you tweet about the brand and five points when you follow the company on Pinterest. Other ways to earn points include:
100 points for writing a product review on the website
100 points when you make three purchases
150 points for adding a photo to a review
150 when you leave a review with a video
Five points for liking the brand on Facebook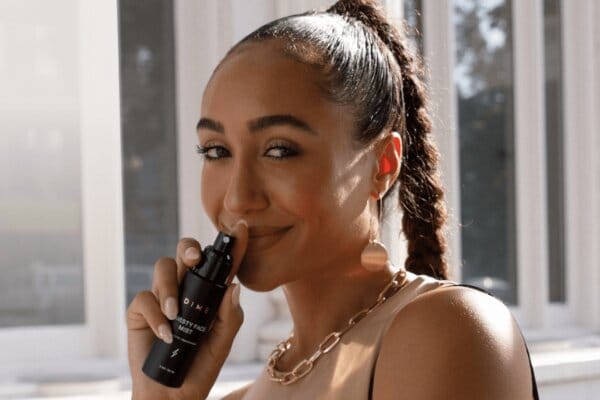 Unlock early access to new and limited edition products as a rewards member.
Should You Buy It?
In our opinion, Dime Beauty is a worthwhile beauty brand. It works with afterpay to ensure that any woman can get the products she wants. Instead of paying right away, this company will automatically charge you four times in the next few weeks. You might buy a new bottle of perfume for $48 and make only four $12 payments. As long as you have some source of income, you should qualify for this program. More than 100,000 customers bought from this brand and wrote positive reviews. Some of the things they loved include:
Dime Beauty offers a 100% money-back guarantee and gives you 60 days to file a return online once your package arrives.
As the packaging is biodegradable, you don't need to worry about adding trash to the landfill.
The brand makes products in small containers that are easy to display in your home or take with you.
All products qualify for a subscription plan that takes 15% off the cost each time you order.
With the loyalty program, you earn points for buying Dime Beauty products and doing other things and also receive big bonuses when you spend more.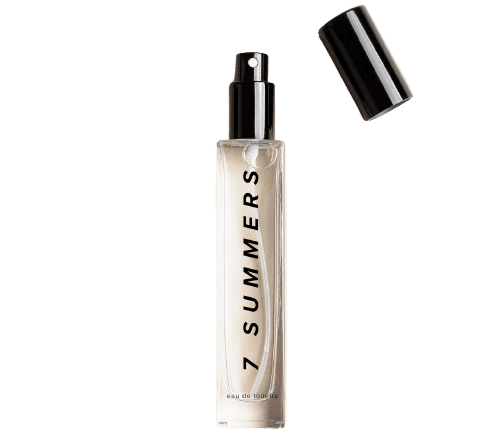 Dime Beauty also makes several perfumes.
Cons to Consider
There are a handful of Dime Beauty cons that we wanted to discuss such as the high prices of its products. Though you can get a 15% off coupon through the mailing list, you may not want to get messages from the brand or worry about checking your email to find the coupon. There is also a discount available if you sign up for a subscription, but you need to cancel your subscription each month or the brand will keep charging you. Some women had a hard time canceling their subscriptions, too. They said that Dime Beauty told them they canceled too late and still charged them. Other cons of Dime Beauty you should know include:
You can only use one discount at a time. If you have a subscription, you cannot use a coupon with it.
Dime Beauty only makes cosmetics and skincare products for adults. They are not suitable for kids or teenagers.
Though the brand makes lots of skincare products, it doesn't have nearly as many cosmetics.
Products often sell out but still have pages on the site. There is no way to find out when they become available again other than checking the site.
Some customers weren't happy with the results they saw. A few reviews complained that the products offered no benefits.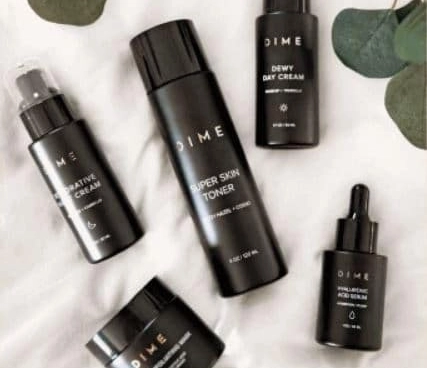 If the prices are too high for your budget, look at the bundles that often help you save.
Where to Buy
Click here to shop for Dime Beauty products and see everything that you can buy today. The website makes it easy for you to find anything that you need thanks to category listings that you'll see on the top of each page. Click on the Bundles section to view all available bundles or the Skincare button to check out the serums and cleansers. We also recommend that you scroll to the bottom of the page to find the signup option for the mailing list. Once you sign up, you receive a 15% off coupon that applies to your whole order.

Do you worry that you might lose your instructions or are afraid that you won't know how to use the products you buy? Dime Beauty offers some helpful how-to articles. Each one covers a different product and shows you how to use it along with some tips you might try. We also like the brand's Skin Quiz. This quiz asks you different questions to identify the type of skin you have. The results make it easy for you to see which products are best for you. We found that it only took a few minutes to complete the quiz.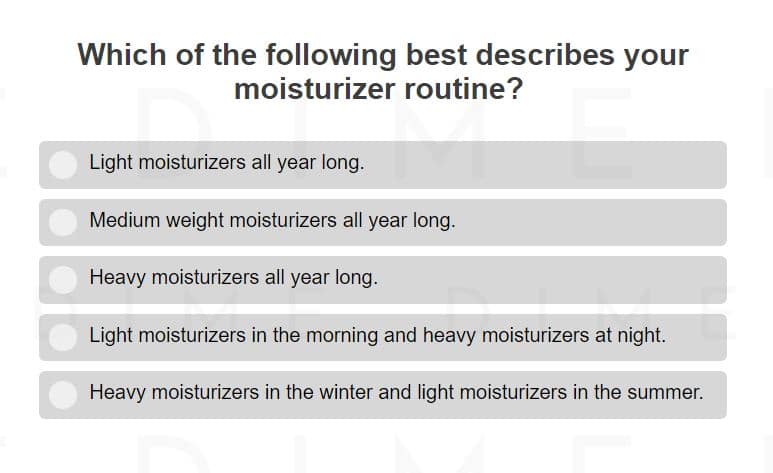 The Competition
While Dime Beauty makes affordable cosmetics and skin care products that are cruelty-free and vegan, other brands make similar options. We'll take a look at our favorites below.
e.l.f.
Known as both e.l.f. and e.lf. cosmetics, this is a makeup brand that you might see in your favorite pharmacy. The company claims that it makes products that are similar to those from high-end brands but cost a fraction of the price. Thanks to online tutorials, e.l.f. makes it easy for you to find tips and detailed guides on how to apply your new makeup. We recommend that you check back each season for some of the limited edition products. This brand makes mascara, lipgloss, foundation, primer and dozens of other products for all types of women at prices of $10 or less.
FITISH
Similar to Dime Beauty, FITISH is a brand that has a 15% off discount you get for signing up for h mailing list. As one of the newer vegan beauty brands on the market, it sells some of its top products through popular mall stores as well as online. The Tone Down Body Cream for $30 is popular with women who want to tone their skin, while those who need to boost their hair often choose the $25 Cleanish Dry Shampoo that doesn't require water. FITISH also makes beauty products that let you enjoy the benefits of CBD such as the CBD Gentle Face Cleanser for $37.
Beauty Heroes
One of the hottest brands on the market is Beauty Heroes. Customers love that this brand has a commitment to both its shoppers and the world. All products use ethically sourced ingredients and are both vegan and cruelty-free. They are free of the microplastics that other products use and can damage the environment. You can also use these products if you have allergies because they do not use artificial scents or dyes. Signing up for the Beauty Heroes mailing list helps you save 10% off when you shop for cleansers and exfoliating serums that use strong acids.
Evolve Beauty
Evolve Beauty is a UK beauty brand that ships to the United States. The free skin quiz asks you multiple questions to identify the needs of your skin and the products that you should use. You can save money when you spend the minimum amount to qualify for free shipping or join the mailing list and get a 10% off coupon. Though this brand does not sell cosmetics, it offers loads of skincare products such as Daily Renewal Face Cream for $41 and Hyaluronic Serum 200 for $43. You'll also find deodorants and other products that use organic ingredients from Evolve Beauty.
Final Verdict
Though we didn't rate Dime Beauty as high as we rated other beauty brands, we still think it's a good company. We like that it has a skin quiz for those who aren't sure what products to buy. Once you answer all of the questions over a few minutes, the quiz results will show you what skin type you have and which products will help with your issues. We also like that the brand has a loyalty program. No matter how much money you spend, you get points through this program. Those points help you qualify for fun rewards and big discounts.

Dime Beauty offers a wide range of skincare products designed for adult women that range from hydration tools to serums that hide the signs of aging. With the cosmetics line, you'll find plenty of products for your lips and eyes that last for hours. There are even bundles that let you try different lipstick colors or skincare products and save money. If you love perfume, the brand also sells bundles and individual bottles of its popular scents online. For makeup and skincare products that are suitable for daily use, you can't go wrong with Dime Beauty.