What are Atoms Shoes?
When it comes to shoe shopping online, you never know what you might find or get. While you might buy a pair that fits great and is super comfortable, you also risk buying a pair that feels like cinder blocks attached to your feet. That doesn't mean you should stick to stores in your area though or only buy shoes once you try them on and wear them around. Atoms is a new brand that wants to help you find the best shoes with none of the frustrations. Unlike other brands that make dozens of different designs, Atoms makes just one sneaker, which is available in men's sizes and women's sizes. As a bonus, you can customize the size down to quarter sizes to make sure that they fit as comfortably as you want.
Sidra Qasim and Wagas Ali came up with the idea for a shoe brand that would only offer one design each year. They spent some time traveling around the world before creating a minimalist sneaker. Not only is this shoe suitable for men and women, but it comes in multiple colors that you can match to your wardrobe. They went live on Kickstarter and had so much success that they turned their initial funding into a full brand that is now available online. You no longer need to try on dozens of pairs of shoes or spend money on expensive scanners to find the best shoes for you. Read through our Atoms shoes to find out everything you need to know about this brand before you buy.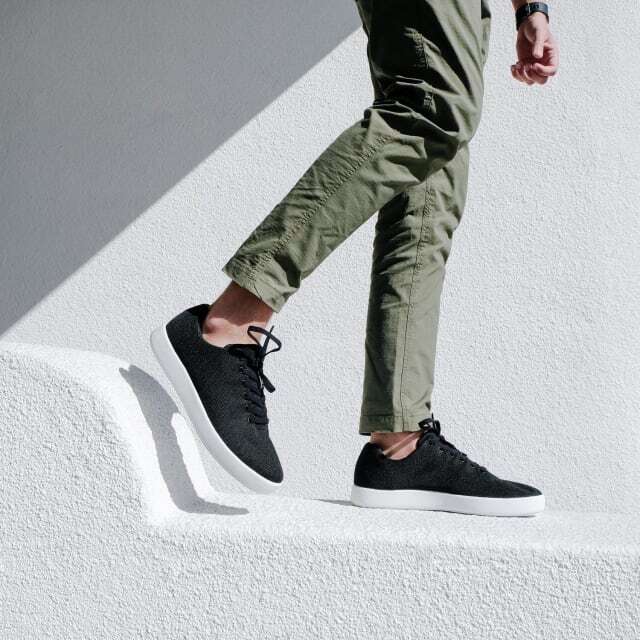 PROS
Free returns let you try different sizes and send back the shoes you don't need
The shoes help reduce and even eliminate common foot odors
You can choose the color options you want
All orders come with free shipping
Refer your friends to earn shoe discounts
CONS
Limited edition designs are only available for a short period
The shoes are expensive
Not as many options as other shoes have
BOTTOMLINE
Atoms offers custom shoes in a range of quarter sizes that offer the fit and comfort you want. Not only do you get free shipping and returns, but the company gives you discounts when you refer your friends.
Product Features
Price: $129+ for shoes
Returns: Free within 30 days
Exchanges: Free within 30 days
Discounts: 10% off if you qualify
Sock Prices: $15 per pair
Shipping: Free through the mailing list
Atoms Shoes Review
Atoms shoes are only available in one style, but that saves you the freedom of worrying about which pair to buy. Known as the Model 000, they are quite similar to the running shoes that other brands make. Unlike those brands though, Atoms does not put a logo on their shoes. Designed with ease of use in mind, the shoes have handy laces on the front. While some choose to loosen and tighten the laces every time they put them on or take them off, you can also tighten the laces and tuck them inside to slip the shoes on and off. They have a copper lining inside that Atoms claims is antimicrobial and will keep your shoes from smelling. This lining also kills some of the common bacteria found in shoes.
Thanks to the cushioned insole, the 000 make you feel as though you're walking on air. This insole weighs less than similar ones do and is removable. Atoms claims that you can wear these shoes daily without feeling any discomfort. As a bonus, you can pick the exact size that you need. These shoes come in sizes 5 and up for women and 3.5 and up for men. Do you wear a size that is between two numbers but not a half? Atoms has you covered with quarter-sizes. You can even purchase multiple pairs and return those that don't fit. These Atoms shoes sell for $129.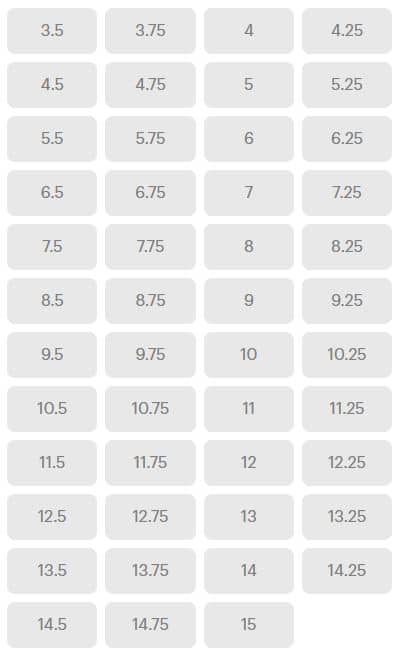 Atoms makes it easy for you to find the perfect size.
How Can You Use Atoms Shoes?
It's easy to look at Atoms shoes and wonder why people spend so much money on simple shoes. You should keep in mind that Nike and other brands have running shoes that cost just as much or even more. With the Atoms size advisor, you get a little help choosing a pair based on size alone. You may want to look at the different available colors before you settle on your new shoes. Though most of these shoes sell for $129, the gray pair goes for $169. When the brand releases limited edition styles, they usually sell for around the same amount. Those pairs often sell out within a few weeks.
With the size advisor, simply click on the black "Find your size now" button. You will then show whether you need shoes for men or women and list the year you were born. Atoms also asks if you have a narrow, wide or normal foot width and if your arch is normal, flat or high. The site asks you to pick the brand that you normally wear along with the model you wear most often and your size. Once you complete this step, Atoms will show you what size you need when you click on a shoe. Though the size advisor is convenient, we found that it didn't always save our info.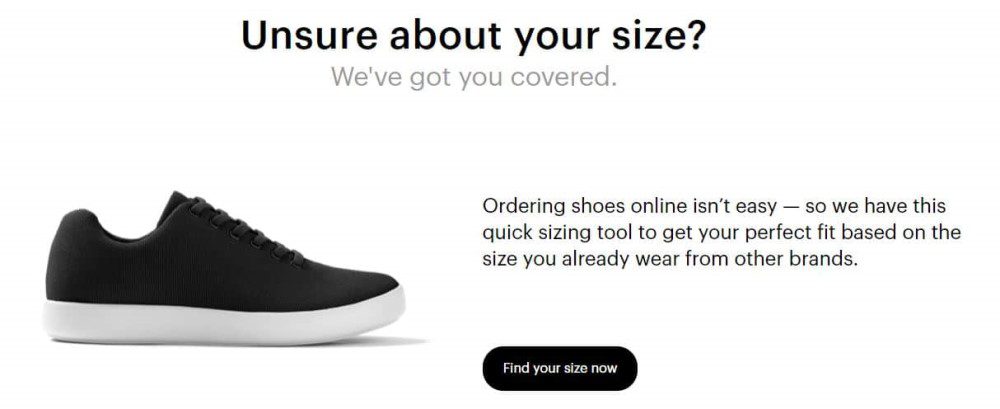 How to Care for Atoms Shoes
Caring for your new shoes is fairly easy. All you need is a simple cleaning solution and a brush with soft bristles. If you have minor stains or just want to freshen up your shoes, apply a small dab of the cleaning solution to the spot. Use the brush to rub it in and then rinse with a little clean water. For more serious stains, you can use a washing machine. Atoms recommends that you use the following steps:
Remove the insoles from your shoes.
Place small shoe trees inside that maintain the structure of the shoes.
Put the shoes inside a pillow case along with a few towels for extra padding.
Turn the washing machine to the gentle cycle and select cold water.
Once the machine finishes its cycle, remove the shoes and let them sit until they fully dry.
Please keep in mind that heat can damage both the shoes and the insoles. Using hot water in your washing machine or using a dryer can warp the insoles if you forget to take them out and damage the foam inside. You should leave the shoe trees inside and keep them out of direct sunlight. Though you don't need to wash the shoes on a regular basis, these steps will help you keep them clean.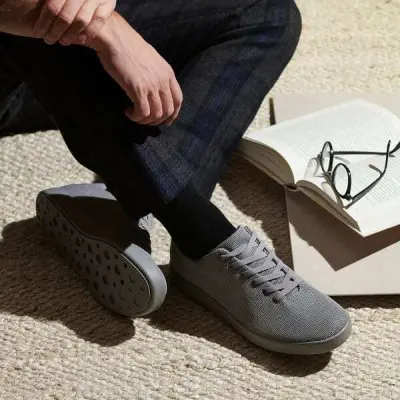 Proper care will keep your shoes looking as fresh as they did right out of the box.
Where Can You Use Atoms Shoes?
Have you ever tried to buy a simple pair of sneakers before and had a salesperson who kept trying to push you into an expensive pair? Sales reps might claim that you need a specific pair for running and a different pair for playing basketball or doing errands. Atoms wants to save you some money, which is why the brand recommends these shoes for everything you do. As the shoes are resistant to water, you don't need to worry about damaging them when you need to go outside in the rain. They're comfortable enough to wear at an amusement park with friends and stylish enough that you won't feel out of place wearing the shoes at work. Some of the places you might wear Atoms shoes include:
At school if you take classes and need to spend a lot of time on campus.
On vacation when you know that you'll spend a lot of time outside of your hotel room and on your feet.
During busy days when you want to look stylish and feel comfortable.
At casual offices and other jobs where you're allowed to wear sneakers.
When playing sports and enjoying all of your favorite activities.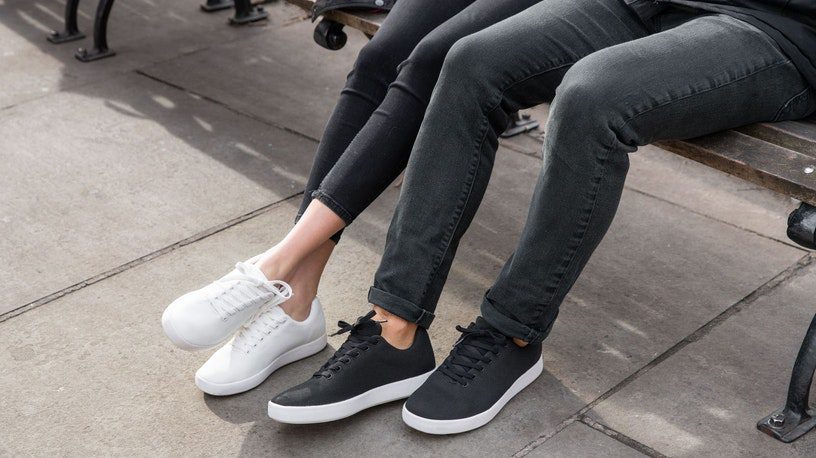 Atoms Everyday Mask
As a way to help customers concerned with spreading germs, Atoms introduced the Everyday Mask. Though it initially came out during the COVID pandemic, it's still available. This mask has a simple design that features loops on each side that fit over your ears and a mask that covers both your nose and mouth. It comes in XXS through L sizes. The brand recommends that you measure your face and compare your findings to its size chart to pick the right fit as you cannot return the mask. For example, if your face is six inches tall and between 6.2 and 6.4 inches wide, you need the large size.
Available for only $12, the Everyday Mask filters up to 84.6% of the particles that you come across. It has an outer layer made of polyester that dries quickly and an inner layer made of quartz yarn along with copper fibers. Atoms claims that the fibers will kill most germs and bacteria within four hours. Though you need to hand wash the mask, it lasts for up to 50 cleanings. Some of the colors you can choose from include:
Tie-Dye Blue
Pink
Gray
Classic Navy
Yellow
Liberty Green
Ocean Blue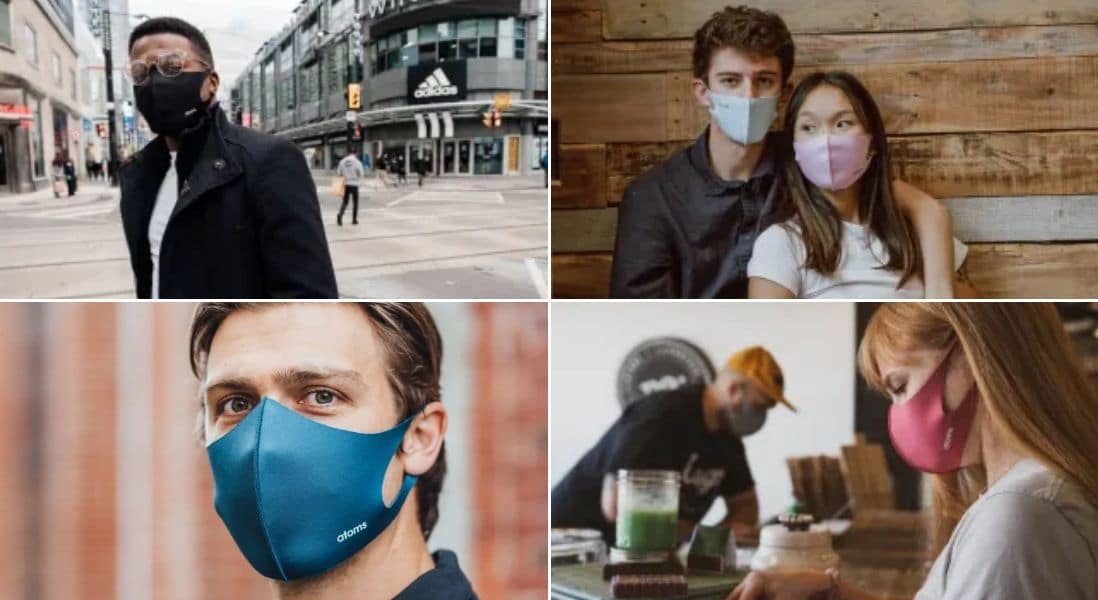 Who's This For?
Atoms shoes are great for those who want to stay on top of fashion trends. While some people swear by Nike and other top brands, many of those shoes are so expensive that you can only buy a new pair once a year or every few years. Even if you can afford to buy shoes more often, you may hate that you spend so much on shoes that can't keep up with you. One thing that many shoppers love about these shoes is that they are very durable. They can last for months or longer and stand up to everything you do, including playing sports and running errands.
These are also good shoes for those who want a classic look. Why spend tons of money on shoes that feature bold graphics and bright colors that almost blind you? With Atoms, you can pick from classic shades such as Black and Navy along with White and Gray. If you must have bright colors, go with Neon, which is a bright and intense shade of yellow. You might want to check back for limited edition designs and colors, too. These designs often incorporate the fun and bright colors that you want but cost a little more than the standard pairs do.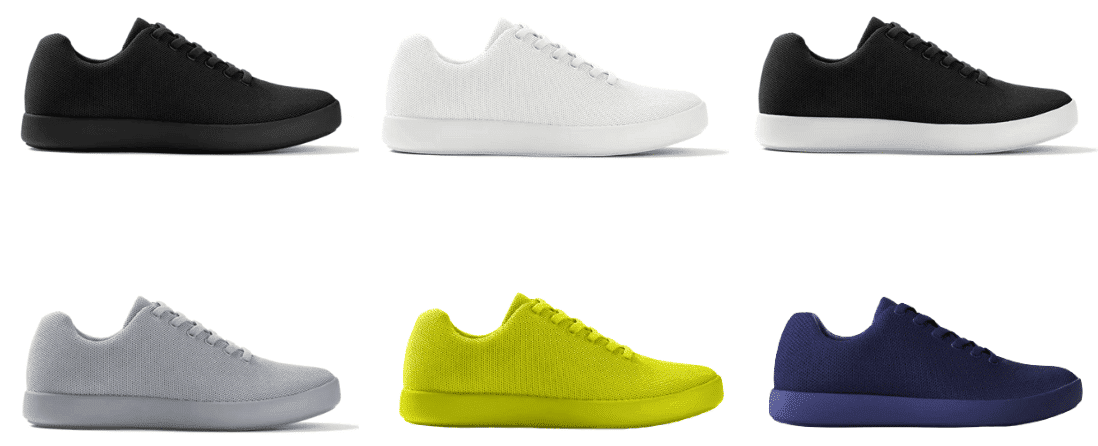 Atoms shoes come in several colors.
Atoms No-Show Socks
No-show socks are a great option for wearing with Atoms shoes as well as other shoes with a low profile. Atoms now makes socks in this style that you can buy at the same time you buy new shoes. It's easy to try the socks on with your shoes to get an idea of how they fit and work together. Made from 75% organic cotton, the socks also use polyester to make them as comfy as your shoes are. The brand added a small amount of padding to the socks to help you spend hours on your feet without missing a beat.
The handy dying process adds bright and dark colors to the socks and ensures that those colors won't fade, even after multiple trips through the washer and dryer. While other sports socks can feel heavy or bulky, these socks are up to 30% lighter and thinner. They come in both medium and large sizes. The medium size fits men's shoe sizes 8-12.75 and women's shoe sizes 9.5-14.25, while the medium size fits men's shoe sizes 13-15 and women's sizes 14.5-16.5. The socks come in Gray Gradient, Sky Gradient or Forest Gradient. The socks sell for $15 per pair and have a no-show design that won't appear over your shoes.

Atoms Crew Socks
Another option for those who spend a lot of time on their feet is the Crew Socks from Atoms. You may not like no-show socks because you feel as though you need to keep pulling them up. Others dislike these socks because they don't keep their legs and feet as warm as other socks do. Crew socks have a higher profile and cover most of your leg up to your calf. They're great for wearing on a cold day when you need to stay warm. You can also wear them on warmer days because they have the same lightweight design as Atoms shoes do.
Selling for $15 per pair, these socks use both cotton and polyester. While they have a little stretch to keep them from cutting off your circulation, these socks also stay where you put them and won't slide down, no matter how active you are. You can choose crew socks with a small or large logo on the back and in small, medium, and large sizes. The small size fits women's shoe sizes 5-9.25 and men's shoe sizes 3.5-7.75, while the medium size extends the fit to women's 9.5-14.25 and men's 8-12.75. If you wear a men's shoe size 13-15 or a women's shoe size 14.5-16.5, you need the large sock size. These socks come in the same gradient colors as well as Beige, Black, and Gray.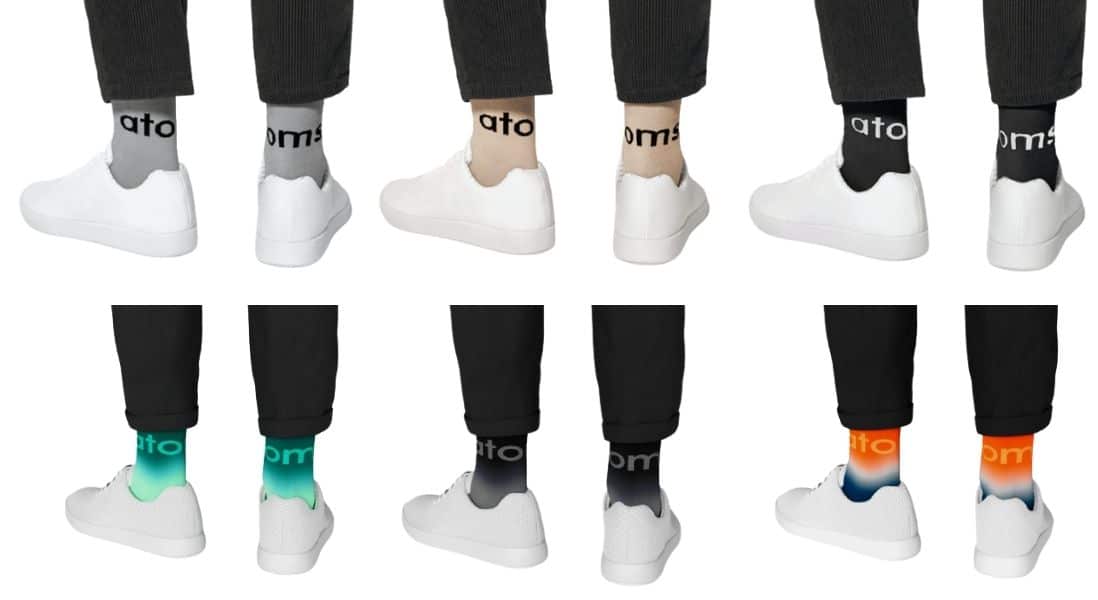 Atoms crew socks come in sizes to fit smaller feet than the no-show socks do.
Who Would Benefit from Atoms Shoes?
Nearly anyone who wears shoes would benefit from a pair of Atoms shoes. A big portion of its customers includes those who aren't sure what size they need. You may not realize that your shoe size can change even years down the road. Some women go up a size when they're pregnant and after they give birth, while others go down a size when they lose some weight. Atoms lets you use the size guide and answer a few questions to find your size. You can even order multiple pairs and try them on at home before sending back those that don't fit as well as you wanted. As the brand uses quarter-sizes rather than full or half-sizes, your shoes will have the custom fit that you want. Others we think would benefit from shoes from this brand include:
Customers looking for classic sneakers that don't have a lot of bells and whistles.
Shoppers worried about their feet and shoes smelling who want to try the benefits of the copper lining in these shoes.
Those on the hunt for shoes that they can wear all day and still feel comfortable.
Men and women who want to stay on top of a hot internet trend.
Anyone who spends hours on their feet every day.

Atoms shoes will benefit anyone who needs a good pair of comfortable sneakers.
Should You Buy It?
We think that Atoms shoes are worth it for a few reasons. If you aren't sure what size you need, you can use the size advisor or order multiple pairs. You have up to 30 days to try out all of the sizes and send back those that don't fit. Thanks to the discount program, many shoppers qualify for 10% off just because of their jobs. You also have the chance to buy quarter-sizes and ensure you get the comfy fit you want. We recommend that you sign up for the mailing list, which helps you get free shipping offers, too.
Cons to Consider
TikTok changed the way people heard about trends. Instead of scouring multiple websites and keeping your eyes open in real life, you can now find the hottest trends via short video clips that you watch on your phone. Atoms made a name for itself with shoes that gained fame on TikTok and other social media sites. Though many customers love this brand, some weren't as happy with the shoes or the service they got. One of the big issues is the price. Not everyone can afford to drop $129 on a single pair of shoes let alone the limited edition designs that can climb to $169 or even $180. Others pointed out that the brand's designs are quite similar to those offered by established brands for less. For many, it came down to the fact that the shoes look expensive but don't have as many benefits as other shoes in this price range do.
Another complaint we found came from a customer who claimed he ordered a pair and waited more than a month before sending an email. Atoms kept telling him that his shoes were on the way until he finally gave up and requested a refund, saying that the brand became too popular too fast and just couldn't keep up with the demand. Other cons include the lack of designs and how quickly limited-edition options sell out.
With Atoms, you can tighten the laces once and never adjust them again.
Where to Buy
Why spend a lot of time shopping online for new shoes? When you click here, you can quickly load the Atoms website and see what shoes are available. We recommend that you start with the size advisor. Simply pick your favorite brand and design and answer a few questions to find out which size is the right fit for you. You can shop for 000 shoes and pick the color you love before grabbing no-show or crew socks and a new mask. The site even sells gift cards that you can give to others to tell them about this brand.
We also like the discounts that customers get. If you're a student or a teacher, you qualify for 10% off. Customers get the same discount if they are first responders or health care workers. Both government and military workers also qualify. Once you show that you qualify, Atoms will add the discount to your account to make it easy for you to use later. You may want to check out the Help Center, too. This center features questions that others had with the brand's answers. It also allows you to talk to a customer service rep during business hours.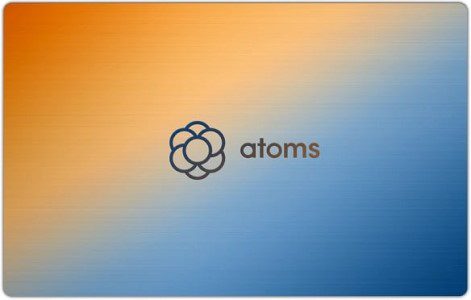 Atoms gift cards are available in amounts from $25 to $500.
Competition
Before you head over to the Atoms website to buy a new pair of kicks, check out some of the competitors we found.
ASICS
ASICS is a unique brand. Though it was popular in the 90s, it became less popular in the 2000s before rebounding again. Many runners swear that this company makes the best running shoes and won't buy from anyone else. If you aren't sure which pair is right for you, the Shoe Finder can help. It asks you multiple questions about your stride and shoe size to recommend a few pairs for you. Some shoes are available for around $120 to $140, but there are also more expensive shoes priced at $250 or more. You'll find shoes for specific activities, including volleyball and tennis.
GIESSWEIN
GIESWEIN claims that it is an alternative to Atoms and even has an entire page filled with shoes that are similar to those offered by the brand. One thing to keep in mind about this brand is that it makes shoes from real wool, which expand and contract as the shoes become wet and then dry. The wool allows the shoes to mold to the shape of your feet and fits just as comfortably as Atoms shoes do. Both the shoes for men and women start at around $100 and climb to $130 and come in dozens of bright and neutral colors.
Rothy's
Fans of social media have probably come across Rothy's a few times. This brand is popular with women on the go because the shoes are washable and go anywhere. You can even roll up a pair and keep them in your car for emergencies. While the flats have a classic look that is suitable for the office, the brand also makes loafers and sneakers that you can wear around town. Women's shoes sell for $125 and up. Rothy's also makes shoes for men that are just as comfortable and convenient. At $275 per pair, the men's boots are the most expensive shoes.
allbirds
Another popular option is allbirds, which makes shoes for men and women. We like the everyday sneakers because they are practical and easy to wear. They retail for around $100 and have comfortable wool outers along with laces that you don't need to adjust. Women have tons of options, too such as everyday sneakers and running shoes. The Trail Runners SWT offer lots of traction and are durable enough for off-road running and all types of trails. While the Dasher is more expensive at #135, this shoe is available in two colors of wool and is perfect for daily wear.
Final Verdict
Despite what you might think, not everyone wears standard shoe sizes. Up to 40% of people wear shoes that are the wrong size, with many going up a size to make sure they have room for their feet. Atoms is a new brand that believes everyone deserves the right to wear shoes that fit them and are comfortable. That is why this brand offers quarter-sizes. Instead of buying a size 10, you might grab a 9.25 or 9.75 that gives you enough space for your feet but aren't so large that they slide around inside your shoes. Atoms gained fame on social media and now has thousands of customers that buy from them every year. Thanks to free returns and sizing help, you'll have no problem finding your next pair of shoes. Atoms gets good reviews from customers for its quarter-sizes and 30-day warranty.