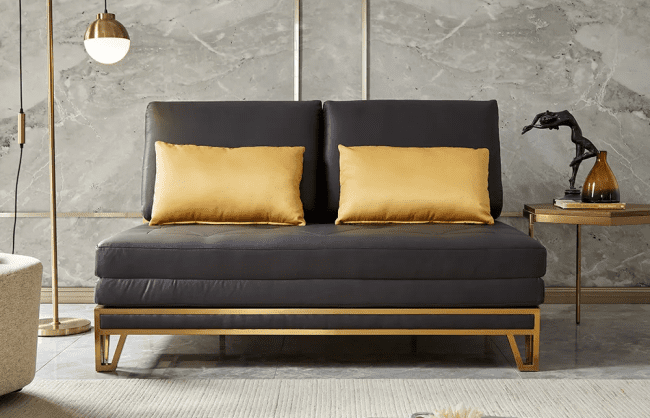 What is Homary?
Shopping for home decor can be time consuming and expensive. Even while shopping online, you may come across hassles such as stores running out of stock or only having a limited color range. Homary is a brand you can trust when finding the perfect decorations for your home. This online superstore stocks everything you need at prices you can afford.
Homary is a California based company that believes in helping customers find items for their homes that last for years. While some products are more expensive than others, it's easy to find pieces that fit your sense of style and your budget. You get up to 30 days to return any item and access to a helpful customer service team. If you are a new shopper, you'll find coupons where you can save up to $500 on different products. Our Homary review will cover the brand's pros and cons and some of its top products.

PROS
Offers a wide variety of furniture and home decor
30-day return policy
Allows you to get expert help from customer service reps
Is fairly budget friendly
Provides coupons for shoppers
CONS
Some products run expensive
Not many reviews online
Items may take a long time to arrive
BOTTOMLINE
Homary is the ultimate marketplace for anyone looking to decorate their home or shop for new furniture. You'll find coupons that help you save money, along with pieces that are suitable for every room in your house.

iReviews Shopping Assistant
Find the best prices for this and many other products with our chrome extension
Product Features
Shipping: Free on all orders
Coupons: Up to $500 off
Refunds: Within 30 days
Product Categories: Furniture, outdoors, bath & faucets, lighting, store, decor
Customer Service: 24/7
Price: $50-$4,000+
How Can You Use Homary?
Using Homary is a breeze due to the buttons that direct you to different areas of the site. The homepage lets you view all of the category listings to find what you need. If you're looking for fast shipping, check the Fast Dispatch section. All of these products ship within days of your order and reach you within 15 business days or less. Homary will compensate you for any damages that occur during the shipping process and lets you return the products without any hassles.
Many of the categories help you narrow down your search and find pieces that fit in your space. Using the color selection tool, you can view only the products that come in the color you want. With the size option, Homary shows you all of the available sizes and asks you to pick one or more. If you plan to buy often, make sure you sign up for the rewards program and get bonuses with each order.

Where Can You Use Homary?
Homary helps you find furniture and decorations for any room in your house.
Once you choose a category, you may want to view all of the available products or specific pieces such as couches or beds. Homary allows you to sort products and view them based on the newest arrivals or prices. Some of our favorite pieces that are now available include:
Modern King Tufted Sleeper Sofa ($1,459) – Available in three sizes, this daybed serves as both a bed and a couch. It has a gold frame with a black cover that creates an elegant look.
Modern White Oval Makeup Vanity ($49) – This vanity has a unique design with two drawers on the top and three on the side for storage. It has a modern white finish with gold legs.
Green Upholstered Velvet Office Chair ($190) – You'll feel comfortable for hours in this chair, which comes covered in rich green velvet. The casters on the base move smoothly across any surface.
59" Modern Buffet ($1,299) – Homary helps you get all of the storage that your kitchen needs in this buffet. It has a textured surface that resembles shells and a black frame.
Modern Entryway Storage Bench ($176) – This simple storage bench is perfect for use in an entryway or the foot of your bed. The gold frame has a built-in shoe storage rack and works with sleek gray velvet on top.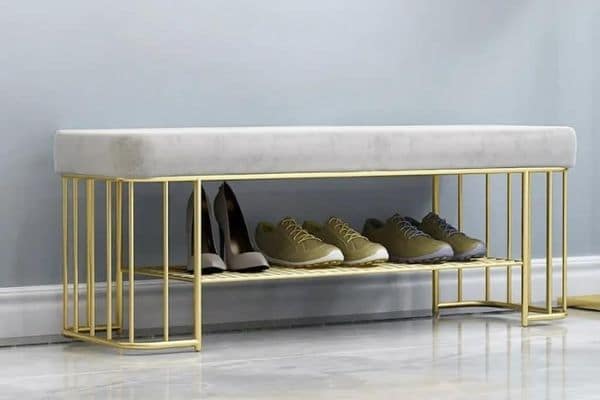 Other Merchandise from Homary
For the Outdoors
Aluminum Outdoor Dining Set ($3,100) – You'll love inviting over guests for backyard fun with this aluminum set that features a ceramic top. The matching chairs work with pillows in any color and provide space for up to six.
Outdoor PE Rattan Recliner with Ottoman and Storage ($600) – This set gives you all of the outdoor storage that you need with a hidden compartment in the ottoman. You also get a matching recliner that can stand up to sunlight and rain.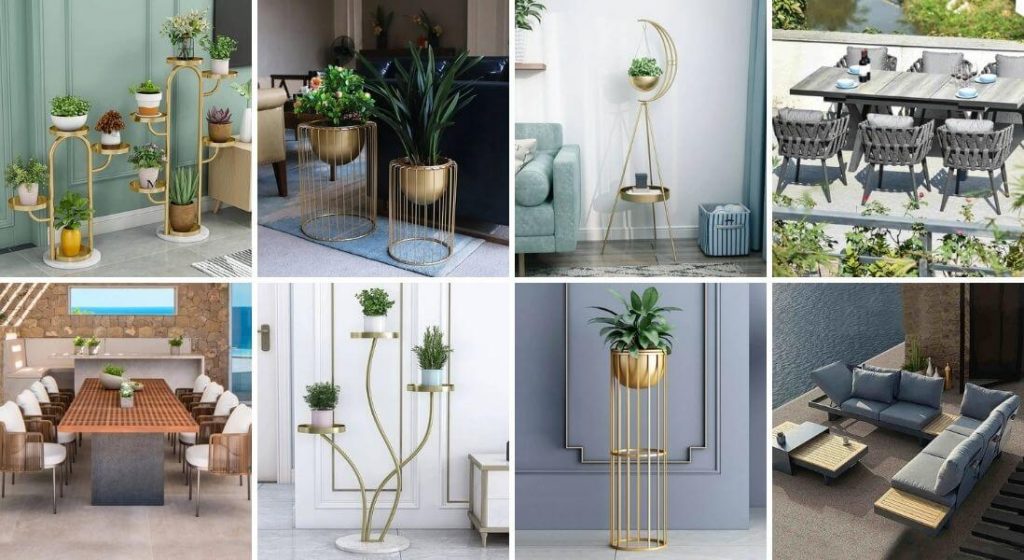 Lighting for Your Home
60" Modern Arc Floor Lamp ($282) – Not only does this lamp add the light that you need, but it also provides storage via a small shelf. This lamp has a stunning gold finish and is suitable for a living room or bedroom.
Industrial Rustic 8-Light Wood Beam Lamp ($230) – Suitable for hanging over a table or as a focal point in your living room, this lamp has a rustic feel. It uses eight bulbs and has a weathered wood beam.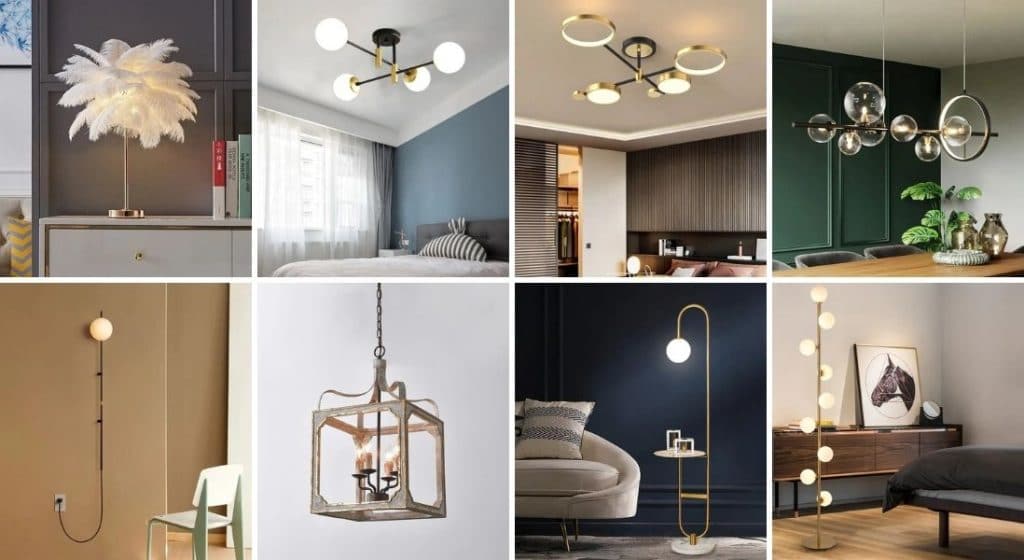 Popular Bathroom Faucets and Fixtures
Brush Gold Touch Kitchen Faucet ($125) – Give your kitchen a new look with this elegant faucet in gold. The touch design helps you keep your hands free when washing dirty dishes.
Modern Single Handle Bathroom Sink Faucet ($126) – Designed to fit on sinks with one hole, this faucet has a twisted design that creates a modern vibe in your bathroom. The faucet has a simple knob for turning the water on and off.
Brushed Gold Exposed Rainfall Shower Fixture ($472) – This fixture works with any freestanding tub and mimics the feel of rainfall. It comes with an attached shower head that you can use separate from the larger head.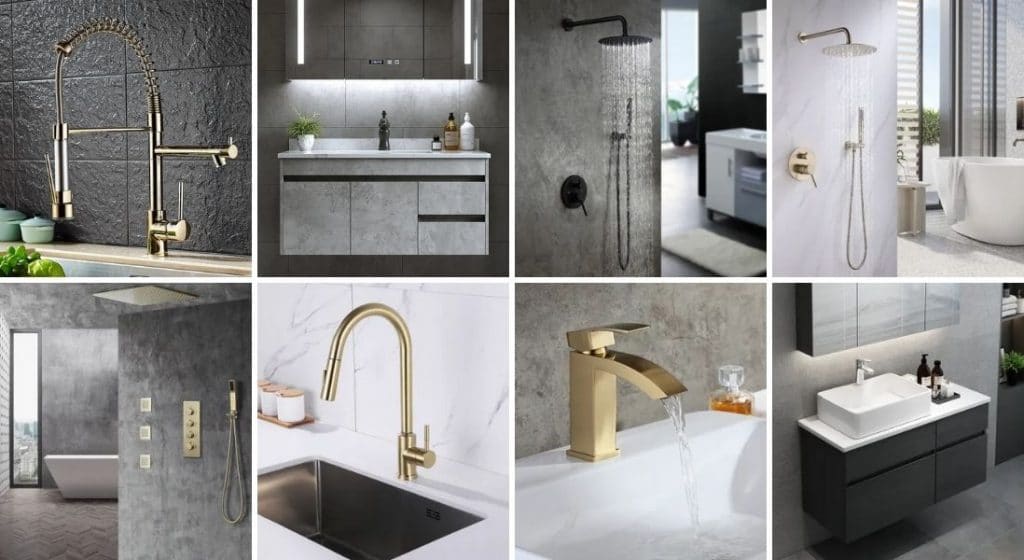 Top Storage Options
White & Gold Furniture Storage Cabinets ($560) – Available in three sizes, these cabinets are perfect for stacking together when you want to get the clutter out of the way. The white and gold colors work well in bathrooms and entryways.
70.9" Modern Freestanding Etagere Bookshelf ($341) – Though it mimics bathroom shelves, this wall unit makes a big impression in a living room or family room. With four shelves, it provides loads of useful storage.
78" Contemporary Geometric Bookshelf ($1,789) – This black shelving unit has natural wood accents that make it stand out. You get multiple shelves along with several cubbies.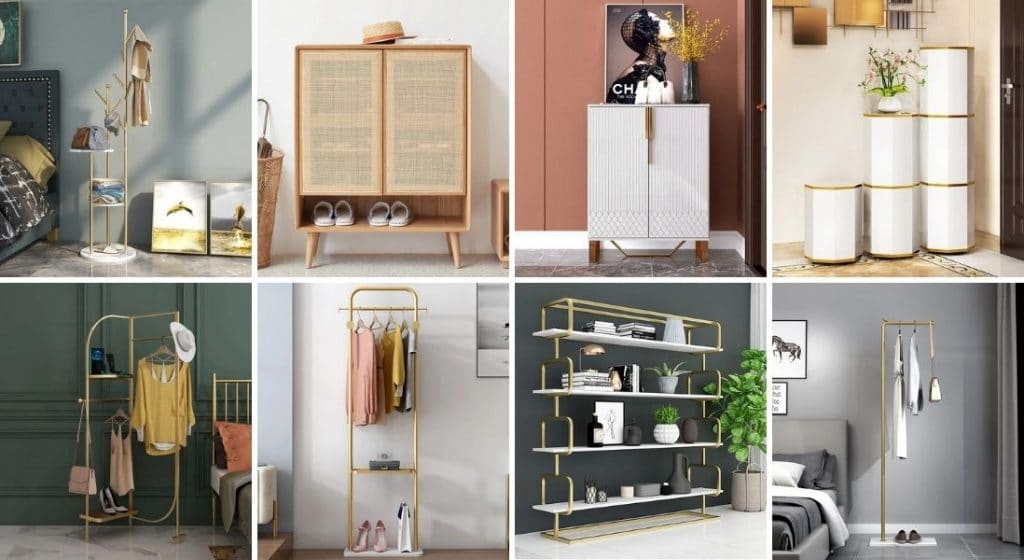 For Your Pets
Dog Bed Sofa ($38) – The bright yellow color of this dog bed adds a pop of color to any room. Thanks to the sofa design, your pup can relax in the lap of luxury.
Modern White Side Table Cat Bed ($306) – Give your cat a fun place to relax and get some privacy with this bed. Though it works perfectly as a coffee or side table, it has a large opening that fits cats of different sizes.
Zebra Cat Tree ($93) Standing 35" tall, this adorable cat tree has a tunnel that cats will love laying in and running through. It also has scratching areas covered in durable sisal rope.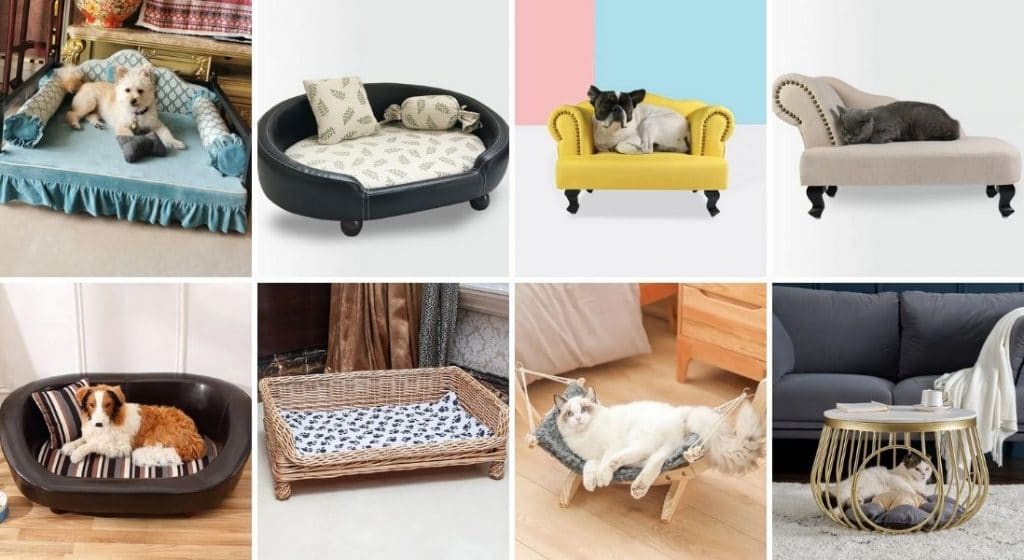 Home Decor
Luxury Golden Metal World Map Wall Clock ($91) – Create a focal point in any room with this oversized wall clock. It is easy to hang and uses golden metal to outline a map of the world.
Pink and Gold Abstract Area Rug ($98) – The brilliant pink and gold colors used in this rug will draw the eye of any visitor. The rug comes in two sizes and has some metallic accents.
Gold Plant Pot Metal Stand ($74) – You can make any plant stand out from the pack with this stand in metallic gold. With a minimalist design, it pairs nicely with other decor.
Just for Kids
Kids' Phone Booth Bookshelf ($288) – You don't need to travel to England to see a phone booth because you can buy this shelf for much less. It's the perfect size for little ones and has a bright red exterior with hidden storage inside.
Kids' Storage Train Organizer ($295) – Kids who love trains will get a kick out of this storage unit, which comes in white and has cubbies and open shelves. You can choose a different size if your child needs more storage.
Multi-Functional Wood 4-in-1 Crib ($624) – You don't need to spend a lot of money on different cribs because this one converts to what you need. It functions as a daybed as your child grows and also works as a painting board or desk.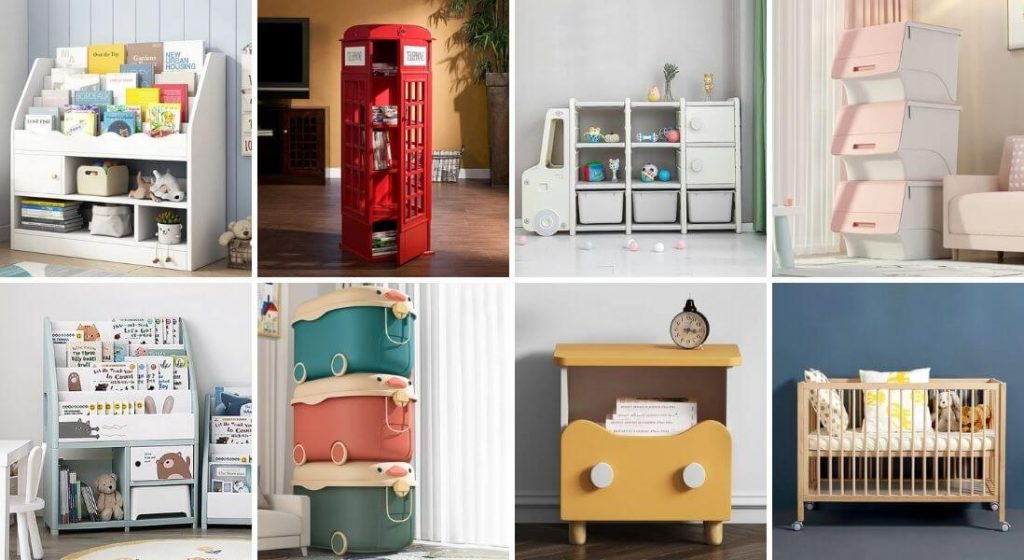 Who's This For?
Whether you have an idea of the look that you want or need some inspiration, Homary has you covered. The site shows you what pieces will look like in an actual room. You can snag a bookshelf for your child's nursery that holds books and toys, or a comfortable couch that doubles as a daybed when you have guests.
This is also a site suitable for customers looking for durable furniture and decorations. Though not all products have reviews, many have testimonials from customers who talk about any problems they encountered and what they loved about their items. We also like that the site shows you how long delivery will take.
For example, the Modern White Kids' Bookshelf leaves the warehouse within 48 hours but will take three to 12 days before it arrives at your home. All Homary products have an estimated delivery date that helps you plan for your redecorating.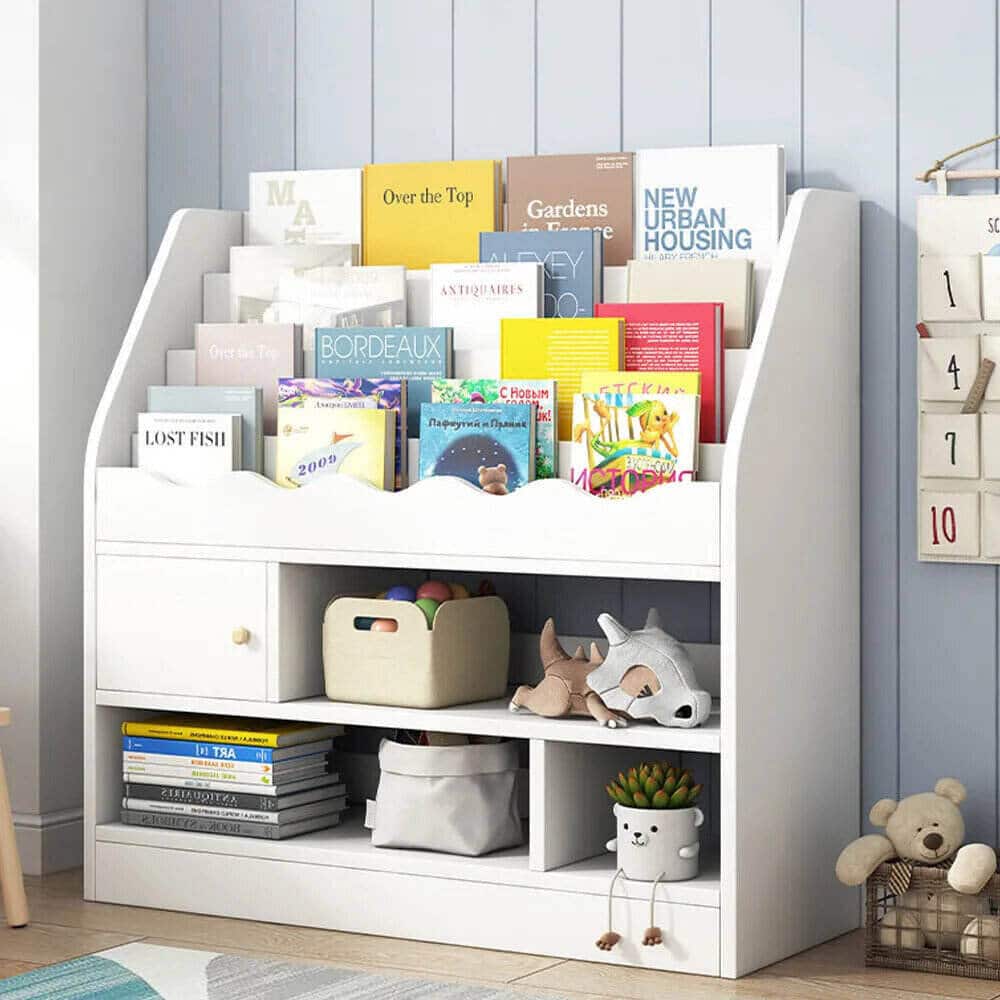 Financing Through Homary

Homary offers financing to help you afford anything you want. Homary works with affirm, which offers traditional financing options for customers who qualify.
Affirm does not run a hard credit check, but does want to ensure that you can pay back the money given to you as credit. You need a guaranteed source of income and a bank account to qualify. The site asks for your date of birth and social security number.
Affirm may even increase your credit line as you make payments on time. You may qualify for a 0% interest rate that allows you to pay off your purchase without paying any interest. You can pay off your loan in as little as six months or take up to 48 months to pay it off.
Who Would Benefit from the Homary Trade Program?
Homary launched the trade service program to help those who work in the trade industry, including:
Design shops
Architects
Interior designers
Real estate agents
Professional stagers
To join this program, you simply fill out a form with your full name, email address, business address and email, industry and a link to your website. Once Homary adds you to the program, you get discounts on all of your purchases. Through the brand's tiered discounts, you save more as you buy more and can eventually earn up to 25% off.
Finding the right colors for your clients is often hard, which is why Homary sends you free fabric swatches. Members also receive VIP concierge service. Your concierge can help you get products faster and ensure that you receive the quality service that you need. As a bonus, you also receive custom options when buying in bulk. Homary can help you buy multiple couches for an office building in a different color or multiple beds and tables in a stain that usually isn't available. Only members of the trade program can buy in bulk and get custom options and discounts.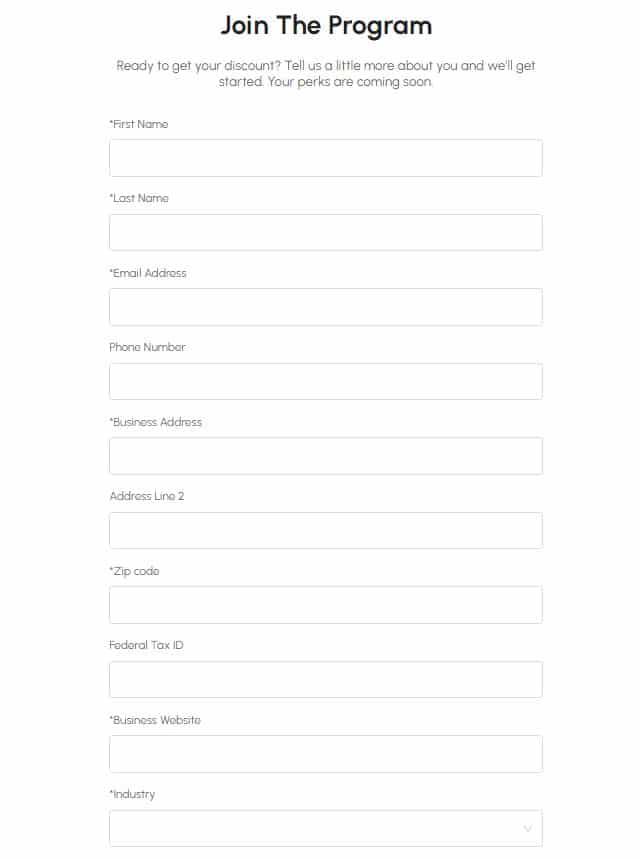 Made In also sells flatware and dishes for serving your meals.
Should You Buy It?
We believe Homary is worth your time and money. When you shop for furniture online, you don't know if the colors you see on a computer screen match the fabric in real life and if the pieces are as comfortable as they look. If you're in the market for decorations, you'll likely worry about their sizes and if they'll fit your home. Homary allows you to shop for products in specific colors and choose measurements based on your available space. We like the flash sales that the site runs because these sales slash prices by 25-50% and last for a full day.
Some of the other things we like about Homary include:
Seasonal sales happen at the end and beginning of each season to help you save on select designs and products.
Homary plans to bring back its loyalty program to help you earn discounts as you buy new pieces.
You'll often find contests that help you win $100 off coupons and cashback on future purchases.
When you follow the brand on Instagram and similar sites, you can see how others used top products in their homes.
Homary has categories that range from bath and faucets and furniture to outdoor supplies and storage and organization pieces.
With Fast Dispatch merchandise, you get compensation for shipping damages and guaranteed delivery within 15 days.
You never need to worry about shipping because all customers get free shipping.
The clearance section features discontinued items at up to 90% off.
Homary offers 24/7 customer support online with an easy-to-use chat window.
All customers can check the coupons section to find discounts of $5-$400 off.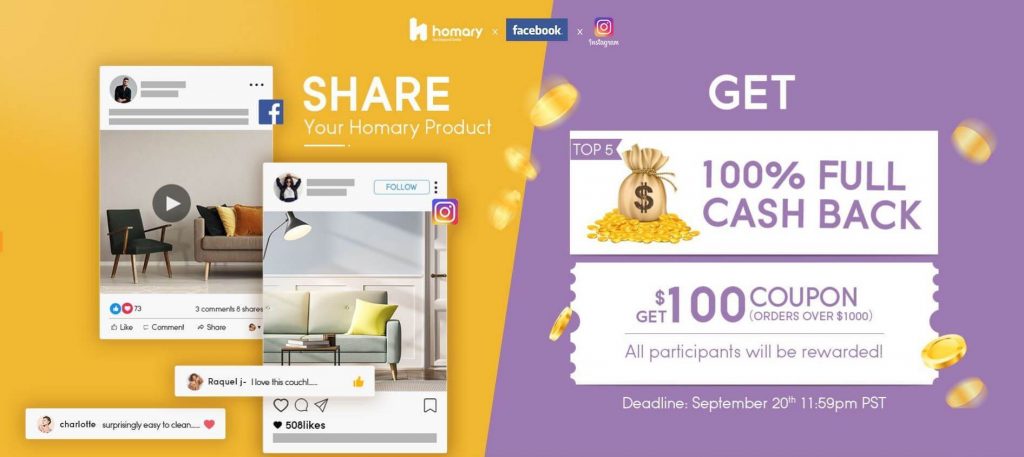 Cons to Consider
Though we covered everything we like about this site in the section above, we also wanted to discuss the cons of Homary. The reviews with the Better Business Bureau give this brand 1.67 stars out of five. One customer complained that the brand refused to refund his money and that he needed to issue a chargeback with his bank to get his money. Others said that Homary tried to force them to keep items that they didn't want and made it hard for them to return their orders.
One of the more serious issues with this brand is that it primarily offers products made in China. If you live on the East Coast, it can take months before your order arrives. Some customers said that the site told them their orders would arrive within five weeks and then kept delaying their delivery dates. A few other possible issues that you should keep in mind include:
You need to keep the product in original condition with all shipping materials to get a refund.
Though many products look like they use real wood, they use veneers or plastic that looks like wood.
Some customers received products that were missing parts or had serious defects.
It can take weeks for Homary to issue a refund that does not give you back the money you spent on shipping.
Many customers felt that the couches and similar products weren't comfortable.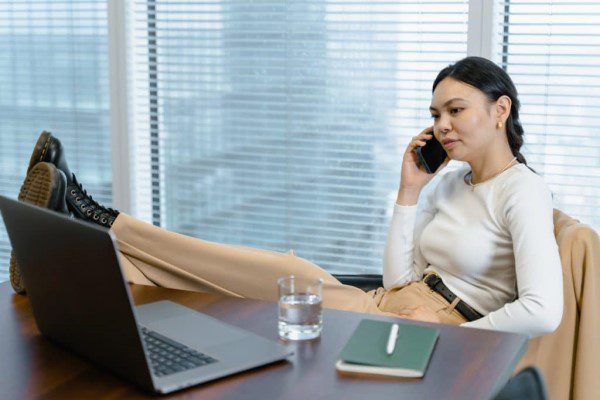 Getting a refund is easier when you talk to a rep over the phone rather than through email or online.
Where to Buy
Click here to leave our site and head to Homary. Before ordering, enter your email address in the mailing list box, which you'll see at the bottom of the page. Homary sends you a coupon within 24 hours that will take $20 off your first order.
We also recommend that you look at the available coupons before ordering. Homary often has $5 off coupons that work on all orders and $10 off coupons for orders of $200 or more. If you want to redecorate your entire home, you'll like that the site has coupons that take up to $300 off when you spend $4,000. Homary also offers expert help in the form of CS reps who chat with you in real-time online. They can help you with coupons that don't work and missing orders or simply give you advice on which pieces are right for your home.

Homary can help you choose merchandise for your home or patio.
Competition
Many of the products sold by Homary have a vintage or mid-century modern look. You'll often find pieces from the site that are cheaper than true vintage designs are. Other brands and sites have similar furniture and decorations that cost around the same amount.
Wayfair
One of the top brands for furniture and decor is Wayfair. It has many categories that range from kitchen and living room furniture to rugs and wall art. Wayfair also sells products that Homary doesn't, such as appliances for your home and bed linens. Links on the bottom of the homepage help you learn about product recalls and report bugs or problems that you have on the site. Though Wayfair offers financing through affirm and other companies, it also has a credit card. If you qualify, you get $40 off your first order of $250 or more when you use your card.
Hayneedle
The founders of Hayneedle choose the name to show you that finding the perfect items isn't as hard as finding a needle in a haystack. Big sales happen a few times a year and take up to 25% off select merchandise. Becoming a Hayneedle Insider helps you save even more and is free to join. Members get a coupon for 10% off and free shipping on all orders. If you qualify for financing, you get a 0% interest rate. Hayneedle offers financing through affirm, which lets you pay for expensive items with low monthly payments over six months or longer.
World Market
World Market is a large retail chain that has locations across the country. Thanks to the website, you don't need to worry about visiting those stores because most items are available online. World Market has coupons that help you save 10% or more and a discount if you work as a designer. If you are a teacher, first responder or healthcare worker, you qualify for a different discount that takes 20% and gives you free shipping. Some of the categories you can shop on this site include pendant lighting, curtains, living room furniture, bedroom furniture area rugs and outdoor dining furniture.
One Kings Lane
Sharing your email address with One Kings Lane gets you a 15% off coupon and other coupons in the future. This site is popular with customers looking for high-end and luxury pieces who don't mind spending more than other sites charge. While the prices are often higher than Homary charges, you'll find exclusive items that no other state can offer. All product descriptions let you know if the item is available and how long it takes to ship. You can easily find indoor furniture such as console tables and couches along with outdoor furniture and artwork.
Final Verdict
Homary is one of the top competitors on the web for home furniture and decor. Unlike other sites that offer thousands of products under different brand names, Homary works with vendors to supply products that lack designer names. This gives you the chance to save money and get everything that you need while sticking to a budget. Coupons are available both through the mailing list and in the coupons section to help you save as much as $400 on select purchases.
There are some issues with Homary, including long shipping delays and high prices. As most products come from China, it can take five weeks or longer for you to get your order. Keep in mind that the Fast Dispatch helps you find merchandise that is in stock in one of the brand's warehouses. These products leave within 48 hours and get to you in around two weeks. There are even financing options available for those who want to pay over time. For furniture and decorations that have vintage or mid-century modern flare, turn to Homary.
Resources and Further Reading