Honeylove Shapewear Review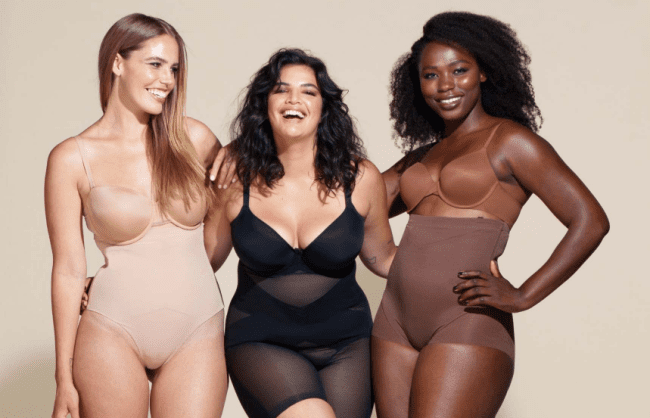 What is Honeylove Shapewear?
Do you see celebrities on television or online and wish you could have the same body? You probably don't realize that many of those women use shapewear under their clothing. Shapewear hugs your body like a second skin and gives you smooth lines. While there are many brands on the market today, one gaining a lot of attention is Honeylove. Betsie Larkin made a living as an EDM singer who traveled the world, but she wasn't happy with the way she looked on stage. Larkin tried different types of shapewear before deciding to create her own, which opened in 2016 as Honeylove.
Honeylove creates prototypes and gets feedback from real women before a single design shows up on the website. The brand also works with Dress for Success and provides shapewear to that organization to help women look and feel their best.
You'll now find shapewear with attached briefs and other types of bottoms. Though they give you the slim and lean look that you want, they are comfortable enough to wear for the whole day. Honeylove also makes bras and panties along with tanks to help you create a custom fit that works for you. Our Honeylove shapewear review will go over all of those products and everything you need to know before buying from the brand.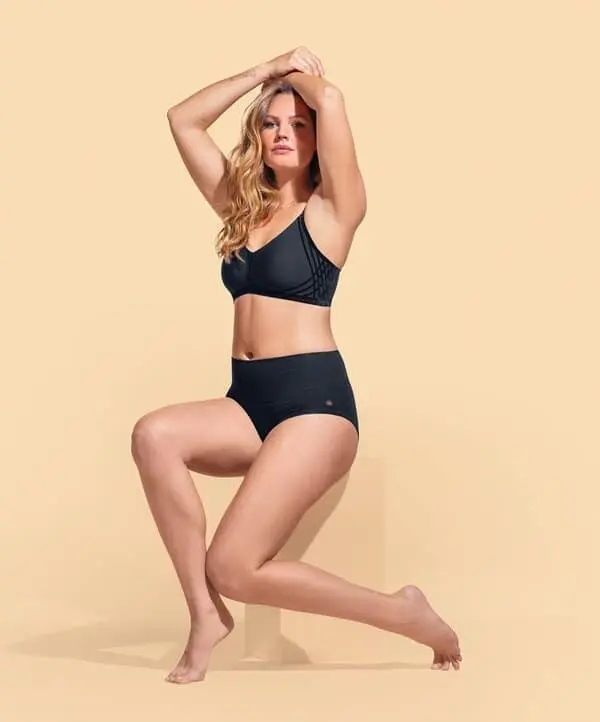 Honeylove offers individual pieces that let you mix and match.
PROS
Offers tons of shapewear and individual pieces
Fits a range of women's sizes
Helps you find the right size and piece for you
Comes with a 30-day guarantee
Often runs sales and promos for free shipping
CONS
May not fit all women
Offers no protection against leaks
Some women thought certain pieces were less comfortable than others
BOTTOMLINE
Honeylove shapewear is a good choice for many women because there are individual pieces and full sets in a range of sizes. You get 30 days to return any of the shapewear that you don't like.

iReviews Shopping Assistant
Find the best prices for this and many other products with our chrome extension
Product Features
Price: $50+
Guarantee: 30 days, money back
Sizes: XS-3XL
Discounts: First responders, medical professionals, teachers, soldiers
Loyalty Club: Free
Colors: Up to eight
Honeylove Shapewear Reviews
Honeylove makes shapewear for all types of women that you can wear for hours. Before we talk about the bras and other products, we wanted to give you an idea of the shapewear that is available.
SuperPower Short
One of the more popular shapewear pieces from Honeylove is the SuperPower Short, which the brand also refers to as its original shapewear. It covers your body from just above your knees to just below your chest. This gives you the option of pairing the bottoms with any top that you want. It comes in four colors that include Sand, which matches paler skin tones and Mocha to match darker skin tones. The SuperPower Short offers targeted compression around your stomach and has an opening that makes it bathroom-friendly. You can easily use the restroom without taking it off. Many women also find that it stays where they put it and doesn't slide down the way other shapewear can.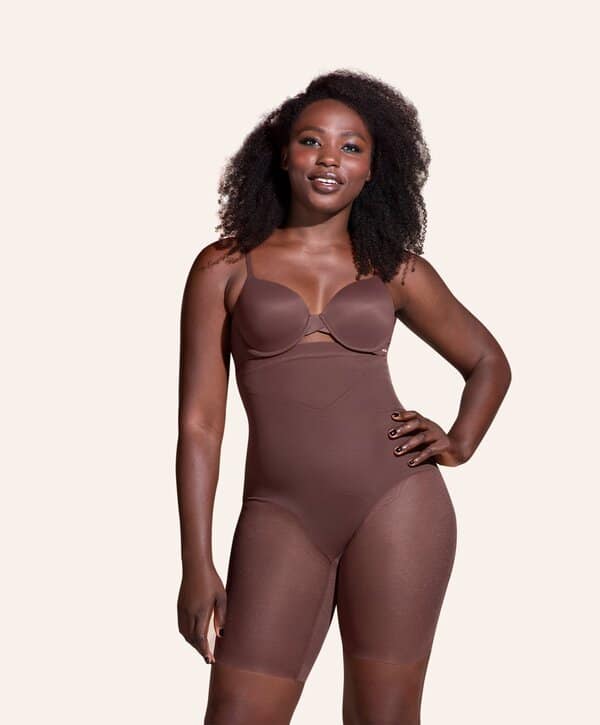 SuperPower Brief
Do you love shapewear but don't need compression on your thighs and upper legs? Maybe you need shapewear that fits under shorter skirts without sticking out. The SuperPower Brief is a good option for you because it has a classic brief attached to the bottom. Available in four colors, the brief version also comes in sizes up to 3XL. Designed to work with your favorite bras, this shapewear smooths unsightly lines around your stomach but leaves your upper legs exposed.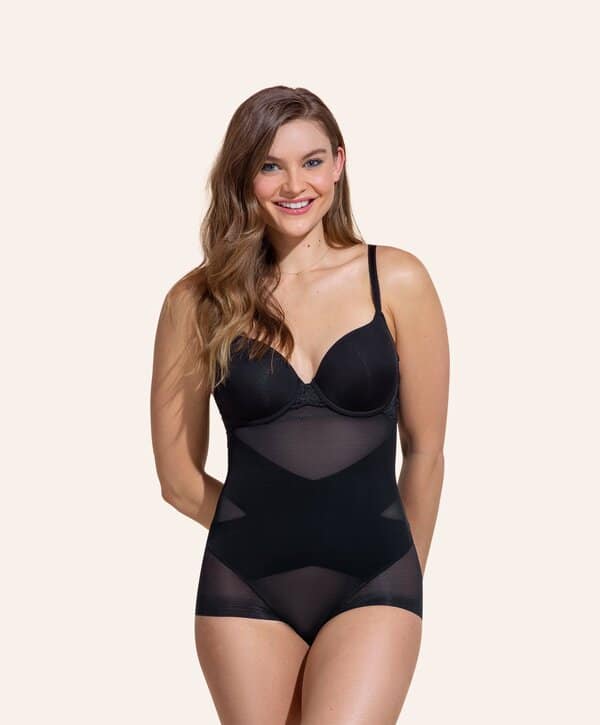 Queen Brief
Honeylove makes the Queen Brief for women who want to look their best and feel confident. Designed with targeted compression that focuses on your lower stomach, the shapewear hugs your curves and gives you curves where you never had them before. Wearing the Queen Brief under your clothing gives you a classic hourglass shape. As a bonus, it also has a design that allows the shapewear to wick moisture away from your body when you sweat. The brief design also provides a little more coverage for your backside.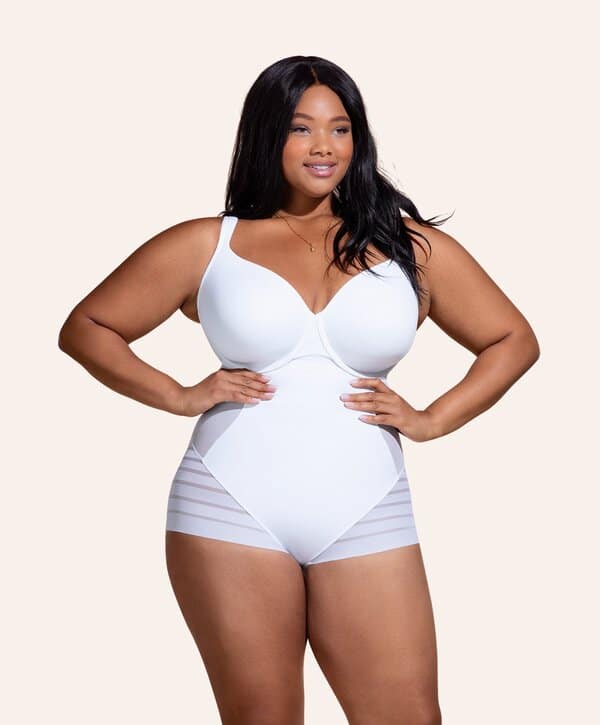 SuperPower Thong
Who says you can't wear a thong when you use shapewear? Honeylove knows that you may want to wear tight clothing and can't use typical panties that show through your clothes. You may even be one of those women who prefers the fit of a thong. Thanks to the SuperPower Thong, you get the shapewear you need with the thong bottom that you love. This shapewear has all of the same features as the others such as targeted compression but with a thong that fits just like your favorite bottom.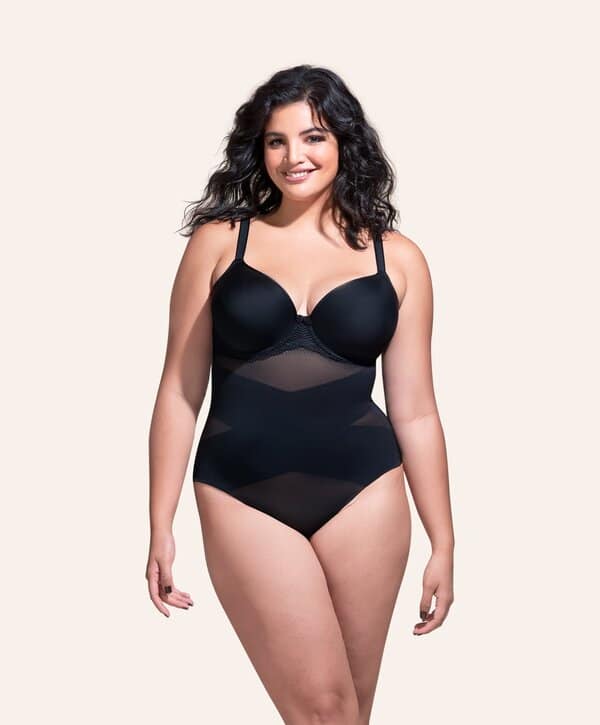 WaistHero Cincher
Though this shapewear only comes in two colors, it gives you the sexy hourglass shape that you want. It has a limited amount of stretch when compared to other products, which is why Honeylove recommends that you go up a size larger than you think you need. Flexible boning around the sides gives you the structured look that you want, while other materials hug your curves to give you a classic look. Thanks to a built-in zipper, it's easy to get the shapewear on or take it off. You don't need to pull it up or step into it because you can wrap it around your body and zip it closed.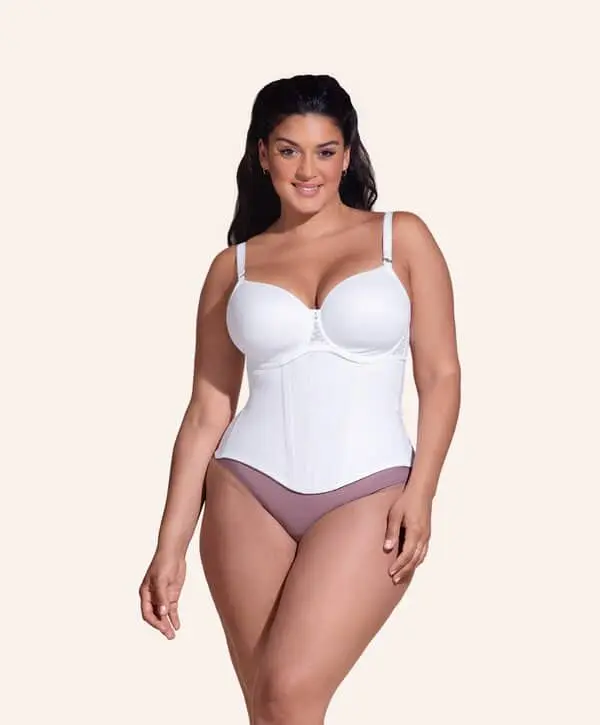 How Can You Use Honeylove Shapewear?
When it comes to buying and using Honeylove shapewear, we recommend that you start with the shapewear quiz. You need to start with your first name and zip code along with your age range. If you don't feel comfortable sharing that info, feel free to make up your responses. The quiz then asks if you have shapewear that you don't like or if you never used shapewear before. There is also an option for women who have shapewear and want to try Honeylove. You then need to select your body type from the following options:
Athletic – Your hips and waist are roughly the same size.
Pear – Your lower body is wider than your upper body.
Hourglass – Your stomach is thinner than your upper and lower bodies.
Apple – You have slim hips with a large chest.
Once you answer those questions, you'll find others, including:
How often do you plan on wearing and using shapewear?
What benefits do you want to get from shapewear such as hiding panty lines or give your waist more definition?
How much support or compression do you need?
At the end of the quiz, Honeylove will show you the shapewear that it recommends. You have the choice of clicking the link to order it or using a different link to view all of the brand's other shapewear.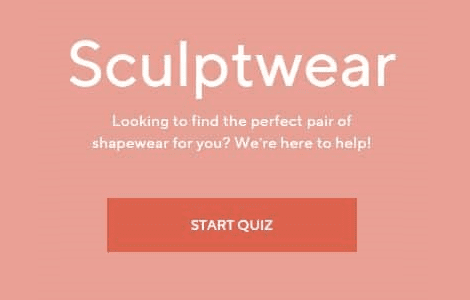 It takes only minutes to complete the Honeylove quiz and find the right shapewear for you.
Honeylove Tops
Do you love shapewear but don't need more help for your upper body than your lower body? Honeylove shapewear includes tops that slim and shape your stomach and chest. These tops fit the same way tank tops do and are perfect for dozens of activities from running errands and working out to hanging out with friends and wearing under your office apparel. The tops come in sizes from XS to 3X and allow you to find your size through the Honeylove size guide. Some of our favorite tops include:
Boldness Tank ($129) – Show off your bold and sassy side with this tank top, which had bonded support on the top and compression around the sides. The tank also uses 360-degree boning to give you a structured look. This boning also draws the eye up and makes you look slimmer.
LiftWear Tank ($84) – Available in eight colors, this tank might be the only one you need. It has wider straps that won't dig into your shoulders and a built-in bra that doesn't use wires. The V-shape on the front draws the eye up to your face.
LiftWear Cami ($84) – This cami features a wireless built-in bra and bonded support to give your girls the help they need. Thanks to the adjustable straps, the tank won't dig into your skin. You can choose eight colors, too.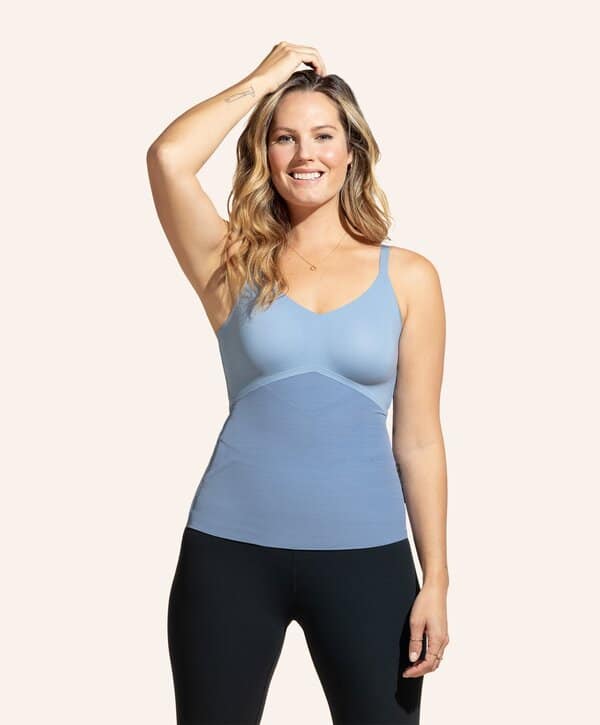 The LiftWear Cami is a simple tank top with adjustable straps that you can wear anywhere.
Where Can You Use Honeylove Shapewear?
Shapewear from Honeylove is perfect for everyday use and special occasions. Many women have clothing that doesn't fit quite the way it once did because they gained a few pounds. Do you have an amazing little black dress that you keep tucked in the back of your closet because you don't like the way it looks now? You might have a small bulge around your stomach or a booty that is a little bigger than it once was. With shapewear, you can easily smooth out those bulges and even drop a size or two. There are dozens of places where you can use Honeylove shapewear, including:
At special occasions – From weddings and birthday parties to anniversaries and business events, Honeylove has you covered.
On date nights – Make your partner's eyes bug when you walk out looking your best in one of these pieces.
At the office – Put your best foot forward in shapewear hidden beneath your business attire.
Honeylove shapewear is also suitable for daily wear. These pieces are so comfortable that you might even forget you slipped them on in the morning. They go with everything from jeans and shorts to workout gear and summer dresses.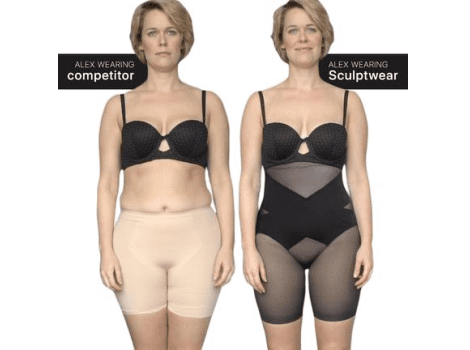 Honeylove shapewear works better at smoothing unsightly bulges than other shapewear does.
Who's This For?
Any woman who isn't happy with her body would benefit from Honeylove shapewear. We recommend this brand for women who know their measurements or can obtain their measurements. When you shop from this site and click on the size guide, Honeylove will ask for your waist measurement. You can choose 23" or smaller and measurements up to 53" or higher. The site then asks for your hip measurement on a scale from 43" up to 59" inches. You also need to measure your thigh and pick the right measurement from the Honeylove chart. This will then show you what size you need to order. Honeylove offers shapewear in sizes up to 3X, but some of these pieces run a little small.
Honeylove shapewear is perfect for women who recently gave birth and aren't yet back to their pre-baby weight. It's also good for women who want to fit into their old clothes but just can't seem to lose those extra few pounds. Many women turn to the brand for help fitting into clothing for special occasions, too. Whether you need to fit into your wedding dress or a little black dress, Honeylove can help you find the right shapewear for any situation.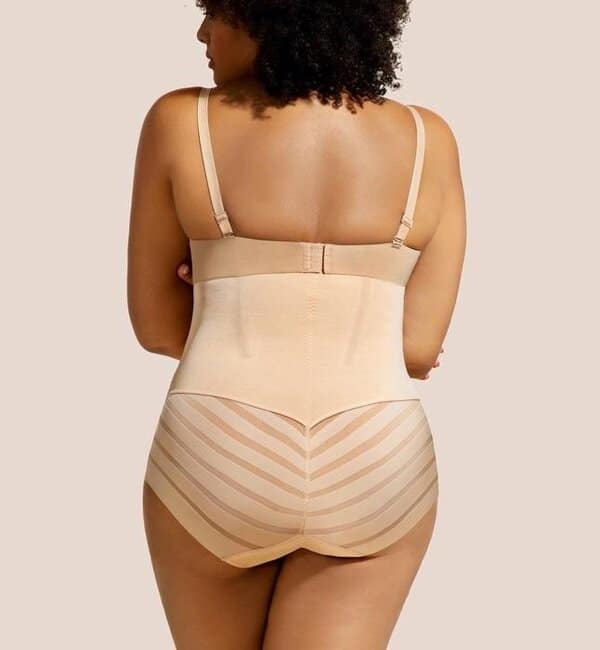 Shapewear can smooth both your upper and lower body and work on your problem spots.
Why Join the Honeylove Loyalty Club?
If you're like most people, you probably have a couple of rewards club cards hanging out in your wallet. While you may not use some of those cards very often, Honeylove has a loyalty club that frequent customers love. You join online and link your account to your email address. Honeylove gives you 25 points as a bonus for joining and gives one point for each dollar that you spend later. You get 25 points when you refer a friend who buys from Honeylove. There are plans to add other bonuses such as 50 points when you follow the brand on any social media site and 25 points when you tag the brand online. Honeylove also plans to give members 25 points when they write reviews and share photos.
Each time you hit 100 points, you earn $10 that you can use on anything from the site. When you spend $200, you move from Hive Member to Honey Bee. This gives you double points on certain items and free shipping daily along with the chance to test new products and get early access to them. Spending $450 in a year moves you to the Queen Bee level. You get all of the same benefits along with double points on all purchases and 20% off on your birthday.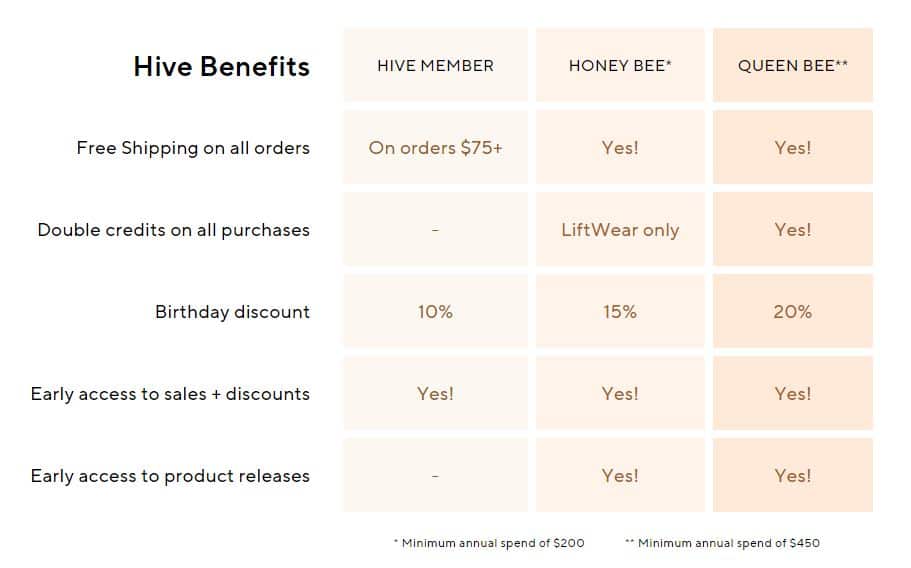 Other Products from Honeylove
In addition to shapewear and tanks, Honeylove makes bras and pants that are great for daily wear. We ranked our favorites, including:
Crossover Bra ($69) – Get the support that you need with this simple bra, which comes in four colors. The straps crossover each other on your back to lift your girls and make them look larger.
EverReady Pant ($129) – Perfect for wearing at the office, these pants go everywhere you want to go. They come in three dark colors and have an elastic band to give you more space. Hidden inside the waistband is a panel that shapes and smooths your stomach.
Silhouette Bra ($64) – You never again need to worry about your bra sticking through your shirt because this one gives you the smooth silhouette that you want. It comes in neutral shades that mimic your skin tone and a few fun colors.
V-Neck Bra ($64) – This bra works under any v-neck shirt and will never poke out. Available in multiple colors, it provides lift and separation.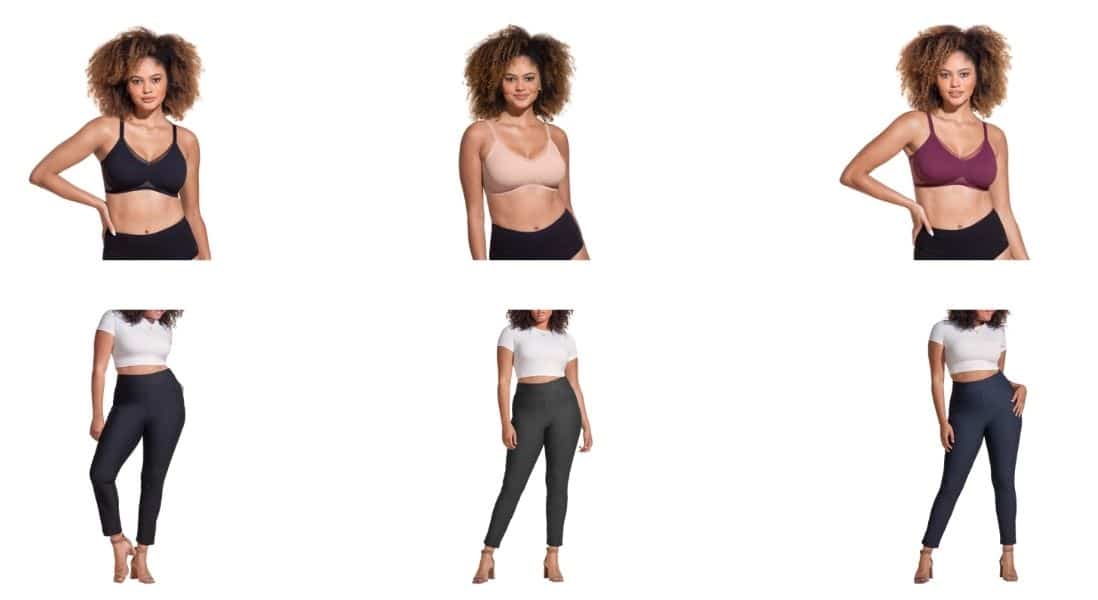 Joining the Little Sleepies VIP Club comes with tons of benefits, including exclusive access to sample sales and product launches.
Should You Buy It?
Do not spend a dime on Honeylove shapewear until you read our top reasons why this brand is worth the money. Honeylove gives you the chance to mix and match pieces to get the look that you want. While other brands only sell full-piece shapewear that covers your top and bottom, Honeylove has shorts and similar products for your bottom and bras that offer compression up top. You can also choose your favorite colors to make sure that the shapewear stays hidden beneath your clothes. No one will know you needed a little help to look your best. Some of the other reasons we like Honeylove shapewear include:
The loyalty club makes it easy for you to earn discounts just for following the brand online and doing other simple things.
If you are a front line worker, Honeylove gives you a discount that works on all products.
Honeylove makes shapewear that fits most women.
Thanks to the size quiz, the brand makes it easy for you to figure out what size you need.
You can sign up for a fitting to get extra help choosing new shapewear.
Honeylove offers free shipping on orders of $75 or more for all customers and $35 or more through the loyalty club.
The shapewear is comfortable enough that you can wear it all day.
Online videos walk you through how to wear and use the top shapewear pieces.
Honeylove often has sales such as buy one and get one for half price.
You can view before and after photos to see how the shapewear works.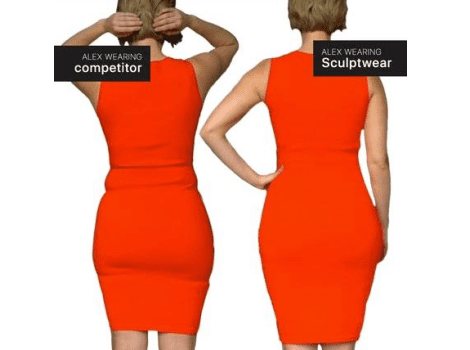 Honeylove shapewear smooths anything under your clothing.
Cons to Consider
Though we like Honeylove shapewear, we noticed a few cons of the company when looking at other customer reviews online. Some of the negative reviews claim that the shapewear runs larger than it should and that it was so big people could see it under their clothing. While Honeylove says that its shapewear runs small, many customers found the opposite. Honeylove also claims that some of its shapewear has boning to give a sculpted feel. Those who wore those pieces said that they stuck out from their bodies and that they didn't work with all types of clothing. Other things to keep in mind about this shapewear brand include:
Some of the bras are so tight that they don't fit women with larger breasts.
The shapewear may fit so tight that you feel as though you can't breathe.
A few customers said the shapewear was no different than the cheaper ones they found online.
We found reviews that said the shapewear fell apart after washing them.
It can take three weeks or longer for your order to arrive.
You may not get a tracking number until you contact the brand.
Some of the bras have straps that are too long and loose-fitting.
Many customers said that the straps on the tanks often slipped off their shoulders.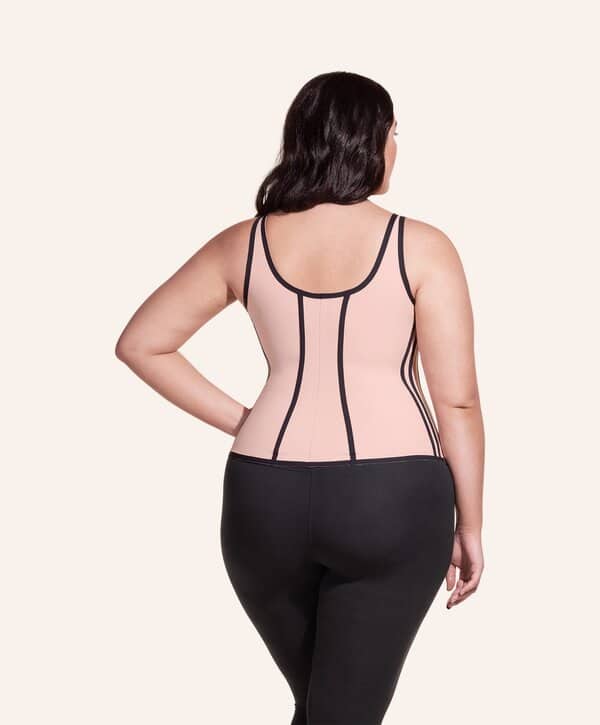 Many customers complained that Honeylove tanks had poor strap designs.
Where to Buy
Buying shapewear online is hard. Even if you use the size chart, you might get pieces that are a little too tight and make it hard for you to breathe. One of the reasons we recommend Honeylove is that it offers a 30-day guarantee. If you buy any shapewear and don't like it, you have 30 days to send it back for a full refund. Click here to use our link and load the Honeylove website to see all of the great things you can buy from this site. Our top reasons to buy from the official Honeylove website include:
If you are a teacher, first responder, medical professional or solider, you can confirm your position online and get a 20% discount.
Honeylove makes it easy for you to join the loyalty club and earn points. The site will link the loyalty club to an email that you used in the past.
You can book a fitting online and get help from a pro. Why worry about buying the wrong size when a professional can fit you for shapewear?
There are tons of videos that walk you through how to wear all of the brand's shapewear and tips on making the pieces work for you.
Even if you aren't a loyalty club member, you get free shipping when you spend $75 or more.
If you need help wearing any of this shapewear, watch the Honeylove videos for help.
Competition
Though we like Honeylove, we wanted to talk about some of the other shapewear brands on the market. Some of these brands may have shapewear that fits better under your clothes.
Shapermint
Shapermint is a new shapewear site that is popular with online shoppers. The website has a mailing list you can join to get 10% off your order. Though prices start at around $50, there are often sales that cut those prices in half. Shapermint is unique because it works with other brands and sells its products to customers. Unlike other sites that only use traditional models, Shapermint uses real women as models and often shows plus sizes. The site has a community where you can connect with other customers and a blog that posts new articles almost daily about the shapewear industry.
SPANX
When it comes to shapewear, you can't go wrong with SPANX, which is the OG in this industry. The founder of the company even pops up on Shark Tank now and again s a potential new investor for other brands. With the SPANX refer a friend program, you can send and receive $20 coupons that work on all of the hottest designs. SPANX has one collection that uses lighter and thinner materials along with a power collection that eliminates seams and visible lines. You'll find full outfits and individual pieces that get rid of the bulges and problem spots you usually see.
SKIMS
Spend $75 or more on shapewear from SKIMS and get free shipping in the United States. This site is popular because it sells both shapewear and waist trainers. With waist trainers, you use compression pieces and slowly work your way down to a tighter fit, which allows you to get the hourglass body you want. We like that this brand sells shorts that slim you from your thighs to your knees and traditional pieces that fit under your clothing. SKIMS also makes pieces that lack backs and fit under backless dresses along with bodysuits that slim your entire stomach and back.
EVERIE
One brand you may not hear much about is EVERIE, which claims it makes shapewear and intimate apparel for every type of woman. This brand became popular on social media due to its leggings that hide the signs of cellulite and are suitable for daily wear. EVERIE also has shorts and panties with built-in tummy control to give you a tighter and slimmer look. Though some shapewear has a lower fit that stops just below your belly button, others have a higher fit that reaches up to your chest. Most of the shapewear comes in multiple sizes and different colors.
Final Verdict
Are you tired of worrying about how you look in your favorite clothes? Many women feel the same way. They have outfits that they keep tucked away in drawers and closets because they are just a little too tight. Shapewear gives you an excuse to pull that clothing back out and rock all of your old outfits. Honeylove is one of the top brands in this field because it makes shapewear that is comfortable enough to wear for as long as you need and comes in sizes that fit most women. Almost all of the brand's products come in XS through 3XL sizes that fit women with hips up to 53 inches.
With the loyalty club, you get a birthday discount every year that is good for the whole month. Honeylove gives you points for doing different things such as following the brand online or writing a review. As soon as you reach 100 points, you win a $10 off coupon. You'll also find that the shapewear comes in many different designs. There are shorts and thongs to wear under dresses and skirts along with bras and panties that have the compression you need. For the best shapewear, turn to Honeylove.