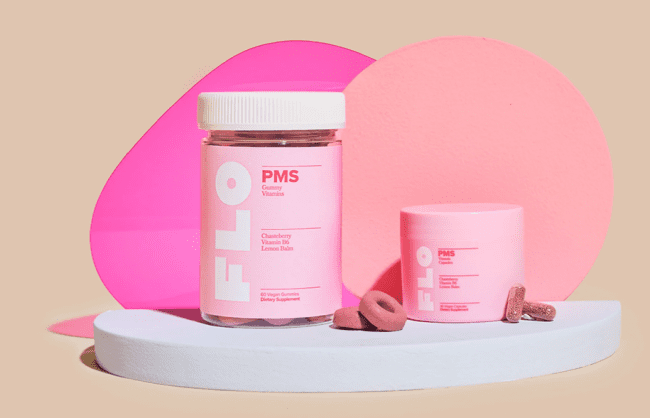 PROS
Designed to help women cope with all PMS symptoms
Comes with a 60-day guarantee
You can buy a one or two month supply
Subscription plans take $5 off

Easy to use gummy vitamin
CONS
Takes up to two months or longer to work
You may not like the flavor
The vitamins are expensive
BOTTOMLINE
From mood swings and bloating to cramps and fatigue, Flo Vitamins can help you battle against all of your common PMS symptoms. You'll find other vitamins available from the brand along with subscription plans that save you money.

iReviews Shopping Assistant
Find the best prices for this and many other products with our chrome extension
Product Features
Cost: $29.99 per month without a subscription
Guarantee: 60 days
Customer Service: Online and over the phone
Shipping Cost: Based on your address
Subscription: Free shipping and reduced price
Other Products: Immune and fiber gummies
What are Flo Vitamins?
Flo Vitamins is a new brand that wants to revolutionize the way you feel on your period. Many women suffer from extreme symptoms that range from headaches and muscle pains to stomach cramps and mood swings. You may even have one or two days out of the month where you have to force yourself to get out of bed. This brand claims that its vitamins can reduce the acne you experience as a result of your hormones and help with bloating along with your mood swings and cramps. More than 45,000 women started following this brand on social media after trying the vitamins.
Brianna Bitton knows all about the hassles of menstrual cramps and other symptoms. She worked with her brother Bobby to create a new gummy vitamin that would help women reduce their symptoms. The gummies use natural ingredients that science proved can help women during their periods. Though you do need to use the gummies for a minimum of two months before you see any results, many women noticed some dramatic changes to their cycles. Flo offers a happiness guarantee that gives you two months to try the gummies. You can then get your money back if you don't see any changes. In our Flo Vitamins review, we'll cover the products available from this brand and the top ingredients.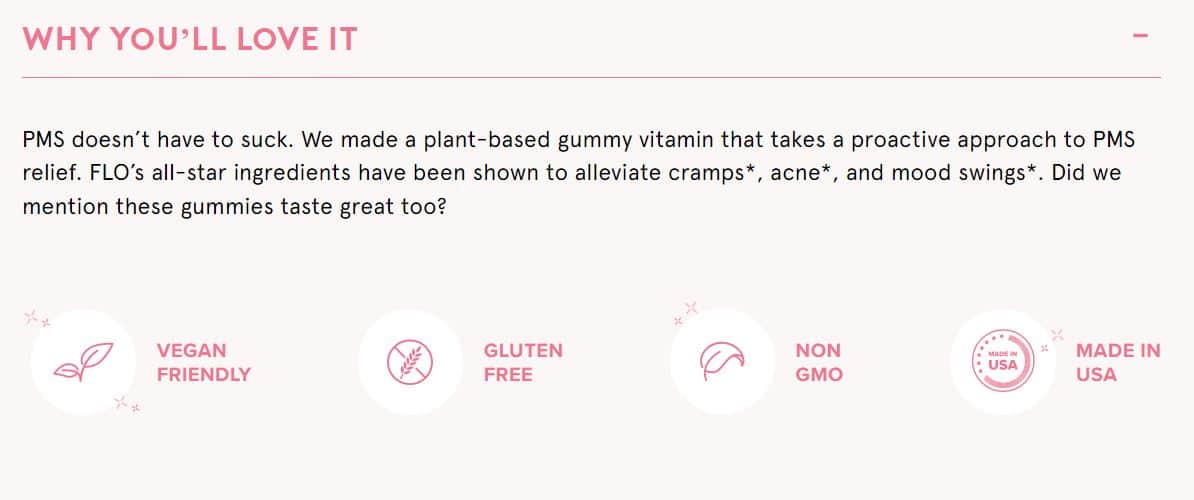 How Can You Use Flo Vitamins?
You don't need to spend a lot of time worrying about how to use Flo Vitamins because each bottle includes helpful instructions. Flo gives you 60 gummy vitamins per bottle, which is a one-month supply. Though the brand says that you should take two gummies every day, you have the choice of when to take them. Some women grab two when they eat breakfast in the morning, but others take them with lunch or dinner. We recommend that you take them at the same time every day to make sure that your body adjusts to the ingredients. Most users find that they like the slightly sweet flavor of the gummies.
If you sign up for a subscription, Flo will send you a new supply every month. The brand makes sure that your new bottle arrives before your old bottle is empty. You don't need to worry if you forget to take them one day. As long as you take them as soon as possible, you'll still get the full effects. Keep in mind that it can take two months or longer before you experience any changes. You'll want to keep the bottle in a cool and dry place to keep it safe.
One of the best places to store Flo Vitamins is your pantry.
Flo PMS Gummy Vitamins
Though Flo now makes a few different vitamins, the PMS Gummy Vitamins are its top product. Available for $29.99 for a one-month supply, these gummies have a slightly sweet flavor that many women seem to like. You get 30 servings per bottle and take two gummies per day. Each serving has only 20 calories and five grams of carbs. The formula also includes three grams of added sugar. As long as you keep the bottle in a cool and dry spot, the gummies will last for a month or longer. You need to make sure that you chew the gummies and break them down before you swallow. Some of the benefits of using Flo PMS Gummy Vitamins include:
The gummies help prevent breakouts and flare ups caused by hormonal acne.
They help you get through your cycle with no bloating or less bloating.
You may find that you experience fewer mood swings and have an easier time regulating your mood.
Flo uses ingredients designed to reduce your stomach and muscle cramps during your cycle.
Some ingredients alleviate the cravings that you have for certain foods.
Flo claims that the gummies help with your stress and improve your digestion.
What are the Active Ingredients in Flo Vitamins?
The odds are good that you have some questions about how Flo Vitamins work and what the ingredients do. One of the top ingredients is Chasteberry, which dates back to the Middle Ages. Monks used this herb as a way to repress their sexual thoughts and actions. This herb has benefits for those going through PMS. It can treat acne caused by hormonal issues and treat certain medical conditions. Flo choose this herb because of the effects it has on PMS symptoms. Chasteberry can make your breasts feel less tender and reduce your mood swings.
Also known as female ginseng, Dong Quai is another active ingredient found in Flo Vitamins. Asian countries have used this herb for centuries to treat the symptoms of PMS. Some also use the herb to cope with the symptoms of menopause. Flo choose the herb because it is an anti-inflammatory that can reduce muscle pain associated with menstrual periods and help with bloating. The formula also uses lemon balm, which helps with mood swings and stress along with depression and anxiety. Each bottle also includes Vitamin B6, which studies found can help with cravings and mood swings. You may find that you no longer crave salty or sweet snacks or that you experience fewer cravings than you did before.

Where Can You Use Flo Vitamins?
Taking just two Flo gummy vitamins every day for two months can seriously reduce your PMS symptoms. If you're like most women, you probably wonder what happens if you skip a dose or run out before your next order arrives. You don't need to worry though because Flo formulated these vitamins to keep working. Simply grab your bottle and take your next dose as soon as possible to continue experiencing all of the benefits of the vitamins. No matter where you go, you can rest assured that the gummies will go with you. You can even place a few gummies in a pill holder if you don't want to bring the whole bottle with you. Some of the places where you can use Flo Vitamins include:
At the office if you don't want to worry about feeling emotional around your coworkers.
On vacation when you don't want your PMS symptoms to interfere with your fun time.
When you're running errands or doing other things around the house.
Unlike traditional vitamins that require you to take tablets with water, gummy vitamins require no water. Chewing two of these gummy vitamins is as easy as chewing a few sweet gummy bears.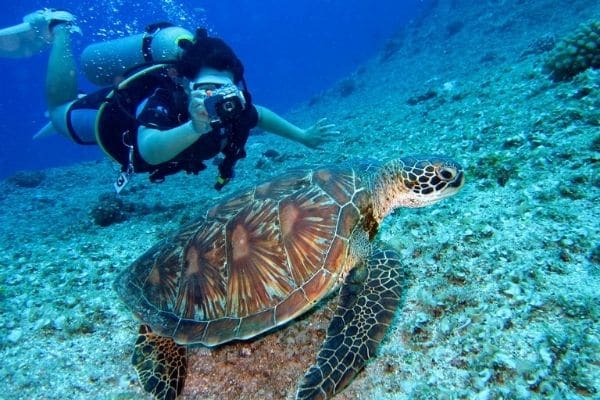 Flo Vitamins go anywhere you go and are even suitable to take while on vacation.
GOGO Fiber Vitamins
In addition to the PMS vitamins, Flo also makes GOGO Fiber Gummy Vitamins. Designed to help women who do not have enough fiber in their diets, this vitamin uses chicory root as it is a natural source of prebiotics. You can get a one-month supply for $29.99 or a two-month supply for $49.98. These vitamins are also available through a subscription plan. Each gummy uses a vegan formulate and is gluten-free. They also lack GMOs. You can take two gummies per day to experience some of the benefits of the vitamins and work your way up to four gummies per day. The top benefits of GOGO Fiber Gummy Vitamins include:
The vitamins improve your digestion to help you digest food faster and get more vitamins and nutrients from your diet.
As the gummy vitamins use prebiotics, they improve the number of healthy bacteria in your system.
Taking up to four gummies per day can help you lose weight and maintain a healthy weight.
Many uses found that the fiber gummies helped them use the bathroom on a regular schedule and eliminate waste.
One serving has more fiber than you would get from multiple servings of spinach.
Who's This For?
Flo makes gummy vitamins for women struggling with period symptoms. Though your menstrual cycle is a natural part of being a woman, it can cause more symptoms than you can handle. Many women suffer from cramps that make them want to spend hours in bed and headaches that last for hours. You may have bloating that keeps you from wearing your favorite clothing and mood swings that you cannot control. Those mood swings can leave you happy and upbeat one moment before sad and depressed the next. You may even experience anxiety and anger.
These gummy vitamins are best for women who can commit to following a set routine. You should eat two of the gummies every day and try to take them around the same time. Flo recommends that you chew the gummies and allow them to break down before you swallow, which helps your body digest them faster. If you are a diabetic or on a low sugar diet, the gummies may not be right for you as they do contain some added sugar. We also recommend that you talk with your doctor if you're on any specific medications or have conditions that may interact with the active ingredients in these gummy vitamins.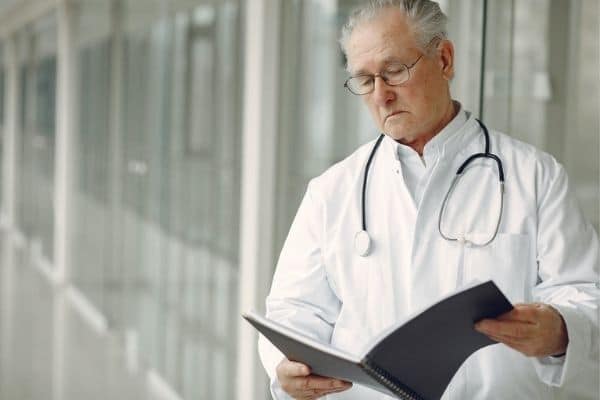 Always talk to your doctor first if you have any questions or concerns about taking Flo vitamins.
GTFO Immunity Gummy Vitamins
Another new product available from Flo is GTFO Immunity Gummy Vitamins. These gummies come loaded with zinc and elderberry along with Vitamin C. A single serving has 50% more of that vitamin than you would get from a whole orange. You get the delicious orange flavor that you want with fewer calories and sugar. One serving has four grams of sugar and five grams of carbs. You only need to take two of the gummies to get the boost your immune system needs.
Flo recommends that you take them in the morning to start your day off on the right foot or in the afternoon when you need a quick boost. As with the other formulas, these gummies are gluten-free and vegan. You'll pay $24.99 for a one-month supply or $39.98 for a two-month supply. The vitamins are also available for $19.99 through a subscription plan. Some of the reasons you might take these gummies include:
You want to stay healthy during cold and flu season.
You suffer from low periods in the middle of the day.
You want more energy from the moment you wake up in the morning.
You like the berry lemonade flavor of the gummies.
You need an easy way to improve your immune system.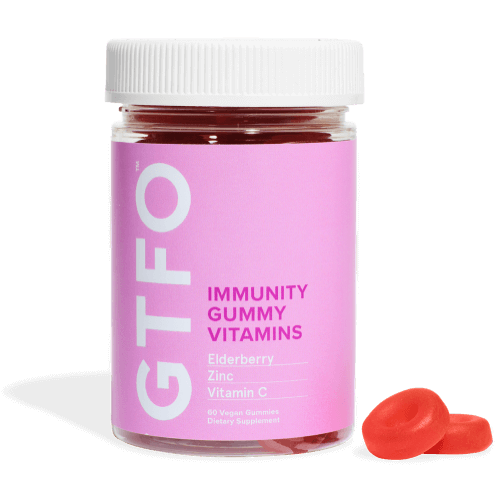 Who Would Benefit from Flo Vitamins?
Roughly 75% of women claim that they experience some symptoms of PMS. Some women have regular cycles and periods that last for as little as three days. Others have irregular cycles and can skip several months before having a period that lasts for five to seven days. No matter what your cycle looks like, you might benefit from Flo Vitamins. This was the first brand on the market with chewable vitamins designed for women coping with period symptoms.
PMS affects your mood and causes mood swings and bloating along with cramping and general aches and pains. If you have one or more of these symptoms, taking these vitamins can alleviate some or all of your symptoms. The women we think would benefit from Flo vitamins include:
Women struggling with severe PMS symptoms that make it hard for them to live their lives.
Shoppers looking for an easy and convenient supplement that doesn't require mixing with water or any other special steps.
Those who didn't mind the added sugar and carbs found in the vitamins.
Women who have at least one symptom of PMS that affects them every month.
Customers who can remember to take two of the gummy vitamins every day.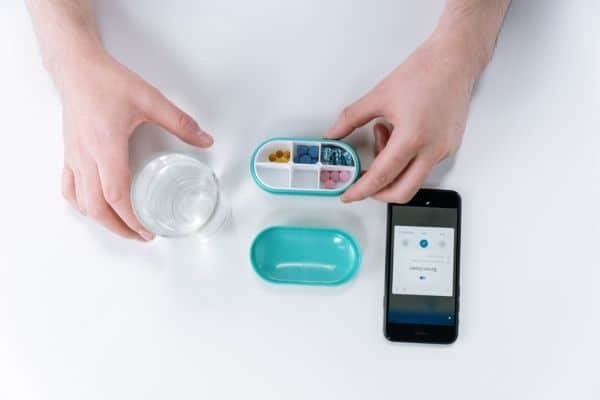 You can use an app and remind yourself to take these gummy vitamins every day.
Should You Buy It?
Your period might be one of the most stressful things you go through every month. It can start with a small twinge in your back and lead to intense cramps that you feel all over your body. When you combine that pain with your mood swings and bloating, it's no wonder why you want to lock yourself away for a few days. Flo vitamins give you an easy way to cope with that stress along with all of your symptoms. We like that each bottle holds 60 vitamins and that you only need to take two vitamins per day to feel some big relief.
Another reason to like Flo vitamins is that they work on all symptoms. Why suffer from mood swings that make you worry about what others think when you can down a few gummies and control your mood? The natural ingredients used in the formula also help with the hormonal imbalances you experience every month and reduce the breakouts that you usually have. These vitamins also work on bloating and cramping to help you take back your life.
Our other top reasons why we think Flo vitamins are worth it include:
The formula makes these gummy vitamins suitable for vegans and those on gluten-free diets. They do not use any GMO ingredients either.
With a subscription plan, Flo takes $5 off your monthly supply. You also get free shipping and the option to add other vitamins to your order at a discounted price.
Thanks to the 60-day Happiness Guarantee, you can get your money back if you're not satisfied. Flo lets you request a refund anytime up through those two months.
The chaste berry used in the formula adds a rich taste with a hint of sweetness. Many women loved that the flavor was similar to an old-fashioned donut.
Flo vitamins get positive and solid reviews from customers. Many shoppers loved the vitamins so much that they signed up for a subscription.
You can usually take these vitamins if you're on birth control. Make sure that you check with your doctor first though.
Flo vitamins are easy to take because they come in a gummy form. You don't need to struggle to swallow large pills or drink a chalky mixture.
All of the ingredients are proven to work and backed by scientific research. Some of these ingredients even date back centuries.
You can take the vitamins and use them whenever you want. While you may want to grab two gummies every morning before work, you'll have no problem taking them during a busy day at work or when you're on vacation.
Flo now makes gummies that you can add to your order. Choose from vitamins that boost your immune system and those that increase your fiber intake.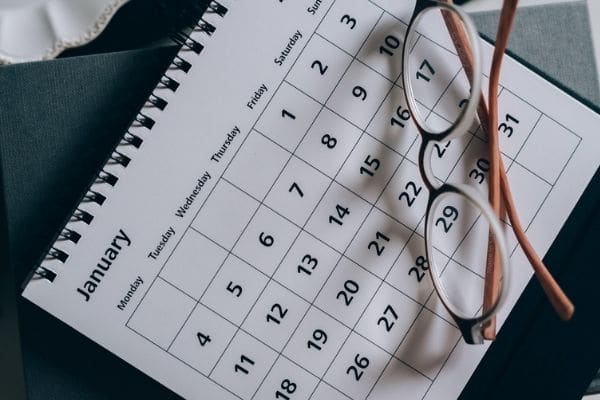 Whether you have regular or irregular cycles, Flo vitamins can help every month.
Cons to Consider
We wanted to take a little time to discuss the cons of Flo vitamins. Though many women got the relief they wanted, there were some complaints registered by customers. One of those complaints was how long it takes for the vitamins to work. Flo says that most women experienced no changes or relief until they took the vitamins daily for two months. You may find that it takes more than two months before you notice any benefits. If you stop using the vitamins and then begin taking them again, you'll likely suffer from symptoms for a few weeks until they start working again. A few of the other complaints that we found online include:
The price is higher than you would pay for other supplements that help with PMS symptoms.
Flo does not offer shipping to customers outside of the United States.
Some women weren't fond of the gummy flavor and thought that it was a little too sweet.
You cannot use the vitamins if you are breastfeeding or pregnant. Flo recommends that you do not use the gummies if you plan on becoming pregnant either.
A small number of women experienced some side effects when using the gummies. One of the more common side effects is spotting, which some experienced for a few days.
Some women suffered side effects as the result of ingredients in the vitamins.
Where to Buy
Click here as soon as you're ready to buy Flo Vitamins. Our link takes you to the official site where you have three buying options. The first is a one-month supply for $29.99, which comes with the 60-day Happiness Guarantee. If you want to buy a two-month supply, you'll pay $49.98 and get the same guarantee. This helps you save $10 off the total cost and get enough gummies to try for a full two months to see if they work for you. Flo also offers subscription plans that take $5 off the cost of a one-month supply. You pay only $24.99 per month with a subscription plan and can choose how often you want the bottles to arrive. Subscribers get free shipping, too.
Make sure that you check the Flo FAQ section to see questions that other customers asked. If you do not subscribe, Flo will charge a shipping rate based on your location and charge for shipping each time you order. You also get a tracking number that Flo sends via email as soon as you order. When you enter that number online, you can see the current location of your order and track it.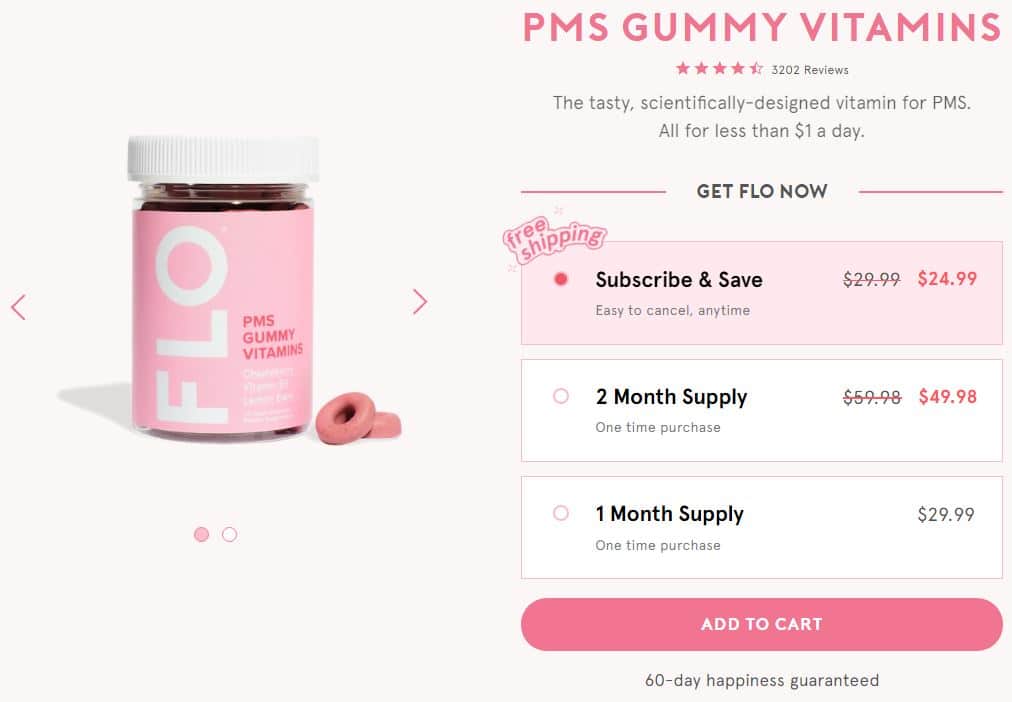 The Competition
Though Flo was the first company to release PMS supplements on the market, it wasn't the last. We encourage you to read about some of the competitors we found.
HUM Moody Bird
One popular alternative is HUM Moody Bird, which sells for around the same amount as Flo Vitamins. HUM designed this supplement to be your best friend and ally every month. It uses both Chasteberry and Dong Quai along with other ingredients. The supplement is safe for vegans and gluten-free. You get 60 capsules in each bottle and take two capsules by mouth with food. Regular use of the supplement and balance your hormones and help you avoid breakouts. It may also improve your skin. Many users noticed results within four to six weeks of using HUM Moody Bird.
de lune Steady Mood
If you suffer from frequent mood swings, de lune Steady Mood can help. Designed for women who struggle with irritability and anger while on their periods, this supplement uses a special formula that helps alleviate those symptoms. Though some thought that the capsules were a little too big, most users had no problem taking two of the capsules every day with a glass of water. Some of the active ingredients used in this supplement that can help with your mood swings include vitamin B6 and zinc. You have 60 days to try the supplement and request a refund.
Olly Miss Mellow Hormonal Supplements
Another option for women dealing with PMS symptoms is Olly Miss Mellow Hormonal Supplements. You can buy a single bottle or purchase up to three bottles and have enough supplements for the next few months. Each bottle holds 40 capsules that use Chasterry and similar ingredients. These ingredients can regulate your emotions to help you cope with mood swings and avoid the hormonal imbalances that cause breakouts. In addition to helping with PMS symptoms, the supplement can also reduce menopause symptoms. A few customers found that the supplement helped them cope with anxiety but increased their depressive symptoms.
Your Super Moon Balance Organic Superfood Mix
If you want to cope with PMS symptoms but don't want to deal with gummies or capsules, try Your Super Moon Balance Organic Superfood Mix. It can improve the quality of your sleep and help you maintain a healthy weight at the same time that it improves your memory and skin. This supplement is available in a powdered form. You mix one teaspoon into a glass of water and drink it. The supplement is also suitable for mixing into a smoothie or shake. You get the benefits of six superfoods per serving. The mixture use stevia for sweetness and lemon for a tart kick.
Final Verdict
When many people think of PMS, they think of stomach cramps. Using a heating pad or a hot water bottle on your stomach can help you cope with those cramps, but you can't make it with you. Other remedies for PMS symptoms are hard to rely on when you have a lot of things on your plate. That is why so many women opt for supplements such as Flo vitamins. Flo was the first brand to introduce a gummy vitamin as an alternative to those supplements. It has a light and sweet flavor and is easy to take. You only need to take two gummies per day to get the relief that you need.
Our biggest issue with these gummies is that you need to keep taking them. It can take up to two months before you notice any changes. If you stop using the gummies for even a few days, you may find that all of your symptoms return. Another issue is the high price, which does not include shipping unless you're a subscriber. Many women found that the vitamins worked the way they wanted them to and had a nice flavor. Positive Flo vitamin reviews are among the top reasons why we recommend these gummy vitamins to our readers.